We test and review fitness products based on an independent, multi-point methodology. If you use our links to purchase something, we may earn a commission. Read our disclosures.
Elliptical trainers are a great experience when you need a low-impact, full-body workout. And don't let the phrase "low-impact" steer you away—you'll still get all the heart-healthy benefits you would from any other form of aerobic exercise. Not only will you be exercising both the muscles of the arms and legs—which helps ramp up overall calorie expenditure—you will exercise the heart and help it become more efficient at pumping blood to the entire body. All that without hard impact on your hips and knees.
The ProForm Carbon EL is an optimal choice if you're a novice home gym owner, just getting started on your fitness journey or in the process of recovering from an injury or chronic pain. In this ProForm Carbon EL review, we want to provide the most up-to-date and accurate information to help you decide on the best elliptical for you.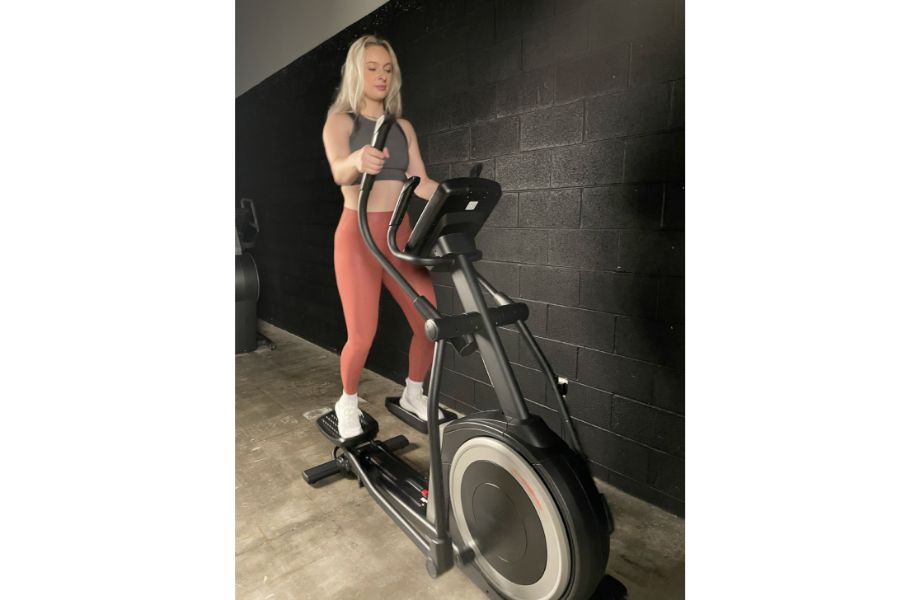 Elliptical Experts Here to Help
We're a group of fitness fanatics, each with a unique background to back up our love of all things strength and conditioning. Our product testers are a group of athletes, CrossFit coaches, nutrition coaches, and certified personal trainers. We know a thing or two about working out and what we like to see in our equipment—everything from elliptical trainers to bumper plates.
Our expert product testers have had their hands on a lot of different cardio machines, and ellipticals are no exception. Recently, our tester and GGR staff writer, Caroline Lubinsky, traveled to the iFIT headquarters in Utah to test the latest and greatest in ProForm technology, in addition to cardio machines from its sister company, NordicTrack.
ProForm Carbon EL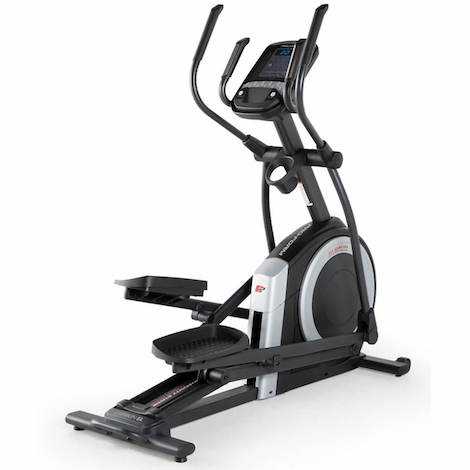 GGR Score: 3.8
Product Highlights
18 levels of silent magnetic resistance 

0 to 20 degrees of manually adjustable incline 

5" high-contrast multi-color display 

Tablet holder 

iFIT-compatible with SmartAdjust technology 

Steel frame 
Pros & Cons
Pros
18 levels of silent magnetic resistance
0-20 degrees of incline
SmartAdjust technology allows iFIT trainer to adjust resistance
Free 30-day iFIT membership
Free shipping
Cons
Incline adjusted manually
275-lb user weight capacity
Long assembly process
Bottom Line
The ProForm Carbon EL elliptical is an affordable machine with both resistance and incline abilities if you're looking for guided workouts. If you don't think you'll use iFIT, there's probably a better machine for you.
At a Glance: ProForm Carbon EL
ProForm not only makes ellipticals, but other home gym equipment like bikes, rowers, and treadmills. ProForm and its sister company, NordicTrack are both manufactured by its parent company, iFIT—which has over four decades of history in the cardio equipment industry.
Equipment from both brands works with iFIT workout technology, an app that allows you to stream studio classes, outdoor classes, and even use Google Maps to change up your scenery. ProForm is known for its more budget-friendly equipment compared to its sister company, NordicTrack.
My Tips
Assembling the ProForm Carbon EL is tricky, so we advise you to select professional assembly if you can.
The iFIT membership enhances the elliptical workout experience, but you'll need your own tablet.
ProForm offers 0% financing options to pay $21 per month for 36 months, if you qualify.
Pros:
Priced under $1,000
10-year frame warranty
Low-impact cardio workouts
Ellipticals give you control of your own speed
iFIT technology can be connected via Bluetooth
Two sets of handles
Cons:
15-lb flywheel is below industry standard
No heart rate monitoring handles
No pre-programmed workouts
Difficult to assemble
Is the ProForm Carbon EL Worth It?
The ProForm Carbon EL is an elliptical trainer that could be a valuable option for some home gym owners. After testing this machine, we think it's an entry-level piece of fitness equipment, sure to add value to someone who needs a low-impact cardiovascular workout option. With the ability to pair your personal tablet or smartphone to this elliptical machine, you will be able to track your fitness goals and create new ones along the way.
Great for:
People who want an entry-level machine with a solid build
Someone who can do without latest built-in touchscreen technology
Anyone who is concerned about cardio machine noise
Not recommended for:
Anyone over 275 lbs
People looking for lots of tech features
People with small spaces
ProForm Carbon EL Specs
| | |
| --- | --- |
| Price | $799 |
| Footprint | 68.5" L x 25" W x 76.75" H |
| Weight | 202 lbs (not confirmed by ProForm website) |
| Weight capacity | 275 lbs |
| Stride length | 19" adjustable |
| Display | 5" high-contrast, multi-color |
| Flywheel | 15 lbs |
| Resistance | Magnetic |
| Resistance levels | 18 |
| Warranty | 10-year frame; 1-year parts; 1-year labor |
Our Experience With The ProForm Carbon EL
Using the ProForm Carbon EL was overall a positive experience for Caroline when she went to the iFIT headquarters in Utah. When in use, this front-drive elliptical barely even makes a purr due to the silent magnetic resistance. When Caroline changed the digital resistance levels or the speed of her pedaling pace, it barely made a peep.
Although this machine has a 15-pound flywheel (which is lower than we'd like to see on a home elliptical), Caroline didn't notice any shifting or movement during a vigorous workout. The smooth ride could be due to the fact ProForm makes the Carbon EL with an inertia-enhanced flywheel, meaning the flywheel is built to be balanced and weighted for an optimized spinning motion with minimal jolting.
RELATED: Elliptical Workouts for Beginners
Getting on and off the machine was made easier and safer with the two sets of handles: One set for moving along with the foot pedals and the other set is stationary. Using the handles is a good idea for getting on the machine—even with the pedals in lowest position, it sits 14 inches off the floor and 19 inches at the highest point.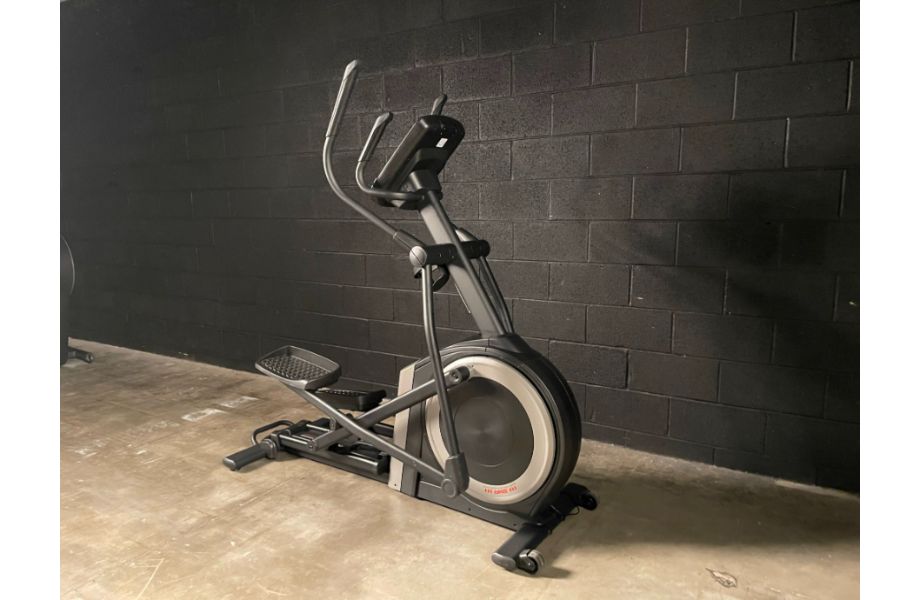 Oftentimes, we'll see an EKG grip pulse sensor built-into the stationary handles for heart rate monitoring, however this Carbon EL lacks those grips and the extra data feature.
It's worth mentioning that Caroline didn't find any safety key or locking mechanism on the Carbon EL, which could be a dealbreaker if you're a parent to young children.
You will find the 5-inch, easy-to-read, high-contrast screen displays basic metrics like time, speed and distance. There is a device shelf that allows you to stream the entertainment of your choice or the iFIT app with a monthly subscription, which is sold separately.
Caroline has been a fan of the iFIT app since she first tried it, and says "the iFIT interactive programming really brings the elliptical machine up a level." Although this model does not feature an HD touchscreen, the ProForm Carbon EL has Bluetooth connectivity to sync your own device to the elliptical.
With that syncing technology, your elliptical can change the machine's resistance without you even touching the console. It will automatically adjust according to the iFIT instructor's cues. You will also be able to hear the instructor's voice and background music through the built-in speakers.
A Large, But Movable Elliptical
The Carbon EL is not the biggest piece of home gym equipment we've encountered, measuring nearly 69 inches long, 25 inches wide, and almost 68 inches tall. "I'm not sold on the fact that this would fit in an apartment," says Caroline. "However, if you plan to put this elliptical in a spare bedroom, you'd be fine."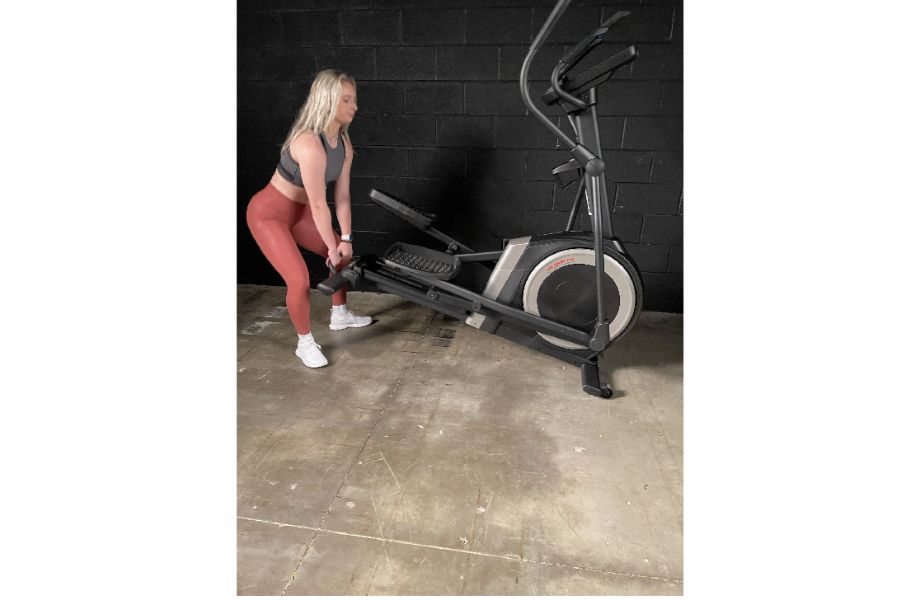 In addition to marking out enough space for this cross trainer, the ProForm Carbon EL is roughly a 202-pound machine. The good news about this heavy machine is that it has front-mounted transport wheels. Although these wheels will help you move this machine around a room, Caroline recommends asking a buddy for help if you plan to move Carbon EL up or down the stairs.
Once you've got the machine where you want it, we like the fact it has oversized leveling feet. That means if you happen to have uneven floors, you won't have to make a homemade shim.
Solid Construction
The ProForm Carbon EL has a solid feel to it with high-quality steel construction through the stabilizers, base, and the upright part of the machine. The solid, steel construction allows the cross-trainer to have a user weight capacity of 275 pounds. Although we've seen some ellipticals with higher weight ratings, 275 pounds does meet this industry standard. But, for reference, the Horizon 7.0 AE elliptical, supports 325 pounds.
According to our OG product tester and Garage Gym Reviews founder Coop Mitchell, "a heavy flywheel anchors the elliptical for a smooth workout," he says. "It can also extend the life of the machine by reducing unnecessary shakiness." The 15-pound flywheel on the ProForm Carbon EL is just below industry standards for elliptical flywheels, which usually range between 16-and-20 pounds.
Comfort During Use
When Caroline tested the ProForm Carbon EL, she noted that the 19-inch adjustable stride is within the 18-to-20 inch stride of what we expect in a home cross-trainer. However, "it still felt a little short to me," she says. "It's not the same stride as a commercial machine."
Although the stride will not suit everyone's needs, there are 18 levels of resistance, well above the industry average of 12 levels. Caroline did notice there were no options to train at an incline or decline this machine.
Lastly, the oversized pedals will absolutely accommodate a variety of different shoe sizes and the water bottle holder is placed conveniently below the console area.
iFIT Technology
With the purchase of your ProForm Carbon EL, you'll receive a free 30-day trial of iFIT interactive programming. During the initial assembly and set-up of your machine, you will be prompted to create an iFIT account and start your free trial. This trial is free, but you will be required to enter your credit card information and you'll be able to cancel before the trial is up.
If you're not at all interested in signing up for iFIT, we have done some research on a possible loophole. Although none of our expert product testers have actually tried this, we have read that if you hold the blue iFIT button down for 30 seconds (under the display screen) when prompted to create an iFIT account, you can bypass this stage. As far as we know, this only works with ProForm models without a touchscreen.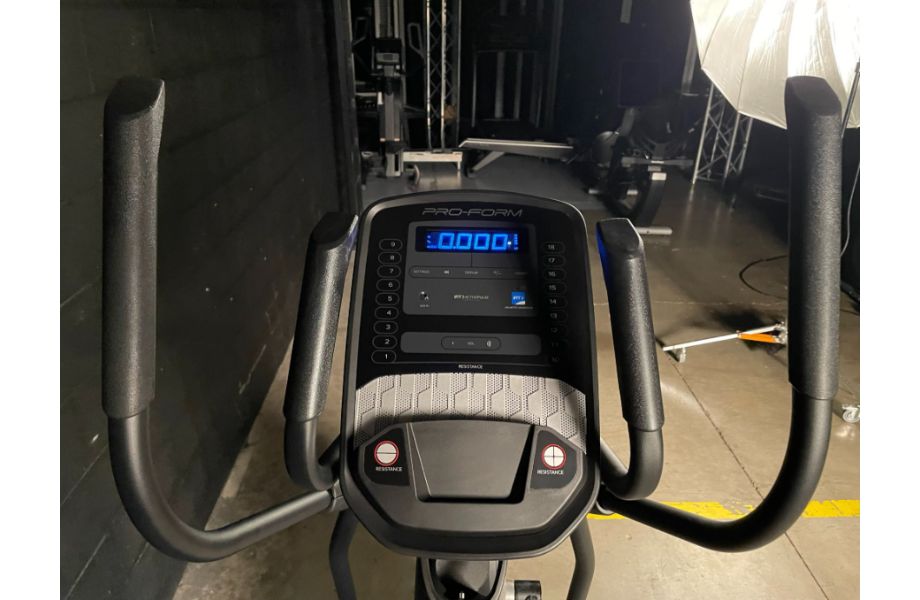 However, to get the most out of your ProForm Carbon EL, we suggest budgeting for the additional monthly cost of the iFIT app. "It's an excellent choice if you want interactive programming and is definitely a strong Peloton competitor," Caroline says.
You'll need your own smartphone or tablet to cycle through single workout sessions and find progressive workout programs, but there is a tablet holder on the console.
By connecting your iFIT app (from your own device) to the Bluetooth on the ProForm Carbon EL, the machine resistance levels change based on the coaching cues given by the instructor. This is a great way to stay safe on the elliptical and keep your hands on the handlebars. Dual speakers allow you to listen to your instructor's voice and hear any background music coming through the iFIT app.
You'll also love the ability to have global workouts with Google Maps technology. You can drop a pin and navigate a scenic route nearly anywhere in the world. Feeling nostalgic about your hometown running route? Want to check out your next vacation spot? Done and done, while you're working out!
ProForm Carbon EL vs Schwinn 430 vs Horizon 7.0 AE
When you're buying a big and expensive piece of home gym equipment, it's good to know what else compares to your top choice. We put the Schwinn 430 elliptical and the Horizon 7.0 AE elliptical head-to-head against the ProForm Carbon EL to compare some of the most important specs.
| | | | |
| --- | --- | --- | --- |
| Elliptical | ProForm Carbon EL | Schwinn 430 Elliptical | Horizon 7.0 AE Elliptical |
| Price | $799 | $899 | $849 |
| Footprint | 68.5" L x 25" W x 76.75" H | 70" L x 28" W x 63" H | 76" L x 24" W x 65.5" H |
| Stride length | 19" adjustable | 20" | 20" |
| Display | 5" high-contrast, multi-color display | 2 DualTrack LCD displays | LCD screen |
| Warranty | 10-year frame; 1-year parts and labor warranty | 10-year frame, 2-year parts, 1-year electronics, 90-day labor warranty | Lifetime frame and brake warranty, 3-year parts, 1-year labor and flywheel warranty |
| Weight capacity | 275 lbs | 300 lbs | 325 lbs |
| Machine weight | 202 lbs | 168 lbs | 194 pounds |
| Resistance levels | 18 | 20 | 20 |
| Flywheel | 15 lbs | 14 lbs | 23 lbs |
| Programming | iFIT-enabled via Bluetooth (subscription sold separately) | 22 preset programs | 8 preset programs |
| Drive | Front-drive | Front-drive | Front-drive |
| Incline | No incline or decline | 6 positions, adjusted manually | 20 levels |
Schwinn 430 Elliptical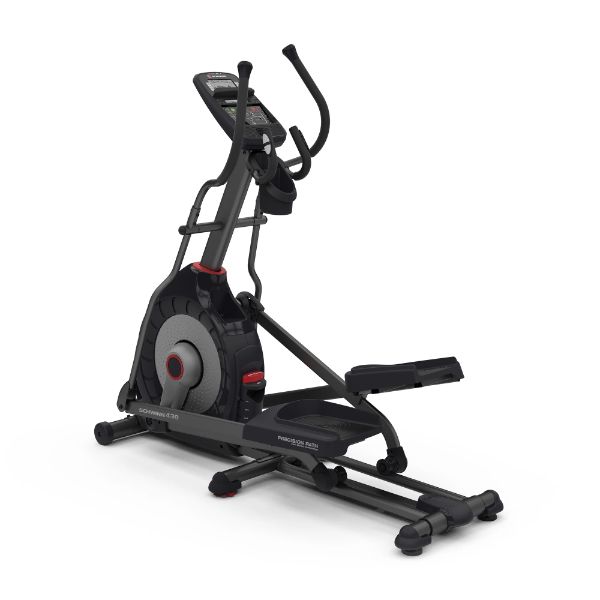 Schwinn 430 Elliptical
The Schwinn 430 elliptical comes with a lot of great features that help you get the most bang for your buck. It has a 20-inch stride, large footplates, and 20 levels of resistance. You're also able to track your heart rate on the contact grips that are part of the handlebars. While there are six levels of incline available, it's manually adjustable, which is something to note.The Schwinn 430 Elliptical comes with dual screens to easily view the pre-programed workouts, or you can use the media shelf to view your own device or reading material. There is also a charging USB port and MP3 input so you can listen to podcasts, books, and music through the speakers. Typical with Schwinn, this product is built to last. The frame has a 10-year warranty.
Horizon 7.0 AE Elliptical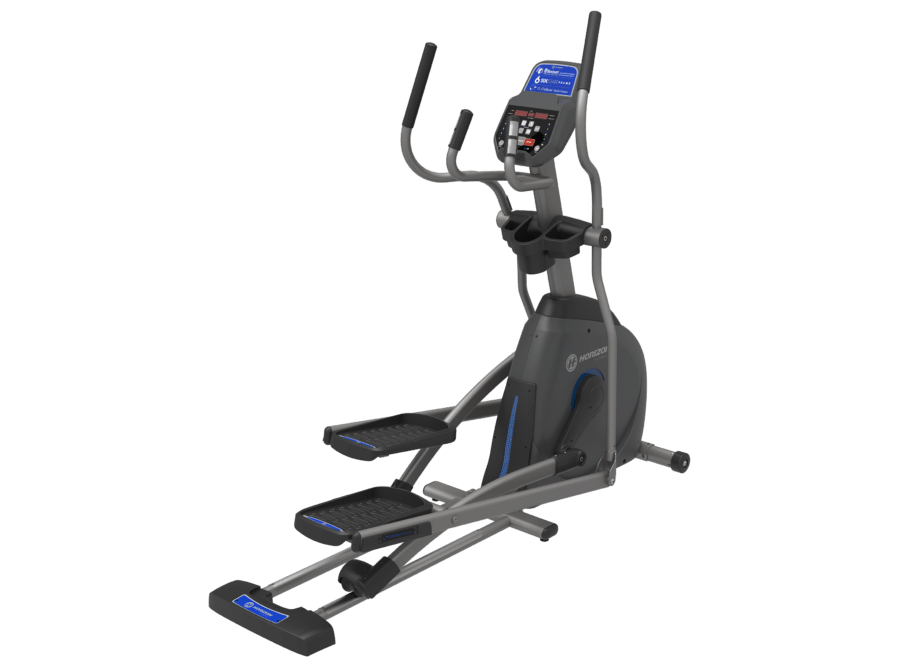 Horizon 7.0 AE Elliptical
Bring your fitness classes, music and entertainment to your workouts with advanced Bluetooth speakers. Smart fitness technology pushes data to your favorite tracking apps. Ergonomic Six-Star Frame encourages ideal body position and movement for a more efficient and comfortable workout. Achieve better muscle tone and burn more calories with advanced power incline.Read our full Horizon 7.0 AE Elliptical review.
Customer Experience
Overall, we think the ProForm elliptical warranty holds up against competitor brands with a 10-year warranty on the frame and a one-year warranty on both parts and labor.
ProForm has a 30-day return window, which is standard, but you do need to pay a restocking fee if you return the elliptical. It's also worth noting that even though the warranty has a long-term duration, the customer support can be hit or miss with ProForm. The website does have a live chat function, but it often can't answer technical questions and directs you to the phone number for answers.
Ordering and Assembling ProForm Carbon EL
According to Caroline (and several reviews on Best Buy) the assembling process is a bit tricky. The machine is not only heavy, but Caroline says there "are a ton of pieces." She suggests completing the assembling process with another person.
Additionally, if you qualify for 0% financing, the monthly payment of $21 for 39 months can make this affordable elliptical machine even easier to purchase. And you'll have the warranty as extra reassurance.
Customer Reviews
To read customer reviews, we had to head over to Best Buy, because the ProForm website doesn't include individual customer reviews. That said, there were only 20 reviews on Best Buy, and the ProForm Carbon EL scored a 3.5 out of 5 stars. Most customers like the elliptical itself, but there are complaints about customer service and assembly.
Final Verdict of Our ProForm Carbon EL Review
For the $799 price, we're not upset about what you get out of this cardio machine. The ProForm Carbon EL feels like a sturdy machine, doesn't shake, and it's nearly silent. We also like that the simple screen shows that metric you'll want to see, but also has iFIT Bluetooth connectivity without paying for a built-in touchscreen. Using your own tablet also means you'll be able to choose if you want to hop on the elliptical and just watch your favorite show—Seinfeld marathon, anyone?
ProForm Carbon EL Rating
ProForm Carbon EL
We'll break down the pros and cons of this iFIT-compatible elliptical in the ProForm Carbon EL review.
Product Brand: ProForm
Product Currency: USD
Product Price: 799.00
Product In-Stock: InStock
ProForm Carbon EL FAQs
How do you turn on a ProForm Carbon EL elliptical?
To start the elliptical, you'll have to begin pedaling the machine. From there you can connect your device to the elliptical via Bluetooth to enable interactive programming, or choose manual mode on the console.
Who makes ProForm elliptical?
ProForm's parent company, iFIT, manufactures all fitness equipment sold by ProForm and its sister brand, NordicTrack.
How much does a ProForm elliptical weigh?
Although the weight of the product is not disclosed on the ProForm website, we've gathered from customer reviews that the ProForm Carbon EL weighs approximately 202 pounds.