We test and review fitness products based on an independent, multi-point methodology. If you use our links to purchase something, we may earn a commission. Read our disclosures.
Have you been on a quest to purchase a cardio machine for your home gym? An elliptical is a great option for achieving a full-body workout that's low-impact. The elliptical motion is similar to a walking stride, but it doesn't deliver the full impact to your joints. Additionally, ellipticals engage more muscles than a treadmill or exercise bike does, because your upper body stays engaged with the continuous motion of the moving handlebars.
There is some skepticism around whether low-impact cardio gives you the same heart-healthy and calorie-burning effects as high-impact cardio workouts like a good old-fashioned run. The fact is that ellipticals really can deliver when it comes to cardiovascular fitness goals.
One study found that elliptical training and treadmill training offered similar levels of energy expenditure and oxygen consumption levels—and that elliptical training can bump your heart rate up even more than treadmill training.
If the mighty cross-trainer stands up to other forms of cardio, why not have a home elliptical? When it comes to buying an elliptical machine, you will have to contemplate your space, goals, and budget for this hefty piece of gym equipment. Here is your helpful elliptical buying guide, crafted by our roster of expert product testers and fitness professionals.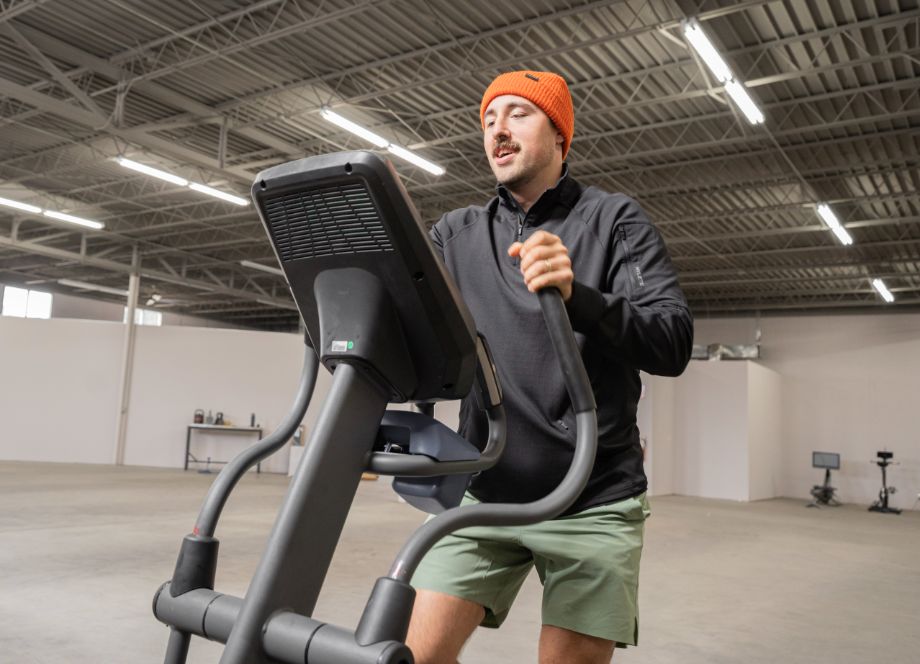 Types of Ellipticals
There are three main styles of ellipticals you will encounter while shopping, and the difference lies in where the flywheel is located: There are front-, center-, or rear-drive ellipticals. If that all kind of sounds arbitrary, you're not exactly wrong. The machines function in the same way and have the same end result, but the workout experience will feel slightly different for each type of elliptical.
Here's a quick rundown of the three elliptical types:
Front-drive elliptical: The flywheel is located at the front of the machine; you may have the sensation of leaning forward, similar to a stair climber machine.
Rear-drive machines: The flywheel is located at the back; these machines are typically a little bigger but can provide a longer stride and make the motion feel more similar to walking.
Center-drive elliptical: The flywheel is in the center with pedals on either side; this is less common for a home machine (they're generally commercial-grade), but can provide a more balanced feel.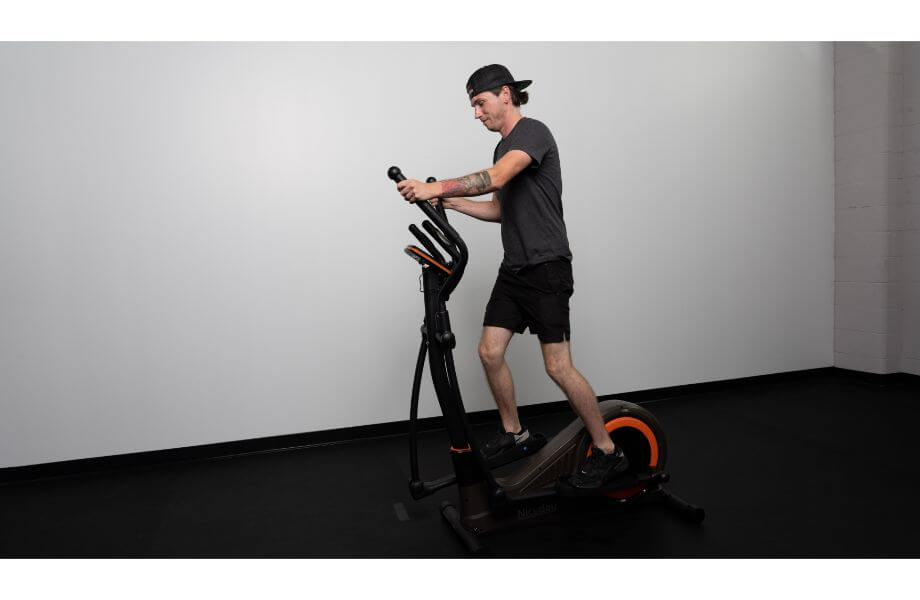 Price Tag
Prices vary significantly when it comes to the brand you pick and the individual elliptical model. The most budget-friendly options start for a few hundred dollars, and prices can soar up to over $2,000 for a commercial-grade luxury cardio machine. There are several options in the middle with prices ranging from $800 to $1,300.
The team of product testers at Garage Gym Reviews has tried many ellipticals and other cardio machines, and the theme remains: you get what you pay for. It's not to say you have to pay top dollar to own an elliptical. However, you will be satisfied—now and in the long run—if you buy the best piece of equipment you can afford versus scrimp on a cheap cardio machine that doesn't add value to your workouts year after year.
Size
The size of your home gym significantly influences what you're able to bring into the space. It's important to consider how much free space you currently have for a cardio machine like an elliptical.
Some ellipticals have a somewhat compact footprint, such as the Bowflex Max Trainer M6, while others machines, like the Horizon EX-59 Elliptical, are rather large. The EX-59 is 74 inches long, which is over 6 feet. For reference, the average running deck length of a treadmill is about 60 inches. 
RELATED: Best Compact Ellipticals
Although folding ellipticals are uncommon, the 80-inch-long NordicTrack SE9i folds in half and allows you to store it vertically when not in use. With an option like this, you will need to consider your upright storage options (specifically your ceiling height) seeing as it will sit 80 inches tall in the stored position.
We encourage you to actually measure your space with a tape measure, and preferably do it more than once. Eyeballing your home gym space means you're more subject to the hassle of returns and potentially on the hook for restocking fees.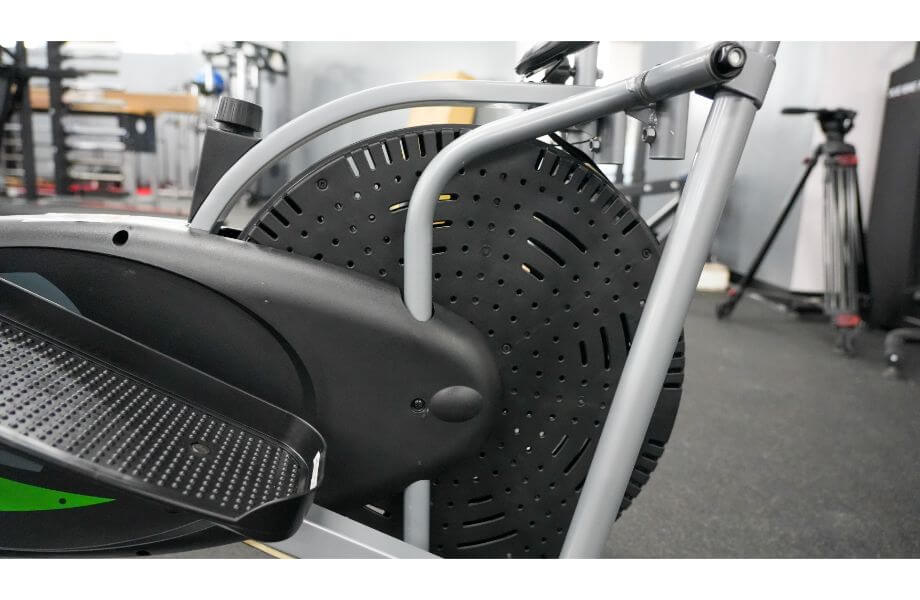 Programming Options
It's understandable if you are drawn to purchasing a cross-trainer for the ability to stream subscription-based programming. Interactive programming keeps your cardiovascular routine from getting stale, and instructor-led workouts can help keep you safer by reminding you to maintain good technique.
Interactive programming will cost you a monthly subscription fee, with options from as low as $10 up to $40 or more dollars per month.
Some NordicTrack and ProForm cardio equipment has built-in touchscreens for the use of iFIT, where you have the ability to choose from a vast selection of pre-programmed workouts, led by a variety of instructors, and filmed in locations all around the world.
JRNY is another dynamic program option offered through Bowflex. It offers workouts for a variety of cardio equipment.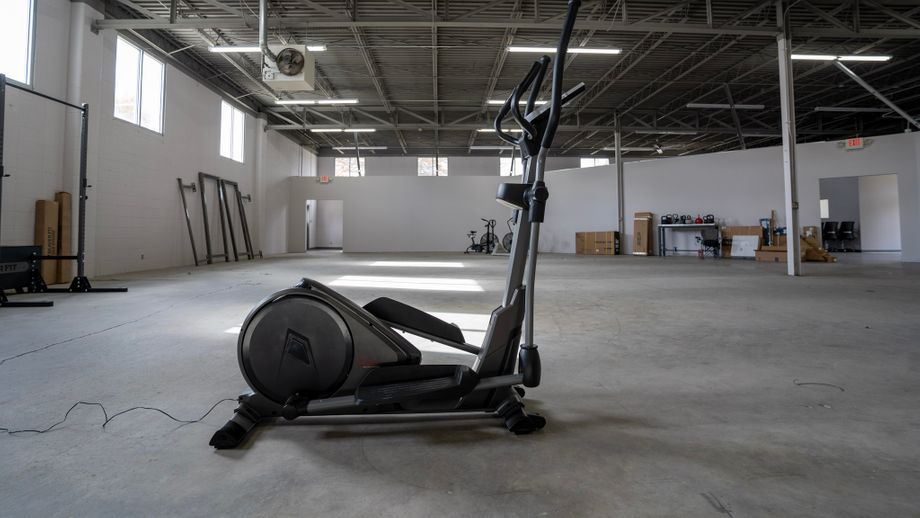 Elliptical trainers like the Bowflex M6, Horizon EX-59, and the Sunny Health & Fitness SF-E3912 Magnetic Elliptical come with preset workouts, hardwired into the machine itself, meaning there are no subscription-based fees to workout. These machines generally have less than a dozen different preset workouts, giving you some variety but certainly nothing compared to online programming. 
It's also worth noting that many ellipticals have a media shelf where you set your own tablet or smartphone and choose the fitness streaming service of your choice (or watch your favorite show during a long bout of steady-state cardio).
RELATED: HIIT Elliptical Workouts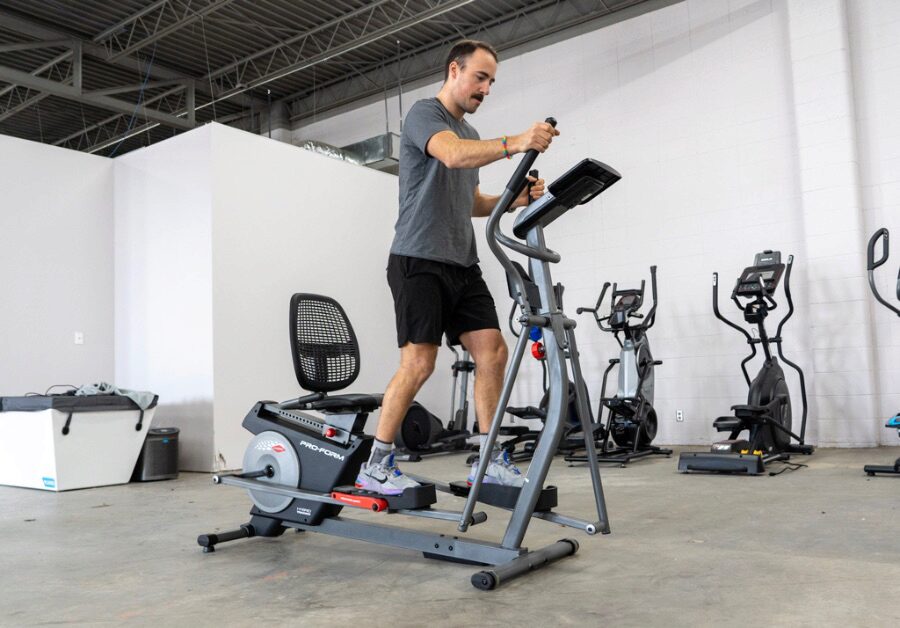 Warranty
In general, a higher-quality product grants a longer warranty. That's not always the case, though. A valuable warranty runs between 10 to 15 years on the frame. Some companies offer a lifetime warranty on the frame, and most offer limited warranties for parts and labor.
For example, the Horizon EX-59 comes with a lifetime warranty on the frame and the brakes, while the Sole E25 comes with a lifetime frame warranty, a 3-year warranty for the parts, and a 1-year warranty for labor. 
Be advised that some companies void the warranty if you store your equipment in a garage or another area that isn't climate-controlled. For instance, NordicTrack will revoke the 10-year frame, 2-year parts, 1-year labor warranty on the NordicTrack SE9i if it lives in your garage. This is usually due to the sensitivity of tech parts, like touchscreens and speakers.
Stride Length
Have you ever been on an exercise bike that is too short and it feels like you're pedaling with your knees up around your chest? When you can't pedal through a full range of motion, it feels awkward and a lot less powerful than it should.
Although an elliptical functions differently than a stationary bike, you will need to consider the stride length of the machine so you can fully extend through the knees and hips to allow for a natural stride.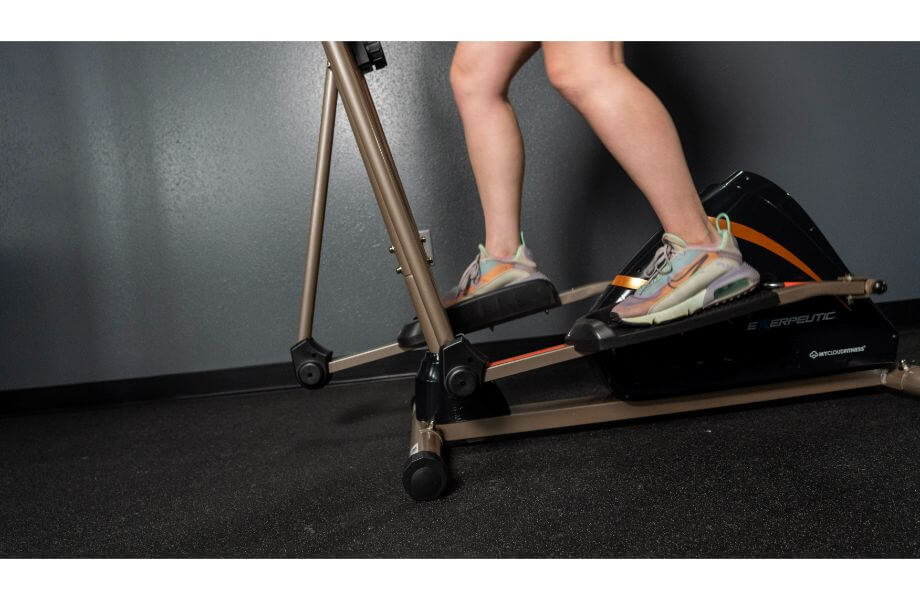 The industry standard for elliptical stride length falls between 16 to 20 inches. According to Coop, the OG of equipment testing and founder of Garage Gym Reviews, a 20-inch stride can accommodate individuals from 5 feet, 3 inches to 6 feet, 5 inches.
Shorter individuals can make do with 16 to 18 inches, while taller individuals over six feet will need to opt for at least 20 inches. Although rare, some ellipticals, like the NordicTrack Airglide 14.i, feature an adjustable stride length.
Resistance
For home elliptical machines, there are two common types of resistance options offered: air resistance and magnetic resistance.
Air resistance in an elliptical will typically equate to a lower-cost machine because it doesn't provide adjustable resistance and functions more like an air bike: the faster you pedal, the more the resistance increases. As the fan intakes more air, the fan blades have increased resistance to push against.
It's also uncommon for budget machines to have an adjustable incline—a feature that can change the resistance in a different way than the flywheel. Adjusting the incline can target your hamstrings and glutes to a greater degree and mimic climbing uphill.
Magnetic resistance elliptical machines range from budget-friendly to high-end and commercial-grade. The difference in the price will vary depending on the way the resistance is adjusted: manually, motorized, or electromagnetically.
Manual adjustments on an elliptical are similar to a manual studio cycling bike with a resistance knob. Motorized systems work with just a press of a button on your elliptical console, which communicates with a small motor to adjust a magnet toward or away from the flywheel.
RELATED: Elliptical vs Bike
Electromagnetic resistance, also known as eddy current brakes, works without a motor using a high-tech (and fancy) aluminum disk that spins between two magnetic fields. While this type of system is pretty much silent even during vigorous activity, these machines are mostly seen in high-end or commercial facilities.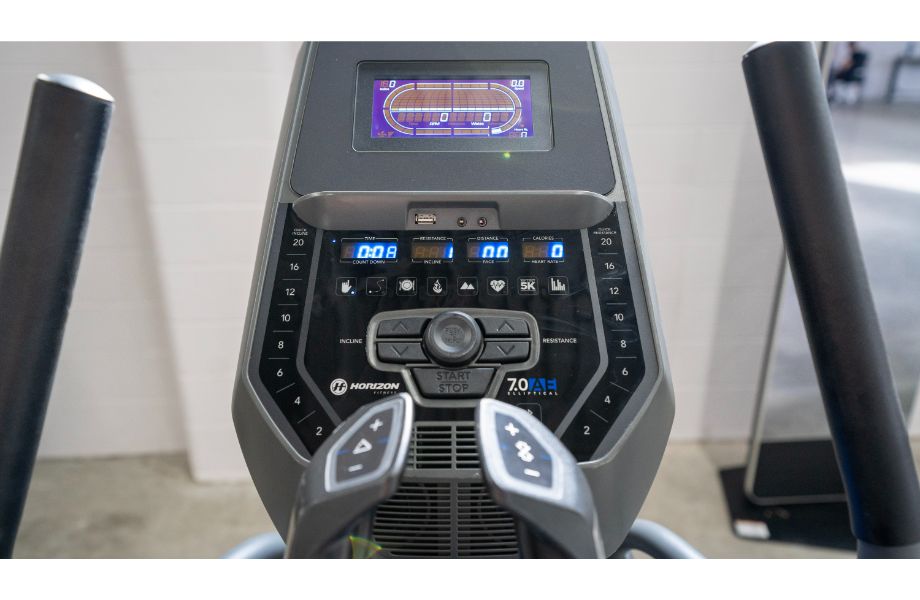 Extra Features
It's nice to own a machine you don't hate using. Little extra features like a water bottle holder and a shelf for your tablet or smartphone can go a long way if you are not already keen on vigorous cardiovascular workouts.
Take for example the Exerpeutic Elliptical and Body Rider Fan Elliptical Trainer; these two bare-bones ellipticals that will give you a great workout, but don't offer any frills—not even cup holders.
The budget-friendly price of a bare-bones machine won't be worth it if you want extras like Bluetooth connectivity, heart rate monitoring, adjustable stride length, multiple resistance levels, or adjustable incline options.
Display
When it comes to the display, you'll always get more bells and whistles with a higher price tag. The elliptical trainers that come with interactive programming normally sport nice HD touchscreen displays. Lower-end models will have LCD screens that offer basic stats.
Regardless of what you're spending, here are a few key things you'll want displayed to get the most out of your workouts:
Calories burned
Distance
Heart rate
Speed
Time
Ease of Use
Ellipticals are great for beginners and non-beginners alike. An elliptical is easy to get on and get started—just plant yourself in the foot pedals, grab your handle bars, and start moving. Although the machine is easy to use, you'll want to keep good posture in mind and prevent yourself from rounding forward or hinging at the hips. Your goal will be to remain upright and in control of your stride.
Weight Limit
Take into consideration the weight capacity of the elliptical—if you are at the top end of the weight capacity on a machine, you're headed for unstable and shaky conditions. A heavyweight machine, although cumbersome during the initial setup, can lend to a more stable stride and make the machine feel grounded.
Flywheel
The flywheel is a revolving mechanical disk that allows you to smoothly transition through speed ranges and increases the stability of the machine by storing unused rotational energy (so you don't speed up and have the elliptical thrashing around). The flywheel not only controls how much resistance can be applied to your workout, but it's the drive system that allows the pedals and arms to move.
Coop suggests looking for a 20-pound flywheel or heavier if you want a machine that is built for long-term use. Budget-friendly options often have flywheels in the teens while top-dollar elliptical machines often have flywheels rated at 30 pounds or more.
Safety Features
It's worth mentioning that ellipticals, unlike treadmills, don't have panic buttons or emergency stop tether cords. Although they are both large pieces of fitness equipment, the continuous belt on a treadmill is inherently more risky.
Staying safe on an elliptical will come down to stepping on and off the machine with awareness; starting and ending your workouts slowly with warm ups and cool downs—not just for your body but to make it easier to get off the exercise machine.
Related: Treadmill Safety Tips
What to Look for Before Buying an Elliptical
Make sure to consider these factors before "adding to cart."
Delivery and Assembly
Prepare for a big box! Due to the size and value of the fitness equipment, you might need to be present to receive this type of delivery. This is dependent on the company and the specific machine you're ordering.
When it comes to assembly, ellipticals have multiple moving parts and some are even motorized, which will require more steps and patience. Some companies offer white-glove delivery and assembly services, usually for an extra fee, of course. If this service is available, it can be worth the few hundred extra dollars to save yourself a headache.
Warranty
Read warranty information before you buy your elliptical. If you plan to use your cross-trainer frequently, it's a good idea to find a product that has a warranty you feel comfortable with. A warranty that doesn't go over the first year is a red flag that the product might not be built to last. A warranty that offers 10 or more years is more likely to indicate a longer lifespan for the product.
Return Policy
In addition to gathering information on warranties, it's in your best interest to read over return policies. Most machines have a 30-day return policy. However, with such a large piece of equipment, the return can get challenging.
For example, you might need to hold onto the original box and packaging to accommodate for the return shipping. It's also common for companies to charge shipping and handling fees to return the elliptical—and in some cases packages will weigh several hundred pounds, so that cost can rack up quickly.
Final Verdict
You may feel overwhelmed with options because there is a lot of information to consider before you buy an elliptical. The best elliptical for you is the one you want to use, includes the features you deem important, and works well within your budget (whether that means purchasing upfront or exploring financing options).
FAQs
What should I look for when buying an elliptical?
Before you buy your elliptical, consider the following: how much space you'll need, assembly process, warranty, and customer service options.
Which type of elliptical is best?
Is using an elliptical better than walking?
This depends on what your needs and goals are. If you need a low-impact cardio workout option, then the elliptical will likely be a better option than walking. For someone not concerned about low-impact cardio and more concerned about muscle-building and forming bone density, walking will help support these goals more than a low-impact workout.
What is the ideal flywheel weight for an elliptical?
Look for a heavy flywheel, about 20 pounds or more. An elliptical is an investment for your home gym and a heavier flywheel will prevent shaking and rocking during use, and is usually an indicator of greater overall durability.