We test and review fitness products based on an independent, multi-point methodology. If you use our links to purchase something, we may earn a commission. Read our disclosures.
I've always been wildly fascinated by the people who climb Mount Everest. They are clearly, quite brave, and clearly, very well-conditioned (or just have a lot of personal confidence).
Although you won't catch me scaling the side of the Himalayas anytime soon, you will see me using an elliptical with incline. Whether you're into scaling glaciers or just feeling the burn in a more tame fashion, the best elliptical with incline can help you achieve your fitness goals.
We're Inclined to Help You Find the Best Equipment
Some of us feel inclined to eat lots of chocolate and pet puppies. Others of us feel inclined to do those things and help you find the best exercise equipment for your home gym. Luckily for you, we're the latter (and the former simultaneously).
When it comes to strength and cardio equipment reviews, Garage Gym Reviews has your back. After all, our team of expert product testers and reviewers are certified personal trainers, nutrition coaches, and former NCAA D1 athletes. We're passionate about giving readers unbiased and in-depth information they can trust––so they can get a great workout on equipment they love.
5 Best Ellipticals with Incline
Best Elliptical with Incline Overall: NordicTrack Commercial 9.9
Good for: Someone who wants a little bit of everything––incline, resistance, and interactive programming on a front-drive elliptical
Best Elliptical with Incline Overall
NordicTrack Commercial 9.9 Elliptical
NordicTrack's Commercial 9.9 Elliptical is a heavy-duty, top-of-the-line elliptical with quality components and a sturdy frame. Intended for commercial use, the 9.9 comes loaded with a 7-inch smart HD Touchscreen, automatic trainer controls, Bluetooth audio capabilities, Google Maps technology (with iFIT), a water bottle holder, dual 2-inch digitally amplified speakers, an AutoBreeze workout fan, and oversized cushioned pedals.It also features a 25-pound inertia-enhanced flywheel, Silent Magnetic Resistance (SMR), 17.5-inch to 18.7-inch auto adjustable stride, 22 levels of digital resistance, power-adjustable incline, up to a 20% incline, and one-touch controls. The steel frame supports user weights up 350 pounds which, while that is a respectable weight capacity, the stride length may feel constricting.What stands out with the Commercial 9.9 Elliptical is that it is currently advertised as "free" with required 4-year membership to iFIT. But therein lies the catch: a required 4-year membership to iFIT. If you planned to purchase this machine solely to use its 30 pre-programmed workouts, then this caveat may be a deal-breaker.But the reality is that most people are purchasing this elliptical to utilize the interactive programming available through iFIT. It opens up thousands of live and on-demand workouts offered from scenic locations around the world. Led by world-class trainers, you can focus on your workout using the automatic trainer-controlled resistance and stay motivated as well as connected to a global fitness community.
Pros:
20 incline options
25-lb flywheel
22 levels of resistance
Free 4-year iFIT membership with purchase
Automatic Trainer Control
Stride length is adjustable
Sturdy while being used
Cons:
Small HD touchscreen
Subpar warranty on the frame
Large footprint
If you're looking for an elliptical with incline that exceeds tons of industry standards, the NordicTrack Commercial 9.9 may fit the bill. The 20 incline options, which can be controlled by the user or the Automatic Trainer Control feature, are a great way to feel the burn in your lower body. If you want to focus on your iFIT workout without messing with any buttons, you'll love Automatic Trainer Control––the machine will adjust the settings to whatever the instructor says.
Plus, the 22 levels of resistance are excellent, especially when compared to the industry standard of 12. You'll be able to get breathless fast with the variety of options at your fingertips. Even better? Right now, you can purchase the NordicTrack Commercial 9.9 and get a free, four-year membership of iFIT included for around $1,900.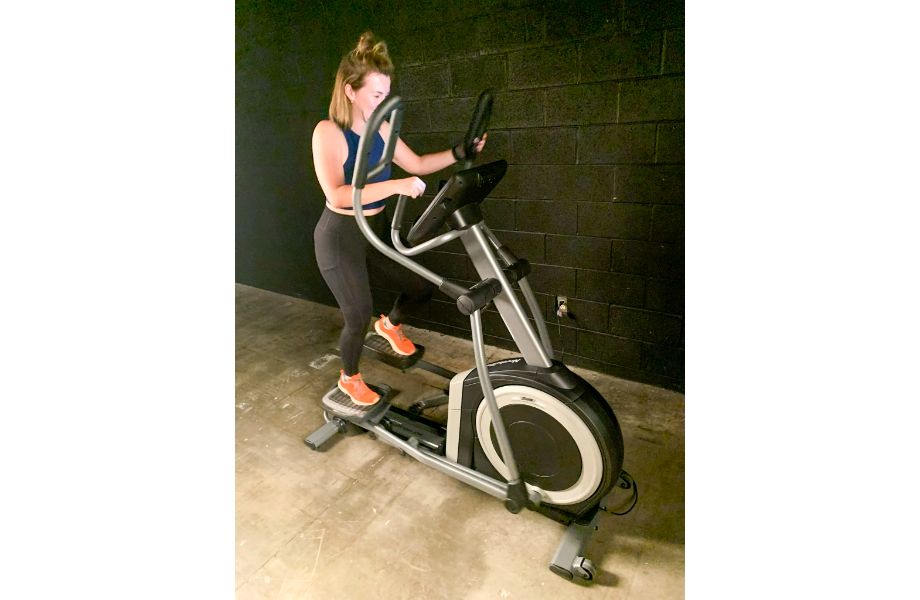 Two things about the 9.9 set this machine apart from the rest: The 25-pound flywheel and 350-pound user weight capacity. For reference, a good elliptical machine has between a 16- and 20-pound flywheel, so the 9.9 smashes these expectations. Plus, the 350-pound weight capacity is higher than the expected 275 pounds. This makes the 9.9 a more inclusive option for heavier people.
I'm a big fan of iFIT's programming––it definitely rivals that of Peloton. However, on the 9.9, the seven-inch screen for viewing programming just isn't cutting it for me. For context, most people's smartphones are only an inch or two smaller, so you'll likely wish you had a larger display.
The warranty on this machine is one of the few things that isn't great. The industry standard is at least 15 years on an elliptical frame, and the 9.9 only has 10 years to offer. In the future, I'd love to see NordicTrack switch this up to be aligned with what we expect.
Get the 4-1-1 with our NordicTrack Commercial 9.9 elliptical review.
| | |
| --- | --- |
| Price | Around $1,900 |
| Incline options | 0-20 |
| Weight capacity | 350 lbs |
| Footprint | 68.25″ L x 28.75″ W x 68.5″ H |
Best Smart Elliptical with Incline: Schwinn 470 Elliptical
Good for: Individuals who want to all the bells and whistles
Best Smart Elliptical with Incline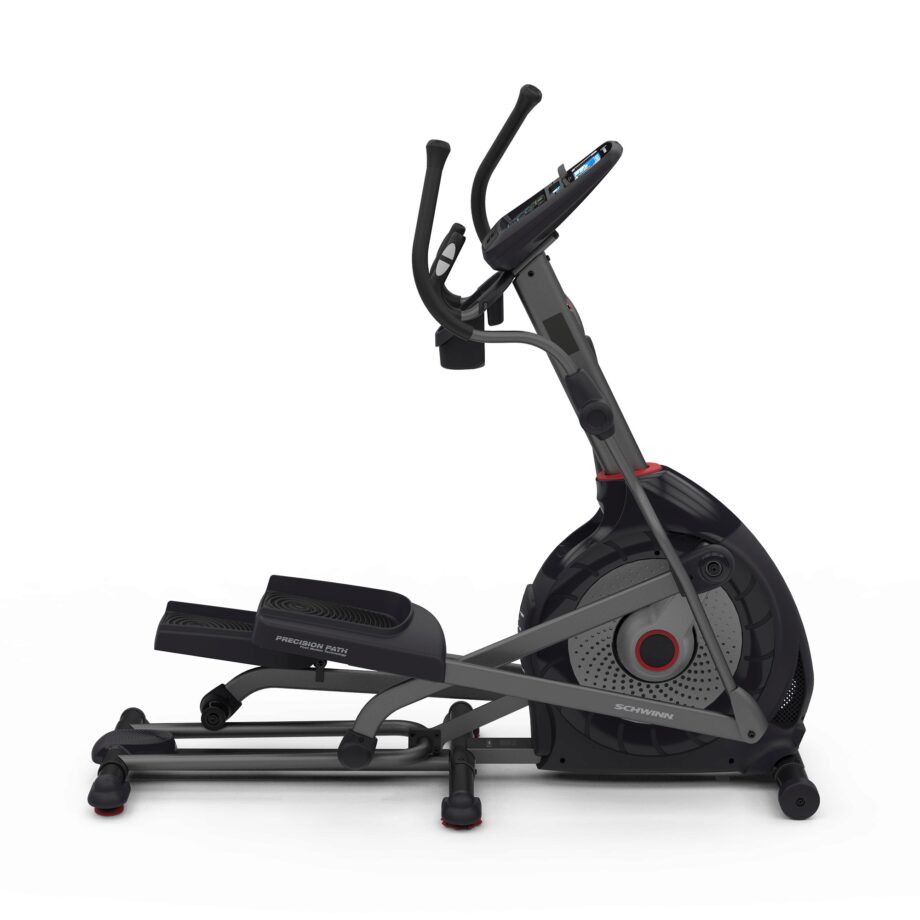 Schwinn 470 Elliptical
The Schwinn® 470 Elliptical is our top-of-the-line trainer, due to its premium quality, fluid motion and innovative features. Every inch of the Schwinn® 470 is designed to keep you inspired and motivated–from Explore the Worldâ"¢ compatibility to easy data tracking. With the 470, you'll get the training experience you need for the strength, endurance and weight loss you want.
Pros:
Can be connected to a variety of programs via Bluetooth
Ability to be used with a heart rate monitor
Included USB port for charging
25 levels of resistance
300-lb user weight capacity
20" stride length
10 incline levels
Cons:
Subpar warranty
Two people are needed for assembly
Large footprint
The Schwinn 470 is an excellent choice for individuals who want a smart elliptical with incline. Although this tricked-out cardio machine doesn't have an HD touchscreen, it can be connected to any program you desire via Bluetooth. There is also a handy media shelf above the quick select buttons for you to place your smart device. You can view the recommended Explore the World programming (subscription required), which will take you across scenic countrysides, exotic beaches, and desert roads or choose programming of your own, such as iFIT. The options are limitless!
I also like that the 470 can be connected to your own heart rate monitor. You'll be able to view this metric (along with others) on the backlit, LCD display. Plus, while you're getting your sweat on, feel free to charge your phone or other device with the handy USB port.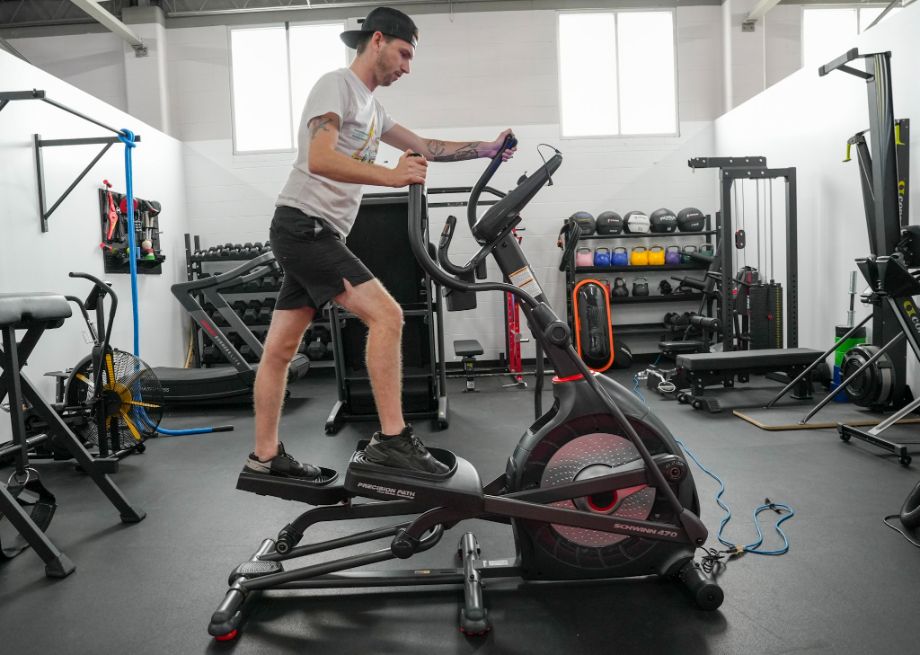 If you're a taller person, say over six feet, you'll really enjoy the 20-inch stride length. This is at the top of the industry standard for ellipticals, and will allow someone with longer legs to comfortably stride. If you're into a more traditional elliptical feel versus a stepper machine, you'll love this.
For those in small spaces, the 470 may not be your best choice, as the machine does have a significant footprint. It is also worth noting that this elliptical needs two people for assembly––or you'll need to cough up an additional $199 for professional assistance.
Read our full Schwinn 470 Elliptical review.
| | |
| --- | --- |
| Price | Around $1,100 |
| Incline options | 0-10 |
| Weight capacity | 300 lbs |
| Footprint | 70.1" L x 28.2" W x 63.2" H |
Best Elliptical with Incline for Tall People: Sole E55
Good for: Tall individuals who need a larger stride length
Best Elliptical with Incline for Tall People
Sole E55 Elliptical
The Sole E55 elliptical is a sturdy and thoughtfully designed product from a highly reputable manufacturer. Like Sole's other ellipticals, the E55 is equipped with 2-degree inwardly sloped adjustable foot pedals designed to reduce stress on the ankle and knee.Featuring six standard, two custom, and two heart rate programs, users have a lot of variability in training options. Twenty levels of power incline enables a wide range of intensities suited for beginner and experienced cardio junkies alike. In conjunction with all this, the 15-inch pedals have a generous 20-inch stride length and glides both forward and backwards so users can target different muscle groups. The Sole E55 comes equipped with many notable conveniences. Built-in cooling fans, a water bottle holder, Bluetooth speakers, an integrated tablet holder, and USB port keep you cool, hydrated, and entertained. Monitor your fitness metrics on the 9-inch LCD backlit display then download the Sole app for free and transfer the information to FitBit, Record, MapMyRun, or Apple Health. Users find that the Sole app is not very user-friendly but still a nice perk.Weighing over 200 pounds, this compact machine supports a maximum user weight of 375 pounds.The E55 is not easily assembled so you may consider recruiting some friends or hiring a professional.
Pros:
Lengthy stride
20 levels of incline
20-lb flywheel
Lifetime frame warranty
375-lb user weight capacity
Bluetooth connectivity
Variety of preset programs
Cons:
High step-up height
No touchscreen
Large footprint
Tall people can rejoice––the Sole E55 is here! This incline elliptical features a generous 20-inch stride length, which allows folks with longer legs to get full range of motion during their workout. Plus, you'll also be treated to a whopping 20 levels of incline to help you really step up your game (hehe).
I was also really impressed by the 375-pound user weight capacity. This is 100 pounds more than the industry standard, which makes the E55 a great exercise machine for a variety of people. The 20-pound flywheel isn't too shabby either––this is at the top of the range we'd expect to see on a high-quality elliptical.
The Sole E55 has an excellent lifetime frame warranty. If you're struggling to justify spending $1,500 on an elliptical machine, just know you'll be able to have this component guaranteed for life.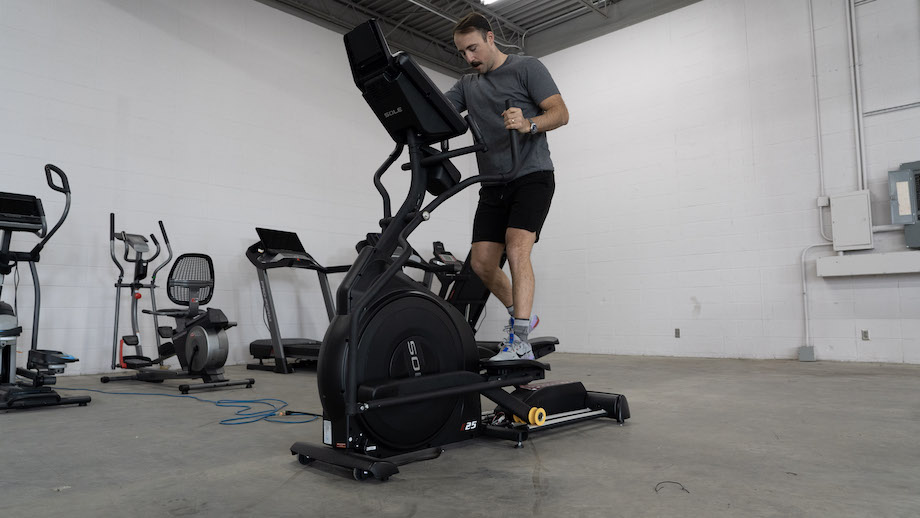 If you're someone with balance issues, you may have trouble mounting and dismounting the Sole E55, as this machine has a 14-inch step-up height. Generally speaking, a low step-up height on an elliptical is around 10 inches or less, so this is something to keep in mind.
It is also worth noting that this machine doesn't have a touchscreen, although you are able to connect your smart device via Bluetooth for metrics and sound. You can either purchase a subscription to STUDIO, Sole's interactive programming, or choose something different, like iFIT or JRNY. You can also forgo paid programming and take advantage of the bevvy of preset options on the E55––the choice is yours!
Learn more in our Sole E55 elliptical review.
| | |
| --- | --- |
| Price | Around $1,500 |
| Incline options | 0-20 |
| Weight capacity | 375 lbs |
| Footprint | 71" H x 71" L x 27" W |
Best Budget Elliptical with Incline: Horizon 7.0 AE Elliptical
Good for: All fitness levels at a reasonable price point
Best Budget Elliptical with Incline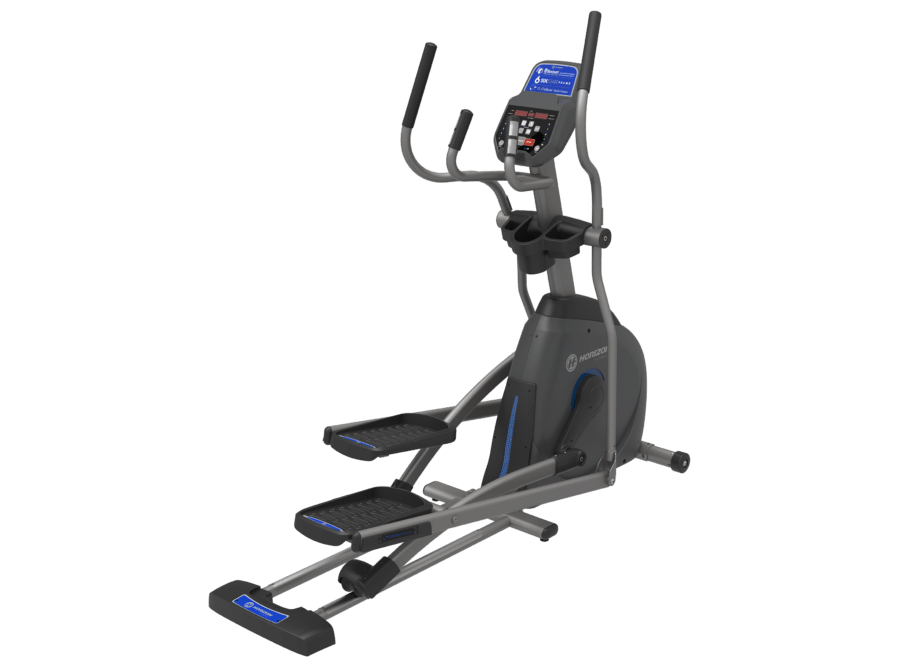 Horizon 7.0 AE Elliptical
Bring your fitness classes, music and entertainment to your workouts with advanced Bluetooth speakers. Smart fitness technology pushes data to your favorite tracking apps. Ergonomic Six-Star Frame encourages ideal body position and movement for a more efficient and comfortable workout. Achieve better muscle tone and burn more calories with advanced power incline.Read our full Horizon 7.0 AE Elliptical review.
Pros:
Under $1,000
20 levels of incline
20" stride length
325-lb user weight capacity
23-lb flywheel
20 levels of resistance
Bluetooth connectivity
Cons:
Difficult machine to move
Tough assembly process
Doesn't have a touchscreen
If you don't want to spend an arm and a leg to get a great elliptical with incline, the Horizon 7.0 AE may be a great option for you. This sturdy machine clocks in at just under $1,000 and features a large 23-pound flywheel and 20 levels of incline. When I used this machine, I was really impressed with how unmoving the 7.0 AE is, even when used on carpet.
RELATED: Elliptical Hacks
If you're a heavier person, you'll likely still feel well-supported on the 7.0 AE. The weight capacity of 325 pounds is above the industry standard by 50 pounds.
Although this machine is simple (there isn't a touchscreen), it is sturdy and easy to use. If you're a beginner or someone returning to exercise, the 7.0 AE likely won't feel as intimidating as some of the teched-out options on the market.
RELATED: Beginner Elliptical Workouts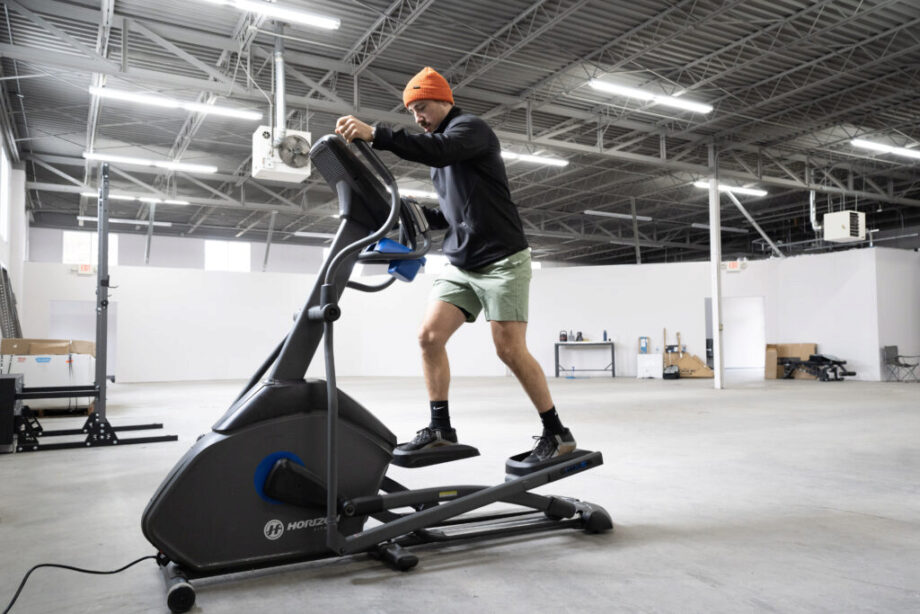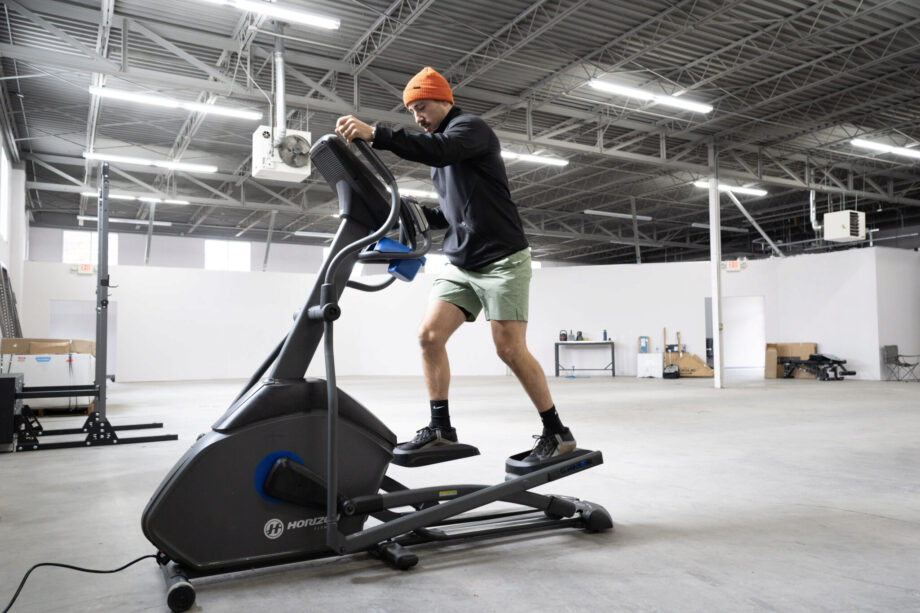 I assembled this machine myself, which was honestly a mistake. There are components on the 7.0 AE that need to be held while wiring or screws are added, and not having a second set of hands was detrimental to the process. I'd recommend either having a friend help, or springing for professional assembly.
Take a closer look at our Horizon 7.0 AE elliptical review.
| | |
| --- | --- |
| Price | Under $1,000 |
| Incline options | 0-20 |
| Weight capacity | 325 lbs |
| Footprint | 76″ L x 24″ W x 65.5″ H |
Best Elliptical with Incline for Heavy People: Nautilus E618 Elliptical
Good for: Individuals who are heavier and need a durable elliptical
Best Elliptical with Incline for Heavy People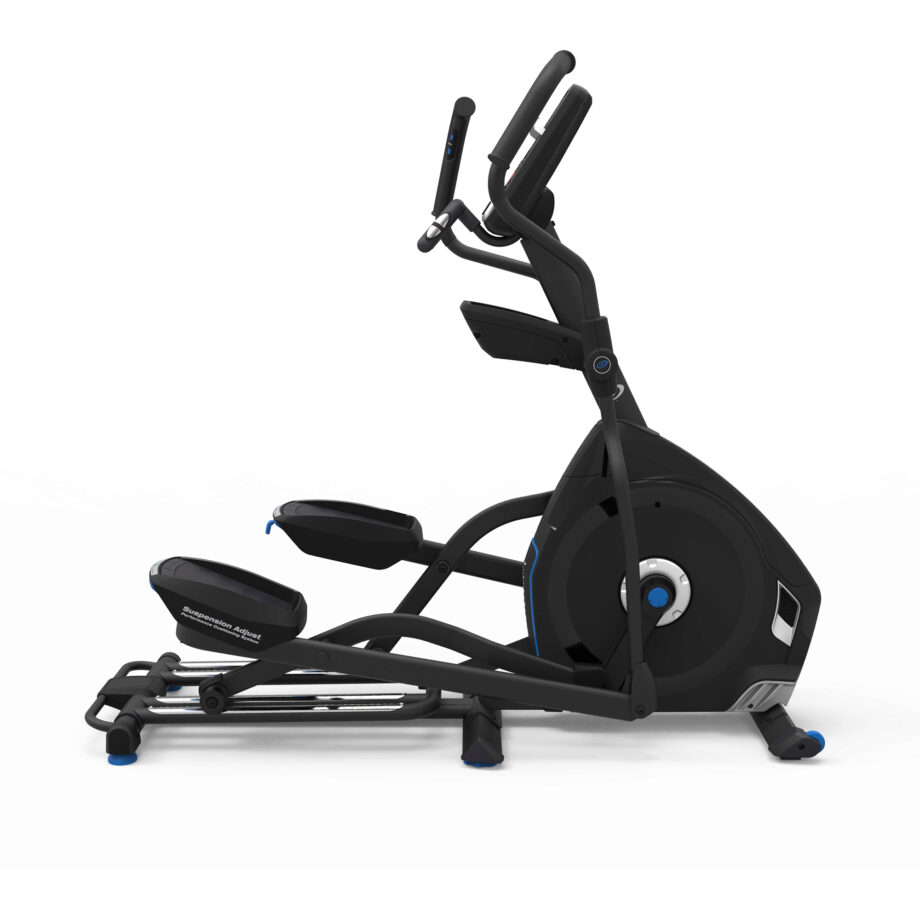 Nautilus E618 Elliptical
From the Nautilus Performance Series comes the E618 Elliptical Trainer. Designed for serious competitors looking to up their game, the E618 is fully loaded with dozens of training programs, Bluetooth® connectivity and free app-based tracking tools that help maximize motivation and power up performance.
Pros:
350-lb user weight capacity
29 preset programs
10 levels of incline
22-inch stride
Bluetooth connectivity
Dual handlebars
Warranty meets industry standards
Comes with a heart rate monitor
Cons:
No touchscreen
Sizeable footprint
Professional assembly is expensive
Exercise is for everyone––tall, heavy, short, thin, or somewhere in between. I love fitness equipment that is inclusive––in fact, it's something I'm really passionate about. The Nautilus E618 elliptical has my heart due to the 350-pound user weight capacity and 22-inch stride.
If you're both heavy and tall, you'll be able to have a comfortable experience on this durable machine. A 22-inch stride length is two inches longer than the top of the industry standard, so you'll really be able to use movement patterns that feel natural to you.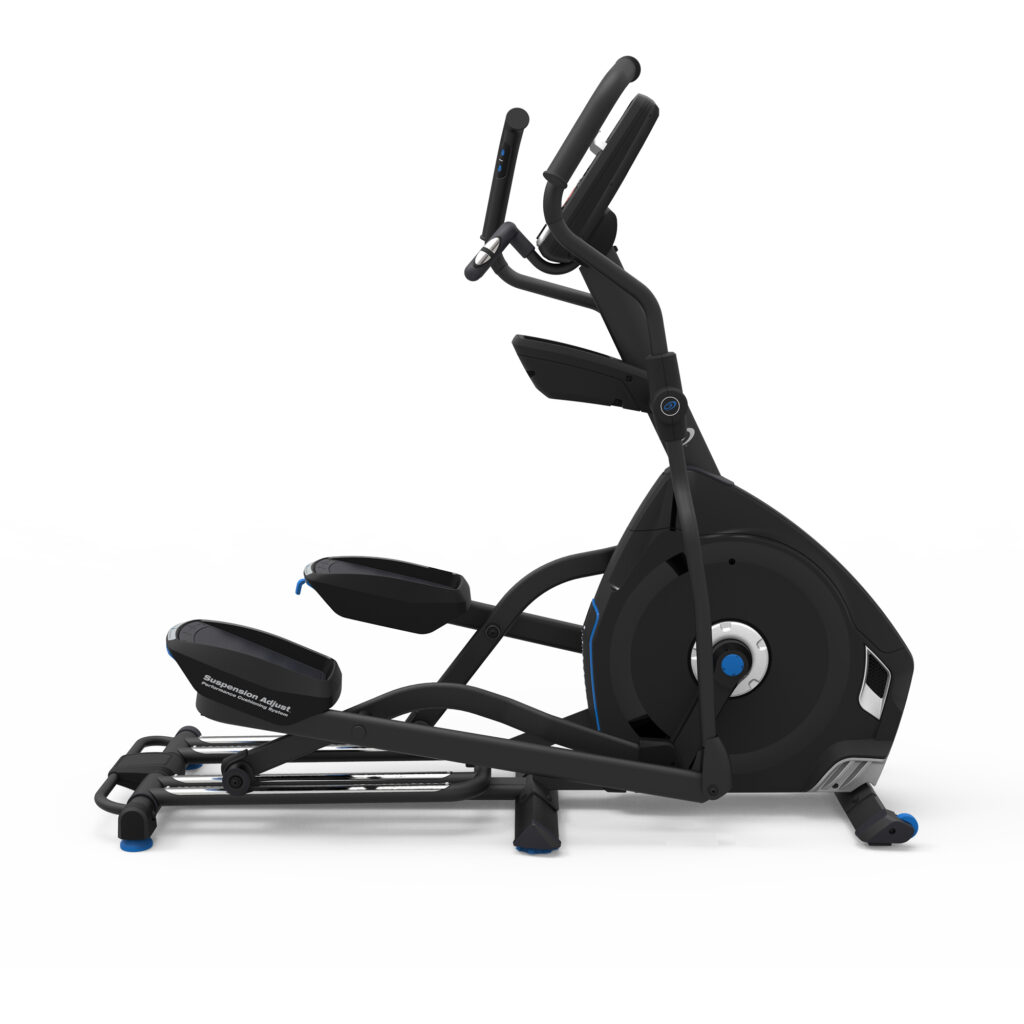 Although the E618 doesn't have a touchscreen, you won't be hurting for workouts. This elliptical features 29 different preset programs for the user to choose from––get going with some rolling hills, a heart-rate based workout, or high-intensity interval training (HIIT).
Plus, if you don't already have a heart-rate monitor, this machine comes with a strap, which can be connected via Bluetooth.
It is worth noting that this machine has a sizable footprint (and is 210 pounds), so you'll need a dedicated space for it to live. Prior to purchasing, you'll also need to consider the assembly process. Although Nautilus does currently offer free shipping on the E618, professional assembly is an additional $249.
| | |
| --- | --- |
| Price | Under $1,400 |
| Incline options | 0-10 |
| Weight capacity | 350 lbs |
| Footprint | 73" L x 27" W x 67" H |
Other Ellipticals with Incline We Researched
Although ellipticals with incline are great, there are plenty of other excellent options out there. Check out a few of our other roundups to get a taste of what's on the market:
How We Picked and Tested
Before adding an incline elliptical to our roundup, we asked ourselves a series of in-depth questions. Here is a sampling:
Incline options: Does this elliptical have an adjustable incline? How many incline settings does this machine have?
Price: How expensive is this machine? Would it be considered budget, mid-range, or high-end? Are there any financing options available?
Stride length: What is the stride length? Does it fall within the expected industry standard of 18 to 20 inches? Does this cross trainer have an adjustable stride length?
Resistance: How many levels of resistance does this machine have? Does it have magnetic resistance?
Foot pedals: Are the pedals adjustable? Are they well-cushioned? Will they fit most feet?
Footprint: What are the dimensions of the elliptical? Does it have a large footprint or would it be considered a compact option? Would this fit in an apartment?
Warranty: What does the warranty look like? How does this compare to the industry standard for frame, labor, and parts?
Extras: Does this elliptical trainer have extras like Bluetooth speakers, an included heart-rate chest strap, cushioned pedals, a water bottle holder, or a tablet holder?
Programs: Are there any preset workout programs on this machine? Is the machine compatible with interactive programming services like iFIT, the JRNY app, or Explore the World?
Weight and portability: How heavy is this machine? Would a single person be able to move it? How portable is the machine? Are there any transport wheels attached to the elliptical?
Display: What type of display does this machine have? Is it an HD touchscreen, LCD screen, or LED display?
Weight capacity: What is the weight capacity of the elliptical machine? Does this align with industry standards?
Benefits of Ellipticals with Incline
Trying to figure out if purchasing an elliptical with incline is the right move for you? Garage Gym Reviews Writer and certified personal trainer Lauren Strong is here to give some insight.
"Ellipticals with incline training options give you the ability to customize your workout and stimulate different muscle groups," Lauren explains.
"Incline training can help you turn a low-impact workout into a posterior-chain pump by adding emphasis on the glutes, hamstrings, and calves. That said, increasing the incline on your elliptical can also help to increase calorie burn without adding more time to your cardio workout," Lauren adds.
"During a 20-minute bout of elliptical exercise, your caloric expenditure will likely be higher if you implement incline training because more muscles are stimulated versus the same amount of time on an elliptical without choosing incline training."
Buying Guide: What to Look for in an Elliptical with Incline
Here are the top three things you should keep in mind when purchasing an at home elliptical with incline:
Incline Options
Perhaps this goes without saying, but if you're looking for an elliptical with incline, you should probably check the incline options. Some machines may have higher inclines available or a more challenging feel at the same level.
It is in your best interest to decide how many levels of incline you want ahead of your search. Some machines, like those NordicTrack ellipticals, can even automatically adjust your incline to match the instructor's cues.
Price and Financing
Ellipticals can be pricey, so it is always a good idea to set a budget prior to purchasing anything. However, if you fall in love with a machine outside of your budget, there are a few ways to get around the issue. First, check to see if the elliptical in question is able to be financed. Many larger companies (like ProForm or NordicTrack) offer great financing options through banks. If you qualify via a credit check, you can make reasonable monthly payments instead of paying a large sum at once (sometimes without any interest).
Dimensions
If you're in a more compact space, it is necessary to consider the measurements of your potential elliptical. Many elliptical machines have larger footprints and cannot be folded. Luckily, there are still a variety of options for people with limited space––you may just have to get creative or look a bit harder.
Best Elliptical with Incline FAQs
Is an incline elliptical good?
Yes, an incline elliptical can be a good add to your home gym. You'll be able to get additional lower-body activation that you wouldn't get during a traditional elliptical workout.
What is the highest rated elliptical machine?
What muscles are worked with an incline elliptical?
"Exercising on an elliptical with incline will work all of the same muscles as exercising on a regular elliptical—all of the major muscle groups—but with an increased emphasis on the glutes, quads, and calves," GGR editor and certified personal trainer Amanda Capritto shares.  "You may also feel some additional strain on your core muscles due to the increased balance needed to remain upright with a higher step up."