We test and review fitness products based on an independent, multi-point methodology. If you use our links to purchase something, we may earn a commission. Read our disclosures.
According to an April 2020 study1 in The Journal of Allergy and Clinical Immunology, the rise of the COVID-19 pandemic significantly increased the number of people who are purchasing home fitness equipment.
If you find yourself in this category, but don't have it in your home gym budget to purchase brand new equipment and are wondering what to look for in used cardio equipment, we have put together an in-depth guide of steps to consider before you buy. So before you start searching on Craigslist, eBay or your local garage sale site, keep reading so you know exactly what you're looking for.
Considerations Before Buying Used Fitness Equipment
As with any large investment, it's important to create a plan as well as understand what the overall market looks like for any cardio equipment you're looking at purchasing. Many brand-new exercise machines such as treadmills, exercise bikes, ellipticals, and rowing machines cost thousands of dollars, which can be out of the question for many home gym owners.
Narrow Your Search
Are you looking for just any cardio equipment? Or do you know you want an elliptical machine, stationary bike, or rower?
Before you begin to research different types of fitness equipment, you need to first consider the following:
What space you have available
What types of movement you enjoy doing
Your overall fitness goals
How much maintenance the machine requires to function properly
Read Reviews
Once you have dialed in on what type of cardio machine will fit your needs, you then can read reviews online (we highly suggest going outside of the manufacturer's review list for more honest opinions). This is also a great opportunity to "phone a friend" and ask your local fitness friends or Facebook groups what type of fitness equipment they have in their home gyms and what they love or hate about those pieces.
Getting advice and reviews from people who have used the equipment is an amazing resource when it comes to making a large purchase. It's also a big reason we do what we do here at Garage Gym Reviews!
Take It For a Spin
If you have a friend who currently has a cardio machine you are interested in, check to see if they would let you try it. If this option isn't available, check out your local sporting goods store for an in-person evaluation of the different pieces of equipment. Also, ask how it holds up to normal wear and tear and if there are any mechanical issues they have had to deal with while owning it.
With the knowledge of seeing a piece of cardio equipment in working condition, you know what areas to inspect when looking at second-hand pieces. Pay close attention to the parts that take the most beating such as pedals, belts, handles, and technology.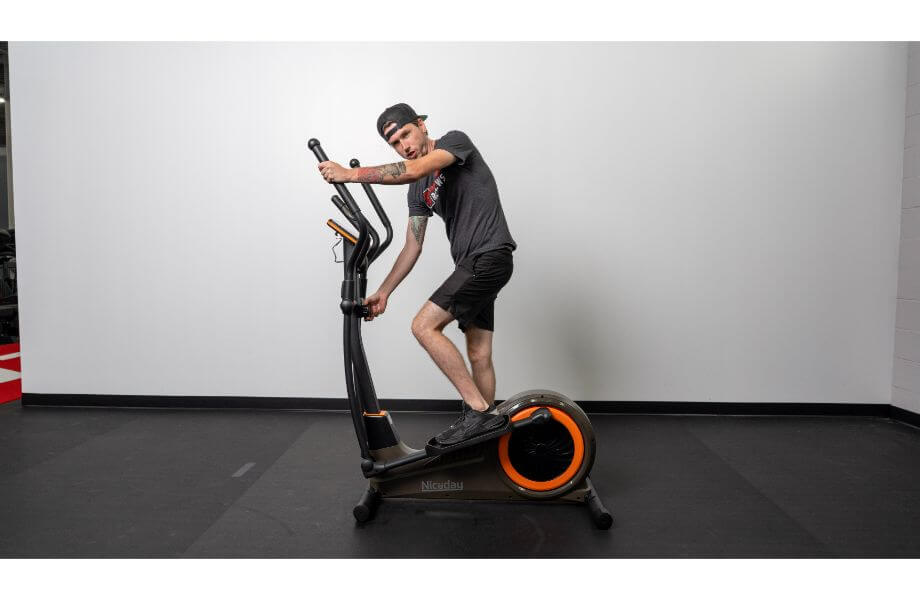 8 Tips on What to Look for in Used Cardio Equipment
Once you've found the right piece of equipment, it's time to really dig in to make sure it's good for you. Here are our eight tips on what to look for in used cardio equipment.
1. Amount of Use
How much did the previous owner use the equipment? Just like you check the miles on a used car before buying it, check the usage of used cardio equipment. Many treadmills, for example, have an internal odometer that can tell you how many miles have been logged.
Why does this matter? Let's go back to the treadmill. A quality treadmill has a lifespan of about 10 to 20 years; however, that can vary greatly depending on how many miles the previous owner racked up on it. Someone who simply uses it for walking or sporadically in their HIIT (high-intensity interval training) workouts has put less stress on the machine versus someone who consistently uses it for marathon training.
If someone says they are selling a treadmill "like new" but the machine has been used every day for three years, it is certainly not "like new" (and you shouldn't pay "like new" prices for it).
2. Warranty
When someone purchases a high-quality machine brand new, it typically comes with a warranty. If you are buying the fitness equipment used, discuss with the current owner if there is any warranty remaining as well as if they have a copy of the paperwork so you can note if anything has been done to void this warranty.
Many warranties require documented maintenance in order to stay valid for the full length of the warranty period. Some brands will also offer you an option to purchase an extended warranty depending on the age of the machine, which can be very beneficial when it comes to purchasing replacement parts.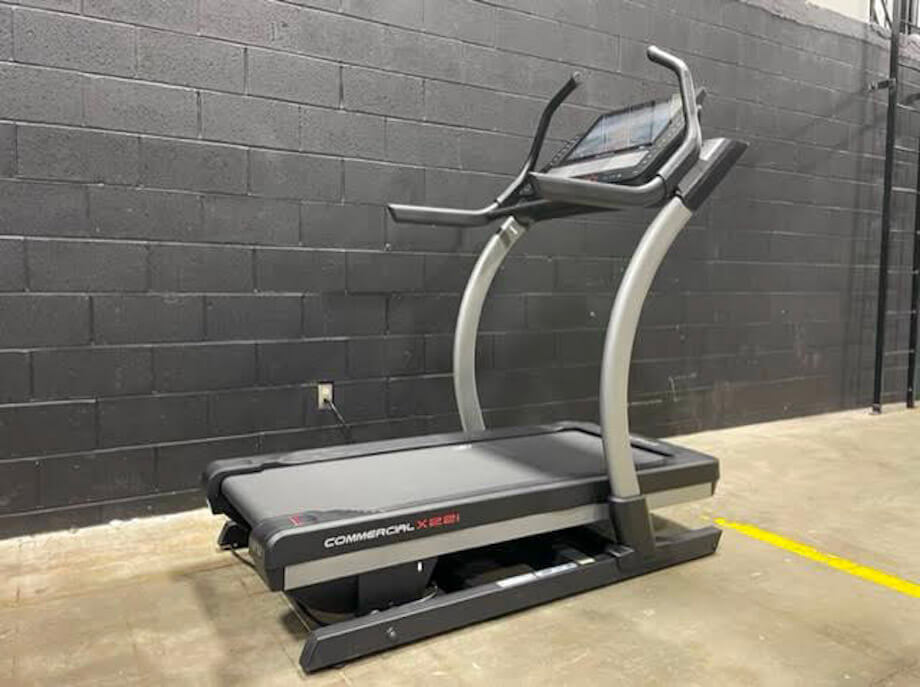 3. Documented Equipment Maintenance
Ask for any documented maintenance that the machine has had since being in possession of the current owner. This not only helps with warranty paperwork but also shows you how well they have taken care of the machine while in their care. Proper maintenance can go a long way in the life of a used piece of cardio equipment and extend its lifespan and overall durability.
4. Brand Name
Does the machine you're looking at have a recognizable brand name? Home gym investments are much like anything else: You get what you pay for. It's a good sign when you can search the brand to read about its policies and the quality of its products, opposed to white-label products on Amazon that make it difficult to locate a customer service number.
5. Number of People that Have Owned the Piece of Equipment
If a machine has been through three owners over a course of five years, it could be a red flag. First, it means you may not have access to the entire history of the machine. Second, it could mean that there is something amiss with the equipment.
6. Functionality
Ask the seller if you can give the machine a try before you buy. This gives you time to make sure all the parts are working as they should, from the mechanics to the electronics. If the seller doesn't want you to set foot on the machine, it could be a sign that they know something isn't working.
7. Where Has the Equipment Been Stored?
Be prepared with questions to ask the seller including where the equipment has been stored. Many people keep their large cardio machines in places like a garage or basement for space-saving, but this can shorten the lifespan of the machine by exposing it to elements including extreme heat and cold as well as more dust and damp air.
All of these factors can not only void any potential warranty but they can also affect the ability of the machine to work properly. That doesn't mean that it's a dealbreaker, but it's good information for you to have when making your decision.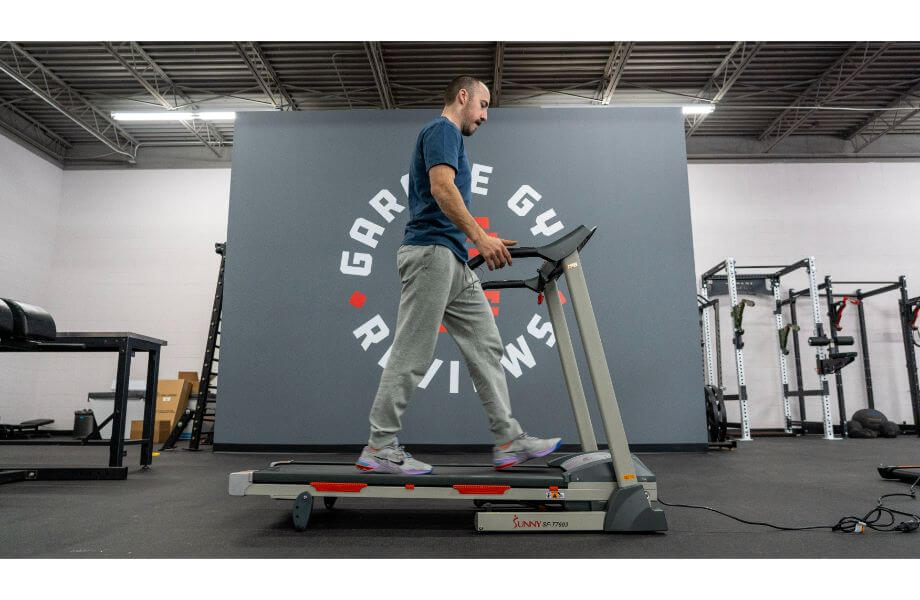 8. Reviews
Read reviews online, poll your local fitness friends, post in Facebook groups. Understand that not all reviews will coincide with how you will use the piece of equipment, but they may give you a wide variety of information to help you make the decision of what home gym equipment to purchase to help you meet your personal fitness goals.
Final Thoughts: What to Look for in Used Cardio Equipment
We have worked through a lot of information in regards to what to consider before buying used cardio equipment, but there are a few final thoughts that you need to remember in your own search to build a successful home gym space.
Find cardio equipment that fits your space and your training needs.
Request documented maintenance from the previous owner preferably from when the machine was bought new.
Read reviews from an abundance of different sources.
Whether your goals are for weight loss or simply something to burn off frustrations at the end of the day, there are a variety of options out there to help you incorporate movement into your routine.
FAQs Buying Used Exercise Equipment
How long does cardio equipment last?
The average piece of cardio equipment can last around 10 years. This can vary on how often the equipment is used, the level of intensity the equipment is frequently used at, as well as the level of upkeep and maintenance performed on the equipment throughout its lifespan. 
What should you consider before buying exercise equipment?
There are many factors you should consider before buying used gym equipment but the most important is the space you have available for it as well as how it will fit into your training plan. Having a piece of equipment you don't enjoy won't do you any good even if it's the best machine on the market. 
How can you ascertain the quality of used gym equipment?
You can ascertain the quality of used gym equipment by requesting documented maintenance records, preferably from the original purchase of the machine, as well as by testing it out for yourself to confirm that all functions are working properly. 
Should I buy used weights?
Free weights are one of the best pieces of used fitness equipment to buy as they are typically very durable and don't have any extra parts that can break. Simply check over the dumbbells, barbells, and plates to make sure there are no cracks or uneven wear and you will have a solid addition to any home gym. Sometimes commercial gyms will sell their old weights and you can pick up some great pieces to add to your collection. 
References
Nyenhuis, S., Greiwe, J., et al. "Exercise and Fitness in the Age of Social Distancing During the Covid 19 Pandemic." J Allergy Clin Immunol Pract. 2020 July-August; 8(7): 2152–2155. Published online 2020 Apr 28. doi: 10.1016/j.jaip.2020.04.039