We test and review fitness products based on an independent, multi-point methodology. If you use our links to purchase something, we may earn a commission. Read our disclosures.
Hours of cardio and strength training may help your gut look good on the outside, but it's what's on the inside that matters—in this case, your gut health. The gut has been called "the second brain" and people have been trusting it for generations, but we guys often do more to hurt it than help it (I'm talking about a guy's night at the bar—you know who you are.)
No worries, though—our choices for the best probiotic for men are formulated to benefit men's gut health and reduce symptoms like bloating, constipation, and nausea, and even boost your athletic performance. You might be weirded out by the fact that probiotics contain live bacteria (several billion of them, in fact), but we'll tell you why that's nothing to worry about and how it can actually help you.
RELATED: Best protein powder for men
Medical disclaimer: This article is intended for educational and informational purposes only. It is not intended as a substitute for medical advice. For health advice, contact a licensed healthcare provider.
Giving the Fitness Industry A Healthy Gut Check Since 2016
Here's an unfortunate fact: Way too many fitness companies will try to sell you faulty products with promises of helping you gain muscle or lose weight. The average Jane or Joe might not be able to see through their lies, but we can.
How? We're a group of nutrition experts, dietary professionals, certified personal trainers, and competitive athletes who have been testing and reviewing home gym equipment and supplements for years, and we've been able to get companies to change their products for the better. We're not afraid to tell you the downsides of a product, even if we really like it, so you know you'll always get the truth from us.
Our 10 Top Picks for the Best Probiotic for Men
Best Overall Probiotic for Men: Biotics 8
Good for: Men who want to improve their overall gut health
Biotics 8 is a one-stop shop for men's gut health needs. Like many of our top picks, it comes packed with probiotics (the live bacteria) and prebiotics, which are essentially food for probiotics to help them do their job, according to this 2019 review1.
It also contains several digestive enzymes to aid with your digestive system, and according to a February 2016 review2, may enhance probiotics effectiveness in treating gastrointestinal diseases (though the researchers clarified more studies need to be done on those claims).
We like Biotics 8 for men because it's specifically formulated for men. One example of this is the addition of vitamin D, which when combined with probiotics could reduce men's overall disease risk and improve several health markers such as insulin sensitivity, according to a January 2021 meta-analysis3.
Vitamin D4 and probiotics5 have also both been linked to increased testosterone levels in men, though Bauer Nutrition specifies it takes about a month of continuous use to notice this benefit.
Speaking of continuous use, Biotics 8 requires you to take three capsules per day to get the most out of its probiotics, which is about the average amount of other probiotics. It's best to take these all at once first thing in the morning.
Another benefit of Biotics 8 is they specify it doesn't have to be refrigerated, so you can take them on the go. Refrigerating probiotics tends to make them last longer, as heat can kill the organisms inside, but that doesn't seem to be a problem here.
| | |
| --- | --- |
| Dosing instructions | 2 capsules/day (16 billion CFUs) |
| Strain(s) | Lactobacillus acidophilus, Lactobacillus casei, Lactobacillus paracasei, Lactobacillus rhamnosus, Lactobacillus plantarum, Lactobacillus fermentum, Bifidobacterium longum, Bifidobacterium bifidum, Bifidobacterium breve, Saccharomyces Boulardii |
| Storage | No refrigeration required |
| Cost | $2.00/serving in 30-serving container |
Best Probiotic for Athletic Men: Kaged Pro-Biotic
Good for: Athletes or men who live a very active lifestyle
A November 2022 clinical review6 found that athletes could improve their performance and even reduce recovery time with probiotic supplementation. Kaged Pro-Biotic contains TWK10®, a patented version of the probiotic strain known as L. plantarum, that's made specifically for athletes who want to see such benefits.
A November 20197 study found TWK10®, which is naturally fermented from kimchi, had significant impacts on exercise performance, body composition, muscle energy, and endurance. Some test subjects also experienced "significant" fat loss, though they were given a high dose of TWK10®.
RELATED: Best pre-workout for men
It has also been linked to better immune health and decreased fatigue, both of which are very important to those living an active lifestyle.
Kaged gets major bonus points for only requiring one capsule per serving. The company ensures each serving will be effective by making its capsules with hypromellose—a May 20058 study found this compound allows the organisms inside the capsule to remain untouched until it reaches the intestines for full absorption.
This is important because if the capsule dissolves in the stomach the probiotic bacteria may not be fully absorbed and you may not experience the positive side effects you were looking for.
| | |
| --- | --- |
| Dosing instructions | 1 capsule with breakfast, lunch, and dinner (10 billion CFUs/capsule) |
| Strain(s) | L. plantarum (as TWK10™) |
| Storage | Not indicated |
| Cost | $0.23/capsule for a 90-capsule container |
Best Probiotic for Men for Immunity: Transparent Labs Probiotic-Advanced Gut Health Formula
Good for: Any man who's trying to support his immune system or reduce his overall disease risk
There are 100 billion alive and active microorganisms present in each serving of Transparent Labs Probiotic-Advanced Gut Health Formula, which is easily the highest amount we've seen in the best probiotic supplements. There are 10 different strains of probiotics, each with a differing amount of colony forming units (better known as CFUs).
The most prevalent strain is Lactobacillus acidophilus (25 billion CFU), which a November 2020 study9 found was beneficial in treating chronic diarrhea, an indicator of poor digestive health. Lactobacillus rhamnosus, the second-most prevalent strain (15 billion CFU), has been found to be effective in treating gastrointestinal infections, irritable bowel syndrome (IBS), inflammatory bowel disease, and more, according to this March 2019 review10.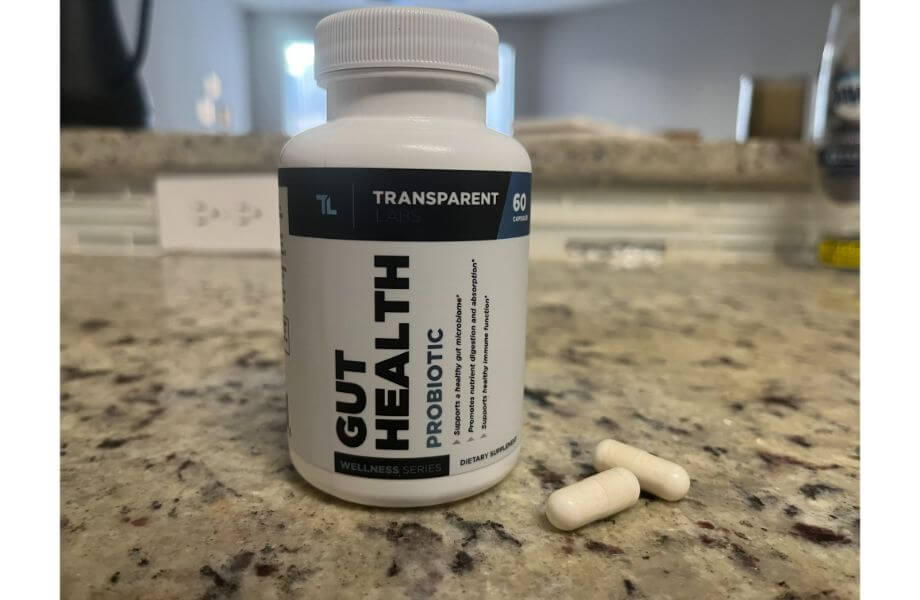 You get the point—it's chock full of a whole lot of live gut bacteria that have major benefits for your gut and immune health. What's more, it's free of artificial sweeteners, artificial colorings, and preservatives, all of which could cause bloating and negatively impact your immune system.
Each serving is only two pills and they're quite easy to swallow. We like that the capsules are made with hypromellose to ensure a delayed-release delivery until they reach the intestines8.
| | |
| --- | --- |
| Dosing instructions | 2 capsules/day with a full glass of water, preferably on an empty stomach, or as directed by a healthcare professional |
| Strain(s) | Lactobacillus acidophilus (LA-14), Lactobacillus rhamnosus (LR-32), Lactobacillus casei (LC-11), Lactobacillus plantarum (LLP-115), Lactobacillus paracasei (LPC-37), Bifidobacterium lactis (BL-04), Lactobacillus salivarius (LS-33), Streptococcus thermophilus (ST-21), Bifidobacterium bifidum (BB-02), Bifidobacterium breve (BB-03) |
| Storage | Not indicated |
| Cost | $45.99/30 servings = $1.53/serving |
Best Probiotic for Men for Weight Loss: Swolverine Probiotix
Good for: Men who are trying to lose belly fat or reduce bloating
It should be said that weight loss can only be achieved by being in a caloric deficit, or burning more calories than you consume, but Swolverine Probiotix has some probiotic strains that have been linked with losing weight.
It contains a patented form of bacillus subtilis known as DE111®, which among other things has been linked to improved blood lipid levels (i.e., your cholesterol and fat levels) and overall blood health, according to a November 2020 study11. More specifically, the probiotic strain has been linked to improving the ​​endothelium, a thin membrane that releases substances into the blood that control blood clots and immune function.
Again, this won't directly lead to weight loss but a December 2020 systematic review12 found that weight loss was connected with improvements in blood lipids.   
Swolverine Probiotix also contains Lactobacillus casei, a probiotic strain that a September 2018 review13 stated was able to survive different forms of stress in the body to avoid breaking down before it hits the intestines and is fully absorbed.
The one downside of Probiotix is that they don't specify the CFUs of each strain, so it's difficult to tell if you're getting a significant dose of each. That said, its probiotic blend has 5.75 billion CFUs between seven bacterial strains.
| | |
| --- | --- |
| Dosing instructions | 1-3 capsules with food, or as directed by a healthcare professional. |
| Strain(s) | Lactobacillus Plantarum, Lactobacillus Casei, Lactobacillus Rhamnosus, Bacillus Subtilus (DE111™), Bifidobacterium Breve, Bifidobacterium Longum, Lactobacillus Acidophilus |
| Storage | Refrigerate to prolong potency |
| Cost | $32.99/60 servings = $0.57 per serving |
Best Dairy-Free Probiotic for Men: Probiology Gut+
Good for: Men with dairy sensitivities
Although probiotic supplements may not clearly state they contain dairy, people with lactose intolerance or other dairy sensitivities should be aware that some probiotic strains are made from dairy and could do more harm than good. Probiology Gut+ contains no such strains, so it's safe for anyone living a dairy-free lifestyle.
This probiotic contains 40 billion CFUs from four different strains, but it uses a proprietary blend so it's unclear whether each strain contains enough CFUs to be effective at their jobs. Among the four strains is Lactobacillus acidophilus, associated with a reduced risk of diarrhea and better immune health9, and bifidobacterium lactis, which a June 2016 study14 linked with increased nutrient absorption and improved bowel movements.
The company boasts the inclusion of brown seaweed extract, which they claim helps the probiotic withstand stomach acid "250 times better" than standard probiotics. A 2010 overview15 of the compound seems to back up this claim, but a more recent review published in February 202016 states there's much more research that needs to be done on these claims.
| | |
| --- | --- |
| Dosing instructions | One capsule in morning and one at night with water, or as directed by healthcare professional |
| Strain(s) | Lactobacillus acidophilus, Bifidobacterium lactis, Lactobacillus plantarum, Lactobacillus paracasei |
| Storage | No refrigeration needed |
| Cost | $39.95/30 servings = $1.33 per serving |
Best Allergen-Friendly Probiotic for Men: Vitamin Shoppe Ultimate 10+ Probiotic
Good for: Anyone who wants to ensure their probiotic is free of allergens
Like we mentioned above, probiotics themselves don't have dairy, gluten, or other common allergens, but the strains used in them might have been extracted from food items known to cause problems in some people.
Vitamin Shoppe Ultimate 10+ Probiotic comes in differing strengths—13, 20, or 30 billion CFUs—and is gluten-free, dairy-free, soy-free, and non-GMO. It's also our choice for the best budget probiotic for men, since a 100-serving bottle only comes out to $22.99, or $0.22 per capsule, (for the 13 billion CFU option).
As with most budget-friendly dietary supplements, Vitamin Shoppe Ultimate 10+ Probiotic comes with some artificial ingredients that are mostly used to increase the supplement's shelf life. While it does have 12 different bacterial strains, it's a proprietary blend so we're unsure how much of each is present.
On the bright side, there are some major players here: Lactobacillus acidophilus to treat chronic diarrhea9, Lactobacillus rhamnosus to fight off gastrointestinal diseases10, and bifidobacterium lactis for improved nutrient absorption and bowel movements14.
| | |
| --- | --- |
| Dosing instructions | One capsule per day, with or without food |
| Strain(s) | Lactobacillus Rhamnosus, L. Casei, L. Acidophilus, L. Plantarum, Bifidobacterium Lactis, L. Bulgaricus, L. Salivarius, B. Bifidum, Streptococcus Thermophilus, B. Longum, B. Breve, L. Gasseri |
| Storage | Store in cool, dry place |
| Cost | $22.99/100 servings = $0.22 per serving* |
* Based on 100-serving container
Best Raw Probiotic for Men: Garden of Life Raw Probiotics Men
Good for: Any man who wants an organic probiotic
The bacteria found in some probiotics is sometimes treated with heat, which can decrease the positive side effects of those strains (this is done to reduce some potential negative side effects of ingesting live bacteria). Garden of Life uses a "raw" probiotic, which is when bacterial strains are extracted from whole foods instead of using isolated strains.
There are limited scientific studies on raw probiotics, but a small August 2012 study17 found promising results when it came to improvements in gut health.
Garden of Life uses a mixture of Bulgarian yogurt, which was featured in a February 2021 review18 for the unique bacteria found in it and their potential benefits on human gut health, Eastern European kefir (a fermented milk drink that has active cultures), and scobies (the bacteria that works alongside yeast to ferment drinks like kombucha).
It also contains an original probiotic strain called Lactobacillus fermentum, which researchers in April 2011 reported 19 was linked to an improved immune system in athletes and active male adults. While most probiotic strains are fine for men and women, the researchers emphasized that not enough is known on how this specific strain can affect a woman's immune system and that more research is needed.
RELATED: Best protein powder for women
| | |
| --- | --- |
| Dosing instructions | 3 capsules per day, with or without food |
| Strain(s) | 31 |
| Storage | Not indicated |
| Cost | $39.89/30 servings = $1.32 per serving |
Best Synbiotic Probiotic for Men: Ritual Synbiotic+
Good for: Those who want to increase the effectiveness of their probiotic
A synbiotic probiotic is simply a probiotic that contains both probiotics and prebiotics, which, as a reminder, acts as a food source to allow probiotic strains to survive until they reach the intestines. Ritual Synbiotic+ takes it a step further by adding a third type of probiotic: postbiotics.
The International Scientific Association of Probiotics and Prebiotics (ISAPP)20 defines postbiotics as the byproduct of postbiotics feeding off of prebiotics. One example of a postbiotic is butyrate, a short-chain fatty acid that a January 2018 review21 reported could help with immunity and ease inflammation, though the researchers specified more research needed to be done.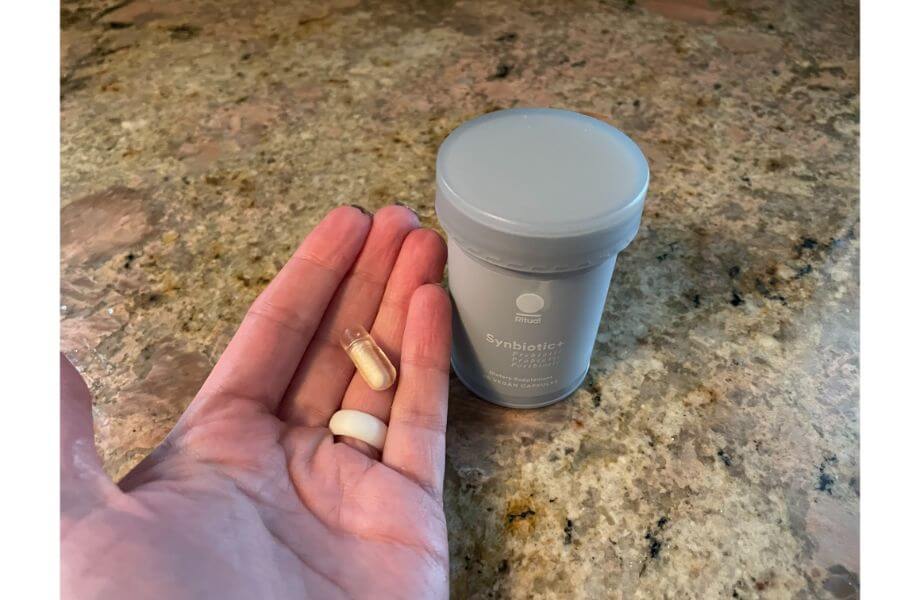 The natural question is, "Do I need postbiotics in my probiotic?" Ritual would like you to think so, and even did two studies on its supplement's effectiveness, so maybe you shouldn't be surprised that they found it had great gut health benefits.
As a rule, we're weary of studies done or paid for by supplement companies since they may have a hand in designing the study, which increases the chance of them making it so the study reaches their predetermined conclusion (to be clear, we're not accusing Ritual of this, but it has been done by some companies).
RELATED: Best organic protein powder
That said, independent research as recent as April 202222 have said postbiotics should be explored and may have significant benefits but that more research needs to be done.
| | |
| --- | --- |
| Dosing instructions | 1 capsule per day with or without food |
| Strain(s) | Lactobacillus rhamnosus (LGG®)Bifidobacterium animalis ssp. lactis (BB-12®) |
| Storage | Shelf-stable |
| Cost | $1.80/capsule in a 30-capsule container (subscription basis) |
Best Vegan Probiotic for Men: Omni-Biotic AB 10
Good for: Men who live a plant-based lifestyle
While there are few studies on the effectiveness of vegan probiotics—which, as a reminder, are probiotics that are derived from plant-based food sources rather than dairy or other animal-based products—a wide-ranging review on vegans' gut health published in April 201923 found they had a more diverse group of beneficial bacteria than meat eaters.
Omni-Biotic AB 10 seeks to foster that kind of bacterial diversity with its probiotic blend containing 5 billion CFUs of multiple strains. Because it's a blend, we're not sure how much of each is present in a serving, but we do spot some strains that we like to see in a probiotic supplement: Lactobacillus acidophilus for diarrhea10, Lactobacillus rhamnosus for gastrointestinal health11, and bifidobacterium lactis for improved nutrient absorption15.
One downside of Omni-Biotic is its price, with each serving coming out to $2.26. That's on the higher end of our list, but I've been noticing some benefits from continuous use of this probiotic supplement and the customer reviews are nothing but complimentary, so you may find it worth the price.
It's also the only one on our list that's a powder instead of a pill—you simply rip open the sachet and pour it into a glass of water (they tell you to leave it for a minute), stir, and then drink.
RELATED: Best vegan protein powder
| | |
| --- | --- |
| Dosing instructions | Open one sachet and pour into a glass of water. Allow to sit for 1 minute, stir, and drink. |
| Strain(s) | 10 |
| Storage | Store in cool, dry place at room temperature |
| Cost | $68.00/30 servings = $2.26 per serving |
Best Soil-Based Probiotic for Men: Ancient Nutrition SBO Probiotics Ultimate
Good for: Men who are interested in soil-based supplements
Soil-based probiotics are exactly what they sound like—probiotics that contain bacterial strains extracted from the soil. Ancient Nutrition SBO Probiotics Ultimate contains four soil-based probiotic strains, along with prebiotics (the bacteria's food)1 and postbiotics for improved immunity and inflammation response20.
RELATED: Best-tasting protein powder
If you're wondering whether soil-based probiotics is just a marketing term or legit, consider that researchers in August 201924 said, "[Soil] was essential in the evolution of the human gut microbiome." That said, studies as recent as July 202025 have said there's still much to learn about how soil-based probiotics can be used to benefit human health, though early results are promising.
Ancient Nutrition's soil-based probiotics contains four strains: Saccharomyces boulardii, Bacillus clausii, Bacillus coagulans, and Bacillus subtilis. Saccharomyces boulardii is a yeast and the only of the four that's not a soil-based bacterial strain, though researchers in July 202126 said it could help with gut health and possibly even slow down cognitive decline.
This probiotic is free of most food allergies and is made with a hypromellose capsule to ensure the strains are not affected by your stomach acid and survive the trip to the intestines10.
| | |
| --- | --- |
| Dosing instructions | 2 capsules per day with water |
| Strain(s) | Saccharomyces boulardii, Bacillus clausii, Bacillus coagulans, and Bacillus subtilis |
| Storage | No refrigeration needed |
| Cost | $52.89/30 servings = $1.76 per serving |
How We Picked and Tested the Best Probiotic for Men
With so many probiotics on the market, some of which claim to be the absolute best supplement for men, it was a little challenging to narrow our top picks down to just 10 choices. Here's the criteria we used to finalize our list:
Colony forming units: It should be noted that a high number of colony forming units, or CFUs, doesn't mean a supplement is a high-quality probiotic, but we wanted to ensure our choices had at least 1 billion—which is generally the minimum amount recommended by researchers. This number refers to the number of good bacteria in a probiotic.
Storage and expiration information: Bacteria are living organisms so their shelf life is limited compared to creatine, protein shakes, or protein powder. Some may need to be refrigerated to prevent the bacteria from dying, which would make the supplement less effective.
Bacterial strains: Not only did we look for a diversity of strains, but we wanted to ensure that each supplement had research-backed bacteria that are proven to provide benefits to those who take them.
Price: How much did each supplement cost and what was the price per serving?
RELATED: Best protein bars
Benefits of Probiotics
A 2018 meta-analysis27 concluded that healthy adults could improve their gut health and lead to a better immune system and bowel movements.
There are additional benefits for men specifically. Studies have shown that consistent probiotic use could lead to increased testosterone counts or slow down age-related testosterone decreases5 and improve prostate health.
It should be noted that many probiotic strains can be found in fermented foods like kimchi and sauerkraut.
RELATED: Best protein chips
Buying Guide: What to Look for in Probiotic for Men
Here's what you should look for in a probiotic for men:
Colony forming units: How many living organisms are present in the supplement? There should be at least 1 billion, but remember that more isn't necessarily better.
Storage and expiration information: If your probiotic needs to be refrigerated make sure to do so.
Bacterial strains: Ask your physician which strains are best suited for your overall health needs.
Price: Find a probiotic that fits your budget.
RELATED: Best whey protein
FAQs About Best Probiotic for Men
Are probiotics good for males?
Probiotics are good for males and females, as research has consistently linked the supplements to improved gut health and immunity. For men, it could also lead to improved testosterone levels or slowing down the age-related decrease of the vital hormone.
What is the best probiotic for men's health?
Can men take probiotics daily?
There's no danger in taking a daily probiotic, but you should always consult a doctor or nutrition expert before starting a new supplement regimen.
Do probiotics affect testosterone?
Yes, but in a good way. Research has shown that continuous probiotic use can increase testosterone levels or reverse the age-related decline of the hormone. It's important to note that this comes from continuous use and that you won't see any such benefits by just taking it once or twice. 
These statements have not been evaluated by the Food and Drug Administration. This product is not intended to diagnose, treat, cure, or prevent any diseases.
References
Davani-Davari D, Negahdaripour M, Karimzadeh I, et al. Prebiotics: Definition, Types, Sources, Mechanisms, and Clinical Applications. Foods. 2019;8(3):92. Published 2019 Mar 9. doi:10.3390/foods8030092
Ianiro G, Pecere S, Giorgio V, Gasbarrini A, Cammarota G. Digestive Enzyme Supplementation in Gastrointestinal Diseases. Curr Drug Metab. 2016;17(2):187-193. doi:10.2174/138920021702160114150137
Abboud M, Rizk R, AlAnouti F, Papandreou D, Haidar S, Mahboub N. The Health Effects of Vitamin D and Probiotic Co-Supplementation: A Systematic Review of Randomized Controlled Trials. Nutrients. 2020;13(1):111. Published 2020 Dec 30. doi:10.3390/nu13010111
Pilz S, Frisch S, Koertke H, et al. Effect of vitamin D supplementation on testosterone levels in men. Horm Metab Res. 2011;43(3):223-225. doi:10.1055/s-0030-1269854
Jäger R, Mohr AE, Carpenter KC, et al. International Society of Sports Nutrition Position Stand: Probiotics. J Int Soc Sports Nutr. 2019;16(1):62. Published 2019 Dec 21. doi:10.1186/s12970-019-0329-0
Miranda-Comas G, Petering RC, Zaman N, Chang R. Implications of the Gut Microbiome in Sports. Sports Health. 2022;14(6):894-898. doi:10.1177/19417381211060006
Huang WC, Lee MC, Lee CC, et al. Effect of Lactobacillus plantarum TWK10 on Exercise Physiological Adaptation, Performance, and Body Composition in Healthy Humans. Nutrients. 2019;11(11):2836. Published 2019 Nov 19. doi:10.3390/nu11112836
Li CL, Martini LG, Ford JL, Roberts M. The use of hypromellose in oral drug delivery. J Pharm Pharmacol. 2005;57(5):533-546. doi:10.1211/0022357055957
María Remes Troche J, Coss Adame E, Ángel Valdovinos Díaz M, et al. Lactobacillus acidophilus LB: a useful pharmabiotic for the treatment of digestive disorders. Therap Adv Gastroenterol. 2020;13:1756284820971201. Published 2020 Nov 24. doi:10.1177/1756284820971201
Capurso L. Thirty Years of Lactobacillus rhamnosus GG: A Review. J Clin Gastroenterol. 2019;53 Suppl 1:S1-S41. doi:10.1097/MCG.0000000000001170
Trotter RE, Vazquez AR, Grubb DS, et al. Bacillus subtilis DE111 intake may improve blood lipids and endothelial function in healthy adults. Benef Microbes. 2020;11(7):621-630. doi:10.3920/BM2020.0039
Hasan B, Nayfeh T, Alzuabi M, et al. Weight Loss and Serum Lipids in Overweight and Obese Adults: A Systematic Review and Meta-Analysis. J Clin Endocrinol Metab. 2020;105(12):dgaa673. doi:10.1210/clinem/dgaa673
Hill D, Sugrue I, Tobin C, Hill C, Stanton C, Ross RP. The Lactobacillus casei Group: History and Health Related Applications. Front Microbiol. 2018;9:2107. Published 2018 Sep 10. doi:10.3389/fmicb.2018.02107
O'Callaghan A, van Sinderen D. Bifidobacteria and Their Role as Members of the Human Gut Microbiota. Front Microbiol. 2016;7:925. Published 2016 Jun 15. doi:10.3389/fmicb.2016.00925
Laurienzo P. Marine polysaccharides in pharmaceutical applications: an overview. Mar Drugs. 2010;8(9):2435-2465. Published 2010 Sep 2. doi:10.3390/md8092435
Lopez-Santamarina A, Miranda JM, Mondragon ADC, et al. Potential Use of Marine Seaweeds as Prebiotics: A Review. Molecules. 2020;25(4):1004. Published 2020 Feb 24. doi:10.3390/molecules25041004
Vitali B, Minervini G, Rizzello CG, et al. Novel probiotic candidates for humans isolated from raw fruits and vegetables. Food Microbiol. 2012;31(1):116-125. doi:10.1016/j.fm.2011.12.027
Petrova P, Ivanov I, Tsigoriyna L, et al. Traditional Bulgarian Dairy Products: Ethnic Foods with Health Benefits. Microorganisms. 2021;9(3):480. Published 2021 Feb 25. doi:10.3390/microorganisms9030480
West NP, Pyne DB, Cripps AW, et al. Lactobacillus fermentum (PCC®) supplementation and gastrointestinal and respiratory-tract illness symptoms: a randomised control trial in athletes. Nutr J. 2011;10:30. Published 2011 Apr 11. doi:10.1186/1475-2891-10-30
Salminen S, Collado MC, Endo A, et al. The International Scientific Association of Probiotics and Prebiotics (ISAPP) consensus statement on the definition and scope of postbiotics [published correction appears in Nat Rev Gastroenterol Hepatol. 2021 Jun 15;:] [published correction appears in Nat Rev Gastroenterol Hepatol. 2022 Aug;19(8):551]. Nat Rev Gastroenterol Hepatol. 2021;18(9):649-667. doi:10.1038/s41575-021-00440-6
Hu Liu, Ji Wang, Ting He, Sage Becker, Guolong Zhang, Defa Li, Xi Ma, Butyrate: A Double-Edged Sword for Health?, Advances in Nutrition, Volume 9, Issue 1, January 2018, Pages 21–29, https://doi.org/10.1093/advances/nmx009
Vinderola G, Sanders ME, Salminen S. The Concept of Postbiotics. Foods. 2022;11(8):1077. Published 2022 Apr 8. doi:10.3390/foods11081077
Tomova A, Bukovsky I, Rembert E, et al. The Effects of Vegetarian and Vegan Diets on Gut Microbiota. Front Nutr. 2019;6:47. Published 2019 Apr 17. doi:10.3389/fnut.2019.00047
Blum WEH, Zechmeister-Boltenstern S, Keiblinger KM. Does Soil Contribute to the Human Gut Microbiome?. Microorganisms. 2019;7(9):287. Published 2019 Aug 23. doi:10.3390/microorganisms7090287
Vassileva M, Flor-Peregrin E, Malusá E, Vassilev N. Towards Better Understanding of the Interactions and Efficient Application of Plant Beneficial Prebiotics, Probiotics, Postbiotics and Synbiotics. Front Plant Sci. 2020;11:1068. Published 2020 Jul 16. doi:10.3389/fpls.2020.01068
Roy Sarkar S, Mitra Mazumder P, Chatterjee K, et al. Saccharomyces boulardii ameliorates gut dysbiosis associated cognitive decline. Physiol Behav. 2021;236:113411. doi:10.1016/j.physbeh.2021.113411
Khalesi S, Bellissimo N, Vandelanotte C, Williams S, Stanley D, Irwin C. A review of probiotic supplementation in healthy adults: helpful or hype?. Eur J Clin Nutr. 2019;73(1):24-37. doi:10.1038/s41430-018-0135-9