We test and review fitness products based on an independent, multi-point methodology. If you use our links to purchase something, we may earn a commission. Read our disclosures.
Searching for supplements is an arduous enough task when you don't have any dietary restrictions. Add in an allergy, sensitivity, or intolerance, and finding the right supplements becomes much tougher.
For example, people with lactose intolerance or who prefer to avoid dairy products for other reasons will quickly learn that many, if not the majority, of the best protein powders available contain some dairy derivative.
That's why we're bringing you this guide to the best lactose-free protein powder: so you can enjoy the fitness and health benefits that come with increasing your daily protein intake without suffering from GI distress.
Medical disclaimer: This article is intended for educational and informational purposes only. It is not intended as a substitute for medical advice. For health advice, contact a licensed healthcare provider.
Best Lactose-Free Protein Powder in 2023
Best Lactose-Free Protein Powder Overall: Transparent Labs Rice & Pea Protein
Good for: Those who want a complete vegan protein supplement from a reputable and transparent brand
Transparent Labs regularly makes an appearance on our nutrition guides, including the best protein powders for muscle gain and the best clean protein powder, because we love that what you see is what you get with Transparent Labs. The brand also has its products checked by Informed Choice, so it's been inspected for any harmful substances or banned materials.
Transparent Labs Organic Rice & Pea Protein Powder is basically just that: organic rice protein and organic pea protein. There are only three other ingredients on the list—natural flavors, which vary depending on the flavor you buy, Himalayan sea salt, and organic stevia for sweetness.
Between the minimalist ingredients list and great macronutrient profile (24 grams of protein, 2 grams of fat, 3 grams of carbs), this pea protein powder is a good choice for anyone who requires a lactose-free diet. Between the pea and rice protein, this product provides a complete amino acid profile.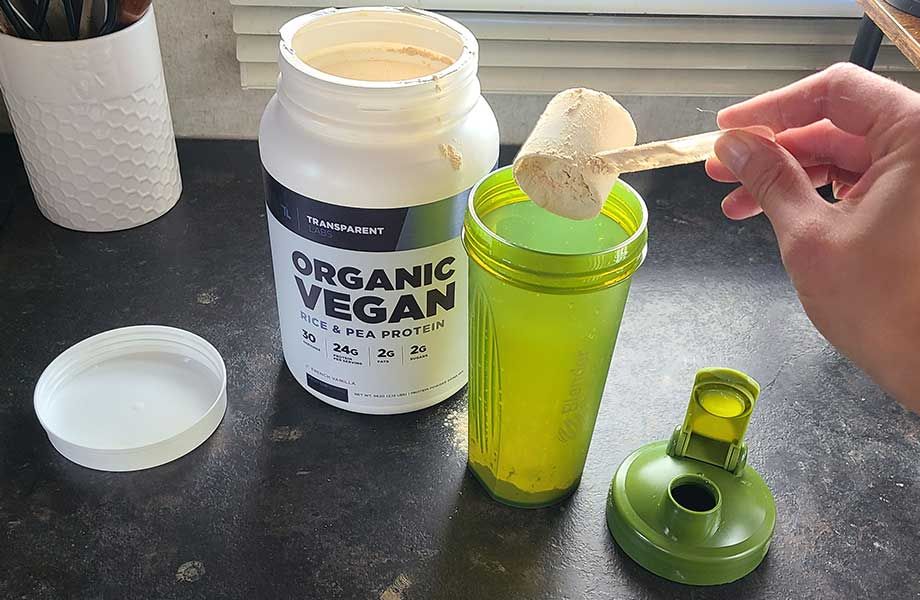 We wish there were more flavors available. As of this writing, there are only two: Chocolate and French Vanilla. This protein powder didn't score too high in the flavor department, unfortunately, with product tester and GGR editor Frieda Johnson saying the French Vanilla flavor tastes kind of artificial. She thinks maybe it's the stevia. She experienced a minor upset stomach, but is unsure if the culprit is the stevia or something else.
Transparent Labs Organic Rice & Pea Protein is on our guide to the best pea protein powder, where you can learn more about it and other pea proteins we recommend.
| | |
| --- | --- |
| Price per serving | $1.66 |
| Protein per serving | 24 |
| Flavors | French Vanilla, Chocolate |
| Sweeteners | Stevia |
Best Pea Protein Powder: Ritual Essential Protein 18+
Good for: Those who prefer pea protein powder
Pea protein is a somewhat controversial protein source because it's low in the amino acid methionine, which among other things helps regulates bodily functions like digestion. Ritual earned our spot as the best pea protein powder because they add more methionine to give you a complete protein source with all the essential amino acids needed for muscle growth.
Plus, it tastes really good. GGR Head of Content and weightlifting coach Kate Meier scores it a 4 out of 5 when it comes to taste (there's only one flavor available: Vanilla). "I could drink this with water alone," she says. "That's how decent I think the taste is." She clarifies that she normally drinks it in a morning smoothie mixed with berries, water, and ice.
Each serving comes with 20 grams of protein and only 115 total calories, so it's a good option for people who are looking for a lower-calorie protein powder.
| | |
| --- | --- |
| Price per serving | $2.66 |
| Protein per serving | 20 g |
| Flavors | Vanilla |
| Sweeteners | Monk fruit, fermented sugarcane |
Best Vegan Lactose-Free Protein Powder: KOS Organic Plant Protein Powder
Good for: People who eat a vegan diet
KOS Organic Plant Protein Powder is one of the best vegan protein powders overall largely in part due to its very strong micronutrient profile that includes calcium, iron, B vitamins, zinc, copper, selenium, vitamin E, and more.
KOS uses a varietal protein blend with pumpkin, pea, flax, chia, and quinoa protein for a complete amino acid profile. One serving contains 20 grams of protein, 6 grams of fat, 9 grams of carbohydrates, and 2 grams of sugar. It's higher in carbs than some other plant-based protein powders, but it does contain 3 grams of fiber.
Individuals who struggle with indigestion of any sort are likely to appreciate the enzyme blend included in KOS Organic Plant Protein Powder. This blend of lactase, amylase, proteases, lipases, and cellulase helps with the digestion of all the nutrients in the powder.
You won't find any artificial sweeteners in KOS protein, either. It's sweetened with organic monk fruit and organic stevia extract, although stevia can still cause GI discomfort in some individuals.
I tried the KOS Organic Plant Protein in the Chocolate flavor and I thought it was just OK, but I'm not the biggest fan of plant-based protein powder. Since I, a true omnivore, didn't find KOS protein to be repulsive, I think that anyone who is used to plant proteins will really enjoy it. The customer reviews indicate that the vast majority of buyers are pleased with it.
Our full KOS vegan protein review has more details.
| | |
| --- | --- |
| Price per serving | $1.66 |
| Protein per serving | 20 g |
| Flavors | Chocolate, Vanilla, Chocolate Chip Mint, Blueberry Muffin, Chocolate Peanut Butter, Salted Caramel Coffee, Unflavored, Vanilla Bavarian Cream |
| Sweeteners | Coconut sugar, monk fruit extract, stevia extract |
Best-Tasting Lactose-Free Protein Powder: Kaged Plantein
Good for: Anyone looking for a high-quality, high-protein plant-based supplement
Kaged is an all-around great supplement brand, and one we're quick to recommend due to its commitment to label transparency and third-party testing of products, which ensures Kaged supplements contain what they say they contain.
Product tester and GGR editor Frieda Johnson tried the Cinnamon Roll flavor and was really impressed. "It's definitely one of the better-tasting vegan protein powders I've tried," she says. "I also like that the flavors are different from the typical chocolate or vanilla offerings of most brands. While it's pretty good just mixed with water or milk in a shaker bottle, I'm excited to try it in some baked goods, since I think the cinnamon roll flavor would be really good in something like protein cookies."
Frieda said she can detect the artificial sucralose flavor a little bit, but much less so than other powders she's tried (and she's tried dozens).
Kaged Plantein is a simple formula that contains all nine essential amino acids (EAAs), which is critical for the muscle protein synthesis (MPS) response—the process by which your body can use amino acids from dietary protein to create muscle tissue. MPS is the driving force behind adaptation to exercise1, and it requires all nine EAAs, which aren't always present in plant-based protein powders.
On top of that, Kaged Plantein delivers 25 grams of protein per serving, which is on the higher end for vegan and dairy-free protein powders. It contains zero grams of sugar (it's sweetened with stevia and sucralose) and just 4 grams of carbohydrates, 1 of which is fiber. There are 4 grams of fat, 1.5 of which are saturated fats from medium-chain triglyceride powder sourced from coconut oil.
The main protein source in Kaged Plantein is pea protein isolate, and quinoa protein is mixed in to fortify the amino acid profile.
| | |
| --- | --- |
| Price per serving | $1.60 |
| Protein per serving | 25 g |
| Flavors | Peanut Butter Cookie, Cinnamon Roll, Banana Bread |
| Sweeteners | Steviol glycosides, sucralose |
Best Plant-Based Lactose-Free Protein Powder: Truvani Plant Protein
Good for: A dairy-free, high-protein supplement that truly tastes like a milkshake
I'm sure everyone at GGR has by now grown very weary of me babbling about how amazing Truvani Plant Protein is. It's the only plant-based protein powder that I actually, truly enjoy and choose to drink of my own free will (as opposed to drinking it for the sake of bringing our readers firsthand experience with supplements). I made sure it had a place on our guide to the best-tasting protein powder.
I remain astonished that Truvani formulated such a rich and tasty vegan protein powder with just six ingredients (in the Chocolate flavor). The ingredients list reads: pea protein concentrate, alkalized cocoa, vanilla powder, pumpkin seed concentrate, chia seed protein concentrate, and monk fruit extract.
It contains 20 grams of protein per serving, a complete amino acid profile, and it's free of artificial ingredients and is 100% certified organic. As for the other macros, it has 5 grams of carbs and 3 grams of fat.
I must admit that it's on the very, very expensive side at about $3 per serving. It might be one of the most expensive supplements we recommend. But I stand by the recommendation if you need a lactose-free, organic, clean protein powder that tastes fantastic.
| | |
| --- | --- |
| Price per serving | $3 |
| Protein per serving | 20 g |
| Flavors | Chocolate, Vanilla, Banana Cinnamon, Peanut Butter, Chocolate Peanut Butter, and Vanilla Chai |
| Sweeteners | Monk fruit extract |
Best High-Protein Lactose-Free Protein Powder: Vega Sport Premium Plant Protein
Good for: People looking for more than the standard 20 grams of protein per serving
Vega Sport Premium Plant Protein is for the lactose-free person who is serious about packing on pounds of muscle.
With an incredible 30 grams of protein per serving, this protein powder provides your hard-working muscles with 5 grams of branched-chain amino acids via its blend of pea protein, pumpkin seed protein, sunflower seed protein, and alfalfa protein.
It also contains tart cherry extract, which has been linked to improved muscle recovery post-exercise2, although we aren't sure how much of the extract is in this protein powder. Vega Sport Premium Protein has probiotics for improved digestion; however, registered dietitian and GGR writer Sydney Lappe says in our full Vega protein powder review that the 2 billion CFUs of friendly bacteria might cause some GI distress for those with sensitive guts.
GGR product tester and performance editor Anthony O'Reilly tried the Mocha flavor (instead of Peanut Butter, Chocolate, or Vanilla) and said he "got more of a brownie flavor—not a bad thing." It's easy to mix and "tasted pretty good with my morning iced coffee," he says.
Vega Sport also makes an appearance in our guides to the best protein powder for women and best low-carb protein powder.
| | |
| --- | --- |
| Price per serving | Depends on size bought and where it's bought |
| Protein per serving | 30 g |
| Flavors | Berry, Vanilla, Mocha, Chocolate, Peanut Butter |
| Sweeteners | Stevia leaf extract |
Best All-Natural Lactose-Free Protein Powder: Naked Nutrition Naked Egg
Good for: An alternative to whey protein that isn't plant-based
If you thought all lactose-free protein powders were also vegan protein powders, think again! Egg white protein powder is a less popular but just as fantastic option for people who are lactose-intolerant or simply don't want to consume dairy.
Naked Nutrition's wildly minimalistic Naked Egg protein powder contains just two ingredients: egg white protein and sunflower lecithin, a fat emulsifier that's made by dehydrating, pressing, and separating sunflower seeds. It's really in there for texture, but sunflower lecithin happens to be rich in choline3, an important nutrient.
In spite of the astoundingly short ingredients list, Naked Egg provides 25 grams of protein per serving and just 2 grams of carbs (1 of which is fiber) and zero grams of fat. A serving contains 110 calories. How's that for a macronutrient profile?
Naked Egg has no sugar and it's unflavored, so there are no artificial or alternative sweeteners, either. One big difference between egg white protein and other non-dairy protein is that egg whites are naturally abundant in the branched-chain amino acids (BCAAs) leucine, isoleucine, and valine.
Kate Meier, GGR head of content, tried Naked Egg and says, "There isn't much of a smell to it, but there is a bit of a taste. I tried it two ways: First, I blended this with strawberries, banana, and Lactaid. You can taste a flavor there; it's hard to pinpoint what it is. It's almost like the egg protein muted the strawberry and banana flavor."
"Then I tried it with a cup of hot, black coffee, which I threw in the blender, making the coffee a little frothy," she says. "I actually liked it better this way! I only used half a serving (one scoop) and it makes your coffee really thick, but the strong coffee taste covers a lot of the egg taste."
| | |
| --- | --- |
| Price per serving | $1.55 |
| Protein per serving | 25 g |
| Flavors | Unflavored |
| Sweeteners | None |
Best Organic Lactose-Free Protein Powder: Orgain Organic Plant Protein
Good for: People who eat an organic and dairy-free diet
If you are looking for a fully USDA Certified Organic protein powder that's also lactose-free, Orgain Organic Plant Protein could be the one you need in your supplement stack.
This is one of the best organic protein powders available—and it's one of the most budget-friendly options, too, at just $1.66 per serving. Yes, I just wrote "organic" and "budget-friendly" in the same sentence!
Available in 10 tasty flavors, most of which are chocolatey, Orgain Organic Plant Protein provides 21 grams of protein per serving through a blend of organic pea protein, organic brown rice protein, and organic chia seed protein.
This protein powder is not only USDA Certified Organic, but it's certified to be non-GMO and free of soy, dairy, added sugar, and gluten. All of the flavors are sweetened with erythritol, a sugar alcohol, and stevia extract, with the exception of the Natural Unsweetened option.
Unfortunately, GGR editor and product tester Nicole Davis wasn't a fan of the Vanilla Bean flavor, saying it was just slightly vanilla with "straight grass flavor." However, as someone who almost always drinks whey protein, she knew going into the taste-testing process that she likely wouldn't find it to be a delicacy.
Read our full Orgain protein powder review to learn more about this protein powder.
| | |
| --- | --- |
| Price per serving | $1.66 |
| Protein per serving | 21 g |
| Flavors | Creamy Chocolate Fudge, Chocolate Coconut, Chocolate Caramel Sea Salt, Chocolate Peanut Butter, Peanut Butter, Natural Unsweetened, Vanilla Bean, Iced Coffee, Cookies & Cream, Strawberries & Cream |
| Sweeteners | Erythritol, stevia extract |
Other Lactose-Free Protein Powders We Researched
While the above protein shakes are our top picks, there are many other protein powder options for lactose-free dieters to choose from. Here are some others we've researched and tested.
Swolverine Plant Protein: GGR head of content Kate Meier likes the Salted Caramel flavor of Swolverine Plant Protein, plus the fact that all Swolverine products are third-party tested.
NOW Sports Pea Protein Isolate: This is plain, unflavored pea protein that's OK for baking or using in oatmeal, but not great for drinking, according to tester Frieda Johnson.
Naked Nutrition Naked Pea: While we love the macro profile and minimalist ingredients list in Naked Pea, we don't love that the serving size is two really large scoops.
Onnit Plant-Based Protein: Frieda thinks this one tastes kind of like a (dairy-free) chocolate milk she's tried in the past, although it has a faint gritty texture.
Bulk Supplements Pea Protein Isolate: This one is a "pretty standard" pea protein, Frieda says, and it might come across strong if you aren't used to the flavor.
Sunwarrior Vegan Protein: "If you don't mind the plant-y taste, this is just fine. It's not delicious, but it's not gross," according to product tester Jacob, a member of Kate's weightlifting team.
Nutiva Hemp Protein: Frieda says that this protein has a "slightly nutty, bitter flavor" and that she thought it was good in oatmeal, except that the serving size is "a whopping 4 tablespoons."
Bulk Supplements Soy Protein Isolate: GGR performance editor Anthony O'Reilly says this soy protein is "an unflavored protein supplement, and it truly tastes…well, plain." That said, it's got an impressive protein content of 27 grams per serving.
Ora Organic Vegan Protein Powder: I tried this protein and I decided to choose a more unique flavor since, historically, chocolate and vanilla vegan protein powders have severely disappointed me. The vanilla chai flavor helps to mask the plant-based taste a little.
Innermost Health Protein: GGR staff writer Lauren Strong tested Innermost and said, "If you're counting macros, this is a super lean protein and you get 30 grams of protein per serving, with just 150 calories and it's low-carb."
Optimum Nutrition 100% Gold Standard Vegan Protein: This seems to be a popular option among plant-based fitness enthusiasts, but we haven't tried it yet.
MuscleMed Carnivor Beef Protein Isolate: This "bioengineered" beef protein isolate has piqued my interest—and apparently that of the lactose-free fitness community—but we haven't tried it yet.
How We Picked and Tested the Best Lactose-Free Protein Powder
We put a lot of effort into testing products to ensure we bring you the best possible recommendations. Each supplement we test is graded against criteria developed in collaboration with a registered dietitian.
We look at the following factors:
Price per serving
Formulation (macro profile and ingredients)
Taste
Solubility
Side effects such as bloating or indigestion
Transparency and third-party testing
Customer service
Customer reviews
Each category receives its own rating out of 5 possible points, and then the scores are averaged to come up with a GGR score.
Benefits of Lactose-Free Protein Powder
Lactose-free protein powder has all of the same benefits as regular protein powder but with the added benefit of being digestible by people who are lactose-intolerant. Here's a recap of the benefits of protein powder.
Enhanced Workout Recovery
Some research4 indicates that consuming greater than the recommended daily intake of protein, and especially consuming it near the time that you work out, may expedite the muscle recovery process after a workout.
Increased Muscle-Building Ability
It's well-documented that higher-protein diets can help you build muscle mass4, and protein supplements are an easy way to increase your daily protein intake. Research5 indicates that drinking a protein supplement post-workout can contribute to greater muscle growth.
May Help with Weight Loss
Protein is an important nutrient for appetite regulation6. It may help you feel fuller and reduce cravings, thus helping you lose weight.
Convenient and Shelf-Stable
Protein powder can be kept at room temperature and it lasts a long time. It's really easy to mix up a shake and rinse out a shaker bottle compared to cooking up animal protein.
Third-Party Testing
At GGR, we prioritize label transparency in our search for the best supplements. Products that have undergone third-party testing are verified to include what the label says they include, at the specified doses. We look for the following certifications and information:
NSF Informed Choice/Certified for Sport (means it's free of banned substances in sport)
NSF Contents Certified (means the label is accurate and transparent)
Banned Substance Control Group (free of banned substances in sport)
Certificates of analysis and composition conducted by an independent laboratory and posted by the brand
If a product isn't third-party certified by these agencies, that doesn't necessarily mean it's bad or that you shouldn't take it. Transparent Labs, for example, doesn't have those marks on its labels but everything from Transparent Labs Grass-Fed Whey Protein to its probiotic capsules have a certificate of analysis from an independent laboratory.
Buying Guide: What to Look for in Lactose-Free Protein Powder
Well, firstly, you'll want to double check that the protein powder is actually lactose-free before buying it. Aside from that, here are some other factors to consider.
Price Per Serving
Between $1.50 and $2.00 per serving is standard and what we recommend most consumers aim for. Higher-quality protein powders may run you more than $2.00 per serving, and we'd consider anything under $1.50 per serving very budget-friendly.
Protein Per Serving
20 grams per serving is standard, but some protein powders have more or less. Anything above 25 grams of protein per serving is outstanding, while anything less than 15 isn't ideal.
Formulation
Check the ingredients label for sweeteners, additives, thickeners, emulsifiers, and other ingredients that you do or don't want in your protein powder. Not all additives are bad, but it's never a bad idea to check for allergens or questionable ingredients.
Also confirm the protein source(s) and amino acid content. This is really important with lactose-free and plant-based protein powders because plant proteins, with the exception of soy and pea protein, do not contain all nine essential amino acids and therefore they aren't complete proteins. Even with pea protein, it's best to have complementary sources of protein to boost and complete the amino acid profile.
You may want to check for other dietary certifications, such as if the product is soy-free, gluten-free, or non-GMO, if you have additional dietary requirements.
Taste and Texture
We recommend reading through customer reviews to get a sense of the taste and texture. It's impossible to know if you'll like a product before you buy it, of course, but a slew of bad reviews is generally a good indicator that you should look elsewhere.
Third-Party Testing
A brand that sends its products through third-party testing is providing a testament to its commitment to quality, safety, and efficacy.
FAQs About Lactose-Free Protein Powder
Does all protein powder have dairy?
No, not all types of protein powder contain dairy. All whey and casein proteins are created from dairy products, but plant-based protein powders typically do not contain dairy. Anything labeled as a vegan protein powder won't have dairy, since vegan diets exclude all dairy. Egg white protein is another dairy-free option that isn't vegan or plant-based. Collagen or bone broth proteins are another option, although collagen protein doesn't contain tryptophan, an essential amino acid.
Does whey protein have lactose?
Whey proteins are milk proteins, although whey protein isolate and whey protein concentrate often have very low lactose content due to the separation and filtration processes. Often, you'll see whey protein powder labels say they are 99% lactose-free. However, it's probably best for lactose-intolerant people to stay away from them and choose a plant-based option. For some people, a whey protein isolate powder with added lactase might be OK.
Is protein powder okay for lactose intolerance?
Vegan protein powder or any protein powder that is explicitly labeled dairy-free is fine to consume if you have lactose intolerance.
What protein powders don't have lactose?
Plant-based (including pea, hemp, pumpkin, soy, and brown rice) protein powders generally do not contain lactose, but double-check the label if it isn't marketed as a vegan product. Vegan protein powders don't have lactose, and neither do egg white protein powders (but again, double-check anything not labeled vegan).
These statements have not been evaluated by the Food and Drug Administration. This product is not intended to diagnose, treat, cure, or prevent any diseases.
References