We test and review fitness products based on an independent, multi-point methodology. If you use our links to purchase something, we may earn a commission. Read our disclosures.
The Bowflex TreadClimber TC100 was the entry-level option for the popular TreadClimber line from the brand. Bowflex's TreadClimber series was a unique line of walking workout machines that combined three different cardio machines: the elliptical, treadmill, and stepper.
Bowflex announced the TreadClimber TC100 in late 2015. Now the entire TreadClimber line has been discontinued. Since then Bowflex has re-introduced traditional treadmills like the Bowflex Treadmill 22, and unveiled a new combination machine, the Max Trainer, which features a 2-in-1 design; combining an elliptical and stair climber.
If you are considering buying one of these machines used, or found one through a third-party seller, or just want to know a little more about it, check out the rest of our Bowflex TreadClimber TC100 review.
We Know Treadmills
At Garage Gym Reviews, we're passionate about helping you build your best home gym. Our team of certified personal trainers (CPTs), CrossFit L1 coaches, weightlifting coaches and fitness enthusiasts have tested countless cardio machines, including dozens of treadmills.
Beyond that, we have had our hands (and feet) on countless bikes, ellipticals, and climbers. Our wide variety of experience is necessary for this review, considering the TC100's 3-in-1 design.
We have not tested the TreadClimber TC100 in our facility since it has been discontinued by Bowflex. We'll use our knowledge and experience to assess the TC100 based on specs and online customer reviews to give you the bottom line on this machine.
Looking for an Alternative to TreadClimber TC100?
You might be looking for something to replace a TreadClimber that you've had for a while. You could also be looking for something to progress to more difficult workouts, wanting to do more than walking. Whatever the reason, we've got you covered with options like the Bowflex Treadmill 10, which features incline and decline training as well as a fancy 10-inch screen to stream workouts.
Best Alternative to Bowflex TreadClimber TC100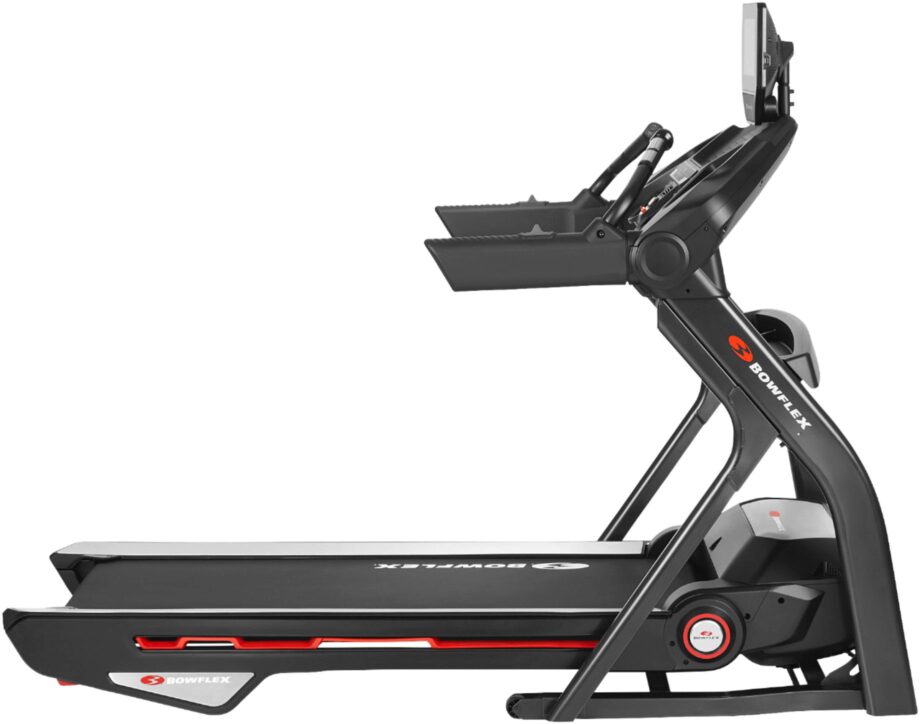 Bowflex Treadmill 10
If you're looking for an interactive treadmill with a solid and sturdy build, the Bowflex Treadmill 10 is a great option for any runner. The Treadmill 10 supports speeds up to 12 miles per hour and, quite impressively, has both motorized incline and decline options ranging from -5%-15%, which makes it possible to train for any terrain. That said, it is odd that Bowflex shares no information on the motor's power. In fact, they stated that they do not have that information on their website when questioned by a potential buyer. Other sites have reported a whopping 4.0 CHP motor, but we couldn't confirm that. Still, users do report a powerful feel to the motor with little to no lag time. Use the interactive, high-definition, adjustable touchscreen to access a myriad of training content that comes with your one-year free JRNY membership. Bound to keep you motivated and on track with your fitness goals, the JRNY membership provides virtual coaching, trainer-led workouts and adaptive workouts that progressively get harder as your fitness improves. The Bowflex Treadmill 10 comes with some awesome conveniences, too. It's Bluetooth-enabled for smart devices, has an included Bluetooth heart rate armband, a console fan and boasts speed and incline knobs for ease of use. The cushioned running deck will feel roomy, too, as it measures 22 inches by 60 inches, which is larger than most folding treadmills. To that end, the Bowflex Treadmill 10 uses a soft drop folding system to easily fold and unfold. However, weighing 323 pounds assembled, this tank of a machine is not easily moved around, so plan on dedicating a space in your home gym for its use. 
If you are searching for something similar to the TreadClimber, there are a couple directions you can go. If you'd like to try intense walking workouts, you should try looking at treadmills with an incline, like the NordicTrack x32i, which has an impressive 40% incline.
If you are more interested in the comfort and low-impact design of the TC100, look for the best cushioned treadmills. If you get a traditional treadmill, you can also progress to jogging in the future if you'd like.
Another combination machine to look at is Bowflex's Max Trainer series, which combines an elliptical and a stepper. The Max Trainers are designed for high-intensity interval training (HIIT) which is a different type of workout than the TreadClimber.
A Quick Look at the Bowflex TreadClimber TC100
The TreadClimbers are built specifically to provide a low-impact walking workout. That's why the TC100's max speed is just 4 MPH. These machines had a unique design, featuring two individual mini treadmills, one for each foot, which Bowflex has dubbed, "treadles."
This mechanism supposedly helps you quickly burn calories by just walking. In fact, Bowflex claimed that walking on a TreadClimber would be a great workout because it would burn 2.5 times more calories than walking on a traditional treadmill at the same speed (claims that were later debunked).
Can this piece of fitness equipment provide the workout you need and help you reach your fitness goals? Let's get into the details.
Pros:
Good low-impact workout
Compact design
Ideal for beginners
Comes with a weight loss guide
Cons:
No programming available
Noisy
Expensive for entry-level machine
Only good for walking, not running
Requires 2 people for assembly
Very short 2-year warranty
TreadClimber TC100 Specs
| | |
| --- | --- |
| Footprint | 57" L x 31.5" W x 59" H |
| Minimum Ceiling Height | Tallest user height + 14.5" |
| Weight | 158 lbs |
| Weight Capacity | 300 lbs |
| Motor | Information not available |
| Walking Belt | Two individual treadles |
| Display | Backlit LCD display |
| Speed Range | .5-4.0 MPH |
| Heart Rate Monitor | Contact grip |
| Programs | Not available |
| Warranty | 2-year frame and parts, 90-day labor |
Key Features of the TreadClimber TC100
The TC100 was designed to be an entry-level TreadClimber at $1,599 and lacks many of the features of its more expensive ($1,999) counterpart, the Bowflex TreadClimber TC200. The TC100 has a slightly lower top speed of 4.0 MPH rather than 4.5 MPH. The TC100 also lacks Bluetooth connectivity and pre-programmed workouts. The TC100 has a shorter 2-year warranty instead of 3-year warranty.
| | | |
| --- | --- | --- |
| | TC100 | TC200 |
| Price | $1,599 | $1,999 |
| Dimensions | 57" L x 31.5" W x 59" H | 55" L x 31.5" W x 62.5" H |
| Minimum Ceiling Height | Tallest user + 14.5" | Tallest user + 17" |
| Weight | 158 lbs | 202 lbs |
| User Weight Capacity | 300 lbs | 300 lbs |
| Speed Range | .5-4.0 MPH | .5-4.5 MPH |
| Heart Rate Monitoring | Contact Grips | Contact Grips + Chest Strap |
| Bluetooth | No | Yes |
| Warranty | 2-year frame and parts, 90-days labor | 3-year frame and parts, 90-days labor |
Footprint, Portability, and Durability
The TC100 is smaller than most treadmills and ellipticals on the market with dimensions of 57 inches long by 31.5 inches wide by 59 inches tall. It is a bit longer and shorter than the TC200. The TC100 includes rear-mounted transport wheels and is about 50 pounds lighter than the TC200. Unfortunately, TreadClimbers do not fold up for storage.
The TC100 has a very short 2-year frame and parts warranty. This short warranty gives us some doubts about the durability of the machine. Generally, we see much longer frame and parts warranties for machines in this price range.
Technology Benefits and Conveniences
As the entry-level machine in the TreadClimber series, the TC100 does not have many technological amenities. There is no Bluetooth connectivity and no chest strap heart rate monitoring.
The TC100 does have some non-tech amenities. There are two water bottle holders to help you stay hydrated. There is also a tablet/media shelf with a USB port so you can watch your favorite shows during your workout without your device dying.
At the time of release, the TC100 could export your workout data to Bowflex Connect. Your account on this site could then be linked to other fitness tracking apps such as My Fitness Pal. However, when Bowflex discontinued the TreadClimber series, they also shut down this website. So if you are currently using a TC100, you may not be able to export your workout data. You may have to track all your workout data the old fashioned way, with pen and paper.
Customer Reviews
Customers really loved the good workout that the TC100 provided. They loved walking on the treadles, and many of them successfully used the TC100 to start a workout program and achieve their fitness goals. Users loved that they could get a difficult workout by just walking. Many of the users giving positive reviews were people with a history of joint pain having difficulty finding a way to work out without increasing their pain.
Unfortunately, many users also felt that the quality of the machine did not match up with the price tag. Many reviewers noted that the plastic pieces felt cheap. They also complained that there were no workouts included with the TC100. Customers shared that the shocks were very loud and distracting during their workouts.
There were mixed reviews on the setup. Assembly does require at least two people, according to both reviews and Bowflex. Some people found it straightforward but time consuming and others found it much more difficult than other cardio machines they've previously assembled.
Final Verdict of Our Bowflex TreadClimber TC100 Review
The TreadClimber TC100 was the entry-level TreadClimber at the time of its release. It is for people who really want to experience the unique TreadClimber workout without the steep price of the TC200.
The TC100 lacks many of the bells and whistles of similarly priced non-combination cardio equipment. Customers loved the workout but were often frustrated with the actual machine.
Bowflex TreadClimber TC100 Rating
Bowflex TreadClimber TC100
In our Bowflex TreadClimber TC100 review, we take a look at the specs of this now-discontinued treadmill.
Product Currency: USD
Product In-Stock: InStock
Bowflex TreadClimber TC100 FAQs
Why did Bowflex discontinue the TreadClimber?
Bowflex did not announce why they discontinued their popular TreadClimber series. Around the same time they began producing traditional treadmills again and released a new combination trainer, the Bowflex Max Trainer.
What year did the Bowflex TreadClimber TC100 come out?
The TreadClimber TC100 was announced in November 2015 along with its more expensive counterpart, the TC200.
Can you run on Bowflex TreadClimber TC100?
No, the TreadClimbers were designed to be walking machines, and the fastest speed is 4.0 MPH. If you are interested in running, check out some the best treadmills for running.
Does the Bowflex TreadClimber really work?
Walking is a great form of exercise, and many people started exercise programs and achieved their fitness goals using the TreadClimber. However, the TreadClimber series did not work as Bowflex initially advertised.
Bowflex claimed that you could just walk your way to weight loss with the TreadClimber. The National Advertising Division (NAD) found these claims to be lacking evidence and misleading. Bowflex subsequently stopped their "all you have to do is walk" advertising.