We test and review fitness products based on an independent, multi-point methodology. If you use our links to purchase something, we may earn a commission. Read our disclosures.
Typically, when you think about an elliptical workout, you picture long strides on a huge machine. People who opt for elliptical training are often looking for a low-impact cardio experience that protects their joints but still leaves them breathless.
Bowflex has done that with the Max Trainer M6: It gives you a joint-friendly workout and it definitely leaves you breathless. Actually, it burns. A deep, deep burn. And that's because this isn't your typical elliptical, and it isn't your typical home gym cardio workout.
Kate Meier, head of content here at Garage Gym Reviews and a CrossFit L1 trainer, spent a lot of time with this machine for our Bowflex Max Trainer M6 review. She'll give you the ups and downs (literally) of this hybrid stair-stepper machine/elliptical.
Taking Steps To Give You The Best Cardio Machine Recs
While I love barbells and squat racks, I also truly do love high-intensity workouts. I have years of experience not just using cardio equipment like treadmills and ellipticals, but actually putting the machines through serious testing. I look into the specifics, like the weight capacity, and types of materials used, as well as the programming, durability, conveniences and tech capabilities. For this Bowflex M6 review, Kate personally assembled the machine and kept it in her home for a month experimenting with different workouts.
Bowflex M6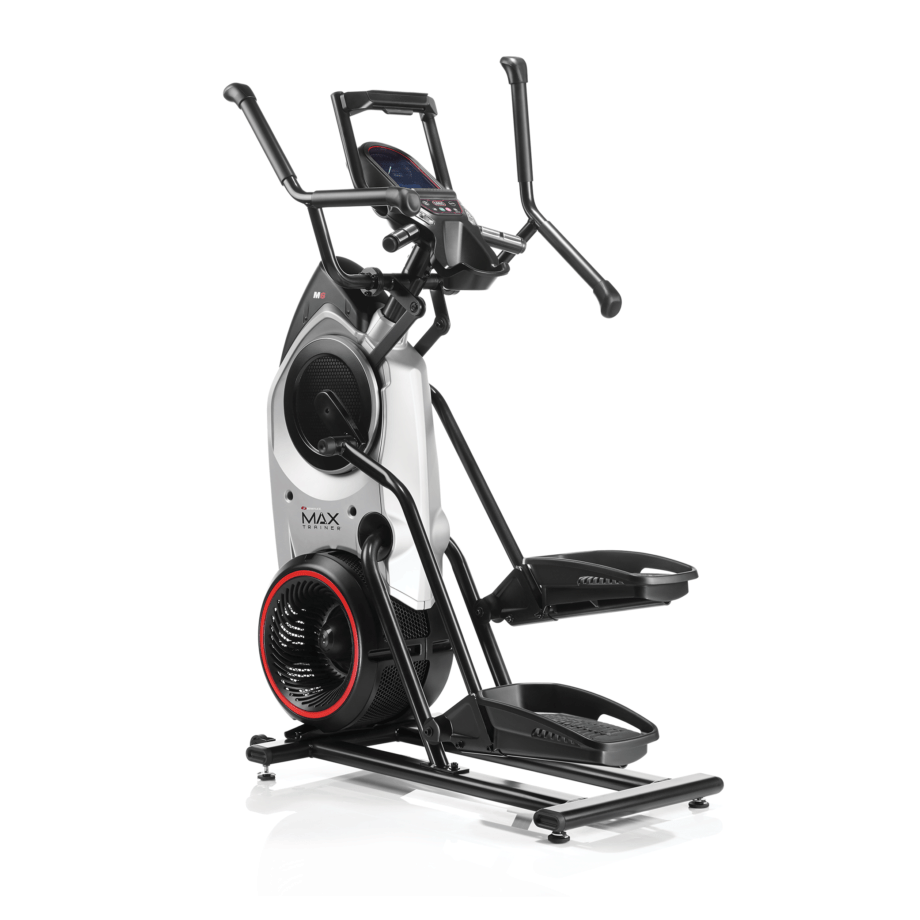 Product Highlights
Gets harder as you get stronger
Stair-stepping design targets muscle development
Compatible with JRNY app
Ideal for HIIT workouts
Pros & Cons
Pros
Stair-stepping design targets muscle development
Compatible with JRNY
Ideal for HIIT workouts
Cons
No interactive touchscreen
Pretty basic display
Expensive
Bottom Line
The Bowflex M6 provides a heart-pumping, low-impact workout that resembles stair-stepping.
A Quick Look at the Bowflex Max Trainer M6
If you're looking for this type of machine, it's a decent value. I'll admit that the price – around $1,500 – is pretty steep compared with other machines on the market, like the Sole E25 elliptical, which is around $1,200. And actually, the M6 is one of the base designs of this machine. Bowflex went through some other iterations, like the M8 and the M5.
Currently, the brand only offers the M6 and the M9, with the latter clocking in at just under $2,000. That model comes with a 10-inch HD touchscreen that has streaming capabilities with apps like Netflix. But back to the M6: If you have the budget, and you want to blast your legs doing some cardio, there are definitely some upsides.
Here's what I think you should know:
Coop's Tips:
Grab someone to help with assembly (see Kate's tips below)
If you use JRNY, set it up in advance of your first workout because there is about an hour delay between when you sign up for it and when you can actually use it.
Use your own heart rate monitor because the ones on the handles aren't accurate.
Pros:
Compact footprint is great for small spaces
Stair-stepping design targets muscle development
You can try the JRNY app for free
Cons:
Interactive programming requires that you bring your own technology
Pretty basic display and conveniences at this price point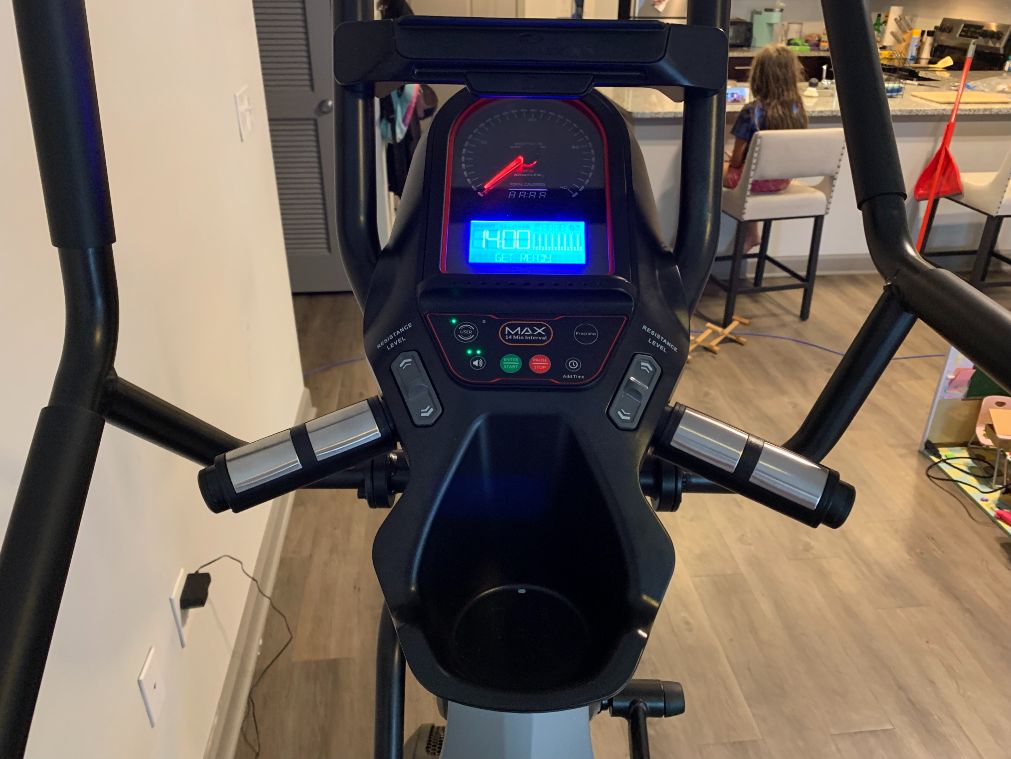 Is the Bowflex Max Trainer M6 Worth It?
The price tag begs the question: Is this machine worth it? There are some people who might enjoy the M6, and some people who should look for another piece of cardio equipment.
Great for:
People in small spaces who want compact equipment
Someone looking for more of a stair climber than a traditional elliptical
People who want fast-paced, high-intensity workouts
Not recommended for:
People looking for budget gym equipment
Those who prefer steady-state cardio workouts as opposed to interval training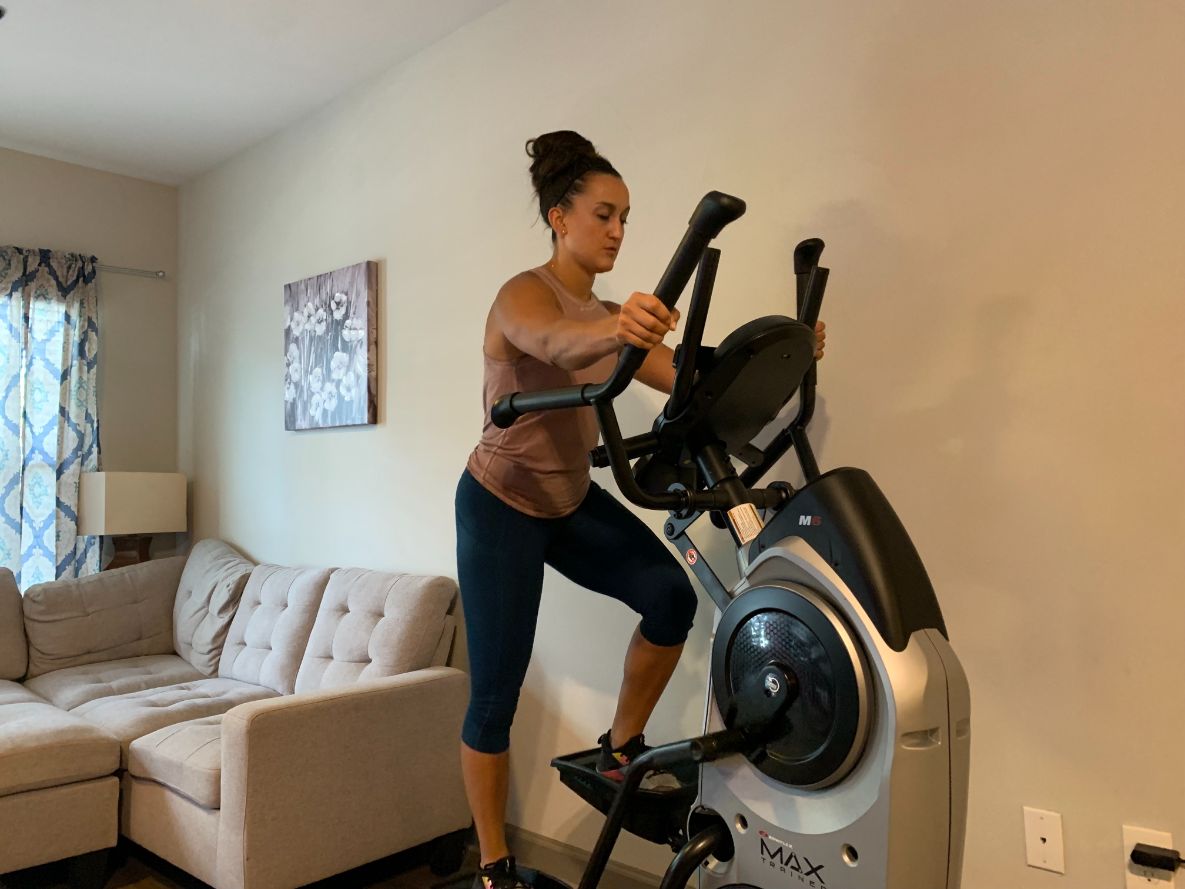 Feel the Burn
If you want high intensity cardio, this is it. Every workout is all about feeling the burn.Because this isn't a typical elliptical machine, you don't have that typical elliptical experience. The pedals are positioned in a much more upright state so it feels like you are climbing stairs, not gliding through a running stride.
That means you're going to work hard. Like, really hard. Kate said that every workout left her breathless. She likened the sprint-style workouts on the M6 to the workouts she has done on the Rogue Echo Bike and the Assault Bike. If you've ever done that, you know that heavy leg feeling you get from the lactic acid buildup. In other words, painful. But in a good way.
Your leg and posterior chain muscles – quads, calves, glutes and hamstrings – really get a great workout. This makes it feel like more than just cardio; it also feels like you're building muscle.
There are also moving handlebars that have two places for grip: The upper grips engage more bicep and back because you have more of a horizontal pulling motion as you exercise. The lower grips work more tricep, because you have more of a vertical pushing motion.
Therefore, your upper body gets a workout, too (though it's not nearly as intense as the lower body grind).Yes, this is still a low impact workout, so it's easier on your joints than running. And even if you're just at the start of your fitness journey, you can still adjust the machine so you get a good workout that won't kill you.
Related: Check out our Horizon 7.0 AE Elliptical review.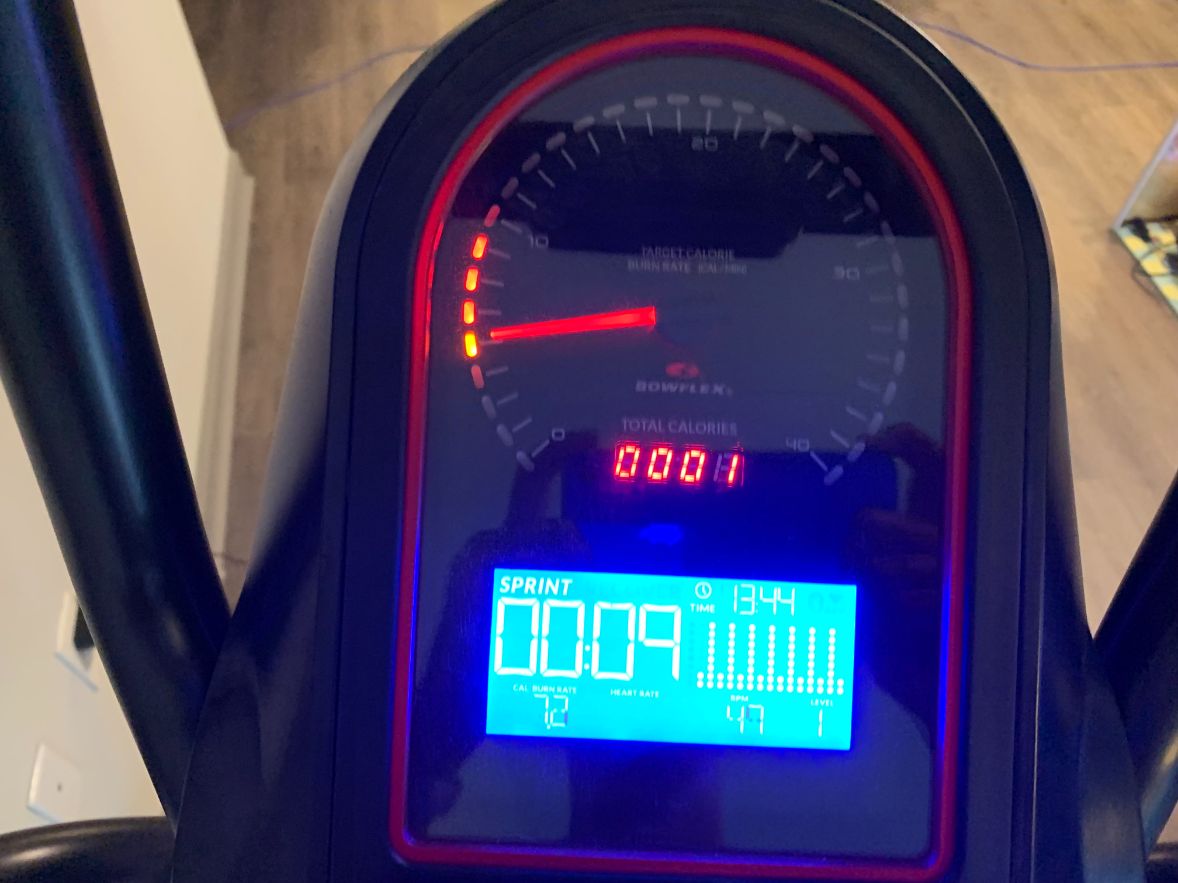 Burn Rate
The science behind the Max Trainer is burn rate, or how many calories you can tear through in a workout. Bowflex claims that you burn more calories on this machine than you would in the same amount of time on the average elliptical.
I'm not one to buy into fanciful claims, but I tend to believe this one simply because this is a machine designed for high-intensity, and traditional ellipticals are not.Also, the Max Trainer M6 comes with a cool speedometer that turns the dial up as you go faster. Little bulbs light up, and Kate said they were actually pretty motivating.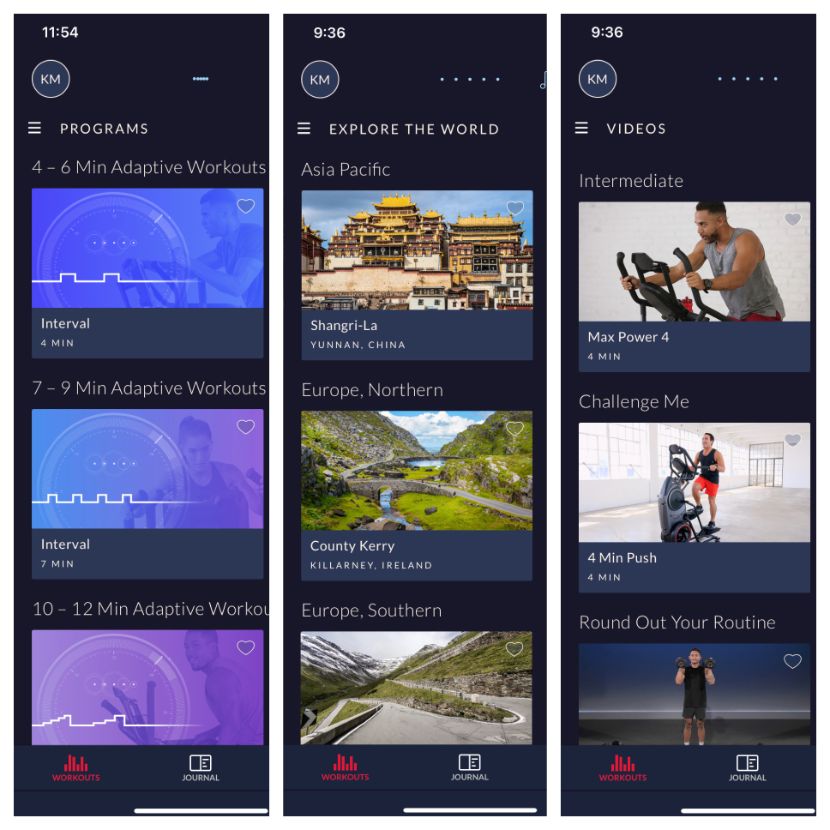 Resistance
There are 16 levels of resistance. To be honest, even the sprint workouts on the first level are pretty intense. At the highest level, you might feel like you're moving through sand. As far as built-in options go, the Max Trainer line is known for a 14-minute interval in which you sprint for 25 seconds and rest for 80 seconds. Bowflex makes it easy with a large "MAX 14-min interval" button on the console so you literally just step on the machine and go. Also included are calorie burn, fat burn, stairs and manual options.
Frame
The Bowflex M6 is a pretty compact cardio exercise machine, coming in at 46 inches in length, 26 inches in width, and 64.2 inches in height. It weighs a chonky 148 pounds but comes with transport wheels for easy maneuverability.
Th frame is made with a good amount of plastic, which we usually see as a bad thing since it's not as durable as steel or other materials, but if you take care of the machine it shouldn't be anything to worry about.
Features
The Bowflex Max M6 comes with the following features:
Heart rate monitoring
Bluetooth compatibility
USB port
Media rack
Multi-grip dynamic handles
The JRNY Experience
Kate feels strongly that you could get away with just the M6 and the five programs it comes with and still get a good workout. However, you do get six free months of JRNY with your purchase. JRNY is an interactive app that comes up with programming customized for you. It syncs with your machine (as well as other machines like the Bowflex VeloCore and Schwinn IC4 Indoor Cycling Bike).
Kate said the initial setup for the app was annoying. You have to put in a credit card to get your six free months. Then, you receive a confirmation email saying that your account will be confirmed in the next HOUR. So, word to the wise, don't wait to set up JRNY until you are ready for a workout, because it takes time.
Once you do get it set up, the first step is an assessment to gauge your fitness level. It took Kate just about 10 minutes to tear through the four intervals: A hard sprint to capture your maximum burn rate, then an interval to see how long you can hold 90 percent of that burn rate, then an interval to hold 50 percent of your burn rate, then one final one at 75 percent.
Kate said the assessment alone was tough. From there, Bowflex JRNY customizes workouts for you. It's a nice touch. The quality isn't as high as other apps we see, like iFit or Peloton, but it works well enough.
Compact Yet Mighty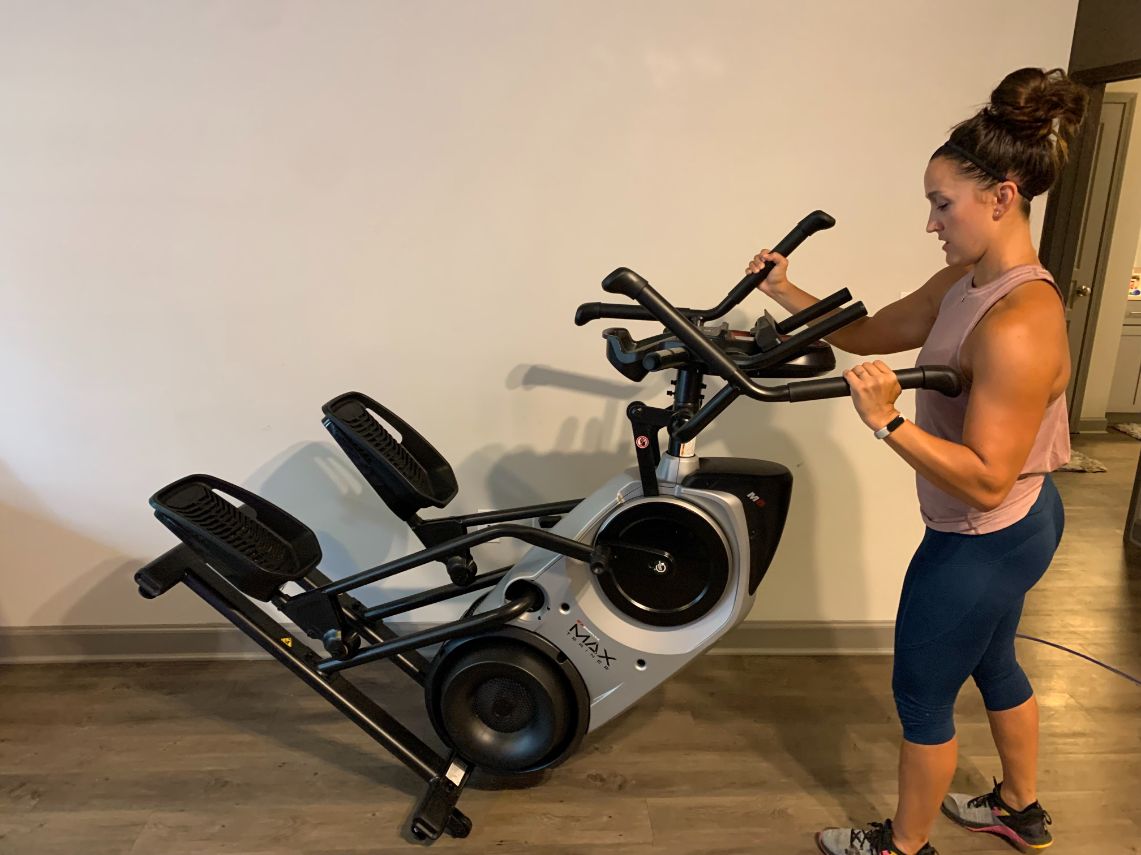 Probably one of the more attractive parts of the Max Trainer M6 is its size. Most ellipticals are going to be about 6 to 7 feet long, but this guy is under 4 feet. That's especially beneficial for people who don't have a lot of room for a cardio machine.
RELATED: Best Compact Elliptical
At 148 pounds, it isn't a lightweight machine, but you can still move it. There are front transport wheels you can use to tilt and move it around. As with most things Bowflex makes, the M6 Max Trainer uses a decent amount of plastic. I have reviewed the SelectTech 840 Adjustable Kettlebell and the SelectTech 552 Adjustable Dumbbells. Both of those have a lot of plastic, as does the M6. However, I think you can get away with more plastic on an elliptical than on a dumbbell. And Bowflex uses metal pieces where it needs to here.
The weight capacity is 300 pounds, which is on par with most cardio machines that aren't made using a lot of steel. And overall, this is a solid machine. Kate said when she initially got on the machine, she felt some rocking. After a few adjustment to the floor stabilizers, however, it was a smooth workout.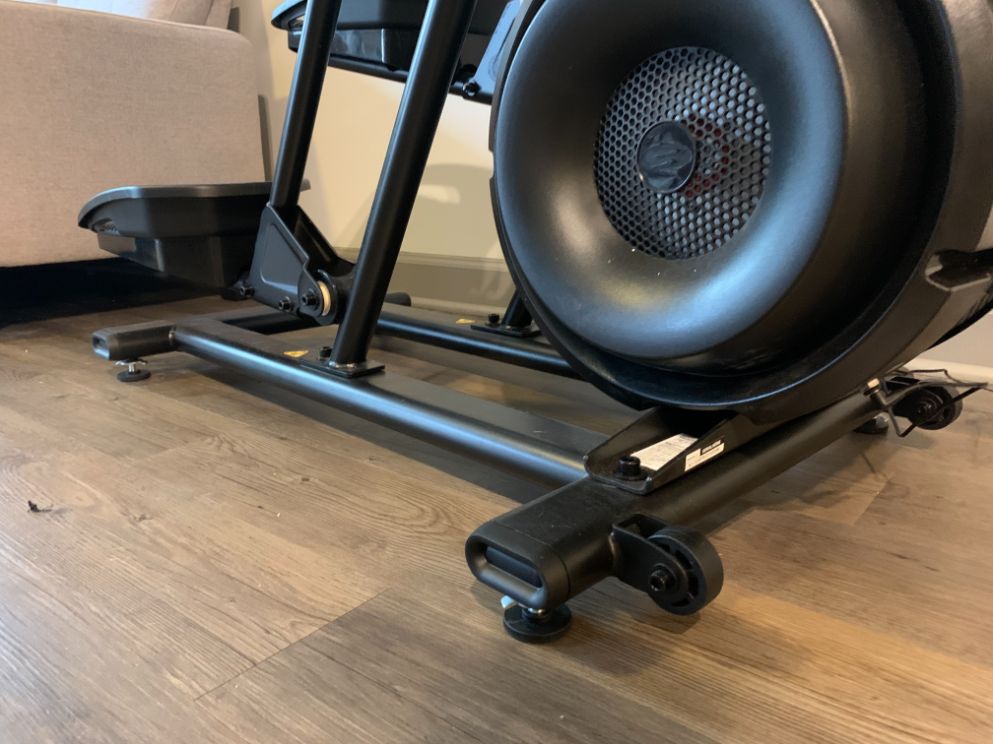 Comforts and Conveniences
There are a few key things to point out here:
Large pedals with some slight cushioning

Padded grips on the handles
Adjustable media rack that slides up or down to fit tablets and phones
Large water bottle handle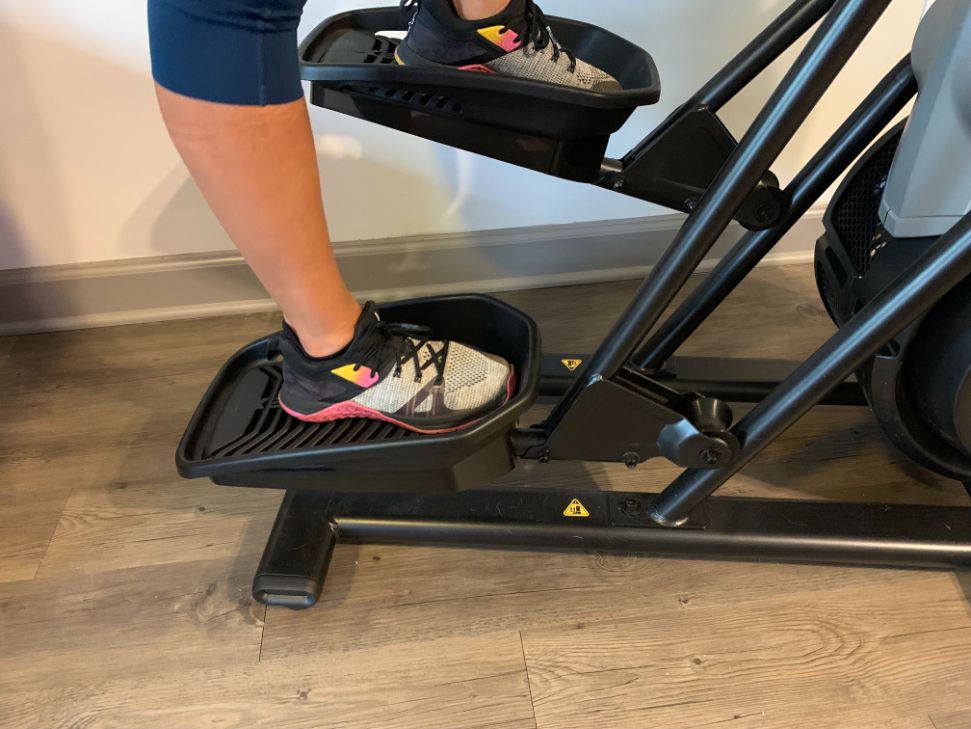 The Technology: Some Good, Some Not
The Max Trainer has the capability to store two user profiles and workout history. This works with both the built-in workout programs and also translates over into the JRNY app. When looking at the console, the speedometer-type reading is pretty cool, lighting up as your speed increases.
Of course, this pales a little in comparison to the M9, which has a fancy touchscreen that streams Netflix. There are built-in heart rate monitors on the handlebars through integrated contact grips, but those can be wildly inaccurate.
Kate wore the Fitbit Inspire 2 during one of her workouts and compared heart rates. The M6 gave her a 168, and the Fitbit was reading 126. That's a substantial difference, so I wouldn't trust the Trainer reading. There is Bluetooth connectivity available, so you could also wear a chest strap, which would probably be more accurate.
Ordering and Assembling the Bowflex Max Trainer M6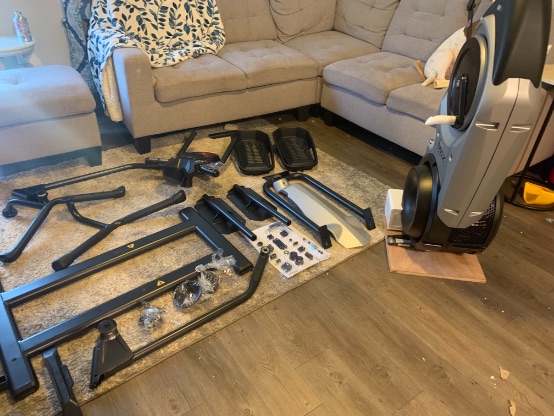 As of this writing, Bowflex is offering free shipping with the purchase of an M6. Otherwise, the website estimate says the cost of shipping is $150 within the contiguous United States. There are options for financing with a Bowflex credit card as well, which is nice, given the price.
Assembly
Kate put the M6 together herself. She has assembled dozens of cardio machines, so this wasn't a stretch for her. She said it was pretty easy to assemble, but took about 1.5 hours from the moment she got the boxes open to the moment she was done.
Bowflex supplies you with a small wrench and three Allen wrenches, which work just fine.I don't know why, but the M6 comes in two boxes (so does the Bowflex VeloCore).
Kate's tips for assembly:
Be prepared for a lot of garbage.
The body of the M6 comes bolted to a piece of wood. You can take that off right away, even though it doesn't say that anywhere in the directions.
There were three places where it would have been nice to have a second person to help with assembly: 1. When attaching the console wiring; 2. Attaching the arms; and 3. When you attach the main body of the M6 to the footer.
The M6 body is relatively heavy and a little cumbersome to move.
The assembly instructions are all pictures – no words. And there are several steps shown on each page, so you kind of have to guess the order.
In comparison with other ellipticals, Kate said this was an easier assembly than the machines where the arms and legs are attached to each other. On the M6, the handles and pedals operate completely independently, which just makes assembly a little less complicated.
Overall, this is an assembly you could do yourself, if you've ever assembled anything and have a decent working knowledge of how to use tools and follow instructions. In-home assembly is an additional $189, which is a little more expensive than what I've seen with other fitness equipment. However, if you don't have someone to help you or aren't confident, it might be worth it.
Bowflex M6 Max Trainer Specs
| | |
| --- | --- |
| Footprint | 46"L x 26"W x 64.2"H |
| Weight | 148lbs |
| Weight capacity | 300lbs |
| Ceiling height | User height plus 15" |
| Resistance levels | 16 |
| Drive | Front-drive |
| Preset workouts | Five standard workouts |
| Pedals | Oversized textured |
| Display | Backlit LCD screen |
| WiFi | No |
| Water bottle holder | Yes |
| Media shelf | Yes |
| USB port | Yes |
| Heart rate monitoring | Yes |
Returns and Warranty
The return policy on all Bowflex, Nautilus and Schwinn machines (they are all the same family) is a little broader than other brands. You get six weeks from the time you get the M6 to initiate a return. And, you just need to send it back in its original condition in suitable packaging.
Some of these companies expect you to hang on to the original boxes, which is insane. Who does that? The warranty, however, is where I think Bowflex falls short on this one. You just get two years on the frame, which is super low compared to the 10-year or lifetime warranties other brands give you.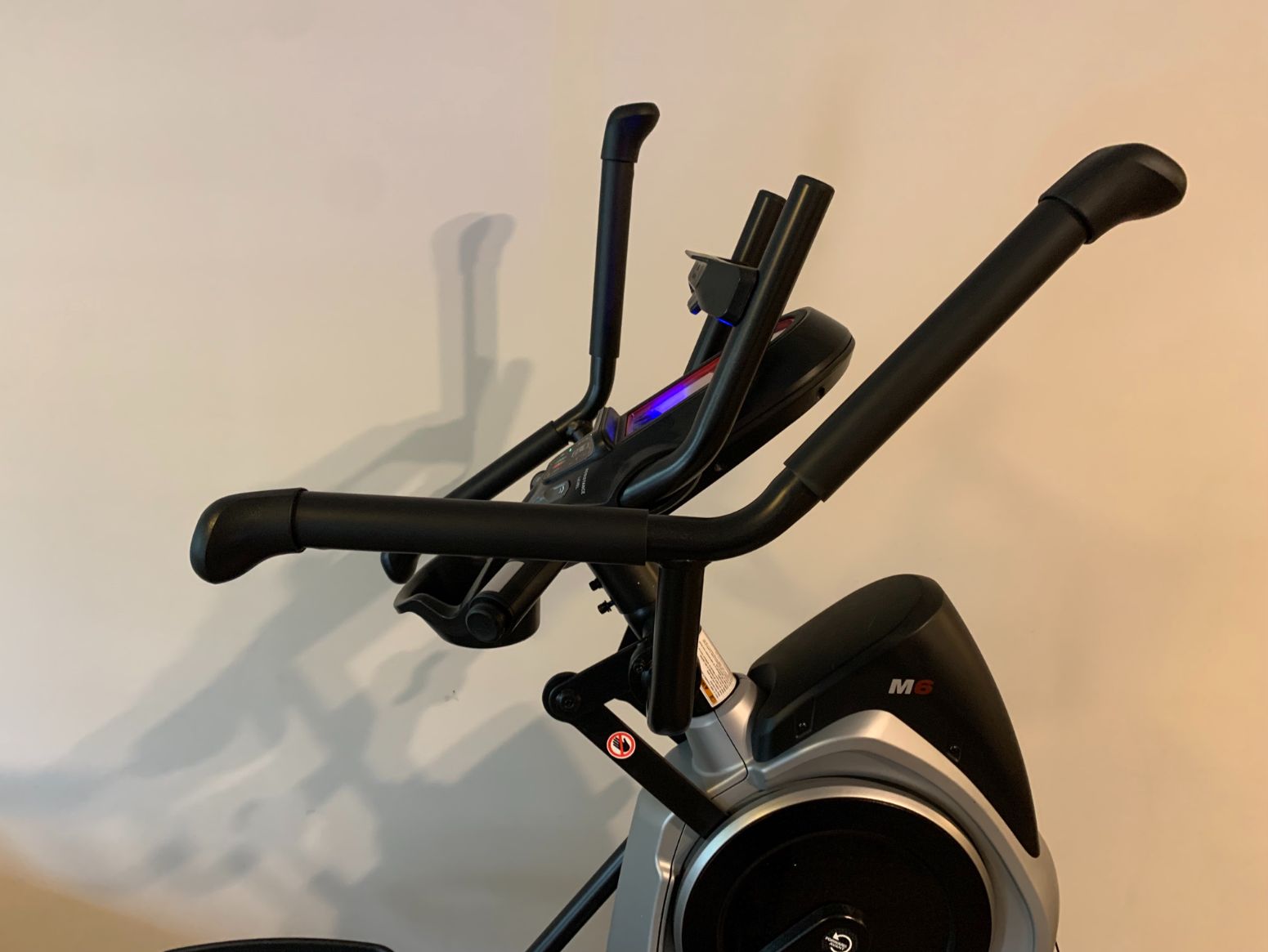 Customer Reviews
On the Bowflex website, a little more than 1,500 people (as of this publishing) have given the M6 a 4.7 average rating. Criticisms include some back pain while using as well as squeaking noises and knocks coming from within the machine. That doesn't really surprise me. Bowflex has pretty decent stuff, but it isn't quite known for being high quality.
Final Verdict of Our Bowflex M6 Review
The bottom line is this: You're going to get a really good, hard workout on this machine. This is way more intense than your average elliptical workout, so be prepared for that. Also, be prepared for the price tag. I don't think this is a great price for this machine, given that it doesn't have the fancy monitor, and it doesn't have a great warranty.
But, you will get your butt kicked.
RELATED: Best Elliptical Workout
Full Rating
Bowflex Max Trainer M6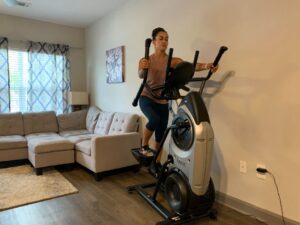 You're going to get a really good, hard workout on the Bowflex Max Trainer M6. This is way more intense than your average elliptical workout, so be prepared for that. Also, be prepared for the high price tag.
Product Brand: Bowflex
Product Currency: $
Product Price: 1499
Product In-Stock: InStock
Bowflex Max Trainer M6 FAQs
Now we'll answer some of the most frequently asked questions about the Bowflex Max Trainer M6.
Is the Bowflex M6 worth it?
You're going to get a great workout on this piece of equipment. No doubt about it. It has great, compact size, and it's a real burner. In my opinion, this machine is probably a touch overpriced. At around $1,500, it doesn't quite have the tech capabilities, like a fancy monitor; the durability, or the warranty to really substantiate that price. However, if you have the money, and you like the thought of a high-intensity machine at home, this might be a good fit for you.
Is the Bowflex M6 hard on the knees?
This is an exercise machine that is designed to be lower impact while helping you meet your fitness goals. It is definitely easier on the joints than, say, running. But because it mimics climbing stairs, it's not going to be an easy walk in the park. If you need an elliptical that is a little easier on the knees, I'd check out a more traditional model.
How much is the Max Trainer M6?
As of this publication, the M6 is around $1,500.
What is the Max Trainer M6 good for?
The best thing that the Max Trainer M6 offers is a high-intensity workout or HIIT. There are many options at varying lengths of time, some as short as 4 minutes and others around 20-30 minutes. The shorter you go, the more intense your full-body workout will be.
Is the Bowflex Max Trainer M6 quiet? 
The Bowflex Max Trainer M6 is pretty quiet, though if there's someone in the same room as you they might hear some light squeaking noises.