We review free products that we receive and participate in affiliate programs, where we may be compensated for items purchased through links from our site.
See our disclosures page for more information.
The Bowflex SelectTech 840 Kettlebellis an adjustable kettlebell that goes from 8LB to 40LB using a quick dial. After using the kettlebell for swings, Turkish getups, goblet squats, jerks, lunges, and farmers carries, I must say, it's a good design.
It's from Bowflex, so it uses a lot of plastic and isn't great for hard use, but if you're looking for a compact kettlebell with low max weight, I recommend it and put it on my list of the best kettlebells on the market.
Bowflex Kettlebell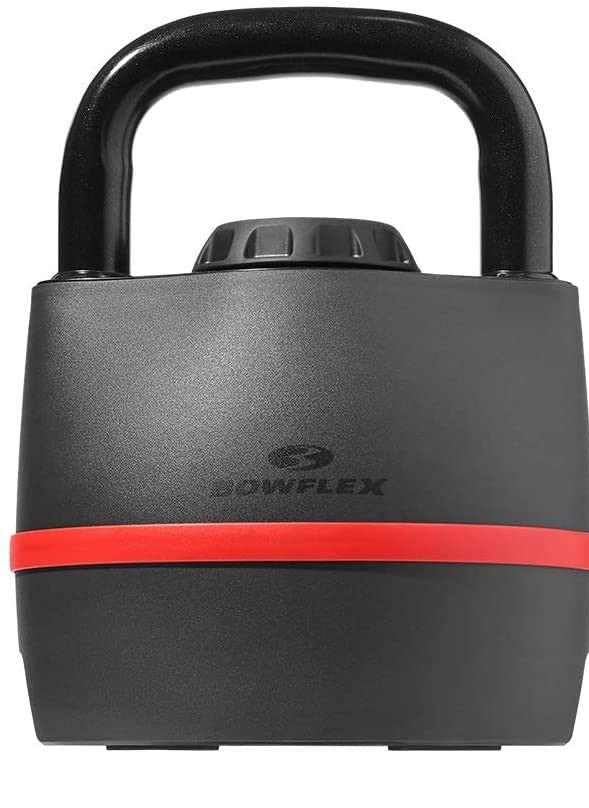 Bowflex SelectTech 840 Adjustable Kettlebell
Diversify your workouts with the Bowflex® SelectTech 840 Kettlebell. Combining 6 weights in one, the 840 Kettlebell allows you to increase or decrease your resistance at the turn of a dial.
The Bowflex 840 Adjustable Kettlebell takes similarities from Bowflex's line-up of adjustable dumbbells, ala the Bowflex SelectTech 552's and 1090's and turns the functionality into a kettlebell. Both my Wife and I have used it in our garage gym and compared it to our extensive collection of kettlebells and although I prefer fixed bells, the adjustable component and the price point is hard to beat.
What is the Bowflex 840 Adjustable Kettlebell?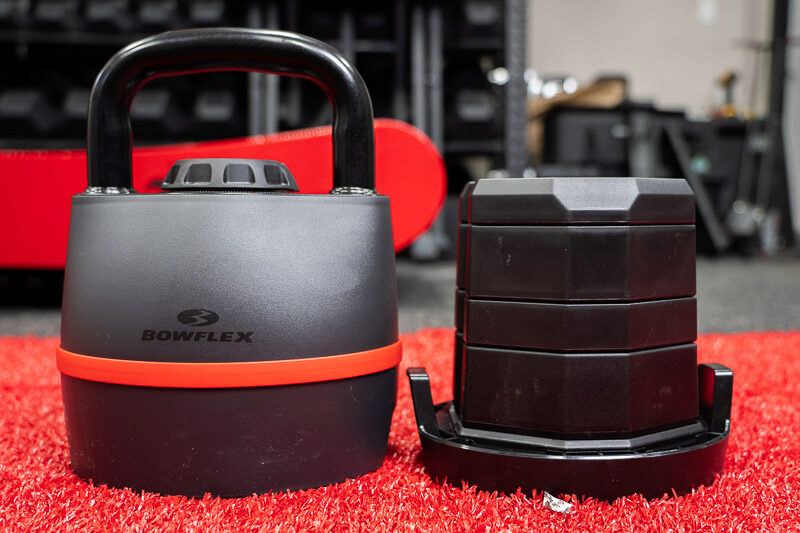 The 840 Kettlebell from Bowflex is, as the name would suggest, a kettlebell that can be adjusted to various weight increments with just the turn of the SelectTech dial, meaning you can change it quickly as you switch from one exercise to another or from one training partner to another (a lot of home gym owners train with their spouses…I do not.)
The Bowflex 840 Adjustable Kettlebell can be set at 3.5kg/8lb, 5.5kg/12lb, 9kg/20lb, 11kg/25lb, 16kg/35lb, or 18kg/40lb which is more than enough for a wide variety of exercises and makes it perfect for beginners who don't want to lift much as well as those who are more experienced in training.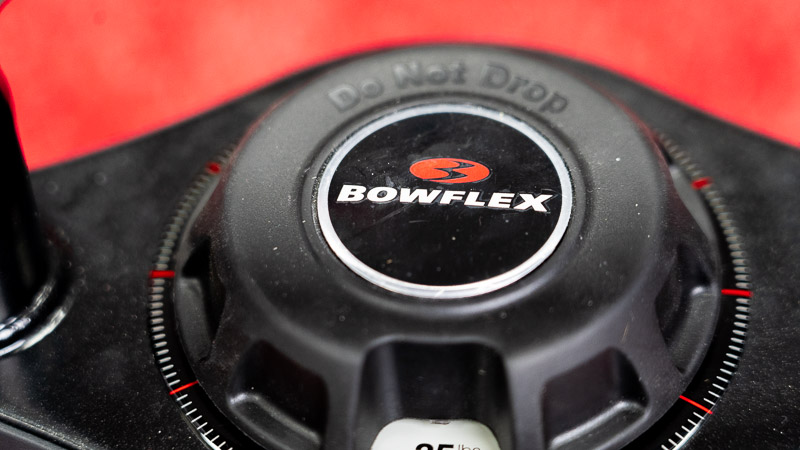 Bowflex, by no means, makes the best gym equipment in the world. However, Bowflex has shown time and time again they make excellent value equipment and the SelectTech 840 Kettlebell is a great example of that. It's not the best adjustable kettlebell out there (although to be fair, there aren't any that we're big fans of,) but it does a lot right and it does it at a tremendous price.
Let's get into the review.
What We Like About The Bowflex Adjustable Kettlebell?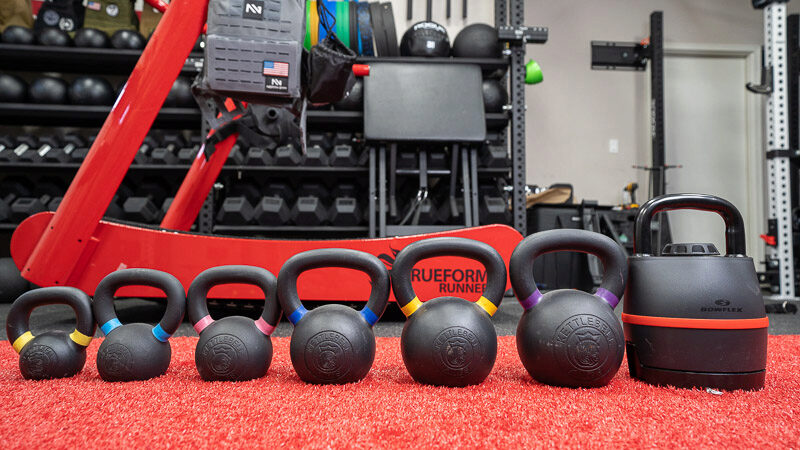 One of the biggest issues with adjustable kettlebells and dumbbells is that they don't feel like fixed kettlebells or dumbbells.
Take the Powerblock adjustable kettlebell handle for instance. It's fine for swings and carries, but good look pressing or doing clean and jerks with it without absolutely wrecking your forearms.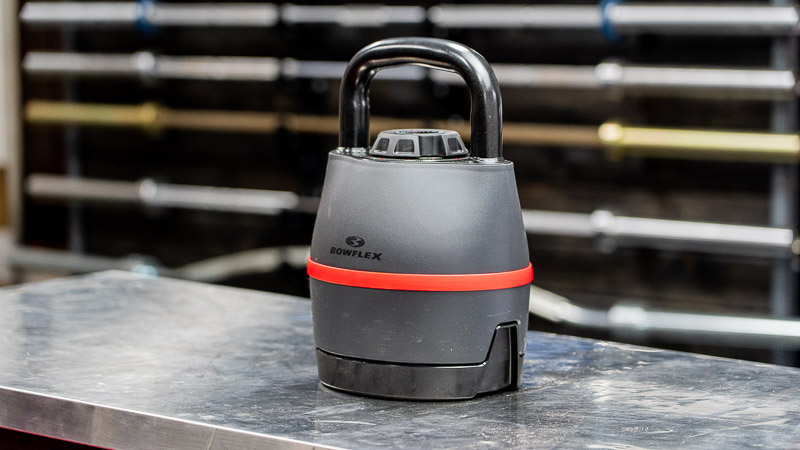 The Bowflex 840 Adjustable Kettlebell, however, feels surprisingly similar to a traditional kettlebell. This allows you to get the benefits of the equipment you're used to but without having to have six of them taking up space on the floor and removing space from your wallet.
Adjustable weight items are always much more compact in a home gym than a set of kettlebells with the same weight increments. Kettlebells in general are a versatile piece of kit, but the Bowflex Adjustable Kettlebell is even more so as it's something that everyone can use and for a number of different exercises for the whole body.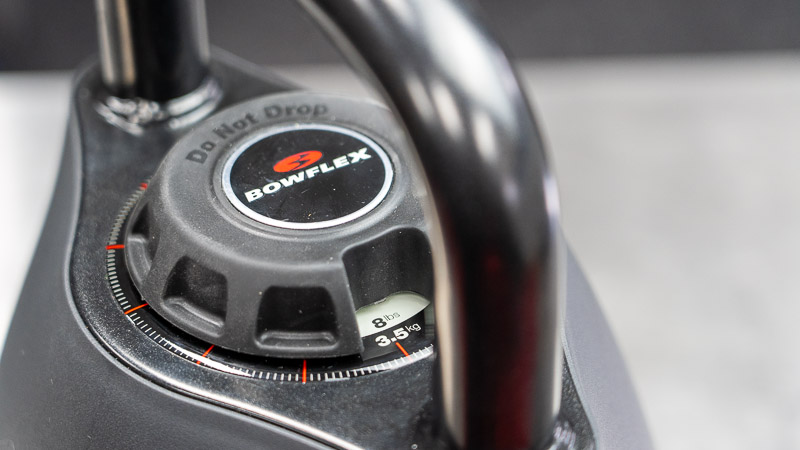 The multiple weight increments really help with this too. You can change the weights quickly, meaning you can quickly move on to your next exercise or use it for supersets, or, as previously mentioned, you can use it with weaker training partners.
Kettlebells are definitely on our list for thebest home gym equipmentdue to their versatility.
The Bowflex 840 Adjustable Kettlebell is similar to other kettlebells in that you can (technically) complete a full-body workout with just one piece of kit (although at this weight it's a bit light to get much for the lower body for many.)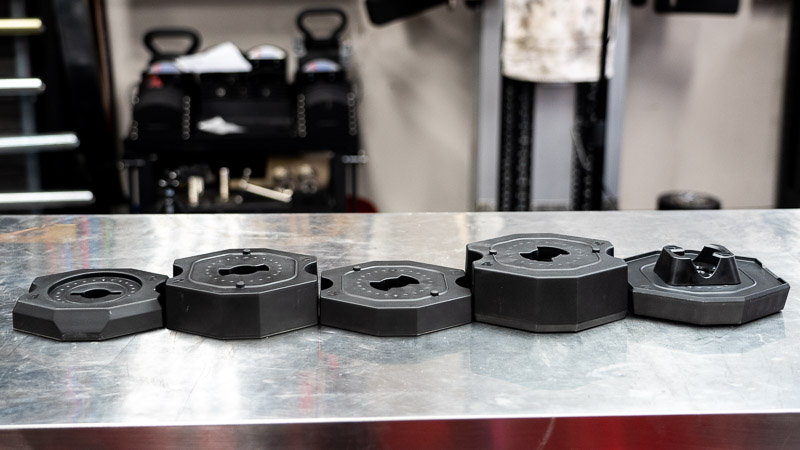 Because of its adjustability, the Bowflex 840 is also a real space saver and it means that you can have six different kettlebells in one. With dimensions of 22.4 x 17.8 x 31.8 cm, it allows you to have more space to work out and then can store it away neatly when you're done. For those with a minimalist mindset, you probably wouldn't need a ton more depending on your training goals. Swings, goblet squats, Turkish getups, and snatches are all easily possible with the 840.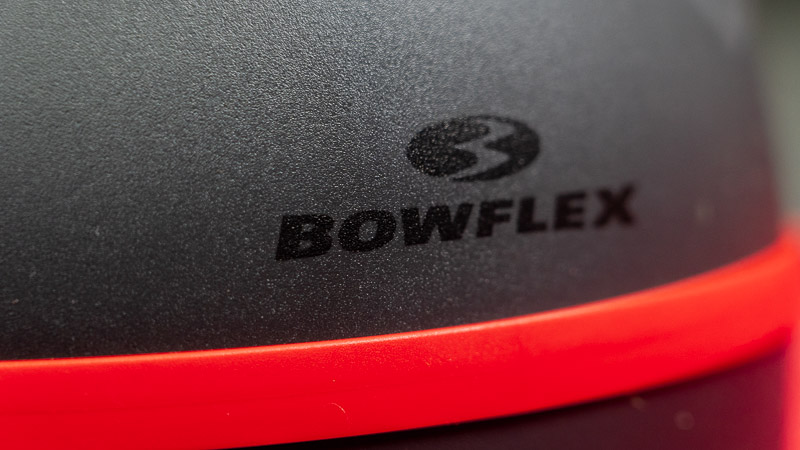 The Bowflex 840 features a hard-plastic outer shell which makes it feel strong and of good quality but it does make it fairly bulky. Essentially the Bowflex 840 Adjustable Kettlebell is a stack of weight plates housed in a plastic bell with a handle and a mechanical dial on top. Due to the fact that the kettlebell weights are adjustable, the kettlebell has an open bottom which means that the plates are exposed at the bottom. This can make some people feel uncomfortable and worried that the weight might fly out making it difficult to concentrate while working out.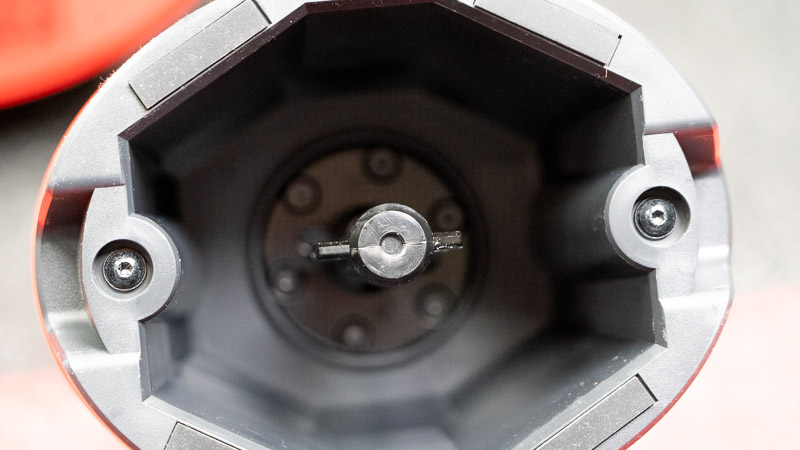 The plates do rattle slightly, but they are also securely locked in, so this shouldn't happen, although I'm wary to say it never will as the Bowflex 552 Adjustable Dumbbells have been known to drop plates. Due to the kettlebell being fully mechanical, it does require some grip-strength to be adjusted, although not too much. Due to where the dial is placed, underneath the handle, it does make it slightly more difficult to change.
Between exercises, you should keep your Bowflex 840 Adjustable Kettlebell on the plastic tray that comes with it and this is also a great place to put the weight plates when they're not being used, although as we'll discuss in a moment, all of the plastic doesn't assure me of its durability.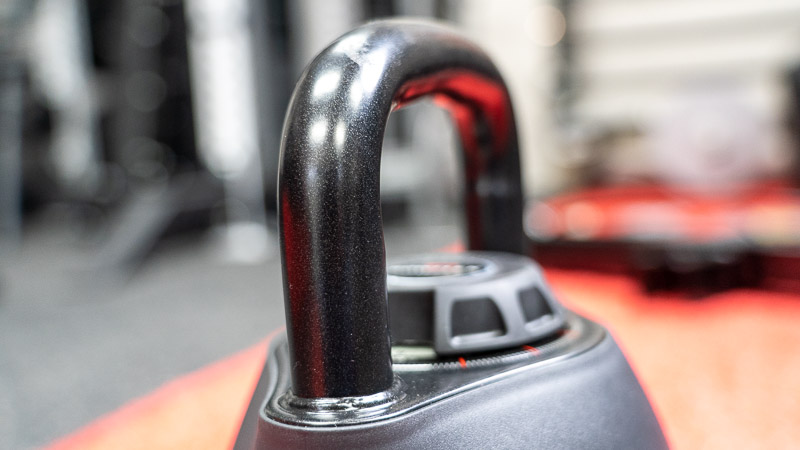 One thing that companies often don't get right with adjustable equipment is how the handle feels. The handle on the 840 Kettlebell is quite thin in comparison to traditional kettlebells like the Rogue Kettlebells we've reviewed.
Although the handle is thin on Bowflex's kettlebell, it's thankfully at least metal and round making it easy to transition from a below hand to an above hand position. It's not our favorite design, but it feels solid and it's better than plastic.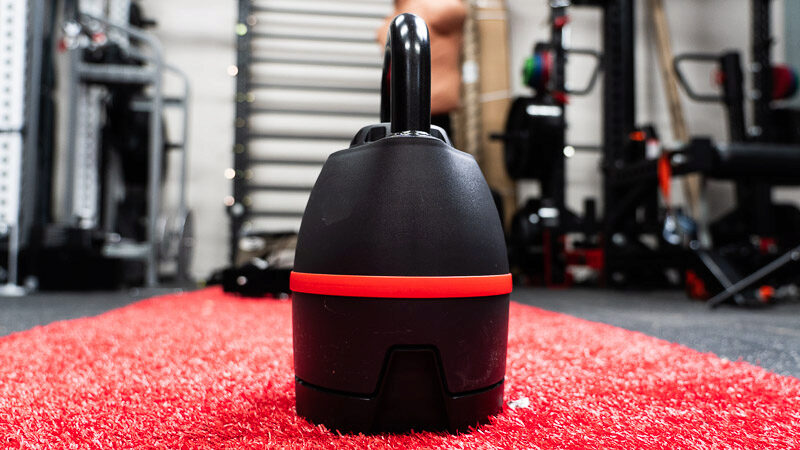 The shell which is also rounded is comfortable in the front rack during presses and it also hides the weight plates inside making it more comfortable on the wrist during use. However, it's easy to see what weights are selected thanks to the dial. The outside is plastic, but it's pretty thick and hard so there's I'm not too worried about that part of the bell cracking.
Finally, the price is, like all Bowflex equipment, pretty affordable. For $180, you essentially get 6 different kettlebells in a compact form. Compared to fixed kettlebells with the same weight increments, it is cheaper, although not insanely so depending on where you're looking.
Things We Dislike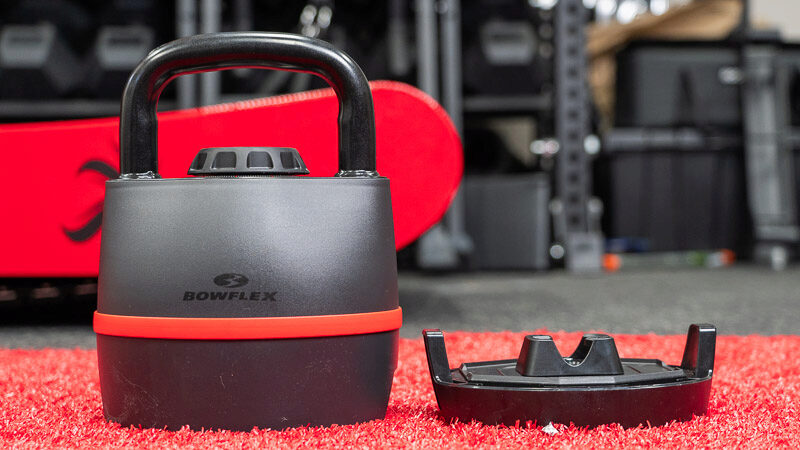 Of course, nothing is perfect, so there are always going to be things we don't like about the Bowflex Adjustable Kettlebell.
First of all, while 18kg/40lb is fine for a lot of people, there are plenty of others who would want a heavier option. I would have liked to see the maximum weight bumped up to a 1.5 Pood, or 53 LB. However, you know the max weight going into it, so only buy it if it's heavy enough for the movements you want to use it for.
As well as this, if there were more weight increment options between the minimum and maximum weight that would be nice so you can progress more finely over time.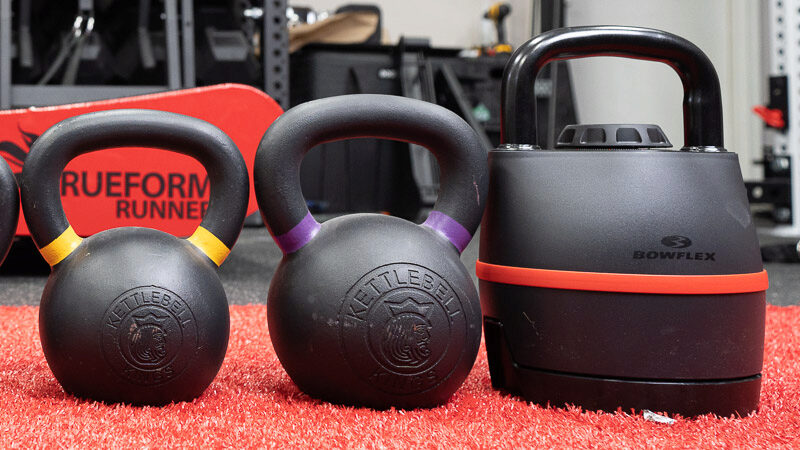 When compared to a normal kettlebell the handle is thin which takes a bit of getting used to and feels a little awkward at first. The handle is a slick metal (I think it's hollow aluminum) that doesn't take chalk well, so if you're sweating, grip may become a bit of an issue.
We also don't like how much plastic is used which could cause problems and won't last as long as metal. The plastic shell feels pretty thick and substantial, but the base not so much.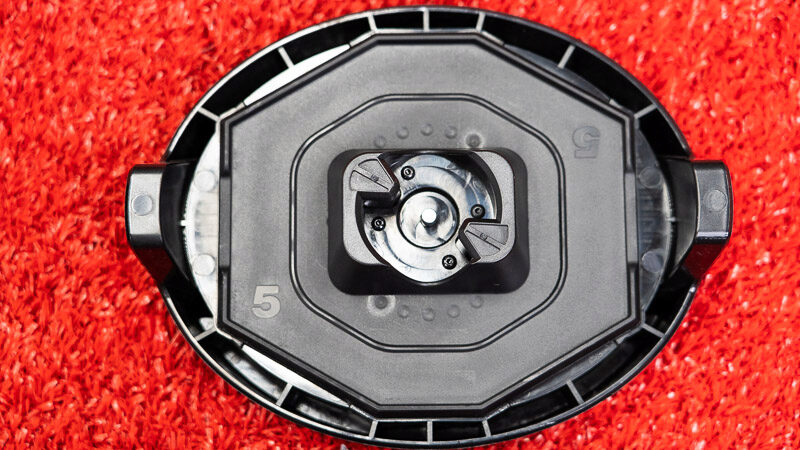 The plastic base is cheap, thin plastic and will likely crack as weights are set down on it, especially if not done so gently.
The other potential concern we have is with the weights coming out of the bottom during a swing. The SelectTech system can hold weight well, but it uses plastic which is prone to wear and tear and I worry that eventually, the plates could fly out of the bottom damaging who knows what.
Finally, we don't like that the adjuster dial is prone to damage similar to the SelectTech 552 Dumbbells. We just recommend not dropping the 840 like you would regular kettlebells and treating it with as much care as possible.
Should You Add the Bowflex 840 Kettlebell to Your Home Gym?
Yes, if you're on a budget and don't want something heavier than this, it's a good addition to your home gym. As mentioned, it is a space saver so it can be put away neatly when not using it and when you are using it, you'll have plenty of space because you won't have five other kettlebells of different weights on the floor.However, understand that this is one of the best budget home gym equipment pieces. It's not designed for commercial use or very hard training. If you do CrossFit or plan to use it a lot, I'd suggest looking elsewhere to fixed kettlebells like Rogue Kettlebells or Kettlebell Kings.
Bowflex 840 Adjustable Kettlebell FAQ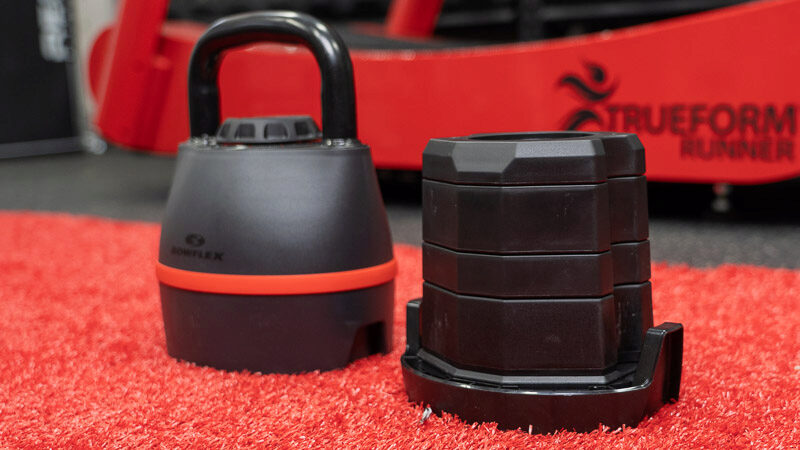 How Does The Bowflex Adjustable Kettlebell Feel Versus a Traditional Kettlebell?
As mentioned, we think it feels pretty similar however the handle is thinner which can take some getting used to. The Bowflex 840 Adjustable Kettlebell can also feel bulky and in the way compared to a traditional kettlebell. And of course, there is also the rattle from the weights when the kettlebell is swung around which you don't get from a traditional kettlebell.
How heavy does the Bowflex Kettlebell go?
The Bowflex kettlebell goes up to 18kg (or 40lbs).
Is the handle grippy?
The ergonomic handle is designed for efficiency and comfort and specially shaped to feel good in your hands if they're smaller, however, it's a slick piece of metal that doesn't take chalk well.
What weight increments are possible with the Bowflex Kettlebell?
The Bowflex Kettlebell starts at 3.5kg/8lb and then has increments of, 5.5kg/12lb, 9kg/20lb, 11kg/25lb, 16kg/35lb, and 18kg/40lb which makes it ideal for beginners who are just starting out, those that want to use it for conditioning, or women and men that simply don't lift a ton.
Is it durable?
Somewhat. I think it will last for most personal use so long as you treat it well.
Bowflex 840 Adjustable Kettlebell vs The Competition
Bowflex vs Powerblock Kettlebell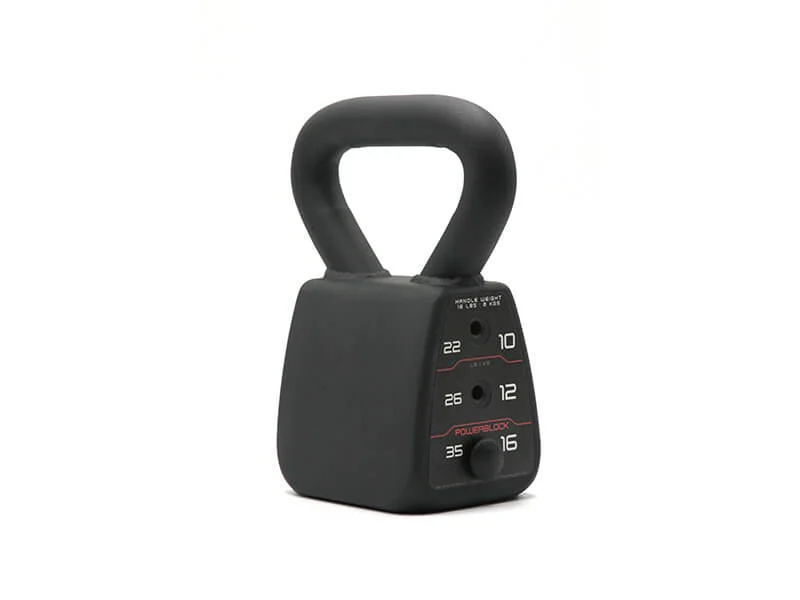 Powerblock Adjustable Kettlebell
The Powerblock Adjustable Kettlebell is the most ergonomic and compact adjustable kettlebell. The compact contoured shell provides exceptional comfort throughout your entire kettlebell circuit. Save space and money with this versatile addition to your home or commercial gym.
The Bowflex 840 Adjustable Kettlebell has some competition in the adjustable kettlebell, so how does it compare to the Powerblock Adjustable Kettlebell?
The Powerblock has less of a range of weights and starts at 8.1kg with increments of 9.9kg, 11.7kg to 15.8kg (18-, 22-, 26-, and 35-pound). It is comfortable to use however it does make some noise when you're using it. Apart from that, the PowerBlock kettlebell is the same concept, it is an adjustable kettlebell that adds convenience to your workout and is a real space saver in your home gym, but with a different shape. Honestly, I prefer the Bowflex 840 to the Powerblock Kettlebell.
Bowflex vs Titan Kettlebell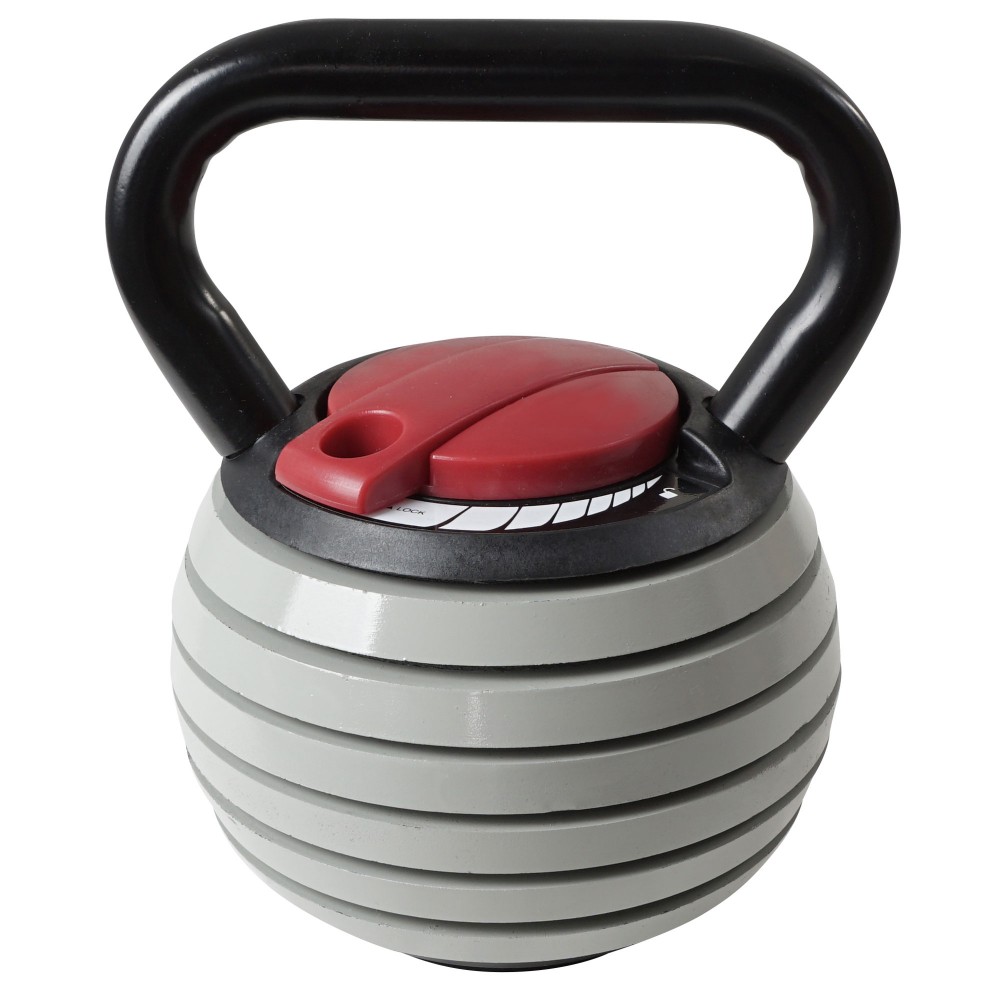 Titan 10-40 LB Adjustable Kettlebell
For everyone, from beginners to bodybuilders, this Adjustable Kettlebell Weight by Titan Fitness is an excellent addition to your home gym, exercise machines, and dumbbells. Kettlebells are among the most versatile weights when it comes to full body workouts. They can be used for anything from arm and core exercises to leg and back workouts. Whether you're going for a solid six pack or looking to take your overall muscle tone to the next level, this kettlebell weight can be used in a wide variety of ways to help you achieve and support your fitness goals. These weights are suitable for both men's and women's exercises. They are also fully adjustable, so you can tailor them to fit your own personal workout needs. This kettlebell weight is divided into 6 drop cast iron, powder-coated, silver plates. Like the exercise and weight machines at the gym, you can add or remove plates until the weight is light enough to manage and heavy enough to challenge you. The kettlebell has a wide handle to allow for easier movement during workouts. The handle measures 1.5" wide and is made of cast iron with a black powder coating for maximum durability. It also has a flat base for storage convenience. The plates in the weight are held in place by a heavy-duty plastic clamp to ensure that they won't slip or slide around during your workout. The total weight of the kettlebell is 40 pounds, although plates can be removed to reduce the weight to as little as 10 pounds. At Titan, we pride ourselves on our excellent communication skills and policies. Our staff teams work 24-7 to ensure that you get the highest quality products available for a price that won't break the bank. If you are dissatisfied in any way with your Titan purchase, we will provide a full money-back guarantee. Features: - Drop cast iron plates - Flat base for easy storage - Extra wide handle for easy grip - Mechanism to easily adjust weights - Six adjustable weight levels - Save money, space, and time - One kettlebell fits all - Perfect for beginners and advanced athletes alike Specifications: - Handle Width: 1.5" - Material: Cast Iron - Finish: Powder Coated - Adjustable weight: 5 lb up to 40 lb - Total Weight: 40 lb - Color: Silver
The Titan Fitness Adjustable Kettlebell is also up there when it comes to competition for the Bowflex 840 Adjustable Kettlebell as just like it, the Titan can be used for anything from arm and core exercises to leg and back workouts. Just like the Bowflex 840, the Titan has six different weights available and goes from 4.5kg to 18kg or 10-40lbs, so it is light enough for beginners but heavy enough to challenge you too. Again though, some users may prefer a heavier option. Featuring a wide handle, the Titan is comfortable to use and is made of cast iron with a black powder coating for better durability.
Full Rating