We test and review fitness products based on an independent, multi-point methodology. If you use our links to purchase something, we may earn a commission. Read our disclosures.
The Bowflex SelectTech 840 Kettlebell is an adjustable kettlebell that goes from 8 pounds to 40 pounds using a quick turn of a dial. After using the kettlebell for different exercises like swings, Turkish get ups, goblet squats, jerks, lunges, and farmer's carries, I must say, it's a pretty solid design.
The 840 uses a lot of plastic so it isn't great for hard use, but if you're looking for a compact kettlebell with a low max weight, I recommend it. In this Bowflex SelectTech 840 Adjustable Kettlebell review, I'll let you know all the details about construction, value, and ease of adjustability.
Bowflex Kettlebell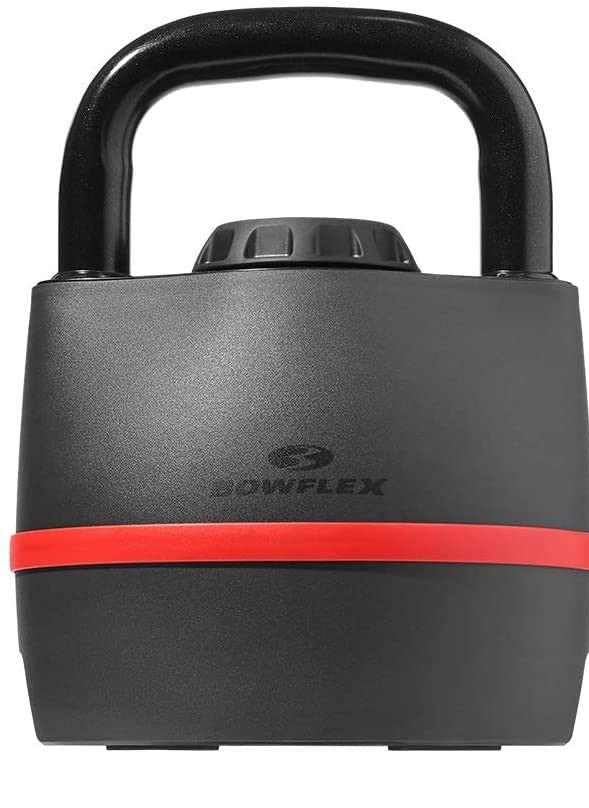 Product Highlights
Easy adjustment
Wide range of weights
2-year warranty
Feels like a traditional kettlebell
Pros & Cons
Pros
Easy to adjust the weight
Wide range of weights
Comes with a two-year warranty
Feels like a traditional kettlebell
Cons
Only goes up to 40 pounds
The handle is quite thin and slippery
The plastic base doesn't feel very sturdy
Bottom Line
One of the best adjustable kettlebells that's offered at a decent price.
Why You Should Trust Us
My team and I at Garage Gym Reviews have tested dozens of the best kettlebells on the market including the Vulcan Absolute Training Kettlebells, Onnit Kettlebells, and the Titan Fitness Competition Kettlebells. We're also no stranger to adjustable kettlebells and dumbbells. When evaluating a product like the Bowflex SelectTech 840 Adjustable Kettlebell, we look at things like price, weight, materials used, durability, and how it stacks up compared to others we have previously tested.
RELATED: Dumbbells vs Kettlebells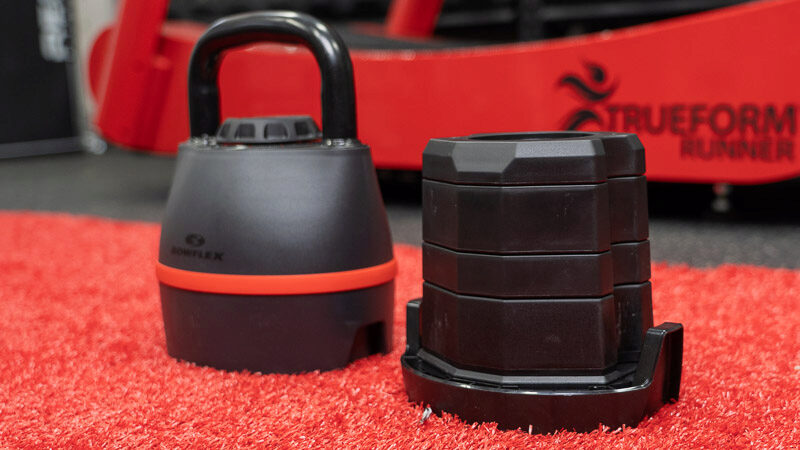 A Quick Look at the Bowflex SelectTech 840 Adjustable Kettlebell
The Bowflex 840 Adjustable Kettlebell has some similarities to Bowflex's line-up of adjustable dumbbells, (a la the Bowflex SelectTech 552's and 1090's) and turns the functionality into a kettlebell. Both my wife and I have used the 840 in our garage gym, and although I prefer fixed bells, the adjustable component and the price point is hard to beat.
Coop's Tips:
Be aware that this adjustable kettlebell isn't designed to take a beating, so be sure to carefully set it down rather than dropping/slamming it on the floor.
If you want to cash in on the two-year warranty at any point, be sure to register your adjustable kettlebell online as soon as you receive it.
Video Review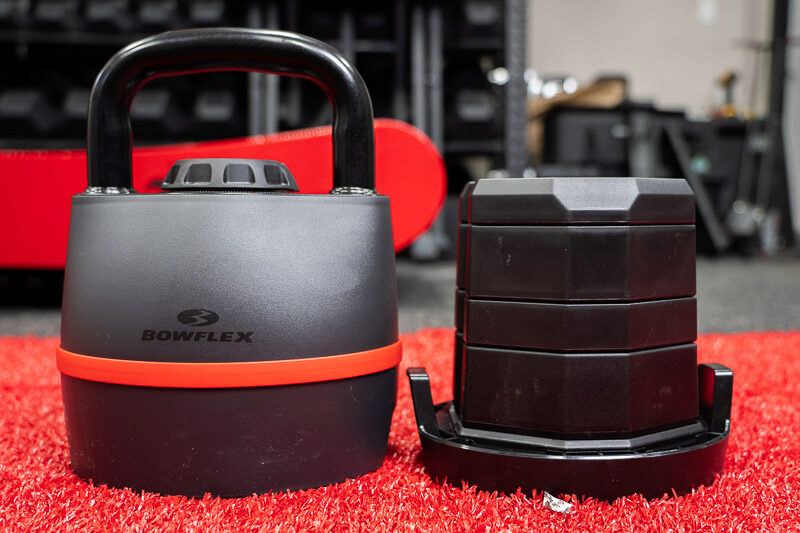 Is the Bowflex SelectTech 840 Adjustable Kettlebell Worth It?
Yes, if you're on a budget and don't want something heavier than this, it's a good addition to your home gym. It is a space saver, so it can be put away neatly when not in use and you won't have five other kettlebells of different weights on the floor.
However, understand that this is one of the best budget home gym equipment pieces, but part of that is because there isn't a ton of competition in this area. It's not designed for commercial use or very hard weight training. If you do CrossFit or plan to use it a lot, I'd suggest looking at fixed options like Rogue Kettlebells or Kettlebell Kings.
Great for:
People who are tight on space and need compact workout equipment
Those who are on a budget
Individuals who don't want to use more than 40 pounds
Not recommended for:
Those who lift really heavy
People who want a super durable kettlebell that will last a lifetime
Individuals who want to slowly increase the weight they use; this kettlebell does jump around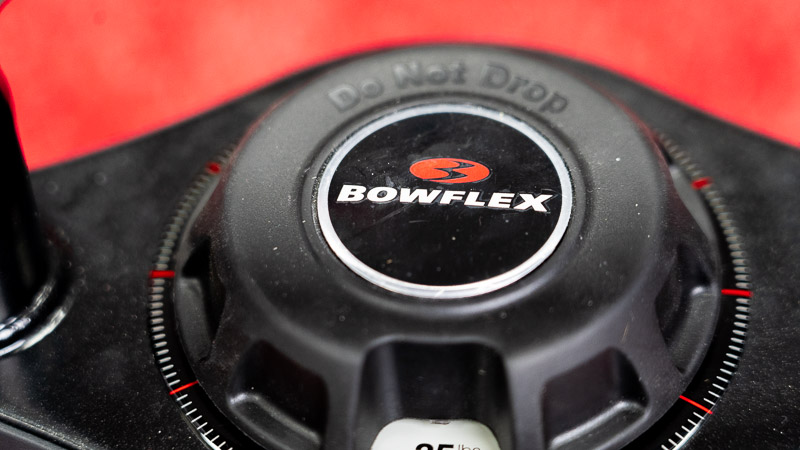 Bowflex SelectTech 840 Adjustable Kettlebell Specs
| | |
| --- | --- |
| Weight | 8-40 pounds |
| Warranty | 2 years |
| Dimensions | 8.8″ L x 7″ W x 12.5″ H |
| Made in | China |
| Videos Included | 24 |
| Colors | Black and Red |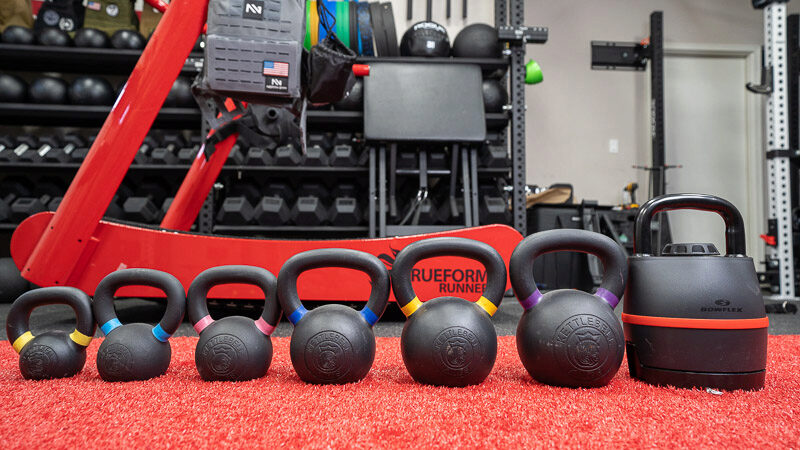 Swing, Swing, Swing my Kettlebell
The 840 Adjustable Kettlebell from Bowflex is, as the name would suggest, a kettlebell that can be adjusted to various weight increments with just the turn of the SelectTech dial. This means you can change it quickly as you switch from one exercise to another or from one training partner to another (a lot of home gym owners train with their spouses…I do not).
Bowflex, by no means, makes the best gym equipment in the world. However, Bowflex has shown time and time again they make excellent value fitness equipment, and the SelectTech 840 Kettlebell is a great example of that. It's not the best adjustable kettlebell out there (although to be fair, there aren't any that we're huge fans of), but it does a lot right and it does so at a fair price.
The Bowflex 840 Adjustable Kettlebell feels surprisingly similar to a traditional kettlebell. This allows you to get the benefits of the equipment you're comfortable with but without having to have six of them taking up space on the floor and removing space from your wallet.
Adjustable weight items are always much more compact in a home gym than a set of kettlebells with the same weight increments. Kettlebells in general are versatile, but the Bowflex Adjustable Kettlebell is even more so as it's something that will work for a variety of different people and various exercises.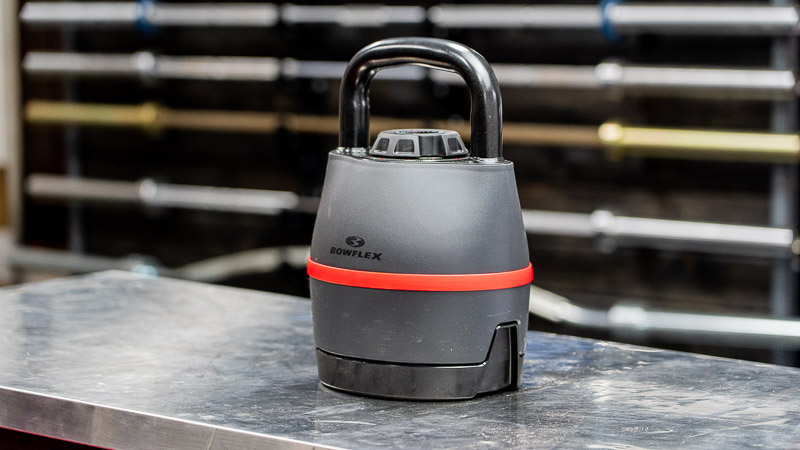 Weight Options
The Bowflex 840 Adjustable Kettlebell can be set at 3.5 kilograms/8 pounds, 5.5/12, 9/20, 11/25, 16/35, or 18/40, which is more than enough for a wide variety of exercises. This makes it a good option for beginners who don't want to lift much as well as those who are more looking to do conditioning based training.
While 18 kilograms/40 pounds is fine for some people, there are plenty of others who would want a heavier option. I would have liked to see the maximum weight bumped up to 53 pounds. However, you know the max weight going into it, so only buy the 840 if it's heavy enough for the movements you want to use it for.
I do also wish there were more weight increment options between the minimum and maximum weight because it would allow you to progress more finely over time.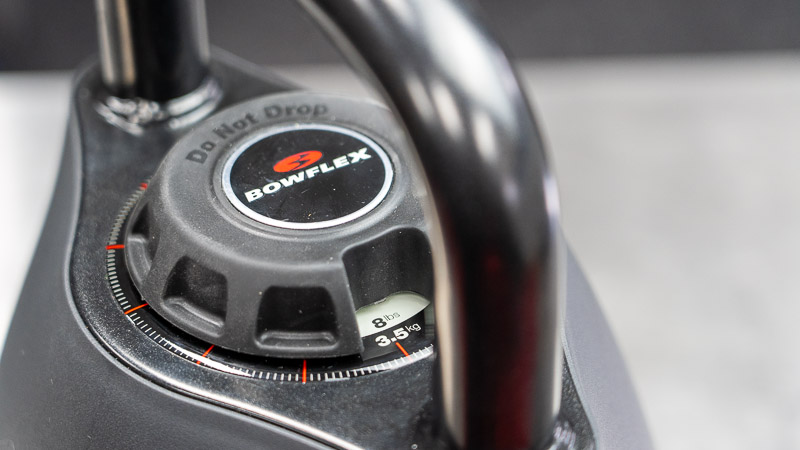 Footprint
The Bowflex 840 Adjustable Kettlebell is similar to other kettlebells in that you can (technically) complete a full-body home workout with just one piece of equipment (although at this weight it's a bit light for the lower body for many).
Due to its adjustability, the Bowflex 840 is also a real space saver with essentially six kettlebells in one. With dimensions of 22.4 x 17.8 x 31.8 centimeters, it allows you to have more space to work out and then store it away neatly when you're done. For those with a minimalist mindset, you probably wouldn't need a ton more depending on your fitness goals. Kettlebell swings, goblet squats, Turkish get ups, and snatches are all easily possible with the 840.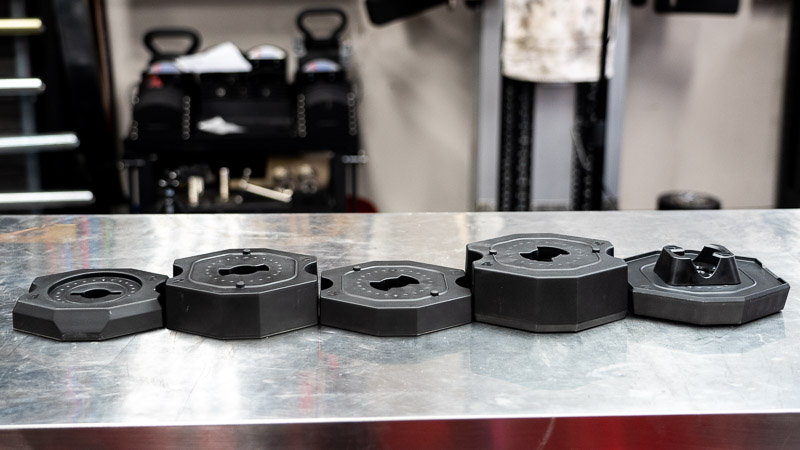 Construction and Durability
The Bowflex 840 features a hard-plastic outer shell, which makes it feel strong and of good quality but does make it fairly bulky. Essentially, the Bowflex 840 Adjustable Kettlebell is a stack of weight plates housed in a plastic bell with a handle and a mechanical dial on top.
Due to the fact that the weight is adjustable, the kettlebell has an open bottom, which means that the plates are exposed at the base. This can make some people feel uncomfortable and worried that the weight might fly out, making it difficult to concentrate while working out.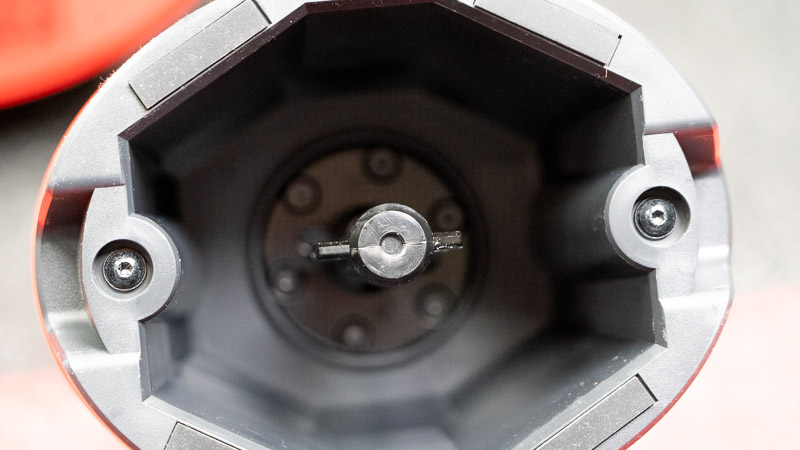 Between exercises, you should keep your Bowflex 840 Adjustable Kettlebell on the plastic tray that comes with it. This is also a great place to put the weight plates when they're not being used, although as we'll discuss in a moment, all of the plastic doesn't assure me of its durability.
One thing that companies often don't get right with adjustable equipment is how the handle feels. The handle on the 840 Kettlebell is quite thin in comparison to traditional kettlebells (like the Rogue Kettlebells) we've reviewed.
Although the handle is thin on Bowflex's kettlebell, it's thankfully both metal and round, making it easy to transition from a below hand to an above hand position. It's not our favorite design, but it feels solid and it's better than plastic.
The shell, which is also rounded, is comfortable in the front rack position during presses and hides the weight plates inside. However, thanks to the dial, it's easy to see what weights are currently selected. The outside is plastic, but it's pretty thick and hard, so I'm not too worried about that part of the bell cracking.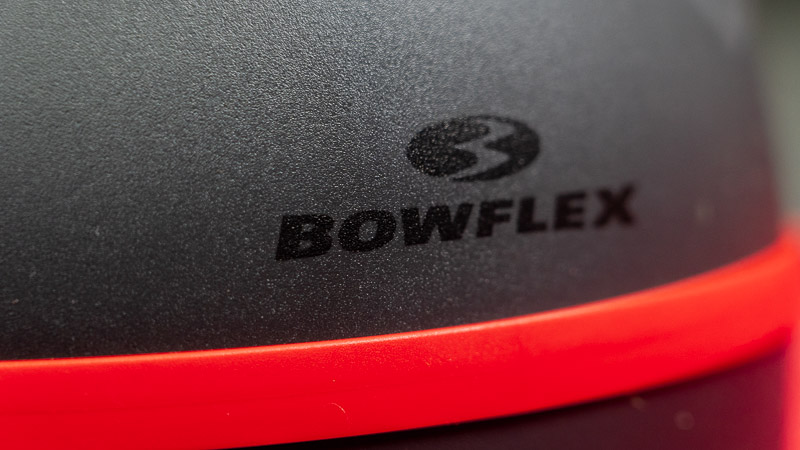 Comparison to Powerblock Adjustable Kettlebell and Titan Fitness Adjustable Kettlebell
The Bowflex 840 Adjustable Kettlebell has some competition in the adjustable kettlebell space, so how does it compare to the Powerblock Adjustable Kettlebell?
The Powerblock has less of a range of weights and starts at 8.1 kilograms with increments of 9.9, 11.7 to 15.8 (18, 22, 26, and 35 pounds). It is comfortable to use, however it does make some noise when exercising with it. Apart from that, the PowerBlock Kettlebell is the same concept, it is an adjustable kettlebell that adds convenience to your workout and is a real space saver in your home gym, but with a different shape. Honestly, I prefer the Bowflex 840 to the Powerblock Kettlebell.
The Titan Fitness Adjustable Kettlebell can be used for anything from arm and core exercises to leg and back workouts. Just like the Bowflex 840, the Titan has six different weights available and goes from 4.5 to 18 kilograms, or 10-40 pounds. However, some users may prefer a heavier option since this maxes out at 40 pounds. The Titan Kettlebell features a wide handle, and is comfortable when in use. Plus, it is made of cast iron with a black powder coating for added durability.
RELATED: Best Back Workouts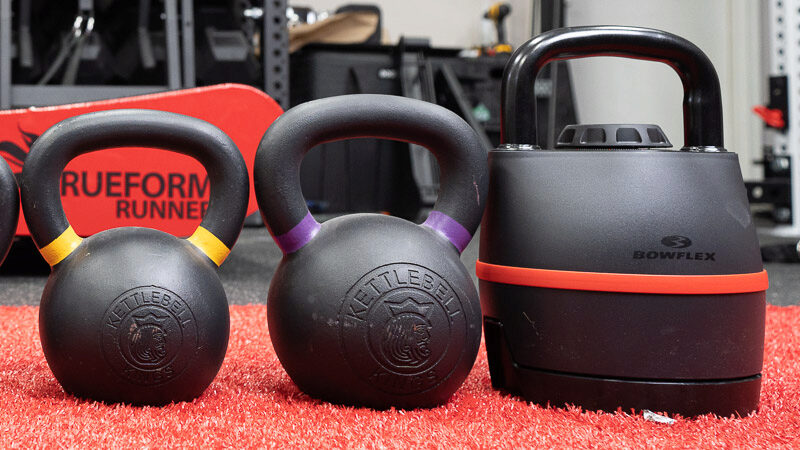 Customer Experience
The Bowflex 840 has a two-year parts warranty, but it is worth noting you must register your kettlebell online at www.bowflex.com/register. You will need to provide information like the date of purchase and the item's serial number in case you want to make use of your warranty at any point.
Bowflex has very good customer service. If you have a question, you can easily contact the company through the live chat button or by calling 800-605-3369. I found them to be very responsive and easy to work with.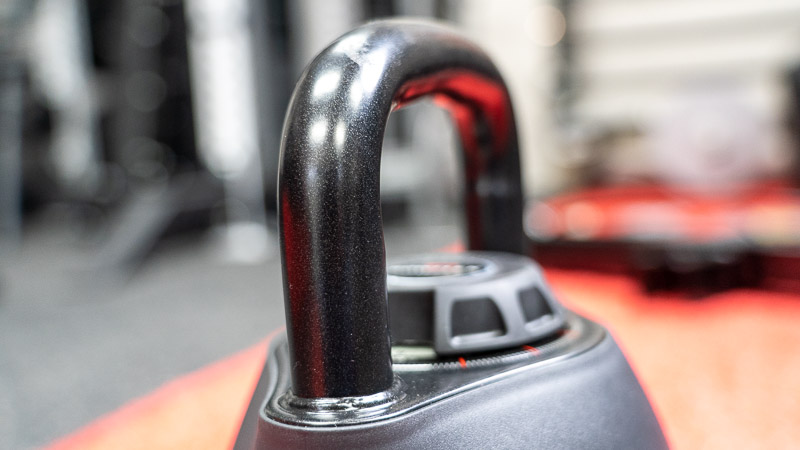 Ordering the Bowflex SelectTech 840 Adjustable Kettlebell
For around $199, you essentially get six different kettlebells in a compact form. Compared to fixed kettlebells with the same weight increments, it is cheaper, although not insanely so depending on where you're looking.
If you choose to order from Amazon like I did, you get both free delivery and free returns.
My adjustable kettlebell came in under a week, so I was very pleased with the shipping time.
Since this isn't a product like a treadmill or elliptical, you don't need to worry about a complicated assembly process or lugging 300 pounds up the stairs at your home.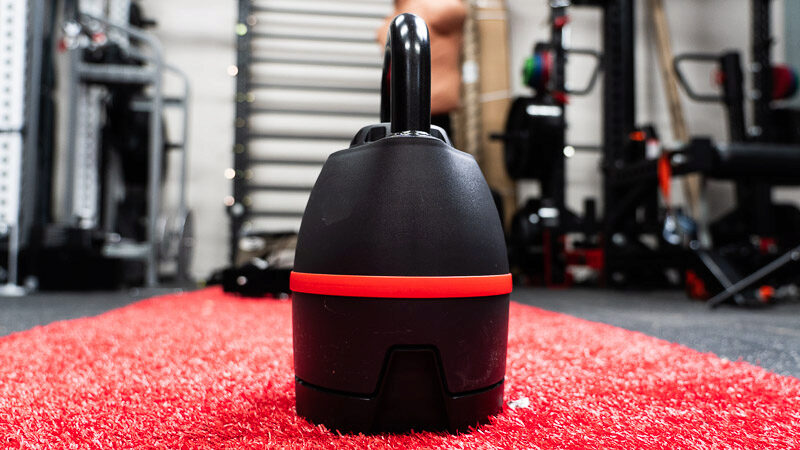 Customer Reviews
With almost 3,000 reviews on Amazon, the Bowflex SelectTech 840 Adjustable Kettlebell has an impressive average score of 4.8 out of 5 stars. Customers raved about the space saving capabilities, overall value, and usefulness for beginners.
Although there weren't many negative reviews, a few people did complain about the handle being slippery and the kettlebell being unwieldy to hold.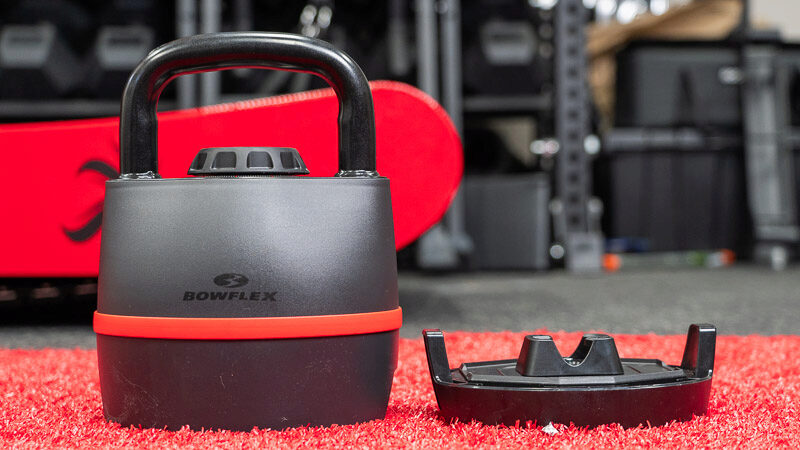 Final Verdict of Our Bowflex SelectTech 840 Adjustable Kettlebell Review
Overall, the Bowflex SelectTech 840 Adjustable Kettlebell is a solid space-efficient option for people who don't need or want to use over 40 pounds. The adjustability is nice, as it is easy to quickly change the weight settings. I would recommend this to someone on a budget, or who is low on space but still wants to do strength training.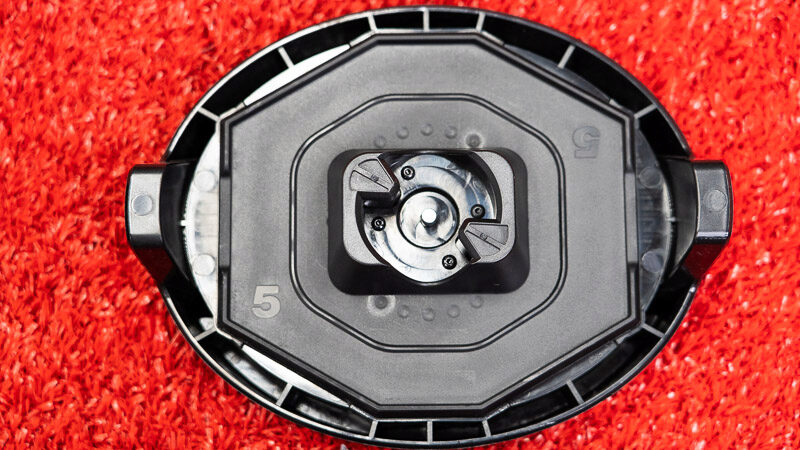 Bowflex SelectTech 840 Adjustable Kettlebell Rating
Bowflex SelectTech 840 Adjustable Kettlebell
The Bowflex SelectTech 840 Kettlebell is an adjustable kettlebell that goes from 8 pounds to 40 pounds using a quick turn of a dial.
Product Brand: Bowflex
Product Currency: $
Product Price: 149
Product In-Stock: InStock
Bowflex SelectTech 840 Adjustable Kettlebell FAQs
How does the Bowflex Adjustable Kettlebell feel versus a traditional kettlebell?
We think it feels pretty similar, however the handle is thinner which can take some getting used to. The Bowflex 840 Adjustable Kettlebell can also feel bulky and in the way compared to a traditional kettlebell. And of course, there is also the rattle from the weights when doing kettlebell exercises, which you don't get from a traditional kettlebell.
How heavy does the Bowflex Kettlebell go?
The Bowflex kettlebell goes up to 18 kilograms (or 40 pounds).
Is the handle grippy?
The ergonomic handle is designed for efficiency and comfort and specially shaped to feel good in your hands if they're smaller, however, it's a slick piece of metal that doesn't take chalk well.
What weight increments are possible with the Bowflex Kettlebell?
The Bowflex Kettlebell starts at 3.5 kilograms and then has increments of 5.5, 9,11,16, and 18, which makes it ideal for beginners who are just starting out, those that want to use it for conditioning, or women and men that simply don't lift a ton.
Is the Bowflex adjustable kettlebell durable?
Somewhat. I think it will last for most personal use so long as you treat it well.
What kind of exercises can I do with the Bowflex 840 Kettlebell?
Just like you might be used to with free weights, you can do a variety of exercises with a kettlebell. These include things like deadlifts, swings, and one-legged cleans.