We test and review fitness products based on an independent, multi-point methodology. If you use our links to purchase something, we may earn a commission. Read our disclosures.
The Onnit Kettlebells are like the most popular product the company sells. After using and reviewing nearly every kettlebell Onnit makes, including their character versions like the Star Wars collaboration, we are confident in the quality and durability of the Onnit Kettlebells.
They're not the best value as there are other companies offering similar kettlebells at lower prices, but overall, we recommend Onnit Kettlebells and put them on our list of the best kettlebells.
Joe Rogan's Kettlebells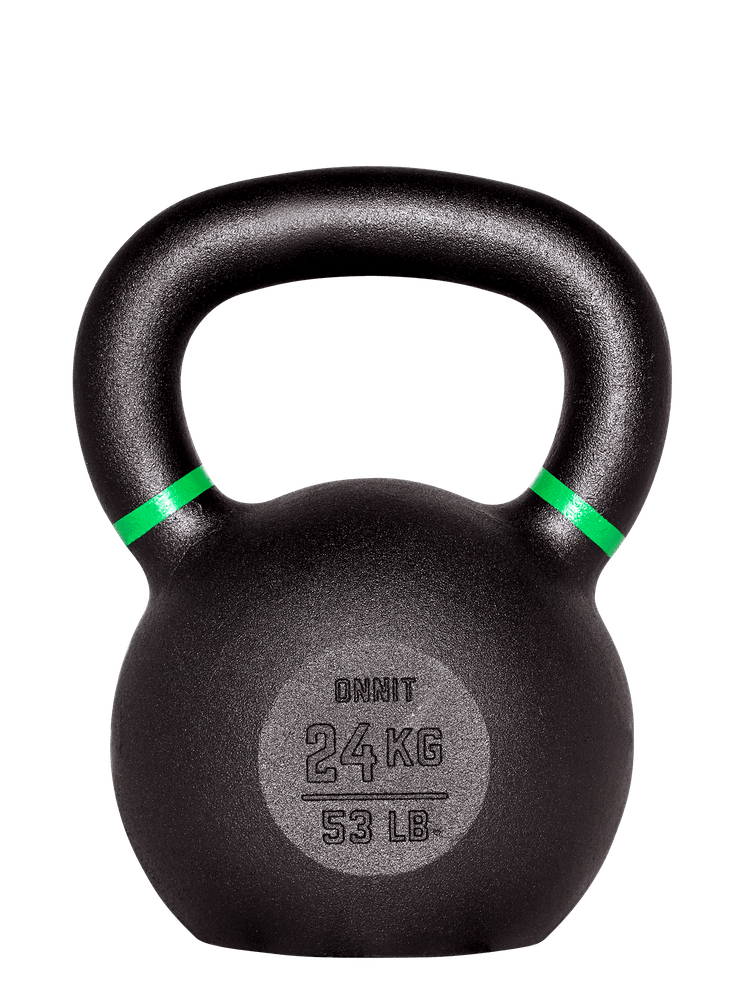 Onnit Kettlebells
We take our reputation for building high-quality, uncompromising products seriously—and our new kettlebells are no exception. Inspired by the demands of our elite athletes and fitness professionals, each kettlebell is carefully crafted to meet all of your training needs.Here's what you need to know about our brand new line of kettlebells:GRAVITY CAST FOR MORE CONSISTENCY AND DURABILITY POWDER FINISH FOR BETTER GRIP DURING STRENGTH AND ENDURANCE WORK COLOR CODED—SO YOU'LL NEVER ACCIDENTALLY GRAB TWO MISMATCHED KETTLEBELLS AGAINEffortlessly cool and ready for the most challenging workouts, Onnit kettlebells are built with functionality and durability in mind first. Manufactured with a cutting-edge gravity cast molding process, these kettlebells have an ultra-durable, smooth, even finish.Snatch, press, and swing—or test out any other unconventional exercise you can think up—you'll quickly find Onnit kettlebells are flawlessly designed to handle whatever you throw their way.With a chip resistant powder finish, you can expect a professional-grade kettlebell with more traction and a better grip, ready to combat fatigue, sweaty hands as a limiting factor.Smooth enough to handle stamina building work sets without irritating your hands, yet with just enough texture for heavy strength work, these kettlebells are battle-tested and built to provide the performance and durability required for all of your workouts.The days of shuffling through vaguely labeled kettlebells are over. Sold individually in weights from 4 kg to 32 kg, Onnit kettlebells are strategically color-coded so that even as you're gasping for breath and wiping sweat from your eyes, finding the right weight at a glance has never been easier.We've taken the guesswork out of finding the right kettlebell so that you'll never accidentally hoist two mismatched weights over your head again.
Onnit is known for their supplements like Alpha Brain, but that's not the only product they make. In fact, Onnit Kettlebells are some of the best in the industry and a reason why Joe Rogan (check out Rogan's home gym here) promotes them as much as he does (in addition to the fact that he's invested in some capacity.) The Onnit Kettlebells are accurate, feature a quality powder coat, come in a variety of options, and are backed by a great warranty.
How Are Onnit Kettlebells Made?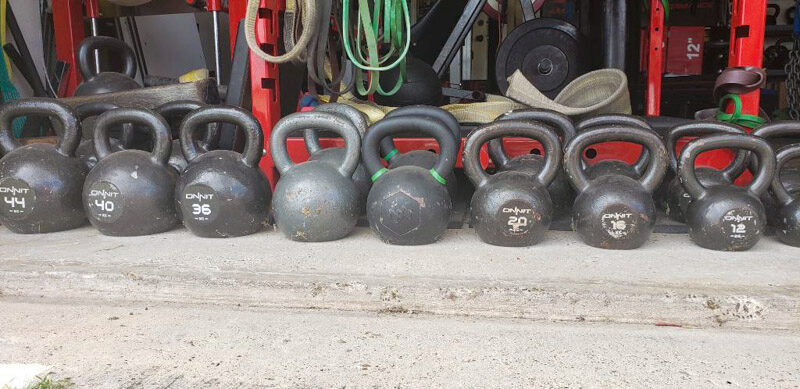 Onnit has been known for it's high quality supplements and products in the industry for quite some time. Their kettlebells reflect well on their reputation they have created that goes with the brand they've built. Onnit kettlebells are made from a premium gravity cast molding process which is one of the most precise ways to create the perfect kettlebell. Other kettlebells can be cast by hand or machine, however, you end up running the risk of not having an accurate kettlebell as far as it being the same weight and size depending on if it was made at the beginning or end of the batch.
For us (the consumer), let's be honest, no one wants to test their luck of ordering two kettlebells from a company and receiving one that is bigger looking and a few pounds off.
What We Like About Onnit Kettlebells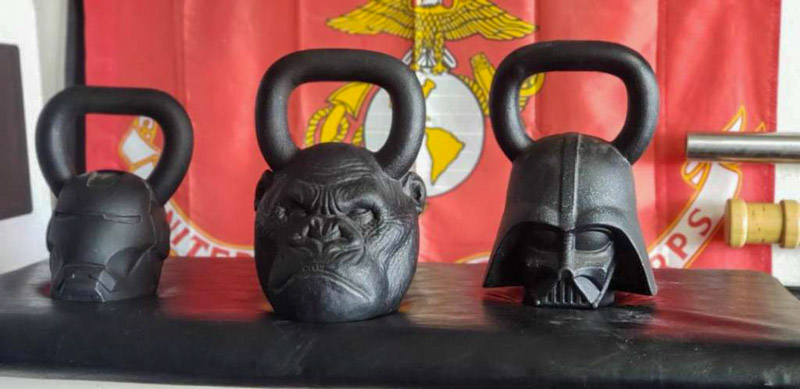 Onnit did a huge makeover upgrading from the last edition of their kettlebells which looked great with the shiny glossy finish. The new edition of Onnit Kettlebells has a chip resistant durable even powder coat which is the same as their famous clubs and maces.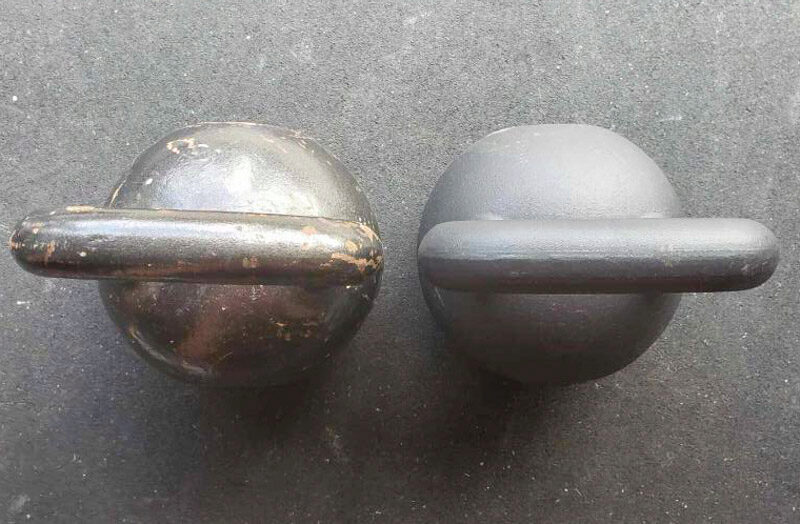 This is a perfect blend of being smooth enough not to destroy your hands (although we all know a kettlebell with knurling would be sick for farmers walks) and with enough texture to handle gym chalk while being easy to sanitize. Onnit also got away from having the circle center caps with the weight labeled on the front and now have them molded in the front of the kettlebell along with having them color coded. This upgrade serves a dual purpose in saving time from having to sort through kettlebells to find a matching set and so you don't have to reglue the center caps back on if they fell off or broke off.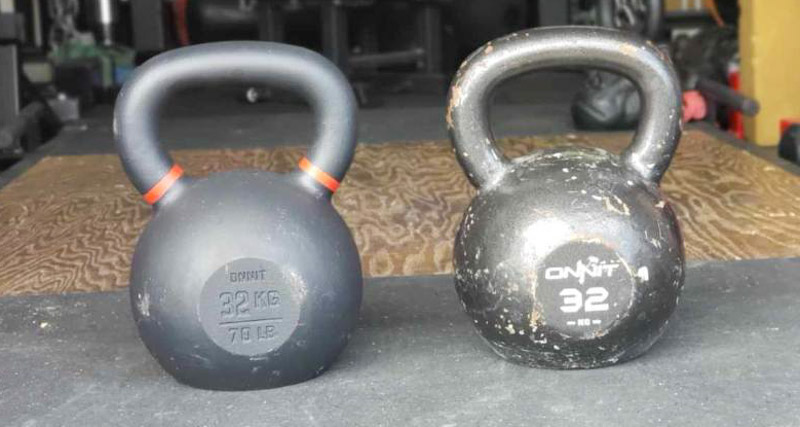 Onnit left no stone unturned in the designing of their kettlebells and that can be clearly seen with the designing of their handle. To most this can often be something overlooked in the buying process until they grip the handle and start doing a snatch, swings or pressing movements with them. The Onnit Kettlebell handle was specially ergonomically designed for performance and durability to optimize your workouts. The handles were made to fit monster hands like the Rock or Joe Rogan (I know some of us pretend to challenge him to a gorilla kettlebell swing contest in the garage) as well as smaller hands for petite women and kids (nothing is more fun than a family swinging kettlebells on a Saturday morning in the front yard.) The handle's width allows for both hands to be placed on it for explosive heavy kettlebell swings and for kettlebell flows when you need to switch it fast for a kettlebell squat. The sides of the handles are perfectly angled so that it doesn't put as much stress on the wrist when you hold it in an upright position for a squat.
Onnit Kettlebells vs Rogue Kettlebells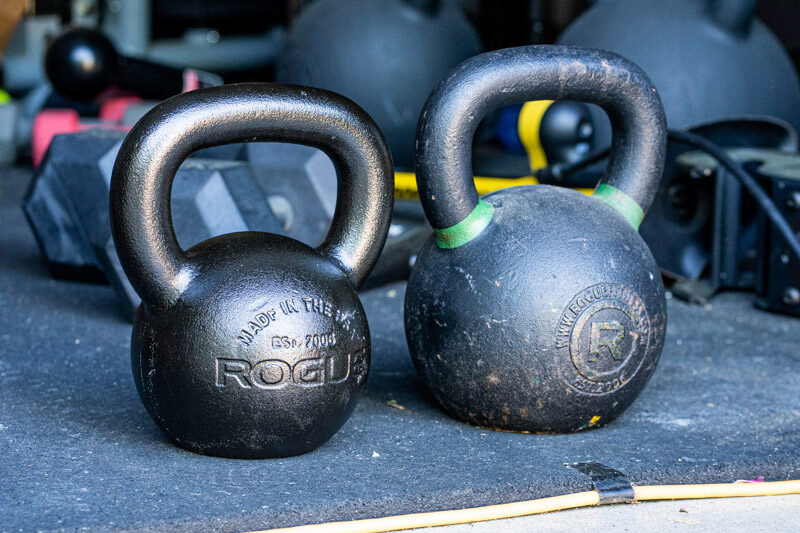 Rogue Fitness vs Onnit Kettlebells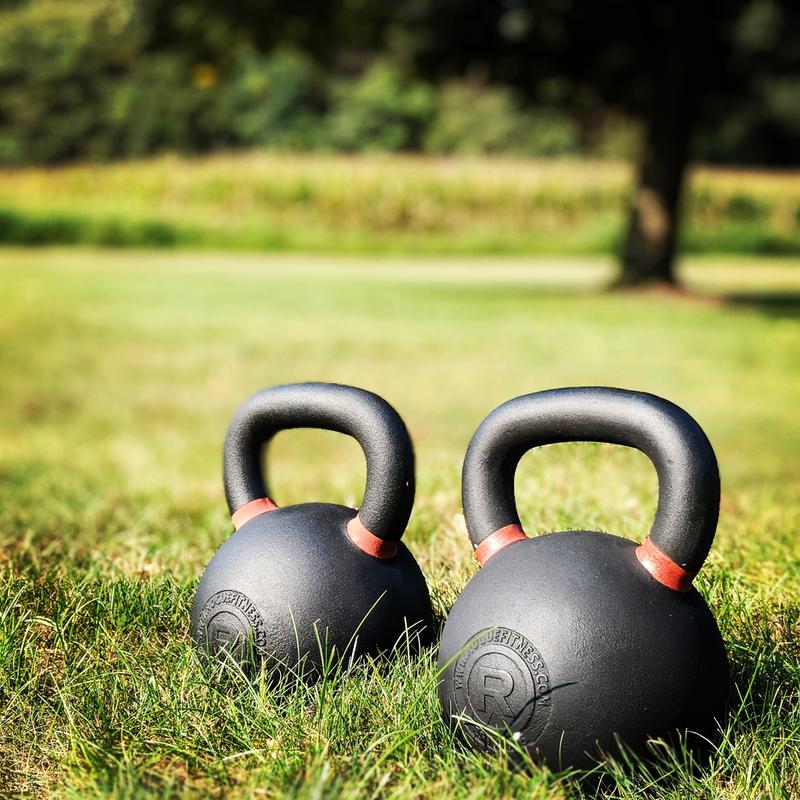 Rogue Kettlebells
The Rogue Kettlebell comes in a variety of 17 weight increments from 9 pounds up to 203 pounds. Unlike some other bells on the market, these are not made from scrap metal, but rather begins as an iron ore that is casted as a single, solid piece to create a stronger product. Also, its machine flattened design creates a wobble-free base for easier use and storage.The Rogue Kettlebell is designed for easy weight identification with color coded handles on kettlebells up to 88 pounds. Rogue's proprietary casting process means that there is an incredibly clean finish on each piece. All weights feature a round handle, and a matte black powder finish that allow for better grip. Weight Tolerance: +/- 3%
The main question many want an answer to is which is the best kettlebell or how would the Onnit kettlebells stand compared to Rogue Kettlebells (see our Rogue Kettlebells Review here) which are some of the most popular in the industry. In creativity, Onnit wins hands down with their primal bells, zombie bells, or star wars bells. Doing kettlebell swings with a 72 lb Gorilla or 90 lb Bigfoot kettlebell will raise your testosterone levels faster than a kid on prom night. While some may think that doing a clean or snatch with any of the primal or zombie bells would hurt, Onnit specifically created the backside of the kettlebell to be semi-spherical shaped as the regular ones while having it perfectly balanced for the most optimal realistic looking bell.
From a function standpoint, the look of the kettlebell doesn't change much of its use. However, having a piece of equipment that you enjoy looking at and using could lead to you using it more often, which is a huge benefit.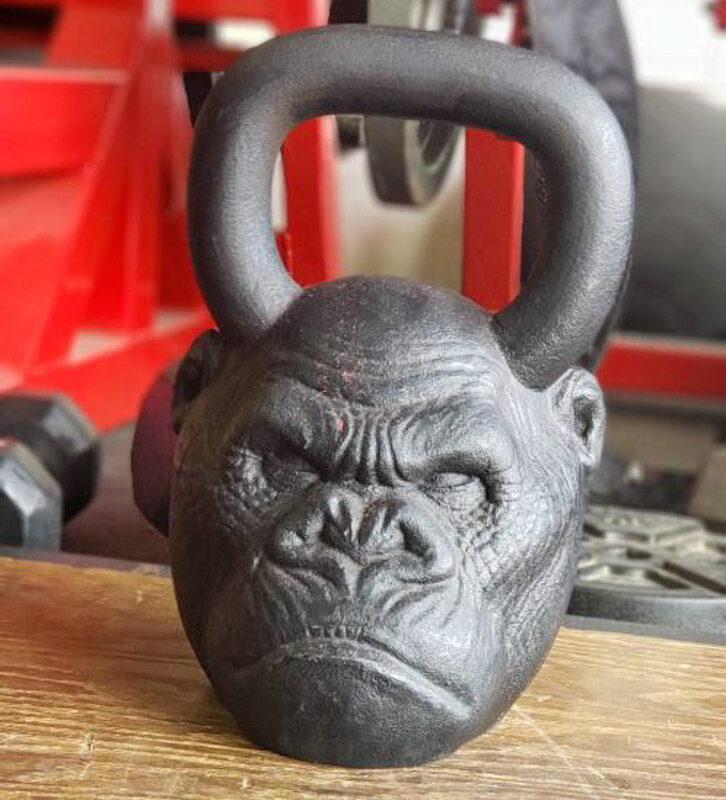 Rogues new kettlebells are manufactured in the United States which is a big factor for some that want to purchase American made equipment.The new Rogue kettlebells are also cast in ductile iron, making it tougher than standard iron used. I think the biggest plus for the new Rogue kettlebells is that they are approved for the US Army Combat Fitness Test. Unfortunately though, Rogue does not offer a military discount as they state they want to keep prices low for everyone. Onnit happens to offer a military and first responder discount as well as a points program for future purchases.
RELATED: Onnit Coupon Code
One of the other factors to consider is Rogue offers the ability to have some really heavy kettlebells, by heavy I'm talking 124, 150, 176 and a 203 lb kettlebell. If you're looking to get an entire set including the big boys then rogue would be a solid choice.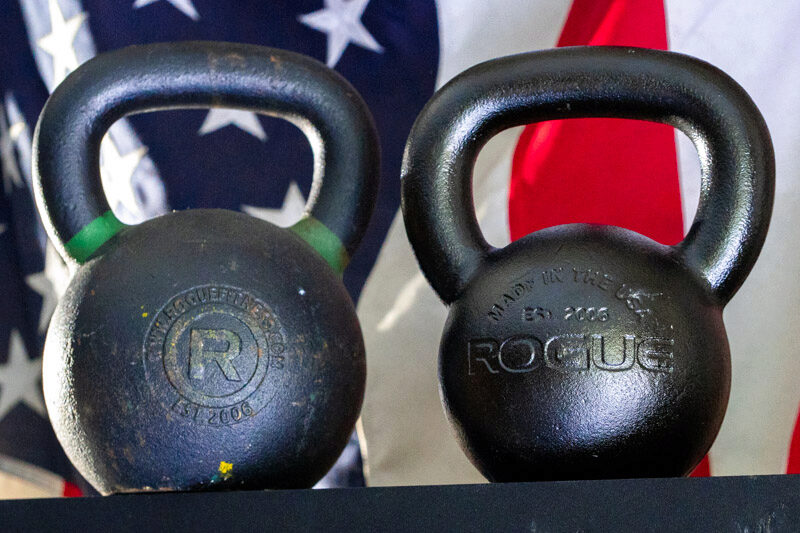 Assuming the kettlebells function about the same, Onnit is known in the industry as the unbeaten champion for unconventional training. Another factor to consider when purchasing, especially for budget home gym owners, is what to do once it arrives! Onnit has a ton of articles with free content and workouts to perform with your kettlebells. This allows the users to be able to train with a kettlebell without having to purchase a coach or plan, or at least till you get accustomed to the kettlebell.
I do think Rogue offers a better value with their ductile iron, made in the USA kettlebells. However, Onnit Kettlebells are high quality and priced well.
Should I get Onnit Kettlbells or Onnit Steel Clubs First?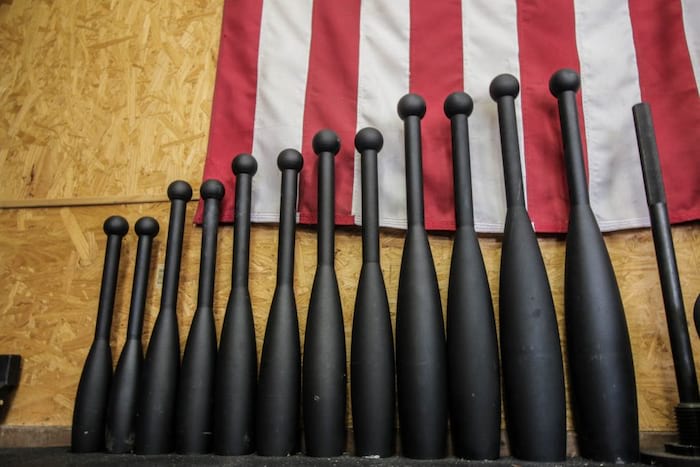 Steel Clubs vs Kettlebells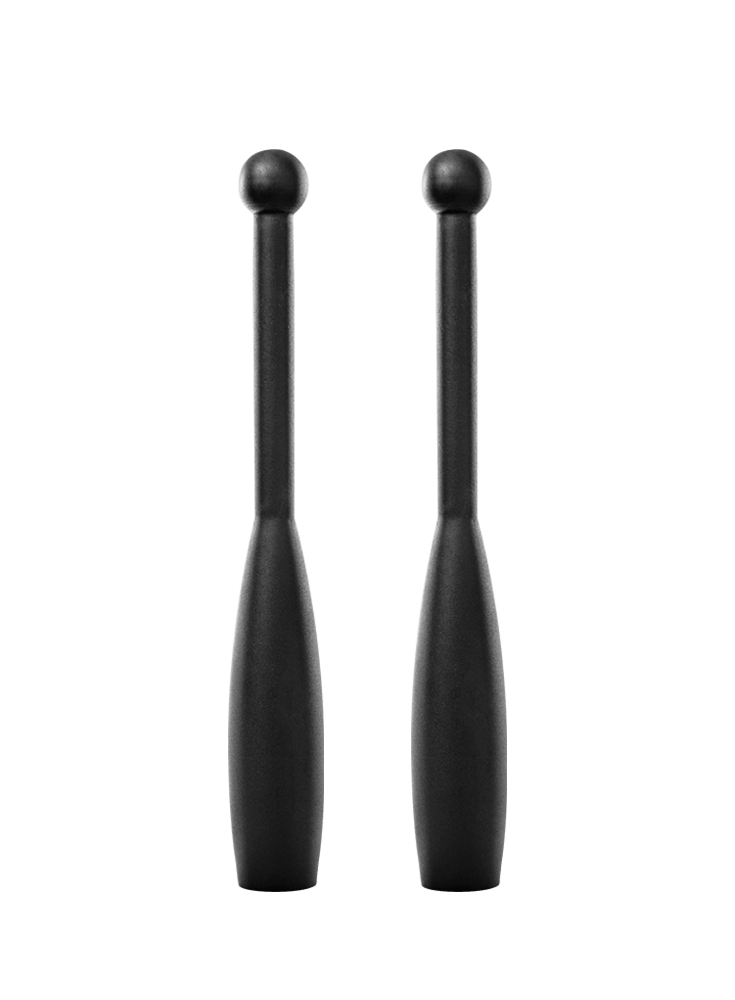 Onnit Steel Clubs
Onnit's supreme quality 100% Steel Clubs are an excellent tool to enhance your primal fitness. Originally developed in ancient Persia as a means for conditioning soldiers and wrestlers, heavy clubs are particularly valuable for grip strength, shoulder work, and rotational core power.With a variety of movements and infinite possibilities, Steel Clubs can be used to train all aspects of fitness, including strength, conditioning, and balance. They are also an excellent addition to more traditional methodologies like barbell training, allowing you to enhance your functional capabilities through full body exercises.Onnit's Steel Clubs are unique in that they are made of a machined piece of steel, powder coated with a chip resistant matte finish. Steel is a heavier, more dense metal than iron and is highly resistant to rust and denting. The powder coated matte finish is very chip-resistant, and offers the right balance of glide and traction for gripping clubs deep into work sets. Our unique steel clubs are the most economically viable, impeccable quality heavy clubs on the market today.REHAB/PREHAB: Light Steel Clubs (5-10lbs) are particularly valuable in rehabbing joints, tendons, and small muscles, as well as preparing them for further intense workouts. The constant balancing of the weight will help your stabilizing muscles develop, helping to protect and strengthen key areas.GRIP STRENGTH: The weight displacement on the heavy Steel Clubs (15-45lbs) greatly enhances forearm and grip strength. The position of your grip on the club will enhance your ability to grasp an opponent's arm or gi in martial art competition.BALANCING ONE SIDED ATHLETICS: Tennis, Golf, Baseball, Volleyball, Basketball all require the use of one side of your body to a greater extent than the other. Clubs are an ideal way to help balance out the body by introducing similar motions to serving/swinging/shooting/throwing with your non-dominant hand.ROTATIONAL CORE POWER: Very few training implements offer rotational training the way that Steel Clubs can. By using the dozens of transverse plane movements offered with Steel Club training, your rotational power will increase dramatically.REAL WORLD STRENGTH: How many times do you find yourself needing to press three hundred pounds in a straight line off of your chest? Not very often. In the real world strength counts in your shoulders, core, and forearms,as well as with dynamic full body movements which inspired the ancient Persian wrestler and warrior elite to develop club and mace training.
To kettlebell or steel club is the question (in my best Hamlet personation). Which unconventional tool is the best to utilize in your program? This will honestly come down to what equipment you have and what you're looking to use them for. A kettlebell is by far more popular than the steel clubs or mace even, however, you can get A LOT more out of your purchase with steel clubs. First we'll look at the movements you can do with kettlebells. You can do snatchs, cleans, swings, windmill, squats, lunges, farmer walks, bottoms up kettlebell press, bench press, pec flys, all rowing variations, just about any movement you can think of. If you haven't tried putting your hand inside the kettlebell palming the round portion under the handle to do pressing or triceps with it's a must as well as hanging kettlebells from the bar for bench and squat movements. Well with steel clubs you can do all those same movements and more! Onnit steel clubs are a great investment because they truly are one of the most versatile tools you can have in your bag, literally gym bag or travel bag.
Related: Check out the Bowflex SelectTech 840 Adjustable Kettlebell Review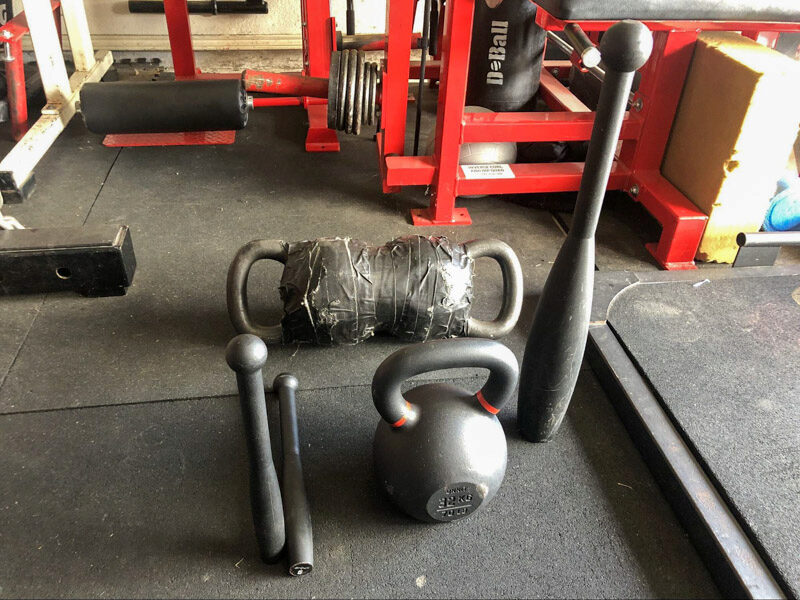 Here's why, while most people look up steel club videos see it being used for the basic swings and flow movements, but steel clubs are great for everything including strength training and mobility/rolling as well. Rarely do I ever find someone that uses the steel club for everything it can be used for. You can use a steel club similar to a dumbbell in bench movements like Tate press, JM press, rolling tricep extensions and benching. One of the best aspects of the steel club is that it's basically an off set lever. With this you can grab a hold of the fat weighted part (similar to fat gripz) and use it for any movement (pressing and pulling movements are the best with this).
Pro tip, You can also put it in your travel bag and use it as a small body tempering roller or for trigger point therapy without having to pay for a separate body tempering tool. You can also use 2 rolls of gorilla tape to tape the bottom ends of the kettlebells together to make another body tempering tool that Donnie Thompson calls the black betty.
Full Rating
Onnit Kettlebells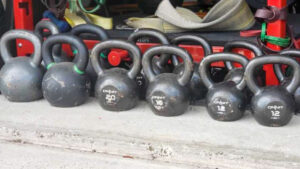 The Onnit Kettlebells are like the most popular product the company sells. After using and reviewing nearly every kettlebell Onnit makes, including their character versions like the Star Wars collaboration, we are confident in the quality and durability of the Onnit Kettlebells.They're not the best value as there are other companies offering similar kettlebells at lower prices, but overall, we recommend Onnit Kettlebells and put them on our list of the best kettlebells.
Product Brand: Onnit
Product Currency: USD
Product Price: 84.95
Product In-Stock: InStock
Onnit Kettlebells FAQs
Is Onnit fitness legit?
ONNIT is a legitimate supplement and fitness business that provides exercise supplements, wellness items, gym equipment, and on-demand workouts to anyone wishing to better their overall wellbeing and meet their fitness objectives, making ONNIT a full fitness and wellness brand.
What are Onnit kettlebells made of?
The Onnit Kettlebell is made entirely of solid cast iron, with no welds, inlays, or extra plugs. As a result, this kettlebell has a strong sense of durability and consistency.
Is Joe Rogan the owner of Onnit?
Joe Rogan is one of Onnit's co-founders and the company's most well-known spokesman. What will his future responsibilities be? Exactly the same. Joe is still there to be a brand champion at the end of the day.