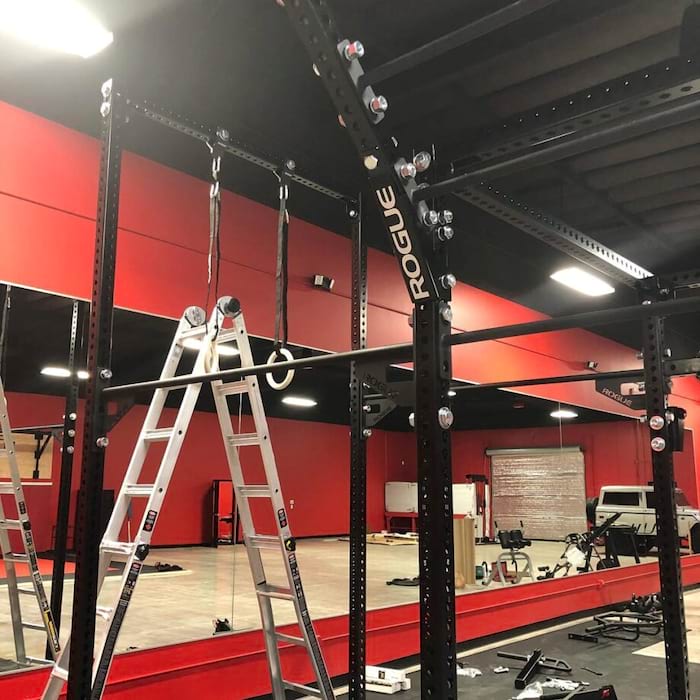 Strength training is a big part of Joe Rogan's training. On the Joe Rogan Experience Podcast, Joe states that, 
"I say 'I have to do yoga two times this week' and 'I have to lift weights three times this week' and 'I have to run twice this week.' And however I fit that in, I fit that in. But I owe those things so I have to get those things in."
Although this may fluctuate, Joe is doing some form of strength training around three times a week. This includes things like back squats, overhead presses, bench presses, deadlifts, dumbbell work, barbell work, kettlebell work and various other types of weight training. In order to strength train, you need equipment and although you don't need a ton, the more you have, the more variety of workouts you can perform.
The centerpiece of the JRE Studio Gym is the massive ten-foot Rogue Monster Rig 2.0. The Monster Rig is Rogue's premiere Squat Rack Rig which features, 3"x3" 11-gauge uprights with 1" hardware throughout. This is pretty much the biggest, baddest rig you can buy and is the envy of nearly every CrossFit Affiliate Gym in the world.
The Monster Rig 2.0 can be used for squats, pull-ups, presses, hang work, and with the various accessories that are available (Joe has many of them) the number of workouts you can do increases dramatically.
The accessories Joe has for his Rogue Monster Rig 2.0 include: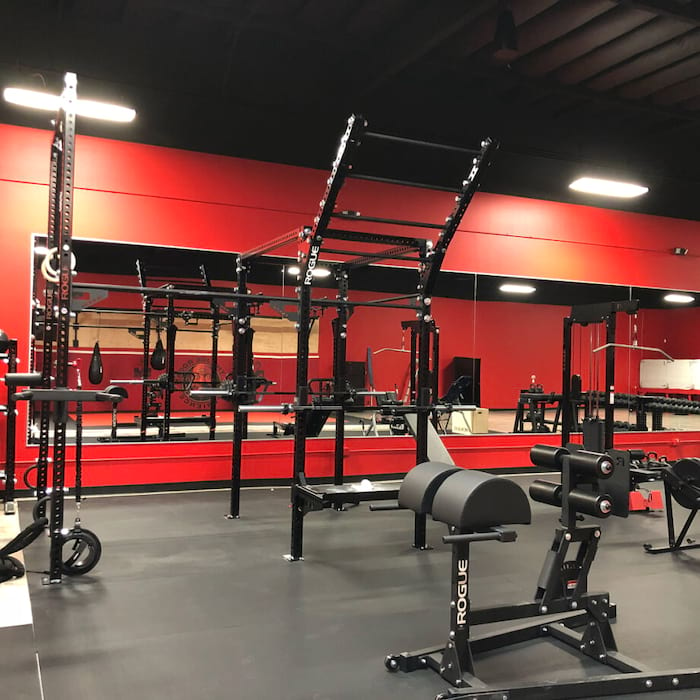 A few of the more notable accessories are the Monster Safety Spotter Arms and Utility Seat. The Safety Spotter Arms are designed to allow the user to lift alone safely. If you end up missing a lift, you can easily dump the weight without hurting yourself or the equipment. If you combine the Utility Seat with the Spotter Arms, you suddenly greatly increase the movements you can do. The Utility Seat can be secured to the Spotter Arms for box squats, step-ups, box jumps, split squats, and more.
There are pull-up implements galore on Joe's Monster Rig 2.0. In addition to three standard pull-up bars, there is a Monster Flying Pull-Up Bar that is extremely fun to use and a great test of upper body strength. There is also a XM-43R Neutral Grip Rotating Pull-Up Bar that is one of the most versatile pull-up tools available thanks to its actuation arms and knurled handles.
On the far end of the rig, closest to the mirrors is a pair of Rogue Lever Arms. We've reviewed the LT-1 50 Cal Adjustable Trolley Arms by Rogue that is basically the upgraded version of what Joe has, and they are awesome. They're extremely beneficial for doing all sorts of dynamic movements under-load which would be great for fight training.
It's obvious that Joe uses the Monster Rig and its various accessories often due to the amount he has and the amount of space all of it takes up. This is the premiere rig on the market and rightly so, it matches the space perfectly.
Every gym needs a barbell, and Joe has two of them. The bars that Joe has are the Rogue Ohio Bar which is a general purpose bar made in Columbus, Ohio and generally considered one of the best value bars available.
We've tested and used many different Ohio Bars over the years and have found them to be an extremely long-lasting, high-quality bar. Rogue spends a ton of time and money perfecting the knurl on their bars, and if you're doing a wide range of movements, the Ohio Bar is pretty much the best you can find.
At 190K PSI Tensile Strength, with bronze bushings, a lifetime warranty, and a great knurl, Joe made an excellent choice in choosing this bar. Although in our Best Olympic Barbell Guide we chose the Rogue 2.0 Bar as our Top Pick, it was only because it's extremely similar to the Ohio Bar, but for slightly less money.
Everyone benches, even Joe Rogan. Although not necessarily the most functional exercise in the world, the bench press is a tremendous upper body builder, and, who doesn't like being able to answer the question, "how much ya bench" with a big number?
The bench Joe Rogan has in his studio gym (and currently there is only one) is the jack of all trades, Rogue AB-3 Adjustable Bench. The AB-3 Bench is a design based off of the old Nebula 1080 Bench and was brought over when Rogue Fitness bought out Nebula. The AB-3 has over 50 seat and back pad adjustment combinations to dial in any angle you'd like to work at.
In addition to a lot of versatility via angle adjustments, the bench is extremely stout for how easily moveable it is. Included with the AB-3 is a Removable Foot Catch that allows the bench to be used for decline movements such as decline sit-ups and decline presses. The AB-3 is painted all black in Rogue's signature textured powder-coat and features a firm foam pad that offers both stability and comfort.
Joe likely uses the bench for much more than presses as it's one of the more versatile benches on the market.
In the corner of Joe Rogan's Studio Gym is the aptly-named Monster Lat Pull Down/Low Row by Rogue Fitness. The Monster Lat Pull Down features the same build construction and finish as Joe's Monster Rig 2.0 along with a 300 LB weight stack capable of humbling even the strongest of Joe's podcast show guests.
The Monster Lat Pull Down is great for, as its name would suggest, lat pulldown's, seated rows, tricep extensions, cable curls, and more. Bands can easily be attached to the weight stack to add accommodating resistance and due to its weight, doesn't need to be bolted down.
In order to maximize the usability of the machine, Joe has a few accessories that can be attached via carabiner to the unit. These include the Rogue Monster Grip Triangle that is great for close grip pull's, especially on the low row portion of the machine as well as the Rogue Stainless Lat Bar that comes standard with the machine and features a great knurl and made from even better material. Lastly, Joe has Rogue's Tricep Push Down Attachment that's great for various tricep work.
The Rogue Abram GHD 2.0 is one of the most popular glute-ham developer's on the market and is featured in Rogan's Studio Gym. We've reviewed the Abram GHD 2.0 in-depth and found it to live up to the high expectations that the consumer has for Rogue equipment. Featuring a quick adjustment panel on the back, a sturdy, 2"x3" powder-coated steel base, and firm, yet comfortable padding, the Abram GHD is capable of taking any workouts Joe and his guests plan to unleash upon it and more.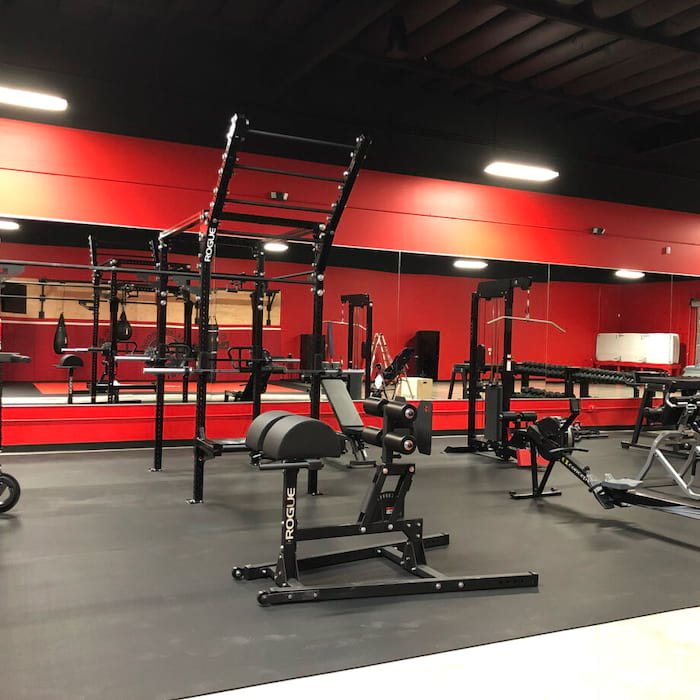 A glute-ham developer was initially designed specifically for hamstring curls. Its utility has since been increased to include back raises, GHD sit-ups (popular among the CrossFit Community), and side raises. The GHD is a versatile piece of equipment that allows movements to be performed that are hard to mimic elsewhere. If you have space, like Joe obviously does, it's a great addition to any home gym, garage gym, or studio gym (if you have a studio gym, we'd love to see it.)
One of the most entertaining guests Joe has had on the Joe Rogan Experience Podcast is Powerlifter and Strength Coach Louie Simmons of Westside Barbell. Louie Simmons is the creator of the reverse hyper and came to its creation after breaking his back multiple times and trying to rehab to get back on the platform.
The Rogue RH-2 Reverse Hyper was built in conjunction with Louie at Westside Barbell to create an affordable, yet high-quality reverse hyper to be sold by Rogue Fitness. The RH-2 is the same reverse hyper that I have in my gym and is largely considered the best value hyper available. It features the familiar textured black powder coat, rubber feet for increased stability, and a wide enough pad to accommodate even an absolute unit like Joey Diaz.
Although the reverse hyper is great for strengthening the posterior chain (think hamstrings, glutes, spinal erectors, etc.) it also doubles as a rehabilitation device. I often use the RH for warm-ups and for higher reps following heavy squats and deadlifts to traction my spine; I wouldn't be surprised if Rogan did something similar. 
Joe did have this to say about the reverse hyper in JRE #854: "That reverse hyper… I've talked about that a hundred times on my podcast because that thing has done wonders for my back and it's just a genius product."
The Rogue T Bar Row is a pretty simple piece of equipment that is fully welded and has a bar secured via bushings to a fixed point and is made for bent over rows. This is actually a surprising piece of equipment to be featured in Joe's gym as he could easily use his Monster Landmine that is attached to his Rig for the same purpose without taking up so much space.
Despite this, the T Bar Row is extremely nice to have due to its convenience and build quality. To build a strong back you need to pull heavy and often, and t bar rows are a great way to achieve this goal.
The majority of weight plates that make up Rogan's gym are Rogue HG 2.0 Bumper Plates. I have a full set of HG plates and they're likely one of the most sold bumper plates in the world. They're simple, accurate, and extremely durable which checks most of the boxes available for bumper plates.
Although I'm not sure the exact amount of weight plates Joe has in his gym, it appears to be somewhere between 800 and 1,000 lbs. Bumper plates can be used for any barbell movement and are, in all reality, the best type of weight plate for most applications. The only downside to the black bumpers that Joe is using is that you can't load much more than 500 LB on the bar. For 99% of people, this will never be an issue, but for the few that are, it's an important point of consideration.
The bumper plates Joe has can be used on all of his barbells, reverse hyper, sleds, t bar row, and more.
In addition to the wide array of black Rogue HG 2.0 Bumper Plates, Joe has quite a few Captain America Shield Bumper Plates from Onnit. Other than Rogue Fitness, equipment from Onnit makes up the majority of the studio gym and their Captain America Shield Urethane Plates are extremely eye-catching.
Although not more functional than a traditional bumper plate, the urethane used to make the Onnit Plates is extremely durable and in our tests, the ideal bumper plate material. The Onnit Shield Plates are pricey, but if you want something flashy, they're some of the coolest plates available.
Joe's Studio Gym features a set of 5-50 LB Dumbbells in increments of 5 LB. The Rogue Dumbbells are a conventional rubber hex-head dumbbell that is popular throughout the industry and is a proven long-term performer.
Dumbbells can be used to load a myriad of movements for both the upper body and lower body. In addition to conventional movements, dumbbells can be loaded onto a belt to weight pull-ups and dips as well used for snatches and core exercises.
Although Joe is known mainly for his use with kettlebells (more on those in the conditioning equipment section) he obviously isn't afraid to use dumbbells.
Joe's dumbbells are sitting on a 43" Rogue Monster Mass Storage Unit that holds both his dumbbells and kettlebells. The Monster Mass Storage Unit is the most overbuilt storage unit available and matches the Monster Rig 2.0 in the gym perfectly (same color and all.)
The Bandbell Earthquake Bar, also known as the Bamboo Bar is an extremely unique bar that will humble even the strongest of men. In order to work on stability and control, the Earthquake Bar can be loaded up on each end with kettlebells attached to bands. Doing any movement with the bar is an incredibly hard task.
Joe likely uses the Bamboo Bar for presses, overhead squats, overhead carries, and curls. No doubt, it's one of the hardest bars we've ever used.