We test and review fitness products based on an independent, multi-point methodology. If you use our links to purchase something, we may earn a commission. Read our disclosures.
To practically anyone who will listen, I'll spout the information that NBA superstar Steph Curry is an alum of my high school (not that I love my high school, but that's a different story). Although you probably won't be making 46 million this year, you, too, can be Step(h) Curry with the shot when you're using the best rear-drive elliptical. Get it? Because you have to do a stepping motion to use an elliptical? K, anyway…
Basketball definitely isn't my specialty, but making subpar jokes and reviewing fitness equipment sure are. I've tried more ellipticals than you probably know exist, so you can feel confident in my in-depth assessments of these rear-drive ellipticals.
Put Your Elliptical Search in Drive and Leave Doubts in the Rear
Move those doubts to the rear––GGR is here! Our team of expert product testers and reviewers is primed and ready to help you find your ideal rear-drive elliptical. Each machine is compared against industry standards and used by real people with lots of fitness knowledge. Oh yeah, did I mention that besides being writers, we're certified personal trainers, nutrition coaches, former college athletes, and CrossFit Level 1 Trainers? Well, now that I've let the cat out of the bag, let's get into it.
5 Best Rear-Drive Ellipticals
Best Rear-Drive Elliptical Overall: NordicTrack SpaceSaver SE7i
Good for: Someone who wants a reliable rear-drive elliptical with interactive programming capabilities
Best Rear-Drive Elliptical Overall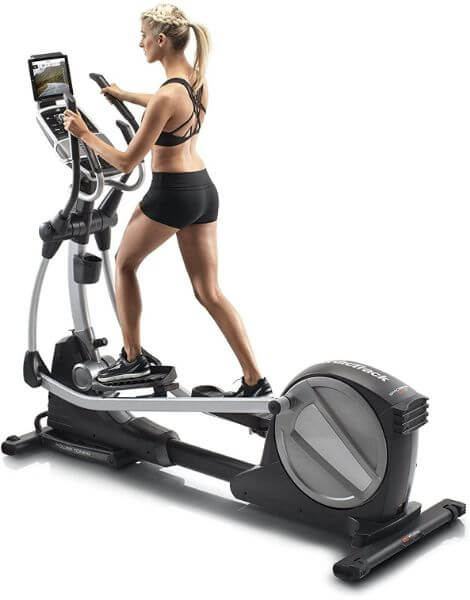 NordicTrack SpaceSaver SE7i
The NordicTrack SpaceSaver SE7i is a low-impact, multi-functional elliptical that is made to offer a gym-like workout from the comfort of your own home.With more than 17,000 workouts to choose from on the iFIT app, 22 resistance levels, and on-demand workouts with a trainer, you are bound to get a good workout every time. There is also a 325-pound weight limit and adjustable strides so most anyone can use the machine.It also has silent magnetic resistance (SMR) so you won't disturb other people in your home when it's in use. When you're not using it, fold it down for easy and convenient storage.
Pros:
HD touchscreen compatible with iFIT classes
Can be folded horizontally
22 levels of resistance
Quick-select buttons are easy to use
Has AutoAdjust technology
325-lb user weight capacity
18" stride length
Cons:
Cannot be stored in a garage
Lacks incline
Still has a fairly large footprint when folded
Looking for a sturdy, rear-drive elliptical trainer with interactive programming? The NordicTrack SpaceSaver SE7i elliptical is here to answer your call. This cardio machine is compatible with iFIT programming and features a 10-inch HD touchscreen (plus, you'll get a free 30-day trial of iFIT with your purchase).
Although a lot of cardio machines fold these days, it is still pretty uncommon for an elliptical to be foldable. The SE7i impresses with its ability to fold horizontally, which can free up space in your home gym. Just be sure to keep this machine inside your house––NordicTrack will void the warranty if you use the SE7i in your garage.
I was impressed to note that the SE7i has a weight capacity of 325 pounds, which is well over the industry standard of 275 pounds. This makes the SE7i a more inclusive piece of equipment for heavier people.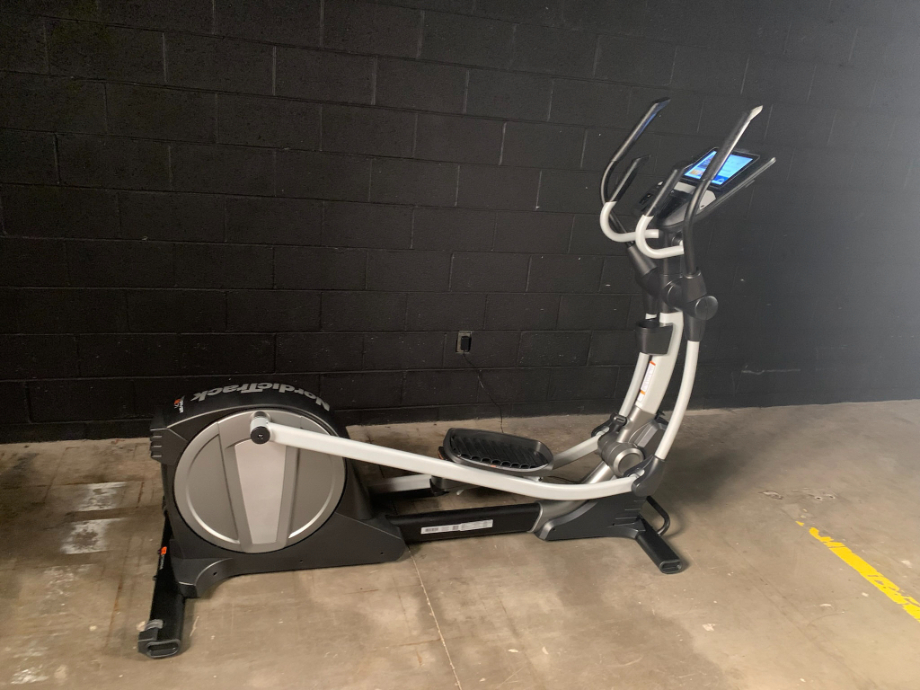 During your workout on the SE7i, you'll be able to adjust the 22 levels of resistance to suit your personal preferences via the quick-select buttons. Don't want to be bothered with adjusting any settings during your sweat sesh? No problem! The SE7i features AutoAdjust technology, which allows the machine to change the resistance based on the iFIT instructor's cues. Staying hands-free has never been easier.
It is worth noting that this machine doesn't have any incline options, so you won't be able to get that extra calf burn. Plus, even though this machine is foldable, it does still have a fairly sizable footprint. I wouldn't recommend the SE7i for someone who lives in an apartment or another small space.
Want to learn more? Check out our full NordicTrack SpaceSaver SE7i elliptical review.
| | |
| --- | --- |
| Price | Around $1,300 |
| Weight capacity | 325 lbs |
| Stride length | 18" |
| Weight | 215 lbs |
Best Budget Rear-Drive Elliptical: Niceday Elliptical Machine
Good for: Someone who doesn't want to spend a ton of money for a nice rear-drive elliptical
Best Budget Rear-Drive Elliptical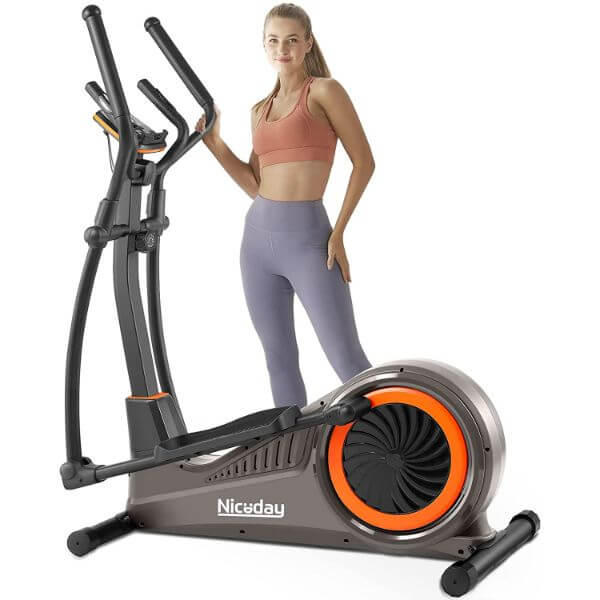 Niceday Elliptical Machine
Arriving 90% pre-assembled, the Niceday Elliptical Trainer is an easily installed, sturdy, and quality elliptical for someone looking for a low-impact, efficient workout. Equipped with large pedals and constructed with steel, the Niceday Elliptical Trainer supports weights up to 400 pounds and is designed for users between 4 feet, 9 inches and 6 feet, 2 inches tall. But, the 15.5-inch stride will likely feel too small for those over 6 feet tall.A 16-pound flywheel offers 8 levels of magnetic resistance without the need for any electrical source. A battery-powered digital monitor displays time, speed, distance, and calories so you can stay on track towards your fitness goals. According to Niceday, all data is dual-calibrated by algorithms to ensure accuracy of fitness metrics provided.The magnetic resistance is intended to reduce noise emission, which is recorded at only 20dB. There are some reports that the machine is noisier but often this is because of poor maintenance. Should there be any part that is damaged or making noise, Niceday offers a life-long promise and pays for all replacement costs.
Pros:
Around $600
Very quiet machine
400-lb user weight capacity is excellent
Doesn't require an outlet for use
Fairly simple to assembly
Cons:
Short stride length
16-lb flywheel is subpar
Slight play in the machine when being used
If you're on a hunt for the best deal, check out the Niceday elliptical machine. This rear-drive elliptical is around $600, and is extremely quiet. If you're someone in an apartment or another shared space, you'll likely enjoy this. Although the flywheel is just 16 pounds, which is on the lighter side industry-standard wise, it is a virtually noiseless machine.
I also like that the Niceday elliptical doesn't need to be plugged in to be used. Yep, you heard me correctly. You'll be able to move this 106-pound machine anywhere in your home and use it without being worried about finding an outlet.
Plus, the Niceday elliptical can support folks up to 400 pounds, which is 125 pounds higher than the industry standard. Consider me impressed. I will say, the handlebars did feel a little shaky when I used this machine, but the base was sturdy. For the $600 price, I was impressed by the steel base construction (although there are a few plastic components).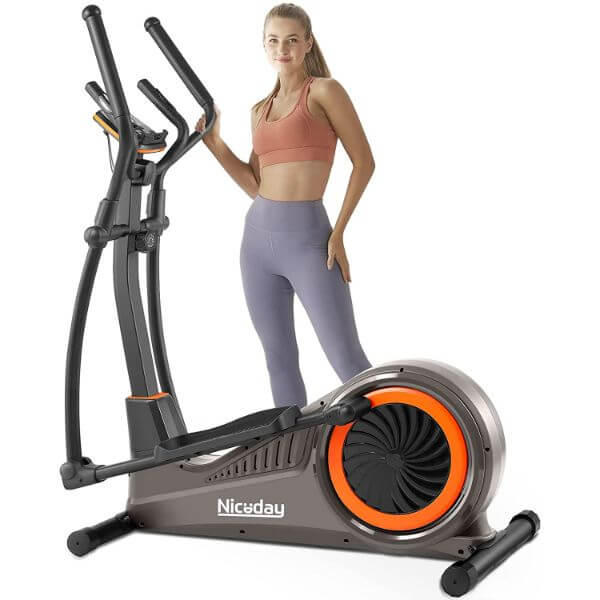 It is worth noting that the machine has a short stride length. GGR's Head of Content Kate Meier tested the Niceday elliptical, and for reference, she's five feet, four inches.
"The stride length on this elliptical is just 15.5 inches," Kate shares. "If you're over six-feet tall, you may feel like you're on more of a stepper than an actual elliptical.
Something Kate was fond of? The 16 different resistance levels on the Niceday elliptical.
"I felt like my legs got a decent workout on the highest setting," Kate explained. Coming from a jacked competitive weightlifter, this is high praise.
Read our entire Niceday Elliptical Machine review.
| | |
| --- | --- |
| Price | Around $600 |
| Weight capacity | 400 lbs |
| Stride length | 15.5" |
| Weight | 106 lbs |
Best Hybrid Rear-Drive Elliptical: ProForm Hybrid Trainer XT
Good for: People who who want to switch up their low-impact exercise routine
Best Hybrid Rear-Drive Elliptical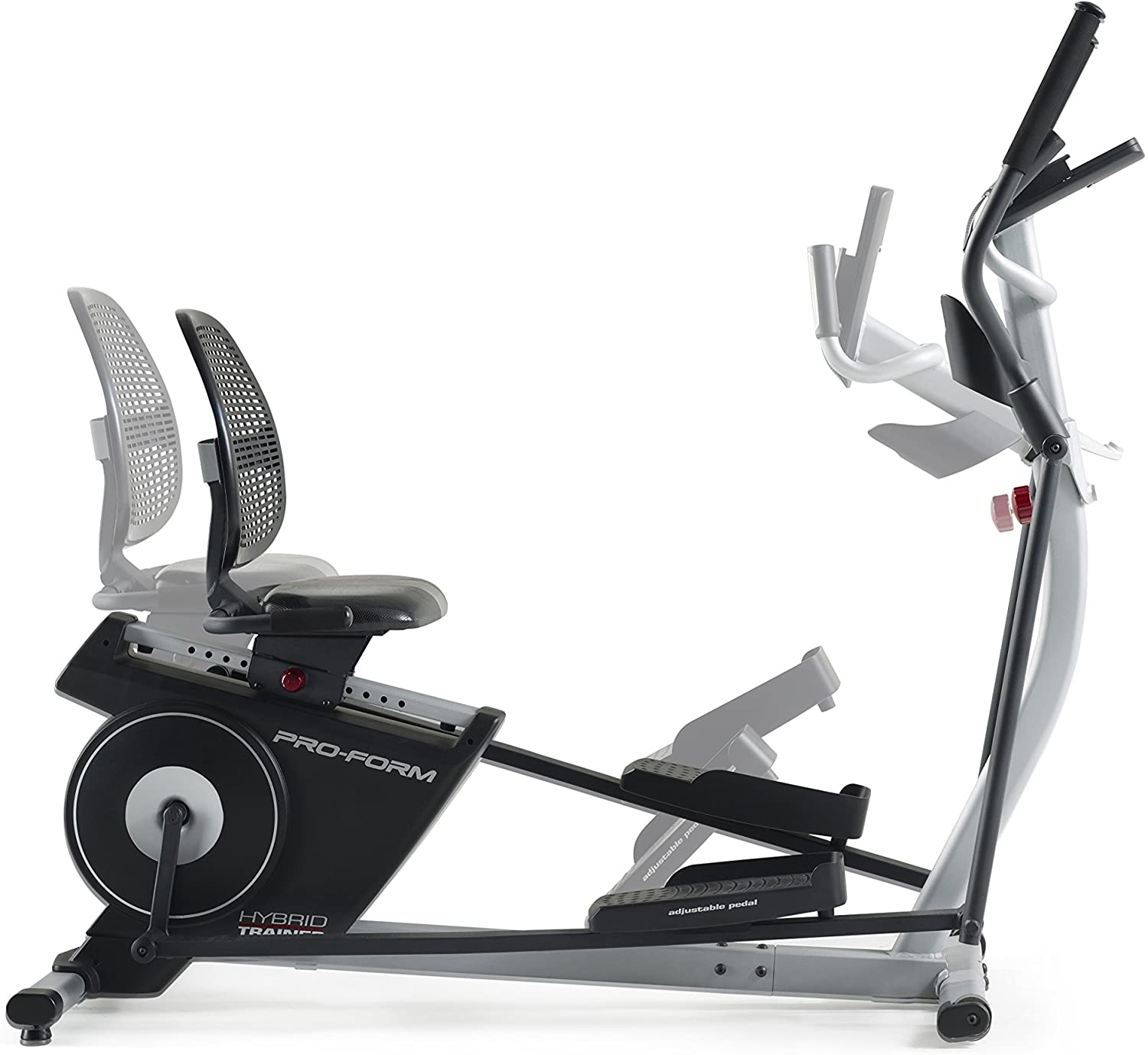 ProForm Hybrid Trainer
Now you can access the benefits of two machines in one. In two quick steps the Hybrid Trainer XT evolves from an elliptical to a recumbent bike. Simply adjust the pedals and console. And with the latest in fitness technology at your fingertips, you can enjoy daily motivation like never before with workouts designed to get you started and keep you motivated.
Pros:
Can be used as an exercise bike or an elliptical
Under $600
Compatible with iFIT
16 levels of resistance
Well-cushioned seat
Bluetooth connectivity
Cons:
Short warranty
250-lb user weight capacity
15" stride length is short
If you can't decide whether to purchase a bike or a rear-drive elliptical for your home gym, let the ProForm Hybrid Trainer XT solve the problem for you: Get both. The Hybrid trainer combines the comfort of a recumbent bike with a compact elliptical for around $600.
Although this ProForm machine doesn't have an actual touchscreen, it is still compatible with iFIT memberships. There is a media shelf where you can stick your own tablet or smart device for viewing. Plus, you can connect your own heart rate monitor or headphones via Bluetooth to the Hybrid Trainer XT.
I like that a variety of the components on the ProForm Hybrid Trainer are adjustable.You're able to adjust the seat to accommodate your legs or scoot the seat back when you're ready to use the machine as an elliptical. The cushioned foot pedals are also adjustable for a more comfortable experience.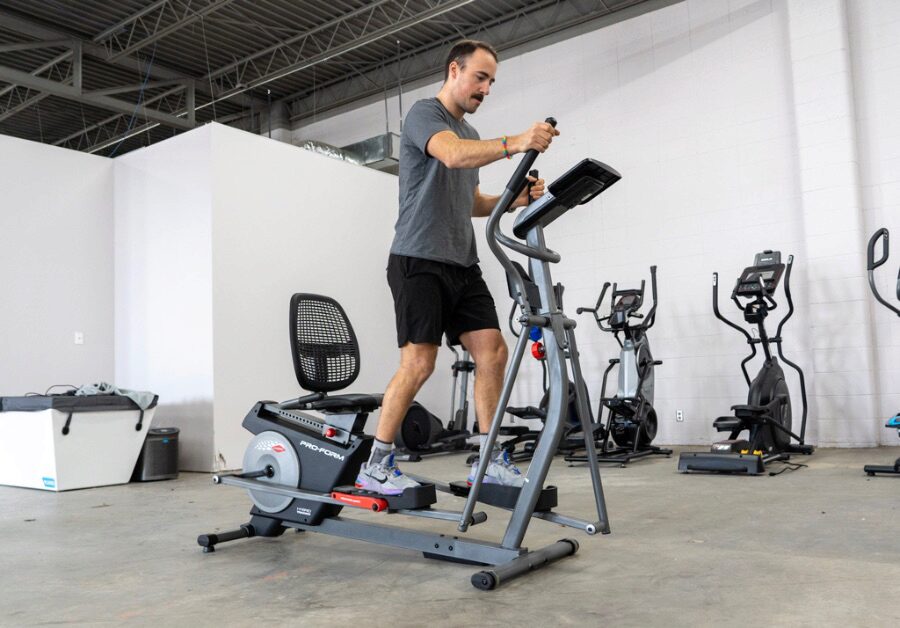 However, with a hybrid machine comes some limitations. Since the machine was designed with two types of movement in mind, the stride length does suffer. At just 15 inches, you may feel like you're on a stepper rather than a normal elliptical. If you're a shorter individual, this won't be as much of a concern for you.
I also wish that the warranty and user weight capacity were higher. The warranty is just five years for the frame (compared to the industry standard of at least 15 years). Although I haven't seen any issues with durability yet, the short warranty does slightly concern me. Plus, the 250-pound user weight capacity is a bit disappointing. This could be a great option for a lot of people (since it is two low-impact machines combined) but the weight capacity will limit the user pool.
Take a gander at our full ProForm Hybrid Trainer XT review.
| | |
| --- | --- |
| Price | Around $600 |
| Weight capacity | 250 lbs |
| Stride length | 15" |
| Weight | 117 lbs |
Best High-Tech Rear-Drive Elliptical: NordicTrack SpaceSaver SE9i
Good for: Interactive programming (or iFIT specifically) enthusiasts
Best High-Tech Rear-Drive Elliptical
NordicTrack SpaceSaver SE9i
The NordicTrack SpaceSaver SE9i features an iFIT-enabled 14-inch HD smart touchscreen to stream the growing library of iFIT on-demand workouts. You can choose from you favorite trainers or you favorite scenic locations—iFIT training sessions are shot all around the globe with world-class trainers. You'll also benefit from auto-adjust technology, which allows you to follow along with the changing incline and resistance levels your trainer cues up, without ever letting your hands off the elliptical handlebars.The SpaceSaver SE9i has a folding mechanism where the upright and console portion of the machine fold downward onto the base. Once folded, the transport wheels make it possible to move it around store it vertically.
Pros:
14" HD touchscreen
Compatible with iFIT programming
24 levels of resistance
10 levels of incline
325-lb user weight capacity
Great financing options available
Cons:
Slightly shaky when in use
Single water bottle holder is small
Cannot be stored in the garage or NordicTrack will void your warranty
The NordicTrack SpaceSaver SE9i is a more tricked-out version of the SE7i, which means it's the ideal choice for tech junkies. The SE9i has a gleaming and responsive 14-inch touchscreen and a variety of fun extras. Besides the iFIT programming capabilities, you can expect to find things like Google Maps, AutoAdjust technology, Bluetooth connectivity, a workout fan, and more.
Although the SE9i is almost $1,700, NordicTrack does offer great financing options. If you qualify, you could make monthly payments of just $39 for 39 months with no interest.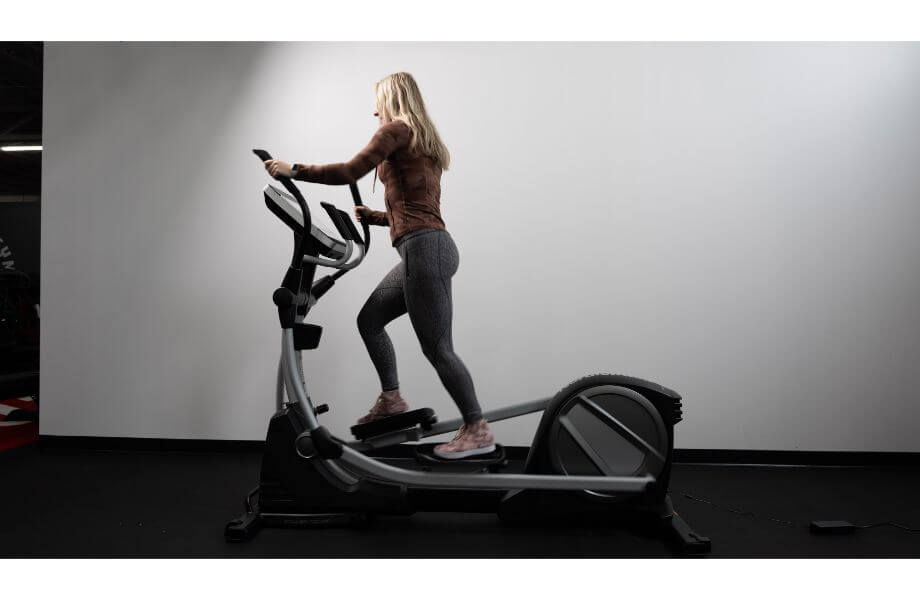 Just like the SE7i, you can fold the SE9i when it isn't being used. I also enjoy the 24 levels of resistance and 10 incline options. They're a great way for people of all fitness levels to kick their training up a notch. Plus, the 325-pound user weight capacity is higher than the industry standard, which makes this a good option for heavier people.
If you have a garage gym, be warned: NordicTrack ellipticals will void your warranty if you put the SE9i in the garage. I suggest making sure the measurements of this machine will work for your home gym, as the SE9i is still a large piece of equipment when folded.
Find out all the details by reading our entire NordicTrack SpaceSaver SE9i review.
| | |
| --- | --- |
| Price | Around $1,700 |
| Weight capacity | 325 lbs |
| Stride length | 18" |
| Weight | 218 lbs |
Best Rear-Drive Elliptical Under $1,000: Exerpeutic Heavy Duty Magnetic Elliptical
Good for: A casual exerciser who doesn't want to spend tons of money on an elliptical
Best Rear-Drive Elliptical Under $1,000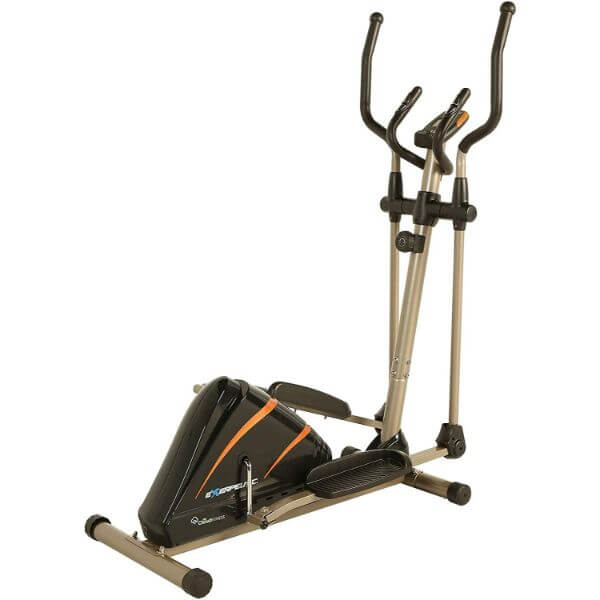 Exerpeutic Heavy Duty Magnetic Elliptical
One of the most affordable ellipticals on the market, the Exerpeutic Heavy Duty Magnetic Elliptical offers a lot of perks at a low price point. Measuring 23 inches wide, 54 inches long, and 63 inches high, this compact elliptical weighs only 74.5 pounds and is a good choice for smaller living spaces. If you are considering this elliptical, be sure to add 21 inches to the tallest user for proper ceiling height clearance.The Exerpeutic Magnetic Elliptical is basic but provides a solid workout with eight levels of magnetic resistance and Bluetooth connectivity to the MyCloudFitness app. With this app, users can track historical workout data and set workout goals based on calories, time, or distance. A 3.4-inch LCD monitor displays distance, calories burned, time, speed, pulse, and each stat scans through as you workout.Looking for more? Purchase a premium subscription to MyCloudFitness for access to personalized programs, coaching videos, and engaging scenic routes. Simply place your phone or tablet on the included device holder, connect via Bluetooth, and get moving.Assembly is reportedly time-consuming, however there is the option for expert assembly. There are some reviews indicating a squeaking sound. But, with proper assembly, lubrication, and maintenance, this issue can be resolved.
Pros:
300-lb weight capacity
Fairly lightweight
Compact elliptical
Bluetooth connectivity
Quiet while being used
Magnetic resistance
Cons:
Short warranty
Lacks a touchscreen
Transport wheels aren't helpful in the moving process
If you want a rear-drive elliptical while spending as little cash as possible, I'd recommend the Exerpeutic elliptical. This cardio machine is under $300 on Amazon and has quite a bit going for it. Although it doesn't really have many tech features, the Exerpeutic does have Bluetooth connectivity, which is always a plus if you want to connect your earphones.
The Exerpeutic doesn't have a touchscreen, but it does have a small media shelf. Honestly, it is only big enough for a phone (I wouldn't trust it with anything bigger). However, you can also use the Bluetooth to connect your phone to the machine via the My Cloud Fitness app. Although you won't be seeing any iFIT-level programming, you will be able to view a variety of useful metrics about your workout.
RELATED: Beginner Elliptical Workouts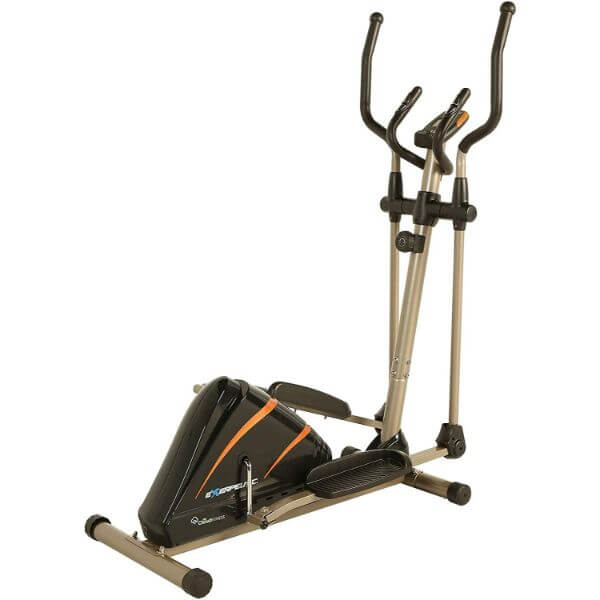 If you're in a shared space, the Exerpeutic is a good option for you––this machine is nice and quiet. It is also fairly simple to transport, especially considering it is around 75 pounds. The transport wheels are a little stiff, but still help get the job done.
I'm also a fan of the 300-pound user weight capacity. For such an inexpensive machine, it is impressive to have the weight limit over the industry standard of 275 pounds.
Check out our full Exerpeutic Elliptical review for more information.
| | |
| --- | --- |
| Price | Under $250 |
| Weight capacity | 300 lbs |
| Stride length | Not disclosed |
| Weight | 74.5 lbs |
Other Rear-Drive Ellipticals We Tried and Researched
XTERRA Fitness RSX1500 Seated Stepper: Although we haven't tried this seated stepper from XTERRA, we aren't strangers to the XTERRA brand. They produce budget-friendly equipment, and the RSX1500 appears to be no different. It clocks in under $750 and looks like a low-impact way to get the movement pattern of an elliptical machine. If you're a senior or someone recovering from an injury, you might appreciate this seated option. 
Sunny Health & Fitness Elliptical Exercise Machine Trainer: We've used this inexpensive, rear-drive elliptical machine from Sunny Health and Fitness. However, we aren't crazy about the short stride length and even shorter warranty period. Even for the $600 price tag, you can do better with another elliptical machine. 
How We Picked and Tested the Best Rear-Drive Ellipticals
Before diving into adding rear-drive ellipticals to this roundup, I composed a list of qualifications to consider. Here are the questions I asked myself:
Price: How expensive is the elliptical? Does this make the machine a budget, mid-range, or high-end option?
Financing: Are there any financing options available? Do you have to qualify for them via a credit check? What does the interest rate look like and what are the applicable terms and conditions?
Footprint: What are the dimensions of the machine? Would this work best in a larger home gym or in a smaller space?
Pedals: How large are the pedals? Are they cushioned pedals?
Workout experience: Will this elliptical provide a challenging workout for most people? Does this piece of exercise equipment feel durable? Will this elliptical cross trainer provide a full-body workout or just a workout for the lower body?
Flywheel: Is the flywheel located in the front, center, or rear? How heavy is the flywheel? Does the weight meet the industry standards?
Weight: How heavy is the machine? Will the average person be able to move this machine around? Does the elliptical have transport wheels? If so, where are they located on the machine?
Weight capacity: What is the weight capacity of this machine? Does it hit the 275-pound industry standard?
Stride length: How long is the stride length on this machine? Does this feel more like a traditional elliptical machine or a stepper? Does it hit the industry standard of 18 to 20 inches? Is it an adjustable stride length and will it support a longer stride?
Extras: Does this machine have any extras like Bluetooth connectivity, water bottle holders, cooling fans, accessory trays, tablet holder, Google Maps, or heart rate monitoring?
Warranty: What does the warranty look like for this machine? Does it hit the 15-year-to-life warranty expectation? Can you purchase additional years of warranty coverage at checkout?
Programming: Are there any preset workout programs? Is the machine compatible with interactive programming like iFIT?
Resistance: What levels of resistance does this machine have? Do they feel challenging enough for a variety of fitness goals?
Incline: Are there adjustable incline options or power incline?
Foldability: Is this machine foldable? If so, what direction does this machine fold?
Display: What type of display does this machine have? Does it have an HD touchscreen, LCD, or LED display?
Why You Should Have a Rear-Drive Elliptical
Not convinced you should add a rear-drive elliptical to your home gym repertoire versus other types of ellipticals? No need to fret! GGR writer and certified personal trainer Anthony O'Reilly is here to help explain.
"One of the benefits of rear-drive ellipticals is that it puts the flywheel behind the rider, which prevents sweat from dripping down and getting into the machine," Anthony explains.
"Accumulated perspiration can, over time, damage the elliptical but a rear-drive machine eliminates any such concern."
"The machines also tend to be flatter," Anthony adds. "This produces a more natural walking motion."
It is also worth noting that rear-drive ellipticals tend to need less maintenance than their front-drive counterparts. Although rear-drive elliptical machines tend to be more expensive upfront, they require less upkeep, which may make it a worthy purchase.
How to Choose the Best Rear-Drive Elliptical for You
When choosing a rear-drive elliptical machine, here are the top three things to consider:
Check the Price
This may go without saying, but cardio machines aren't cheap, especially rear-drive ellipticals. Make sure you have a budget in mind before getting carried away by a beautiful machine that will leave your bank account screaming.
Many brands (like NordicTrack and ProForm) offer excellent financing options through banks and don't charge any interest if you qualify. To save even more cash, keep your eyes peeled for holiday sales like Black Friday or Cyber Monday. Plenty of companies slash prices in order to move inventory, which means more savings for you.
Evaluate Your Space
If you're lucky enough to have a designated room for your home gym, you know how precious space can be. This is exactly why it is important to know how much room you have for a new rear-drive elliptical. I suggest measuring your space ahead of time so you don't have any unpleasant surprises where the machine doesn't fit.
Look at Stride Length
If you're six-feet tall or over, this is a PSA: Please make sure your stride length on your new elliptical is at least 18 inches. If you're shorter or don't mind the feeling of a stair climber machine, this may matter less to you. However, for all the taller folks out there or those who enjoy the feeling of a traditional elliptical, make sure you find one that has a long enough stride length.
Best Rear-Drive Ellipticals FAQs
Is a rear-drive elliptical better than a front-drive elliptical?
Not necessarily. Both rear-drive and front-drive ellipticals can be great cardio tools in your arsenal. Rear-drive ellipticals are usually larger, since they have to accommodate the flywheel in the back. Front-drive ellipticals generally are best for people tight on space, since they are more compact.
You'll also have to consider price and maintenance concerns when choosing between a front-drive or rear-drive elliptical. A rear-drive elliptical usually requires less maintenance, but is generally pricier upfront. A front-drive elliptical may seem inexpensive, but you'll have to frequently maintain the machine to keep it running smoothly at home.
What is the highest-rated elliptical machine?
How heavy should a flywheel be on an elliptical?
Generally speaking, you'll want to make sure your elliptical has a flywheel that is at least 16 pounds. The industry standard is 16 to 20 pounds, so anything within this range is on target.