We test and review fitness products based on an independent, multi-point methodology. If you use our links to purchase something, we may earn a commission. Read our disclosures.
From Echelon's well-established line of "Smart Connect" bikes comes the Echelon Connect EX-5, listed at just under $1,000 on the Echelon website. The line of bikes is highly-rated both there and on Amazon, with composite review scores over 4 stars.
The bike features 32 resistance levels, and a seat, handlebars, and a toe cage that can all be adjusted, with some other nice add-ons I'll get into later.
These surface specs are great, but is the EX-5 the right exercise bike for your home gym? That's what GGR is here for, and this Echelon Connect EX-5 bike review will guide you through all the considerations you need to make before adding this machine to your home gym. While we haven't tested the EX-5, we have several expert product reviewers who have used the EX-8, which gives us a great idea of what you can expect from this model.
Dozens of Exercise Bikes Tested
We're a bundle of fitness lovers here at Garage Gym Reviews, plain and simple. We've spent hundreds of hours personally testing out popular fitness products so you know exactly what you're getting yourself into if you choose to buy.
RELATED: How to Choose an Exercise Bike
Our team of testers has personally tested more than 20 exercise bikes across a variety of brands like NordicTrack, Peloton, and Bowflex. Our experience and opinions are an asset to you as you look to make the best choices for you and your fitness goals.
Echelon Connect EX-5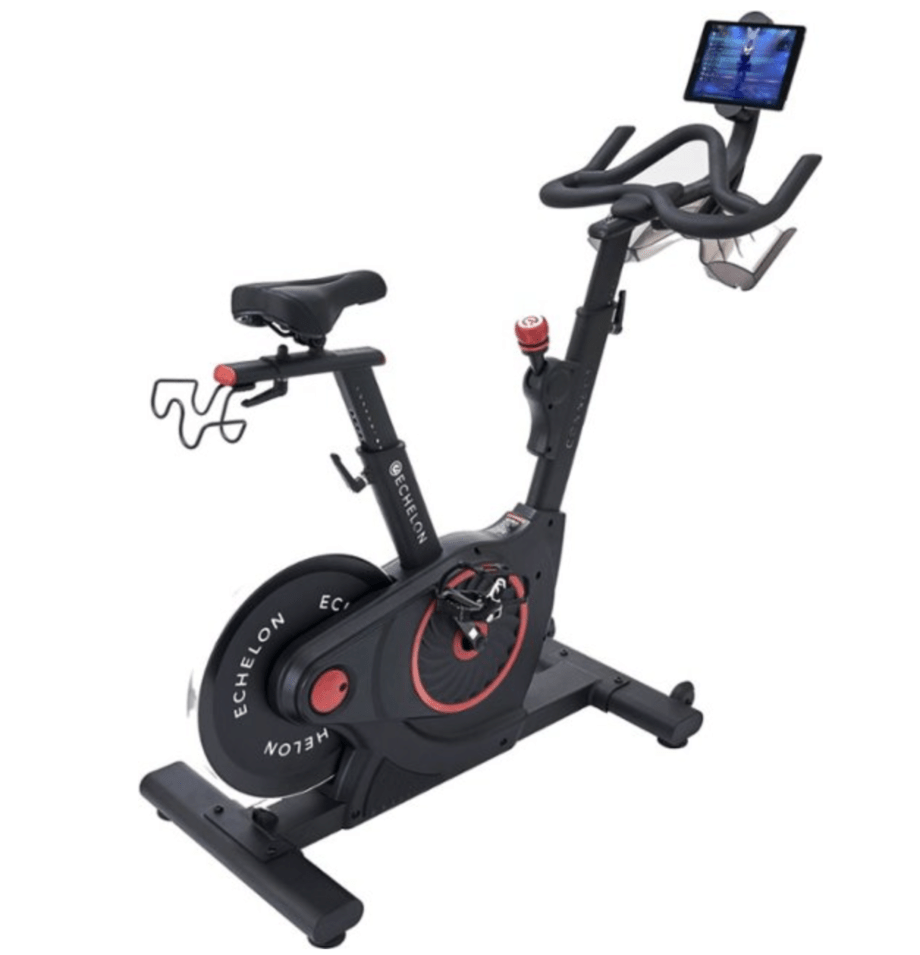 Echelon Smart Connect EX-5
If you're looking to get the Peloton Bike experience without paying the Peloton Bike price, the Echelon Smart Connect EX-5 is one of the best options out there. The bike offers 24 levels of digital resistance, hybrid pedals (SPD clips and adjustable toe cages), and a ventilated competition-style bicycle seat. Although we haven't tested this specific model yet, we've tested some of Echelon's similar offerings and can vouch for the company's quality.One drawback of the Smart Connect series is that the lower-cost don't have a built-in monitor, but the media device holder is sturdy and can swivel 180 degrees to allow you to follow off-bike workouts. Echelon is equipped with Echelon Fit capabilities.
A Quick Look at the Echelon Connect EX-5
Echelon has the reputation of producing quality fitness equipment of all kinds. They list treadmills, rowers, and fitness mirrors on their website, and they have a line of five "Echelon Smart Connect Bikes," which is where you'll find the EX-5.
As of this writing, the EX-5 is the second-most affordable Echelon bike listed on the site and has the second-smallest footprint as well. This model's compact nature makes it a solid option for anyone looking for a quality bike that doesn't eat up a ton of room in your home gym.
While this bike might not boast the same tech add-ons as some of Echelon's pricier models, it's far from a minimalist option. There's plenty to love, but also a few callouts we think you should be aware of.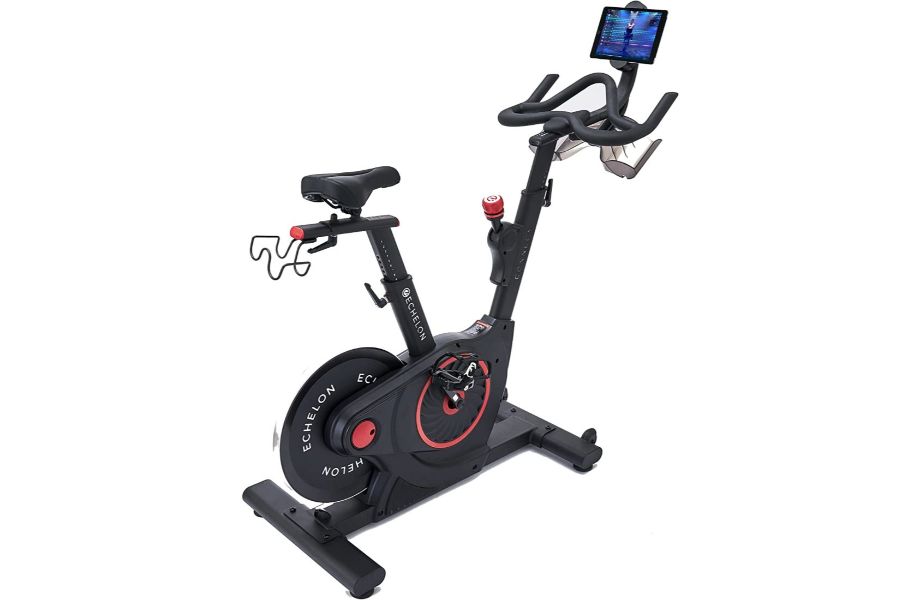 My Tips
The Echelon Premier membership is required if you buy through the Echelon brand site. However, Amazon let me get all the way to the "place order" screen without selecting a membership plan, and you get a 30-day free trial of the membership if you buy through Amazon.
The bike comes with a smartphone and tablet holder that flips 180 degrees if you want to switch things up with an off-bike workout.
This model DOES NOT come with a touchscreen monitor. You'll have to connect your own tablet or phone via Bluetooth and use the Echelon Fitness app (similar to the Peloton app, can be used to track metrics like heart rate) to access the interactive programming.
Pros:
32 magnetic resistance levels
Comes with 2 large water bottle holders and dumbbell holders
Light at 106 pounds
Compact footprint
Tons of interactive workout content with Echelon Premier membership
Cons:
No touchscreen function included
Echelon Premier membership is required and costs extra
Some users cited poor customer service and difficulty canceling the Echelon Premier free trial after buying through Amazon
Short, 1-year warranty
Extended warranty is over $100 extra to purchase
Is the Echelon Connect EX-5 Worth It?
I think there's a lot to like about this product. It's sleek, highly adjustable, and comes with all the downloadable workout content you could possibly ask for. However, most of the extra workout content is behind a paywall, and customer service left a lot to be desired for some users.
Great for:
People looking for a light, compact indoor bike
People who enjoy integrated classes and on-demand workouts
People who enjoy changing the resistance of their stationary bike workout frequently
Not recommended for:
Those not willing to pay for extra interactive programming.
People looking for an ultra-budget option
Those looking for a long-term warranty plan
Echelon EX-5 Specs
| | |
| --- | --- |
| Footprint | 58" L x 20" W x 55" H |
| Weight | 106 lbs |
| Weight capacity | 300 lbs |
| Resistance | 32 levels of magnetic resistance |
| Pedals | SPD compatible clips + adjustable toe cage that works for both regular sneakers and cycling shoes |
| Dumbbell Holders | 2 Included, hold 2 lb each (weights sold separately) |
| Adjustability | Seat up/down, handlebars fore/aft + up/down |
| Interactive Programming | Live and on-demand classes available through Echelon Premier membership. Accessed by connecting your device to the machine via Bluetooth and using the Echelon Fitness app. |
| Flywheel | Magnetic |
Workout Experience on the Echelon Connect Line
Though we haven't personally tested the Echelon Connect EX-5, one of our testers, staff writer Caroline Lubinsky, did spend a significant amount of time trying out the Echelon Connect EX-8s, which is a very similar model that comes from the same product line. Aside from being made by the same brand, the bikes have the same number of resistance levels and similar add-ons.
Our tester said that the bike was pretty quiet during use and that the frame felt stable.
She described the seat of the EX 8s as "not particularly comfy but not terrible," which somewhat aligns with some of the customer reviews I came across for the EX-5.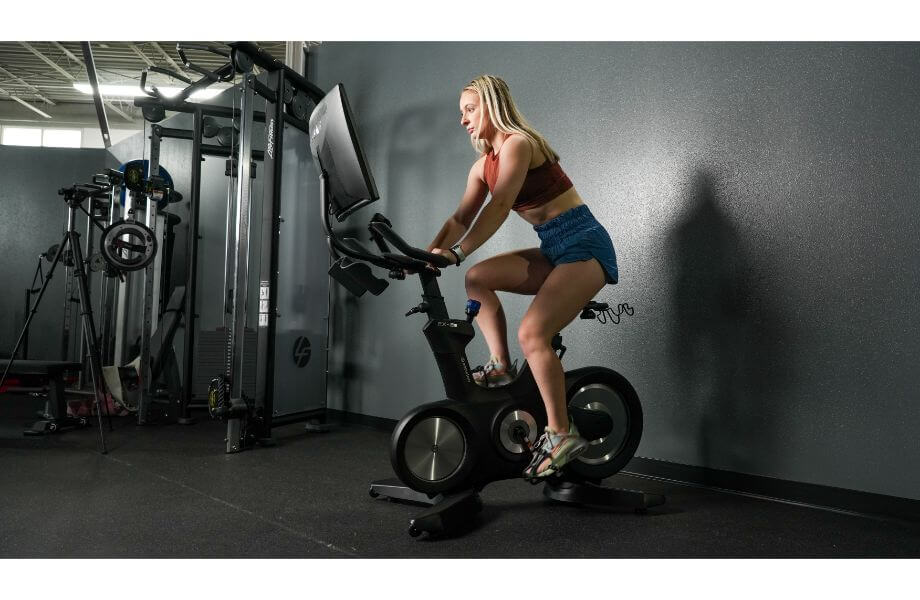 Customer Reviews
I think customer reviews are one of the most valuable sources of information for any product, especially fitness equipment. Between Amazon and the brand website, you can always find numerous descriptions of what people who have already bought the bike think about it.
There are over 1,000 customer reviews covering the EX-5 on the Echelon site, which is a plus, although I had to do a bit of digging to find anything critical. Most of the reviews listed on the site are four or five stars and contain positive written feedback.
"As advertised," user Michael H. says. "Easy to set up, operates very smoothly and the quality and variety of available rides is great. Instructors are passionate and motivating. A great buy!"
One of the few somewhat critical reviews I found on the Echelon site came on page 2 and was a little confusing because the user still rated the product five stars overall.
"The bike is great!" user Bridget B. says. "I love the workouts & instructors but your customer service is horrible!"
The EX-5 is also highly rated on Amazon, clocking in with a composite score of 4.5 out of 5 stars tabulated from nearly 2,200 customer reviews. I think Amazon is the mecca of customer reviews, as they have a great feature that allows you to read through both critical and positive reviews side by side.
User Tony Fraser left a five-star positive review, saying the bike essentially checked all the necessary boxes.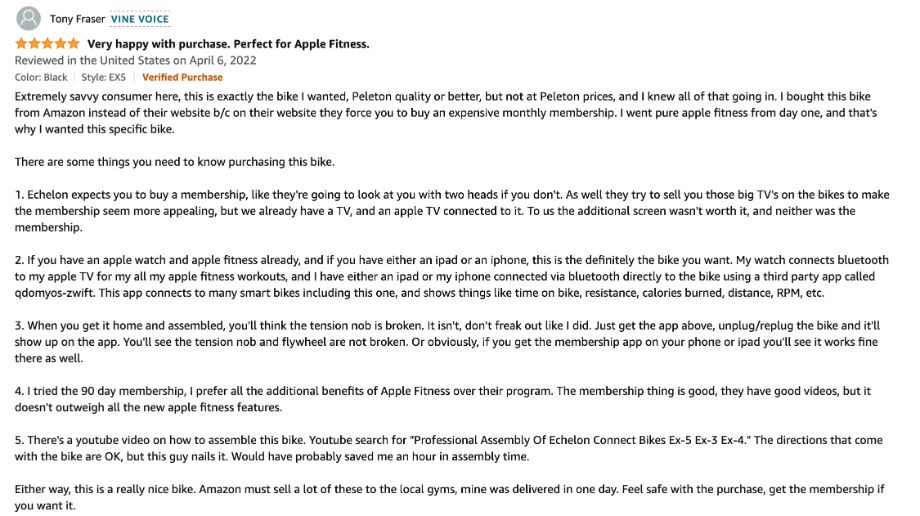 The negative reviews for this model cite durability issues as well as poor customer service. One user said that the bike broke soon after she bought it and that she received little help from the brand during the repair process.

Other notable callouts (from the EX5 and the Echelon line in general) included:
Some said they found it difficult to connect to the Echelon Fitness App
General discomfort from the seat
A lack of compatibility between the Echelon Fitness app and Android devices
Though critics of this product are outspoken, it's worth repeating that they represent the minority of reviewers. Most people seem to enjoy their Echelon bikes, as 89% of the Amazon reviews are either 4 or 5 stars.
Footprint and Durability
Regarding footprint, the EX-5 is pretty comparable to the other bikes on the Smart Connect line. There are differences of a few inches here or there in the length and width dimensions, and the EX-5 is slightly shorter than models like the EX 5s-10 and the EX-8s because it doesn't come with a touchscreen monitor.
I encountered positive customer reviews that said the bike was quiet and didn't take up much space, and that the assembly wasn't all that daunting.
However, I did come across a complaint knocking the bike's durability. One Amazon user said the bike broke after just a month and that the Echelon customer service was slow to help them replace it.
These critical comments do appear to represent the minority of users, as the EX-5 was rated 4.6 out of 5 stars regarding "sturdiness."
The Ergonomics
The ergonomics of the EX-5 are very precise, with 32 different resistance adjustments available for the model. This feature allows you to change up the intensity of your workout just by turning the resistance knob, which can be incredibly valuable for HIIT bike workouts and other forms of cardio.
This model also has an adjustable seat and handlebars, allowing you to position yourself comfortably during use. However, it was mentioned in some reviews that the bike seat was uncomfortable and broke easily at times; some users even mentioned feeling the need to replace it.
Technology Benefits and Conveniences
Though the EX-5 does not come with a touchscreen feature like the Peloton Bike, it does feature a holder for your smartphone or tablet so you can utilize the Echelon workout classes. The holder can also be turned up to 180 degrees which allows you to complete workouts that require you to stop off the bike itself.
If you buy the EX-5, you're also required to purchase an Echelon Fit premier membership which gives you access to the brand's live and on-demand workouts and classes. There are three membership options available: monthly subscription for $34.99 per month, the 1-year subscription at $33.99 per month, and the 2-year plan at $29.16 per month.
We also have some experience using the Echelon Fitness app. The app offers a lot, including 60-plus instructors, 40-plus daily live classes and a multitude of off-bike workouts. According to Lubinsky, these are great resources, but the platform doesn't quite live up to something like the Peloton app.
"They are doing a decent job, but the production quality isn't quite there yet," she says.
Echelon EX-5 vs Echelon EX-8s
Echelon EX-8s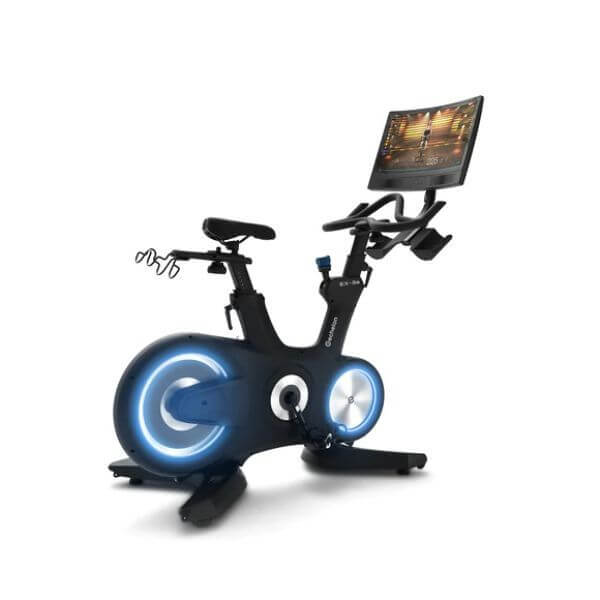 Echelon EX-8s
Exercise bikes have become much more than just a bike, taking on an entirely new immersive experience that branches out beyond cycling. Smart exercise bikes are taking the at-home workout experience to the next level offering a connected, high-tech, interactive, and motivating fitness routine. The Echelon EX-8s is a premium smart bike designed to add to user's motivation and to enhance the immersive nature of the entire experience.The EX-8s features a 24-inch curved interactive HD screen that not only mimics the feeling of being in a cycling studio, but also enhances the entire experience. While a curved screen may not seem like a big deal, trust us when we say it is. What's more, this screen swivels 180 degrees, which allows users to jump off the bike and into another workout by just flipping the screen.This bike is incredibly cool-looking as well. Its sleek design is highlighted by the dual-ring design that includes illuminating wheels. These wheels rotate through 15 LED color variations synced to your live fitness metrics. You can literally watch the colors change based on the intensity of the workout, which is very motivating. The EX-8s is equipped with some impressive specs including adjustable handlebars that  maximize comfort and enable good form. These handlebars have control buttons that allow users to change resistance levels even when out of the saddle, a feature not seen on many other smart bikes. Other notable features are the Bluetooth 5.0 connectivity, a fast processing speed, 32 levels of magnetic resistance, and water bottle holders to keep you hydrated throughout the workout. The EX-8s does require a membership to Echelon's online fitness platform, which costs $35 per month. Without it, the bike really cannot be used, which is a bummer. That said, the platform is stacked with live and on-demand workouts, a ton of music and playlists, and over 60 world-class instructors. 
The easiest comparison to make here is to the Echelon EX-8s, which comes from the same product line as the EX-5. Both bikes have similar fundamental features and add-ons: 32 magnetic resistance adjustments, dual water bottle holders, two dumbbell holders, and access to the same Echelon workout programming. In other words, you can clearly tell the products come from the same brand and series.
However, the EX-5 is shorter than the 8s since it doesn't come with a 24" LED HD touchscreen (the length and width specs are nearly identical). As a result, the two are priced differently, with the 8s setting you back over $2,000 on the Echelon website. Think of the EX-5 as a budget version of the 8s; you'll get most of the same basic functionality while sacrificing some of the more glamorous features.
Customer Experience
Some of the EX-5's biggest callouts reside within the customer experience department. Several Amazon users in particular took issue with the customer service associated with the product, saying that replacing parts was very complicated due to delayed email and phone responses. Some found it difficult to cancel the free trial of Echelon Premium you get when buying through Amazon for the same reason.
Another point of concern for this model is the warranty. If you want an "Extended Warranty Plan", you either have to pay $109 for 1 year of coverage or $169 for 2 years. To me, this is absurd and it feels like Echelon is trying to sneak another expense into your purchase.
I'll mention again, though, that the users who had complaints represent a very small percentage of the product's reviews. Most customers seem satisfied with their EX-5s, praising its durability, surplus of interactive content, low noise level, resistance adjustments, and easy assembly, among other things.
Ordering and Assembling the Echelon EX-5
The Echelon Connect EX-5 can be ordered on Amazon and through the Echelon website. If you ship through Amazon, the product is advertised as set to arrive within three business days with free shipping if you're a Prime member. The timetable is less clear for buying through the brand site.
Financing options are available on both sites: five monthly installments of around $190 on Amazon, and 12, 24, and 39-month payment plans through the Echelon website.
Upon examining the "By Feature" portion of the Amazon reviews, I found that the EX-5 was rated 4.4 stars out of 5 based on easy assembly, and I found little testimony that would indicate otherwise, even in the critical reviews for the product.
Anthony O'Reilly, who wrote a review on the Echelon Connect EX-8s, commented on assembling the similarly constructed 8s.
"Assembly is a breeze, and shouldn't take any longer than 20 to 30 minutes," O'Reilly says. "The frame comes in one piece, and you screw on all the other parts using an Allen wrench. There's even a YouTube video you can follow if you need any further explanation."
In other words, you should be able to get right to your indoor cycling workout without too much trouble.
RELATED: Benefits of Indoor Cycling
Final Verdict of Our Echelon EX-5 Review
It seems like the Echelon Connect EX-5 effectively finds the middle ground between luxury bike and ultra-budget option and functions as a solid Peloton alternative. The included tech won't necessarily blow you away, but you can easily access the interactive programming via Bluetooth connection and the Echelon Fitness app.
With 32 resistance levels and a number of useful add-ons, the EX-5 can be a solid mid-range choice. Just beware of the paywall for interactive programming, and maybe don't rely too heavily on the customer service if you can manage it.
What I can say is that $1,000 seems like a fair price for what you're getting, and it's a bonus that the EX-5 is a bit more compact than some of its other Echelon companions. I think this bike could make a great addition to a lot of home gyms.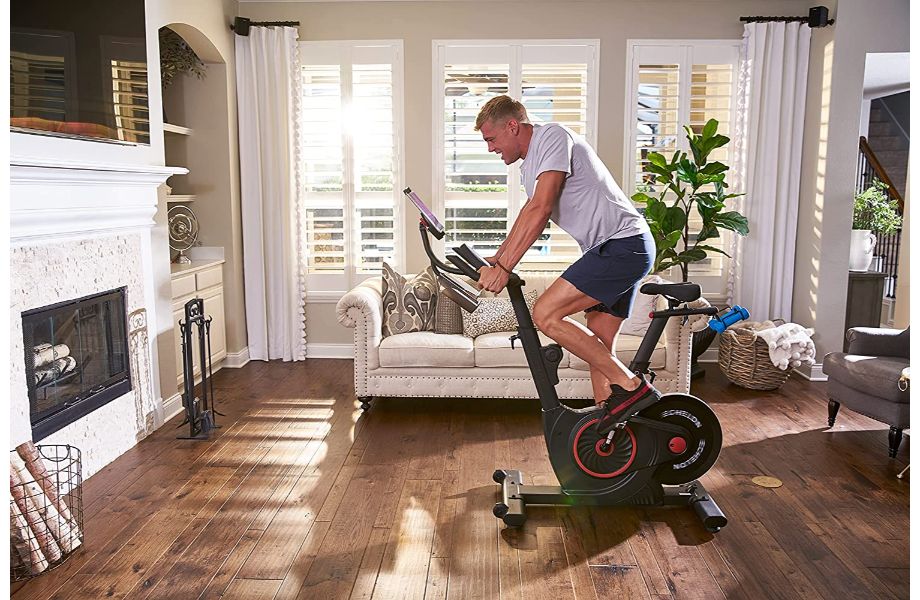 Echelon EX-5 Rating
Echelon Connect EX-5 Bike
The Echelon Connect EX-5 is a great option for those looking for a compact bike with access to extensive interactive programming features.
Product Brand: Echelon
Product Currency: $
Product Price: 999.00
Product In-Stock: InStock
Echelon Connect EX-5 FAQs
Is Echelon Connect a good bike?
The Echelon Connect EX-5 is very highly rated on both Amazon and the Echelon website, netting composite reviews over 4 stars in both places.
Is Echelon as good as Peloton?
Neither is inherently better than the other. When comparing Echelon vs Peloton, both produce quality bikes and other fitness equipment with interactive workout content available. The Peloton app is widely known as the best for interactive programming, where as Echelon is known for being more affordable.
Is the Echelon EX-5s worth it?
The Echelon EX-5 is a great option for people looking for a compact, relatively budget-friendly bike with access to a plethora of interactive programming.
Can I use Echelon Connect without subscription?
If you buy through the Echelon website, then you'll be required to purchase an Echelon Premium subscription with your Echelon Connect bike. However, if you purchase the EX-5 on Amazon, the product comes with a 30-day free trial to Echelon Premium.