We test and review fitness products based on an independent, multi-point methodology. If you use our links to purchase something, we may earn a commission. Read our disclosures.
I like to think of the EXP series from NordicTrack as a nice set of Russian nesting dolls, with each one resting inside a larger, more advanced edition. In this case, the NordicTrack EXP 14i is the main Matryoshka, also known as the Mother doll of a nesting set.
In this NordicTrack EXP 14i review, we'll explore the metaphorical "mother doll" of the EXP series to see if it's worth the money (and the razzmatazz). After all, if you're going to spend $1,900 on a treadmill, you want to make sure you do it right. 
Our expert product testers and reviewers are focused on giving in-depth information on the equipment you care about, such as the best treadmills. And if I do say so myself, we're pretty qualified to do so. After all, our team is made up of competitive weightlifters, certified personal trainers, nutrition coaches, and former college athletes.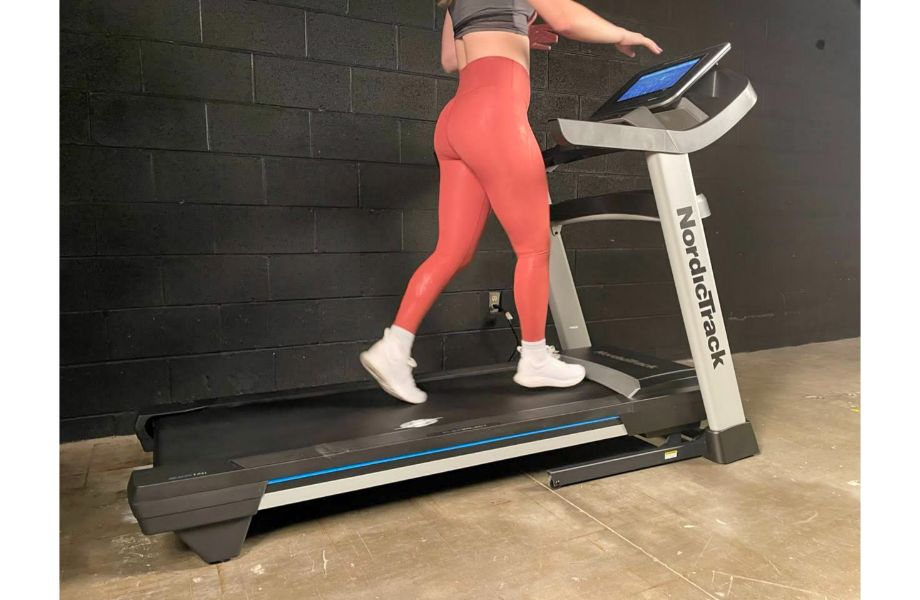 NordicTrack EXP 14i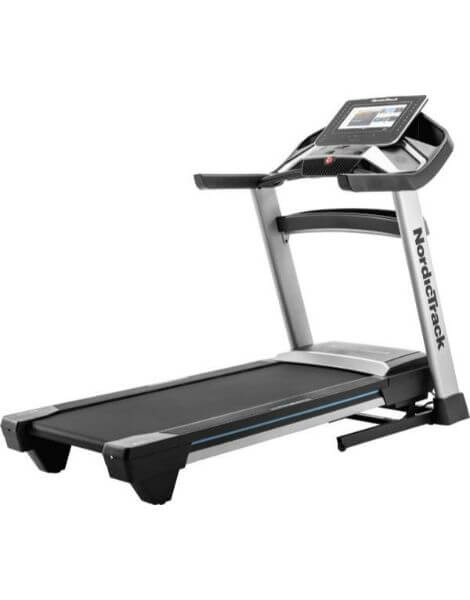 Product Highlights
Folding treadmill
14" HD touchscreen to view all of your workouts
Incline and decline range
Cruise control feature when your heart rate increases too much
Cushioned deck
Pros & Cons
Pros
14" HD touchscreen
Decline and incline
Foldable for easy storage
ActivePulse maintains optimal heart rate (requires HR monitor)
Cushioned deck
Cons
The SmartBeat forearm heart rate monitor is sold separately
Not fully functional without iFIT membership
Bottom Line
The NordicTrack EXP 14i is a great all around treadmill. It's user-friendly and comes with anything you might need to have a successful running workout.
A Quick Look at the NordicTrack EXP 14i
NordicTrack—sister brand to ProForm—offers three different treadmills within the EXP line––the EXP 7i, the EXP 10i, and the EXP 14i. These machines range in price from around $1,100 to $1,900. 
The NordicTrack EXP 14i is the most expensive option of the EXP series treadmills and it boasts the largest touchscreen. Besides the gleaming display (which is compatible with iFIT programming), you can look forward to additional features like the FlexSelect cushioning, a workout fan, and Google Maps technology.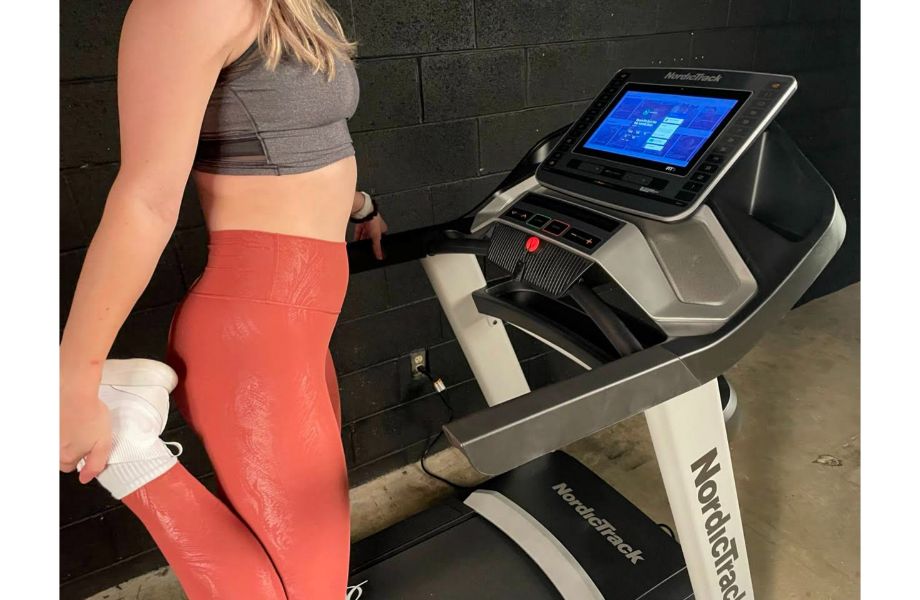 My Tips:
The warranty will be voided if the machine is stored in the garage.
Take advantage of our discounts with our NordicTrack promo codes.
Pros:
Foldable machine
3.5 CHP motor
Boasts incline and decline options
300-pound user weight capacity
14-inch HD touchscreen
Compatible with iFIT programming
Cushioning can be adjusted
ActivePulse control
Cons:
Top half of the machine feels plastic-y
Subpar warranty
Lengthy assembly process
Machine is loud
Is the NordicTrack EXP 14i Worth It?
When it comes to buying a treadmill, needs and wants can differ from person to person. After all, we don't all have the same amount of space, money, or fitness experience. In short, we all live different lives and are looking for a variety of things in a new treadmill. I'm here to help you decide if the NordicTrack EXP 14i is the right choice for you, or if you'd be better suited towards another option.
Great for:
People who need a foldable machine
Individuals who want a touchscreen
Not recommended for:
Individuals who want to store their treadmill in the garage
A budget option
Those who have shared walls
NordicTrack EXP 14i Specs
| | |
| --- | --- |
| Footprint | 79.9" L x 35.08" W x 59.25" H |
| Weight | 229 lbs |
| Weight capacity | 300 lbs |
| Price | Around $1,900 |
| Running surface | 20" W x 60" L |
| Warranty | 10-year frame, 2-year parts, 1-year labor |
| Incline/decline | -3% to 12% |
| Motor | 3.5 CHP plus motor |
| Programming | iFIT-enabled (subscription sold separately) |
| Speed | 0-12 MPH |
| Speakers | Digitally amplified speakers |
| Display | 14" smart HD touchscreen |
| Wi-fi | 2.4GHz and 5GHz connection |
| Bluetooth | Bluetooth audio and heart rate connectivity |
| Auto-adjust | Automatic trainer control |
| Fan | AutoBreeze workout fan |
| Folding treadmill | SpaceSaver design w/EasyLift assist |
Workout Experience: Keepin' it Movin' on the NordicTrack EXP 14i
The first thing I noticed about the NordicTrack EXP 14i is that it's quite loud when switching between incline/decline levels and speeds. It wasn't anything too loud, but it surprised me.
The deck is stable, though the touchscreen and handrails did wobble a bit. That could be because whoever assembled it didn't do it correctly—regardless of the reason, I wouldn't recommend gripping onto the handrails for dear life.
NordicTrack EXP 14i Construction
The NordicTrack EXP 14i has the appearance of a typical, mid-range treadmill––think a long tread belt connected to two uprights and short, plastic handlebars.
The 20-inch-by-60-inch deck is the ideal size for runners and walkers alike. Heck, it's even the right length for someone with longer strides—for context, we want to see at least a 55-inch deck if we're talking industry standards. Plus, the 3.5 CHP motor is above the 3.0 horsepower we'd expect on a treadmill that is primed and ready for running.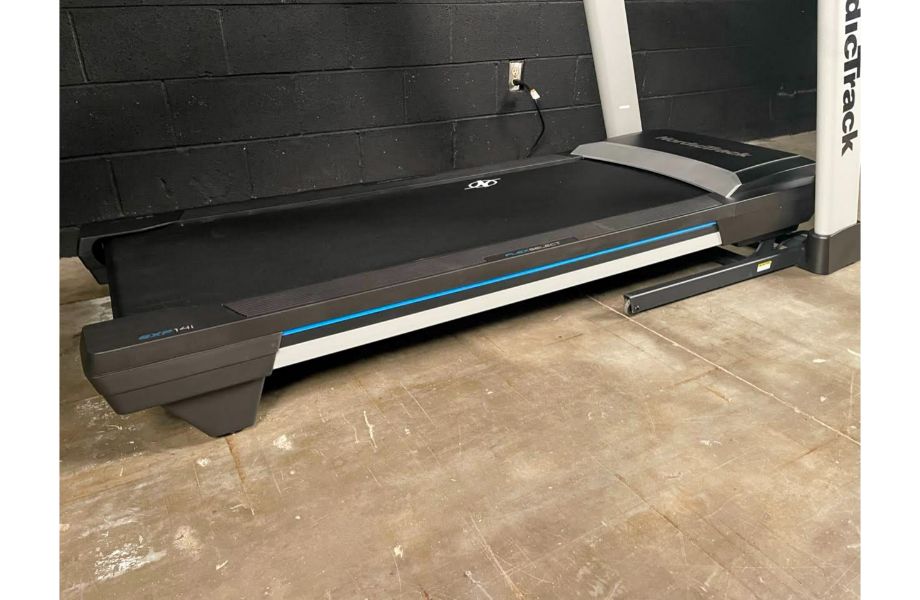 Although the top speed of 12 miles per hour isn't anything crazy, I am impressed with the decline and incline options available. If you're trying to strengthen your knees, practicing downhill running on the EXP 14i will be a breeze since the machine has a 3 percent decline. For the Lauren Giraldo fans, you'll be able to complete the 12-3-30 workout with nary an issue (minus some extra sweat).
Listen up all you folks potentially sharing this treadmill with family and friends: The EXP 14i has adjustable cushioning. If you prefer a softer belt or have joint pain, you'll be able to adjust the cushioning via a lever on the deck. For those who want to simulate harder,outdoor terrain, you'll be able to do this as well with the same lever.
Portability and Durability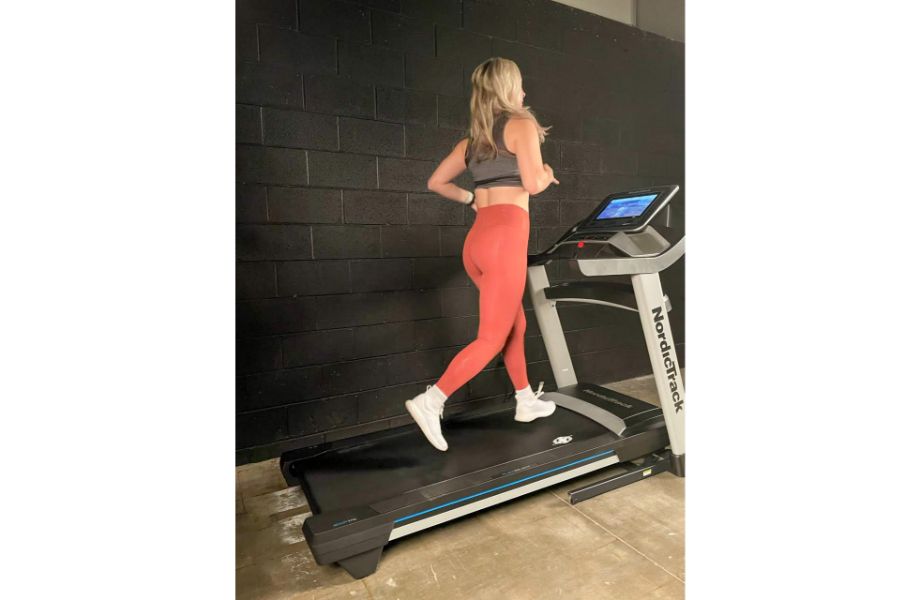 It is worth noting that the EXP 14i isn't exactly lightweight. At 229 pounds, this machine will require a friend or two to help you get it up the stairs. Luckily, the included transport wheels make the EXP 14i fairly easy to move around within a room. 
RELATED: Treadmill types
I also like that the EXP 14i is a folding treadmill for easier storage. Not everyone has the space (or wants to) leave their treadmill out 24/7. Folding this machine can make it fit neatly against the wall and clear up floor space. Plus, the gas shock makes unfolding the EXP 14i simple without the worry of slamming the deck on any fingers or little toes. 
The EXP 14i's deck felt sturdy while I used it and I didn't have any qualms about its durability. However, I did notice some play within the plastic-y handlebars surrounding the touchscreen. I'm not sure if this was due to a screw being loose or if it's just how the EXP 14i is. Either way, I think it is worth noting as I wouldn't recommend holding onto the handlebars for dear life.
Programming and Technology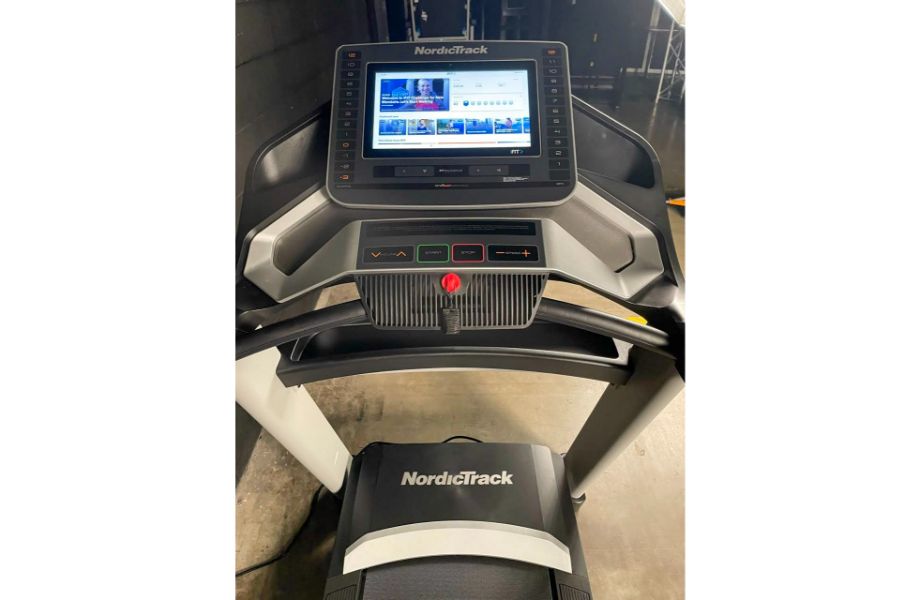 The NordicTrack EXP 14i has a responsive, 14-inch HD smart touchscreen for viewing iFIT programming. NordicTrack is currently offering a free, 30-day trial with the purchase of the EXP 14i, which I think is a great way to get your feet wet with iFIT. Besides running, jogging, and walking content, iFIT also has stellar classes for strength, yoga, cycling, and more.
Although I do enjoy the tiltable touchscreen on the EXP 14i, I wish it swiveled for easy viewing (like some of the other NordicTrack treadmills do). This would make the iFIT experience off of the treadmill even more enjoyable.
Besides iFIT, I'm particularly impressed with the new ActivePulse feature. With ActivePulse, you can connect your own heart rate monitor via Bluetooth (or purchase the SmartBeat sold separately) and the machine will automatically adjust your speed, incline, and decline for you. The EXP 14i will learn what your ideal heart rate is and change your settings accordingly.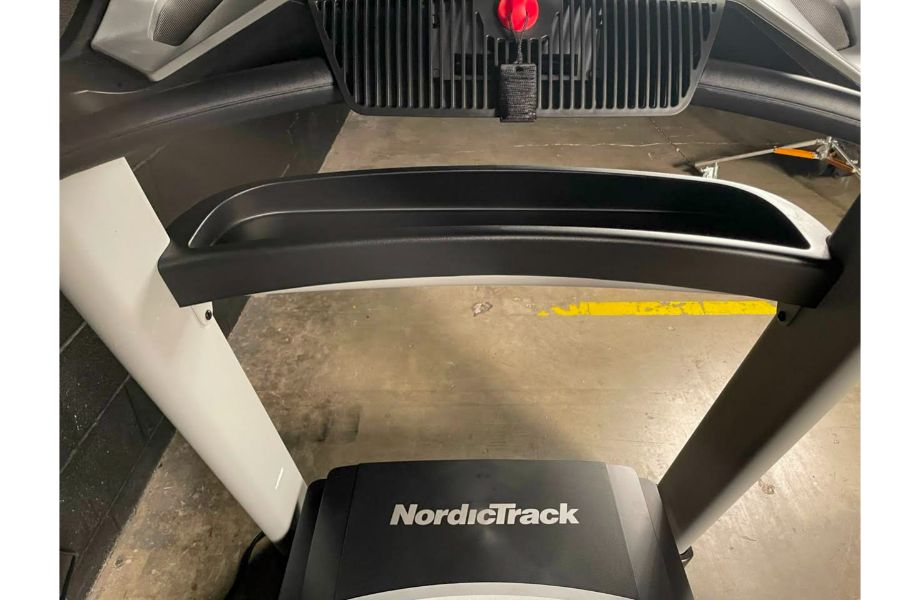 Conveniences
Besides a great touchscreen with iFIT capabilities, there are loads of other conveniences to enjoy on the EXP 14i:
Google Maps
Bluetooth connectivity
FlexSelect cushioning
Device shelf
Water bottle holders
Cooling fan
High-quality speakers
Accessories tray
Customer Experience
The EXP 14i has a 10-year frame warranty, which is below the industry standard of 15 years to life. I've said this before and I'll say it again––NordicTrack needs to increase their treadmill warranties to match competitors. It isn't too much to ask to expect the machine to meet industry standards for $1,900.
If you're not thrilled with your NordicTrack purchase, you can return any machine within 30 days of delivery. However, it is worth noting you will be charged a $250 shipping fee and a possible restocking fee if the machine is not in new condition.
Although NordicTrack has a variety of ways to contact their customer service reps, they aren't the most responsive. I've previously used the live chat feature located in the bottom right corner of the website, and I wasn't super impressed. The person took hours to get back to me and I can imagine how frustrating this would be if your machine wasn't working properly.
Ordering and Assembling the NordicTrack EXP 14i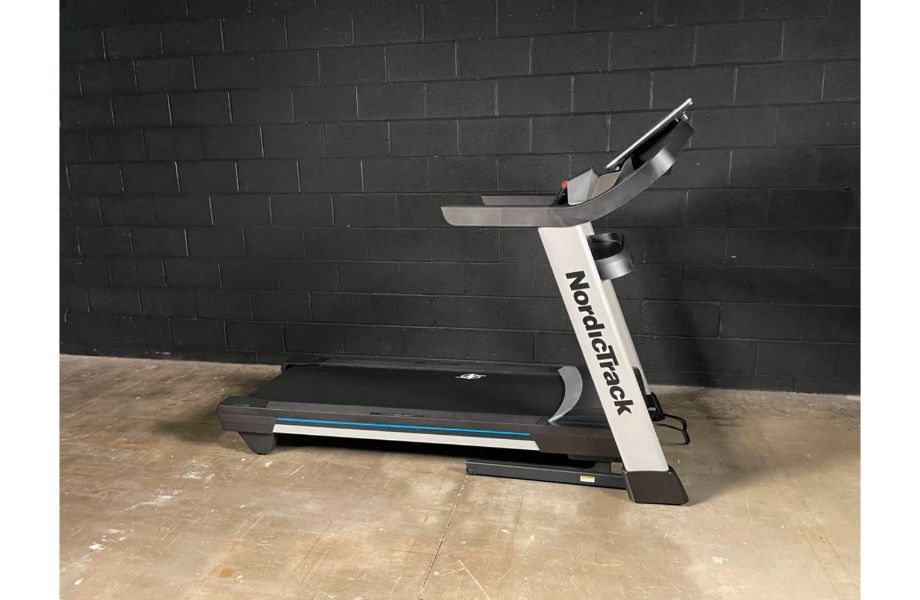 You can easily order the NordicTrack EXP 14i through the brand's website. Simply add the item to your cart, select your desired shipping method, and insert your credit card information.
If you don't want to pay almost $1,900 all at once, NordicTrack has financing options available through TD Bank. If you qualify, your payments could be as low as $44 per month with 0% APR for 39 months. That's a heck of a deal!
There are two shipping and assembly options to choose from: The free, drop-at-your-doorstep choice, or the $199 fee for a professional to move the machine into your home and assemble it.
Based on what our NordicTrack rep said, you may want to pick the latter option.
"The EXP 14i requires a lot of assembly," he explained. "It's pretty heavy and has a lot of parts."
However, if you want to go at it yourself to save a little cash, the rep recommends grabbing a friend to help make the process go smoother. 
The NordicTrack EXP 14i vs. Sole F80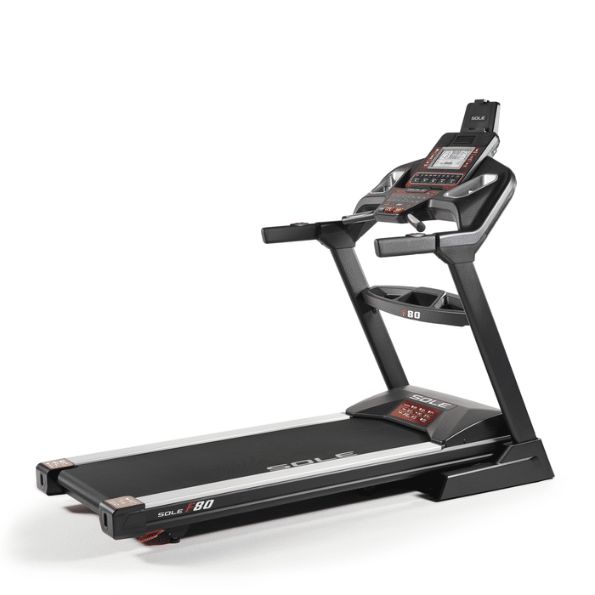 Community Score: 4
Product Highlights
Foldable design
3.5 HP
12 mph max speed
Incline training up to 15%
60" L x 22" W running deck
350 lb weight capacity
Lifetime frame and motor warranty
Pros & Cons
Pros
3.5 horsepower motor supports heavy running
Extended running surface measuring 60 inches by 22 inches
Incline ranging 0-15%
Weight capacity: 375 pounds
4 transport wheels (most folding treadmills have 2)
Integrated Bluetooth speakers
USB port
Tablet holder
Heart rate chest strap included
Armrest controls
Strong and durable 3.5-horsepower motor
Lifetime warranty on frame and motor
Low step-up height
Cons
Users report cushioning not as shock absorbing as others
Small and basic display
Bottom Line
What the Sole F80 lacks in technology, it more than makes up for in durability and performance. With a 3.5 horsepower motor and a 60 inch long running deck, the Sole F80 is a great option for dedicated endurance athletes.
Curious about what $2,000 will get you at Sole Fitness? Wonder no longer! Here's a quick comparison of the Sole F80 and NordicTrack EXP 14i treadmill:
Want to learn more? Check out our full Sole F80 review.
| | | |
| --- | --- | --- |
| Treadmill | Sole F80 | NordicTrack EXP 14i |
| Price | Around $1,999 | Around $1,899 |
| Deck size | 22″ W X 60″ L | 20" W x 60" L |
| Display | 9-inch LCD display | 14-inch HD smart touchscreen |
| Warranty | Lifetime frame and motor, 5-year electronics and parts, and 2-year labor | 10-year frame, 2-year parts, 1-year labor |
| Weight capacity | 375 lbs | 300 lbs |
| Motor | 3.5 CHP | 3.5 CHP |
| Financing | As low as $92 per month | As low as $44 per month |
| Max speed | 12 MPH | 12 MPH |
| Incline and decline | No decline, 15% incline | -3% decline to 12% incline |
| Weight | 278 lbs | 229 lbs |
Nordictrack EXP 14i vs Commercial 1750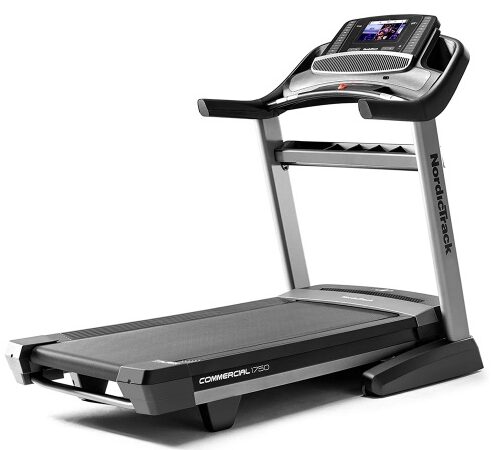 Product Highlights
Spacious running deck
Compatible with iFIT
14-inch touchscreen
Incline and decline training
Financing available
Pros & Cons
Pros
Compatible with iFIT
3.5 CHP motor
Free trial of iFIT subscription with purchase
Treadmill with incline and decline training
Foldable to save space (EasyLift Assist)
Run that feels similar to road running
Financing options available through NordicTrack
Generous speed range
Wide running deck
Cooling fan
Cons
Big footprint
Heavy and not the easiest to move
Price is around $2,000
Warranty is voided if the treadmill is used/stored in a garage
Bottom Line
If you're looking to add a workhorse of a treadmill to your home gym, we recommend the NordicTrack Commercial 1750.
The NordicTrack Commercial 1750 is another one of the best NordicTrack treadmills and is a great option for home gym owners. The two have the same features but the more expensive Commercial 1750 is upgraded when it comes to things like audio quality and incline.
| | | |
| --- | --- | --- |
| Treadmill | NordicTrack Commercial 1750 | NordicTrack EXP 14i |
| Price | 80" L x 38" W x 65" H | Around $1,899 |
| Deck size | 22″ W X 60″ L | 20" W x 60" L |
| Display | 14" Smart HD Touchscreen | 14-inch HD smart touchscreen |
| Warranty | 10-year frame, 2-year parts, 1-year labor | 10-year frame, 2-year parts, 1-year labor |
| Weight capacity | 300 lbs | 300 lbs |
| Motor | 3.5 CHP DurX Commercial Plus Motor | 3.5 CHP |
| Max speed | 12 MPH | 12 MPH |
| Incline and decline | -3% decline to 15% incline | -3% decline to 12% incline |
| Weight | 339 lbs | 229 lbs |
Customer Reviews
On the EXP 14i product page, NordicTrack has not included any individual customer reviews. This isn't surprising (since the brand doesn't add them on most of their machines) so we had to go through other avenues to find out what customers were saying.
Google often compiles purchaser reviews across various websites for popular products, and the EXP 14i is one of them. Out of almost 190 reviews, the EXP 14i has an average rating of 3.9 stars out of 5.
Happy customers love the automatic trainer control, iFIT capabilities, and touchscreen.
"It's a big machine and very powerful," customer Rhylee explained. "It keeps a weekly record of your statistics and the touchscreen is a large size and is able to tilt to suit your height. The machine has a nice wide and long belt, which makes running comfortable as you never have to worry about falling off the side or back."
On the other hand, others complained about NordicTrack's customer service, the assembly process, and issues with parts being delivered broken.
"The treadmill was really loud and the incline button was reversed," reviewer Dayna explained. "The up button made it go down and vice versa. I tried for a month to contact NordicTrack/Icon Health & Fitness/iFIT without resolution. Gave up, disassembled the treadmill and returned it."
Final Verdict of Our NordicTrack EXP 14i Review
The NordicTrack EXP 14i treadmill is under $2,000 and has quite a bit going for it. Here's a quick breakdown of my main takeaways: 
The 14-inch touchscreen is compatible with iFIT programming.
Both incline and decline options are available on this treadmill.
This machine is pretty noisy when it changes between various settings.
The process of putting this treadmill together is complicated. It will either require an additional helper or professional assembly.
My personal take? The 14i is a good treadmill, but if you're willing to spend a few extra hundred dollars, I prefer the NordicTrack Commercial 1750. For those of you looking to stay in the EXP family, I'd recommend the EXP 14i or the 10i simply because the touchscreens are larger than that of the 7i.
NordicTrack EXP 14i Rating
NordicTrack EXP 14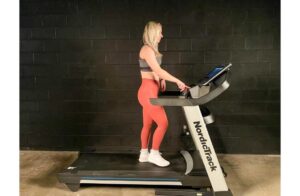 Take a look at our NordicTrack EXP 14i review to see if this is the right treadmill for your home gym.
Product Brand: NordicTrack
Product Currency: USD
Product Price: 1699.00
Product In-Stock: InStock
NordicTrack EXP 14i FAQs
Does NordicTrack EXP 14i have Bluetooth?
The NordicTrack EXP 14i has Bluetooth headphone and heart rate connectivity.
Is NordicTrack a good treadmill brand?
Yes! NordicTrack has been a trusted brand in the cardio space for decades. They make quality cardio machines that are built to last. Besides home treadmills, NordicTrack also makes excellent exercise bikes, rowers, ellipticals, and strength training equipment.
How much is an iFIT membership and why should I get one?
The cost varies depending on if you want to purchase an individual or family-based plan. An individual plan will run you $180 per year. An iFIT family membership, which includes five different profiles, will cost $396 per year or $39 per month.
iFIT workouts are available on-demand, which means you can workout at any time of the day. Interactive programming can be a great motivator for people who enjoy working out at home but still want to reach specific fitness goals.
Can the NordicTrack EXP 14i be used without an iFit subscription?
It can, though we don't understand the purpose of buying a nearly $2,000 treadmill that you can only use on manual mode.