We test and review fitness products based on an independent, multi-point methodology. If you use our links to purchase something, we may earn a commission. Read our disclosures.
This is one EPIC Garage Gym. Every detail was thought of including having everything match. Enjoy the build!
Building a garage gym is no small task.
It takes a lot of dedication, hard work, and a whole lot of money (most of the time.)
But, when you decide to put the time in and are willing to spend money, the results can be remarkable. AND, this garage gym build is the perfect example of this.
The original photos and gym were created by Reddit User u/SteeleBigTuna and was posted on Imgur. In order to allow this masterpiece to reach a larger audience, he allowed me to repost the thread here. You can find Collin Steele, the owner on Instagram here.
If you're still on the fence about creating a home gym, I hope this inspires you, but be sure to check out my article called the "Ultimate Home Gym Guide" to help you decide the details on creating one.
Equipment Used
5′ 30 lb Barbell
635 lbs of Olympic weights
5, 8, 10, 12, 15, & 20 lb Cap Workout bars
Build Details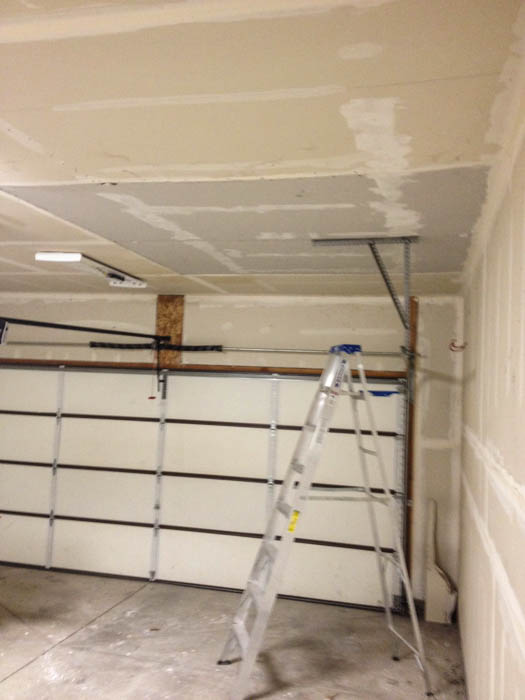 The gym started as a 2 car garage. There was a single bulb garage light that was removed, and then wiring was run for a second fixture, and 2 fluorescent lights were installed. Sheetrock was then hung and permanently installed.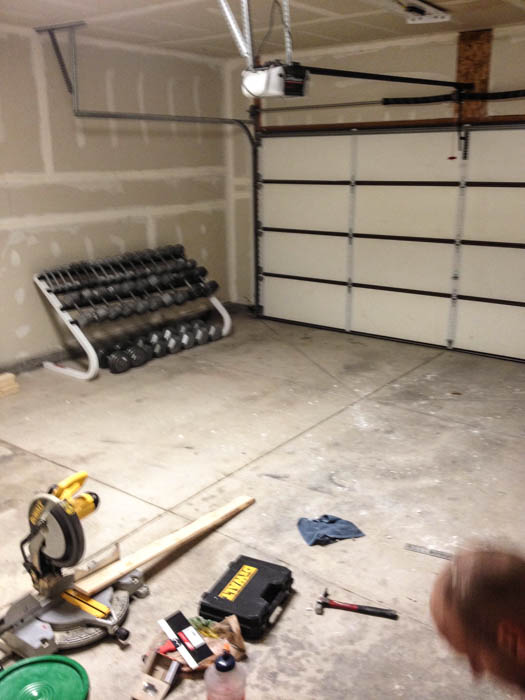 The first equipment to arrive was the dumbbell set and rack. There was no place for it, so there it sat in the garage.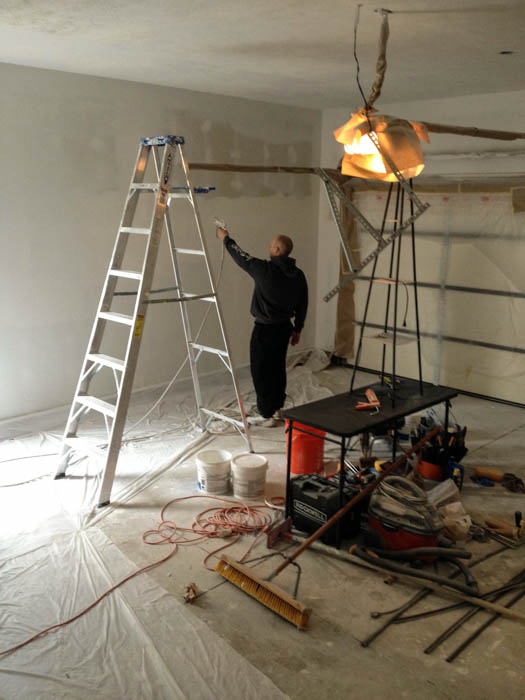 Spraying the base layer to even out the walls. Thankfully, a sprayer was available for use versus having to roll it by hand.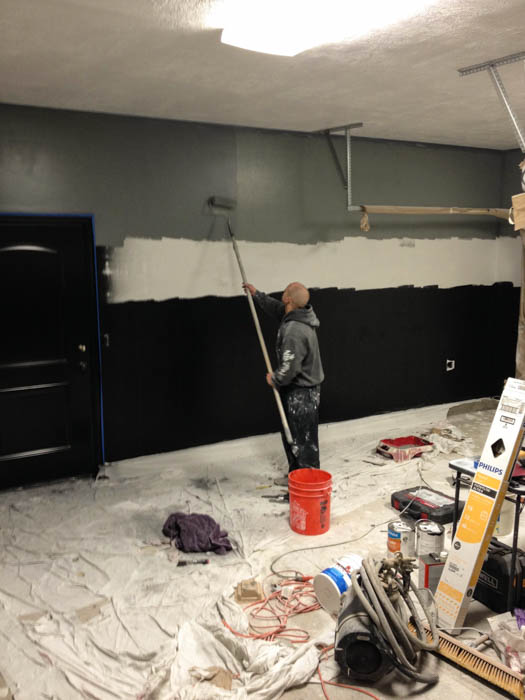 Began painting the walls and doors. Decided to go with three different colors. Keeping black on the bottom makes the equipment color pop and blends in well with the stall mats.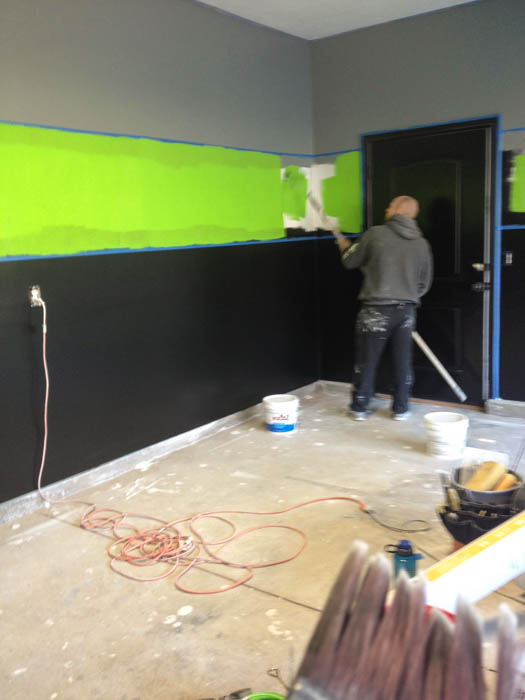 Let there be green! Lime green!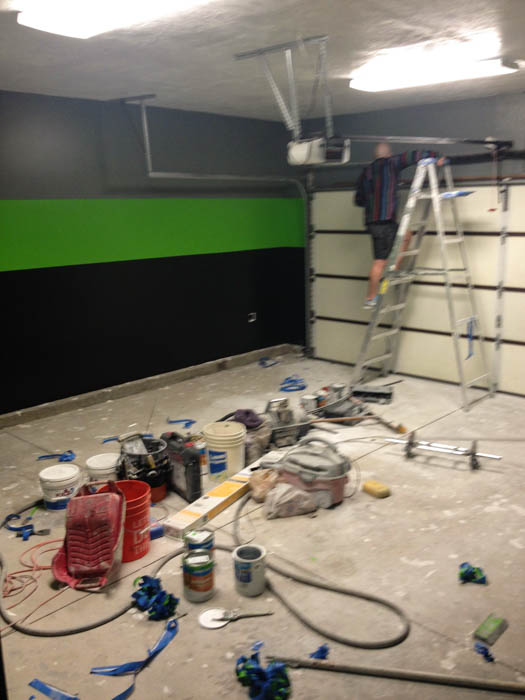 Putting on the finishing touches for the paint.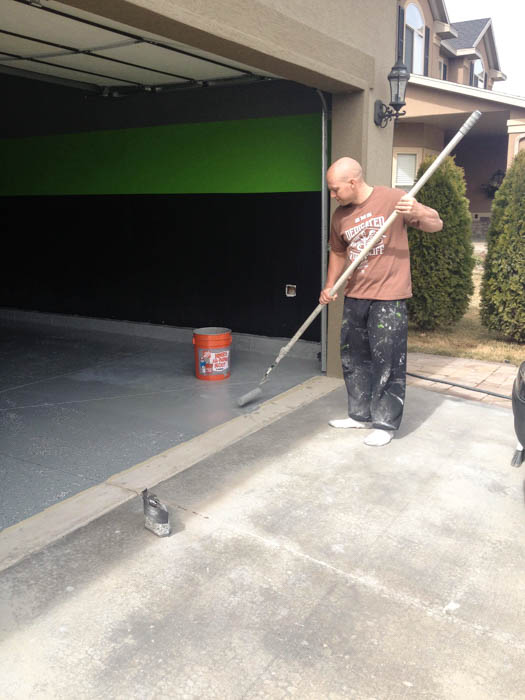 Decided to use epoxy on the floor even though much of it will be covered with mats.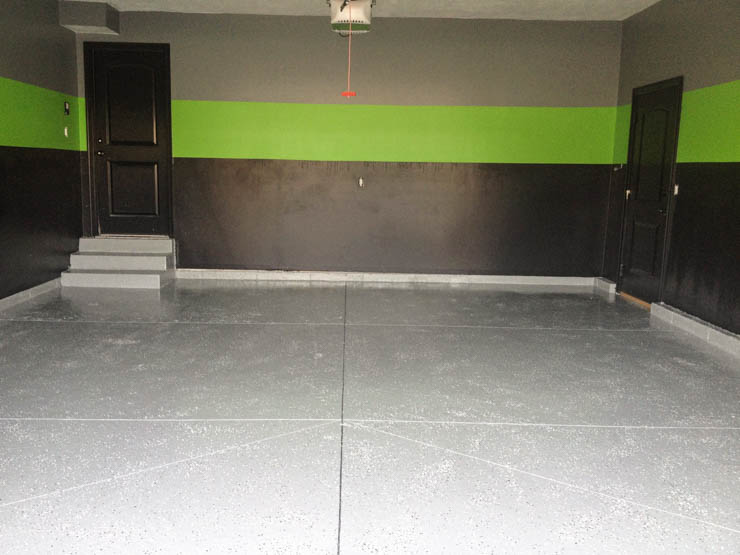 Epoxy completed. Isn't it beautiful? This takes a lot of work, but the results look great.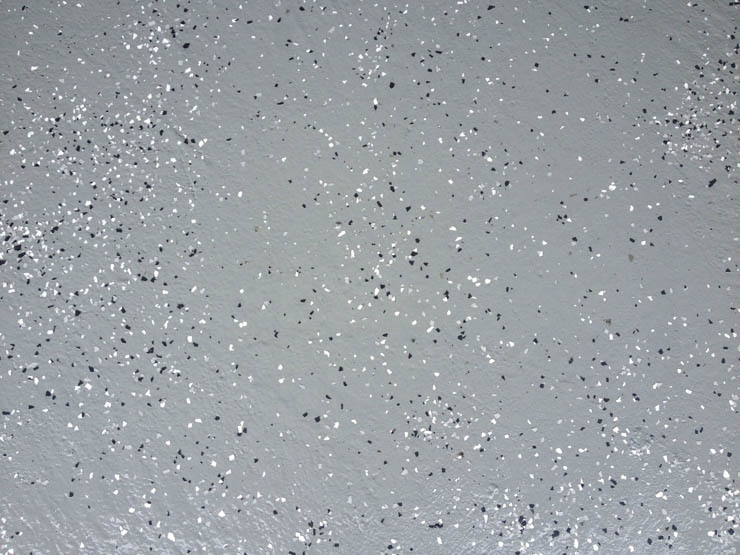 Two coats with paint chips made this the finished product. Looks pretty good in my opinion.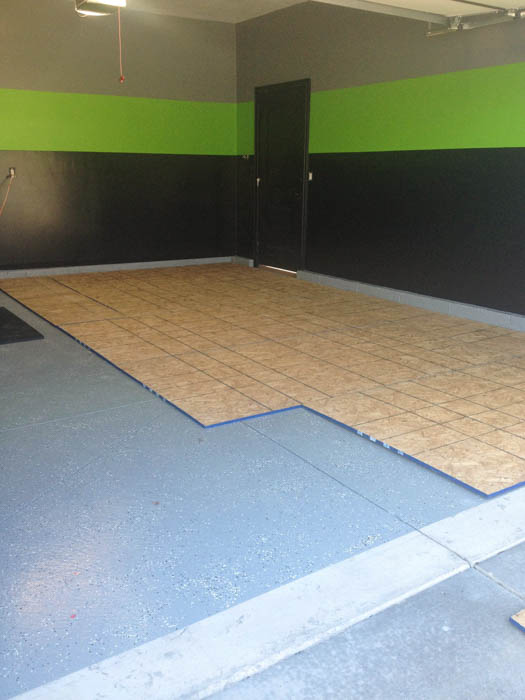 Decided to add 2 layers of 1/2″ OSB for the free weight area. Total size is 10'x20′.
This isn't entirely necessary but does ensure that the floor is protected.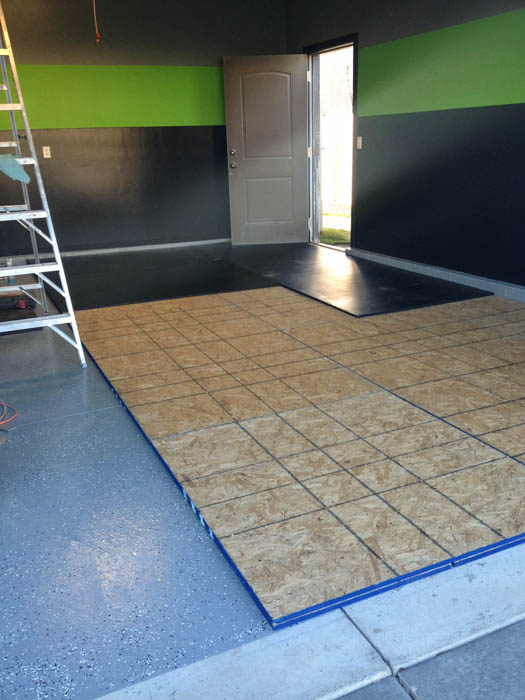 Horse stall mats were then added on top of the OSB boards. Not even an 800 lb deadlift could hurt this floor.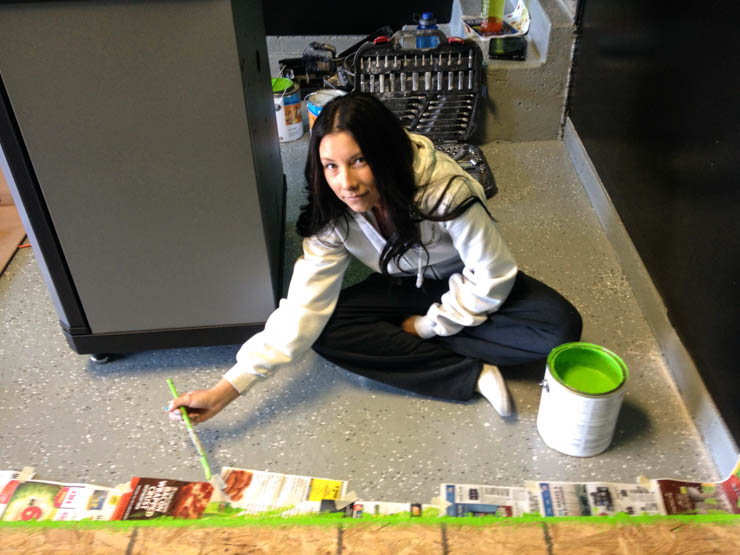 Decided to have the edges of the floor painted lime green to match the equipment and walls.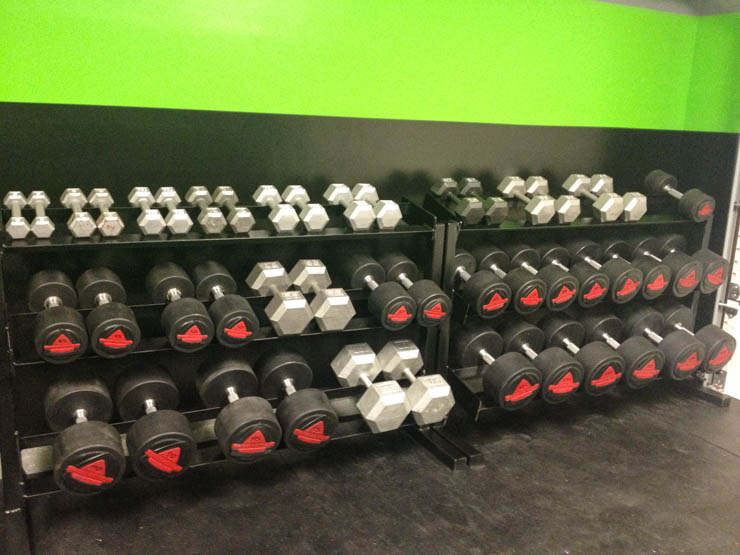 Decided to go ahead and upgrade my dumbbells and racks. Went with urethane dumbbells and sold all of the old duplicates. These were a welcome upgrade.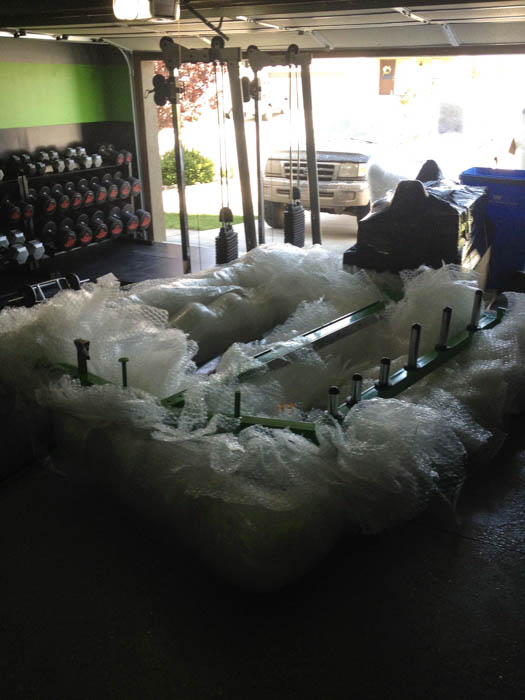 The greatest day of all! The new equipment was delivered, and it is glorious! Received 5 pallets and 2 huge uprights from Fedex Freight. Took 8 hours to unwrap, unpack, and move into position. Best packing job I've ever seen.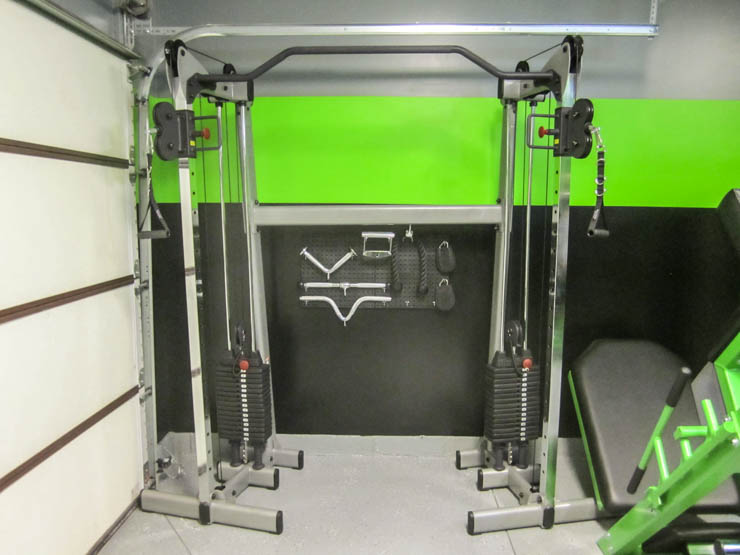 It's all been set up, and now I can go through the specific equipment. This Body Solid Functional Trainer was bought on Craigslist for $400. The pegboard in the background was purchased from Home Depot.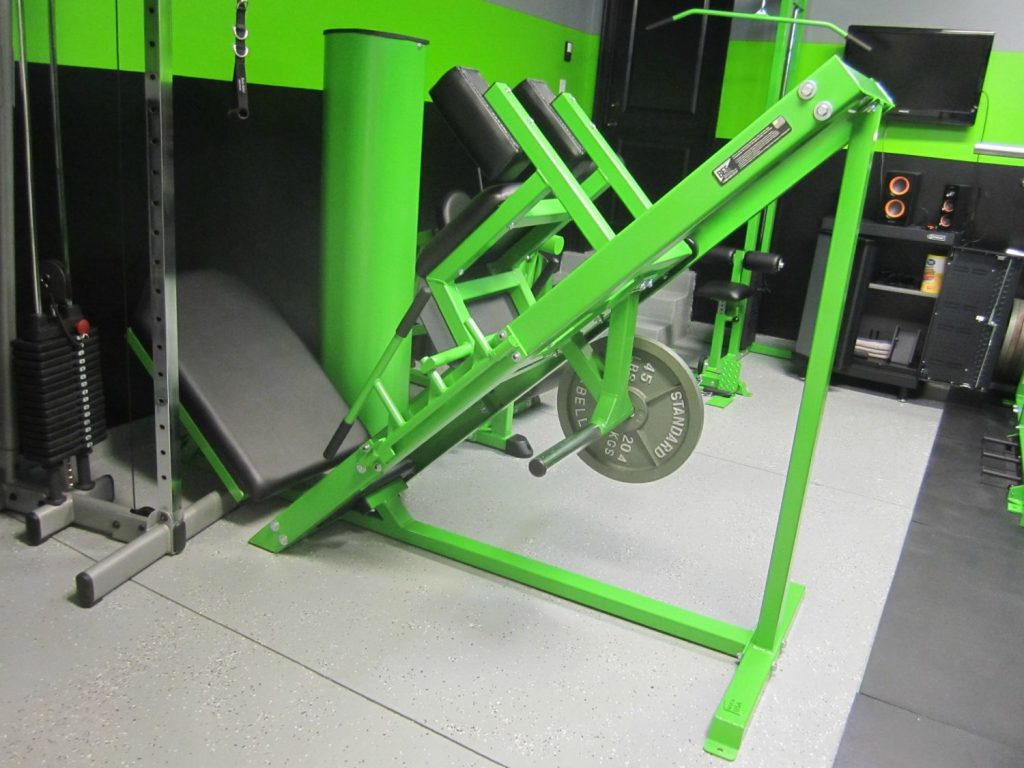 This is a Hack Squat and Leg Press all in one. The pad of the leg press can be removed and doubles as a hack squat machine. As you can see, everything is custom painted lime green. We paid a little extra for the custom color to match the rest of our gym, but I think it was worth it.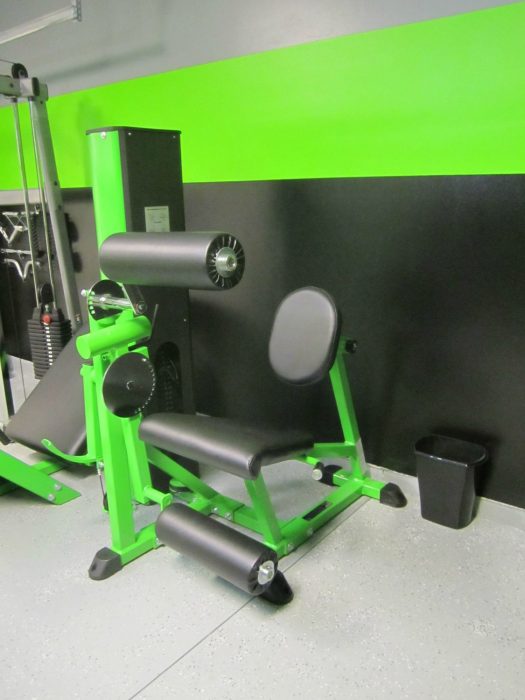 This is a Leg Extension and Leg Curl all in one machine. I wasn't sure how much I would like it, but its ergonomics are excellent. As good as any I've used in a commercial gym.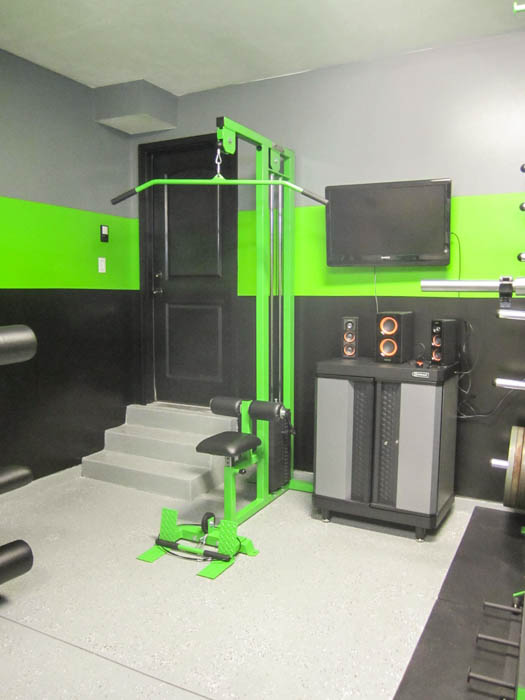 Decided to go with a Lat Pulldown that includes a low row station as well for more versatility. You can also see the TV and stereo station to it's right.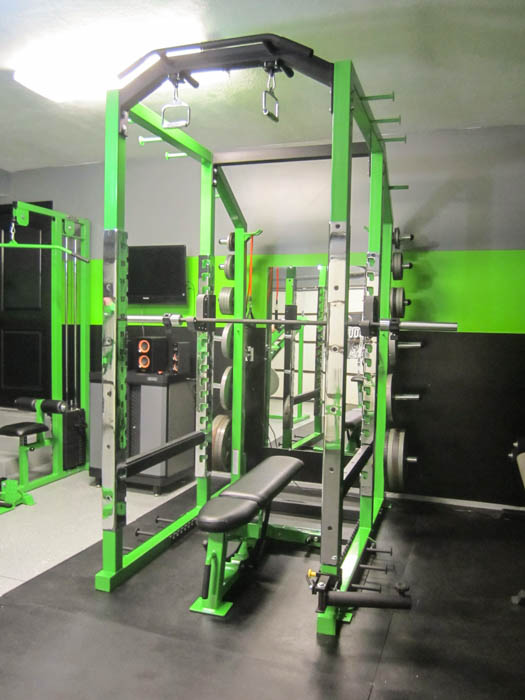 The centerpiece of the entire gym; the Squat Rack! You can also see the adjustable bench. The rack is called a D1 Rack, and the bench is the D1 Bench, both from Bigger, Faster, Stronger. This is heavy duty stuff. Also decided to go all out and purchased the landmine, dip, pull up, and rope attachments as well.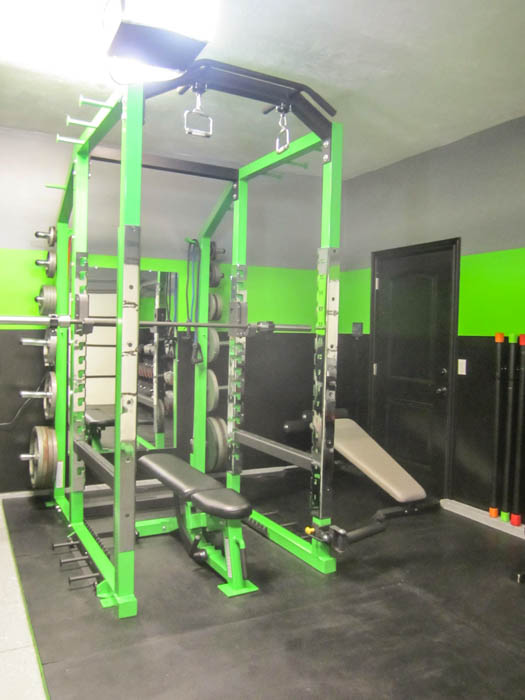 Here's another angle along with where the mirror was installed. It's monstrous, but you know it's not going anywhere.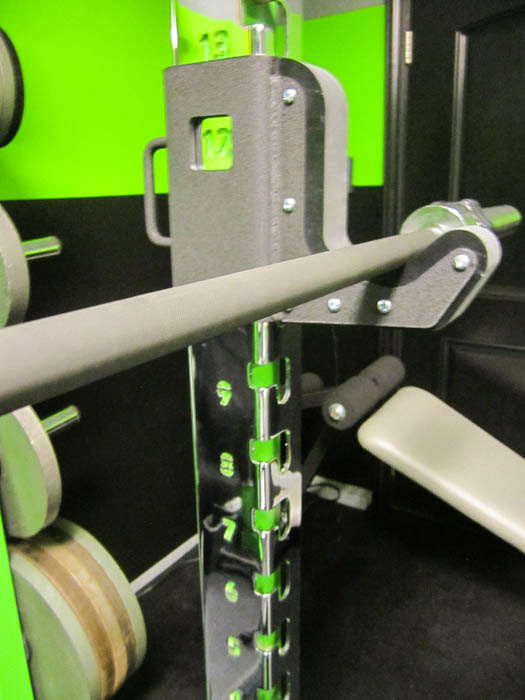 Close-up of one of the most heavy duty J-Cups ever built. You can also see the OB-86 Cap Barbell.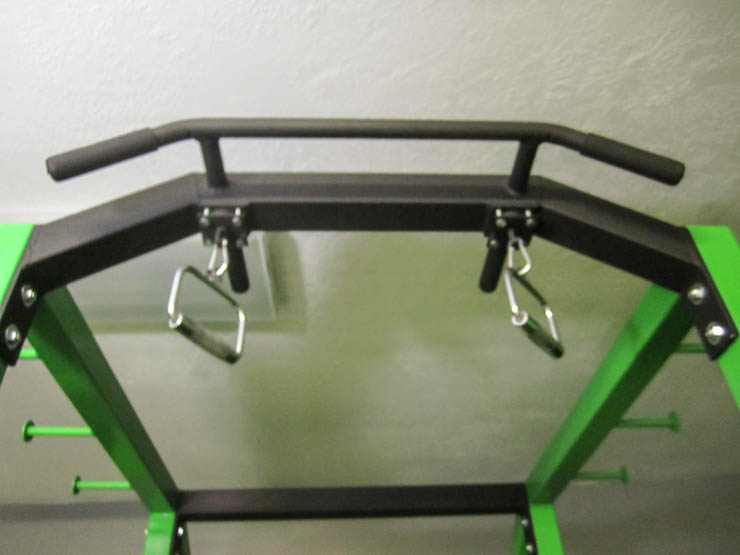 Here's a closeup of the Pull-up attachments. You can do just about any pull-up variation imaginable.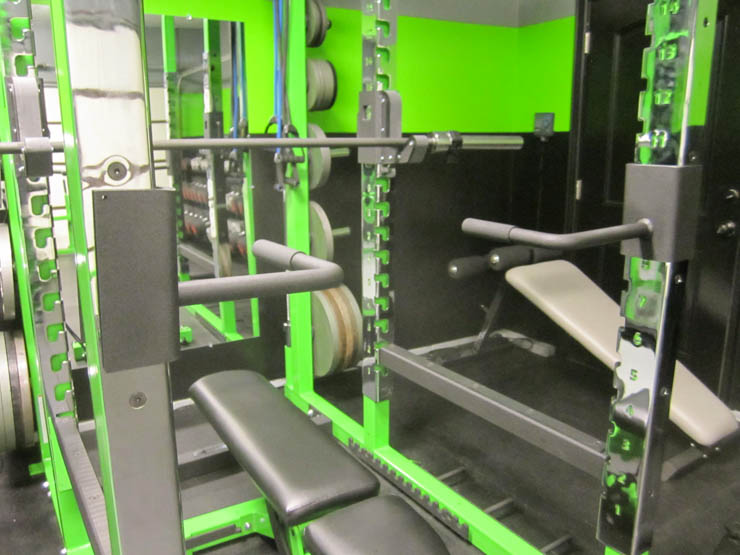 I also bought the dip attachment. They go into the uprights just like the J-Hooks.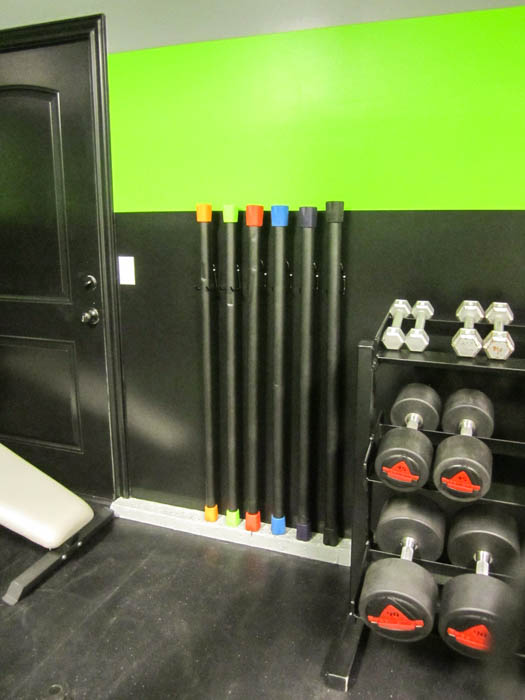 Happy wife, happy life. 🙂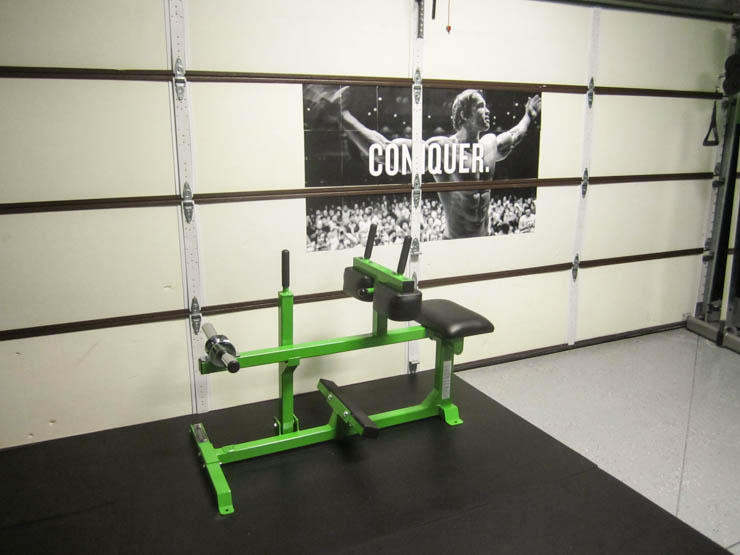 Here's the seated calf machine. There's also Arnold Schwarzenegger looking over every rep and set.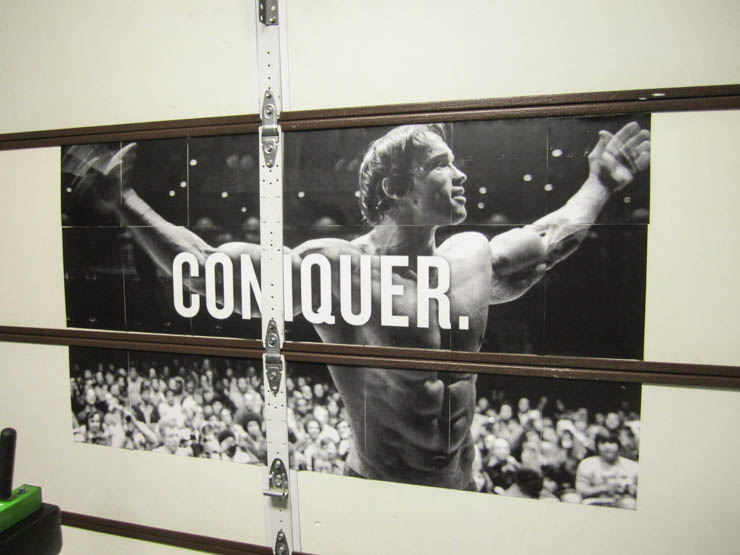 Arnold is always watching.
This is a raster based photo, it turned out okay but not perfect. Originally it was going to be 120 pages, but that attempt failed due to the seams of the garage.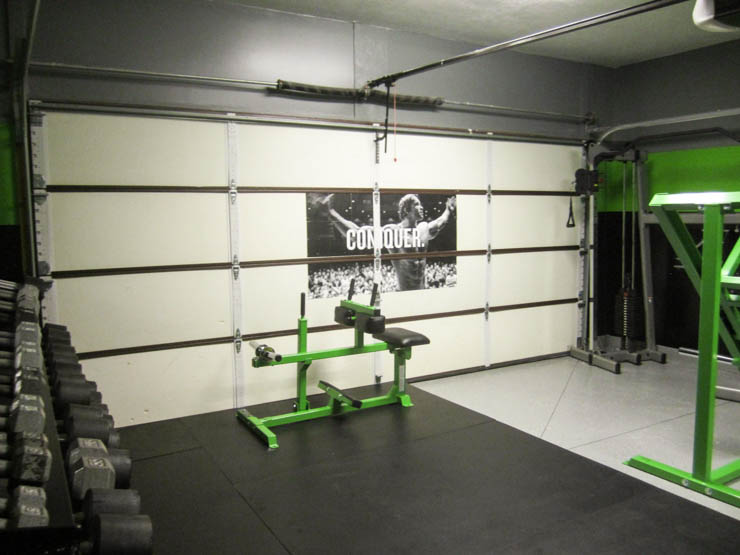 Here's a zoomed out view of the garage door wall.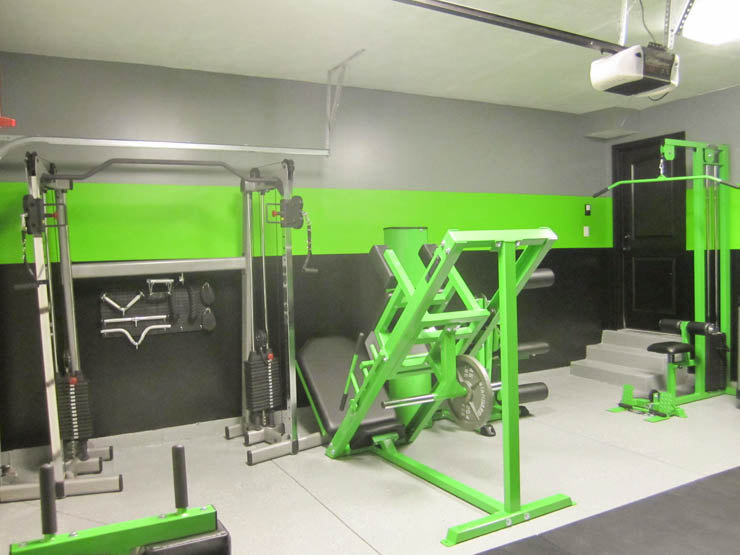 Zoomed out view of the left wall.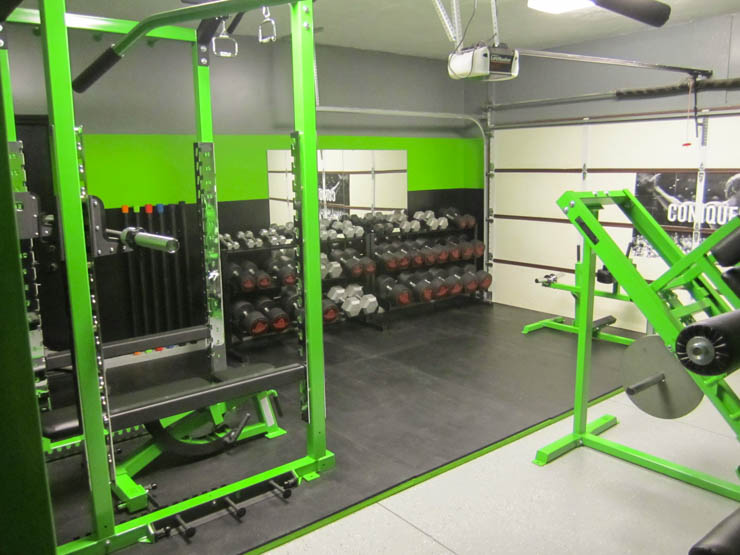 Zoomed out view of the right wall.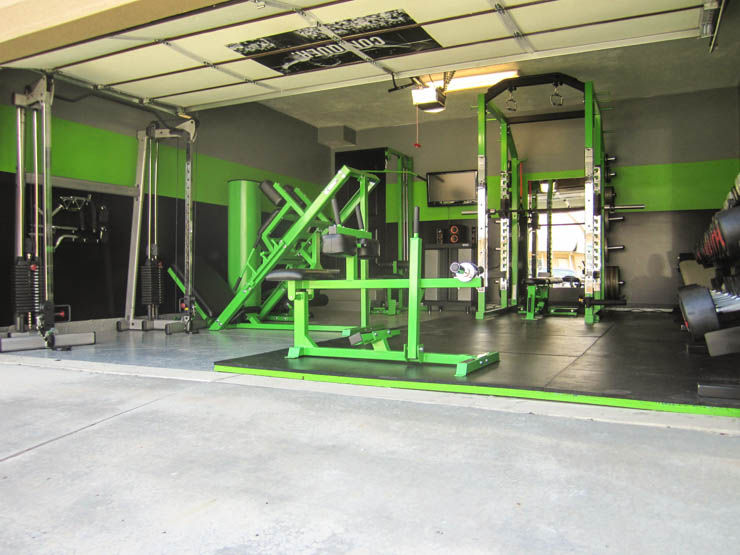 Street parking for life.
The garage gym in all its glory!
Final Thoughts
I'd like to thank Collin Steele for allowing me to post his build photos. This gym is one of the most well done I've seen, and although it probably cost a pretty penny, it's sure to be around for some time.
I think the lime green was a great idea and makes it stand out quite a bit from the average powder-coated black gym that most have.
If this doesn't motivate you to build a garage gym, I don't know what will!