We test and review fitness products based on an independent, multi-point methodology. If you use our links to purchase something, we may earn a commission. Read our disclosures.
My father was what many people would call "thrifty," and for as long as I can remember, he was teaching me to make the most of what I had. So if I have a stack of Olympic weight plates lying around my home gym, why would I buy more weights? Why wouldn't I just use the weight I already paid money for?
With the Gungnir Dumbler, you can do just that! In our Gungnir Dumbler review, we'll let you know why this is a perfect fit for those like my old man who want to get their money's worth out of what they already own, and those who want a heavy-duty piece of home gym equipment.
We've Tested Every Type of Adjustable Dumbbell
Some people have a fixed dumbbell set, others a pair of adjustable dumbbells, and then there's those rare few of us who could have an adjustable dumbbell rack. We've used and tested every type of adjustable dumbbell there is, including multiple loadable dumbbells, in an effort to give you our honest and thorough thoughts on a particular product, and how it stacks up to the competition.
Our testers include high-caliber athletes, CrossFit coaches, and certified personal trainers who have experience with using dumbbells to help themselves and others reach their fitness goals.
Collars Included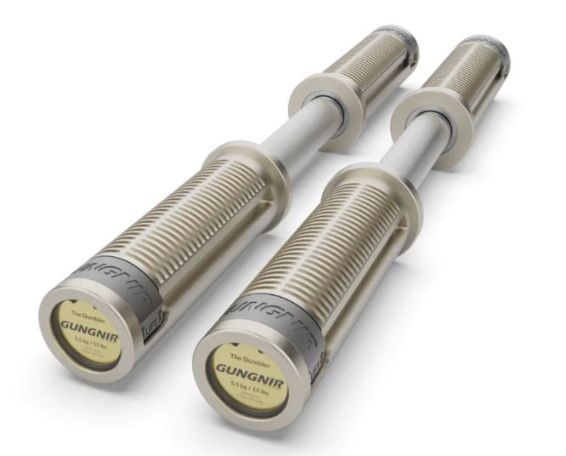 Gungnir Dumbler Loadable Dumbbell

The Gungnir Dumbler Loadable Dumbbell helps you save money in two ways. The first is that you can use Olympic weight plates you already own to get them to your desired weight, and the second is they come with built-in collars to secure the weight. Hey, that's European engineering for you.The collars are the most secure we've ever seen, and they don't allow the plates to budge even a little bit. Traditional collars will be tight at first, but will loosen over time and cause some slop between the plates.Gungnir's loadable sleeve length aren't the longest, but depending on how thick your plates are you can go up to 264 pounds per hand, which is more than enough for most home gym owners.
A Quick Look at the Gungnir Dumbler
At first glance, the Gungnir Dumbler looks like every other loadable dumbbell on the market…but it has a trick up its sleeve (literally).
There's a built-in titanium collar that slides on the sleeve's ridges to keep the weight plates in place, and let us tell you: These things are sturdy. After stepping on and tossing this dumbbell around with a good bit of weight on it, there was zero movement of the collar or plates. The same built-in collar can be found on Gungnir's Allrounder Barbell (if you want the Olympic bar and dumbbells, you can get a combo pack called the Bundler).
Traditional barbell collars will move around over time, causing plates to move during a lift.
Due to the shorter sleeve length of 4.25 inches, the Gungnir Dumbler works best with thinner weight plates, but any plates you have will be fine. Each handle is capable of holding up to 264 pounds, depending on the size of your weight plates.
Our Tips
Plan on using these for dumbbell presses? We've seen some people 3D print end caps to make them a little more comfortable (many public libraries now have 3D printers)
Pros:
Built-in collars eliminate any slop between weight plates
Works with just about any Olympic weight plate, and it's easy to load and unload
264-pound weight capacity per hand
Lifetime warranty
Cons:
End caps are uncomfortable when placed on legs
Expensive at $499
Sleeves are a bit shorter than other loadable dumbbells
Video Review
Is the Gungnir Dumbler Worth It?
Why on Earth would you pay $499 for a pair of handles (by comparison, loadable dumbbells from Titan are just $99)? Well, there's a few reasons. The main one is that you can use the weight plates you bought for your power rack to achieve your target weight.
Plus, you can go much heavier than most adjustable dumbbells, including those with extender sets. The built-in collars are the most secure we've ever seen, and you'll never have to worry about the plates moving.
But would we recommend it for most home gym owners? At the end of the day, no. There are far more budget-friendly loadable dumbbells that perform just as well. If budget isn't a concern for you and you just want the best of the best, then go for the Dumbler.
Great for:
People looking to make the most of gym equipment they already own
Anyone who wants to lift very heavy weights
Those who like good knurling on their dumbbells
Not recommended for:
Anyone on a budget
Those who don't own Olympic weight plates, or those with thick plates
Home gym owners looking for a high-value dumbbell
Gungnir Dumbler Specs
| | |
| --- | --- |
| Total length | 18.42" |
| Loadable sleeve length | 4.25" |
| Sleeve diameter | 2" |
| Compatible with | Olympic weight plates |
| Weight | 12 lbs (per handle) |
| Grip diameter | 28 mm |
| Handle | Stainless steel |
| Sleeve coating | Electroless nickel |
| Slidelocks | Titanium |
| Bushing/bearing | Bronze bushing |
| Warranty | Lifetime |
Lifting With the Gungnir Dumbler
The Gungnir Dumbler, or any other loadable dumbbell for that matter, can be used to perform any move you'd do with a fixed dumbbell, such as curls, tricep extensions, Romanian deadlifts, lateral raises, rows, shoulder presses, and dumbbell bench presses.
And when it comes to 95 percent of all movements you'd use these for, the Dumbler works great. Where there's a slight problem—and we do mean slight—is any time you need to rest the dumbbell on your leg before kicking it up for any kind of press.
The end caps aren't flat like a traditional dumbbell, which means the weight isn't distributed as evenly. This could cause some discomfort on the leg before you kick it up to start the movement.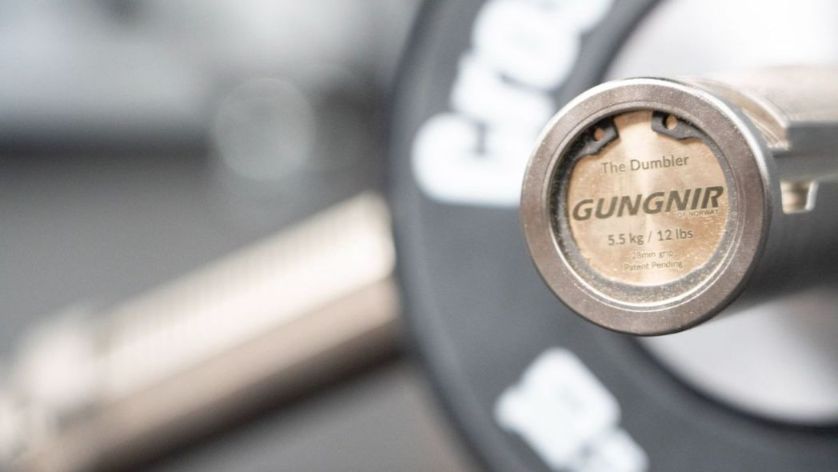 Is this the biggest problem in the world? No, and many may not even notice it in use. If you find this to be an issue, many people have 3D printed end caps that can be placed on either end of the handle's sleeves. This creates a flat surface to put on your leg, which also solves the weight distribution problem.
(Many public libraries and office supplies stores have started offering 3D printing services. We recommend Googling "3D printing services near me" to see if you can find one that's convenient for you).
One other minor issue is the sleeves often hit against each other in use, especially during something like an Arnold press, due to the length of the handles. It's nothing major, and the Dumbler is made of such high-quality materials that we're not worried about it scratching. It's just something to be aware of.
Each handle has a weight capacity of 264 pounds (it's an odd number because Gungnir's a European company, so they're working with kilograms), which is more than enough for 99 percent of home gym owners. That number, though, could change depending on what type of plates you have (more on that later).
Built-in Collars
Onto the main event: The Gungnir Dumbler's built-in collar, which can also be found on the Allrounder Barbell. Man, this thing is freaking sweet.
The collar is made of titanium, meaning there's no concern about its durability, and works with magnets built into the sleeves. You simply lift it up, move it to where you need it to be, and it clicks into place (you'll get a nice ASMR-worthy sound each time you move it, too).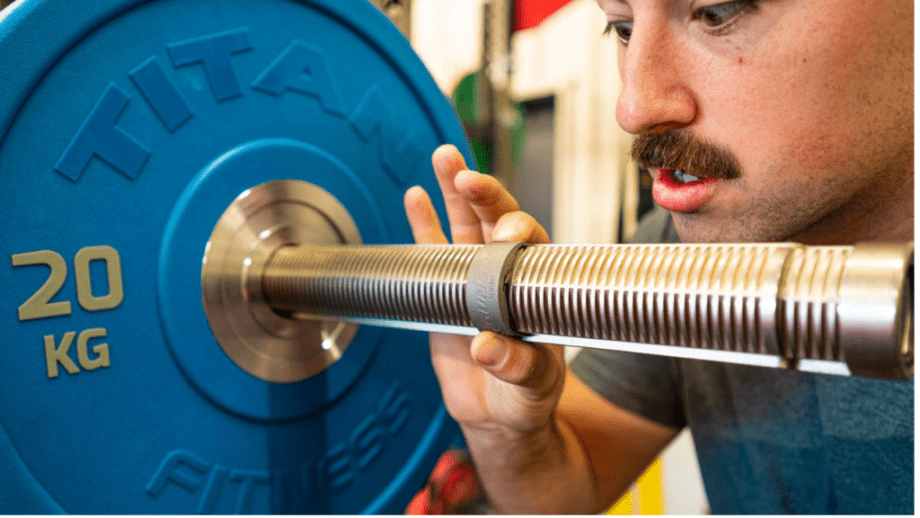 We have this thing called the "Coop test," in which our fearless leader places an Olympic barbell collar on a barbell or loadable dumbbell and he goes bananas on it. He'll do everything from jumping on top of the plates to dropping bars from ridiculous heights to see how well they hold the plates in place.
Most barbell collars will start off strong, but after continuous use, the collars will end up sliding and cause some spacing between the plates. We've seen this happen with just about every barbell collar, from the cheapest ones all the way to the Eleiko Öppen Collars.
Gungnir, on the other hand, has developed a collar that will never budge. This thing has undergone countless Coop tests, and it performs as well today as it did on Day One.
The other advantage of these collars is they allow for more plates. Traditional collars take up a good amount of space on the sleeve, limiting how much weight you can put on. Not a problem with the Gungnir Dumbler (isn't that name just fun to say?)
Handle and Knurling
The Gungnir Dumbler uses the same knurling as the Allrounder, which is a medium knurl. It's about a medium knurl, which is about what you'd want on a dumbbell (you wouldn't want anything too sharp, as that would hurt your hands after just a few reps).

The handle itself is 28 millimeters thick, which is about on par for a loadable dumbbell. If you find you need a little extra grip, the handle takes chalk really well.
Sleeve Length
The Gungnir Dumbler has a loadable sleeve length of 4.25 inches, which is one of the shorter lengths for a loadable dumbbell. The Rogue DB-15 Loadable Dumbbell has 6.75 inches of real estate, and the Titan loadable dumbbell has 6.5 inches.
So even though Gungnir boasts a 264-pound weight capacity for each handle, you may not be able to even get that heavy depending on how thick your plates are. Granted, not many people need a 264-pound dumbbell in the first place, so most home gym owners will probably be able to work with the sleeve length offered by Gungnir.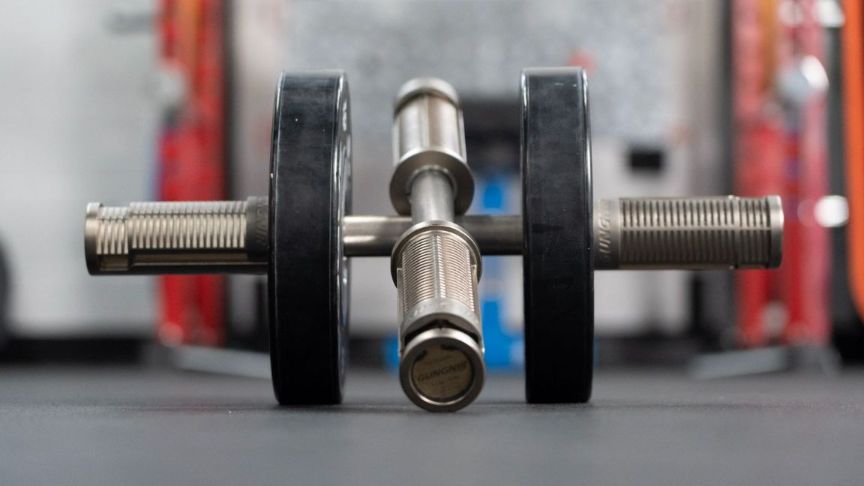 The sleeves themselves are made with electroless nickel, which is corrosion- and scratch-resistant. These dumbbells will last you a long time.
Durability and Construction
Gungnir spared no expense in building their Dumbler. The handle is stainless steel, the sleeves are coated with electroless nickel, and the rotation system boasts bronze bushings. In English, this loadable dumbbell is made with high-quality materials that will stand up to just about anything you put it through and will be protected from corrosion and rust for many years.
Gungnir Dumbler vs Rogue DB-15 Loadable Dumbbell
Better Value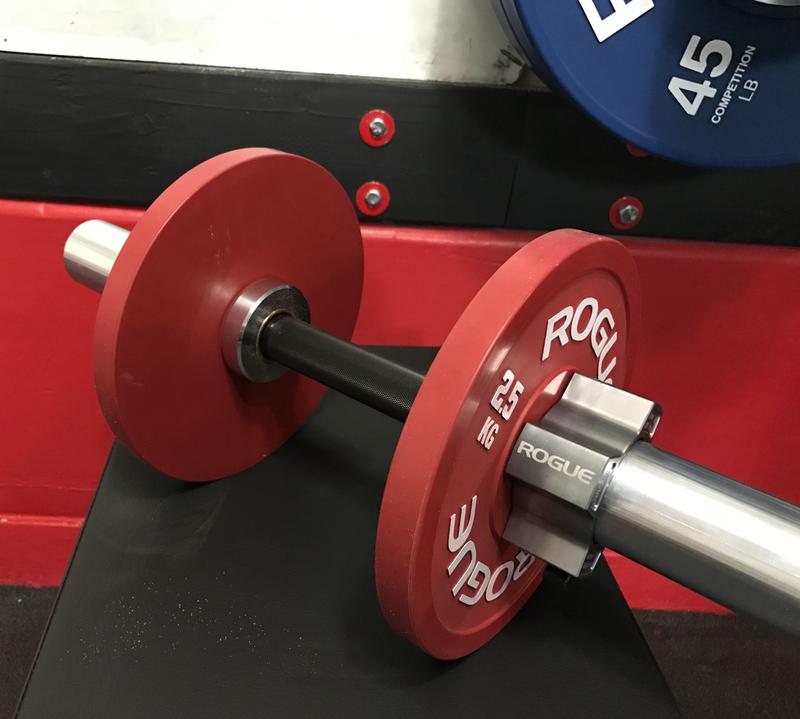 Rogue Loadable Dumbbells

Rogue's Loadable Dumbbells condense the key design and manufacturing elements of our full-size Ohio Bar into a compact, versatile new format. As an alternative to storing a complete set of traditional dumbbells in your gym, the DB-10 and DB-15 Dumbbell offer loadable sleeve lengths of 3.625" and 6.75" respectively–enabling athletes to make precision, custom weight adjustments in their dumbbell training using any standard Olympic plates as the increments.Using the same plates you'd load on a standard barbell, the DB-10 and DB-15 allow athletes to easily adjust the total weight of the dumbbell as they go through different movements and/or when they ramp up their training. This also makes the Rogue Loadable Dumbbell uniquely optimized for a larger gym, where multiple athletes need to be able to quickly customize the dumbbell to their own needs. One tool. All-purpose.The knurled handle carries over the same original pattern we developed for the Rogue Ohio Bar. Months of testing and fine-tuning went into precision-machining a firm but non-abrasive knurl that could maximize both performance and comfort. Please Note: The knurl pattern is the same on all versions of the Loadable Dumbbell. However, because the stainless steel option holds up without plating, the knurl will more accurately maintain its originally designed feel.Manufactured in Columbus, Ohio, the DB-10 and DB-15 really are built like miniaturized Rogue barbells, starting with a 28.5MM diameter, 190,000 PSI tensile strength steel shaft. The sleeves are machined from a single piece with a bright zinc finish, and both versions include quality bronze bushings and a snap ring sleeve design just like our Ohio Bars.
Right off the bat, most loadable dumbbells are going to be a better value than the Gungnir Dumbler when it comes to price. The Dumbler is for people who want the best-of-the-best, and are willing to pay for premium materials.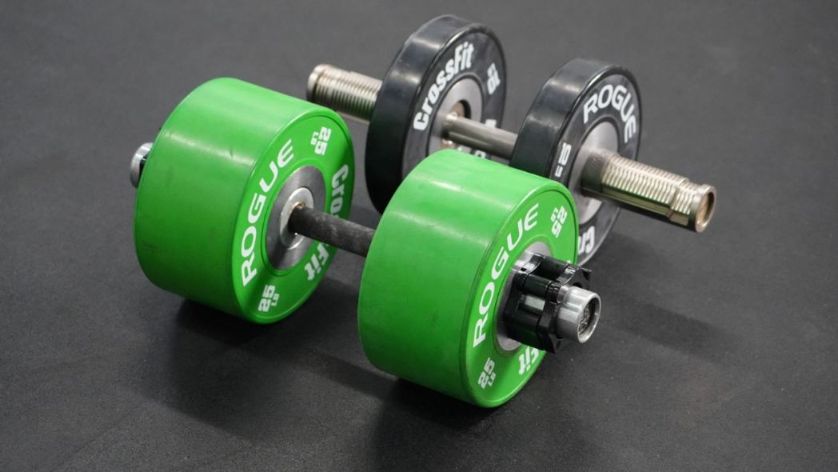 The Rogue DB-15 Loadable Dumbbell is another great choice, and it's one of our favorite adjustable dumbbells (adjustable is a relative term here). It's made with durable materials that may not be quite as premium as Gungnir's, but it's still heavy-duty and should last you a lifetime.
Both have fairly similar specs, with the notable exception of the sleeve length. Rogue gives you 6.75 inches of sleeve length to load plates onto it, compared to Gungnir's 4.25 inches.
Keep in mind you'll also have to use traditional collars with Rogue's, which will take up a good amount of space on the sleeve.
At $300 per pair, excluding shipping, Rogue offers a better value for most home gym owners. Are the loadable dumbbells as nice as the Dumbler? No. Will they do everything you need them to, and do it really well? Yes.
| | | |
| --- | --- | --- |
| Loadable dumbbell | Gungnir Dumbler | Rogue DB-15 Loadable Dumbbell |
| Price | $499 | $300 per pair |
| Loadable sleeve length | 4.25" | 6.75" |
| Diameter | 28 mm | 28.5 mm |
| Compatible with | Olympic weight plates | Olympic weight plates |
| Weight | 12 lbs | 15 lbs |
Gungnir Dumbler vs Titan Fitness Loadable Dumbbell
Budget Option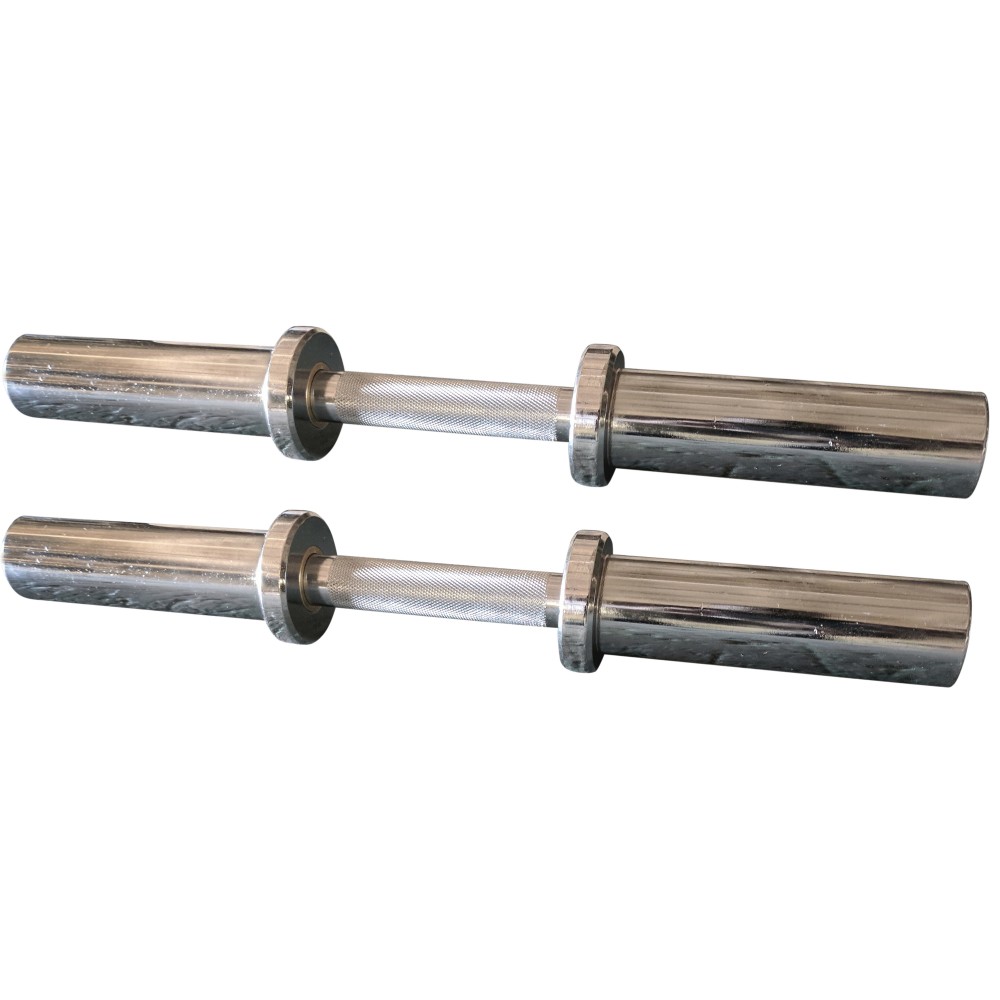 Titan Loadable Olympic Dumbbell Handles

The Titan Loadable Dumbbell Handles offer a total-body workout thanks to their adjustability. They help you target chest, ab, arm, pectoral, and back muscles. You can also use them with lunges and squats to target your hamstrings, quads, and glutes. They are good for abdominal workouts as well when doing bends and twists to tone your obliques. You can do bent-over rows, hammer curls, bicep curls, deadlifts, kickbacks, chest flies, skull crushers, and bench presses as you exercise with these dumbbells.These dumbbells are made of durable, high-quality steel material. Their knurled handle prevents the weights from slipping out of your hand. These handles have 6.5 inches of loadable sleeve on each end to allow different weight options. The sleeve diameter is 1.9 inches, which means they are compatible with Olympic plates. 
The Titan Fitness Loadable Dumbbell is the best budget-friendly Olympic loadable dumbbell.
You get 6.5 inches of loadable sleeve length, more than Gungnir's, and a completely knurled handle (the knurl is actually pretty nice for the price). While they'll perform well in the gym, don't expect a lifetime of corrosion or scratch resistance from these. They will stay in good condition for many years, but there will come a time when you'll have to replace them.
| | | |
| --- | --- | --- |
| Loadable dumbbell | Gungnir Dumbler | Titan Fitness Loadable Dumbbell |
| Price | $499 | $99 |
| Loadable sleeve length | 4.25" | 6.5" |
| Diameter | 28 mm | 28 mm |
| Compatible with | Olympic weight plates | Olympic weight plates |
| Weight | 12 lbs | 12.1 lbs |
Gungnir Dumbler vs Pepin Adjustable Dumbbell
A Little Different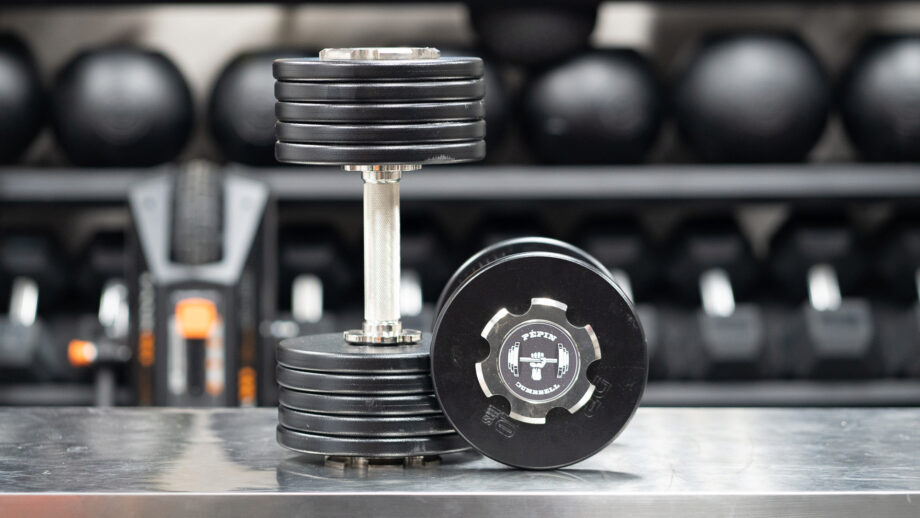 Alright, so this is a bit of an apples to oranges situation, but we're doing it anyway. The Pepin Adjustable Dumbbell is like other loadable options, but it works with one-inch plates instead of two-inch plates, which is what you use with the Gungnir Dumbler.
So ultimately, which one you go for depends on what type of plates you have in your home gym. Most people are going to have two-inch plates, as that's what's used on a barbell, but I could see how apartment owners who don't have room for a barbell could benefit from Pepin over Gungnir (speaking as a former city dweller myself).
The Pepin handles start at around $414 (in Canadian currency), which is about $325 in American currency. We think Pepin would only be worth it if you have a lot of one-inch plates around your home gym, but most people are going to have two-inch plates.
| | | |
| --- | --- | --- |
| Loadable dumbbell | Gungnir Dumbler | Pepin Adjustable Dumbbell |
| Price | $499 | $414 (Canadian) |
| Loadable sleeve length | 4.25" | N/A (120 lb weight capacity) |
| Diameter | 28 mm | 34.5 mm |
| Compatible with | Olympic weight plates | 1-inch weight plates |
| Weight | 12 lbs | N/A |
Other Loadable Dumbbells
Kroc Loadable Dumbbell: Professional powerlifter and bodybuilder Janae Marie Kroc was the inspiration behind this loadable dumbbell we haven't had the pleasure to use yet. The "Kroc" version of these dumbbells come with 10.5 inches of loadable sleeve length, and because it's made by the masterminds at Kabuki Strength, we have no concerns about its functionality.
Ironmaster Quick-Lock Adjustable Dumbbells: These adjustable dumbbells are great, but they use their own plates that can be difficult to put on and off. If you're just starting your home gym, these are a good choice but if you already own weight plates we think any of the other loadable dumbbells are a better option.
Read our full Ironmaster Quick-Lock Adjustable Dumbbell review for more information.
Loadable Dumbbells vs Adjustable Dumbbells
So, why would someone choose a loadable dumbbell over a set of adjustable dumbbells? Or vice versa?
The biggest difference, obviously, is how the weight is loaded onto the handle. With adjustable dumbbells, the weight stacks are built into the dumbbell itself and you either have to turn a handle or use a pin to select the weight you want at a specific time.
Loadable dumbbells involve…well, loading weight plates on the bar to make it heavier.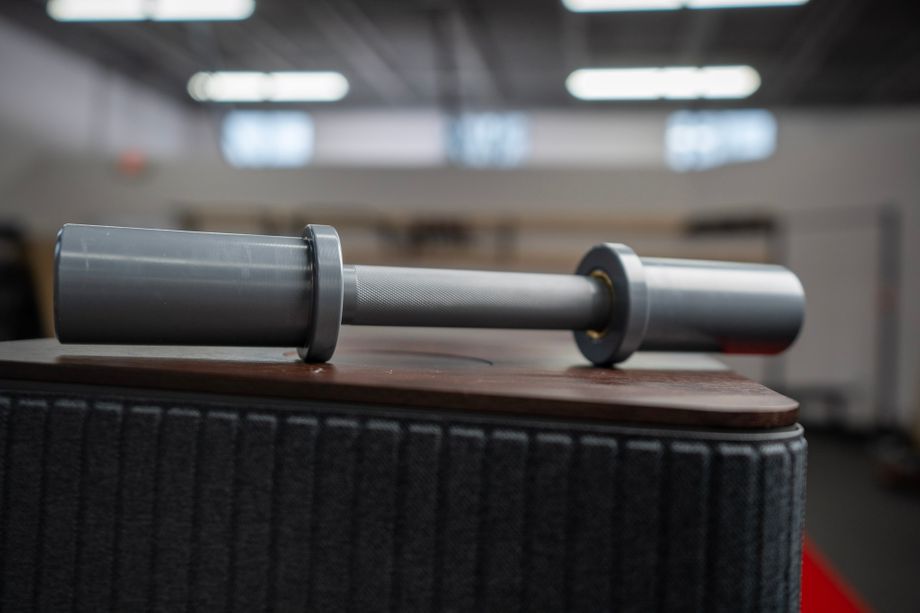 So how does this affect training? It all comes down to progressive overload, or the act of increasing the weight or volume of an exercise to make a trainee stronger or more muscular. Let's focus on increasing the weight for now.
Let's pretend your shoulder press PR is 50 pounds, but you want to go heavier. Depending on what type of adjustable dumbbell you have, you could go anywhere from 2.5 to 10 pounds heavier, but that increment varies greatly from brand to brand.
A loadable dumbbell allows you to do what's known as micro-loading, and no, that's not the same thing as what you used to do with your college roommate. Micro-loading is adding very small amounts of weight to a lift in an effort to increase your overall max over a long period of time.
In other words, you can add 2.5 pounds to a lift every week or so, and like pennies in your piggy bank, you'll see how much that small change adds up over time. You just have to be patient.
Loadable dumbbells also tend to be more durable than adjustable dumbbells, which often are made with lots of plastic parts that can crack if dropped repeatedly.
Finally, adjustable dumbbells just can't go quite as heavy as loadable dumbbells. Even those at the same price point as the Gungnir Dumbler max out at around 100 pounds, whereas many loadable dumbbells can go well above 200 pounds per hand.
That doesn't mean there aren't many situations where adjustable dumbbells are the better pick. Apartment owners, college students, or anyone else without access to weight plates are a prime audience for adjustable dumbbells, as is anyone working in compact spaces (you only have to store two dumbbells, instead of two handles and a stack of plates).
Adjustable dumbbells are also a good choice if you share your workout space and don't have enough plates to go around. Unless you and your live-in gym partner workout at separate times, it might be a challenge to share the plates you have on hand if there's a limited supply.
RELATED: Best Dumbbell Workouts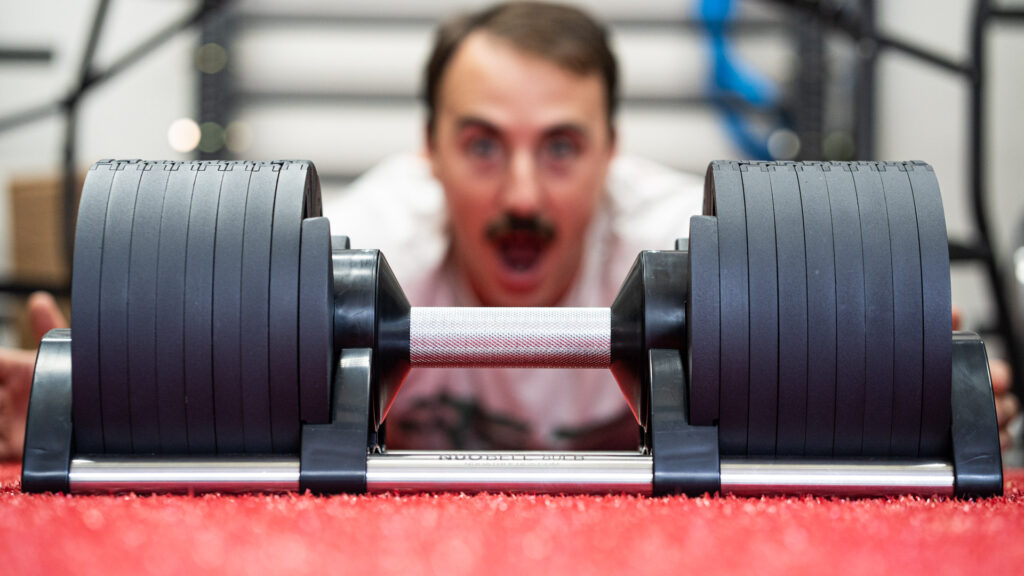 And if you're like our globe-trotting coworker Amanda, who brought a pair of Powerblock adjustable dumbbells on her cross-country road trip, adjustable dumbbells are also probably the better choice. Can you imagine driving around while a bunch of weight plates clang together in the trunk? We'd rather listen to an endless loop of "99 Bottles of Beer on the Wall."
Ordering and Assembling the Gungnir Dumbler
Although Gungnir is an international company, there should be no issue ordering and receiving your Gungnir Dumbler. When you get to the website, gungnirofnorway.com, you'll be asked if you're a citizen of Norway or the rest of the world (including America).
The Dumbler is delivered in about a week, and arrives pre-assembled.
If you have any questions about your order, Gungnir can be reached via its website, email, or social media.
Financing, Warranty, Returns
There are no financing options available for the Gungnir Dumbler.
Gungnir offers a lifetime warranty on the Dumbler, so long as it has not been misused in any way (read: Don't do anything you see us doing on our YouTube channel).
You have 14 days from the date of delivery to return the Gungnir Dumbler, but your request must be approved by a customer service representative first.
Customer Reviews
The Gungnir Dumbler only has 5-star reviews on its site—it's not available on Amazon or any other third-party site—with every customer raving about the quality of the loadable dumbbell.

Final Verdict of Our Gungnir Dumbler Review
If the Gungnir Dumbler were a little more budget-friendly, it'd be our go-to adjustable dumbbell choice for just about every home gym owner. You simply won't find the same level of security that the built-in collars offer, they can hold an impressive amount of weight, and they feel really good in the hand.
The two big downsides are the end caps, but a little ingenuity can help solve that problem, and the shorter sleeve length. That's really only a problem if you own very thick weight plates, but we think most people will be OK with what they have.
If budget isn't a concern for you and you just want the best loadable dumbbell out there, the Gungnir Dumbler is it. If you're an everyday home gym owner looking for the best bang for your buck, look elsewhere.
Gungnir Dumbler Rating
Gungnir Dumbler
Our Gungnir Dumbler review will let you know why this might be the last adjustable dumbbell you'd ever need to buy for your home gym.
Product Brand: Gungnir
Product Currency: USD
Product Price: 499
Product In-Stock: InStock
Gungnir Dumbler FAQs
What is a loadable dumbbell? 
A loadable dumbbell is essentially a mini barbell, in that it has two loadable sleeves and a knurled handle. You can use any two-inch Olympic weight plates you already own to make the loadable dumbbell as heavy as you want.
How much does a loadable dumbbell weigh?
It depends on the brand, but the Gungnir Dumbler weighs 12 pounds. The Rogue Loadable Dumbbell DB-10 weighs 10 pounds, and the DB-15 weighs 15 pounds. 
Are Olympic dumbbell handles good?
They're not just good, they're great! They can hold very heavy weights (most can hold up to 150 pounds per hand), come with pretty good knurling, and can be used with weight plates already laying around your home gym.