We test and review fitness products based on an independent, multi-point methodology. If you use our links to purchase something, we may earn a commission. Read our disclosures.
If you're looking to add a set of adjustable dumbbells to your home gym that look and feel like traditional dumbbells, then the Ironmaster Quick-Lock Adjustable Dumbbells are some of the best adjustable dumbbells for you.
There are other adjustable dumbbells we prefer for various purposes, such as PowerBlocks, however, the ability to go very heavy and have the look and feel of fixed dumbbells is unique to Ironmasters. After testing and reviewing Ironmasters over the past couple of years, we do recommend them, although we do have some caveats.
Tremendous Value Dumbbells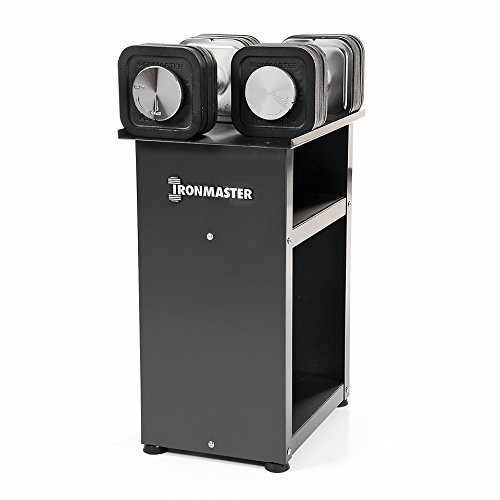 Ironmaster Quick-Lock Adjustable Dumbbells
The Quick-Lock Dumbbell system is the latest iteration of Ironmaster's adjustable dumbbells. The dumbbells can be quickly adjusted in under 15 seconds due to the Ironmaster quick-lock design. The dumbbells adjustable weights range from 5 to 75 pounds. With your purchase of these dumbbells, you also get the stand for no extra charge. These give you a complete set of free weight dumbbells that feel like traditional dumbbells without restrictions, rattling, or safety concerns. This set includes two handles with four locking screws. Each weight has 24 5-pound plates and 4 2.5-pound plates. Included with purchase is a dumbbell stand. Since the handles are 5 pounds when empty and the locking screw is 2.5 pounds, the starting weight is 10 pounds for each dumbbell before you add plates. You can load up to 65 pounds of plates to each handle. You can also purchase an add-on kit that goes up to 120 pounds for each dumbbell. The dimensions are 6.5 x 6.5 x 14.5 inches at the 75-pound size. The Quick-Lock design adjusts from 5 to 75 lbs in 2.5-lb increments They are constructed with welded steel and chrome-plated handles  The system has two adjustable dumbbells at 75 lbs each (150 lbs total) and a dumbbell stand  Space efficient design that takes up less than 2 sq. ft.  Limited lifetime warranty 
Why You Should Trust Us
I've tried pretty much every single adjustable dumbbell system on the market today, including the Bowflex SelectTech 552, Pepin Adjustable Dumbbells, and the MX Select Adjustable Dumbbells. When evaluating an adjustable dumbbell, I analyze the changing and locking mechanisms, if there are any particularly fragile parts, and the weight the dumbbells are capable of going up to. Like with any piece of home gym equipment, we're all looking for something slightly different, so I'm sure to highlight who each thing I test is best for and who should check out something else.
A Quick Look at the Ironmaster Quick-Lock Adjustable Dumbbells
Ironmaster Quick-Lock Adjustable Dumbbells are, like most adjustable dumbbell sets, often the better choice for a home gym in comparison to a full set of dumbbells, as they take up little space. They're affordable (though not the cheapest available) with a high maximum weight. They have a traditional dumbbell shape with knurled handles, are quite durable, have a very unique and useful Quick-Lock adjustment system, and are overall a great pair of adjustable dumbbells.
Coop's Tips:
The shape of these weights makes setting these on the floor safer than the traditional dumbbell. You won't generally need to worry about them rolling around.
I personally wouldn't recommend dropping these. The pin that secures the weights is solid, but can get looser over time the more you drop them.
If you pick up Ironmasters, I recommend adding their adjustable kettlebell handle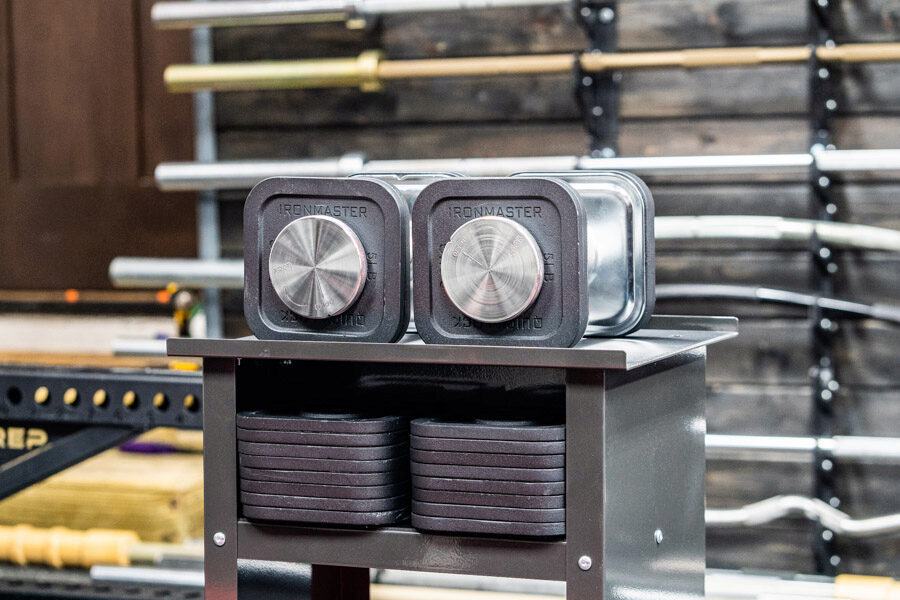 My Favorite Things:
More traditional dumbbell shape than most adjustable dumbbell options
Adjustable in 2.5-pound increments
Has the capability of getting very heavy
Comes with a lifetime guarantee
My Callouts:
The plates can be a bit of a hassle to get on and off
Stand that comes with the set is sub-par quality
Long handle can make some movements awkward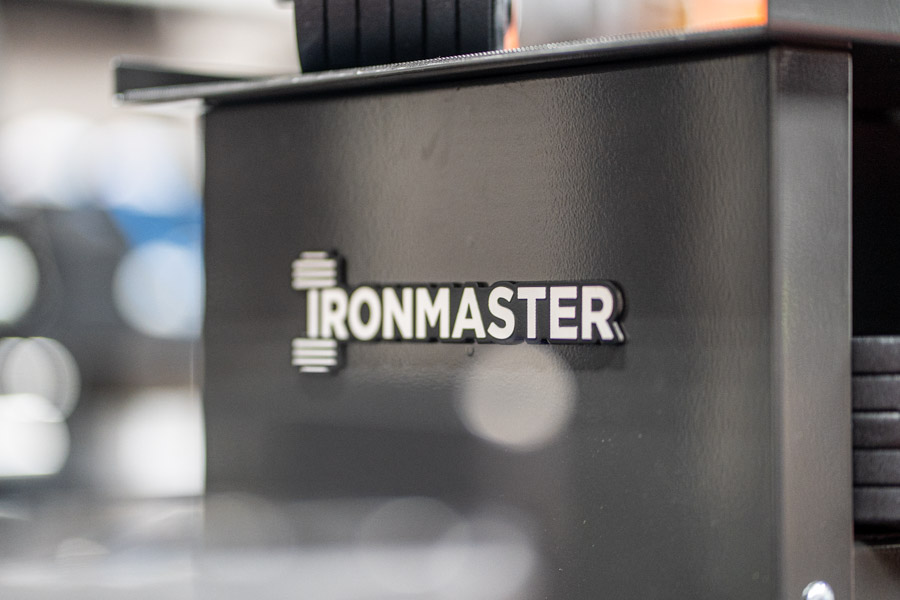 Are the Ironmaster Quick-Lock Adjustable Dumbbells Worth It?
Although we don't think Ironmasters are the best option for everyone, we do think they're the best for certain home gym owners. I say home gym owners because these are not a commercial option. Other adjustable dumbbell companies do make options for commercial applications, Ironmaster does not.
For those trying to improve their fitness at home, I do think these are a great piece of budget gym equipment.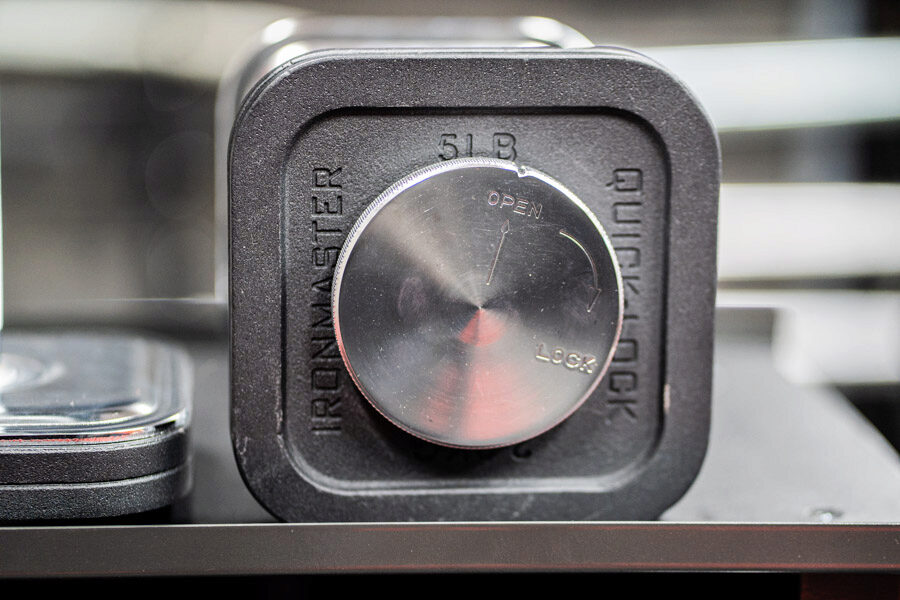 Great for:
Home gym and garage gym owners who don't plan on doing a lot of supersetting
Those who love movements like goblet squats and French presses
People who want the feeling of a traditional pair of dumbbells
Trainees that lift very heavy
Not recommended for:
Individuals who have small hands
People who want a more convenient weight change option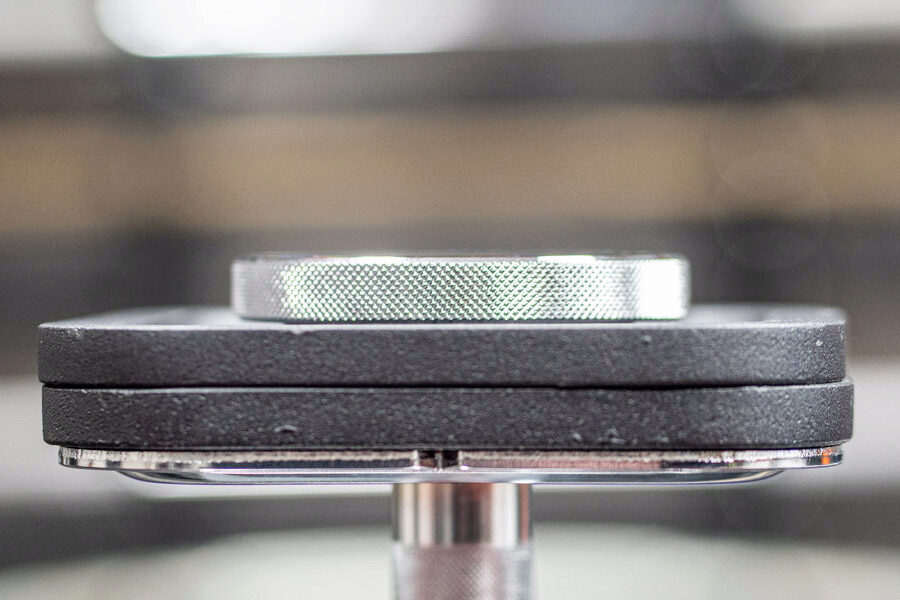 Ironmaster Quick-Lock Adjustable Dumbbells Specs
| | |
| --- | --- |
| Dimensions | 14.5 x 6.5 x 6.5 inches |
| Weight | 191 lbs |
| Handle Grip Diameter | 1.25″ |
| Grip Width Inside | 6.5″ |
| Add-On Kits Available | Up to 165 lbs |
| Increments | 2.5 lb increments |
| Materials Used | Steel, chrome, and iron |
| Warranty | Lifetime |
| Stand Dimensions | 14.5″ wide x 19″ deep x 26″ high |
| Labeled with | LBS and KGS |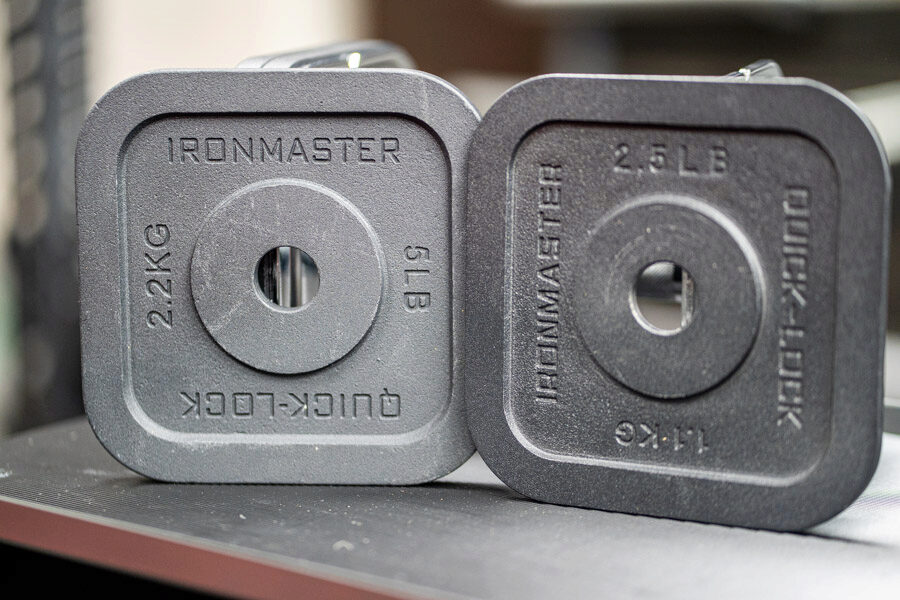 Using the Ironmaster Quick-Lock Adjustable Dumbbells
Since Ironmaster Adjustable Dumbbells are popular among those in the home gym community, similar to some of the best kettlebells out there, the brand has come out with various accessories such as kettlebell handles, stands, and other optional attachments which increase their versatility.
Although I still don't think they measure up to the PowerBlock Adjustable Dumbbells in every use case, after testing, reviewing, and using nearly all other options on the market, I can say that the Ironmaster Adjustable Dumbbells hold their own against their competitors.
Ironmaster Adjustable Dumbbells are dumbbells whose weight can be adjusted via their patented Quick-Lock design. Their weight can be increased in 2.5-pound increments, which is something that most other dumbbells, even adjustables are unable to do. As with other adjustable dumbbells, they pack away neatly so as to save precious space in a home gym.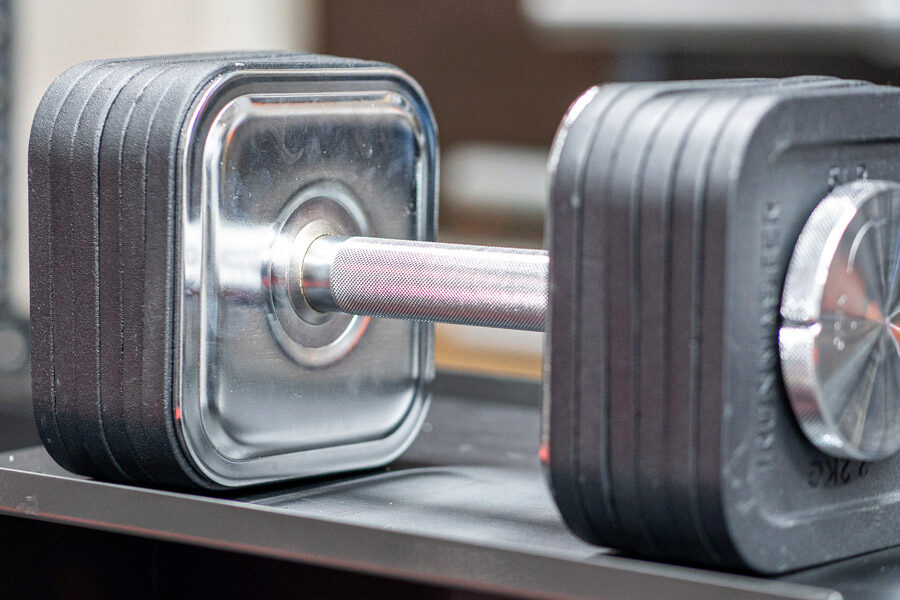 Weight Range
What sets these dumbbells apart is that they have a large weight range (5 to 75 pounds, with additional kits bringing the maximum up to 120 and 165 pounds) that comes in smaller-than-usual increments of 2.5 pounds. Those into strength-training will find this a better fit than some of the alternative options, as the maximum weight can reach pretty impressive amounts.
Dumbbells are an extremely versatile piece of equipment and being able to change the weight quickly without taking up a ton of space is paramount for anyone who trains in a home gym or garage gym. I've either used or owned every set of PowerBlocks that are out there (currently have four sets,) and other competitors like Bowflex and Ironmaster as well. We've gotten a lot of questions about the Ironmaster Adjustable Dumbbells as they're a competitor for PowerBlocks and one of the best options available for home gym owners trying to save space with their dumbbells.
I've used Ironmasters at various times over the past few years. I can say that their best feature is that, like all adjustable dumbbells, they take up such little room compared to a traditional set of dumbbells. However, these go up to 75 pounds of weight (not as much as PowerBlocks, but more on that later) and with the additional kit, all the way up to 165 pounds. That would be an insane amount of weight to ship as individual dumbbells (around 2,500 pounds) which would cost a fair sum of money. Adjustable dumbbells are really the best option for home gyms, although I have both in my garage gym. (Why? Because I can.)
Ironmaster Adjustable Dumbbells come with 2.5-pound increments, which is a nice little thoughtful touch by Ironmaster, which has taken into consideration that sometimes 5-pound jumps are too much. Although not the fastest, the plates are reasonably quick to change. I will say, although they can adjust in 2.5-pound increments, they will feel a bit uneven as one side will weigh more than the other at the 2.5-pound increments.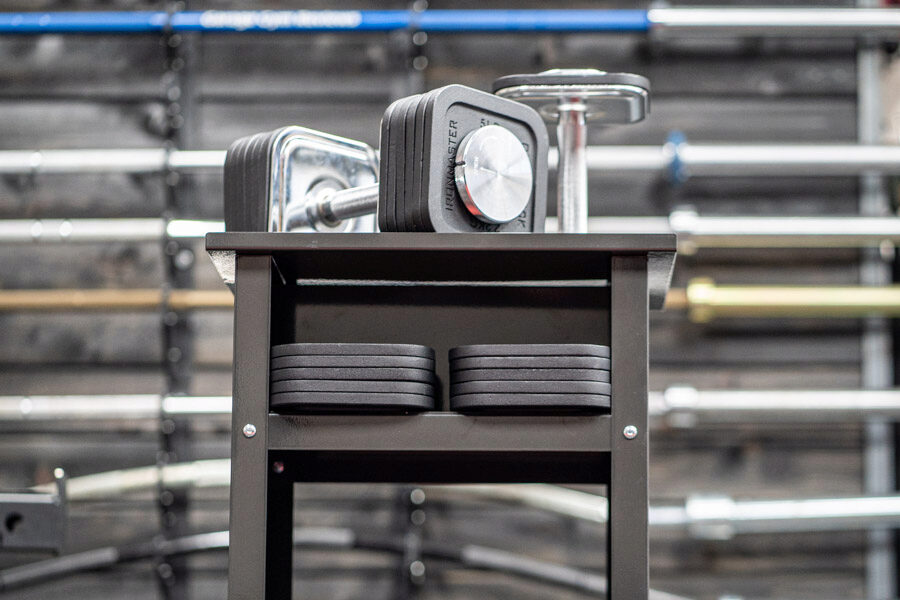 Shape of Ironmaster Quick-Lock Adjustable Dumbbells
The ends of Ironmasters are flat, making it easy to rest them on your quads before starting a set of bench presses on one of the best weight benches or shoulder presses. Loadable dumbbells can't really compete with this as they will dig into your legs. The square weights also make working on the floor safer as they are stable and don't roll.
At heavier weights for things like rows and really heavy presses, Ironmasters are the best I've used as far as adjustable dumbbells go. They feel the most like a traditional dumbbell and the knurling, although not perfect, is a nice touch for a dumbbell.
In fact, I'm not the only one that likes Ironmasters. My internet friend Brandon Campbell Diamond favors Ironmasters over all other adjustable dumbbells. Although I'd disagree with him slightly, his arguments are sound even if he trains in a basement gym.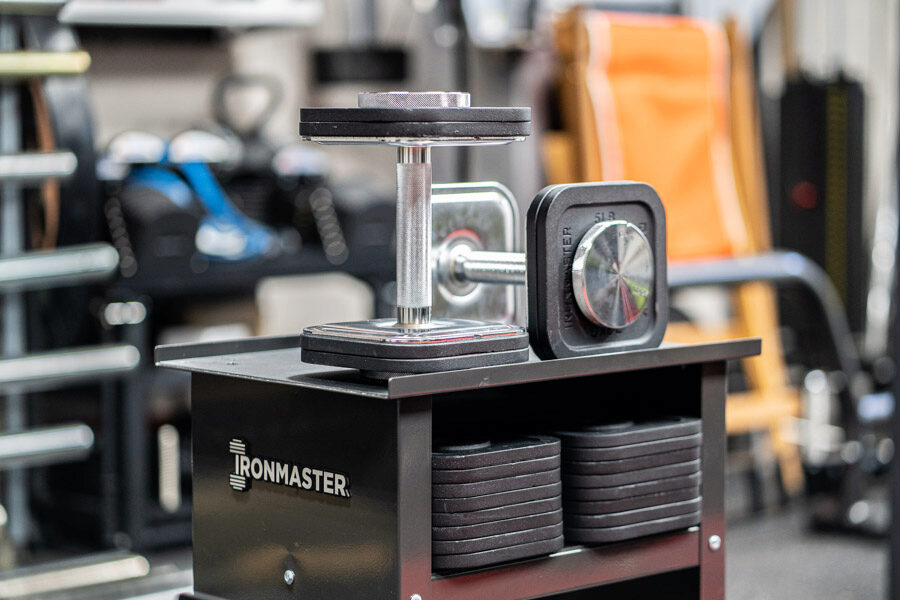 Changing Between Weights
As with all dumbbells, there are definitely downsides. Their patented Quick-Lock design is not as quick as you'd assume. They aren't slow to change, they have a great design; the plates are simply a bit of a hassle to load on and off, especially when working with different weights in the same session.
Everytime you go to change the weights, you also have to do mental math to decide how much weight is on the handle (just like you would with an Olympic barbell), but due to the plates being smaller, it's a bit more time-consuming. More friction between the trainee and reaching their goal of improving their fitness means they're less likely to use them.
This problem really only presents itself if you're trying to superset multiple movements with different weights. If you plan on supersetting very often, I probably wouldn't recommend Ironmasters, to be honest.
Speaking of plates, the heavier the plates are, the more awkward it is to use the dumbbells due to the long handle. At a heavier weight, the dumbbells are fine for simpler dumbbell exercises like snatches and rows, but can be a bit unwieldy for things like presses. The handle is about 6.5" long, which is over an 1.5" longer than traditional dumbbells. If you have very large hands, that's fine, but for most, it's a bit of a nuisance.
The tight-locking screw that secures the plates together is good, but inevitably gets looser with enough use and if you drop the dumbbells.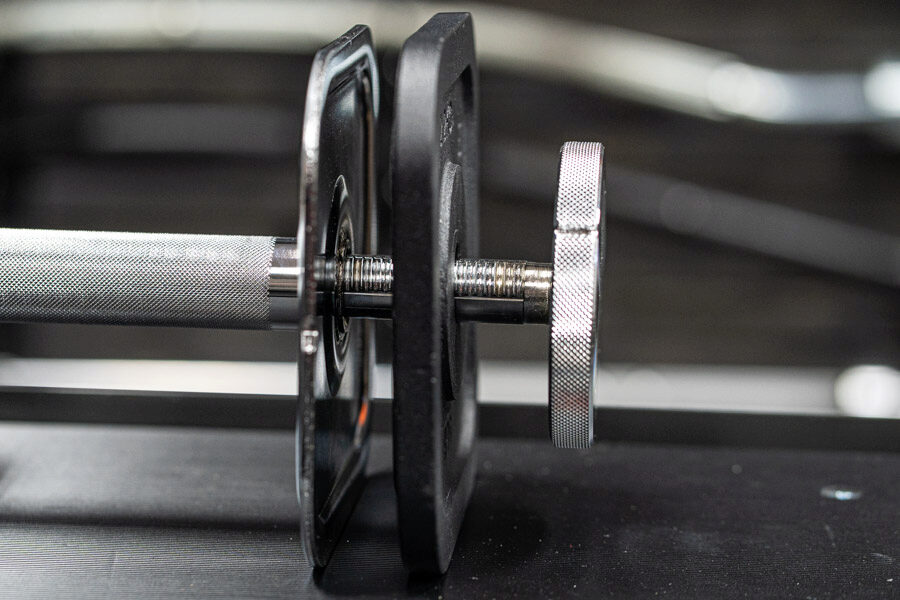 Included Stand
One part of the Ironmasters that I haven't seen many people talk about is the stand that comes along with them. It's nice that they include a stand, however, the quality on the stand is quite bad. Racking weights on the stand gives me absolutely zero confidence. The walls are thin metal and I'm worried it could collapse like a weak core under a squat. The problem is they offer no alternative dumbbell stand. So it's this, the floor, or a DIY version. For such great dumbbells, I'd love to see other stand options.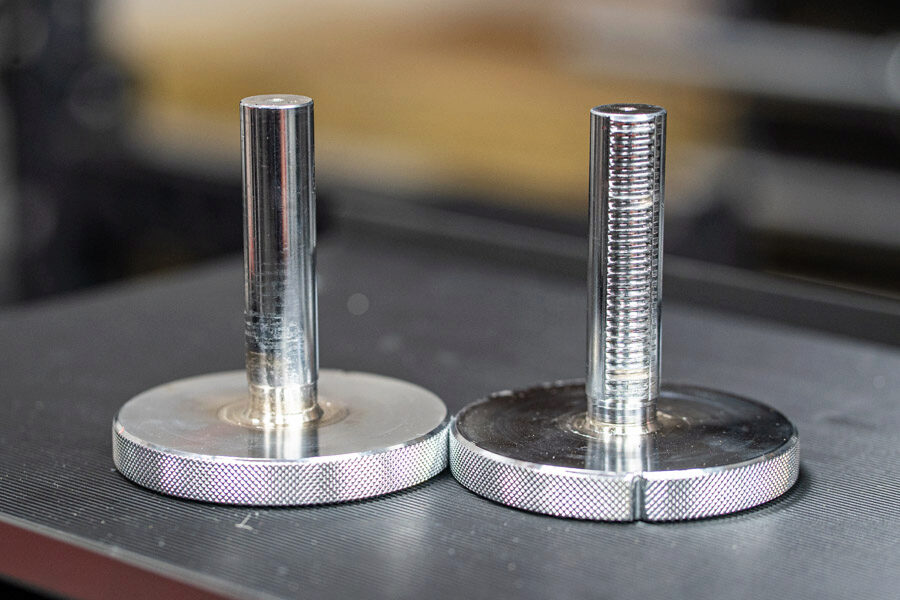 Footprint and Construction
The Ironmasters also feel incredibly similar to a fixed dumbbell, and many (myself included) prefer their knurled handles to the rubber-coated ones seen on PowerBlocks and Bowflex SelectTech Adjustable Dumbbells. Ironmaster Adjustable Dumbbells also come in a heavy-duty stand that is very compact. The stand also offers extra storage for any other loose pieces, like straps and handles in a home gym that might need to be kept away.
The Ironmaster Adjustable Dumbbells are made entirely from steel and iron; the handles are chrome-plated, and each weight plate is hand-machined and precision cast. The plates do not rattle together as they do not have loose tolerances. They look great and feel great. In comparison to a lot of their competitors, even Powerblock, that uses plastic and rubber, it's quite nice knowing these will last a long time.
Ironmaster has been around for a while (since the 1970s) and do all their designing in the United States, although they manufacture overseas.
They do also come with a lifetime guarantee, which is always good.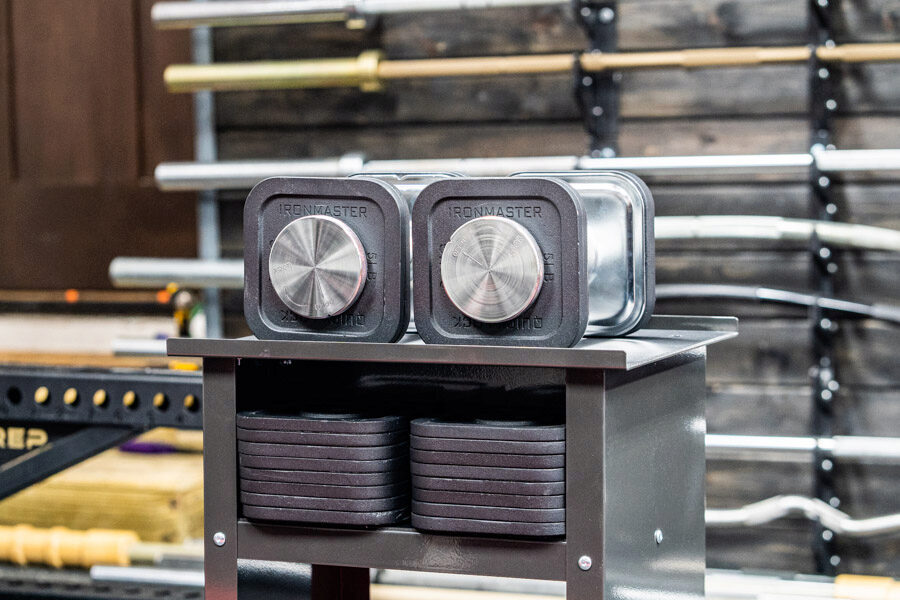 Comparison to Similar Products
Ironmasters are certainly some of the most popular adjustable dumbbells on the market, but they're not the only ones. In fact, there are many worth considering depending on your training style and budget.
Ironmasters vs. PowerBlocks Dumbbells
Ironmasters vs. Powerblocks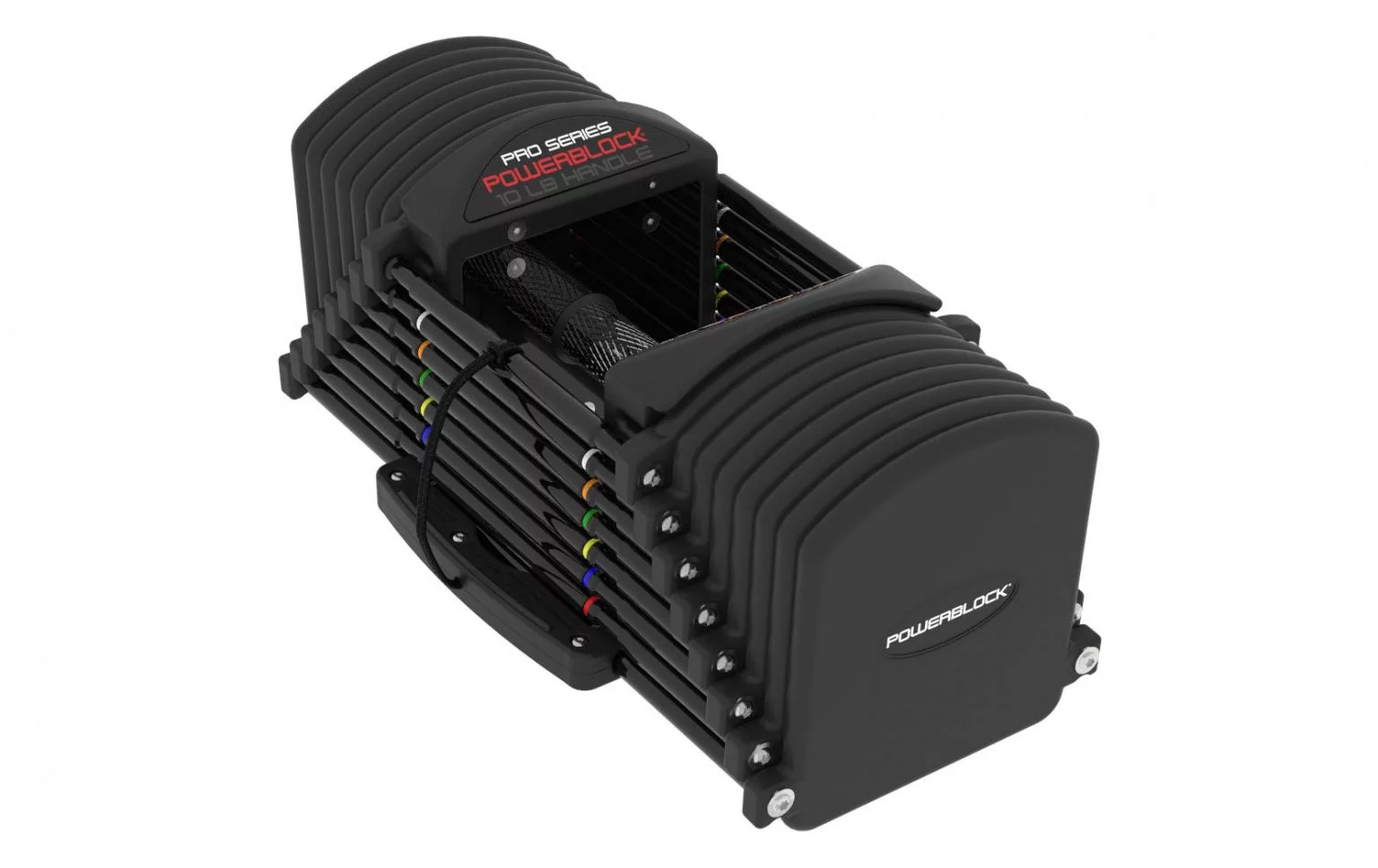 PowerBlock Pro Series Adjustable Dumbbells
From the company that pioneered the selectorized dumbbell, PowerBlock's new and improved Commercial Series Dumbbells set a new standard for efficiency, versatility, and ease of use. Whether you're equipping a small home gym or a large pro facility, any training space can benefit from the use of adjustable dumbbells, as just one set of PowerBlocks can serve the equivalent function of dozens of traditional dumbbells, saving you on both costs and storage space.Each PowerBlock has color-coded side rails on the weight plates that correspond to an easy reference weight chart on the handle. The weight plates are nested, which means the handle fits inside weight plate 1, which fits inside weight plate 2, etc. To change the weight in just seconds, slide the selector pin into the blocks at the weight you want. Then reach inside the "core" and grab the handle. When you lift the handle, the weight you selected is lifted along with the handle.Rogue offers all five PowerBlock Commercial Dumbbell Sets: the Pro 32, Pro 50, Pro 90, Pro 125, and Pro 175. All versions include an updated, sleek design, ergonomic handles (TPR grip for the 32, 125 and 175; knurled steel for the 50 and 90), and Black Urethane Coated Weight Plates for smooth, quiet performance. Compatible stands comes standard with all sizes except the Pro 32.
Ironmaster Adjustable Dumbbells feel more like a traditional dumbbell than their competitor, PowerBlock Adjustable Dumbbells. Additionally, Ironmasters can go up to 165 pounds, with a great price point. Although PowerBlocks can go up to 175 pounds, they get so big that they're almost unusable. Ironmasters are similar in this regard, but not quite as bulky.
I still prefer PowerBlocks for most people because of how quickly their weight can be changed, but Ironmasters aren't exactly slow either. Again, their Quick-Lock screws are a great design, but taking the plates on and off is a hassle to get the desired weight right.
PowerBlocks have a better fit and finish to them, with Ironmaster's plates chipping or rusting, doing the things that steel does, while PowerBlocks stand the test of time and look pretty much the same.
That being said, Ironmasters are still a great pair of adjustable dumbbells and you won't go wrong buying them.
Ironmasters vs. Bowflex SelectTech Adjustable Dumbbells
Ironmasters vs. Bowflex SelectTech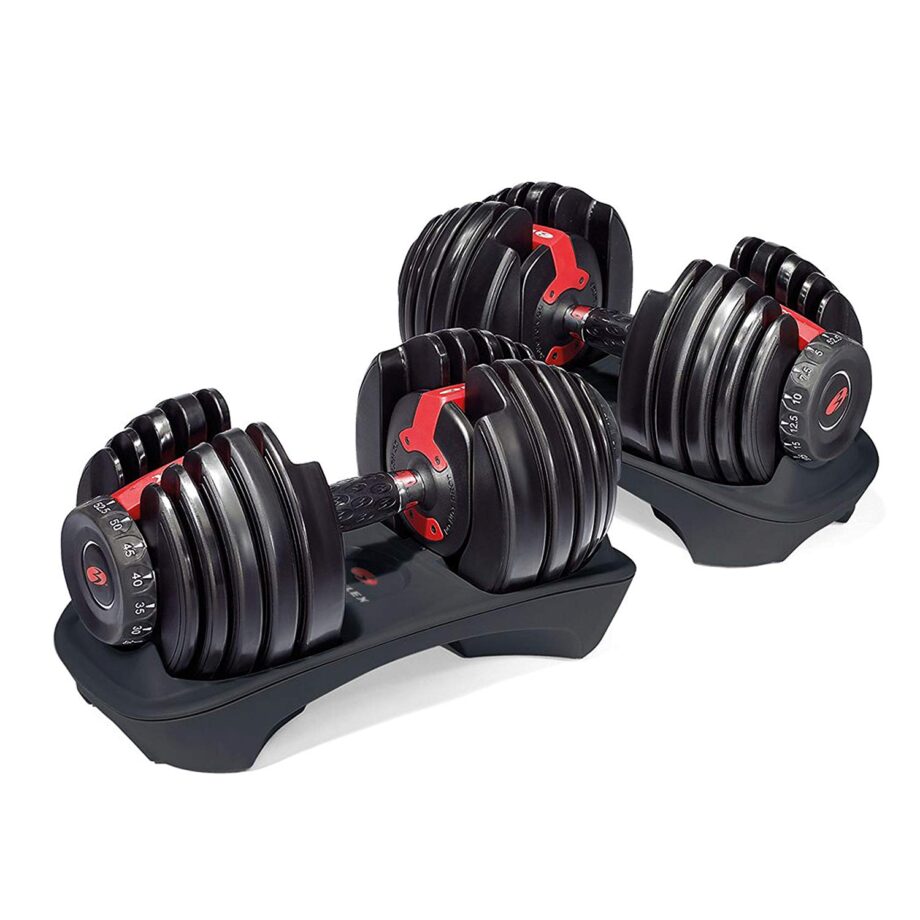 Bowflex SelectTech 552 Adjustable Dumbbells
These adjustable dumbbells replace 15 sets of weights. Weights adjust from 5 to 52.5 lbs in 2.5 lb increments up to the first 25 lbs. Easy-to-use selection dials for adjusting weights. They are sold as a pair. Easily switch from one exercise to next and with the turn of a dial you can change your resistance, enabling you to gradually increase your strength. Versatile workout for your legs, back, chest, abs, shoulders and arms. Compatible with the free Bowflex SelectTech® training App for iOS and Android.No more picking up 30 different dumbbells to give you the results you want! Say goodbye to 15 sets of dumbbells cluttering your workout space. With weight that adjusts from 5 to 52.5 lbs., you'll continue to see results as your fitness level improves. Durable molding around metal plates provides for a smooth lift-off and quieter workouts...no clanging metal plates! With the wider weight range you can do heavy exercises such as shrugs and lunges as well as lighter exercises such as curls and raises.
Bowflex is known for making cheap exercise equipment, but their SelectTech Adjustable Dumbbells are actually a good product. They definitely don't reach the maximum weight that the Ironmasters do, with their limit being 52.5 per dumbbell for the SelectTech 552s and 90 pounds for the SelectTech 1090s, but do have a quick dial system for a swift weight-changing process
The Bowflex SelectTech Adjustable Dumbbells are also not as durable, which is understandable due to their price. In fact, the Bowflex dumbbells have a long history of cracking at weak points if slammed or adjusted incorrectly while Ironmaster proudly shows how durable their adjustable dumbbells are on video by throwing them down some stairs and tossing them in cement mixers–and remember, they are fully guaranteed for life. So even if they did break, you could just contact Ironmaster and get it sorted out.
The Bowflex SelectTech Dumbbells would be best if you're looking for lightweight, affordable, adjustable dumbbells. We've used them quite a bit and know many people from the Home Gym community that love them (for lighter weight training). Although not as durable, they are a good alternative for a lighter lift and a light price. Probably the best budget option.
Ironmasters vs NUOBELL Adjustable Dumbbells
Ironmasters vs. NUOBELL's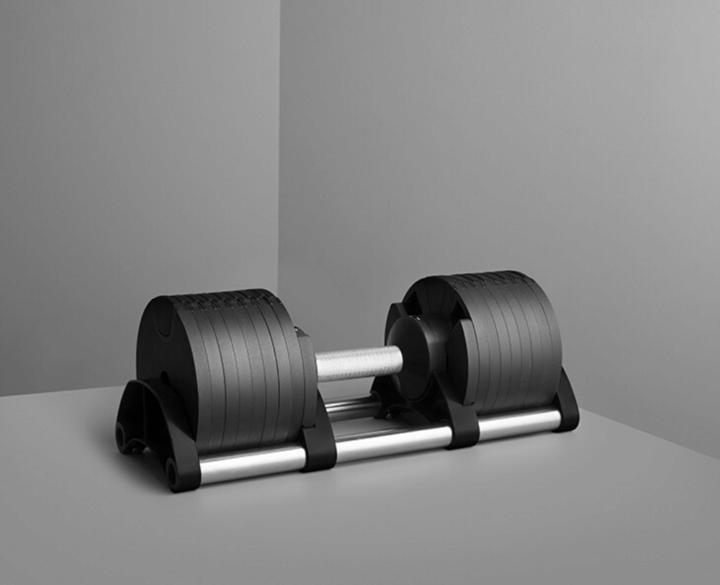 NÜOBELL Adjustable Dumbbells
NÜOBELL give you the convenience of all-in-one adjustable 5-80lb dumbbells that are easy to use and have superior durability thanks to its machined steel weight plates. This set of innovative dumbbells will quickly become your go to favorites.These are sold as a set of 2 x 80lb dumbbellsWeight Range lb5-10-15-20-25-30-35-40-45-50-55-60-65-70-75-80The material is steel and plastic Net weight: 80lbIncludes portable cradles for both adjustable dumbbells.
The NUOBELL Adjustable Dumbbells are similar to the Ironmasters, as both have a traditional shape and iron pancake plates that give them an authentic dumbbell feel.
However, the NUOBELLS' weights take seconds at most to change, and they have an easy-to-read dial to know what weight you've changed to. They're perfect for drop sets or working with a partner, unlike the Ironmasters.
The weights are round, unlike the Ironmasters, and come in 50-, 80-pounds, plus tactical options. These are still quite light, and less than half of the Ironmaster's maximum of 165 pounds, but for most isolation, bodybuilding-type workouts, they're great.
You also get more weight per dollar as the Ironmasters are only $699 and come with a high-quality stand that makes them easier to access. A similar stand from SMRTFT would be an additional $200 on top of the $750 for dumbbells.
NUOBELLS are far superior for adjustability, but Ironmasters are highly durable and more affordable. Their expansion kit also makes them more functional and caters to a larger group of people.
Final Verdict of Our Ironmaster Quick-Lock Adjustable Dumbbells Review
Overall, I would recommend the Ironmaster Quick-Lock Adjustable Dumbbells for a general home gym owner to add to their gym equipment arsenal, especially one that is a heavy lifter. The lifetime warranty coupled with the traditional shape of these, and the small increases between weight increments makes these a solid option. In the future, I'd love to see the included dumbbell rack be improved upon and the dumbbell handles possibly shortened (or at least have an additional option with a shorter handle.)
Full Rating
Ironmaster Quick-Lock Adjustable Dumbbells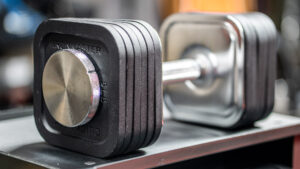 If you're looking to add a set of adjustable dumbbells to your home gym that look and feel like traditional dumbbells, then the Ironmaster Quick-Lock Adjustable Dumbbells are probably the best adjustable dumbbells for you. There are certainly other adjustable dumbbells we prefer for various purposes, such as PowerBlocks, however, the ability to go very heavy and have the look and feel of fixed dumbbells is unique to Ironmasters. After testing and reviewing Ironmasters over the past couple of years, we do recommend them, although certainly with some caveats.
Product Brand: Ironmaster
Product Currency: USD
Product Price: 869
Product In-Stock: InStock
Ironmaster Quick-Lock Adjustable Dumbbells FAQs
Can I drop my Ironmaster Quick-Lock Adjustable Dumbbells?
I honestly would not recommend this. Can you? Yes. Should you? Probably not, unless you want the pin to get weaker over time, rendering these useless. Just saying.
How does the lottery system work for the Ironmaster Quick-Lock Adjustable Dumbbells?
As of Winter 2021, the Ironmaster Quick-Lock Adjustable Dumbbells are so popular (and the materials used to make them are in high-demand) that there is a lottery system in place to purchase these. The lottery occurs every 4-6 weeks and you can sign up on the Ironmaster website to be notified of the next drawing.
Would you recommend the Ironmaster Quick-Lock Adjustable Dumbbells for beginners?
Yes, I'd recommend these just as much as I would regular free weights or traditional cast iron dumbbells. The only difference is figuring out the quick-lock system, but once you get the hang of the locking pin, these aren't much different than a traditional dumbbell (besides being better at space-saving.)