We test and review fitness products based on an independent, multi-point methodology. If you use our links to purchase something, we may earn a commission. Read our disclosures.
I have a fever, and the only prescription is more kettlebell. Unfortunately, it won't take long until those kettlebells start crowding your home gym. The solution: adjustable kettlebells. Not only do they help you save space and money, but since kettlebell training combines strength training and cardio, you'll also spend less time working out, too. It's a win-win-win.
Our best adjustable kettlebells guide has a little something for everyone, from those who compete in Kettlebell Sport (yes, that's a thing) to those who need something that can fit under a bed or in a suitcase. I have my personal favorite, but I know it might not be right for everybody and that's why there are plenty of options.
Read on to find out which adjustable kettlebells we recommend you take for a swing around your home gym.
If you're more of a traditionalist, check out our best kettlebells guide here.
Why You Should Trust Us
We don't just use home gym equipment for a few minutes and call it a day, we take a look at every facet of a product for weeks or months at a time before writing our reviews. That means taking notes on assembly, the way something sounds, how it feels, and how durable it is over time.
The testing process for the best adjustable kettlebells was no different. We not only did many kettlebell swings, cleans, long cycles, snatches, carries, squats, and other movements with all of these, but we also closely examined the adjustment mechanism, handles, weight ranges, and more to determine which ones deserved a spot on our list.
9 Best Adjustable Kettlebells
Editor's Choice: REP Fitness 24KG Adjustable Kettlebell
Good for: Anyone who wants an adjustable kettlebell that provides great value
The REP Fitness Adjustable Kettlebell is my top pick for a number of reasons, but one of the biggest ones is that it feels exactly like a traditional kettlebell. It has a cast iron shell with a matte powder coat, and honestly if you closed your eyes and touched it, you wouldn't know you were using an adjustable kettlebell.
This not only ensures a good grip during kettlebell exercises, but also makes it more durable than the many adjustable kettlebells that have plastic shells. The only part that is plastic is the adjustment dial, and while I'm not the biggest fan of that, it seems reliable and I'm not worried about it breaking.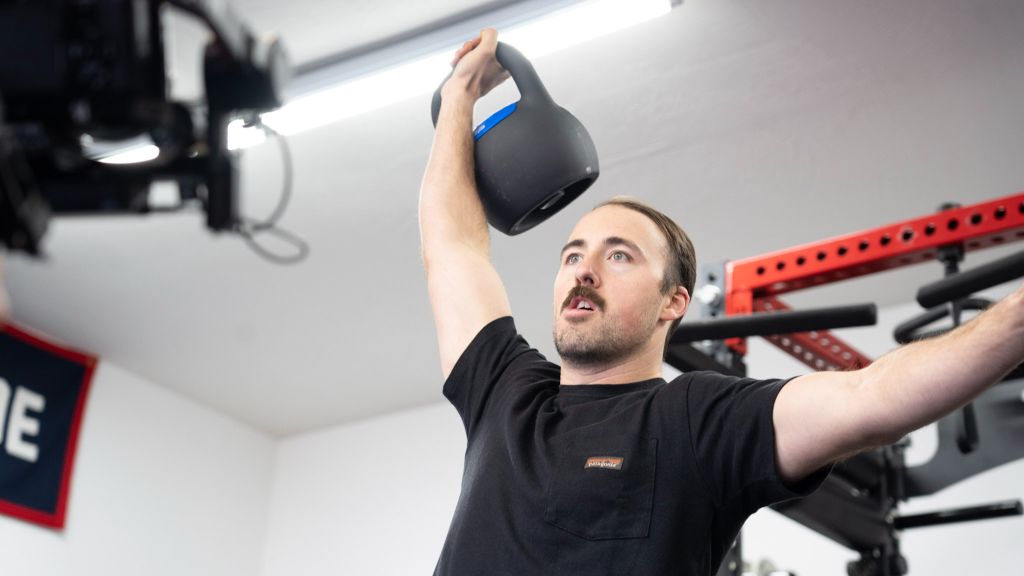 Another thing I really like is that the weight increments are clearly marked, and it's easy to change the weights. All you do is push down on the dial and turn it to your desired weight, and the rotating system grabs the necessary amount of cast iron plates (which weigh 2 kilograms each).
I would've liked to see REP Fitness make an even heavier adjustable kettlebell, something in the range of 70 pounds, but the 24-kilogram (about 53 pounds) one I think will be great for most people. It replaces five kettlebells in one.
The REP Fitness Adjustable Kettlebell isn't the cheapest on the market: it costs around $200 with free shipping, but I think it's the best value for the quality it offers.
For those who don't need as heavy of a kettlebell, I recommend the 8- to 16-kilogram or 20- to 40-pound versions.
Best Budget Adjustable Kettlebell: Titan Fitness Adjustable Kettlebell
Good for: Home gym athletes who need an adjustable kettlebell but don't have a big budget
If you absolutely need an adjustable kettlebell, but don't have the money to splurge for one of our top picks, then I'd say go for the budget-friendly Titan Fitness Adjustable Kettlebell. It replaces seven kettlebells in one, with a starting weight of 10 pounds and a maximum weight of 40. It's also compact, and as with any Titan product comes with free shipping.
You can do just about anything with this adjustable kettlebell that you can do with more expensive products, but this is a case where you get what you pay for. One of my biggest complaints about this product is there's no marked weight increments, so unless you count the plates inside it's hard to tell how much you're lifting at one time. It can also be difficult to replace the weight plates so it keeps its round shape.
This kettlebell is the exact same one as Tru Grit's Adjustable Kettlebell and Kettlebell Kings' Adjustable Kettlebell, but Titan's is cheaper than both (it's also a different color than the other two). It performs all the classic kettlebell exercises just fine, and if you're trying to build out your budget home gym then it's not a bad choice.
Most Versatile Adjustable Kettlebell: Ironmaster Quick-Lock Adjustable Kettlebell Handle
Good for: People who want a versatile product that can be used for multiple purposes
There's a big elephant to address with the Ironmaster Quick-Lock Adjustable Kettlebell Handle, and that's the fact that it's just a handle. So yes, you're paying more than $130 just for a 22-pound handle that you then need to purchase additional weight plates for to make it heavier.
With all that in mind, this is still one of the most versatile adjustable kettlebells on the market and I think it's worth it for some people. One big reason for that is because it can be used with Ironmaster's Quick-Lock Adjustable Dumbbells plates, so if you already own an Ironmaster then it's a no-brainer. Even if you don't, I think it's worth looking into getting one just because you can have all the benefits of dumbbells and kettlebells without taking up too much space.
RELATED: Best Adjustable Dumbbells
The quick-lock kettlebell handle can go up to 80 pounds, which is pretty heavy for a kettlebell. It feels good during use, but heavy weights can put a bit of a strain on the wrist. The handle is heavy and powder-coated, giving it a good grip, and it starts at 22 pounds. That's a heavy starting point and might be a bit much for beginners, but I don't think that's Ironmaster's primary audience.
Too many people pit kettlebells and dumbbells against each other, but with Ironmaster you can enjoy the best of both worlds. Yes, it may be a bit pricey when you buy both at once, but when you compare the cost to fixed options, the value is clear.
To learn more about Ironmaster, read my in-depth Ironmaster Quick-Lock Adjustable Dumbbells review.
Most User-Friendly Adjustable Kettlebell: Bowflex SelectTech 840 Adjustable Kettlebell
Good for: People who don't want to fiddle with their adjustable kettlebell to change the weight
With the exception of the competition-style adjustable kettlebells, none of the adjustable kettlebells we tested were that hard to adjust. But the Bowflex SelectTech 840 Adjustable Kettlebell has, without a doubt, the quickest adjustment out of any adjustable kettlebell we tested.
You can go from 8 pounds to 40 in the snap of a finger, with relatively no friction, just by turning the dial. It replaces six kettlebells in one, about the standard for adjustable kettlebells, and it surprisingly feels like a real kettlebell despite being made of plastic.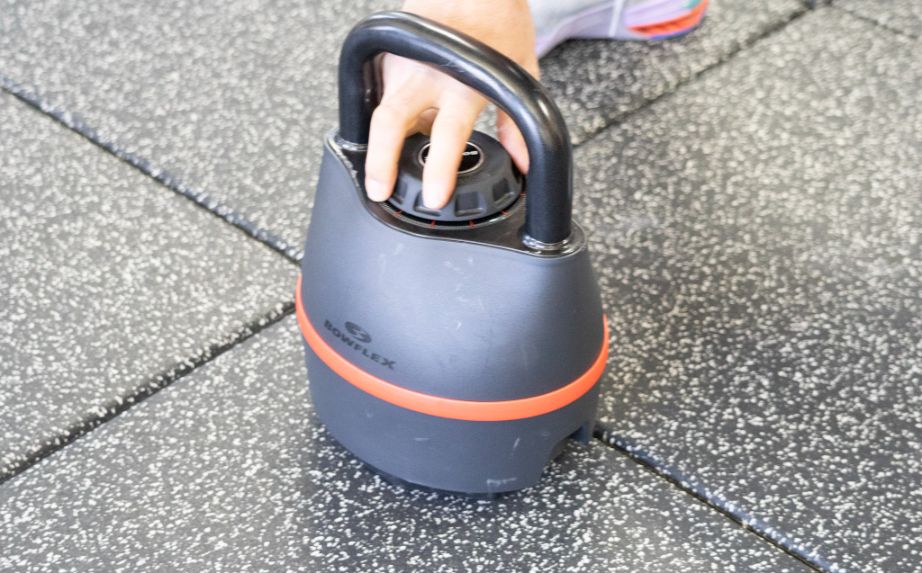 Another thing that makes this a great user-friendly adjustable kettlebell is Bowflex's library of training videos, which can be found on their website. I like that Bowflex helps to educate people on the proper way to use a kettlebell, especially since they're not quite as intuitive as a dumbbell.
There's also a two-year warranty, but you have to register your kettlebell online once you receive it if you think you're going to take advantage of the warranty.
Now, is this the best adjustable kettlebell? Absolutely not. The plastic shell isn't durable, the handle is quite thin and doesn't take chalk very well, and it only goes up to 40 pounds. Also, I wish there were more increments in between the minimum and maximum for more gradual progression.
With all that in mind, it's still a budget-friendly and compact piece of equipment that provides all the benefits of a kettlebell. You can snatch and goblet squat with it all day and it'll get the job done. I'd recommend it to anyone low on space or money, or anyone who doesn't lift very heavy weights.
To read more of my thoughts on this product, read our full Bowflex SelectTech 840 Adjustable Kettlebell review.
Best Ultra-Budget Adjustable Kettlebell: Kettle Gryp
Good for: People looking for the most budget-friendly option
We might be cheating a little bit with this one, but the Kettle Gryp is a great ultra-budget option for those who are looking to do some kettlebell training. It's a plastic handle that locks a fixed dumbbell in place to transform them into a kettlebell. You simply lock the dumbbell in place, grab the handle, and start swinging.
I say swinging because the design doesn't lend it to snatches very well, and presses aren't that bad but they're not the best either. I could still do those moves, in addition to carries and get-ups, just fine but they didn't feel like they do with an actual kettlebell. Part of that is because dumbbells and kettlebells have very different weight distribution (to learn more, read our dumbbells vs. kettlebells comparison).
The 1.15-inch handle diameter is smaller than most kettlebells so it might take some getting used to if you've trained with traditional kettlebells, especially if you have bigger hands.
While the Kettle Gryp is only recommended for dumbbells with a handle up to 4.5 inches long up to 55 pounds, I was able to fit a 150-pound dumbbell in it just fine. I'm not recommending you go over the weight limit, I'm just saying it has worked for weights heavier than the advertised capacity.
I'd recommend this for anyone low on budget, or people who are constantly traveling (not many hotel gyms have kettlebells).
Related: Kettle Gryp made our Best Fitness Gifts list!
Best Competition-Style Adjustable Kettlebell: Titan Fitness Adjustable Competition Style Kettlebell
Good for: Lifters who need a competition-style kettlebell with multiple weight increments
To be honest, there wasn't much competition (unintentional pun) for this category, but if you're someone who's into Kettlebell Sport, then I recommend the Titan Fitness Adjustable Competition-Style Kettlebell. For those who don't know, a competition-style kettlebell always has a 5.5-inch base diameter, 35-millimeter wide handle, and 11.1-inch height regardless of its weight.
A standard kettlebell's weight and base diameter, on the other hand, change as the weight progresses, and most handles range from 28 to 33 millimeters, though heavier ones can go wider than that.
There are a few things I like about this competition-style kettlebell, and one of them is that it can go really heavy (up to 32 kilograms, or about 70.5 pounds). Using the adjustment mechanism (more on that in a second), you can get 19 different weight increments, which is a lot. I'm also a fan of how it feels like an actual competition-style kettlebell, which is great for anyone practicing to compete.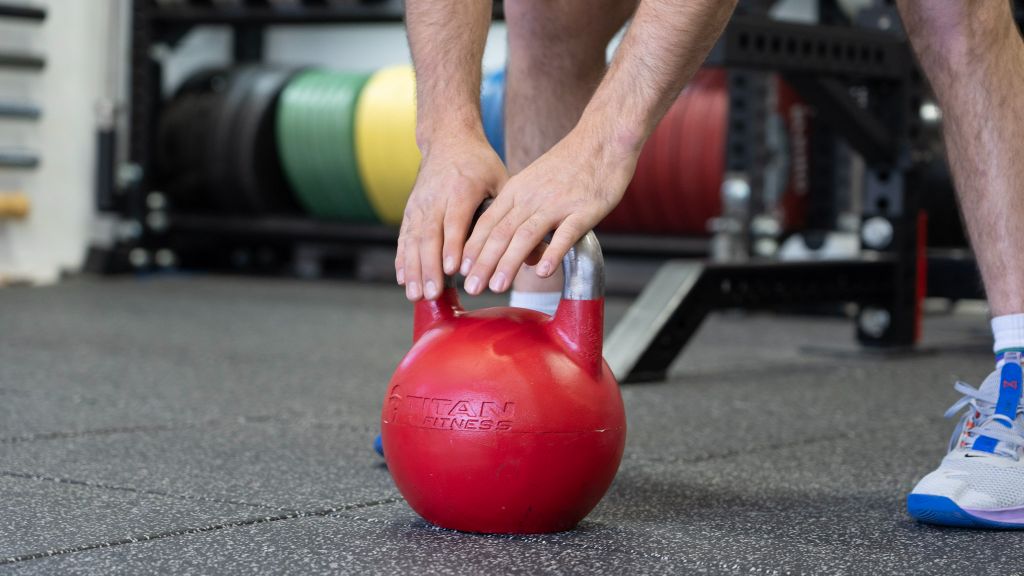 But that's about where the positives end. The most annoying thing about this adjustable kettlebell was the adjustment system, which requires you to use an Allen key to unlock the shell and separate the cast iron plates. The powder coat on it is also pretty poor, and mine already shows signs of corrosion.
This is the exact same product as the Kettlebell Kings Adjustable Competition-Style Kettlebell, just at a lower cost and that's why we recommend Titan's.
If you need a traditional competition kettlebell, I recommend reading my Titan Fitness Competition Kettlebells review. I'm actually a fan of those.
Best Compact Adjustable Kettlebell: Powerblock Adjustable Kettlebell
Good for: Anyone who needs an adjustable kettlebell that can fit in tight spaces
Adjustable kettlebells are inherently the best exercise equipment for small spaces, but what makes the Powerblock Adjustable Kettlebell the best compact option is its design. It's shaped more like a cowbell than a traditional kettlebell, and it's slightly shorter and narrower than other adjustable kettlebells, which makes it easier to fit in tight spaces. For that reason, I'd recommend this for anyone who might live in a studio apartment.
I don't think these are the best adjustable kettlebells out there, but they're far from the worst. The 35-pound and 62-pound (I tested the 35-pound one) options have four weight increments each and use a magnetic pin to adjust the weight. My one big complaint is the sticker stating the increments have a tendency to peel off easily, which is annoying but obviously doesn't impact the functionality of the kettlebell.
In use, it feels pretty good on the wrist, and while it doesn't have the same feeling as a traditional kettlebell, the powder coat does provide a nice grip during training. Both options have a 32-millimeter handle, which is a bit wider than some traditional kettlebells, but that's not necessarily a bad thing.
While these aren't the most budget-friendly option (the 62-pound kettlebell sells for more than $250), I like the design, and they were enjoyable to train with. The design also gives people tight on space an option to easily stow it away when not in use.
Check out our Powerblock coupon page here.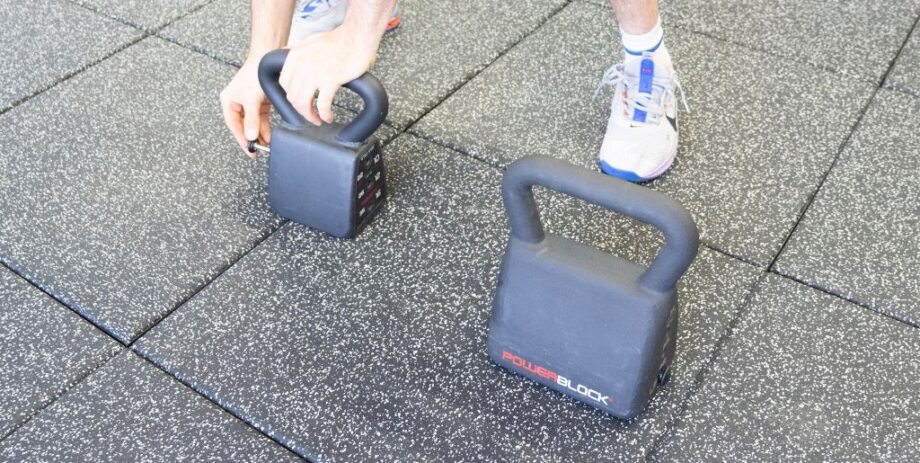 Best Adjustable Kettlebell for Beginners: REP Fitness 16KG Adjustable Kettlebell
Good for: People who want to start using adjustable kettlebells, or kettlebells in general.
The reason I recommend the REP Fitness 16kg Adjustable Kettlebell for beginners is because anyone just getting into kettlebells should know what they feel like, and REP does that better than anyone. Other adjustable kettlebells are made of plastic, sometimes steel, but these were the only ones that had the powder-coated cast iron shell that could've fooled you into thinking you were touching a real kettlebell.
This is important because one of the biggest benefits of kettlebell training is improved grip strength due to its thick handle. But when you're just starting out at something you need a little help and this shell's powder coat helps provide that. A plastic handle, by contrast, is a little more slippery and if you're not confident in your grip…well, let's just say you don't want to be swinging near the China cabinet.
The weight increments are also perfect for providing novices with a challenge, without overloading them either. You get a starting weight of 8 kilograms (about 17.5 pounds) and a maximum weight of 16 kilograms (a hair over 35). I do wish they had more increments in between those two weights to allow for gradual progression, but we're sure you'll get the hang of it.
Best Adjustable Kettlebell for Heavy Lifters: Titan Fitness Plate Loadable Kettlebell Swing
Good for: Anyone who needs more weight than adjustable kettlebells can offer
Do you want to do heavy kettlebell swings–and I mean, heavy kettlebell swings? Then you need the Titan Fitness Plate Loadable Kettlebell Swing. This is a loadable rod with a kettlebell-like handle that can be fitted with just about any 2-inch Olympic plate, with a maximum weight capacity of 500 pounds. Now that's what I call heavy.
It must be said this feels a lot different than a kettlebell for a few reasons, with one being that the weight is a lot further from your hands than it is on a traditional free weight. That's going to take some getting used to, as will the 19-inch height. Some reviews by shorter people state the weight scratches the floor, but I didn't find that to be a problem. (If you want to protect your floors, check out our best home gym flooring guide).
Other than that, you can do many kettlebell movements you would do with an ordinary kettlebell. I really like that the handle resembles a kettlebell, and has a 33-millimeter diameter. It has a larger sleeve height than similar products, while still being budget-friendly, and the powder-coat finish means it won't corrode that quickly. It also has a flat base that allows it to stand up when not in use.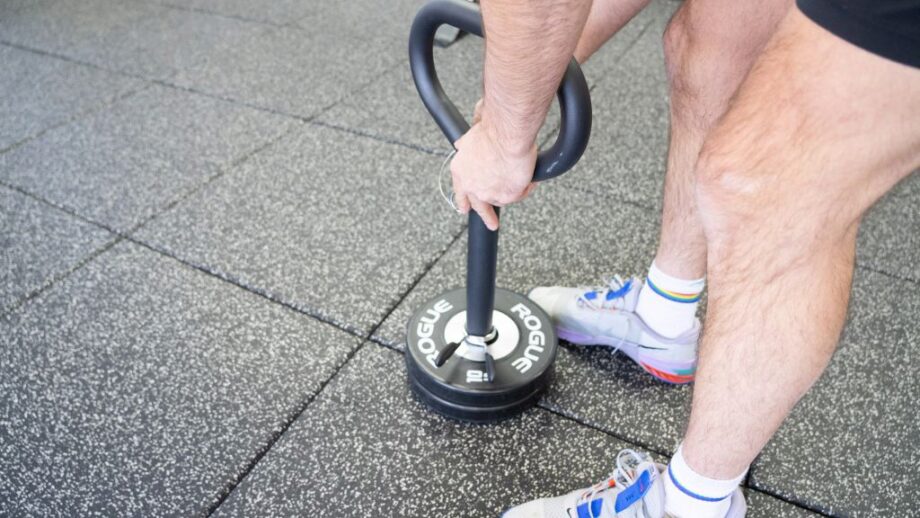 Other Adjustable Kettlebells We Tested
If you thought that was all the adjustable kettlebells we tested, think again. We tried out quite a few that, for reasons we're about to get into, didn't make our final list. That said, we still wanted to let you know about them in case you think they're worthwhile.
JAXJOX Kettlebell Connect 2.0: If you're looking for the best smart adjustable kettlebell, the JAXJOX Kettlebell Connect 2.0 is the one we recommend. But in full honesty, that's not saying much. While it's cool the kettlebell can track your workout for you via an app, I wasn't blown away by this product. For one, you have to plug the whole thing back into the base to change weights, which is annoying, and the clunky app needs a major overhaul.
Kettlebell Kings Adjustable Competition-Style Kettlebell: The Kettlebell Kings Adjustable Competition-Style Kettlebell is the exact same kettlebell as the Titan Fitness Adjustable Competition-Style Kettlebell, from the adjustment mechanism down to the weight increments, but at a higher price. Seeing as they're the same thing, we recommend going with the more budget-friendly option.
Tru Grit Adjustable Kettlebell: The Tru Grit Adjustable Kettlebell is the same adjustable kettlebell as the Titan Fitness Adjustable Kettlebell, but at a higher price.
Kettlebell Kings 10-40 lb. Adjustable Kettlebell: Same story as above. All three are made on the same manufacturing line, just with different colors and branding and sold at different prices.
How We Picked and Tested Our Best Adjustable Kettlebells
After scouring the internet to find all the different types of adjustable kettlebells out there, we then had them shipped to my garage gym and tested every single one of them out. That means there were countless hours of kettlebell swings, snatches, presses, goblet squats, and halos.
But working out with them wasn't the only thing we looked at. Here's what else went into us deciding what made the list, and what got left off.
Weight Range
The reason people choose adjustable kettlebells is because they don't want to purchase a kettlebell set, and just want one piece of equipment. To that end, we looked at the weight range of each product and how many kettlebells it replaced. A kettlebell workout routine might use heavier weights for one exercise and lighter weights for the next. Having that versatility is vital in an adjustable kettlebell.
Adjustment System
We wanted to make sure each adjustable kettlebell was easy to…well, adjust. The weight settings should be intuitive, or at the very least quick to change so you're not spending precious time in between sets fiddling with the kettlebell to get to your desired weight.
Price Point
This is something we look at for every piece of workout equipment, and with adjustable kettlebells we wanted to make sure you were actually saving money. It doesn't make sense to buy an expensive one that costs more than a kettlebell set off of Amazon, does it?
Durability
You want to make sure your adjustable kettlebell will last you a while. We flagged certain products that are made of materials that aren't heavy-duty (like plastic) and might not stand up to the wear and tear of frequent use.
Handle
Kettlebells by their very nature present a risk of slipping out of your hand and causing some damage to the people around you or your property. We wanted to make sure the kettlebells we recommended had a grippy, ergonomic handle that feels good in the hand during use.
Benefits of Adjustable Kettlebells
It should go without saying, but one of the best parts of adjustable kettlebells is the fact that they save you money and space. After all, you're replacing multiple weight options with just one piece of equipment that costs less than an entire kettlebell set.
So instead of rattling on about those two factors, we'll talk about why you might want to engage in kettlebell training.
Strength Training and Cardio in One
Kettlebells are beloved by functional fitness and weightlifting fanatics alike, because they give you the best of both worlds. You can work on strength, flexibility, and endurance all at the same time due to the shape and center of gravity, which is further from your hand than a dumbbell or barbell.
A study sponsored by the American Council on Exercise actually found you burn as many calories during a 20-minute kettlebell workout as you do running a 6-minute-per-mile pace, with the added benefit of getting a muscle-building workout in.
The adjustable weight on an adjustable kettlebell allows you to increase the intensity of these workouts as you get stronger and improve your cardiovascular endurance over time.
Better Grip Strength
The thick, smooth handle on a kettlebell challenges you to keep a tight grip on it, which increases your grip strength. Better grip strength means you'll be able to hold onto a barbell–or your grocery bags–for longer periods of time.
Build Explosive Strength
The kettlebell swing requires power in your hips and posterior chain, and as those areas get stronger you'll be able to better execute movements like running and the clean and jerk, which require explosive power from your lower body.
What to Look For in an Adjustable Kettlebell
Coming to this article was a good first step in your search for an adjustable kettlebell, but before you make your final decision here are a few key things to keep in mind.
Weight
Ask yourself honestly how good of a lifter you are, and whether you need something on the heavier or lighter side. Yes, adjustable kettlebells have wide ranges sometimes, but you also don't want to pay for something that has a maximum weight you're not quite ready for.
Then, learn some quick math because just about every kettlebell out there, including the adjustable ones, are sold in kilograms instead of pounds. A kilogram is 2.2 pounds.
One other thing to know is kettlebell weight ranges aren't as straightforward as dumbbells, which typically increase in 2.5 to 5 pound increments. Kettlebells, on the other hand, jump 4-8 kilograms (9-18 pounds). This is because they follow a unit of measurement called a "pood," which translates to 16 kilograms (35 pounds).
The pood is no longer used anywhere in the world, but that's what Russian strongmen used back when the kettlebell was created and for some reason manufacturers never strayed from that.
Handle
You wouldn't ride a bike with a seat too small or big for your frame, and you shouldn't use a kettlebell with a handle that doesn't work for your hands. This can be a problem if you're online shopping and can't feel the handle beforehand, but a general guide is people with smaller hands should stick to handles around 28 millimeters in diameter, whereas those with larger hands might want something around 33 or 35 millimeters.
Shell coating
Many budget-friendly adjustable kettlebells are made of plastic, which gets the job done but it's not durable. If you want something that will last many years, and you have the budget for it, opt for a powder-coated cast iron shell.
Best Kettlebells FAQs
Are adjustable kettlebells any good?
Yes, adjustable kettlebells are a great piece of workout equipment that can help you save space and money while providing a great workout that combines the best part of strength training and cardio.
Are Bowflex kettlebells worth it?
Bowflex kettlebells are a great budget-friendly option for people who don't lift very heavy weights. They also have one of the easiest adjustment mechanisms out of any adjustable kettlebell.
How heavy should a kettlebell be for a woman?
You should only take your lifting experience and strength levels, not your biological sex, into consideration when picking your kettlebell weight.
Why are kettlebells bad for you?
They're not, but as with anything else they have their risks. One of the biggest is letting go of the weight while swinging it, which could cause harm to people around you or any nearby objects. They're also not quite as intuitive to use as dumbbells and you could injure yourself if you don't know what you're doing, but that's true for barbells and dumbbells, too.