We test and review fitness products based on an independent, multi-point methodology. If you use our links to purchase something, we may earn a commission. Read our disclosures.
Modern problems require modern solutions, as the not-so-old saying goes. The Kettle Gryp attempts to solve a couple of problems by being a viable solution for kettlebell users who travel, as well as a budget option for home gym owners who don't want to take up space for dumbbells and kettlebells. The Kettle Gryp can turn most any dumbbell into a kettlebell for swings and squats.
But how does it compare to your standard kettlebell? In my Kettle Gryp review, I was able to test this piece of equipment through several workouts and exercises: swings, deadlifts, Turkish get-ups, and goblet squats. I'll go through the highs and lows of this budget-friendly alternative to traditional kettlebells to see if it's worth being in your home gym or suitcase.
We Have a Good "Gryp" on Kettlebells
Our group of testers have looked at and tested virtually every adjustable kettlebell on the market, including the Kettle Gryp, so we know what to look for in a good alternative to a set of kettlebells. For this review, I have been able to work out and train the last few weeks with the Kettle Gryp, and was able to see how it stacked up with traditional kettlebells.
We know what to look for in kettlebells and other gym equipment because of our various backgrounds. Our team consists of certified personal trainers, weightlifting coaches, CrossFit trainers, athletes, and former gym owners. We've spent a lot of time in the gym with kettlebells, dumbbells, barbells, and other pieces of equipment so that we can help you make an informed decision on your home gym purchases.
Kettle Gryp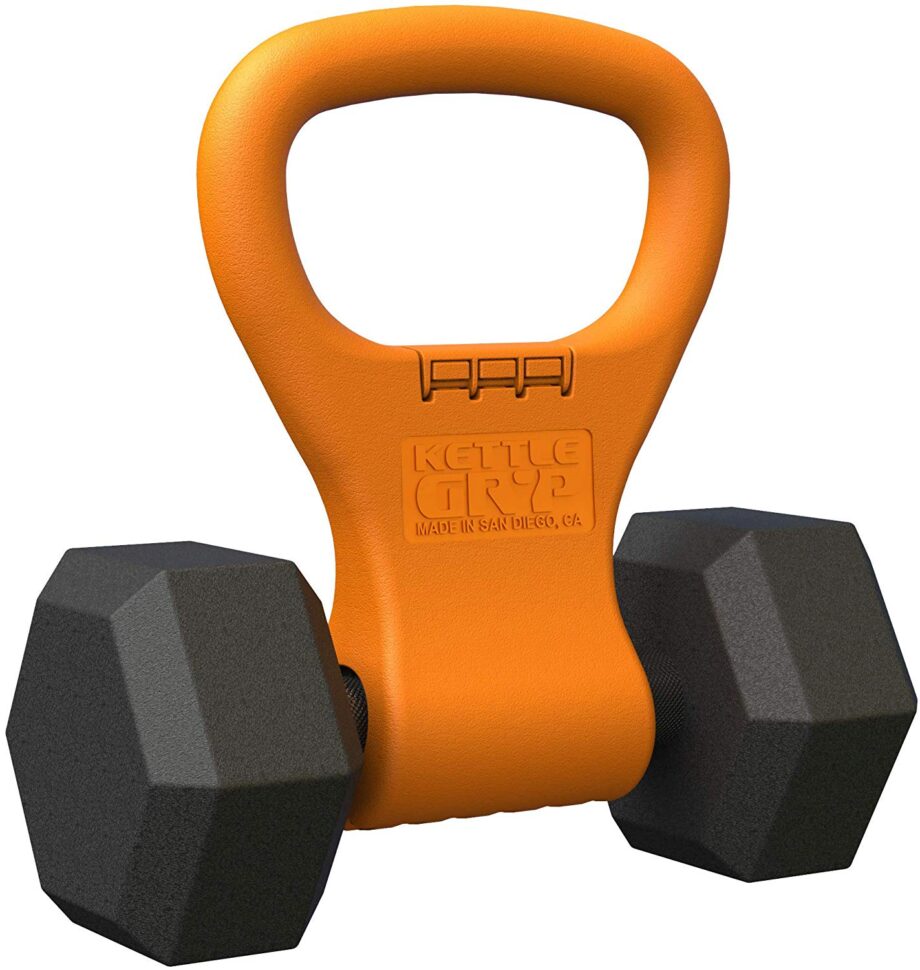 GGR Score: 4.5
Community Score: 4.2
Product Highlights
Portable
Unique concept
Less than $50
Great for small spaces
Made in USA
Pros & Cons
Pros
Portable
Creative solution for home gym owners on a low budget
Great for anyone who travels on a regular basis
Cons
Requires you to have dumbbells
Weight distribution feels different than a kettlebell
Thin handle is made of lightweight plastic
Bottom Line
A unique solution to home gym owners who don't own kettlebells but want to train with them.
A Quick Look at the Kettle Gryp
The Kettle Gryp gained a good amount of publicity from its appearance on ABC's "Shark Tank," a reality show where entrepreneurs pitch a product or business to five investors, and the investors or "sharks" decide if they'd want to invest or not. The San Diego-based company was able to land a deal with Lori Greiner on their episode for $300,000 for 15% equity.
The Kettle Gryp is the original grip accessory for dumbbells; it's a hard plastic handle that latches onto a dumbbell handle. According to the company, the Kettle Gryp addresses three issues:
Practicality: The Kettle Gryp can be a great piece of equipment for travel, as it is lightweight and compact.
Versatility: The Kettle Gryp was made to hold a variety of dumbbells and weights.
Budget: When compared to buying a set of multiple kettlebell weights, or even budget-friendly adjustable kettlebells, the Kettle Gryp saves a lot of money (if you have dumbbells).
Before You Buy
If you are buying this for your home gym, you'd better have some dumbbells already. Adjustable dumbbells will work fine, too, although the length of them might make some movements feel awkward.
The dumbbell fits inside a groove with two urethane foam pads. The dumbbell has to have a handle longer than 4.5 inches, and cannot exceed 1.5 inches thick. The dumbbells I used were right at 1.5 inches thick, and while it was a tight fit, they worked just fine.
While this is an ultra-budget alternative to kettlebells, just know that the dumbbell will distribute weight differently than a normal kettlebell. Kettlebell swings and goblet squats will feel mostly fine, but I had a lot of trouble trying to do any sort of kettlebell snatch or clean.
Video Review
Is the Kettle Gryp Worth It?
The value of the Kettle Gryp absolutely depends on what you're looking to get out of the product. It is fantastic for a kettlebell enthusiast to travel with, and if budget is an issue, the Kettle Gryp will save you a good amount of money on buying a set of multiple cast iron kettlebells.
However, if you're looking for a piece of equipment that has the look and feel of a kettlebell, this is probably not it. How much the Kettle Gryp feels like a kettlebell largely depends on the size and distribution of the dumbbell attached. Plus, it will feel awkward on movements needing the kettlebell to rotate, like snatches or kettlebell cleans. If you want a truer kettlebell experience at a lower price point, I'd consider an adjustable kettlebell or a set of budget kettlebells.
Great for:
People wanting a kettlebell and who already have dumbbells
Those needing fitness equipment to travel with
Home gym owners on a budget
Not recommended for:
Anyone who prefers the feel of a traditional cast iron kettlebell
Home gym owners who don't have dumbbells
People looking to do kettlebell snatches or cleans
Kettle Gryp Specs
| | |
| --- | --- |
| Price | $34.95 |
| Dimensions | 8.13"L x 1.15" W x 10.81" H |
| Weight | 0.9 lbs |
| Maximum weight | Recommended 55 lbs |
| Material | High-impact ABS plastic |
| Colors | Orange, black |
Using the Kettle Gryp
After using the Kettle Gryp for a bit, I can definitely see its utility. Adding a dumbbell was easy; just about every dumbbell that I used fit the grooves, and the Kettle Gryp latch was secure while I performed kettlebell exercises. It would be a great kettlebell grip to use on different dumbbells in hotel gyms while you're traveling and on the move.
With the Kettle Gryp being made of a hard plastic, the handle is textured a bit to mimic the feel of a powder-coated cast iron kettlebell, but in the end, it still felt like plastic. Don't get me wrong; it was still a solid grip, but the plastic handle ended up feeling slick compared to traditional kettlebells.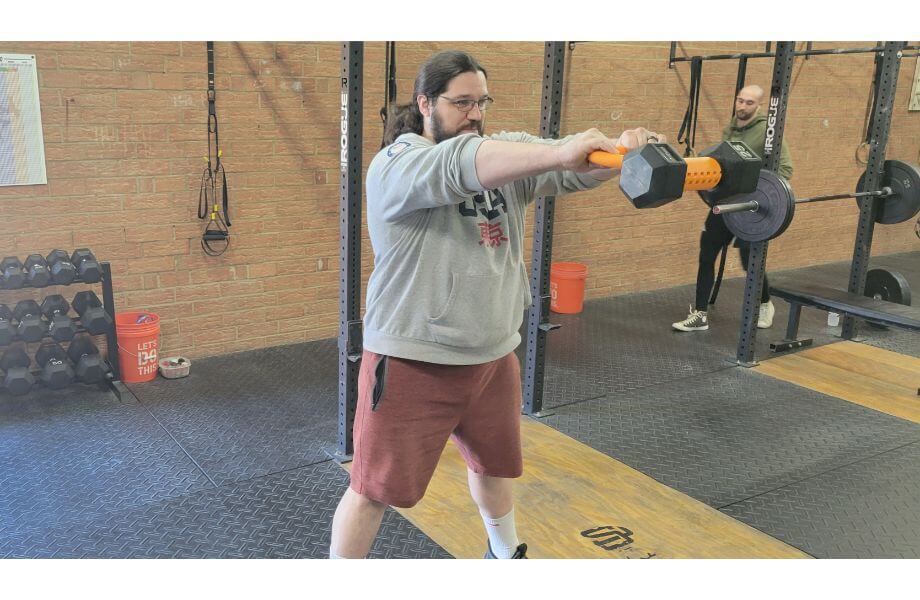 The Kettle Gryp worked well for some exercises, and not so well on others. Kettlebell swings, deadlifts, and goblet squats were mostly fine, but using a dumbbell with a kettlebell grip was very awkward when I tried to do movements involving rotation of the kettlebell, like a kettlebell snatch or clean. Furthermore, kettlebell swings felt very awkward with the larger, heavier dumbbells, as the dumbbell heads were much wider than a standard kettlebell; I had to stand with a wider stance to avoid hitting my legs during the swing.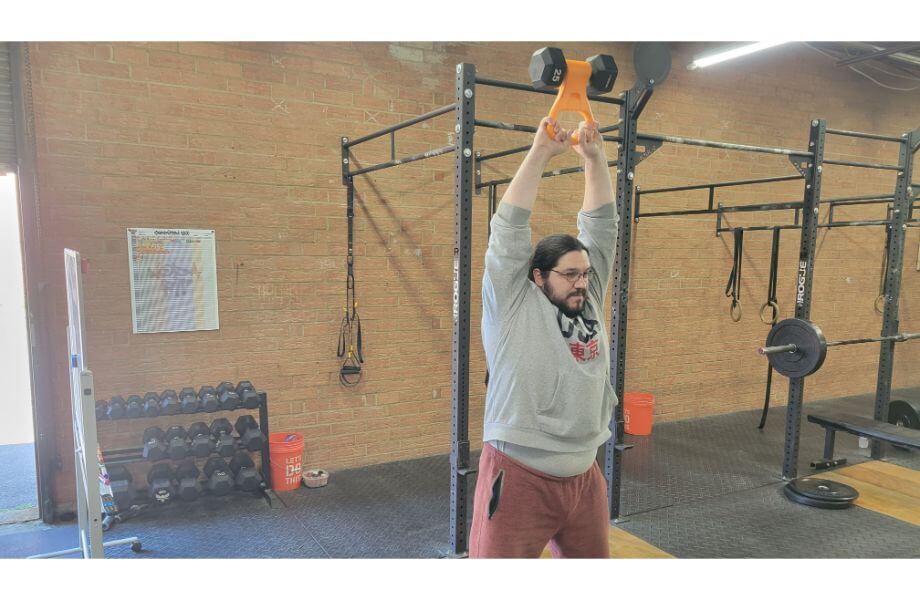 The Kettle Gryp felt fine for strength exercises like an overhead press, but at the same time, I couldn't help but think that I'd get a similar stimulus from just using the dumbbell for a press instead. Ultimately, this is a versatile piece of equipment that can be used on the go, but it will also be a little limiting in the exercises you can use in your kettlebell training. Furthermore, your experience will also depend on the size of the dumbbells you have at your disposal.
Construction
The Kettle Gryp is made of a hard ABS plastic, which is particularly structurally sturdy. It's surprisingly sturdy for being a piece of plastic that doesn't even weigh a whole pound. The build is pretty solid for its cost and for what it is. The handle is 1.15 inches wide, a little thinner than a competition kettlebell, which despite the change was still comfortable during workouts.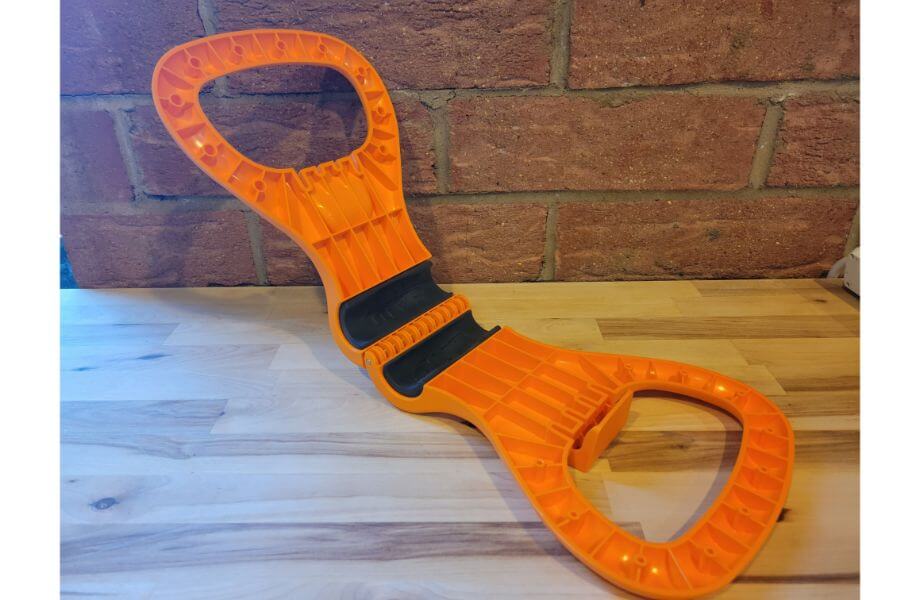 The urethane foam inserts do an amazing job at securing the dumbbell in place. The foam keeps the handle tight enough to keep a thinner dumbbell handle secure, but also has enough give to squeeze in the larger dumbbell handles—although anything thicker than 1.5 inches just simply won't work. The 4.5-inch minimum length of the dumbbell length should be a non-matter except for very small dumbbells.
The latch that opens and closes the Kettle Gryp is placed at the bottom of the handle and away from the dumbbell, which I feel gives the grip a stronger latch, away from where most of the stress would be. Some competitors place the latch around the dumbbell weight; I would always worry about the grip snapping open during a swing.
Durability
The Kettle Gryp has a recommended maximum weight of 55 pounds. In my testing, I was able to load a 120-pound dumbbell onto the Kettle Gryp and tried some Russian kettlebell swings. It worked pretty well, although that was when it really started to feel plastic. When Garage Gym Reviews founder Coop tested the Kettle Gryp, he was able to load it with 150 pounds and didn't have any trouble.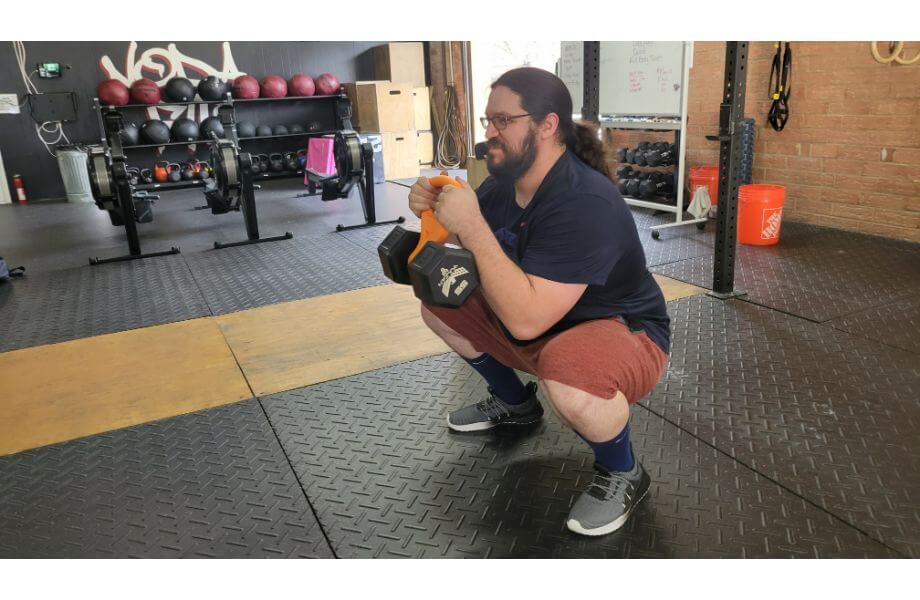 With all that said, for a piece of plastic, the Kettle Gryp seems pretty durable. I would not recommend going over the recommended maximum weight, though. At 55 pounds, the Kettle Gryp was solid and sturdy, and I took it through lots of reps. It is plastic and accidents can happen, but so long as you take care of this piece of equipment, it should last.
Portability
One of the strengths of the Kettle Gryp is how easy it is to take on the go. I live a half an hour from the gym I coach and train at, so I don't typically bring gym equipment with me. With the Kettle Gryp, however, I was able to toss it in my gym bag easily before I went to work out. Being less than a pound, it would be nothing to toss in a suitcase or carry-on luggage while flying either.
From your garage gym for a home workout, all the way to a commercial gym while traveling, the Kettle Gryp can easily go with you.
Comparison to the Titan Fitness Adjustable Kettlebell
It's challenging to compare the Kettle Gryp to any kettlebell, as it is not quite a kettlebell; rather, it is a compact solution or alternative to kettlebells. Regardless, we'll compare it to the Titan Fitness Adjustable Kettlebell, our choice as one of the best budget adjustable kettlebells on the market.
These are both great options for a budget-friendly kettlebell. The Titan kettlebell has more of the look and feel of a traditional kettlebell, as it is made of cast iron and not plastic. Nevertheless, it comes in at close to four times the price of the Kettle Gryp.
Additionally, the Titan has a max weight of 40 pounds, whereas the Kettle Gryp has the potential for a greater range of weights, with a recommended maximum of 55 pounds. Adjusting the Titan kettlebell can be awkward, but using the Kettle Gryp on some movements can be awkward as well.
Ultimately, the value comes from what you want out of these two products. The Kettle Gryp is a great product to use on the move, while the Titan Fitness Adjustable Kettlebell can bring you a more traditional feel of a kettlebell without breaking the bank.
| | | |
| --- | --- | --- |
| | Kettle Gryp | Titan Fitness Adjustable Kettlebell |
| Price | $34.95 | $119 |
| Dimensions | 11.38" H x 8.23" W | 11" H x 7" W |
| Weight | 0.9 lbs | Adjustable |
| Minimum weight | Whatever the smallest dumbbell you have is | 10 lbs |
| Maximum weight | Recommended 55 lbs | 40 lbs |
| Material | High impact ABS plastic | Cast Iron |
| Colors | Orange, black | Black |
Titan Fitness Adjustable Kettlebell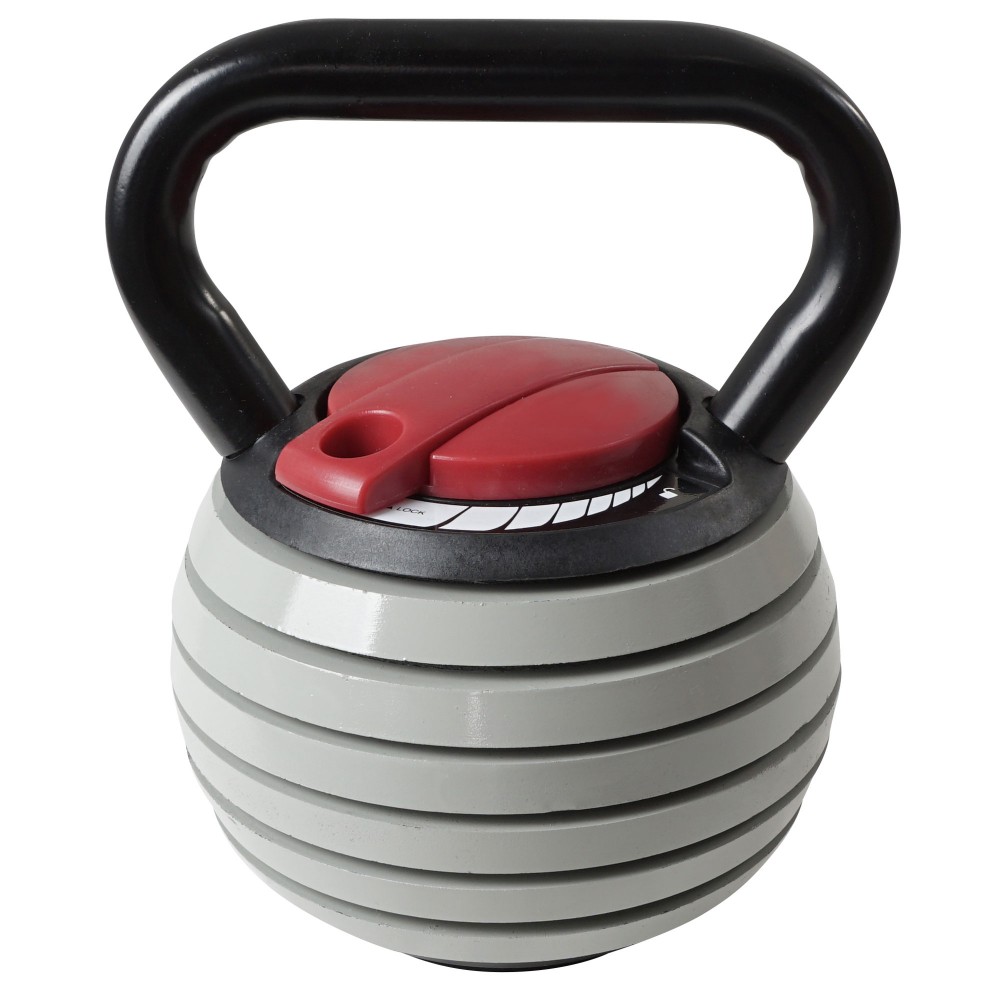 GGR Score: 4.8
Community Score: 4.7
Product Highlights
Around $100
Wide range of weights
Great for beginners
Pros & Cons
Pros
Around $100
One-year warranty
Free shipping
Wide range of weights
Cons
No marked weight increments
Adjustment mechanism is cumbersome
The handle is thin
Bottom Line
A budget-friendly adjustable kettlebell that gets the job done.
Customer Experience
Kettle Gryp offers lifetime warranty to the original purchaser, so long as the Kettle Gryp has not been obviously misused. To obtain a replacement or repair, the customer has to show a proof of purchase.
They also offer a 30-day return policy if you order through the website. Any item in its original packaging in like-new condition can be returned for a full refund. Again, the customer has to show proof of purchase.
Ordering the Kettle Gryp
I ordered the Kettle Gryp on Amazon, and I was able to get it delivered the same day through my Prime membership. It came packaged in a bag with no issues and no damage.
There are not a lot of customization options—just bright orange or black. I chose the original orange because I really wanted my Kettle Gryp to pop in the gym. Also, my wife thought I wouldn't get that bright of a color, so I had to prove her wrong. Bright orange all the way!
Assembling the Kettle Gryp
The Kettle Gryp itself comes fully assembled, but to use it, you must add a dumbbell to it. Adding the dumbbell is simple enough—open the latch, place the dumbbell in the padded groove, and close up the latch.
However, not just every dumbbell will work. For a dumbbell to work with the Kettle Gryp, the handle must be at least 4.5 inches long, and must be less than 1.5 inches wide at its thickest diameter. Another thing to consider is the size of the dumbbell head in relation to the Kettle Gryp handle. I had a couple of larger dumbbells unable to fit the Kettle Gryp because the dumbbell head would hit the handle, making it unable to close properly. This can also happen with some larger adjustable dumbbells, like the Bowflex 1090s.
Customer Reviews
The Kettle Gryp website has only three reviews at the time of this writing; however, the Amazon page has 8,561 ratings and thousands of product reviews, with an average rating of 4.5 stars out of 5.
The reviews are mostly positive, with some minor complaints being that the Kettle Gryp moves awkwardly for some movements that require rotation of the kettlebell, like kettlebell snatches. Some reviews suggested a redesign of a handle that could rotate 90 degrees. Although I'm sure this design change might increase the price, after trying some kettlebell cleans with it, I think this suggestion could be a great design choice.
Some reviews talked about promptly returning the product after finding out their dumbbells did not fit with the Kettle Gryp. It would be wise to check your dumbbell handles' widths and lengths before making the purchase.
A couple reviews spoke about the product cracking or breaking after a short use. While I did not experience this, I could see the potential due to its plastic makeup.
Final Verdict of Our Kettle Gryp Review
I may have been a little hard on it at times, but I like the Kettle Gryp. Is it for everyone? No, but it can be a good alternative to investing in heavy, expensive kettlebells for your home gym. If you're looking for something that feels just like a kettlebell, you should probably just get a kettlebell. But, if you're looking for an item that is all at once inexpensive, portable, and adjustable in weight, then the Kettle Gryp is a great solution for that need.
Kettle Gryp Rating
Kettle Gryp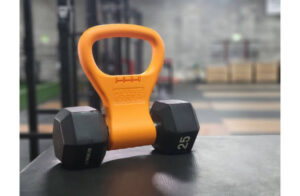 Is the Kettle Gryp the best travel option for workouts on the go? Read more on this budget-friendly item in our Kettle Gryp review.
Product Brand: Kettle Gryp
Product Currency: $
Product Price: 35
Product In-Stock: InStock
Kettle Gryp FAQs
Did Kettle Gryp get a deal on Shark Tank?
Yes, the Kettle Gryp got a deal on Shark Tank from Lori Greiner for $300,000 with 15% equity.
Do kettlebell workouts really work?
Yes, kettlebell workouts are an effective method of working out. Through kettlebells, you can burn fat, build muscle, improve your cardio, and do functional training. You can read about kettlebell benefits to learn more about how effective they can be.
What is the weight limit on Kettle Gryp?
The recommended dumbbell weight limit on the Kettle Gryp is 55 lbs.