We test and review fitness products based on an independent, multi-point methodology. If you use our links to purchase something, we may earn a commission. Read our disclosures.
I'd call myself more of an avid water drinker than an avid runner. I drink nearly a gallon every day but only dabble in running. Even though I'm not always thrilled about running, I was thrilled to give a bunch of handheld running water bottles a try. In the past, I've given a lot of thought to bringing my water bottle with me, but the bulky stainless steel water bottles I have around my house are a nuisance to carry along.
This is where the game changed for me (and it could for you, too): running water bottles that are designed to be carried with you while you run are not bulky at all. If this sounds exciting to you, keep reading for our curated list of the eight best running water bottles on the market.
Constantly Putting Fitness Equipment to the Test
Our team of product testers are fitness industry professionals—from CrossFit Level 1 Trainers to nutrition coaches. We've spent hours testing running shoes, running socks, running belts, hydration vests, and even different running workouts. Now, for the first time, we personally tested some of the best running water bottles you can buy.
It's worth noting that I tested most of these water bottles myself and took them out in my current climate of icy cold winter weather. That said, I will have a slightly different experience if you're running in primarily warmer climates.
8 Best Running Water Bottles:
Best Overall Running Water Bottle: Nathan SpeedDraw Plus Insulated Flask
Good for: Anyone looking for a handheld water bottle with a stash pocket
The Nathan SpeedDraw Plus Insulated Flask made it to the top of this list because it not only has an ergonomic design for easy gripping, it's also a double-wall insulated water bottle with an 18-ounce capacity. The hand strap is adjustable and on the opposite side features a large stash pocket big enough for your keys, credit card, or a smartphone. I will admit it's a tight fit for my iPhone, which has a slim case, but it did work.
You'll also like knowing there are two spots that feature reflective fabric on the hand strap apparatus. The hand strap is easy to carry for a range of runners (or while wearing gloves) because it's fully adjustable.
The water flow from the race cap on this Nathan handheld water bottle provides a nice steady stream without the need to stop or use your other hand–you just have to squeeze the water bottle and you're good to go. You might think this sounds like a leaky situation, but even after I shook this thing around and turned it upside down, no water dripped out; the water is only released when you squeeze.
| | |
| --- | --- |
| Price | $37 |
| Ounces | 18 oz |
| Cap style | High-flow valve race cap |
| Dishwasher-safe | No, hand wash |
Best Ergonomic Running Water Bottle: Amphipod Hydraform Minimalist Handheld Water Bottle
Good for: Anyone looking for a minimalist and ergo handheld water bottle
The Amphipod Hydraform Minimalist Handheld Water Bottle is a practical (and comfortable) option for long and short runs alike. This contoured water bottle feels effortless in my hand while jogging. I don't have to grip too hard to keep the hand strap secure because it's fully adjustable and can also work while wearing gloves. If you wanted to, you could remove the hand strap and use this as a traditional water bottle, too.
The Amphipod features a push-pull cap that will require your opposite hand to pull up and unlock the spout. Although this water bottle is super simple and doesn't offer any storage compartments like the Nathan SpeedDraw, it does offer two slots for energy gels on the outside of the hand strap.
Because this is a hard water bottle and is dishwasher safe for the top rack, I feel confident that this bottle is suitable for electrolyte or sport drinks knowing you can clean it with ease.
| | |
| --- | --- |
| Price | $24 or $25 depending on ounces |
| Ounces | 16 oz and 20 oz options |
| Cap style | Push-pull (Jett-Lock brand) |
| Dishwasher-safe | Yes, top rack |
Best Budget Running Water Bottle: Aonijie Quick Grip Handheld Soft Water Bottle for Running
Good for: Anyone looking for a budget running bottle that still offers enough water for longer runs
The Aonijie Quick Grip Handheld Soft Water Bottle for Running is suitable if you're budget-conscious and looking to upgrade your running gear. This soft flask and carrying case is priced right around $20 on Amazon.
It's also dishwasher-safe and offers easy access with the bite valve cap. The full fabric sleeve even has a small zippered pocket for a set of keys or cash, but it's not big enough for a cell phone.
The Aonijie is easy to hold while running because of its slim design and fabric sleeve with an adjustable hand strap. Running with this felt secure and distraction-free. I also liked that I didn't need to use my other hand to pop open the cap.
The one thing I will mention is it took a little finagling to get the soft water bottle in the fabric sleeve after filling up to the full capacity. Because it's soft I wanted to gently put it into the sleeve, but it turns out it's pretty durable and you can actually have a pretty firm grip on it. I also attempted to fill the flask with water while it was in the sleeve, but that method doesn't work. You will have to remove the flask from the sleeve for refills.
| | |
| --- | --- |
| Price range | $19.99 to $21.99 |
| Ounces | 16.9 oz |
| Cap style | Bite valve |
| Dishwasher-safe | Yes |
Best Running Water Bottle For Beginners: Nathan ExoShot Lite 14oz Handheld
Good for: Beginners looking for a secure handheld water bottle
The Nathan ExoShot Lite is a terrific water bottle if you're just starting out as a runner. The ExoShot Lite is a simple soft flask with an adjustable hand strap that offers an even more secure grip than the other running water bottles I tested.
I will note that at first I gripped it completely wrong and wondered why it felt so floppy. However, once I figured it out this immediately became one of my favorites.
So here is the thing with the strap: It's designed almost like a two-point harness, meaning it's not a single nylon strap. That said, you don't just slip your hand under the strap, you actually slide your palm through the opening and grip the water bottle. Once your hand is through the opening, it's almost a grip-free experience because your wrist is secured into place.
I think a design that promotes less gripping is ideal for beginners because it will allow new runners to focus on the run, not the accessories. Also, I like the fact that this soft flask is dishwasher-safe on the top rack and features a small plastic "spine" that helps the water bottle keep its shape.
| | |
| --- | --- |
| Price | $32 |
| Ounces | 14 oz |
| Cap style | Bite valve |
| Dishwasher safe | Yes, top rack |
Best Filtration Running Water Bottle: Katadyn BeFree 0.5L Water Filter Bottle
Good for: Nature lovers looking for a reliable filtration system built into a water bottle
The Katadyn BeFree Water Filter Bottle is a unique soft flask that filters your drinking water from 99-percent of bacteria (and protozoa like giardia and cryptosporidium).
This water bottle doesn't have a hand strap and it's a bit larger than the other ones I tested, but I still found it easy to carry with me while I went jogging. I would not suggest this for a long run or a half marathon, but I like the idea of carrying this on nature walks and hikes for the filtration element.
The filter can process over 33,800 ounces of contaminated water with its membrane filter. It's also easy to clean and only requires rinsing or swishing the filter in clean water to remove debris. You can remove the flip cap nozzle from the filter and clean each piece separately, too. It's also worth noting that Katadyn replacement filters can be found on Amazon for about $24 a piece.
| | |
| --- | --- |
| Price | $32 on Amazon |
| Ounces | 20 oz |
| Cap style | Flip cap nozzle |
| Dishwasher safe | Yes, top rack |
Best Compact Running Water Bottle: HydraPak SkyFlask Water Bottle
Good for: Anyone looking for a simple soft flask that takes up next to no space when empty
This Hydrapak SkyFlash Water Bottle is another handheld running water bottle and is by far the most compact of the ones I tried. It's an insulated soft flask and completely collapsible, which makes this ideal to transport to race day or throw in your pocket during marathon training. It also has a bite valve to draw water hands-free.
The hand strap is adjustable, but I will admit it kept sliding back to the original setting. It was still easy to hold on to, but as I drank more, the water was sloshing around a little because the strap wasn't as tight as I would have liked it.
However, I like the fact that this HydraPak is BPA-free, leakproof, and freezable. I did not try this out in the freezer, but that is mostly because I put these water bottles to the test mid-winter and didn't want my whole body to become an icicle. The ability to freeze this water bottle in the summertime will come in handy.
| | |
| --- | --- |
| Price | $30 |
| Ounces | 16.9 oz |
| Cap style | Bite valve |
| Dishwasher safe | No, hand wash |
Best Running Hydration Vest: Patagonia Slope Runner Endurance Trail Running Vest
Good for: A completely hands-free trail running experience
The Patagonia Slope Runner Endurance Trail Running Vest is a wearable, hands-free way to take water with you on the trails that is not a traditional hydration pack. The vest has two 17-ounce soft flask bottles that sit in pouches at the top of either side of your chest.
The total ounces of water might not be enough for long training runs or hikes, but it will give you the option to hydrate with nearly 32 ounces of water total.
GGR product writer and tester Anthony O'Reilly tested the Patagonia running vest and enjoyed the low-profile design and the comfort while wearing. He also liked the fact the purchase of the vest included the soft flasks in addition to extra pockets and a spot to hold your hiking poles.
Anthony does note it is a pricey item for a running vest but he thought it was "incredibly comfortable and easy to pull on and off—it could also be easy to forget you're wearing it." In that case, we think it's worth considering this hands-free running hydration vest option.
| | |
| --- | --- |
| Price | $159 |
| Ounces | Two 16.9 oz flasks |
| Cap style | Bite valve |
| Dishwasher safe | No, handwash |
Best Running Hydration Belt: Nathan TrailMix Plus Hydration Belt
Good for: Anyone who wants easy access to water and storage at the hip
Although this is not a handheld running water bottle, the Nathan TrailMix Plus Hydration Belt delivers another hands-free running experience with a belt that fastens around your waist and includes two 10-ounce water bottles—one on each side of your hips.
The heavy-duty plastic buckle is easy to get on or off and I wore it so that the buckle was in the midline of my body and the zippered pouch in the center of my back (which features vented, breathable material so you don't overheat).
The center zip pouch is big enough to hold a cell phone, while the smaller mesh pouch with a Velcro closure is ideal for keys, credit cards, or a snack bar or energy gel.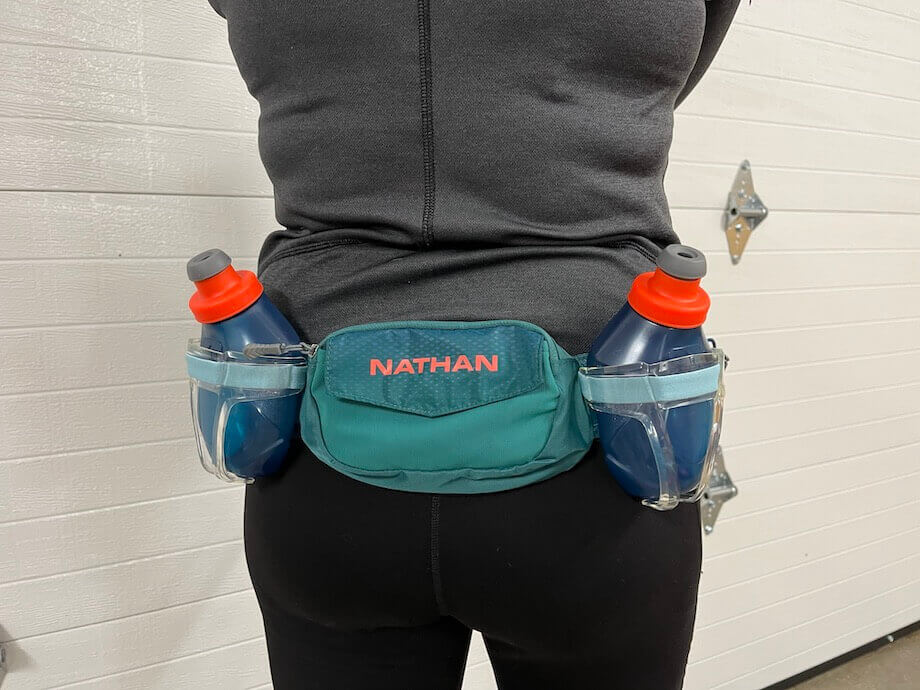 The Nathan hydration belt is super comfortable and I've even made adjustments to the waist strap and worn it over a jacket while cross-country skiing. With gloves on, the water bottles are a little harder to grab and open the push-pull style cap, but still doable. However, I assume most folks won't be using this belt with a pair of ski poles in hand.
I will also mention that I like the fact this belt has two hard plastic water bottles with hard plastic holsters. The water bottles feel secure in the holsters and the material also feels durable to stand up to hundreds of water breaks.
| | |
| --- | --- |
| Price | $60 |
| Ounces | Two 10 oz flasks |
| Cap style | Push-pull |
| Dishwasher safe | No, hand wash |
Other Running Water Bottles We Researched
Osprey Duro Handheld Running Flask: Although we haven't tested this water bottle, we did not include this popular running water bottle in this roundup because it can only hold eight ounces of water.
Salomon Active Handheld Running Bottle: This water bottle was very similar to the HydraPak SkyFlask and it did not make it as one of our top picks because we like the fact that the HydraPak is insulated and can be thrown in the freezer.
Fitletic Hydra 16 Hydration Belt: This hydration running belt functions well but it was super tight around my waist even after adjusting the waist strap. I didn't choose this belt for this roundup because it did not feel like it was inclusive for a wide range of runners.
How We Picked and Tested
Here are some of the things I considered when choosing and testing water bottles:
Price: Water bottles shouldn't be expensive, so I wanted to make sure this roundup didn't feel out of touch. With the exception of the running belt and hydration vest, all these water bottles are $30 or less.
Our experience: I wanted to make sure all these products felt natural to use—each bottle had to stay in the hand, not flop around, or feel inconvenient while running.
Water capacity: I'm a pretty thirsty individual and I wanted to make sure this list had water bottles that could hold a minimum of 14 ounces of liquid.
Hand strap: It felt important to test water bottles with and without the hand strap. Overall the hand strap bottles were easier to hold, but I had to know!
Durability: I tested quite a few soft flask water bottles for the first time, so I wanted to make sure they felt durable while in use and after washing—sure enough all these bottles held up.
Benefits of Running Water Bottles
Here are some of the benefits to buying a water bottle specific to running:
Accessible Hydration
Having access to water is a huge benefit on both short and long runs. Whether you're taking a quick sip or relieving dehydration—having water on hand while you exercise can make a grueling run feel more comfortable.
Easy to Use
Using a water bottle (including hydration vests and belts) designed for runners is easy and effortless. Other water bottles are bigger, heavier, and harder to draw water from. I certainly don't take my stainless steel Yeti water bottle out for a run or even a walk around the block—it's just too bulky for that.
Running Water Bottle Buying Guide
To find the best handheld water bottle for you and your needs, consider our water bottle buying guide to help you make the best decision:
Price
When you're on the hunt for a running water bottle, it's important to know you shouldn't have to break the bank for this purchase. I used $30 as my highest price point to gather this roundup, which I think is pretty reasonable for beginners to experienced runners alike.
Volume
Depending on your preferences (and water drinking habits), make a decision on how many ounces of water you'd like to have on hand. For me, the more water I can carry with me the better. However, if you're someone who just wants a few ounces to wet your whistle once in a while, go for a smaller bottle.
Material
There are a mix of hard plastic water bottles and soft flask options out there for runners. If you're someone who wants flavored sports drinks while you run, consider how easy (or not) it will be to clean and get the taste and smell out of some of the soft flasks.
Additionally, many of the soft flasks are made from PVC or silicone, which is not good or bad but it's worth mentioning if you feel partial to certain materials. We can say that you'll want to look for BPA-free plastics no matter what type of bottle you're looking for.
Cap Style
There are several different cap styles and it can be hard to tell which one is the best. We're all looking for a leak-proof experience, but here are some options to consider:
Bite valve: These remind me of my Camelbak hiking bladder where you bite down to release the water.
Race cap: No biting or extra hands required, you just squeeze the bottle to release the water.
Push-pull: This is exactly how it sounds, you have to push or pull the nozzle to lock or unlock the cap.
Flip cap: Although this style protects the nozzle from getting dirty, you will have to use your free hand to flip the plastic lid open so you can drink from the nozzle.
Hand Strap
If you want a handheld water bottle, your best bet is to find one with a hand strap. It's an absolute game-changer. Before testing some of these water bottles, I thought carrying water while running or walking would be such a nuisance. I was proven wrong with a simple hand strap. Be sure that the bottle you're interested in has an adjustable hand strap for a custom fit.
Best Running Water Bottle FAQ
How should I hold my water bottle while running?
If you have a hand strap on your water bottle, slide your hand underneath the strap and place your palm around the bottle. It's important to have a light grip so you don't create too much tension through your upper body, maintaining good running form. 
Should I bring a water bottle while running?
Holding a water bottle while running is optional. Some folks who trek longer distances will think having water on hand is ideal—it depends on your training needs. 
When should you wear a hydration vest for running?
A hydration vest is a hands-free option for carrying a running water bottle. Trail runners and hikers often use hydration vests for the ability to carry a few extra essentials like a snack or map for trail running.