We test and review fitness products based on an independent, multi-point methodology. If you use our links to purchase something, we may earn a commission. Read our disclosures.
The Bowflex SelectTech 552 Adjustable Dumbbells are some of the best adjustable dumbbells because of their space-saving capabilities, ease of adjustment, and overall value. So it makes sense that the Bowflex SelectTech 1090 would also be a great pick for anyone shopping for adjustable weights, right?
You'll have to read our Bowflex 1090 review to get the full truth, but let's just say that we're going to be unbiased in this review, even though Bowflex is one of our favorite fitness equipment manufacturers.
Adjust Your Dumbbells But Don't Adjust Your Computer Screen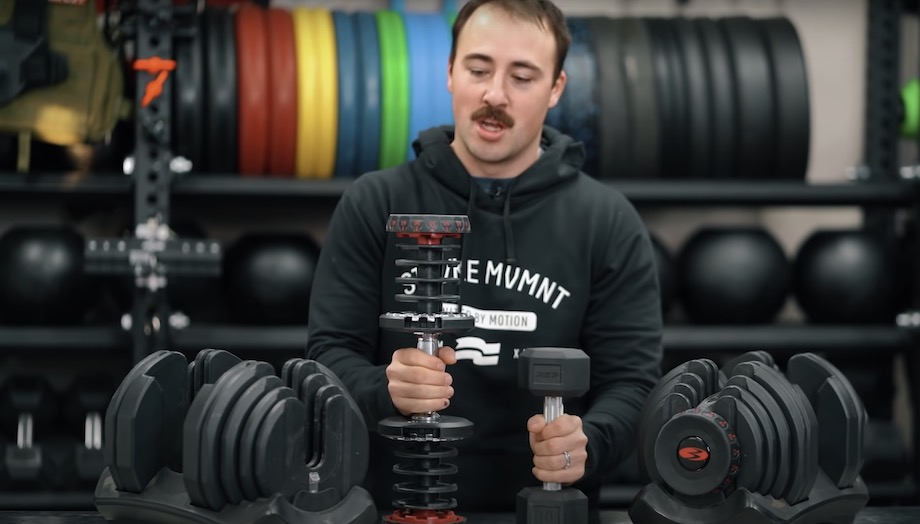 Adjustable dumbbells are one of the many pieces of home gym equipment that we know a thing or two about. We've tested dozens of sets of adjustable weights, including adjustable kettlebells and adjustable barbells, to get a sense of which are the best value, the best budget, and the best overall sets for home gym owners.
Not only that, but we're also certified personal trainers, competitive weightlifters, and CrossFit Level 1 Trainers, so it's safe to say we know how to use adjustable dumbbells to help build muscle, lose fat, and more.
Bowflex 1090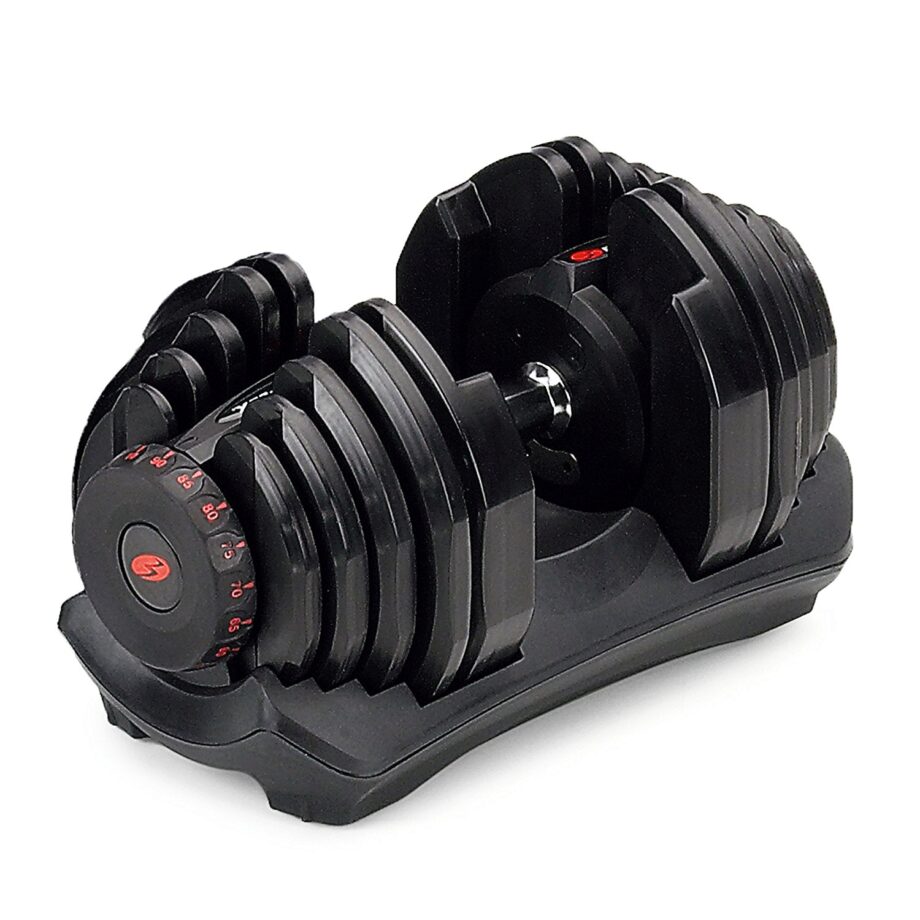 GGR Score: 3.5
Community Score: 5
Product Highlights
Just like all Bowflex SelectTech dumbbells, with just the turn of a dial you can automatically change your resistance from 10 lbs. all the way up to 90 lbs.
A Quick Look at the Bowflex 1090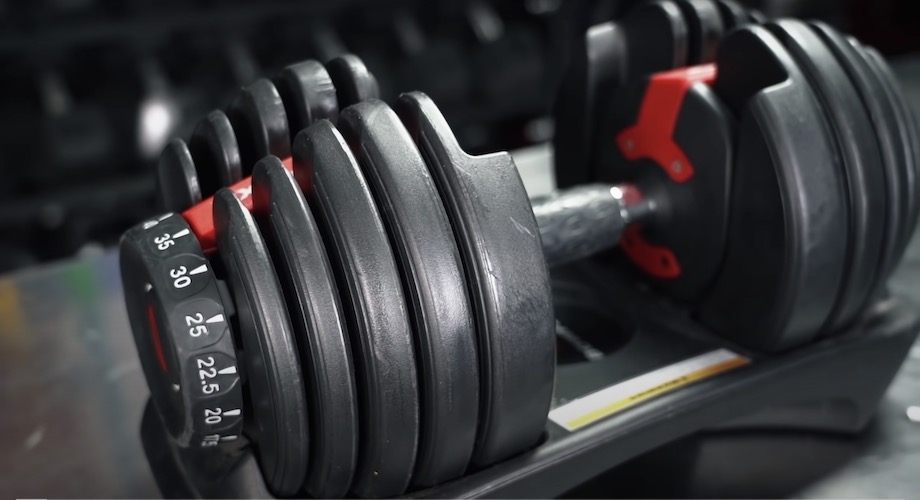 The Bowflex 1090s are an adjustable dumbbell set that start at 10 pounds and have five-pound increments that go all the way up to 90 pounds, replacing 17 pairs of fixed dumbbells. Adjustable dumbbells take up much less space than an entire fixed dumbbell set and either cost around the same amount of money or end up being a bit more budget-friendly.
Bowflex's adjustable dumbbells are famous due to their easy-to-use SelectTech adjustment system, which easily allows users to turn a wheel to adjust the weight. You simply put the dumbbell handle into the cradle and turn the dial system until your desired weight is picked (this must be done on both sides of each dumbbell).
Related: Adjustable dumbbells vs fixed
Before You Buy
There are financing options available to make the cost a bit more budget-friendly.
If you end up not liking the Bowflex SelectTech 1090 adjustable dumbbells you have until six weeks from the date of delivery to return them for a full refund (minus shipping and handling).
Bowflex only sells the 1090s in singles and not in pairs on Amazon.
Video Review
Is the Bowflex 1090 Worth It?
The Bowflex 1090s normally cost around $800 but at the time of this writing are discounted to $600, not including shipping and handling. The pros are that you're replacing up to 17 sets of fixed dumbbells, you can change the weights quickly, and you'll get great customer service.
The con, however, is that for not much more you can purchase much nicer and more durable adjustable dumbbells. The Bowflex 1090 are very flimsy adjustable dumbbells and will eventually wear down on you (we'll dive into exactly how later in this piece).  They also have an odd shape that may impact your training.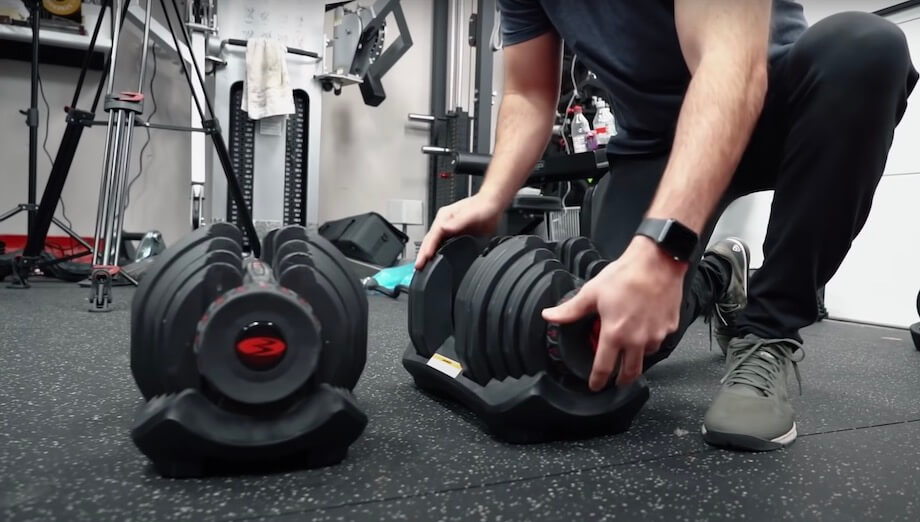 Great for:
Home gym owners looking to lift heavier weights
People looking for compact exercise equipment
Those who do high-intensity interval training (HIIT) and need to change weights quickly
Not recommended for:
People looking for good value
Beginners
Anyone who tends to drop weights
Bowflex 1090 Specs
| | |
| --- | --- |
| Footprint | 17.5" L x 9.5" W x 10" H (including dumbbell cradle) |
| Weight | 92.3 lbs (with base) |
| Weight range | 10-90 lbs |
| Weight increments | 5 lbs |
| Replaces | 17 fixed dumbbell sets |
| Materials | Steel, nylon, polymer, rubber |
| Colors | Black and red |
| Adjustment system | Selectorized dial |
| Warranty | 3 years |
Workout Experience With the Bowflex 1090 Adjustable Dumbbells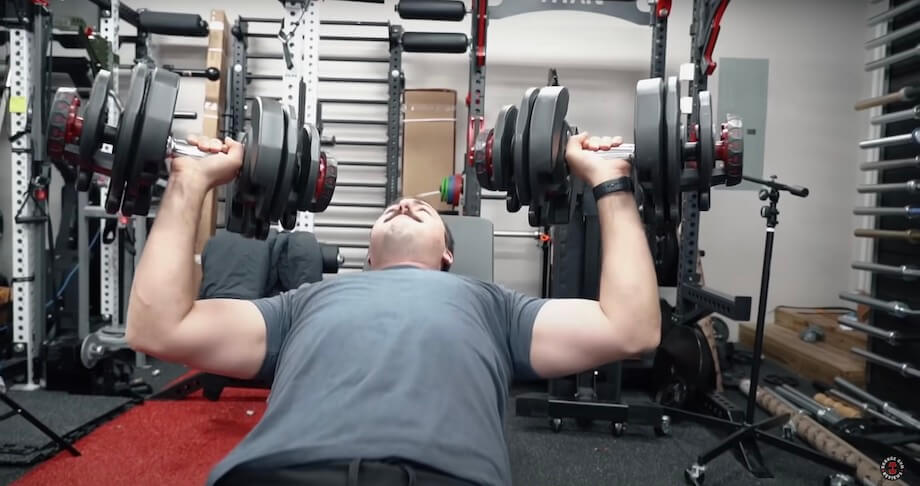 One big problem with the Bowflex 1090s, which you can also see in the Bowflex SelectTech 552 adjustable dumbbells, is that they're quite bulky. Here's a comparison of the Bowflex 1090 at 10 pounds and a traditional 10-pound fixed dumbbell.
Yeah, quite the difference. The Bowflex 1090s are the same length regardless of the weight, which can have training implications especially during moves like dumbbell presses, shoulder presses, lateral raises, squats, biceps curls, and others.
It's not a huge difference, but dumbbell pros will notice that the range of motion feels quite different compared to a fixed dumbbell, according to Garage Gym Reviews founder and dumbbell dean Coop Mitchell.
"On some moves you're going to have to go out wider," he says.
Home gym veterans or anyone with a few years of strength training experience may get over this learning curve quickly, but we recommend beginners try an actual dumbbell set before using these just to get a good idea of proper form. Improper form won't only hamper your training but it could also lead to injuries.
Coop's other major callout of the Bowflex 1090s is that you have to change the weight from both sides of the dumbbell. This is annoying because it takes slightly longer but gives a distinct advantage in that these can be used for imbalance training.
To do this, you'd make one side of the dumbbell slightly heavier than the others (no more than 10 pounds). This forces the muscle to stabilize itself, which can help with more intense moves like the bench press. This type of training should only be done with a certified personal trainer or weightlifting coach.
Adjustable Resistance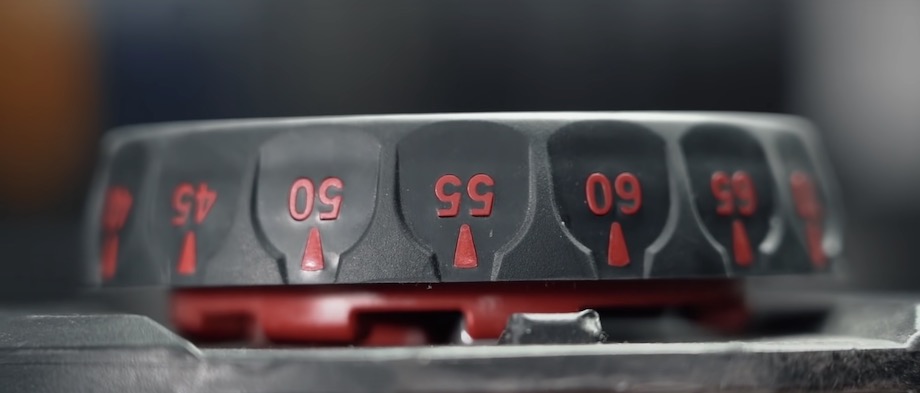 Bowflex's SelectTech technology is the second-quickest adjustable system, right behind the NÜOBELL adjustable dumbbells (more on them in a second). You simply turn the dial on both ends of the dumbbell to get to the weight you want.
The dial tells the dumbbell how many plates to pick up when it's placed in its cradle (the handle has to be lined up with all the plates). Coop notes it takes less than eight seconds to place the dumbbell in the cradle, turn the dial to a high weight, and take it back out again.
That means you're spending less time fidgeting with the weights and can get back to lifting quicker, which is especially helpful if you're someone who prefers HIIT-style training.
The Bowflex 1090 replaces 17 sets of fixed dumbbells and starts at 10 pounds and ends at 90 (with five-pound increments in between).
Knurling
"This isn't knurling," Coop says of the Bowflex 1090's handle. "This is more like nibbling." Here's the thing, Coop really loves knurling and usually we'd make fun of him by saying something like "Well if you love knurling so much why don't you just marry it?" The thing is he had knurling put on a ring, so he kind of did (we're just joking, Mrs. Coop).
But he's not wrong. Knurling is typically a crosshatch pattern that allows the user to better grip a barbell or dumbbell, and it comes in different levels of aggressiveness: from passive to diamond (the latter of which has been known to shred the skin off one's fingers).
The Bowflex 1090 "knurling" is more like raised bumps that may help increase grip but not nearly as much as actual knurling. Bowflex could've easily swapped this out for a rubber grip, like you see on the 552s, or a real knurling and just kept it passive.
Durability and Construction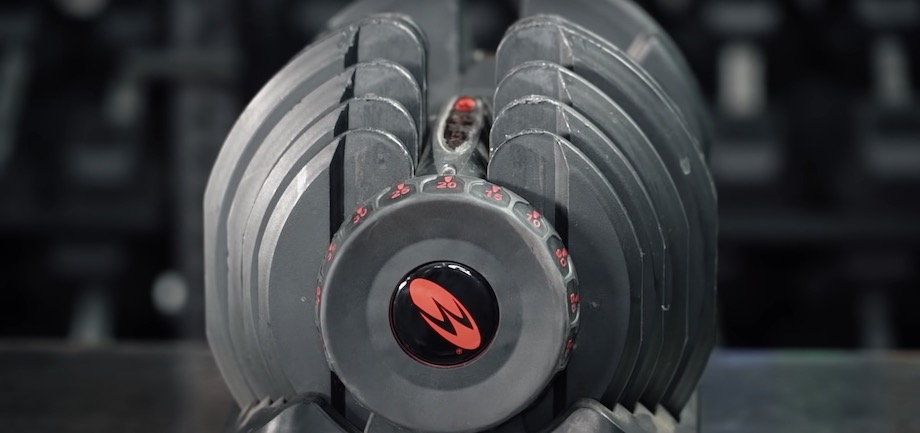 The Bowflex 1090 loses a lot of points when it comes to durability and construction and it's the main reason why we're hesitant to recommend this product to most home gym owners.
There are some parts where using plastic or rubber makes sense (such as the adjustment dial), but the Bowflex 1090 uses a lot of plastic. One area where we think that's quite troublesome is the lips inside the dumbbell handle that catch the weight discs (which are also plastic).
As Coop points out, these plastic lips will wear down over time and make it harder for the dumbbell handle to catch onto the discs. "There's no secure connection between these," Coop says.
Plastic is also prone to breaking if you drop it, and though we recommend you never drop your adjustable dumbbells, we also get that accidents happen. The Bowflex 1090 isn't exactly a cheap adjustable dumbbell set and similar products that cost just a bit more are made with high-quality materials.
Footprint and Portability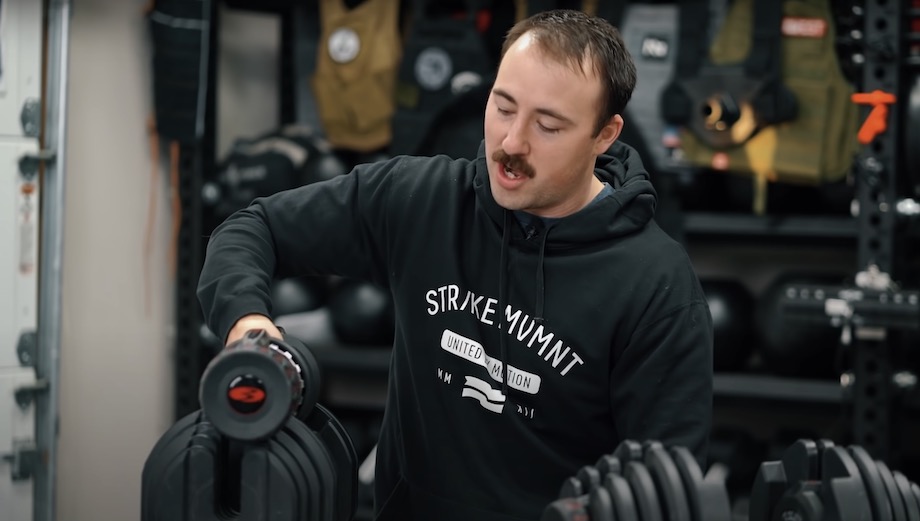 While the individual dumbbells may not be the best size, it can't be denied that the Bowflex 1090s are a much more convenient way to use dumbbells than purchasing and storing an entire set of dumbbells.
If you wanted every dumbbell from 10 to 90 pounds you'd need to buy 17 dumbbell sets, which can take up an entire wall's worth of space and requires you to purchase or make a dumbbell rack to hold all of them.
Each Bowflex 1090 dumbbell is 17.5 inches in length, 9.5 inches in width, and 10 inches in height (this includes the dumbbell base). This compact design makes it perfect for people in apartments or those who just want to save some space in their home gym.
Bowflex 1090s vs NÜOBELL Adjustable Dumbbells
NÜOBELL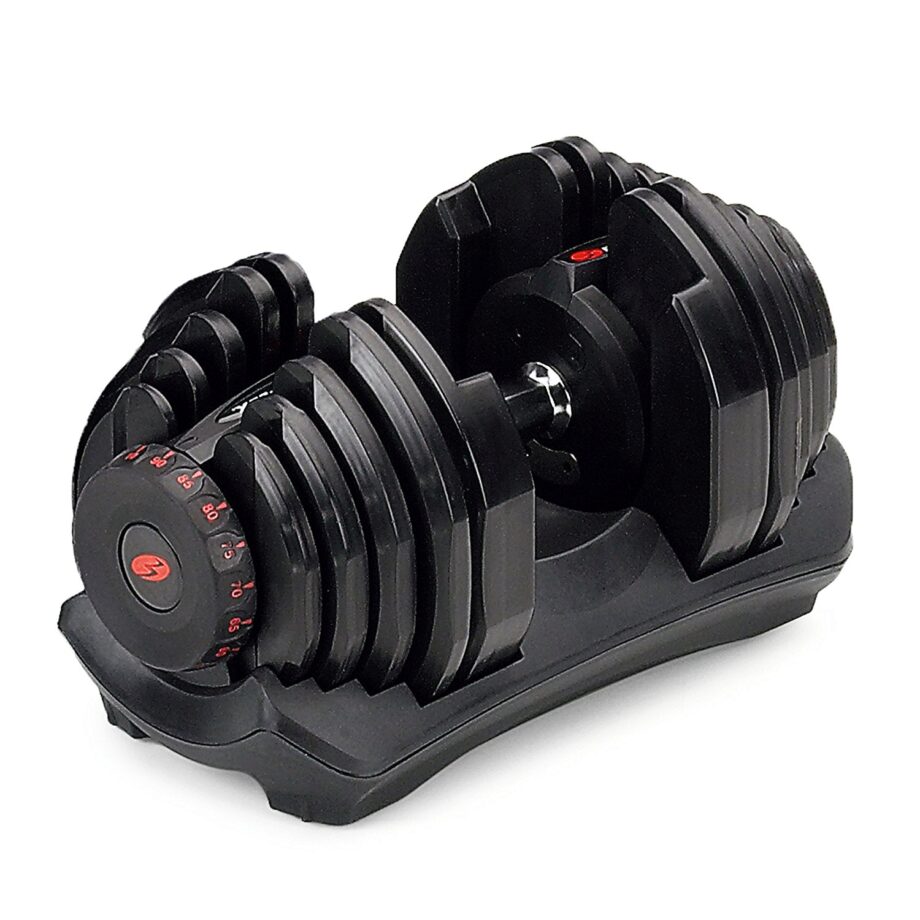 GGR Score: 4.5
Community Score: 5
Product Highlights
Just like all Bowflex SelectTech dumbbells, with just the turn of a dial you can automatically change your resistance from 10 lbs. all the way up to 90 lbs.
Are the NÜOBELL Adjustable Dumbbells more expensive than the Bowflex 1090? Yes, but in our opinion they're worth it and we'll explain why.
Firstly, we got a more heavy-duty product that's less likely to break. Secondly, the NÜOBELLs have an even quicker weight adjustment than the Bowflex 1090s—you simply load the dumbbell handle into the base and turn the handle until your desired weight setting is selected.
There's also much better knurling, a better shape that's more like a traditional dumbbell, and you still replace 16 sets of adjustable dumbbells with weights ranging from five pounds to 80 (with five-pound increments). That may not be as much as the Bowflex 1090s, but 80 pounds is still pretty heavy, especially for an adjustable dumbbell.
Oh, and NÜOBELL uses metal plates.
Our NÜOBELL adjustable dumbbells review has our full thoughts on these adjustable dumbbells.
| | | |
| --- | --- | --- |
| | Bowflex 1090 | NÜOBELL Adjustable Dumbbells |
| Price | $599 | $745 |
| Weight range | 10-90 lbs | 5-80 lbs |
| Weight increments | 5 lbs | 5 lbs |
| Replaces | 17 dumbbell sets | 16 dumbbell sets |
| Footprint | 17.5" L x 9.5" W x 10" H | 17" L x 7.5" W x 7.5" H |
| Adjustment system | Selectorized dial | Handle |
| Warranty | 3 years | 2 years |
Bowflex 1090s vs PowerBlock Adjustable Dumbbells
PowerBlock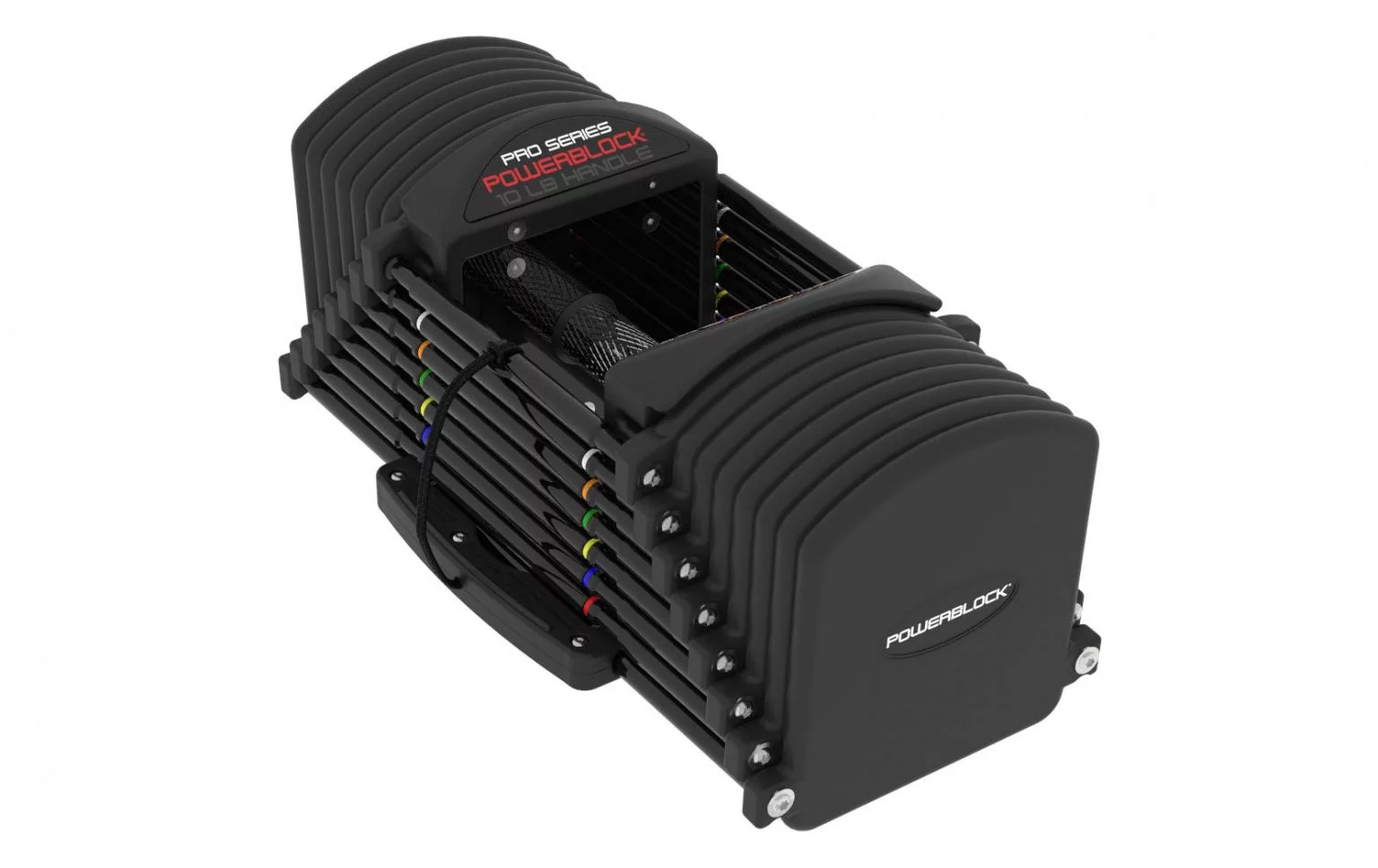 GGR Score: 4.5
Community Score: 4.6
Product Highlights
Easy to use
Accounts for 28 pairs of dumbbells and 2,565 lbs of free weights
Changes in 2.5-lb-increments from 5 to 50 lbs
Cageless handle
Made in USA
Pros & Cons
Pros
Easy to use
Accounts for 28 pairs of dumbbells and 2,565 lbs of free weights
Weight range 5 to 50 lbs
Cageless handle
Purchase add-ons for up to 70 or 90 lbs per hand
Weight changes in 2.5-increments
Cons
Cost upward of $500/pair
Expansion packs cost extra
Rubber grip on handle opposed to knurled steel
Bottom Line
PowerBlock is a name we know and trust in adjustable dumbbells. These are a fantastic option for people who want 50 to 90 lbs per hand for in adjustable dumbbells.
The PowerBlock Adjustable Dumbbells are one of the most beloved adjustable dumbbells out there, and with good reason. Also, before we continue, it's important to note that we'll be referring to the expandable PowerBlock Sport EXP Series (they also have a Pro and Elite series).
The base model goes up to 50 pounds and you can get two expansion kits to make it as heavy as 90 pounds per dumbbell. Each expansion kit is $179, but even if you were to get the base model and both expansion kits, it only comes out to $167 more than the Bowflex 1090s.
The PowerBlocks are much more durable than the Bowflex adjustable weights and we like the fact that they're expandable because it allows you to keep the same product while adding on weight as you get stronger (this also means you get to keep the product instead of having to buy a new one).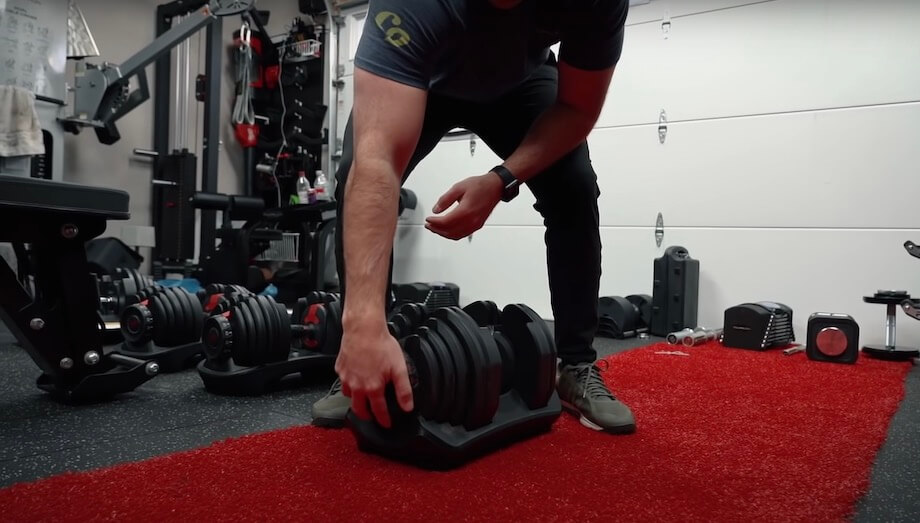 Like the Bowflex 1090s, the PowerBlocks have a shape problem: they're more box-ey than your traditional fixed dumbbells and some people often claim it's harder to lift with them. We don't see much of a learning curve with them but it's there, so keep that in mind.
Read our full Powerblock adjustable dumbbells review and check out our PowerBlock vs. Bowflex comparison.
| | | |
| --- | --- | --- |
| | Bowflex 1090 | PowerBlock Sport EXP Series |
| Price | $599 | Starting at $409 |
| Weight range | 10-90 lbs | 50, 70, or 90 lbs |
| Weight increments | 5 lbs | Varies by model |
| Replaces | 17 dumbbell sets | Varies by model |
| Footprint | 17.5" L x 9.5" W x 10" H | 12" L x 6.5" W x 6.5" H |
| Adjustment system | Selectorized dial | Selector Pin |
| Warranty | 3 years | 5 years |
Returns, Financing, Warranty
Bowflex gives you six weeks from the date of delivery to return the Bowflex 1090s for a full refund if you decide they're not right for you, which is a very good policy in our opinion. Most other companies will only give you two weeks to 30 days to try their products.
Financing plans for the Bowflex 1090 start at $24 per month.
The Bowflex 1090s have a short three-year warranty, which is better than what NÜOBELL offers (just two years) but short of the average five-year warranty offered on most adjustable dumbbells in this price range.
Ordering and Assembling the Bowflex 1090
Simply click "Add to Cart" and wait for your Bowflex 1090s to arrive.
No assembly required—simply put all the weight plates in the base and line up the dumbbell handle with them to adjust the weight.
Customer Reviews
The Bowflex 1090s have a 4.7 average rating with more than 2,100 customer reviews as of this writing.

Negative customer reviews centered around the 1090s lack of durability.

Final Verdict of Our Bowflex 1090 Review
At the end of the day, we'd be much more willing to recommend the Bowflex 1090s if they were offered at a cheaper price—and considering the amount of plastic used in them we're pretty sure that could be done. We like the wide weight range and the ease of adjustment, but $600 is just too much money for something that will break (it's a matter of when, not if).
We know money's tight, but if you're already at the $600 mark, you might as well pay an additional $150 to $200 for something much nicer that will last you longer. But if you're on a very strict budget and can't go above $600, the Bowflex 1090s will do just fine.
Bowflex 1090 Rating
Bowflex 1090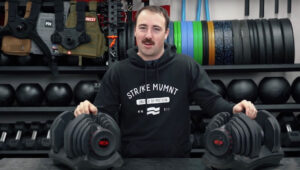 Our Bowflex 1090 review gives you the good, bad, and ugly of these adjustable dumbbells.
Product Currency: $
Product Price: 599
Product In-Stock: InStock
Bowflex 1090 FAQs
How heavy is Bowflex 1090? 
Each dumbbell starts at 10 pounds and goes up to 90 and weighs 92.3 pounds with the base.
Can you drop Bowflex 1090?
Absolutely not. In fact, even Bowflex stresses that these should not be dropped because there's a lot of plastic that's prone to breaking if dropped.
Are the Bowflex dumbbells worth it?