We test and review fitness products based on an independent, multi-point methodology. If you use our links to purchase something, we may earn a commission. Read our disclosures.
There's nothing quite like shutting out the world with a pair of headphones and hitting the pavement (or the treadmill). Aside from the motivation the right song can provide (for me, it's anything Limp Bizkit), the best running headphones offer a secure fit, easy controls, and solid connectivity that's not going to cut out every time your foot lands.
On the flip side, wearing the wrong headphones for high-impact exercises like running can be really annoying. We've been there and done that too many times, so we wanted to separate the good from the bad to help you find a pair of running headphones that you actually love.
After several weeks of testing, we landed on a few top picks. Whether you're looking for over-ear headphones, wireless earbuds, or bone-conduction technology, we've got an option for you.
We're Avid Runners (And Self-Proclaimed Audiophiles)
The Garage Gym Reviews team consists of certified personal trainers, CrossFit coaches, former collegiate athletes, and nutrition coaches who really love running and a good music experience. We've tried dozens of pairs of headphones along the way, and we've put them through the ringer.
We know what makes headphones good for running (a secure fit, excellent sound quality, and a volume you can hear over a treadmill motor) and what makes them terrible (constant slipping, low volume, and clunky connectivity). And it's important to us to share that unbiased knowledge so you can fit the best workout gear for you.
Best Running Headphones in 2023
Best Running Headphones Overall: Beats PowerBeats Pro
Good for: anyone who prefers in-ear earbuds, but wants a more secure fit
If you're more of an earbud type person, you can't go wrong with the Beats PowerBeats Pro. Yes, they're expensive, but these true wireless earbuds have great sound (they actually won best sound in our best workout headphones guide), feel secure during runs,and have a pretty generous 9-hour battery life, according to Nicole Davis, certified personal trainer and GGR editor.
The headphones themselves are really light, so they feel comfortable in your ears and they have incredible noise reduction. Nicole says you "can't hear much of anything when they're in." While we do love this feature, remember that if you're running outdoors, you should be on high alert regarding your surroundings.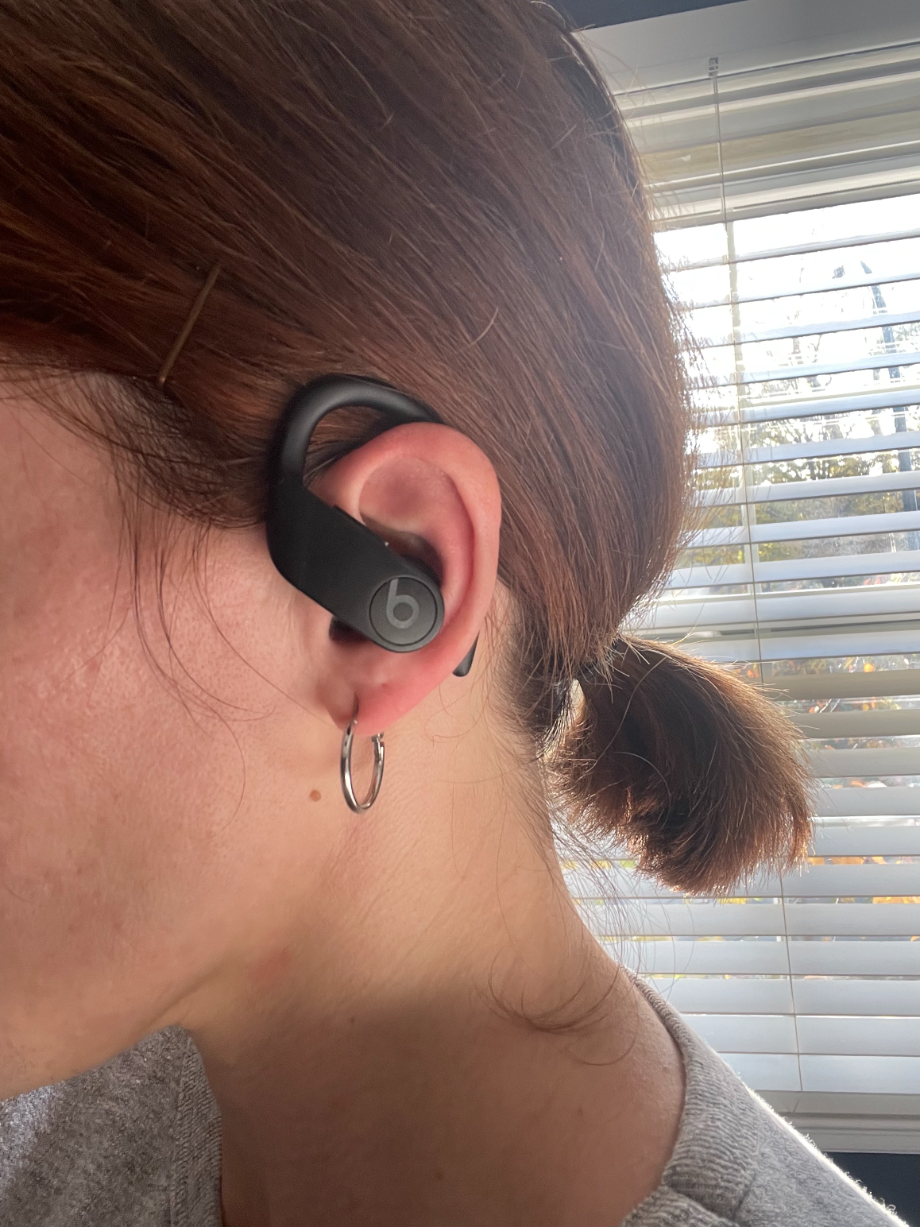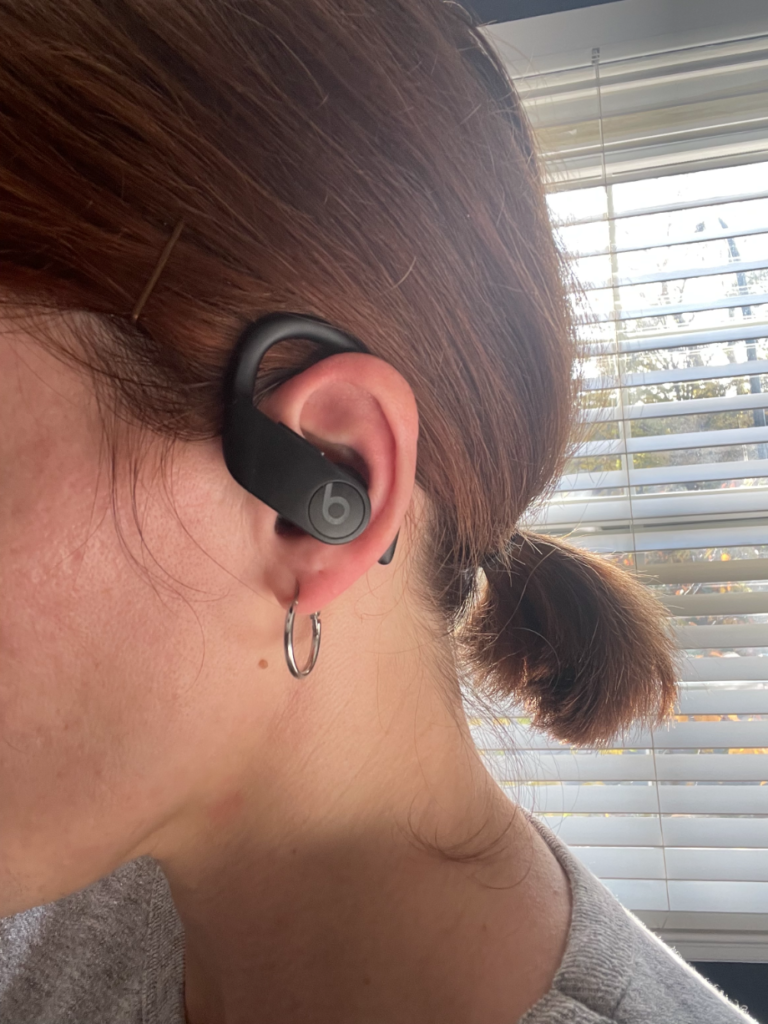 They're also loaded with tech features. Each earbud has full volume and track controls so you don't have to fumble around with your phone mid-run to change your music. They're also voice-activated so they can integrate with Siri for hands-free control and have an auto play/pause function—they can detect when they're in your ear and play or pause music accordingly.
They work with both Android and Apple devices, and Nicole says they paired seamless with her iPhone with no issues at all. There were no connectivity issues or lagging during testing either. They come with a wireless charging case that's pretty bulky, but it provides 24 hours of battery life and according to Beats, you can get 1.5 hours of playback with a 5-minute charge.
Unlike other earbuds that just go into your ear, the PowerBeats Pro buds have an ear hook that wraps around your outer ear to hold them in place, so there are no slipping concerns. While they're not completely waterproof, they are sweatproof and water-resistant so they'll hold up fine for most runs. We think they're some of the best wireless earbuds you can get.
Related: Best Running Apps
| | |
| --- | --- |
| Noise-canceling | Yes |
| Battery life | 9 hours |
| Waterproof rating (IP rating) | IPX4 rating (light water splashes) |
Best Bone-Conduction Running Headphones: Shokz Trekz Air Bone Conduction Headphones
Good for: Anyone that wants to maintain full spacial awareness and/or doesn't like the feel of earbuds
Okay, so we know that open-ear bone conduction headphones may not have as much mass appeal as earbuds or cushy over-the-ear models, but hear us out: If you find earbuds uncomfortable or you don't like to run with bulkier models, the Shokz (formerly Aftershokz) Trekz Air Bone Conduction Headphones provide amazing sound and stay put through all types of exercises.
"I love bone conduction headphones. I actually hate having stuff in my ears, so bone conduction or over-ear headphones are my go-tos," says Amanda Capritto, certified personal trainer and GGR editor who has worn Shokz headphones for years of running workouts, adding that the sound on these is nice and clear.
Amanda harps on the Trekz Air for their ability to keep her feeling safe out on the roads while running, and didn't have any issues with comfort, but our other tester, Anthony O'Reilly, wasn't as pleased with the Trekz Air. He said "maybe it's just my big head, but I wasn't able to wear these comfortably."
These only have a 6-hour battery life, too, which isn't quite up to par with other options. However, we maintain that they're some of the best bone-conduction headphones available. If safety is your top priority, these are a good choice.
Related: Best Running Shoes
| | |
| --- | --- |
| Noise-canceling | No |
| Battery life | 6 hours |
| Waterproof rating (IP rating) | IP55 rating (splash- and dust-resistant) |
Best Running Headphones Without Noise Canceling: JLab Go Air Sport
Good for: Anyone who wants a great pair of headphones but doesn't want to pay for extra features
Noise-cancellation is a nice feature to have in most cases, but if you take the majority of your runs outdoors, you might not want it—and don't want to pay extra for it. (The more you can hear around you, the safer you are.)
The JLab Go Air Sport earbuds don't have a lot of extra features, but they have good sound quality (GGR staff writer Lauren said she was actually surprised at how good it was) at a great price. Basically you'll get everything you'd expect, and more, for $30.
They're really built for sports and high-impact activities. They have a snug fit with ear hooks that keep them in place so you don't feel like you're always wrestling with them as you run. Lauren says of all the pairs she tried (that was six, for the record), these have the best fit for her small ears.
They also have touch-button controls that allow you to adjust volume, change the track, play or pause your music, and answer calls. You can toggle through three calibrated sound settings via the touch controls too.
Their battery life is pretty impressive—you'll get eight hours of play on a single charge—and the case is rechargeable, too. It will give you 24 hours of backup battery life when fully charged. They're sweat- and dirt-resistant, and come in a handful of cool colors.
Related: Running Pace Calculator
| | |
| --- | --- |
| Noise-canceling | No |
| Battery life | 8 hours |
| Waterproof rating (IP rating) | IP55 rating (splash and dust resistant) |
Best Mid-Range Running Headphones: Jabra Elite Active 75T True Wireless Bluetooth Earbuds
Good for: those looking for a nice mix of quality and value
The Jabra Elite Active 75t True Wireless Bluetooth Earbuds are a nice balance of quality and value.
At a retail price of about $100, they're not exactly cheap, but they're a lot less expensive than other similar models without sacrificing sound quality. Lauren says this pair has the best sound quality of all the ones she tested, and that the active noise cancellation (ANC) was stellar, too. She couldn't hear any ambient noise or her husband talking on the phone during the workday.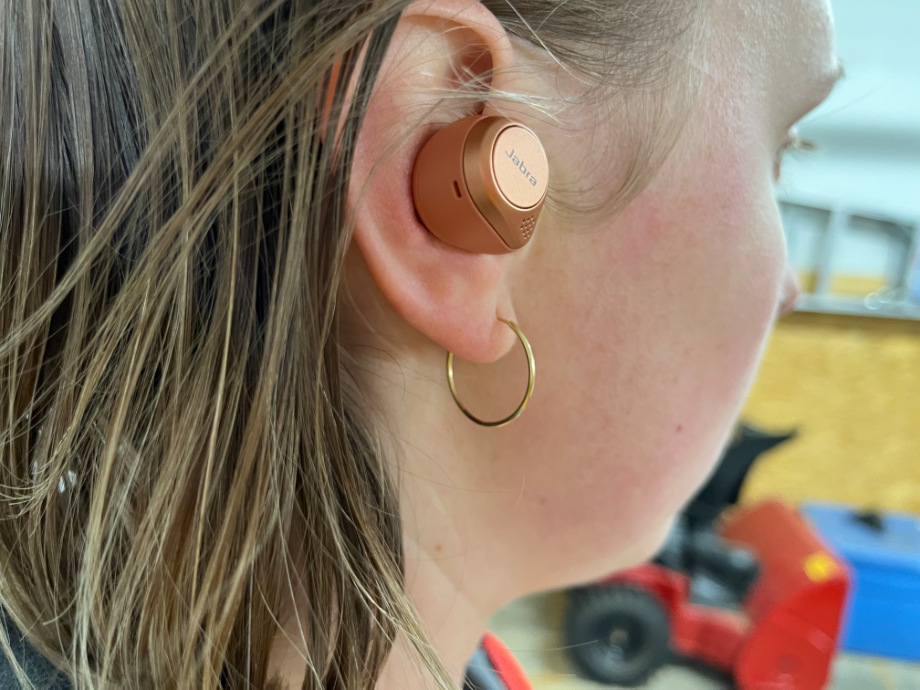 Her one callout is that they were a little big for her (admittedly small) ears. They felt like they were jutting out a little bit which made them feel a little heavy. But she says this might not be an issue for those with bigger ears. They do come with different size ear tips, though, so they'll fit snugly even if they do protrude a little bit.
Some other perks of this pair include wireless charging capabilities (they'll charge on a charging pad), a sweat- and waterproof rating, quick charging, and compatibility with Siri, Google, and Alexa. They also have up to 24 hours of battery life with active noise cancellation turned on. If you turn that feature off, you'll get even more playback time.
Overall, if you're looking for great sound quality at a fair price, this is the pair for you.
Related: The Best Running Fuel to Crush Your Long Runs
| | |
| --- | --- |
| Noise-canceling | Yes |
| Battery life | Up to 24 hours (with case) |
| Waterproof rating (IP rating) | IP57 (sweat- and water-resistant) |
Best Over-Ear Running Headphones: Beats Studio3
Good for: anyone that wants a more immersive sound and doesn't like the fit of earbuds
Earbuds are often the go-to for running headphones, but don't sleep on over-ear models like the Beats Studio3. Although they're not marketed as sports headphones, they earned the highest ratings in all of our tests. Caroline Lubinsky, CF-L1 trainer and GGR fitness writer, was especially impressed with the sound quality, saying they emulated surround sound in her ears and made her feel like she was right where the music was.
Unfortunately, they're not fully waterproof, but they have a ton of features that may make you look beyond that. (The splash-resistant rating means they'll hold up to moderate sweat sessions, anyway).
These sport active noise canceling, real-time audio calibration (which means the sound will adjust as needed), and you get a 22-hour battery life on a single charge. They're also super comfy. Caroline says they're snug on her ears like ear muffs and didn't slide down even when bending over to pick something up.
And while they're not as small as earbuds, Beats did its best to make them as compact as possible.
"[They're] surprisingly compact, because Beats figured out a way to make these fold up into a cute little case. They bend in ways they look like they shouldn't, but they do. Very useful for traveling," says Caroline.
They also quickly connect to both Android and iOS devices via Bluetooth, and have on-device controls that let you change your music or podcast without getting your phone out. While they're definitely not a budget pick, we think they're worth it.
Related: Couch to 5K Planning
| | |
| --- | --- |
| Noise-canceling | Yes |
| Battery life | 22 hours |
| Waterproof rating (IP rating) | IPX4 rating (light water splashes) |
Best Budget Running Headphones: IKANZI X9 Waterproof Wireless Earbuds
Good for: anyone shopping for decent headphones on a budget
If you're a chronic earbud loser—as in you lose your earbuds often—you probably don't want to spend a ton of money on yet another pair. This set from IKANZI will only set you back about $20, while still delivering decent sound quality.
The sound likely won't blow you away, but according to Lauren, they're on par with the pair of headphones that you'd typically get with a new phone—and that's a fair expectation at this budget-friendly price point.
They do have a noise-cancellation feature that was just "okay," according to Lauren. She could still hear some background noise when wearing them, but this will work well if you're an outdoor runner.
The single-charge playback time is lower than others—you'll get about two to three hours depending on how you're using the earbuds—but the case is rechargeable and gives you an extra 72 hours. As long as you return them to the case each time you wear them, and make sure to charge them every few days, you should always have enough battery to power you through your runs.
They fit well, too. Lauren says they didn't fall out once during her runs and had the best fit for non-hooked earbuds out of all the pairs she tried. They come with extra ear tips so you can swap them out to find the ideal fit for you.
They also have an IPX7 waterproof rating, which means they're sweat- and dust-resistant and can handle some excess water; they're not waterproof but they can be submerged for about 30 minutes.
Related: Best Gifts for Runners
| | |
| --- | --- |
| Noise-canceling | Yes |
| Battery life | 3 hours (72 hours with charging case) |
| Waterproof rating (IP rating) | IPX7 (sweat- and dust-resistant, can be submerged in shallow water for up to 30 minutes) |
Other Running Headphones We Researched
The JBL Live 650BTNC is a decent headset. It had good sound quality and great sound reduction, as well as a 20-hour battery life that Anthony O'Reilly says "actually lives up to the hype." Ultimately, the headphones didn't make the list because they didn't fare well for running. They're a better pair of headphones for lifting or an activity where you'll be sitting for a while, like a road trip.
While the Bose Sport Earbuds had decent sound quality, there were too many things Amanda didn't like about them. For one, they didn't stay put and she was always worried she would lose one while running. The volume was underwhelming too—music was drowned out by other noises even when just sitting outside on the deck, and it had to be turned all the way up to hear it when actually running.
Bang & Olufsen Beoplay EQ Active Noise Canceling Wireless in-Ear Earphones
The Bang & Olufsen earphones had all the specs of a great pair of running headphones: up to 20 hours of playtime, active noise canceling, multi-point connection, sweat- and and water-resistance. While they had great sound, we just couldn't get past the fit; they were really big and jutted out even with the smallest tips. They're also really expensive.
H2O Audio Sonar IPX8 Bluetooth Bone Conduction Headphones
This is a good pair of bone conduction headphones for swimming, but they basically eliminated themselves for running, since they won't stay put without swim goggles. They were also very glitchy and Lauren found it difficult to load the MP3 files onto them.
HAKII IPX7 Action Workout Wireless Earbuds
The HAKII wireless earbuds have a lot going for them. They fit well and didn't move around at all even during high-intensity exercises. However, the sound quality was just okay. Lauren said there wasn't enough depth or bass, and they were "decent at best."
Apple Airpods Pro
Obviously, the Apple Airpods Pro are on our radar—they're on everyone's radar—but we just don't think they're the best for running. The sound quality is decent enough and they're convenient for walks and Zoom calls, but they feel too easy to lose during higher impact activities.
Jaybird Vista 2
The Jaybird Vista 2 headphones have all the features that make them good for outdoor and indoor runs. They have active-noise cancellation with a spatial awareness mode that lets you stay in touch with your surroundings. They also have a 24-hour battery life and an IP68 rating which means they're completely waterproof. We didn't get to test these this time, but they're on our radar for the next round.
How We Picked and Tested
We don't need to tell you that there are so many headphones and earbuds out there. To narrow things down for this guide, we looked at pairs with features that made them especially beneficial for running, like ear hooks that would provide a more secure fit. We researched a few dozen, from high-end pairs to budget models, but landed on testing the ones we thought had the best combination of features for runners.
To test the headphones, we took them on outdoor runs and wore them on the treadmill. We jogged lightly and at a heart-rate-pumping sprint to see how well they stayed in place and how well we could hear them over the sound of the treadmill belt. We also just wore them around the house, during walks, and while doing errands to see how versatile they are. After all, if you're paying $200+ for headphones, you probably want to be able to use them all the time.
During our testing, we rated each pair of headphones on comfort and fit, price, ease of use, sound quality, noise reduction, durability, and range. We also factored in warranty, customer service, battery life, and whether or not they were sweat- and water-resistant. We considered their IP rating, but also how they performed when things heated up a bit.
After the testing period was complete, we tallied up all the scores and found the six with the highest average rating (and no major complaints). These are the ones that we recommend to you.
Benefits of Running Headphones
Studies1 show that listening to music during high-intensity exercises like running can boost energy, improve mood, increase motivation, and lower your perceived level of exertion. In other words, you can go faster for longer—and you're happy about it. Of course, running headphones help provide that motivation-in-the-form-of-music for you, but there are also specific benefits beyond that.
"Unlike other pairs, running headphones are specifically designed to stay put while you're on the move," Amanda says. "They often have ear hooks or over-ear designs that eliminate (or reduce) the risk that you'll lose one along the way. Have you ever tried to find a black earbud on a wet running trail? Not a good time."
What to Look for in Running Headphones
Here are a few factors to consider in your search for the best running headphones.
Style
One of the first things you want to consider is the style. The main three are over-ear, earbuds, and bone conduction. They all have pros and cons, so the best option for you really depends on what you like.
Over-ear headphones completely surround your ears and provide a more immersive listening experience, but they're bulkier than earbuds. Earbuds have come a long way and often have active noise cancellation (ANC) that can rival the audio quality of over-ear headphones.
However, some people don't like the in-ear feel, and if they don't have a secure fit, you're more likely to lose them during your run. This is often alleviated by differently sized ear tips—many popular pairs come with small, medium, and large sizes so you can swap them out as needed.
Bone conduction headphones aren't as popular as the other two kinds, but they increase situational awareness by keeping you more connected to the outside world. Some people also think they have a more comfortable fit than the other styles.
On-Ear Touch Controls
If your headphones use Bluetooth, on-ear volume controls are especially useful when running. You can connect your headphones to your phone, and then operate them via the controls on the ear, rather than reaching for your phone every time you want to turn it up, change a song, or answer a call.
Noise-Cancellation
Noise-cancellation can also be a helpful feature, but you want to make sure to use it smartly. When you're running outside, you don't want to cut off one of your most important senses—you want to make sure you can hear traffic and/or other people approaching you. However, if you mainly run indoors on a treadmill, noise cancellation can be an excellent way to block out ambient noise and focus only on your music.
If your running earbuds or earphones do have noise-cancellation, check for a transparency mode. This allows to completely shut the noise-cancellation off when needed so you can hear all the ambient sound around you.
Connectivity
Most running headphones use Bluetooth and are compatible with both Android and iOS systems, but some may integrate more seamlessly with one over the other. Some headphones don't have Bluetooth and require you to download music directly onto them instead. Read the specs of the pair you want and make sure that they're compatible with your preferred system.
FAQs About Running Headphones
Are Headphones Better Than Earbuds For Running?
It really just depends on your preference. If you want a more immersive experience, over-ear headphones are probably the way to go, but if you like a more minimalist in-ear design (and something that stashes away in a small carrying case), earbuds are better suited for you. 
Everyone is different though, so while earbuds may fit snugly and securely in one person's ears, that may not be the case for another. The best thing to do is try them both out on your runs to see which type you like better.
Do Wireless Headphones Fall Out When Running?
Some wireless earbuds can fall out when running, but the key is to find a pair that has a secure fit. Many earbuds are adjustable—they come with different size silicone tips for different size ears. 
The earbuds should be fully inserted into your ear so the silicone forms a tight seal with the walls of your ear canal. Making sure they fit correctly, and choosing a pair with ear hooks, will lessen the risk that you'll lose them on your run.
Are Noise-Canceling Headphones Safe For Running?
Noise-canceling headphones should be reserved for indoor runs. When you're running outside, it's important to maintain a connection with the outside world so you can be fully aware of traffic sounds or any other potential dangers. If you do use noise-canceling headphones outside, turn the feature off or check for a transparency mode that allows you to maintain that connection with your surroundings.
References
1. Ballmann CG. The influence of music preference on exercise responses and performance: a review. J Funct Morphol Kinesiol. 2021;6(2):33. Published 2021 Apr 8. doi:10.3390/jfmk6020033