We test and review fitness products based on an independent, multi-point methodology. If you use our links to purchase something, we may earn a commission. Read our disclosures.
In my opinion, there is quite literally nothing better than jamming out to your favorite tunes while pumping some iron—or running, or biking, or doing HIIT, or whatever your favorite workout is. I'm partial to playing bops from Beyonce and Lizzo through my workout headphones, but whatever you choose, you want the sound to be clear, the connection to be flawless, and the fit to be comfortable, amirite?
From true wireless earbuds to on-ear options, we've got our top picks for the best workout headphones below. Keep reading to see what might work best for you.
You'll Like the Sound of Our Reviews
We got our start reviewing fitness equipment in the mid-2010s and have become the leading resource in everything home gym-related. Our expert team of product testers is not only full of fitness enthusiasts, but certified personal trainers, triathletes, marathon runners, competitive weightlifters, and CrossFit Level 1 Trainers.
And while we're not a tech gadget site, we have a thing or two to say about fitness technology, including headphones. We've put dozens of pairs to the test—even waterproof headphones—to bring you a curated list of options that we'd all want to wear while getting our sweat on.
7 Best Workout Headphones
Best Workout Headphones for Runners: Jabra Elite Active 75t True Wireless Bluetooth Earbuds
Good for: Those who put in a lot of weekly mileage and need a secure-fit earbud
Looking for the best running headphones? The Jabra Elite Active 75t True Wireless Bluetooth Earbuds (phew, that's a mouthful) are in-ear headphones that work great for runners. They're about $250 regular price, which we know isn't cheap, but hear us out.
For starters, the Elite Active 75ts are form-fitted to the ear with small, medium, and large ear gels to ensure the right fit for you. Although our tester, GGR staff writer Lauren Strong, felt they were a bit too big for her ears, she admittedly has small ear canals, so most people feel that these earbuds are as snug as a bug in a rug.
Sound quality is also important for headphones, and Lauren said these rocked, literally: "My favorite Iron Maiden songs came through with crystal-clear quality."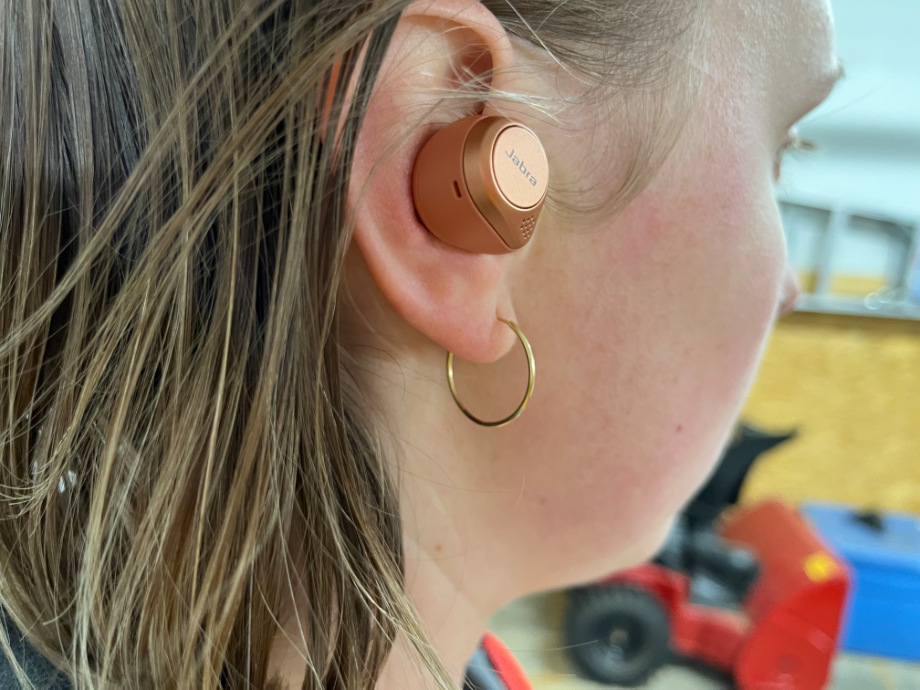 Next, you'll get up to 7.5 hours of music time with these wireless headphones before they'll need a charge—great for all of you long-distance runners out there. They also have ANC (active noise cancellation) technology, so you'll truly be able to zone in on your workout. Lauren said this feature works amazingly well, and that all she could hear was her music. However, if you have concerns about safety—which all outdoor runners should—you can utilize transparency mode instead, which allows you to stay connected to your surroundings.
Lastly, these are IP57-rated, meaning they're sweat- and waterproof, so don't be afraid to go all-out on your run—sweat is gold, right?
One minor nuisance about these headphones is that you have to download the companion app, Jabra MySound, on your phone to use them. Is this the end of the world? Certainly not, but it makes them a bit less user-friendly than other options on this list.
| | |
| --- | --- |
| Price | $250 |
| Battery Life | 7.5 hours |
| Noise-Canceling | Yes |
| Water-Resistance | Yes, IP57-rated |
Best On-Ear Workout Headphones: Beats Studio3
Good for: Those who prefer headphones on their ears instead of inside
The Beats Studio3 over-ear headphones had our expert product tester and GGR staff writer Caroline Lubinsky singing their praises. Although they're very pricey at $350, features like Bluetooth, immersive Spatial Audio, 22 hours of battery life, great sound quality, and a comfortable fit make them a good value for either Apple or Android users. Another cool feature?
"Beats figured out a way to make these fold up into a cute little case," Caroline explains. "They bend in ways they look like they shouldn't, but they do—it's very useful for traveling. Obviously they aren't as small as AirPods, but they made them as compact as possible for over-the-ear headphones."
It's worth mentioning that the Studio3s aren't waterproof, so if you sweat profusely during your workout, you'll want to choose a different pair of headphones. However, Caroline said that these hugged her ears perfectly, likely due to the "ergonomic pivoting ear cups," so she had no qualms about them falling off during a workout—that's good news if you're moving around a lot.
Also, ANC technology allows you to really zone in on what you're doing, plus the multifunctional "b" button lets you take and make calls, control the volume and audio playback, and talk to Siri.
And last but not least—these just look sleek. There are seven colorways to choose from on the Beats website, so whether you're a minimalist and prefer black-on-black, or enjoy something brighter like red, there will be an option for you.
| | |
| --- | --- |
| Price | $350 |
| Battery Life | 22 hours |
| Noise-Canceling | Yes |
| Water-Resistance | No |
Best Budget Workout Headphones: JLab Go Air Sport
Good for: Those who don't have a lot of cash to drop but still want the best wireless earbuds
For a $30 pair of headphones, we weren't expecting much, but these JLab Go Air Sport wireless earbuds actually impressed our tester Lauren. As mentioned above, she has small ears, and found that these headphones worked best for her: "These are great with the ear hooks," she explains. "The buds fit well in my ear and they're super comfortable."
Although the sound quality isn't phenomenal, it more than gets the job done for a pair of budget earbuds. You'll get eight hours of streaming on one charge (plus another 24 hours from the charging case) as well as touch controls and the ability to use one earbud independently.
These have an IP55 rating, which means they are sweat- and water-resistant but not sweat-proof or waterproof. This rating should be suitable for most people for a pair of sport headphones.
One thing you won't get with these earbuds, in addition to superb sound, is noise-canceling technology, so keep that in mind if the quality of your listening experience is really, really important to you while you're exercising.
| | |
| --- | --- |
| Price | $30 |
| Battery Life | 8 hours |
| Noise-Canceling | No |
| Water-Resistance | Yes, IP55 rating |
Best Workout Headphones for Sound Quality: Beats Powerbeats Pro
Good for: Those who place a premium on how their music sounds
A big sibling to the Beats Fit Pro, the Powerbeats Pro are in-ear wireless headphones equipped with adjustable secure-fit ear hooks.
We named these best for sound quality because the experience that the Spatial Audio provides is unmatched—it's said to totally immerse you in whatever you're listening to, and I have to agree. I tested these, and listened to everything from my Spotify Running Mix to my favorite true crime podcast with these, and the experience is just *chef's kiss*. They also have noise isolation (AKA a physical barrier), which is not quite as powerful as ANC, but I think works just fine.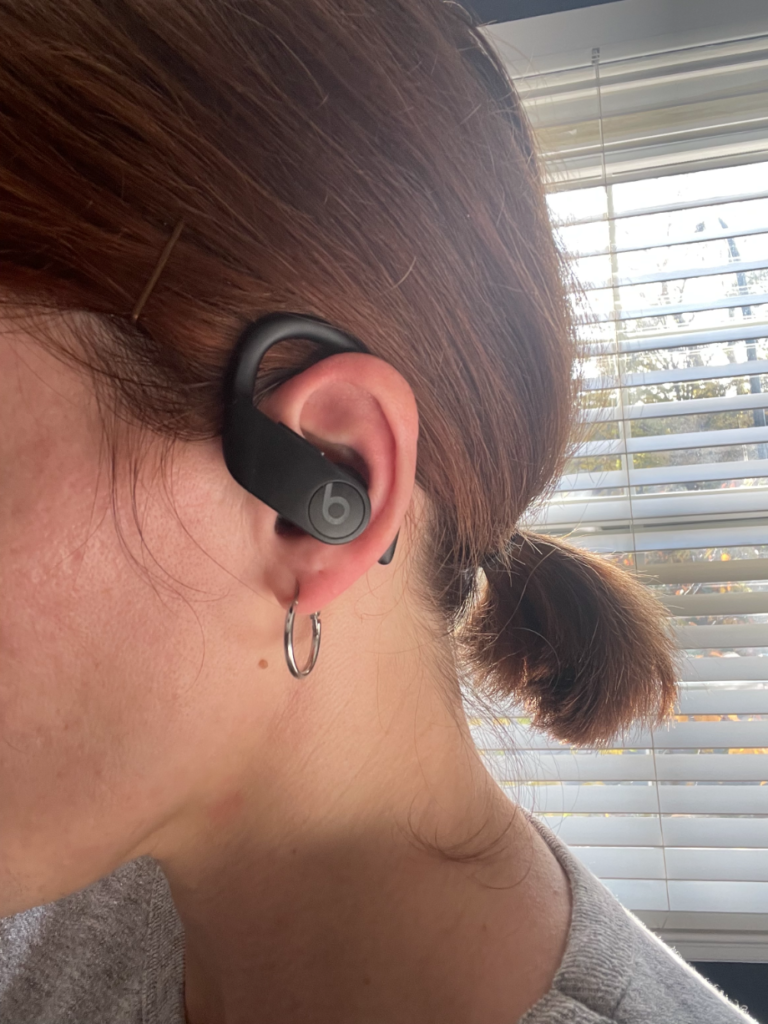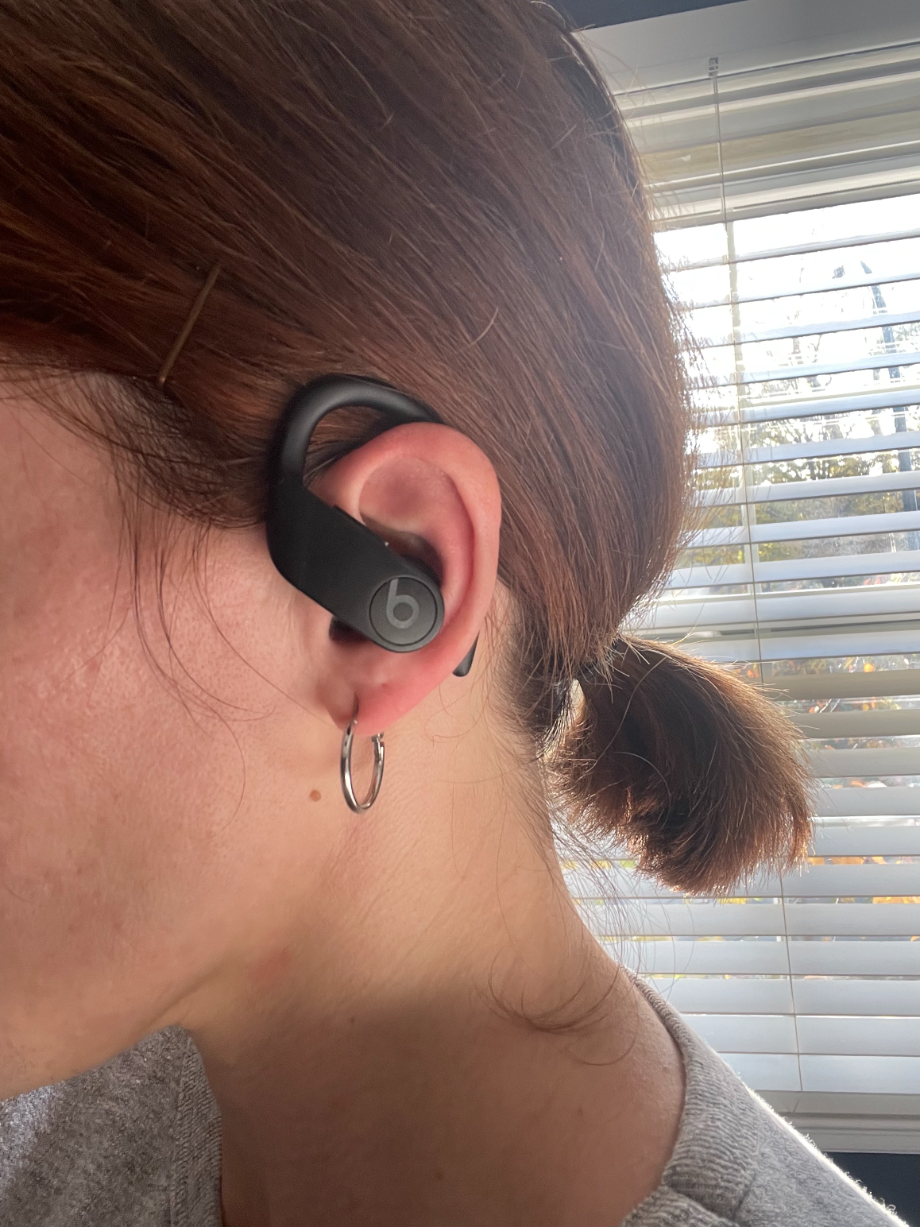 Because Beats is owned by Apple, the connectivity with an iPhone, which is what I have, is immaculate, though the website says they're also compatible with Android phones as well. You'll also get nine hours of listening time with one charge, and you'll have the ability to Audio Share, which means you can pair two pairs of Powerbeats to one phone and listen along with a friend.
While these headphones are sweat-resistant and water-resistant, they're not sweat-proof or waterproof. And I also have to call out the fit here—I have to look in the mirror to get these on properly, which is kind of a nuisance. I also don't think I'd be able to wear them for an extended period of time as they're very snug. But a one-hour workout? Sign me up.
| | |
| --- | --- |
| Price | $249 |
| Battery Life | 9 hours |
| Noise-Canceling | No, noise-isolating |
| Water-Resistance | Yes |
Best Noise-Canceling Workout Headphones: JBL Live 650BTNC
Good for: Those who want to zone in on their workouts without distractions
GGR staff writer Anthony O'Reilly had nothing but good things to say about these over-ear headphones from JBL. From the fit to the sound quality, he says they're some of the most comfortable, best-value headphones he's tried for stationary tasks. These wouldn't be the best for an activity like running, but if you're lifting or stretching, these could be a great option for you.
For about $115, you're getting a 30-hour battery life, which Anthony says is accurate, plus noise-reduction, easy Bluetooth connectivity, and great sound quality.
"The best way to describe the sound quality on these things is to admit that I routinely listen to the Riverdance soundtrack (hey, my last name is O'Reilly) and I can hear every instrument and stepdancer's tap crystal clear," Anthony says.
Let's talk for a bit about noise cancelation vs noise isolation: Noise canceling is made possible by ANC technology, which is essentially a special speaker that will reduce unwanted background noise by emitting the opposite signal to cancel it out. Noise isolation is just a physical barrier, like the earbud itself, that will dampen environmental noise but not actively combat it. These JBLs have ANC technology, so you can rest assured that any background noise won't distract you.
Beyond potential limited functionality with high-movement activities, another downside of these on-ear headphones is that these aren't rated for sweat- or water-resistance, so be cautious if you sweat a lot during your workouts.
| | |
| --- | --- |
| Price | $115 |
| Battery Life | 30 hours |
| Noise-Canceling | Yes |
| Water-Resistance | No |
Best Secure-Fit Earbuds: HAKII ipx7 Action Workout Wireless Earbuds
Good for: Those who run, do HIIT, or perform plyos during their workouts
The HAKII IPX7 Action Workout wireless earbuds were designed with sports in mind, and they were the clear winner in our eyes for most secure fit. The magic comes from the "rear-hanging design," which is said to take the bouncing, shaking, and potential impact from sports better than other designs.
Our tester Lauren found these to be decently comfortable and very snug. "Taking these things off I realized I HAD to rotate the ear hook off my ear," she explains though. "If I tried to just pull the bud out, it gave me an instant headache because the tip was so suctioned in my ear."
You'll get nine hours of streaming time with wireless charging, smart touch controls to answer phone calls, turn the volume up or down, or skip to the next track, as well as noise-reduction technology, which Lauren says was just OK.
These earbuds also provide an IPX7 waterproof rating, which is one of the highest ratings available, so feel good about wearing them for your toughest workouts.
| | |
| --- | --- |
| Price | $100 |
| Battery Life | 9 hours |
| Noise-Canceling | Yes |
| Water-Resistance | Yes, IPX7 waterproof |
Best Workout Headphones for Swimmers: Shokz OpenSwim Bone Conduction Swimming Headphones
Good for: Those who want to listen to their jams while swimming laps
Bone-conduction headphones are a different type of workout headphones in that they don't go in your ear like a typical earbud, but instead rest on your cheekbones just in front of your ears. The sound is transmitted through vibrations via the bones in your head instead of through your ear drums, which also means that you'll still be able to hear all ambient noise around.
Shokz makes several styles of bone-conduction headphones including the Shokz OpenRun, and this pair called the OpenSwim, which are designed specifically for swimming. They're completely waterproof for up to 1.5 meters deep for up to 30 minutes. Our tester, GGR editor Amanda Capritto, had good things to say about them.
"I love bone conduction headphones," she explains. "Some people may find this style annoying, as you can feel the band around the back of your head. But in the pool I didn't notice them at all and they fit fine under my swim cap."
There's one big caveat to these headphones: They don't have Bluetooth, and you have to load songs onto them MP3-style to use them during a swim. "The fact that you have to load music onto them is very annoying (it's even more annoying that you have to do this manually every time you want a new song or want to remove a song), but the setup is super easy and charging is super easy," Amanda explains.
These headphones wouldn't be the best option for anyone other than a swimmer. But, if you know you'll be training for a triathlon and really want to pass the time by listening to music or a podcast, the OpenSwims could be a good option.
| | |
| --- | --- |
| Price | $150 |
| Battery Life | 8 hours |
| Noise-Canceling | No |
| Water-Resistance | Yes, IP68 waterproof |
Other Workout Headphones We Tried and Researched
Our team researched more than two dozen pairs of workout headphones and actually tested more than a dozen pairs—quite a few didn't make the cut.
Bose Sport Earbuds: These seem to be a fan-favorite, but our tester Amanda did not care for them. She wasn't impressed with the sound quality, noise-reduction, fit, or setup.
Aftershokz Air Bone Conduction Bluetooth Headphones: This is another headset that has a cult following, but we didn't care for. Our tester Anthony said he wanted to love these because the sound quality is killer, but they're just not functional for anything but standing there.
Bang & Olufsen Beoplay EQ: Our tester Lauren thought these were overpriced for the experience they provided.
Apple Airpods Pro: I have a pair of these for everyday use, and while I do like them, I think the noise-reduction and sound quality is better on other pairs we tested. And Samsung Galaxy users would be up in arms if we included them—kidding!
Jaybird Vistas: We researched these but didn't end up testing them as there seemed to be consistent customer issues with durability.
How We Picked and Tested the Best Workout Headphones
We judged the workout headphones on our list by the following criteria:
Price: Are these budget, mid, or high-end workout headphones? We made sure to include options for all price ranges.
Comfort/Fit: Do these headphones provide a comfortable fit for most people? Are there multiple sizes of silicone ear tips and wing tips to find the right fit?
Ease of use: Can you get them started easily? Do they connect to Bluetooth and your phone easily?
Battery life: Do these headphones have a long battery life?
Sweat- and water-resistance: Are these headphones sweat-resistant or sweat-proof? Water-resistant or waterproof? Do they have a waterproof rating like IPX4, IPX5, IPX7, IP57, or IP68?
Range: Can you walk away from your phone and still use your headphones without interruption? How far?
Sound quality: How is the audio quality?
Noise reduction: Are these noise-canceling or noise-isolating headphones? Can you hear background noise while you're wearing them?
Warranty: Is there at least a one-year warranty on the headphones in question?
Brand: Are these from a big-name brand like Sony, Bose, Sennheiser, Anker, or Beats, or are they from a smaller-name brand on Amazon?
Benefits of Workout Headphones
There are several reasons why you should look for workout headphones over regular old headphones if you want to use them while exercising—here are a few.
Water-Resistance
Most workout headphones will have some rating for water-resistance. This means that you can comfortably sweat and the moisture won't ruin the components of your headphones. Some people don't sweat much so this may not be an issue, but for most trainees, water-resistance is an important factor when considering workout headphones.
Noise Reduction
If you really want to zone in on your workout and zone out distractions, some type of noise reduction will be important. Many of the headphones on our list offer ANC technology, which will block out all ambient noise. If you're in a gym or at home this could be a nice feature. However, for those that exercise outside, consider using transparency mode for safety.
Fit
Workout headphones tend to fit better and more snugly than regular old headphones, which is important if you will be moving around at all.
How to Choose the Best Workout Headphones for You
Evaluate the following criteria when purchasing a pair of workout headphones.
Type
Do you want on-ear, in-ear, or bone-conduction workout headphones? Each type has advantages for different activities. For instance, where lifters may be able to use on-ear headphones during their workouts, runners may want something more secure like an in-ear option.
Price
You can find a decent pair of workout headphones in the budget price range—as low as $30—up to $200 or more for high-end options. Decide what your budget is then work backwards from there.
Noise-Isolating vs Noise-Canceling
If you want to completely block out all ambient sound and background noise, you'll want noise-canceling headphones with ANC technology. If you don't care as much about this, noise-isolating headphones will work just fine.
Battery Life
Most all wireless headphones today come with at least an eight-hour battery life on a single charge. This should be more than enough for most people, but maybe you're the type who doesn't want to have to charge their devices frequently. Some headphones on our list offer up to 30 hours of streaming on one charge—nice!
Water-Resistance
Especially if you're using your headphones while you work out, you want some type of water-resistance and an IP rating. The IP grading system was developed by the International Electrotechnical Commission (IEC), and it provides a rating that starts with the letters "IP" followed by two numbers. The higher the numbers, the more protection the device has against water and sweat.
Warranty
Headphones should have at least a one-year warranty and usually cover manufacturer defects, and possibly more. Check the specific product in question to ensure you're OK with the warranty and what it entails.
Best Workout Headphones: FAQs
What are the best headphones for working out?
Is it better to workout with earphones or headphones?
This is totally a personal preference. Depending on the activity you'll be doing, you may find headphones not to be secure enough, so workout earbuds may be the better option—especially for activities like HIIT or running.
Do noise-canceling headphones work in the gym?
Yes, noise-canceling headphones will work anywhere. Noise-canceling is made possible by ANC (active noise cancellation) technology, which is essentially a special speaker that will reduce unwanted background noise by emitting the opposite signal to cancel it out.