We test and review fitness products based on an independent, multi-point methodology. If you use our links to purchase something, we may earn a commission. Read our disclosures.
I like to bake a lot, and I'll be the first to tell you that you don't need a stand mixer to make a perfect focaccia…but it makes the job a lot easier. Similarly, you don't need the best cross-training shoes to crush a CrossFit WOD, though you'll probably post a better time and feel a lot less sore if you have the right support system.
Our NOBULL Runner review takes a close look at all the different running shoe styles offered by the controversial footwear company, and whether they're the right fit for your workout needs.
You'll Get No Bull From Our Shoe Reviews
Garage Gym Reviews has become a giant in the home gym equipment industry because Coop always gives his honest opinion on everything he reviews, from shoes all the way up to barbells and squat racks. And we're happy to continue the tradition of accurate and unbiased reviews to help transform your home gym, and your life.
Oh, and did I mention that our team is filled with certified personal trainers, CrossFit coaches, nutrition experts, and competitive athletes? Unlike most so-called "fitness experts" on the Internet, we have years of expertise under our weightlifting belts to back up our opinions.
Run With It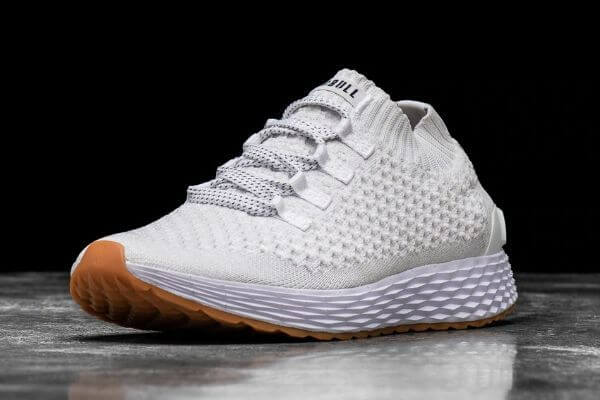 NOBULL Runner
From CrossFit's official footwear and apparel brand, the NOBULL Runner running shoe is designed to support both running and cross-training. What differentiates this shoe from other NOBULL cross training shoes is its cushioned midsole, which supports running as well. And, unlike traditional running sneakers, the Runner provides more traction for lateral movements more often associated with cross training. Let's take a look at the subtle differences between each of the three styles: Ripstop, Mesh, and Knit.The Ripstop is the newest in the Runner line and features an upper mesh material, a high-rebound Phylon foam midsole, and a rubber lug pattern on the outsole. It's this patterning that encourages multi-environmental usage so the shoe is great on the treadmill as well as outdoors. Probably the strongest running shoe in this line, this model is best suited for casual indoor or outdoor running. The upper mesh breathes well to keep feet cool and the midsole provides enough stability to transition between strength or cross training with running. Users report that the shoe feels rigid so it may feel too stiff for some when running. Similar to the Ripstop, the Mesh Runner is best suited for casual runs and hybrid-style workouts. If you're a serious runner looking to pound some miles, this is not the shoe for you. It's stylish enough to wear on a day-to-day basis but it does take several wears to break in the shoe. The Mesh Runner is adequate when it comes to being a shoe for both running and cross-training. Given its price, the Ripstop provides more rebound and lateral stability.The Knit Runner features a sock-like upper which some describe as feeling like a woven blanket. It has a seamless and secure feel, and, as with most NOBULL products, is very simple in its design yet stylish enough to wear when out and about. The Knit Runner is great for short distance sprints as well as resistance training. There is plenty of ventilation to keep you cool. One commonality among each style is its cost. Runners are certainly are an investment, but can serve their purpose well.
A Quick Rundown on the NOBULL Runner
NOBULL is no stranger to controversy in the CrossFit community, and even among the GGR team (you should see the back-and-forth between some of our product testers in our Slack channel). Point is, you're either a fan of these shoes or you're not, and there's very rarely people who fall in the middle. Read our NOBULL Trainer review for more proof of that.
The Runner comes in three different styles: Ripstop, Mesh, and Knit. There's also the Trail Runner (which, as you could guess, are meant for trail running), but for this review we'll be focusing on the other three.
Each comes with a cushioned midsole made of Phylon (a type of EVA foam) to help support your feet during runs, though as we'll explain in a bit they're not the best for long distances.
If you're looking for traction, then look no further. The shoe's outsole comes in a lug pattern that will grip to just about any surface you're working out on, indoors or outdoors.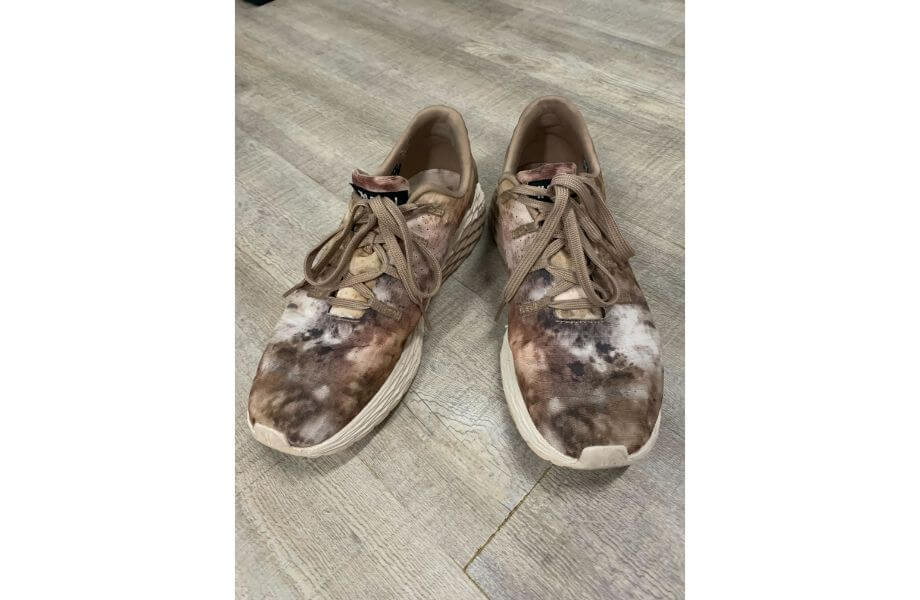 My Tips
Many online reviews recommend going half a size down from what you usually wear.
If you're a wide-footed individual looking for a good training shoe, look elsewhere.
Use a NOBULL discount code to save money on your next purchase.
Pros:
Comes in many different color and style options
Great hybrid option
Offers more lateral support than most running shoes
Free shipping on orders over $99
Cons:
Too much cushioning for use during heavy strength training sessions
At the same time, the cushioning is too firm for longer runs
Expensive
Are the NOBULL Runners Worth It?
Depending on the style and color option you pick, the NOBULL Runner starts at $139 and can go as high as $169 (the Trail Runners are $179). It is worth noting that NOBULL offers free shipping on all orders over $99, so the price you see is generally what you're going to pay (outside of taxes).
That's a little more than the Nike Metcon 7, which is one of our favorite training shoes. But some people may enjoy the simplicity of NOBULL shoes, and there are just as many people who like the way it feels on their feet over a Nike Metcon.
Here's who we think would get their money's worth from the NOBULL Runner, and who should take their hard-earned paycheck elsewhere.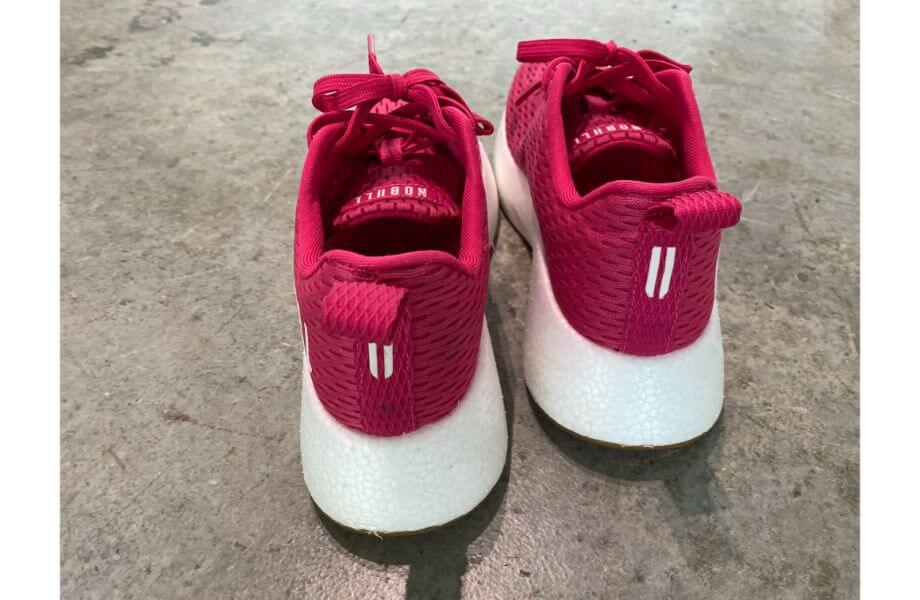 Great for:
Anyone who needs a shoe that can be used for cardio and strength training workouts
Those with a narrow foot
Trainees who incorporate a lot of multi-directional movements
Anyone who values no-frills design
Not recommended for:
Trainees looking for a dedicated running shoe
Those on a budget
Anyone with a large or wide foot
NOBULL Runner Specs
Price
$139 to $169
Heel-to-Toe-Drop
7mm for Mesh Runner; 10mm for Ripstop and Knit Runner
Size range
Women's 5-11; Men's 8-16
Colorway
14 for men and women
Upper
Ripstop
Mesh
Knit
Midsole
Phylon
Medial
High durometer EVA
Materials
Knit, Ripstop, Mesh, Leather, and MATRYX®
What It's Like Wearing The NOBULL Runner
Both GGR editor and NOBULL apologist Amanda Capritto, and GGR staff writer and former collegiate soccer player Caroline Lubinsky noticed that the NOBULL runner wasn't the tightest fit for a running shoe.
"The laces don't tighten as much as I'd like, but I like a big time foot hug when I run," says Caroline, who tried out the Ripstop Runner. "I think soccer has ruined me in that regard."
Amanda says the shoe never felt super secure unless she tightened the laces to the point where they were uncomfortable.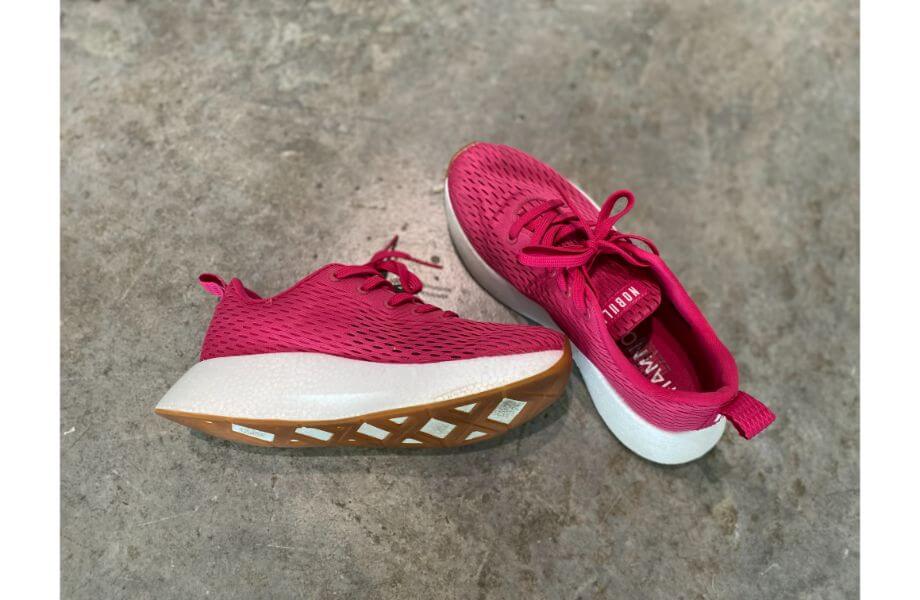 Obviously, that can be a huge disadvantage for runners because the last thing you want on a trek is for the shoe to come flying off your foot.
The toe box, Caroline adds, is a bit wider than what one would usually look for in a running shoe. "The toe box on the NOBULL Ripstop Runners is roomy, and does not keep your foot secure the same way a shoe like the Nike Free Run does," she says.
RELATED: How to Choose Running Shoes
One of the other issues is that these running shoes have quite a firm midsole, due to the use of high-rebound Phylon. What's that? Well, we're glad you asked.
Phylon is a type of treated EVA foam, which is what most midsoles are made of. Regular EVA foam, however, compresses over time after repeated use. Phylon does not, meaning it will remain as firm as it was on Day One.
Now, this is a good thing because it means you won't have to replace your training shoes quite as often as you would if you had a pair made with EVA foam. The bad news is that firm feeling isn't necessarily something you want to stick with during a 10K or half-marathon, where you'd want something with a little more cushioning.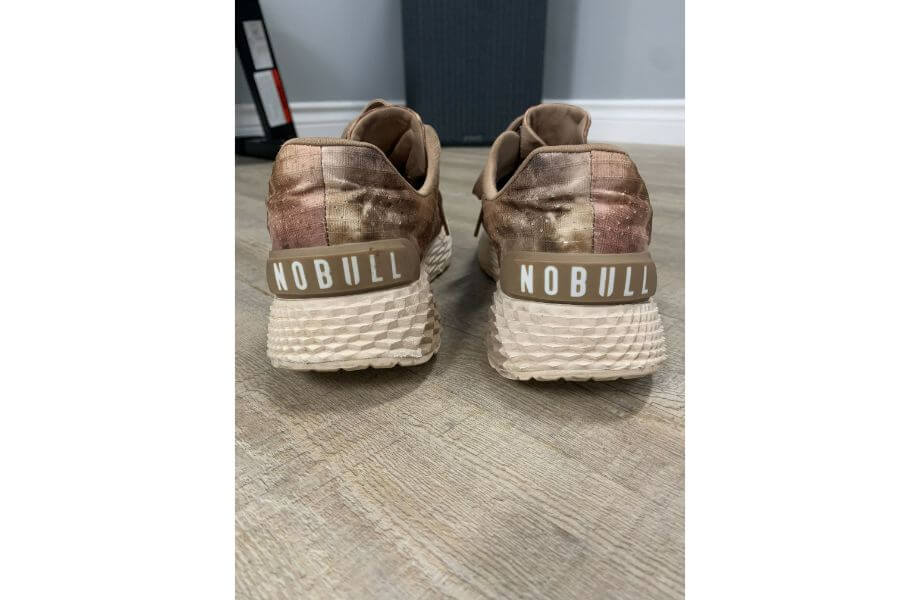 One major win for the NOBULL Runner is the grippy lug pattern on the outsole, which resembles the same ridges you'd find on the bottom of a good quality work boot. These allow your shoe to grip to just about any surface, and provide good multi-directional support if you find yourself changing directions often during your workout.
In other words, if you do a lot of HIIT workouts, this would be a great shoe for you.
Related: Check out our Best CrossFit shoes roundup.
Lifting With the NOBULL Runner
Despite its name, the NOBULL Runner was made for more than just running. The idea is that this is a shoe you'd wear for both cardio and strength training workouts, with enough support to carry you through both activities.
That's a tough ask because a running shoe and lifting shoe are usually the antithesis of each other, and what you want in one you wouldn't want in the other.
To that end, the cushioning found in the NOBULL Runner is a little too firm for long distance running and a bit too soft for heavy lifting. Both Caroline and Amanda agreed they wouldn't use it on days when they were going for a clean-and-jerk or deadlift PR, but it should be fine for sprints or short runs, and most of your daily lifting sessions.
If you're looking for other CrossFit shoes, check out our NOBULL Trainer review.
NOBULL Runner Construction and Materials
The NOBULL Runner shares many of the same specs between the three styles, but there are some differences. All three feature the Phylon midsole and the lug outsole, as well as a removable sockliner.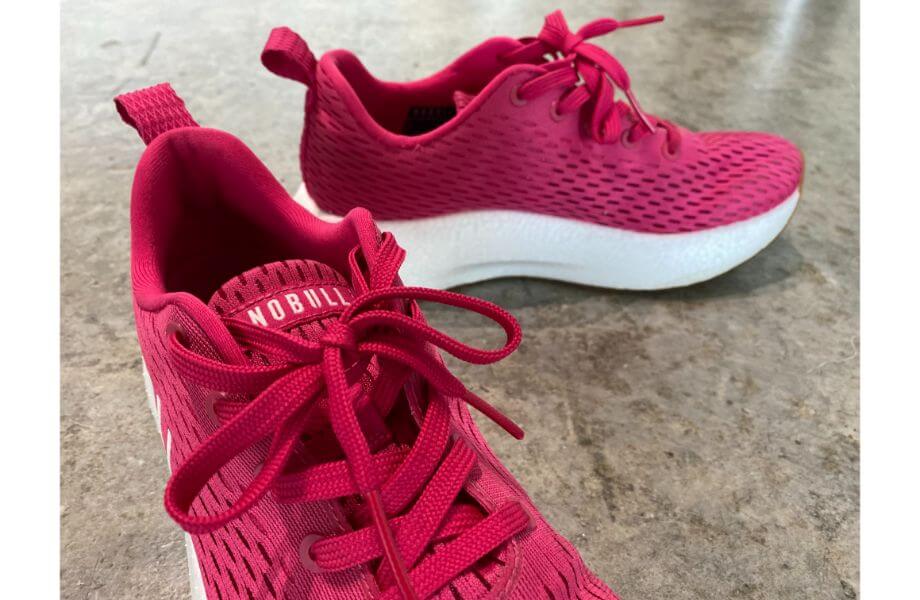 Caroline says her NOBULL Ripstop Runners are holding up pretty well after a few weeks of steady use, but the NOBULL branding on the tongue does seem to be coming loose. Ripstop is a type of nylon that's reinforced to prevent tears, and NOBULL has consistently shown that it produces one of the most durable shoes on the market.
In fact, Coop has been wearing the same pair of NOBULL knit runners for a few years now (trust us, the proof is in the stench) and he says they're just as good now as when he first put them on. The Knit Runner comes with a sock-like upper that's great for people who are looking for breathability in their training shoe. The trade-off is it might not feel as stable as other shoes.
Finally, the Mesh Runner has a lightweight and breathable upper that also comes with a perforated tongue and internal padding.
NOBULL Runner Colorways and Designs
If you're a sneakerhead, then NOBULL is the brand for you. The NOBULL Runner comes in 14 colorway and design options for men and women, and they all look very nice. A bit simplistic, yes, but there's no doubting the fact that they're a very stylish shoe.
"I have the Earth Tie-Dye colorway, which has brown, tan, and light purple in organic shapes throughout the shoe," Caroline says. "They have a ton of colors and patterns available, so I feel like almost anyone can find one they like."
NOBULL Runner+ Review
A Better Runner?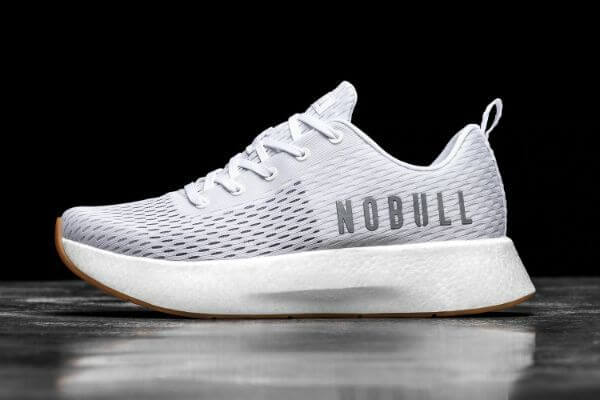 NOBULL Runner+
NOBULL's Runner+ running shoe is constructed from the same high-quality, technology-driven components we have come to know and love from NOBULL, the official footwear and apparel brand of CrossFit. Designed to deliver high-end performance, the Runner+ features an embedded nylon plate, cushioned midsole (with NOBULL's own Pebax), and a one-piece, lightweight, and breathable mesh upper layer with tongue. The shoe has an 8.5-millimeter heel-to-toe-drop.NOBULL prides itself on a "no gimmicks" approach with a focus on performance. The Runner+ is no exception. The nylon plate technology runs the full length of the shoe and serves to improve responsiveness and rebound performance. The cushioned midsole has a comfortable foam padding for increased stability. The overall weight of the shoe—9.5 oz—is minimized with the one-piece upper, and the outsole design features a web pattern absent of stress points to minimize weight and increase stability. 
The NOBULL Runner+ is an improved version of the NOBULL Runner…at least, that's what they're supposed to be in theory but Amanda (again, usually a huge NOBULL fan) just wasn't feeling these shoes.
"I feel unstable running in these compared to my Brooks," she says. "The midsole is simply too thick for me (some people will love it though) and I feel like the contour of the midsole lurches me forward during my stride."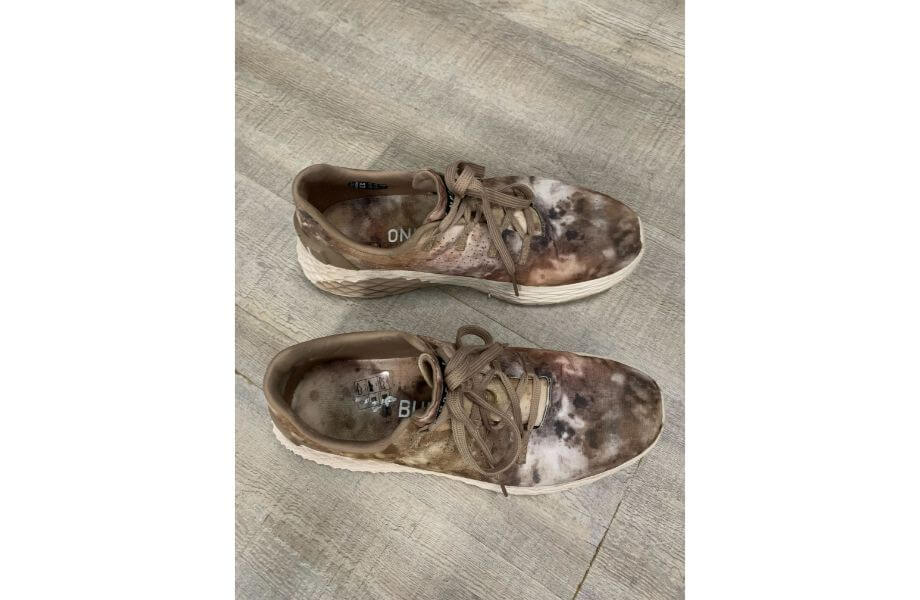 The shoe just also doesn't seem durable to her. It comes with a mesh upper, and the outsole feels very thin compared to most running shoes. The lug pattern also doesn't feel very deep at all.
"The outsole is just a couple millimeters thick and will wear down quickly," Amanda says. "Not to mention, there's little traction compared to other running shoes, so I do not recommend these for running in wet conditions or on trails with loose soil."
The NOBULL Runner+ starts at $179 and goes to $199, which is a lot of cheddar to stack. Are they worth it? Amanda says no, at least for training purposes.
"To me, these seem like a great everyday all-day wear shoe (like for nurses or teachers who are on their feet all day) but for running workouts, I say look elsewhere unless you're going for the HOKA ONE ONE feel."
NOBULL Runner+ Specs
| | |
| --- | --- |
| Price | $179 to $199 |
| Heel-to-Toe-Drop | 8.5mm |
| Upper | Mesh |
| Size range | Women's 5-11; Men's 8-15 |
| Colorway | 5 for men and women |
Ordering the NOBULL Runner
There's generally no issue ordering the NOBULL Runner, and you get free shipping on any orders above $99. Their shipping time can be a bit long at times, but every product shows up at your door in great condition.
Financing, Warranty, Returns
NOBULL offers financing options through Klarna and Afterpay, so you can split your purchase into four bi-weekly payments.
There is no warranty on NOBULL products, and you can return your shoes within 60 days of delivery but only if they haven't been worn and all tags must be attached.
Customer Reviews
The NOBULL Runner has a 4.7 average rating, with more than 2,000 reviews as of this writing. Those who had positive things to say about the shoes kept their reviews very brief, but said they would order another pair in the future.
The negative reviews mainly centered around the fact that the shoe runs small, and wasn't as cushioned as other running shoes.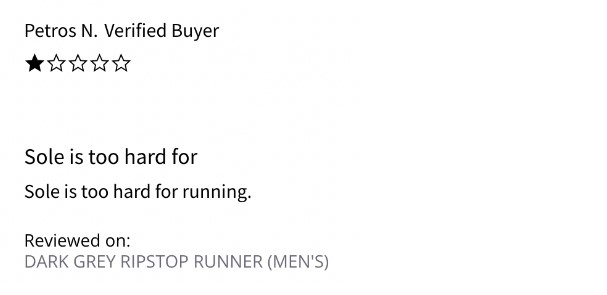 Final Verdict of Our NOBULL Runner Review
The NOBULL Runner is a good shoe, and we don't think you'll be disappointed in it–especially if you're a NOBULL fanatic. That said, for the price point we think you can find much better options for running specifically from brands like Adidas or Nike. At the end of the day, this is a shoe that does a few things alright, but doesn't do any one thing really well.
It's a little too cushioned for heavy lifting, but too firm for long-distance running.
It's not the most secure running shoe on the market.
The laces don't tighten as much as we'd like them to.
The designs are simplistic, but we like it.
NOBULL Runner Review FAQs
Are NOBULLs good for running?
The NOBULL Runner is good for short runs and sprints, but we wouldn't recommend them for dedicated runners. The midsole is made of a material called Phylon, which unlike EVA foam, doesn't compress, meaning it will remain firm for as long as you use them. That can be good or bad, but over time could cause some midfoot pain if used for long-distance running. 
Are NOBULL runners good for lifting?
The NOBULL Runner can be used for an everyday strength training session, and will support you just fine, but if you're going for a heavy lift we recommend going for something with a higher heel-to-toe drop and a little less cushioning. 
How do NOBULL Knit Runners fit?
The NOBULL Knit Runner is made with a sock-like construction, so they're comfortable and breathable but not as secure and fitting as you'd typically expect from a running shoe. We do think it'd be great for people who are on their feet all day, like nurses and teachers. Many reviewers recommend going down a half a size from what you normally wear.