We review free products that we receive and participate in affiliate programs, where we may be compensated for items purchased through links from our site.
See our disclosures page for more information.
Weightlifting belts are one of the most debated over pieces of support gear for working out. Some people swear by the lifting belt, while others argue going raw is best.
Undoubtedly, when used in the right conditions, a weightlifting belt can be a beneficial piece of equipment for your workouts. By adding intra-abdominal pressure and support to your back, a weightlifting belt can increase your stability while lifting and inevitably help you lift more weight.
After many years of training with and without a belt—and fielding questions about weightlifting belts and when to wear one—I decided to put together a guide to the best weightlifting belts, plus everything you should know about how and when to use a weightlifting belt.
Why You Should Trust Us
In the name of blatant honesty, this is one of the hardest product roundups I've ever created. I thought our guide to the best Olympic barbell was tough, but this guide takes the cake. This category might have more products than any other home gym equipment category we've covered yet, but we've tested dozens of belts and used many for years on end.
We've consulted with some of the strongest athletes in the world and observed elite competitors and the belts they use. Between our expertise in the fitness equipment industry and our hands-on testing process, we've created the most thorough guide to weightlifting belts you'll find online.
Best Weightlifting Belts for 2022
Best Weightlifting Belt Overall (My Top Pick): Rogue Faded 4″ Lifting Belt by Pioneer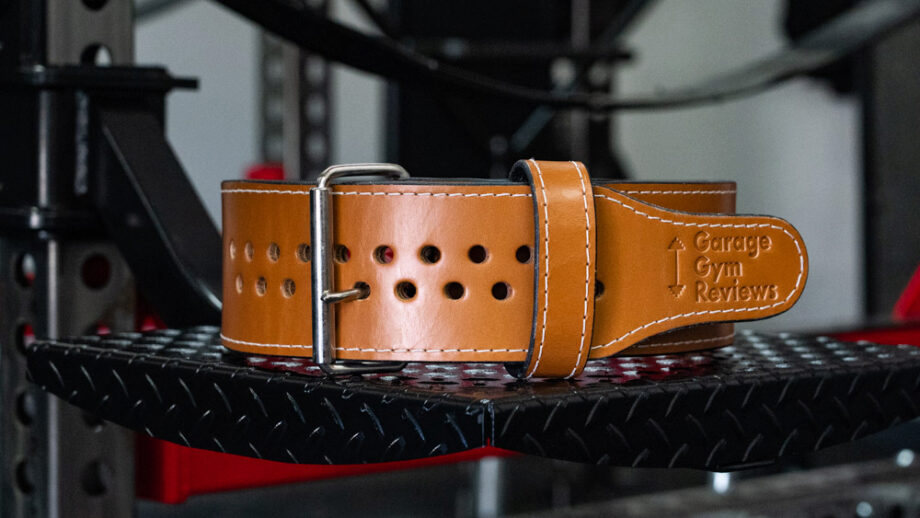 Best Overall Weightlifting Belt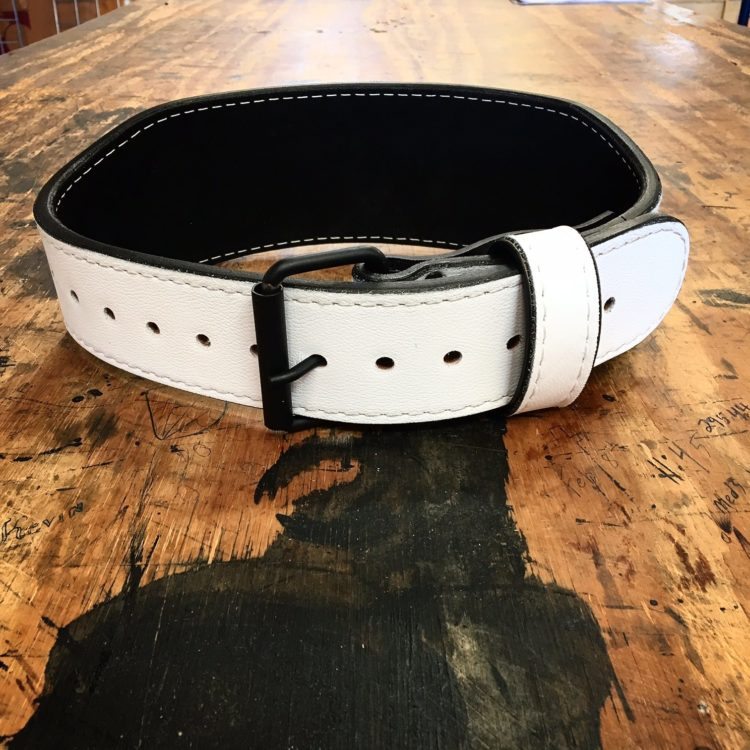 Rogue Faded 4 Lifting Belt by Pioneer
If you are looking for a beautifully styled belt that will last you a lifetime, this is the one for you! The Training Belt version of the Custom Pioneer White Belts are 4" in the back and taper to 2.5" on the sides and front. These belts are 10mm thick. You can customize the inside and outside suede color and embroidery .
Good for: People who dabble in different types of lifting and go heavy on a variety of lifts
My Favorite Things:
8.5-millimeter thickness allows for versatility
Half-inch adjustments instead of the usual 1 inch
Old-school faded leather design
Made in the U.S.
My Callouts:
Might not be thick enough for powerlifters
Not inexpensive, but not overpriced either
Tends to run larger than standard belt sizing
The Rogue 4-inch Faded Lifting Belt is actually the Pioneer Cut Power Belt by Pioneer Fitness (a division of General Leathercraft Manufacturing). Rogue enlisted Pioneer to create this specific belt to sell on the Rogue website. This belt represents the latest advancement in the prong style of power belts and is my top pick as the best weightlifting belt. For most people, it's the best choice, because it provides the best combination of features and quality at a good price.
I have yet to test another weightlifting belt that gave me as good of a first impression as this Rogue belt. The materials and craftsmanship are outstanding, and quite honestly it impressed me far more than I expected, despite being told by many friends just how good they are. Everything from the materials used to the customization options is top-notch.
Pioneer makes some of the best weightlifting belts on the market, but the Pioneer Cut belt stands out. It's just as good as all of Pioneer's other belts, but it also has a unique feature that allows for precise half-inch increments to tighten the belt. Most prong belts adjust only in one-inch increments, which often feels either too much or too little. Pioneer says that this specific cut is a patent-pending design by powerlifter Steve Strohm.
It's always nice to see a fitness product designed by someone who has actually spent some time underneath a barbell and done actual barbell exercises—there's no doubt that the person who came up with the idea is someone who could use it.
The Pioneer Cut belt utilizes a seamless roller buckle with a single prong, with nickel-plated rivets to hold the buckle system together. One cool feature we noticed is that leather at the buckle end is nicely tapered down so it's not overly thick at the loop.
In comparison to other power belts, the Pioneer Cut belt tapers down the leather very cleanly, which is probably in part due to the quality of sole bend leather used. Sole bend leather is some of the highest quality genuine leather you can find, as it's cut from the best portion of steer hides (below the shoulder and along the back ends and side of the steer's spine) Outside of some high-end weightlifting belts, sole bend leather can commonly be found in high-quality shoes and boots.
You can tell they spend extra time sanding down the leather at the edges so that it results in a smooth and consistent appearance. The edges are then dressed and finished black which gives the belt a professional look.
Breaking in a belt like this does take some time. One way to speed this process up is by rolling it up into a circle one way, massaging it back and forth, and then rolling it up into a circle the other way and repeating. This is not a one-time process and you'll need to repeat it multiple times in the beginning, but eventually, the belt will fit your torso like your favorite baseball glove would your hand.
To top it off, the Pioneer Cut belt also comes with a lifetime warranty and is made entirely here in the U.S. at their shop in Texas.
Check out my in-depth Rogue Fitness x Pioneer Lifting Belt review.
Best Budget Lifting Belt: Dark Iron Fitness Leather Belt
Best Budget Lifting Belt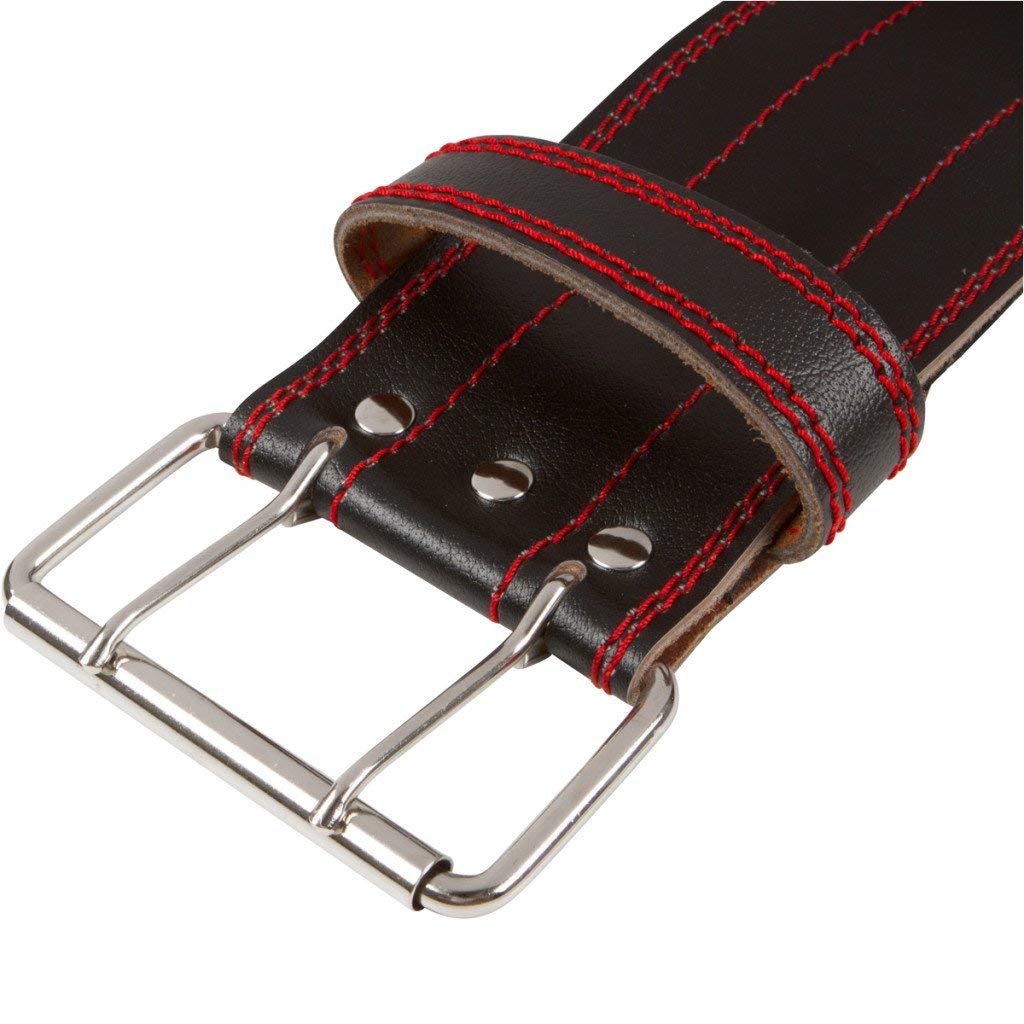 Dark Iron Fitness Power Belt
If you're serious about lifting, you know a good weightlifting belt can help you draw more power out of your abs and lower back while reducing the risk of painful injury. That's why you should get it right the first time–with the Dark Iron Fitness Weightlifting Belt! Unlike cheap belts made of fake leather, ours is made of top-quality cowhide that won't stretch out or tear under pressure. It also has a secure, heavy-duty buckle instead of plastic clips or Velcro closures that can break. This belt provides firm support for your body's core, giving you the leverage you need to lift heavier while reducing stress on your spine. And when it comes to comfort, this belt delivers. With its adjustable non-slip fit, you never have to worry about it coming loose mid-lift, riding up, or digging into your sides or hips. That means you can focus on upping your weightlifting game!
Good for: People who don't need a top-of-the-line belt and frankly don't want to pay for one
My Favorite Things:
Only costs about $40
Made from 100% genuine buffalo hide leather
Reinforced stitching
Double-tongue buckle
My Callouts:
Company makes unsupported claims (like wearing the belt improves your lifts by 10%)
White-labeled product manufactured overseas
Flimsy compared to higher-quality leather belts
This is one of the most popular belts for sale on Amazon and for practically just one reason: It only costs $40. For a leather weightlifting belt, that's unbelievably inexpensive. It's hard to even find high-quality nylon weightlifting belts for $40 and under.
A large driver of this attractive price point is the fact that this is a white-labeled belt, meaning there's a company overseas that makes these belts and then allows companies to put their brand logo over the top. This isn't inherently a bad practice (even Rogue Fitness has some white-labeled belts), but it's worth pointing out in my opinion.
Again, for a belt made from 100% genuine hide leather, you're getting an incredible value with the Dark Iron Fitness weightlifting belt. It features reinforced stitching which should keep fraying at bay, and a double-prong and double-tongue buckle for added closure security.
Despite the full leather construction, this belt feels much softer and supple than most other leather belts. This can be a good thing or a bad thing depending on how you look at it. On the one hand, a softer belt requires less of a break-in period. Some customer reviews even say they didn't need a break-in period at all. On the other hand, a softer belt will wear faster than a more rigid belt, and you won't get as much use out of it over time.
One thing I was super surprised about was the warranty on this belt. For such an inexpensive product, I didn't expect to see any type of warranty, but Dark Iron Fitness offers a lifetime warranty on these weightlifting belts. It's seriously a steal. You do have to register the product to be eligible for the warranty though, so don't forget to do that.
I don't like that Dark Iron Fitness makes unsubstantiated scientific claims about its weightlifting belt, specifically that it will " improve your lifts by 10% on average." I couldn't find any evidence to support this claim, and there aren't even any recent, large-scale (read: from the 2010s or newer, looking at multiple populations) studies that examine the performance-enhancing effects of weightlifting belts.
But we do know that belts in general increase core stabilization. So regardless, if you know how to use a belt, this one from Dark Iron fitness will benefit you in some capacity.
Best Olympic Weightlifting Belt: Eleiko Premium Olympic Weightlifting Belt
Best Olympic Weightlifting Belt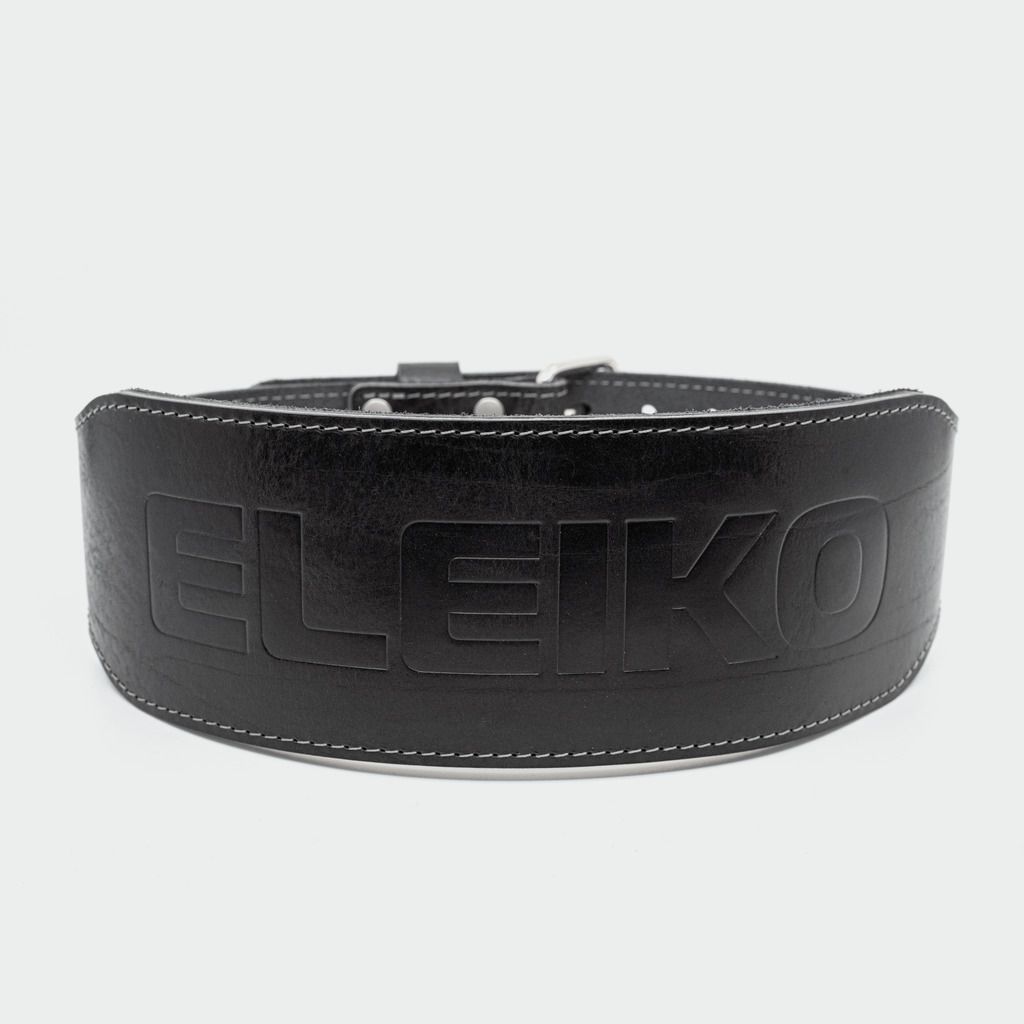 Eleiko Premium Weightlifting Belt
Handcrafted in Sweden from high-quality durable vegetable-tanned leather, the Eleiko WL Premium Leather Belt features distinguishing details and quality craftsmanship that will age to perfection with wear. While incredibly soft and comfortable, our leather belt provides optimal support for heavy training sessions and the competition stage alike. Width 4"/ 10 cm.
Good for: Weightlifters wanting a competition-certified weightlifting belt
My Favorite Things:
Beveled edge and tapered cut specific for Olympic lifting
Competition certified
Not very expensive for being an Eleiko product
My Callouts:
Thick leather makes for a very rigid feel
Tapered design isn't for everyone
Doesn't break in easily
Eleiko makes quality products—there's no beating around that bush. The Eleiko Premium Olympic Weightlifting Belt is no exception. Handcrafted from 100% vegetable-tanned leather in Sweden, this belt screams durability and stability.
This belt struck me as more rigid than most leather belts. If you're looking for a lot of flexibility and a quick break-in period, this belt isn't the right choice for you. It's designed to maintain rigidity under high pressure, which is exactly what it does. There isn't much give in a hip hinge or squat position, a feature that ultimately comes down to preference.
The measurements come in at a 4-inch width (tapers to 2 inches in the front) and 10-millimeter thickness. It's pretty standard in that regard. It also has standard one-inch belt adjustments with a double-pronged buckle.
Double stitching around the edges lends itself to increased durability, although there was never a question of durability with this Eleiko belt. If you prefer a more rigid belt, you can't find a better Olympic lifting belt for this price point. At just over $100, the Eleiko Premium Weightlifting Belt falls into the same price range as many Rogue Fitness belts and some of our other top picks.
As for aesthetics, I love the look of this belt. Like most weightlifting belts, it only currently comes in one color/style. But it's blacked out and it's sexy. The etched Eleiko logo covers most of the backside of the belt, and the white stitching pops against the all-black leather.
Best Lifting Belt for CrossFit: Rogue USA Nylon Lifting Belt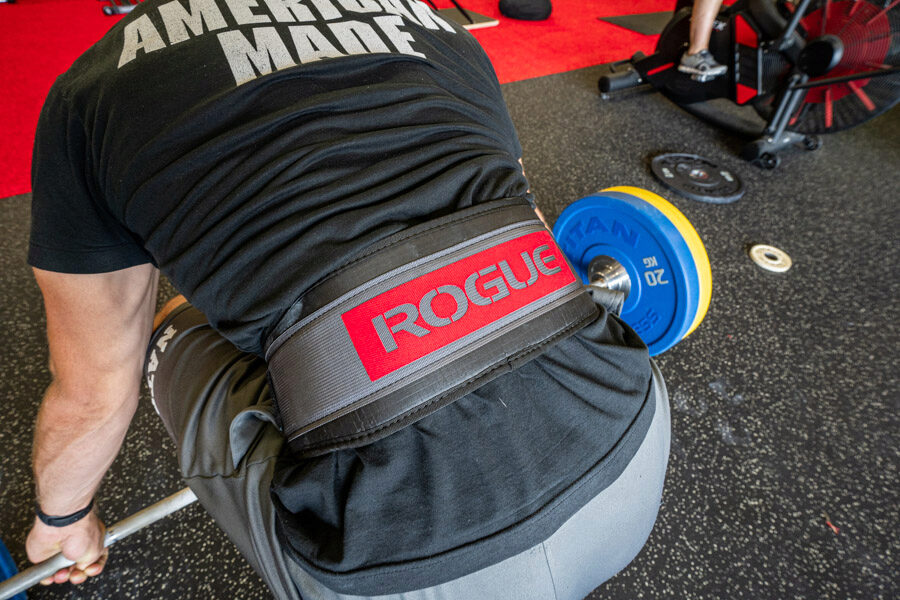 Best Lifting Belt for CrossFit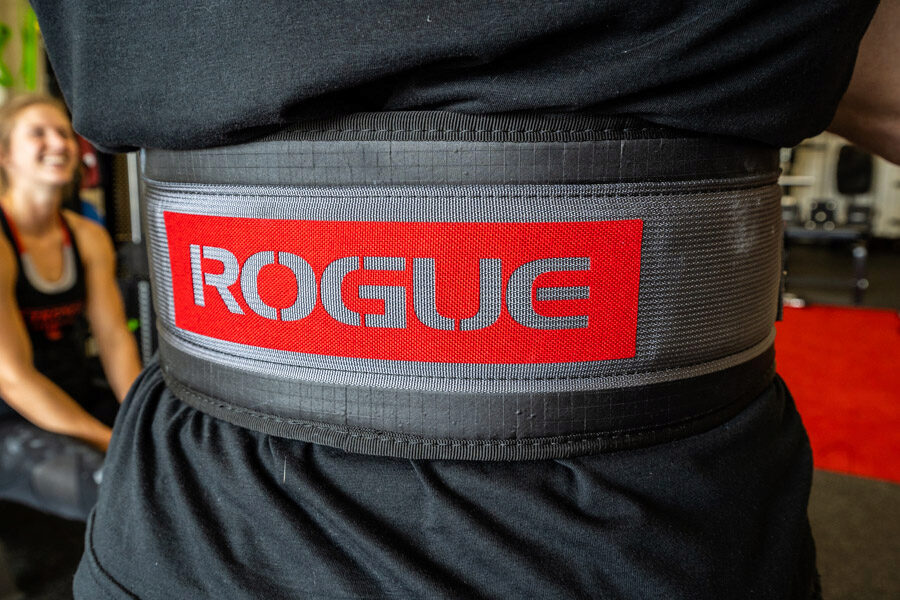 Rogue USA Nylon Lifting Belt
Now fully designed and manufactured in the USA, our latest Nylon Lifting Belt was co-developed with Rogue athlete and two-time CrossFit Games champion Mat Fraser, who personally used it during his run to the 2017 title. The USA Nylon Lifting Belt is equipped for optimal support and a customized contoured fit, and it's available here in three exclusive colorways:Black: Black foam frame with laser-cut Rogue logo on grey panelCamo: Black foam frame with Multicam 3" webbing piece and Desert Tan laser-cut Rogue logoGray/Red: Black foam frame with Grey 3" webbing with Red laser-cut Rogue logoEquipped for optimal support and a customized contoured fit, the USA Nylon Lifting Belt introduces several new upgraded features, including a blacked-out buckle and roller for smooth adjustments, a 0.25" thick foam frame (with ripstop exterior), and a 3" x 2" section of Velcro for attaching a Rogue patch or your own custom patches. We've also updated the end of the strap with an easy-to-find, folded-over portion, allowing the wearer to quickly loosen or remove the belt as needed mid-workout. The back of the belt measures 5" in width, tapering down to 4", with a 3" webbing support strap. There are seven different length options to meet the needs of any size athlete.
Good for: Functional fitness enthusiasts who make quick transitions between heavy lifts and other movements
My Favorite Things:
Nylon construction supports versatility (can wear this during WODs)
Velcro closure allows for quick transitions
Tons of color and pattern options
Co-developed with 5x CrossFit Games champion Mat Fraser
My Callouts:
Not as supportive as leather belts
Nylon wears out quicker than leather
Not great for low-bar squatting or max-effort deadlifts
Although we think most people are best suited with a leather power belt, if most of your training consists of CrossFit-style functional fitness workouts, the Rogue USA Nylon Lifting Belt is the one for you. It's also a great option for people who simply want less rigidity in a weightlifting belt.
Rogue has quite a few different velcro training belts (we've used most of them), but the USA Nylon Lifting Belt is an improvement upon all the previous versions with more refinement, better features, and cool color options. Aesthetics shouldn't be the deciding factor in buying a weightlifting belt, but I like to point out that color options are nice because most belts only come in one design.
This belt was actually created in partnership with arguably the greatest CrossFit Athlete of all time, Mat Fraser (obviously this is a toss-up with Rich Froning; both are home gym owners, by the way).
As much as I like the USA Nylon Lifting Belt, I have to say it's nearly the exact same as the Rogue 5" Nylon Weightlifting Belt. The difference is, as the name suggests, the USA Nylon Lifting Belt is made in the U.S., which you're going to pay about double for. Personally, I prefer the USA Nylon Belt, but if you just want a great belt at the lowest cost, get the imported one as it's still a great option.
Beyond the neat aesthetic features like the ironed-on logo, cool patterns like camo, and a spot to add velcro patches, the belt is simply well-built. I've been using one at the gym ever since it came out, which is several years now, and it still looks like with the exception that it's been broken in and stays curved even when not in use.
The roller buckle isn't seamless, but the buckle is smooth. The frame uses quarter-inch (just over 6 millimeters) thick foam. This makes the belt somewhat stiff but still comfortable. Due to the foam construction, the belt is extremely lightweight. If it weren't for the metal buckle, it would feel like a feather.
The back of the belt is 5 inches and tapers down to 4 inches in the front to prevent discomfort in the core area when bending down for deadlifts or snatches. The foam is naturally flexible, so regardless of the thickness it has much more give than leather.
All in all, if you're training for CrossFit, which entails high rep counts and constant adjustment of the belt, then velcro nylon is definitely your best option and this is my pick.
RELATED: Best Barbells for CrossFit
Best Value Lifting Belt for Powerlifting: REP Fitness 4″ Premium Leather Belt
Best Value Lifting Belt for Powerlifting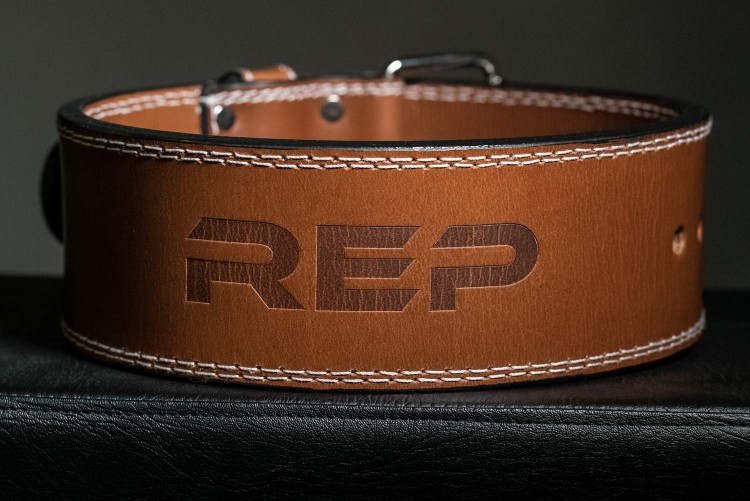 REP 4-Inch Premium Leather Lifting Belt
The Rep Premium Lifting Belt is designed to last and provide comfortable stability through your heaviest lifts. The single-prong buckle design allows for quick and easy adjustments, while still providing a tight fit. Specs: Offered in sizes S-XXL. 10mm Thick Vegetable tanned leather for no break-in period. Burnished and sealed edges for superior moisture resistance. 4" Width. 10 holes for various athlete sizes per belt size.
Good for: Powerlifters who want a sturdy and quality but an inexpensive leather belt
My Favorite Things:
Quick break-in period
Sealed and burnished edges for durability
Classic tanned leather look
My Callouts:
Single-prong closure
Sizing is iffy for people in between sizes
Inexpensive alternative to Rogue Ohio belt, but not made in the U.S.
This is quite obviously a belt designed to compete with the Rogue Ohio Lifting Belt. It looks nearly the same and it's designed nearly the same, but there are two major differences: the price and the manufacturing location. I don't have to tell you that the manufacturing location is what drives the price difference. (Again, I'm not saying white-labeled products or overseas manufacturing is inherently bad, but it is what drives the price point of most fitness products.)
Basically, if you love the Rogue Ohio Lifting Belt but don't want to pay the three-digit price for it, get the REP Fitness 4" Premium Leather Belt.
This belt breaks in quickly and offers superior support for the price. With a 4-inch width and 10-millimeter thickness, it's perfect for the big three—deadlifts, squats, and bench. Burnished and sealed edges prevent moisture damage from sweat, while double stitching reduces the likelihood of fraying.
Made of vegetable-tanned leather, this REP belt will quickly mold to your torso for optimal support in the hip hinge and squat positions, both of which are obviously crucial to powerlifting performance.
I do wish the holes were a half-inch apart rather than a full inch, but that's not exclusive to the REP weightlifting belt. I'd like to see many more belts switch to half-inch fastening systems. A full inch is a big jump when you need just a slight adjustment in tightness.
This isn't the best overall belt for powerlifting, as there are many others that offer more support and stability and are made from higher-quality materials. However, for the price of this REP Fitness belt, you're getting a lot. For elite powerlifters, an SBD belt or the Rogue Pioneer Cut belt would be a better choice, but for the everyday lifter, the REP 4" weightlifting belt is an unbeatable deal.
Best Deadlift Belt: Dominion 3″ Leather Belt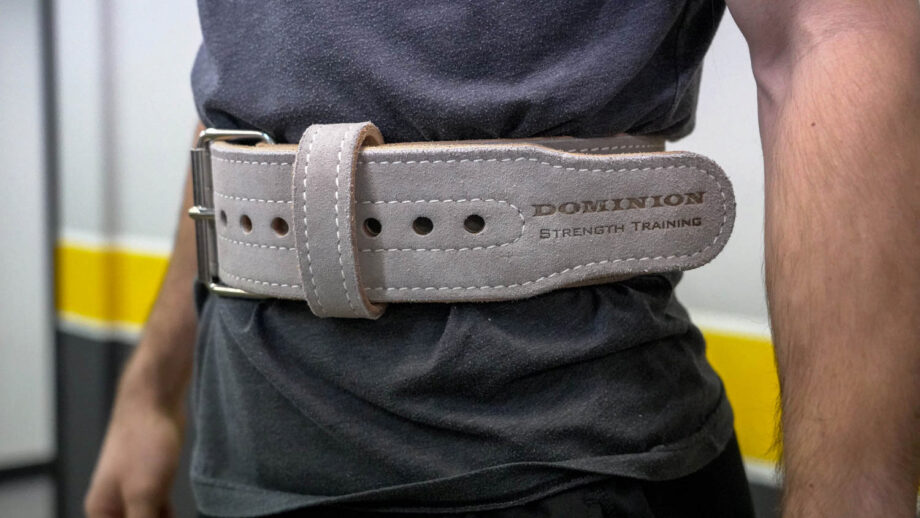 Best Deadlift Belt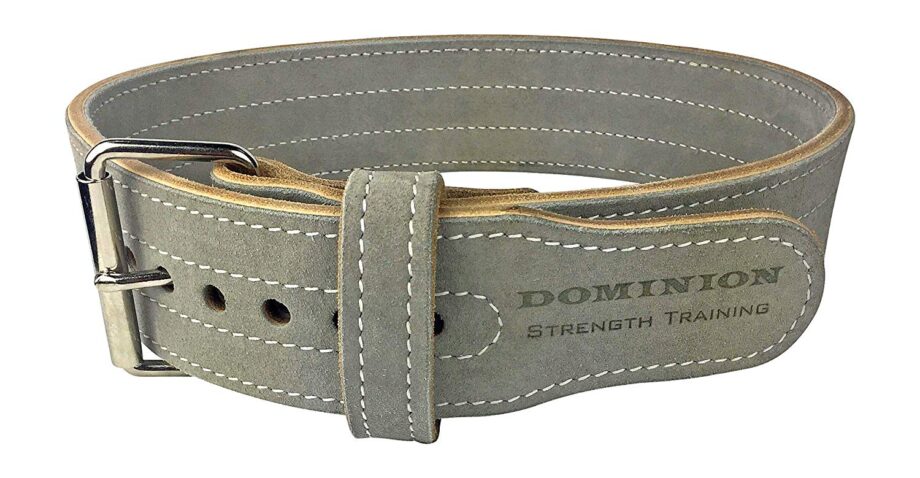 Dominion 3-Inch Leather Weightlifting Belt
How is this belt different from other belts? Your Dominion Strength Training belt is made from high quality top grain cow leather. This belt will last a lifetime even with frequent, heavy use. Lower quality belts are typically made from split leather, which can stretch and is much less durable. The worst belts actually contain plastic or foam fillers to achieve thickness. A low quality belt may initially seem fine but will begin to stretch with the first lift and quickly need replacing. Other high quality belts are typically made to order (taking 6-12 weeks) and are very expensive. Dominion Strength Training Lifetime Replacement Guarantee Our belts are virtually indestructible. If you manage to damage one of our belts for any reason, contact us for a hassle-free replacement, no questions asked.
Good for: Athletes who max out on deadlifts often
My Favorite Things:
Designed specifically for deadlifts and squats
No-risk lifetime warranty
Breaks in quickly
Suede leather feels soft and comfortable
My Callouts:
Three-inch width might not be enough for taller people
Adjustability is in 1-inch increments
Single-prong closure
If there's one lift you want extra back support on, it's the deadlift. I've yet to come across a weightlifting belt specifically designated as a "deadlift belt," but any belt that's 2 or 3 inches in width can be considered a deadlift belt, the reason being that these thinner belts are more comfortable to wear and support proper lumbar positioning during the deadlift movement.
The Dominion Strength 3" Leather Belt tops this category as far as I'm concerned. It's different from what most people are used to in a power belt (the Dominion Power Belt is 4 inches wide, so go there for a powerlifting belt), but if you have the means to buy two weightlifting belts, get the Dominion 3-inch belt and a standard 4-inch.
I hadn't ever considered using a 3-inch belt until I read Mark Rippetoe's article titled, "The Belt and the Deadlift." As Rip tends to, he gave his recommendation quite clearly, "Most people have no business wearing a 4-inch power belt for the deadlift. Unless you're tall or long-waisted, a 4-inch-wide standard power belt is too wide to permit a correct lumbar position at the start of a correct deadlift."
The reason a 3-inch power belt is superior to a 4-inch belt for most people is that the wider belt prevents most people from being able to get into the correct position for pulling.
I hadn't thought much about it until giving the Dominion Strength 3″ belt a shot, but then I was hooked. Ever since, I've used it for all of my deadlift sets where a belt is worn. On the flip side, my training partner who is taller and has a longer torso feels like it's too thin and cuts into his rib cage. To each their own, as always.
The build quality of the Dominion Strength 3-inch belt is as good as any I've used. It's not a super innovative belt like the Pioneer Cut or the SBD Belt Lever System on our list, but it's a combination of great materials at a great price, and it's USA-made.
The belt is 10 millimeters thick which provides great support without being overly stiff. It utilizes a seamless roller buckle with a single prong, unlike some cheaper belts with shoddy materials and a lack of rollers.
The edges of the belt are rounded and skived which results in a good-looking edge that feels comfortable on your torso. This particular belt utilizes suede leather, which is a nice aesthetic touch.
All in all, the Dominion Strength Belt is simple, which is why we like it so much. If you want a deadlift belt or just a thinner belt than what's typically considered standard, then we suggest this belt from Dominion Strength.
Best Nylon Weightlifting Belt: Schiek 2004 Nylon Belt
Best Nylon Weightlifting Belt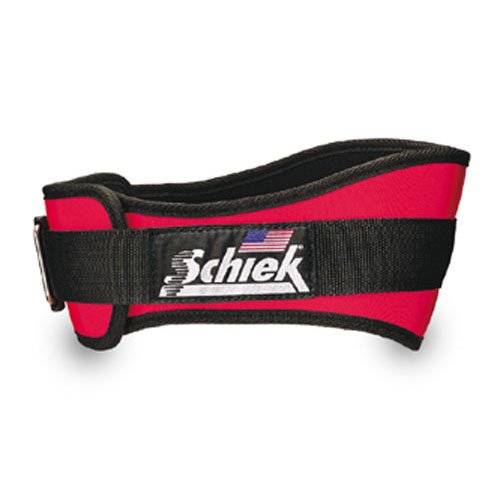 Schiek 2004 Lifting Belt
The American-made Schiek 2004 Lifting Belt is designed to match the natural contours of the body, with a patented cone-shape to support the downward angle of the lower back and a wide front to offer maximum abdominal support. Lightweight and less bulky than traditional leather weightlifting belts, the Schiek 2004 utilizes a stainless steel buckle and "Slide N' Grip" VELCRO® brand fasteners to give athletes an exact, fully customizable fit. Tighten or loosen the belt quickly and easily when moving from heavy lifting movements to lighter work. Schiek's hip-and-rib contour thins at the sides to keep the friction to a minimum, and a 2-year warranty adds some extra peace of mind. Specifications:Made in the USABack Support Width: 4.75"Exact, Secure Adjustments with One-Way VELCRO® brand fasteners and Steel Slide Bar BuckleHand Wash with Mild Detergent, Air Dry2 Year WarrantyDetachable Suspenders OptionalColor: Black
Good for: Anyone who likes the flexibility of nylon belts and desires more contour for a more natural fit
My Favorite Things:
Unique contour/cone design
Dual closure system for added security
Made in the U.S.
My Callouts:
Foam padding is stiffer than most nylon belts
Inner velcro is susceptible to wear and tear
Slightly more expensive than the average nylon belt
The Schiek 2004 Nylon Belt is a popular belt that didn't make our first version of this list, primarily because of some contention in the home gym community about the shape of the belt. However, we've come to decide that the unique, patented shape of the Schiek weightlifting belt model 2004 is a pro, not a con.
I personally like this belt better than most nylon weightlifting belts, as do many others who prefer the wavy, contoured shape as opposed to the standard straight, cylindrical shape on most belts. However, during our testing, several people voiced the opposite, stating that they couldn't get accustomed to the contour.
The Schiek 2004 belt features a cone shape, which is thicker in the front and back and narrower on the sides. This design theoretically provides a tighter, more body-specific fit, with less digging into the bottom of the ribs. Despite the "humanness" of the design, it won't work for everyone. People with longer torsos may feel like there's a lack of support from the narrow side panels, for example.
As far as craftsmanship goes, this belt held up very well during our testing. The velcro seems to be on the same level of quality as the velcro in the Rogue USA Nylon Lifting Belt, and the foam frame feels flexible yet supportive.
Overall, the Schiek 2004 Nylon Belt is a great choice for CrossFit workouts and similar styles of training. The velcro closure system makes it easy to quickly put on and remove the belt, making it ideal for fast-paced workouts that combine heavy lifting with high-volume exercises like burpees and box jumps.
Most Stylish Weightlifting Belt: 2POOD Straight Weightlifting Belt
Most Stylish Weightlifting Belt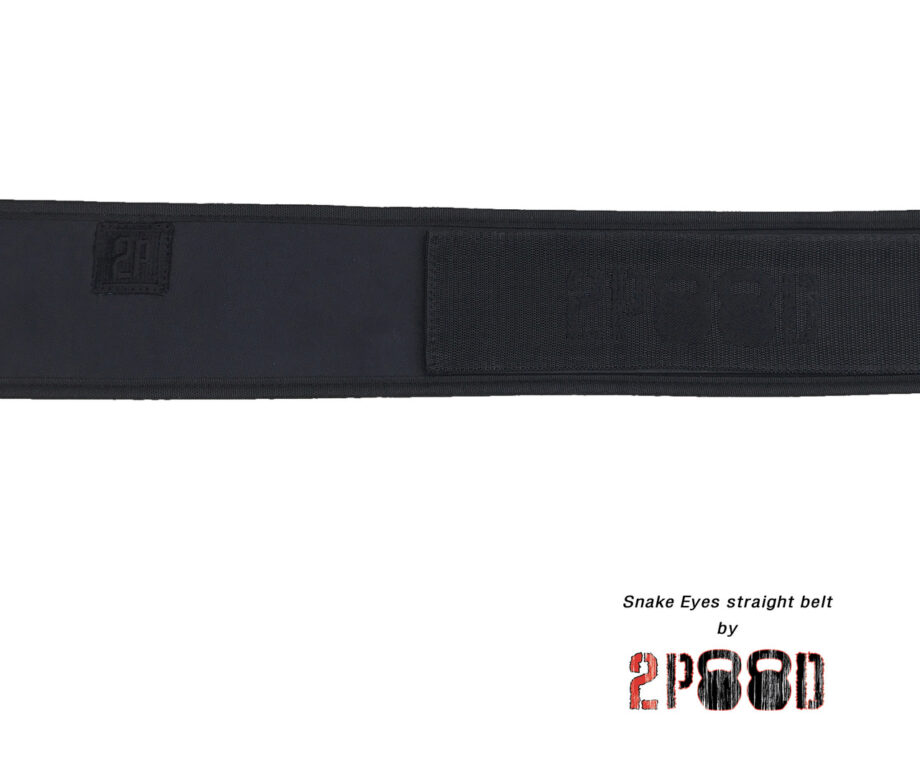 2POOD Straight Belt
The straight belt worn by Team USA stars Mattie Rogers and CJ Cummings; and Athletes Sam Dancer, Nick Urankar, Elijah Muhammad, Marcus Filly, Nathan Bramblett, Chyna Cho, Joe Scali, Melissa Doss and countless others. 4" straight belt option for those that desire a USAW compliant belt or prefer a little less coverage than our metcon belt series. One of the best belts ever made in our humble opinion. Use the code GGR at checkout to save 10% on belts, apparel and more!
Good for: Functional fitness enthusiasts who love putting together the perfect workout outfit
My Favorite Things:
High-quality nylon lasts for years
Tons of color and design options
Straight cylindrical design is great for Olympic lifts
Worn by many elite athletes during training and competition
My Callouts:
Very firm for a nylon belt (more so than most)
Almost uncomfortable at first, but breaks in quickly
Durable, but still not as durable as leather weightlifting belts
If a 2POOD belt is good enough for weightlifters like Mattie Rogers and CJ Cummings, and CrossFitters like Sam Briggs and Jacob Heppner, it's more than good enough for the average exerciser.
Not only are 2POOD belts known for their durability in high-intensity, high-volume, high-load settings, they're also known for their whimsical designs. Want donuts on your weightlifting belt? Get a 2POOD belt. Want tacos on it? Get a 2POOD. Leopard print? 2POOD. C-3PO and baby Yoda? 2POOD.
You get the point. If you're the kind of fitness enthusiast who must have the most fly outfits in the gym, adding a 2POOD weightlifting belt to your gear closet is one surefire way to do that.
Onto the real specs: 2POOD belts are made of thick, tough nylon with a foam core. Velcro closure means you can quickly make transitions from heavy lifting to gymnastics or cardio movements in a workout. After using a 2POOD belt for three years, the velcro shows only minimal signs of wear and tear. The velcro is also super sticky—if you keep it clean, you'll have zero issues with the belt popping open during heavy lifts, which sometimes happens with lower-quality velcro closures.
The roller adjustment can be a bit tricky to use, but you can get a tight fit without using it if you prefer. With price points around $60, 2POOD belts are pricier than some other nylon and velcro belts, but you're getting one that will last for years on end.
Related: The 2POOD Straight Weightlifting Belt made our Best Fitness Gifts list!
Best Lever Belt: SBD Lever Belt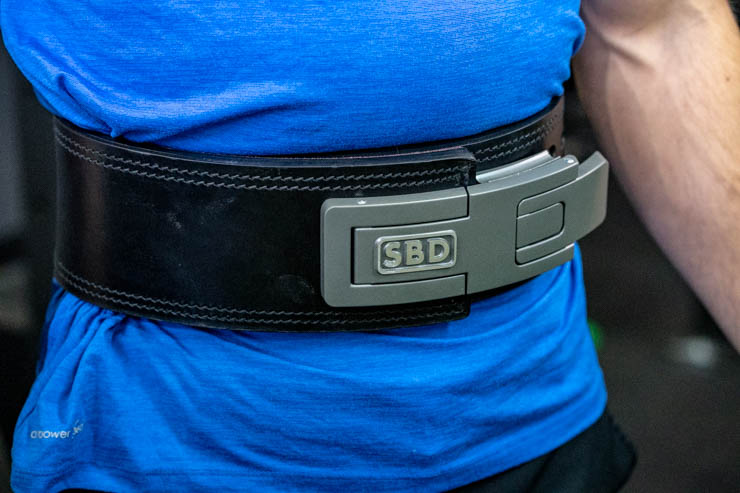 Best Lever Belt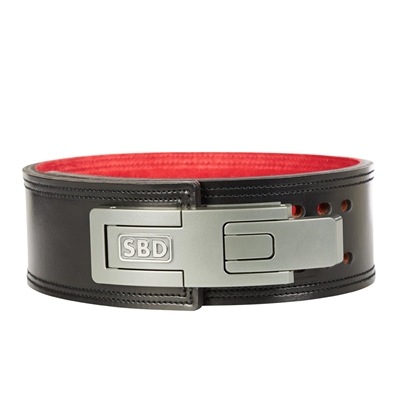 SBD Belt
The SBD Belt is a heavy-duty powerlifting belt designed to provide lower back support for the heaviest of lifting. Made from black oiled leather this lifting belt will help you achieve your personal best, and provide the stability for a few extra reps to build your strength. The SBD belt is IPF approved for competitions too, with the regulation maximum 10cm width and 13mm thickness. Featuring a patent-pending buckle, with a gliding lever action and the adjustability of a prong belt. Designed with powerlifters and strongmen in mind. English hide prepared for over five months for strength and longevity. Black oiled leather finish with a red suede interior. IPF approved with the maximum 13mm thickness and 10cm in width. Manufactured exclusively in Great Britain.
Good for: Athletes who desire ultimate stability and support with the added security of lever closure
My Favorite Things:
Available in nine (!) sizes
Designed in collaboration with strength athletes
USAPL and IPF approved
My Callouts:
Very expensive for a weightlifting belt
No color or design customization options
Would like to see a lifetime warranty for the price
The SBD Lever Belt is by far the most expensive belt on our list and quite possibly the most expensive anywhere. It is an absolute beast of a belt and is used by some of the strongest people on the planet, including powerlifting great and world record holder Ray Williams. It's heavy-duty.
If you're a powerlifter moving big weight and want the best lever system that's currently available (and don't mind paying up for a belt), then the SBD Belt is your best bet.
SBD manufactures its belts and sleeves in Great Britain using a combination of genuine English leather and hardened aluminum alloy to make a belt that is equally appealing to the eye and functional. It is the IPF and USAPL maximum of 13 millimeters thick and 10 centimeters wide.
To say the SBD Belt is stiff would be an understatement. I've never used a belt that took as long as this one to break in. Even after two years of constant use, it still feels a bit stiff. If you're serious about maintaining a full range of motion, maybe look in a different direction.
The leather for the belt is treated for five months to achieve the ideal hardness, longevity, and durability before its three layers are pressed and double stitched together. It is then coated with a smooth black oil finish. The finish gives the belt a sleek look and makes for easy cleaning.
Although the belt itself is pretty special, the standout feature is SBD's patented buckle system. The buckle combines the ease of use and stability of a lever with the adjustability of a prong buckle. The buckle is made with hardened aluminum alloy to keep it light but still very durable. It is then given a smooth powder coating before the logo is diamond cut to give a smooth, clean look. The buckle features four prongs, the front two of which have an oval lip to give a firm lock into the cutouts. There are also 10 pairs of holes for tightness adjustment.
During our testing of the SBD belt, we were more than pleased with the performance. The belt is incredibly stable, simple to use, and easy to adjust. There was never a question of stability or lumbar support with the belt. As is to be expected with a belt of this caliber and thickness, there was absolutely no give while bracing. The width of the belt also gave a large surface area to push against, allowing for even greater abdominal pressure and stability.
The lever not only keeps the belt tight and secure, but it is very quick and easy to take on and off. We had three guys with different waist sizes using the belt and we could quickly and easily swap while being able to adjust it to fit each of us perfectly. No other lever belt on the market allows for this kind of ease of adjustment.
The biggest downside to the SBD Belt is how long it takes to break in. We have yet to use a belt as stiff as the SBD, which for some is great, for others, it's annoying to wait so long to have a belt ready to use.
But again, if you're in the market for a lever belt and don't mind spending the money, the SBD Belt is the best lever weightlifting belt on the market. Bar none.
Read my in-depth SBD Lever Belt review
The Competition
Here are our thoughts on a few more belts we tested that didn't make the top list.
This belt is basically the same as the REP 4" Premium Lifting Belt, but it's USA-made, so it's more than double the price. It's a great belt, but REP's sealed edges and double stitching give it a leg up against the Ohio Lifting Belt. The leather of the Ohio Belt is much more pliable and stretches over time, the edges are single stitched making them prone to breaking and there is no edge dressing which causes them to delaminate over time. If you want a Rogue Fitness belt, we recommend paying the extra money for the Pioneer Cut.
We think this is a phenomenal powerlifting belt as well. It's the same as the Dominion 3" Lifting Belt, which we recommend for deadlifts specifically, but with another inch in width.
Inzer belts are great belts. I've had an Inzer Forever Buckle Belt that was passed down from my father to me for over a decade now. My father used the belt for two decades before me. This means I still to this day use a 30-year-old belt, and aside from some minor abrasions and fading, it still works like it did when it was purchased. The reason Inzer belts didn't beat out our top pick is because of some misinformation that doesn't necessarily make the belt bad, but worse than the competition. For instance, they say the layers aren't glued together, but they are.
These use the same leather construction as the buckle belts but instead have a lever. The lever is a nice, chrome-plated lever, however, it isn't adjustable like SBD's which is why we're not recommending it for most people. However, it is much cheaper.
Titan Support Brahma Power Belt
The Titan Brahma Belts are high-quality, USA-made weightlifting belts. They use strong materials and offer customization options with their belts. They are triple-stitched and use two pieces of sole leather and two pieces of suede leather that are glued and stitched together. The biggest issue with the belts that we've heard from others is that they don't meet federation specs, although their site says they're IPF-approved. We definitely like these belts, but we don't think they're better than our other picks at their price points.
Best Belts are indeed some of the best powerlifting belts that are available. They use great materials, are IPF-approved, and they come with a lifetime warranty. These belts stand up to Pioneer belts in terms of quality and longevity, but for the price, you may as well get the Pioneer Cut.
How We Tested The Weightlifting Belts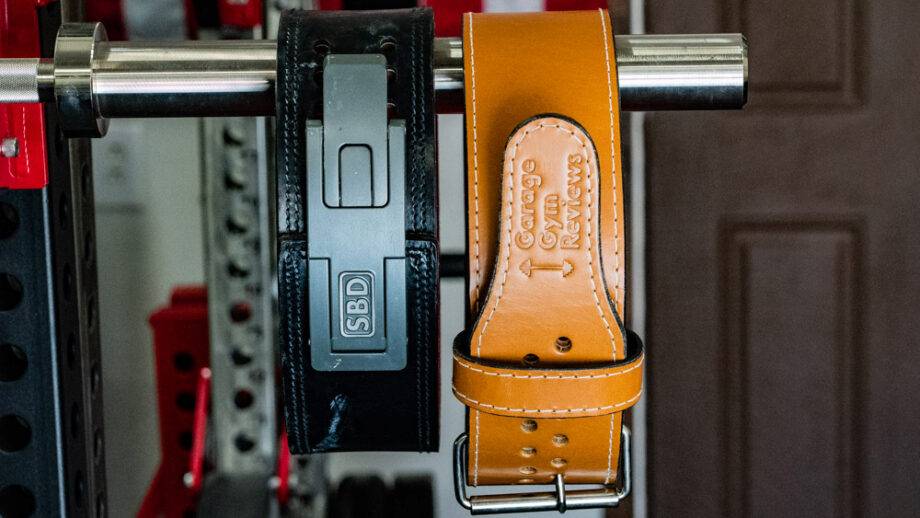 As usual, we started by simply scouring the internet and trying to compile a list of every belt in an Excel spreadsheet. Here's a small portion: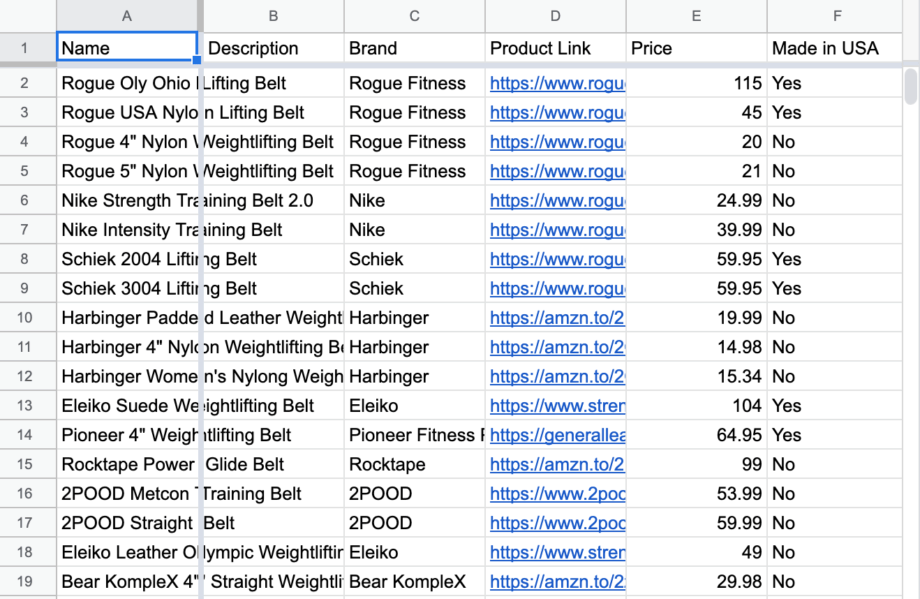 In addition to relying on Google for help, we also reviewed what had been written on the home gym subreddit, asked for opinions from our Home Gym Community Facebook Group (nearly 100K strong as of this writing) as well as consulted with some of the strongest people in the world to get their opinion on the best weightlifting belt they've ever used.
Once we got the lay of the land, we took stock of what we already had on hand (nearly 20 different belts) and ordered others that we felt were needed for the comparison.
We used all of the above weightlifting belts for any and all lifts a belt might be used for, including heavy deadlifts and squats, clean and jerks, and snatches. We also wore them during higher-volume workouts and workouts with a variety of movements to see how they fared for general comfort and versatility.
Some key factors we evaluated during testing include ease of closure, adjustability, and, of course, support.
To simulate how weightlifting belts might be treated after big lifts and tough workouts, we threw them, smashed them, and stuffed them in bags. All of this drove our overall ratings of each belt.
We measured each belt for thickness and width accuracy to see how closely the actual product lined up with the stated dimensions online.
Benefits of Wearing a Weightlifting Belt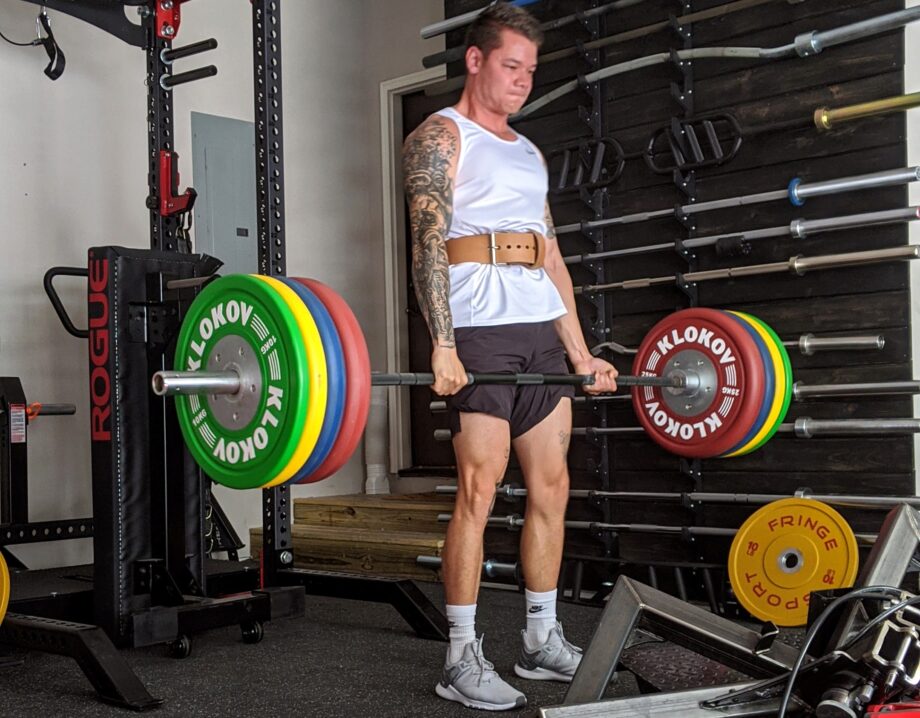 Wearing a weightlifting belt is not a requirement for weight training. In fact, I'd go so far as to say you don't need to wear a weightlifting belt at all if you're not training at near-maximal (meaning above 80% of your max for a specific rep range). It's actually really important to master beltless training and learn how to engage your core without the support of a weightlifting belt.
That said, belts do have their place. When lifting heavy weights, wearing a weightlifting belt provides extra support for your entire midsection, which includes your abdominal muscles and back muscles. It's also worth noting that some competitive athletes wear belts even during light lifts to ensure their technique remains the same all the time. People with prior injuries can also benefit from wearing belts even at light loads.
RELATED: Best Back Workouts
By increasing intra-abdominal pressure, a weightlifting belt serves as a reminder to brace your core, and it also gives you an object to brace your core against. However, a weightlifting belt is not a replacement for core engagement. Instead of thinking of a belt as a necessity for core bracing, think of it as a physical cue to tighten your core. A belt should always be an indirect, not direct, support during your lifts.
Many beginners in CrossFit, powerlifting and Olympic lifting assume that wearing a weightlifting belt automatically allows them to lift more weight. This is not so. Weightlifting belts help you maintain better technique and stability during lifts at very high loads, thus increasing the chance that the lift is successful. I get that that looks like "belt equals more weight," but again, it's smartest to view weightlifting belts as a support tool, not as a crutch.
People also assume that using a belt protects your lower back and although this is somewhat true it's not entirely correct. What a belt actually does is create pressure to brace your core against. When you brace your core, you're less likely to suffer a back injury, so by default, weightlifting belts assist in the protection of the spine (but the real protection is core engagement).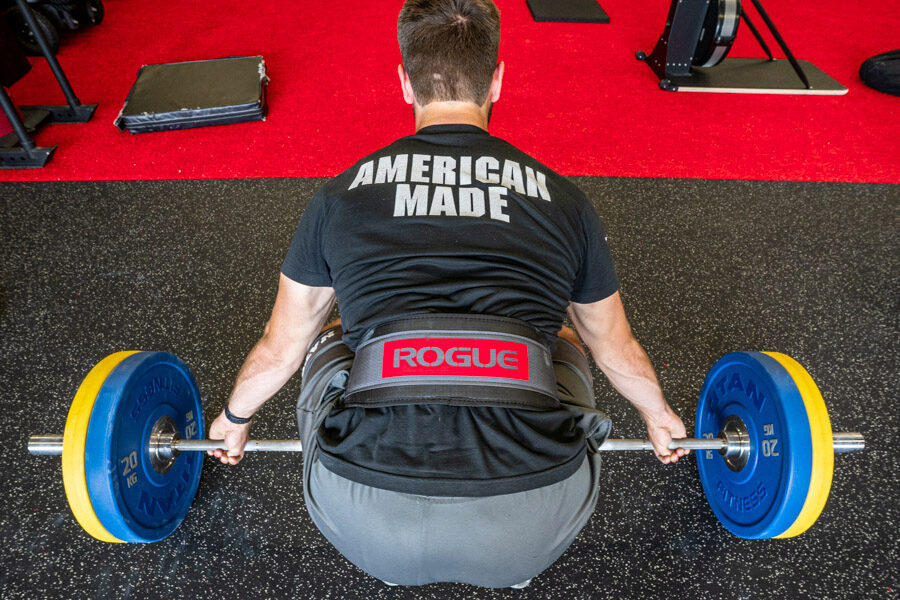 What to Consider Before Buying a Weightlifting Belt
Ask yourself these few important questions before taking the plunge and purchasing a weightlifting belt.
Do you know how to engage your core?
Full stop. Mike Masi, doctor of physical therapy and Garage Gym Reviews expert panelist, says if you've never learned to brace your core without a belt, you should definitely do that before buying and using a belt.
Otherwise, he says, "Your belt might become more of a crutch than a support tool over time. It's important to know how to engage your core to use a belt properly and get the most out of it, anyway."
Do you lift weights regularly?
If your weekly workouts consist of more jump squats than barbell squats, you probably don't need a weightlifting belt. Workout styles such as high-intensity interval training (HIIT), circuit training, and other high-volume, cardio-heavy training don't typically require a belt. (This is not to say CrossFitters shouldn't buy a belt, because CrossFit encompasses cardio-heavy training in addition to lifting weights.)
Do you regularly train at near-maximal loads?
If you do lift weights on a regular basis, how often are you lifting heavy and how heavy are you going? Heavy is relative, but if you never lift more than 80% of your max at a given rep range, you may not even need a belt. For instance, marathon runners who are using lifting as a way to cross-train probably wouldn't benefit from a weightlifting belt, seeing as marathon-specific weight training involves high rep ranges (usually 8 to 20 reps per set) at lower loads.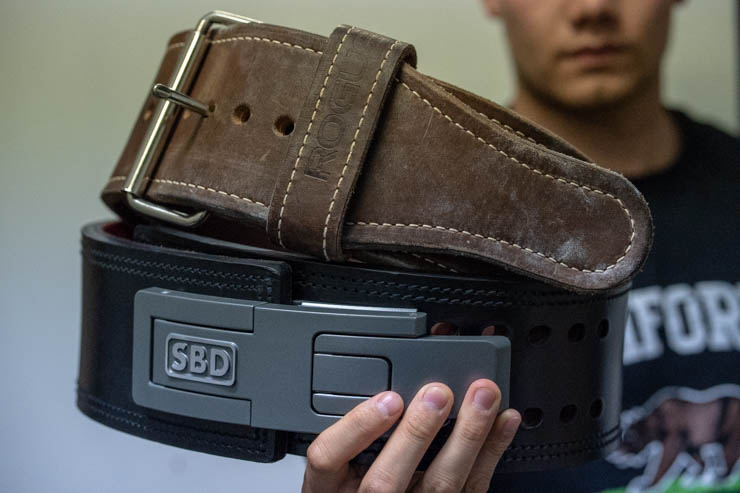 How to Choose the Best Weightlifting Belt for You
Several factors go into the decision to buy a specific weightlifting belt. These are some of the most important things I encourage people to think about before clicking the buy button.
Your Sport
Your primary training style will largely dictate the best weightlifting belt for you. If your workouts mainly consist of Olympic lifting, you'll need a different belt than someone whose workouts mainly consist of CrossFit or powerlifting.
In general, less rigidity is better for functional fitness-style training, while more rigidity is better for heavy lifting. Also, consider the closing mechanism: If you're moving quickly from heavy deadlifts to pull-ups and back to deadlifts, you'll want to minimize the time spent buckling and unbuckling your belt.
Budget
Weightlifting belts span a rather large price range. You can find decent-quality belts for under $50, while some premium belts from brands like Eleiko and SBD can run you more than $200. Before deciding on a number to spend, consider how much you'll use the belt and your goals for it. If you don't plan to train to become an elite weightlifter or powerlifter, lifting near-maximal loads multiple days a week, you probably don't need to drop hundreds on a belt.
Materials
Most weightlifting belts are made either from leather or nylon. You may come across different blends of materials including cloth coverings and foam inserts, but the base pretty much always comes down to leather or nylon. Leather is often considered the gold standard for weightlifting belts, but it isn't the best material to use in every situation. Nylon works well for higher volume lifting and in functional fitness settings.
If you do choose to buy a leather weightlifting belt, look out for fillers and stiffening agents that might affect the performance of the leather over time. Be sure to also read customer reviews about the break-in period and how the belt molds to the body, as this is essential to enjoying a leather weightlifting belt over the long term.
Belt Thickness and Width
One of the main questions I get about weightlifting belts is how thick they should be. I say leave this up to personal preference. Leather belts will naturally be thicker than nylon belts, thus providing more rigidity.
However, we're less concerned with the actual thickness of the belt (unless you're a competitor) and more concerned with how the stated thickness lines up with the actual thickness. I've seen many belts listed with a specific thickness that doesn't line up with the product in hand. If you are a competitor, you should pick a belt that complies with the official rules of your sport. The IWF standard is that no belt can exceed 12 millimeters; the IPF states that 13 millimeters are the max thickness for belts.
Also, note that belt thickness isn't the same as belt width. Thickness refers to how many millimeters deep the material is, while width refers to how many inches wide the belt is at its widest point. Weightlifting belts pretty much fall into the range of two to six millimeters thick and three to six inches wide.
When looking at width, the biggest factor is the length and size of your torso. People with longer torsos will generally benefit more from a wider belt, while shorter or more petite people may find wider belts uncomfortable and even unusable.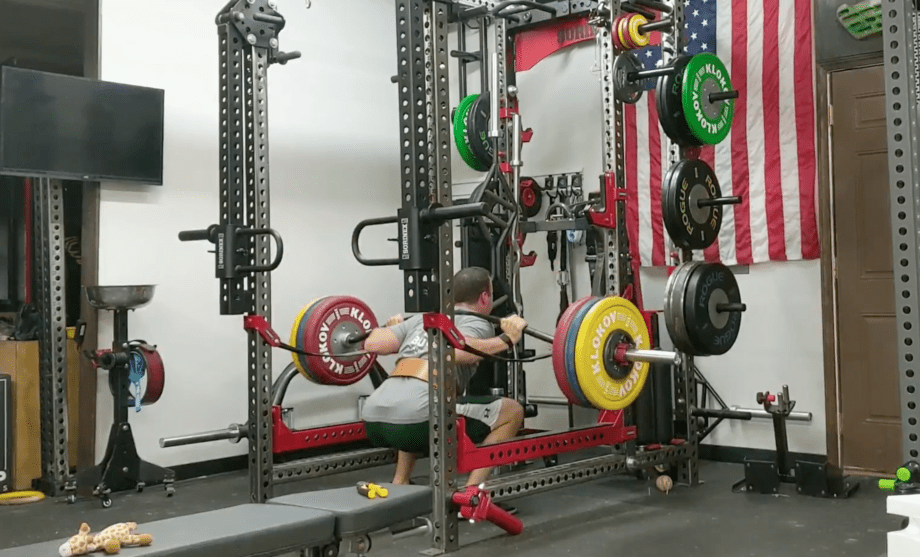 Stitching and Glueing
The layers of the belt should, in most cases, be stitched when using leather. The more stitching, the better (up to a certain point). Most manufacturers typically use glue to prevent bubbling between the layers. The stitching itself should overlap to prevent the stitching from coming undone.
Buckle System
If a buckle and prong system is used, a roller buckle is ideal for allowing the tongue of the belt to easily slide in and out of the buckle and a seamless roller buckle is best of all.
Lever System
If the belt uses a lever system, look for reviews that mention how easy or difficult it is to secure the lever, as well as how much flexibility there is to allow for fluctuations in body weight.
Hardware Finish
To prevent corrosion on your belt, look for a stainless steel buckle or some sort of finished hardware, such as zinc or chrome. This is especially important for home gym owners who may not be training in climate-controlled environments.
Customization Options
Can the belts be customized? If so, to what level and at what cost? What colors are available standard? While aesthetics might not be the main driver behind your purchase, we're firm believers that you won't wear or use something you don't like the style of.
Flap Security
The piece of the belt that wraps around and has a prong inserted should be secured using rivets. This is the most secure system we've experienced, and it will prevent premature breaking of the belt.
Edge Work
Are the edges of the leather skived and dressed or are they just left with a sharp edge and no dressing to prevent separation? If it's a nylon belt, how durable is the edge stitching? Fraying is a big no-no when it comes to weightlifting belts, as it reduces the longevity of the belt.
Break-In Period
If you're interested in a leather belt, make sure to seek reviews that mention the break-in process. Some super tough leather belts may never fully break in or become more supple, which is a dealbreaker for many. Ideally, a leather belt will mold to your body over time for an ultra-comfortable and supportive fit. You can speed up the break-in process by rolling the belt up into a circle one way, massaging it, and then rolling it the other way—rinse and repeat.
Value
Does the cost of the belt line up with its features and quality? I don't mind recommending a more expensive belt if the quality matches the price point. However, with so many decently priced, high-quality belts out there these days, it becomes difficult to recommend the more expensive options.
Keep an eye out for specific sales on products from many brands over the Black Friday weekend.
Warranty
What's the length of the warranty on the belt? What does it cover? Are there so many stipulations that it's not even worth filing a warranty claim? Will the company be around for your life to service the warranty? If you're buying a $50 belt, this stuff may not be a huge deal, but if you're buying a $200 belt, it sure is.
How to Wear a Weightlifting Belt
Follow these steps to wear your weightlifting belt the right way and get the most out of it:
Position the belt around your waist. The bottom edge should sit above your hip bones to avoid creating air pockets, and so the belt makes contact with your abs, obliques, and back muscles.

Take a small breath (don't fully inhale) and tighten the belt. You want to tighten the belt to the point where it feels snug, but not like you're going to bust the buckle. Leave some room for your stomach to expand when you inhale during your lift. A good rule of thumb is to tighten the belt until you can fit one finger between the belt and your back.

Fasten the buckle, lever, or velcro and inhale fully to feel it out. If you feel any pinching or feel like you can't breathe, you probably need to readjust.
Frequently Asked Questions About Weightlifting Belts
What does a weightlifting belt do?
Weightlifting belts increase pressure in and around your abdomen, as well as provide a physical cue to promote core engagement. These two functions make it easier to maintain a stable core and good lifting technique at very heavy loads, which means your chances of a successful lift increase and your chances of injury theoretically decrease.
Do weightlifting belts protect your back?
It's thought that wearing a weightlifting belt may protect the spine when lifting heavy weights because the belt increases core muscle activation and stability around the spine. However, I'm not aware of any studies that look specifically at the injury risk reduction abilities of weightlifting belts (obviously, researchers would be hard-pressed to find an ethics board willing to let them potentially injure spines for science).
Do weightlifting belts help you lift more weight?
Belts aren't magic. They don't automatically allow your body to do something it isn't ready for—you won't increase your back squat one-rep max by 15 pounds just by throwing on a belt. However, because weightlifting belts increase core stabilization and core stability is a key indicator of proper lifting form, it's safe to assume that most people will enjoy more success at heavy lifting when wearing a belt.
When should you use a weightlifting belt?
There's no hard-and-fast rule about when to wear a belt and when not to, but many people reserve weightlifting belts for very heavy lifts. However, other people like to wear belts for high-volume workouts, too. It's honestly a matter of personal preference and A-OK as long as you know how to brace your core on your own.
What's the best material for a weightlifting belt?
Leather and nylon belts are standard. Between the two, one's not necessarily better than the other, but they are better for different uses. Leather belts tend to be more rigid and therefore work best for powerlifting, strongman, and Olympic lifting. Nylon belts are often seen in the CrossFit and bodybuilding communities.
Will training with a weightlifting belt make my core weak?
Some people and self-proclaimed strength training purists avoid belts at all costs because they think belts are either a cheat or that belts will make their core weak. Neither of these ideas is true. If you use a weightlifting belt properly (that is, learn how to brace your core first and then use the belt as a cue and support), you won't lose any core strength from wearing a weightlifting belt.