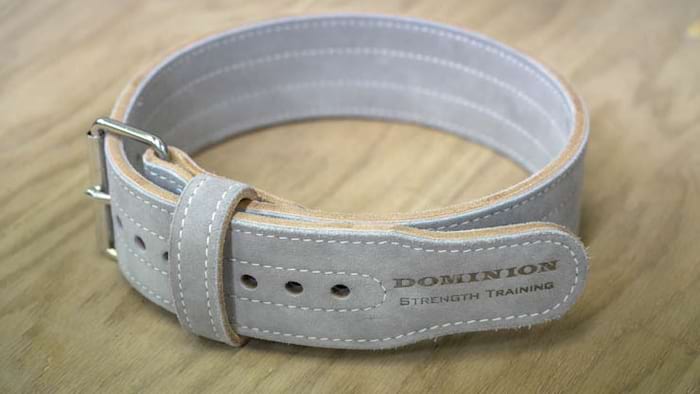 There are a lot of power belts available for purchase today.
It seems like more and more people are being introduced and then falling in love with Powerlifting (many thanks to CrossFit, in my opinion) and are looking for all of the associated accessories. Weightlifting shoes, straps, wraps, bands, and belts have all seen more attention from both users and companies making them.
Power belts, in particular, have seen an explosion in the amount of companies that are making and selling them. This has led to an increase in both quality and a lowering of price.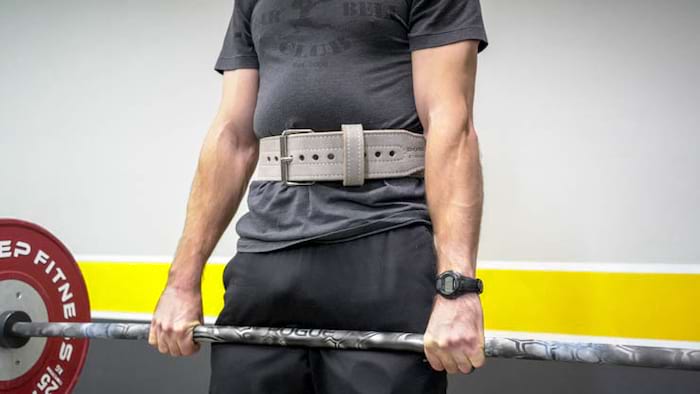 The Dominion Strength Powerlifting Belt is a perfect example of this.
Here are some basic specifications:
Our weightlifting belts are designed for heavy powerlifting and weight training of the squat, press, bench press, deadlift, and will stand up to a lifetime of abuse in the gym.
A 3 inch, 10 mm leather lifting belt is appropriate for men and women because it provides excellent support without being too stiff or bulky. A great addition for all weight training workouts.
Fully adjustable to last a lifetime. All belts have 11 holes spaced 1 inch apart, providing 10 inches of adjustability. Your weight training belt will always fit even if your waist size changes.
Designed and fabricated by lifters for lifters. Years of weight training experience have influenced every aspect of the design. Each belt is made by hand right here in the USA!
NO RISK LIFETIME WARRANTY. We guarantee your leather weightlifting belt will last your entire training career. If it does not, we will repair or replace any defective belt at no cost for life.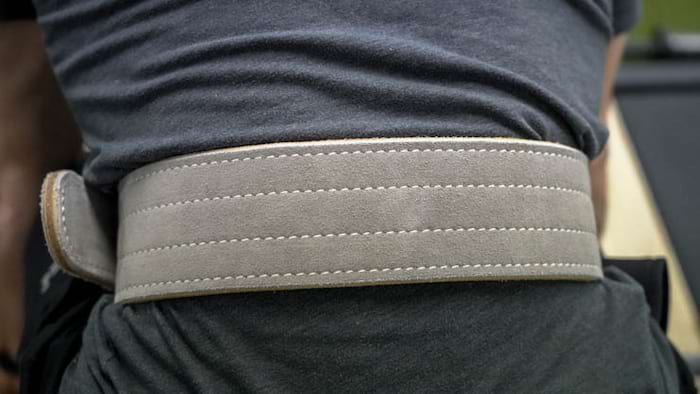 Let's start with the width of the belt. At 3", this is definitely different from what most people are used to in a power belt. The traditional Powerlifting Belt is 4" wide and has been for as far as I can find.
So, why a 3" belt. Well, first off, the 3" belt is great for those with short torso's. Both men and women can find benefit from a 3" belt, however, more women than men will have short torso's and therefore use a thinner belt for more lifts.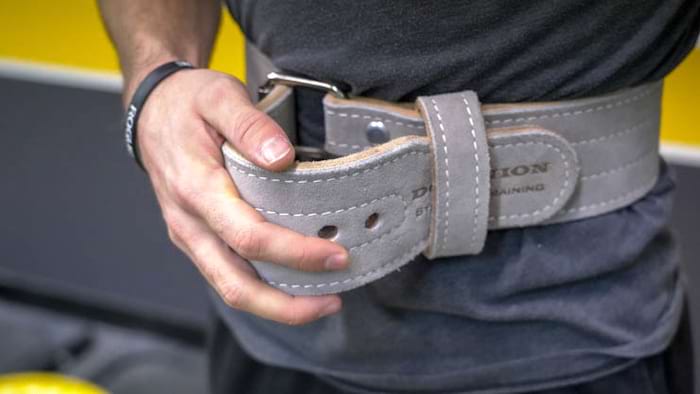 Next, and the reason I use a 3" belt, is because it feels immensely better during deadlifts. I hadn't ever considered using a 3" belt until I read Mark Rippetoe's article titled, "The Belt and the Deadlift."
As Rip tends to, he gave his recommendation quite clearly, "Most people have no business wearing a 4-inch power belt for the deadlift. Unless you're tall or long-waisted, a 4-inch-wide standard power belt is too wide to permit a correct lumbar position at the start of a correct deadlift."
The reason a 3" power belt is superior to a 4" belt for most people is that the wider belt prevents most people from being able to get into the correct position for pulling. Here's what Rip had to say on this topic, "a wider belt provides better abdominal containment and more uniform hoop tension than a narrower belt. But if it keeps you from getting into the correct position to pull effectively, it hardly matters that it works better for part of the job. If you can't get set correctly, you can't pull correctly."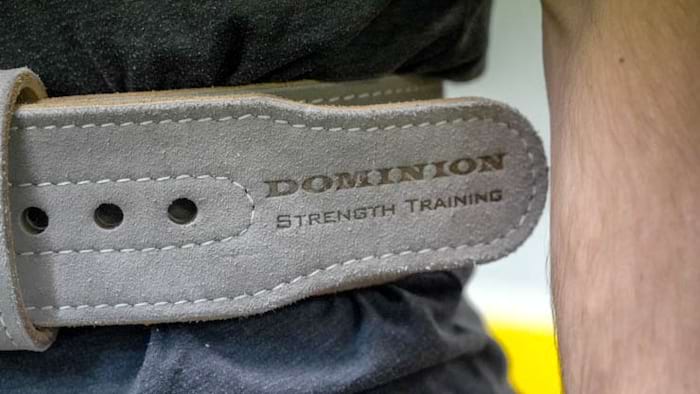 I hadn't thought much about it until giving the Dominion Strength 3" belt a shot, and have since used it for all of my deadlift sets where a belt is worn. On the flip side, my training partner who is taller and has a longer torso feels like it's too thin and cuts into his rib cage. To each their own.
The build quality of the Dominion Strength Power Belt is as good as any I've used. It's not a super innovative belt like the Pioneer Cut or the SBD Belt Lever System, but it simply works and will for a long time to come.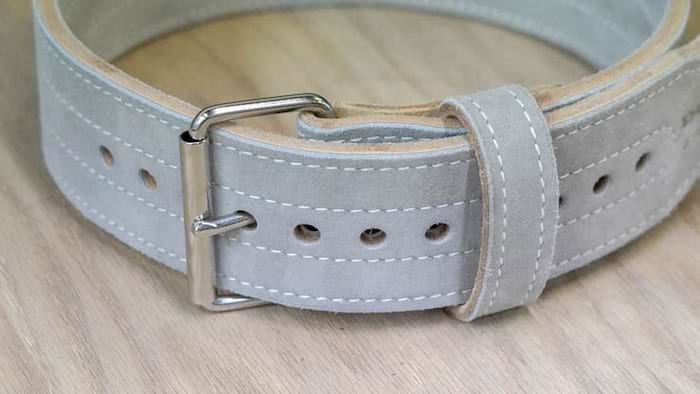 The belt is 10mm thick which provides great support without being overly stiff. 10mm is a sweet spot I've found for having a belt that breaks in pretty quickly, yet doesn't break down quickly over time.
The belt utilizes a seamless roller buckle with a single prong, unlike some cheaper belts with shoddy materials and either no rollers or rollers that end up coming undone.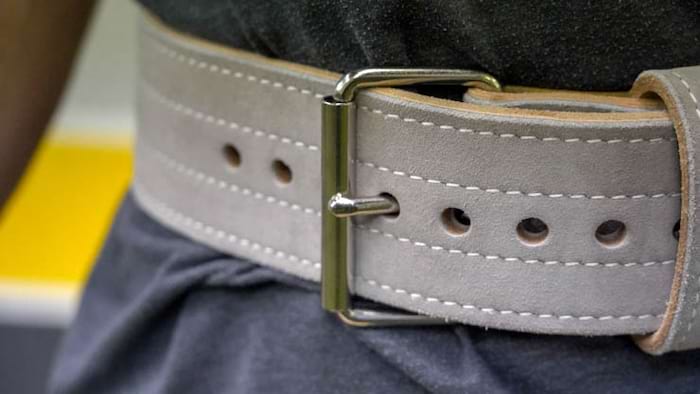 The edges of the belt are rounded and skived that leads to a good-looking edge that feels comfortable on your torso. This particular belt utilizes suede leather, although they've recently partnered up with Starting Strength to offer single ply belts that looks cool, but I prefer the suede.
Finally, the belt features a burnt logo that's done by hand and looks really clean.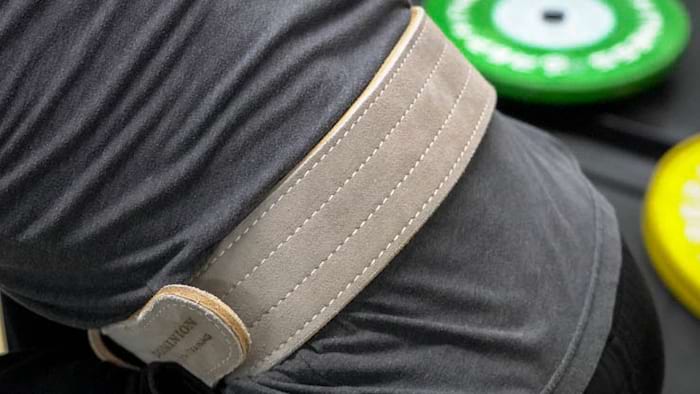 All in all, the Dominion Strength Belt is simple, which is why we like it so much. It doesn't try to do anything extra that's unneeded, but does the basics really well. We highly recommend this belt for anyone with a shorter torso or is looking to try a deadlift belt, you won't regret it.