We test and review fitness products based on an independent, multi-point methodology. If you use our links to purchase something, we may earn a commission. Read our disclosures.
You may be landing on this roundup of the best Whole30 meal delivery services because you're about to start this elimination diet that takes away processed foods, most legumes, gluten, dairy, and added sugars. But chopping so many vegetables, seasoning meats, and prepping homemade salad dressings can be time consuming.
That's why your friends at Garage Gym Reviews tested over 40 different companies to determine which are the best meal delivery services for families, plant-based eaters, paleo dieters, and more.
Not only did our expert testers actually taste the food, we also analyzed and critiqued each brand on the following criteria:
Price per meal
Calories per serving
Nutritional profile
Flexibility and customization
Ordering and packaging
Customer service
Portion sizes
Our top picks were also reviewed by our Garage Gym Reviews expert panelist, registered and licensed dietitian Perry Nix, RD, LD, to give us additional insight on each meal service.
Medical disclaimer: This article is intended for educational and informational purposes only. It is not intended as a substitute for medical advice. For health advice, contact a licensed healthcare provider.
Best Whole30 Meal Deliveries:
Best Whole30 Meal Delivery for Athletes: Trifecta
Good for: Athletes seeking fast and fresh meals for Whole30 eating plans
Trifecta is a meal delivery service with a variety of meal plans to choose from including a Paleo/Whole30 option. It even has a seal of approval as one of the Whole30 approved meal delivery services.
There are four meal plans to choose from: Clean Meal Plan, Paleo Whole30 Approved, Keto Meal Plan, and the Plant-Based Meal Plan. GGR head of content and expert product tester, Kate Meier tried Trifecta. She gives the company a 4-out-of-5-star rating for meal plans and customization.
"While you get to pick your meal plan that best suits your dietary needs, it's then a chef's choice of which meals are delivered to your door," explains Kate.
"I wanted to choose three specific meals and order 10 of those, but that is not an option. You get what they send you and you can't customize," she adds. And for this reason, she docks a point for the customization category.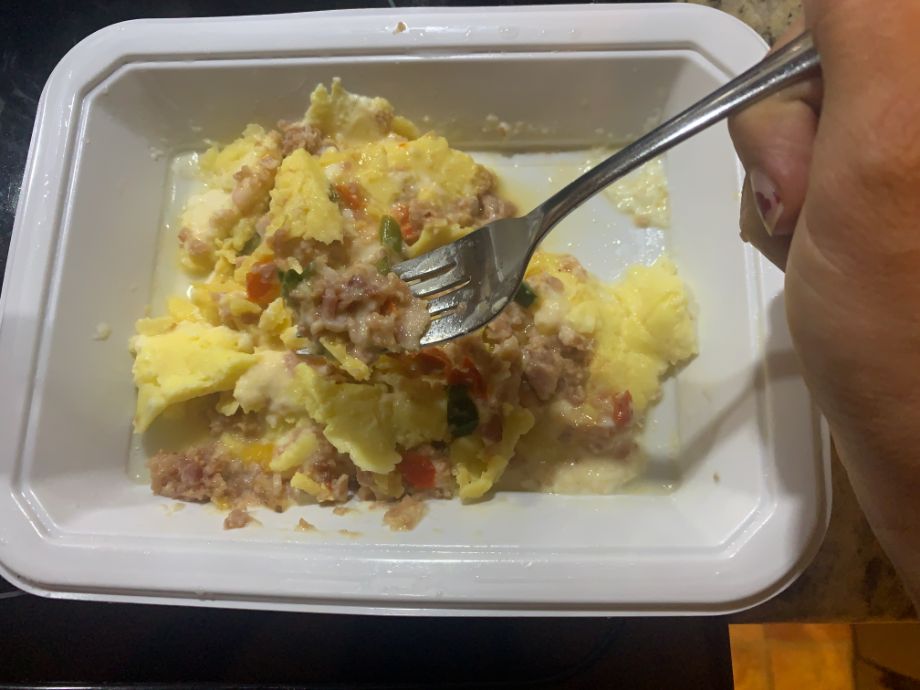 However, Kate gives the brand a 5-out-of-5-star rating for access to nutritional information (both on the website and on the packaging).
In general, Trifecta meal delivery is geared toward athletes looking to optimize performance—or anyone looking to track macros, calories, and overall nutrition. "I really like the convenience of Trifecta's heat-and-eat meals and the macro-targeting," says Kate.
Perry Nix, registered dietitian says, "Trifecta offers high-protein, macronutrient balanced meals, made for those looking to improve strength and build muscle. All meals are made with lean protein, complex carbs, and veggies."
When you're browsing the Paleo/Whole30 menu, you'll notice Trifecta only uses sweet potatoes for complex carbohydrates—you won't find rice, quinoa, or white potatoes in these nutrient-dense meals.
| | |
| --- | --- |
| Price per serving | $13.99 |
| Type (meal kit or prepared) | Prepared, fresh |
| Meals per week | 10 meal minimum |
| Delivery area | Nationwide USA |
| Examples of meals we tried | Salmon with Sweet Potato and Cauliflower Rice, Chicken and Broccoli Casserole, Bacon and Cheddar Chopped Steak |
Best Organic Whole30 Meal Delivery: Fresh N Lean
Good for: Anyone looking to eat high-quality ingredients for Whole30 without all the meal prep
Fresh N Lean is another Whole30 approved meal delivery service that offers organic ingredients and tasty meals. The Whole30 menu items are low-carb and feature grass-fed beef and other premium proteins free from antibiotics and hormones.
RELATED: Best Organic Meal Delivery
The meals arrive prepared, frozen, and ready-to-heat. And for a frozen and health-centric meal, GGR head of content and product tester Kate Meier was blown away. For this reason, she rates Fresh N Lean 5 out of 5 stars when it comes to overall taste.
"When ordering, I thought each entree sounded pretty appetizing, but I wasn't sure based on the looks of each meal once they arrived," explains Kate.
"But I was surprised—The paleo red pepper chicken with sweet potatoes is delicious. Whatever sauce they used was perfect, and everything was juicy and moist. The steak entrees tasted like a restaurant meal and the Brussels sprouts were not mushy, they were even a little crispy still," says Kate.
When it comes to ingredient quality, Fresh N Lean earns a 4-out-of-5-star rating. We docked one point because you won't find a 100% organic menu, but according to the website many ingredients are either organic or come from sustainable sources.
Registered dietitian Perry Nix notes that Fresh n Lean "prioritizes whole food, locally grown, nutrient-dense ingredients. Plus, the company uses high-quality ingredients that are non-GMO and often organic."
"The ingredients are really fresh and really healthy options," says Kate. "They arrive vacuum sealed, which I really like. You can also freeze them for up to three months or you have to eat within five days of your delivery."
It's also worth noting you'll find other dietary preferences on the Fresh N Lean website including Mediterranean Diet, Vegan, Low-Carb Vegan, Paleo, Keto, Bulk, and Protein+ (which offers an average of 36 grams of protein per serving).
We even chose Fresh N Lean as our top pick for high-protein, low-calorie meal delivery services.
| | |
| --- | --- |
| Price per serving | $8.49 to $11 |
| Type (meal kit or prepared) | Prepared, frozen |
| Meals per week | Choose 1-3 per day (for 5- or 7-day plans) |
| Delivery area | Nationwide |
| Examples of meals we tried | Red Pepper Chicken with Sweet Potatoes, Bearnaise Grass Fed Steak with Roasted Sweet Potato |
Best Whole30 Meal Delivery Variety: The Good Kitchen
Good for: Anyone looking for variety within the Whole30 elimination diet
The Good Kitchen earns the top spot for best variety on this roundup because the menu rotates, but not so much that you'll have to say goodbye to your favorite entrees.
GGR writer, product tester, and Olympic weightlifter Caine Wilkes gives The Good Kitchen a 5-out-of-5-star rating for variety, noting that there are 90 slowly rotated weekly meal options. You'll be able to hand-select up to 12 meals per week.
When it comes to the Whole30 menu selection, you won't see the entire 90-item menu, but there are still more than a dozen entrees to choose from and it will change over time.
Registered dietitian Perry Nix mentions that "The Good Kitchen delivers pre-made meals that cater to a variety of dietary restrictions and preferences including paleo and Whole30 diets."
Perry also notes, "Dairy, soy, and peanuts are among the most common food allergens. The Good Kitchen is one the few meal delivery services that offer plans designed for individuals who need to avoid these ingredients."
It's also worth mentioning that Caine gives The Good Kitchen a middle-of-the-road score for taste and portions, both rated 3.5 out of 5 stars.
Caine says portion sizes were a bit inconsistent—and to be fair he needs plenty of fuel for his training sessions because he's an Olympic-level competitor in the sport of Olympic Weightlifting. "Portions tended to be a little small, but also depended on what you got. Some meals filled me up, while other times I had to have a second meal."
And for taste, Caine says The Good Kitchen "consistently had some of the best seasoned meat for each meal, but also some of the blandest vegetable sides."
RELATED: High-Protein Vegetables
| | |
| --- | --- |
| Price per serving | About $18 per meal |
| Type (meal kit or prepared) | Prepared meals |
| Meals per week | 8 |
| Delivery area | Contiguous U.S. |
| Examples of meals we tried | Chicken Enchiladas with Salsa Verde and Zucchini-Corn Relish, Balsamic Chicken with Roasted Brussels Sprouts, Chimichurri Brisket with Root Vegetables and Pepitas, Chili Verde with Turkey over Roasted Sweet Potato |
Best Sustainable Whole30 Meal Delivery: Territory
Good for: Whole30 eaters who want to prioritize sustainably sourced foods
Territory Foods is our pick for the best sustainable Whole30 meal delivery because of the ingredients and the efforts around the packaging. Territory is a subscription-based service with an a la carte menu and ways to filter specific dietary needs like Whole30 or paleo.
RELATED: Best Paleo Meal Delivery
Product tester and GGR senior editor Nicole Davis gives Territory a 4.5-out-of-5-star rating for ingredient quality saying, "The brand focuses on responsibly-sourced and nutrient-dense ingredients. Plus, the meals are shipped fresh, not frozen, with a best-by date. All of the ones that I tried tasted fresh for sure."
Perry Nix, registered dietitian, adds to that by saying, "Every meal is loaded with colorful vegetables that provide a rich source of fiber, vitamins, and minerals. These are high-protein meals that can help you build muscle and burn more calories throughout the day."
Territory earns a 4.5 out of 5 stars for sustainability efforts in the shipping and packaging category for a few reasons. Firstly, all the packaging is all recyclable.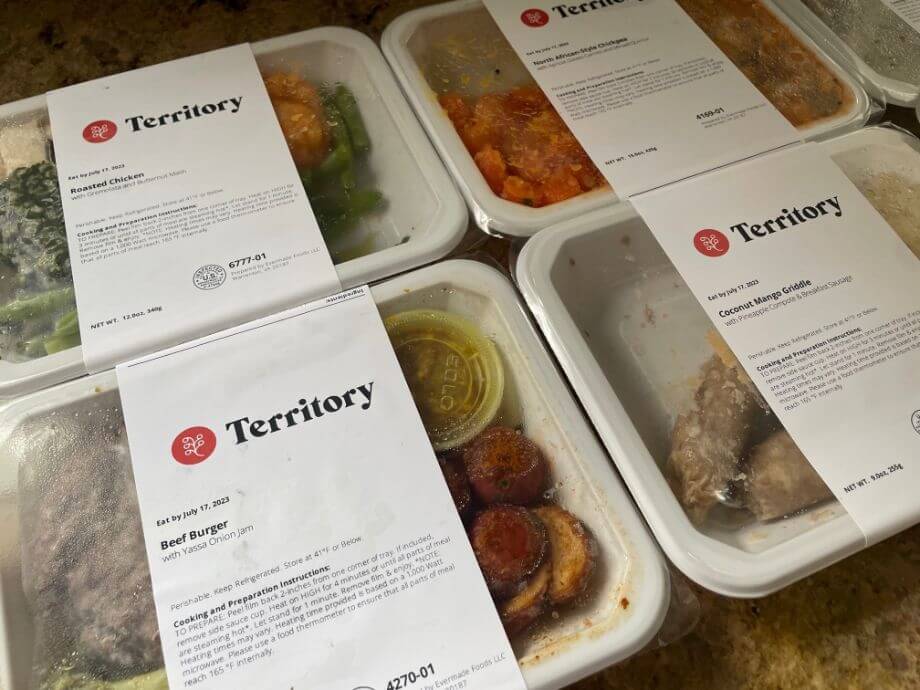 Secondly, Territory has multiple locations across the United States, so each location offers a different menu based on seasonal ingredients and what is available in that area. This means that your food order is potentially not traveling as far as other delivery services.
"The brand partners with local chefs across the U.S. When you go to order you can see what company created the recipe and made the meal you're ordering," says Nicole.
Nicole also mentions Territory has the best packaging of all the meal services she tried. "The meal containers fit inside the box perfectly so there wasn't any crazy movement. They even have a food spoilage tool inside the box that tells you if the food has been compromised (aka not cold enough) and is unsafe to eat," Nicole explains.
| | |
| --- | --- |
| Price per serving | About $17 per meal |
| Type (meal kit or prepared) | Prepared |
| Meals per week | 6-12 |
| Delivery area | Limited zip codes in United States |
| Examples of meals we tried | Beef Short Ribs with Molasses Glazed Carrots and Cauli Rice, Gnocchi Ratatouille with Balsamic Chicken, Coconut Mango Griddle with Pineapple Compote and Breakfast Sausage |
Best Plant-Based Whole30 Meal Delivery: Daily Harvest
Good for: Anyone looking for Whole30 approved smoothies and snacks
Daily Harvest offers a slightly different spin on the Whole30 compatible meal options: It's an entirely plant-based menu featuring harvest bowls, soups, and smoothies.
RELATED: Best Protein Powder for Smoothies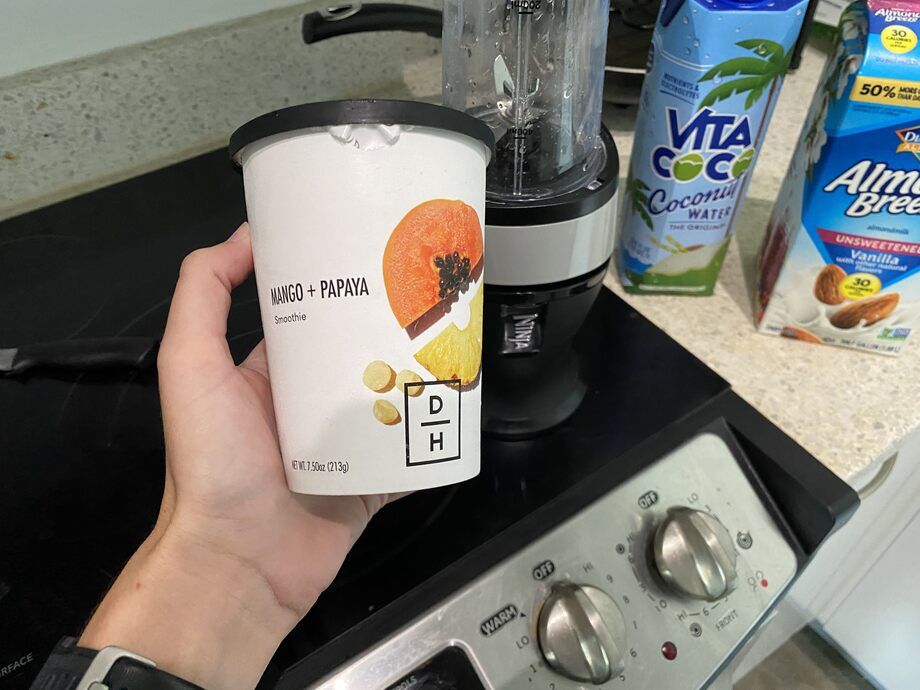 While the Whole30 elimination diet does allow you to eat meals with meat and animal products, Daily Harvest offers a lineup catering to the vegetarian crowd.
As far as taste goes, our expert product tester and senior staff writer Amanda Capritto notes that she used Daily Harvest several years ago when it was just smoothies and thought the taste was exceptional.
Upon taste-testing again for GGR, Amanda says, "Unfortunately I was disappointed with the taste of pretty much all of the items I tried (except the smoothies, those are still good)." And for this reason, Amanda gives Daily Harvest a middle-of-the-road rating of 3 out of 5 stars for taste.
"The flatbread that I ordered was just not good—I could have made a better flatbread with grocery store ingredients. And the rice bowls are just OK, but nothing special," she says.
Registered dietitian and expert GGR panelist Perry Nix notes, "When you order from Daily Harvest you're getting sustainably-sourced fruits and vegetables. The company values organic farming and biodiversity, which promotes more nutrient-rich soil and is better for the planet."
However, Perry follows up that sentiment by saying, "Although menu items are packed with nutrients, most of their smoothies and bowls lack a sufficient amount of protein or calories. Consider them snacks rather than meals, or you may find yourself feeling hungry again quickly."
Where Daily Harvest shines is the ability to plan and customize your items around your specific diet needs, and that earns them a 4 out of 5 star rating in this category. "You can filter by your likes, dislikes, allergens, diet type, and meal type," says Amanda. "This makes it easy to find what you want—including Whole30 compliant items."
| | |
| --- | --- |
| Price per serving | $5.99 to $11.99 |
| Type (meal kit or prepared) | Prepared |
| Meals per week | 9, 14, or 24 |
| Delivery area | Most of the continental U.S. |
| Examples of meals we tried | Mulberry Dragon Fruit Harvest Bowl, Flatbreads, Rice Bowls, Smoothies |
Other Whole30 Meal Deliveries We Researched
Paleo On The Go: This company offers a menu selection that fits into the autoimmune protocol (AIP) diet, which is an elimination diet similar to Whole30. However, it's not explicitly Whole30 compliant and the price per meal was quite expensive at a whopping $20 to $25 per meal.
UnityCook: This meal service may have at one time offered Whole30 options based on some blog article on the website, but at the time of writing this review, UnityCook does not offer a Whole30 specific diet plan. There are Paleo meals and Keto meals in addition to certain restrictions like low-sodium, gluten-free, dairy-free, low-carb, and meals under 600 calories.
How We Picked and Tested the Best Whole30 Meal Delivery
Our Garage Gym Reviews team of expert product testers includes certified nutrition coaches, Olympic-level athletes, endurance athletes, certified personal trainers, and gym owners. We have decades of collective fitness industry experience and a lot of varied experience with nutrition. Needless to say, our team has a variety of different goals and outputs and we care about the food we fuel our bodies with.
That's why we curated a rigorous testing methodology to ensure all of our product testers were prompted with the same questions and used the same factors to test each meal delivery brand. Below is an example of the considerations we made for each meal service.
Overall Taste
While taste is subjective, for us to recommend a meal delivery service, it couldn't be horrible tasting. To earn a 3-star rating, the food tasted fine (not the best or worst) and to earn a perfect 5-star rating, our testers had to think it was good enough to want it again.
Portion Size
To gauge portion sizes, our product testers used the nutritional information provided about each meal, total calories, and overall satisfaction to rate the portion sizes on a scale of 1 to 5 stars. All of our testers have different fitness goals and train differently, so we tried to keep a transparent approach to how each meal service compared to each tester's traditional style of eating and meal size.
Price Per Meal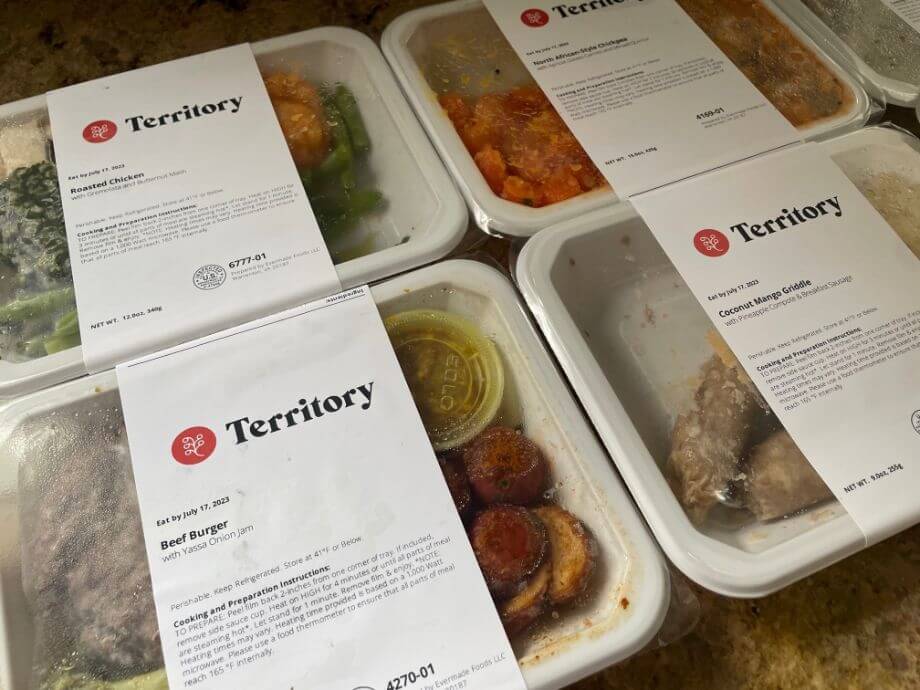 Our team tested a variety of meal services with a wide range in pricing. Overall, for a meal service to get a 5-out-of-5-star rating, it needed to come in at less than $8 per meal. If a meal service earned a 1-out-of-5-star rating, that means the price per meal was over $16.
Access to Nutritional Information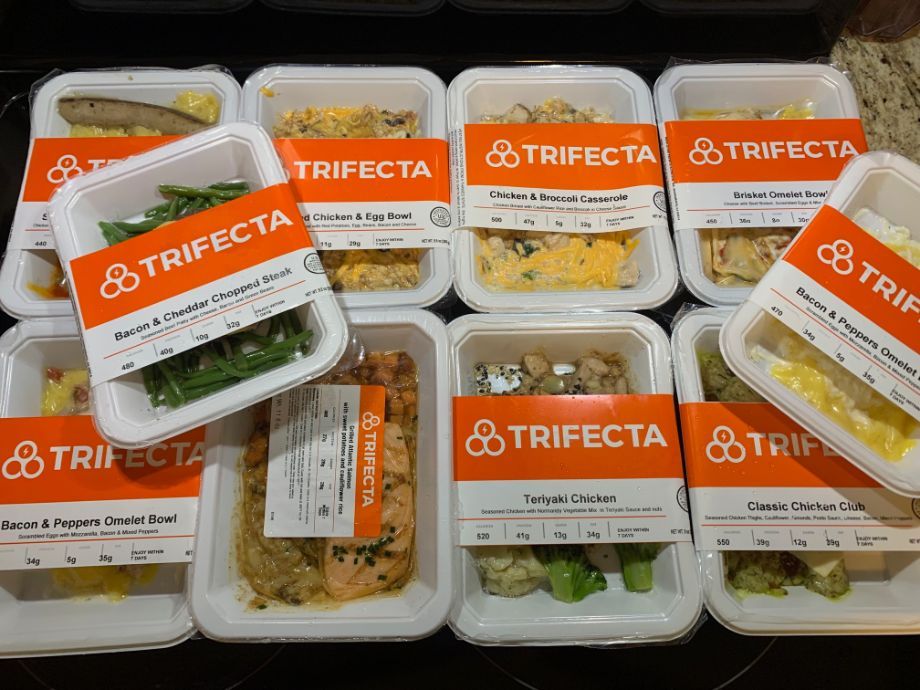 Access to nutritional information is especially crucial if you're about to embark on the Whole30 elimination diet. For a food service to earn a 5-out-of-5-star rating in this category, both the ingredients list and nutritional information has to be easily accessible (on both the website and the meal itself). This is important to ensure you're adhering to all the protocols around added preservatives, gluten-free, sugar-free, and dairy-free foods.
Benefits of Whole30 Meal Delivery
The Whole30 method started in 2009 when founder and CEO Melissa Urban decided to self-experiment with a hard reset that would rid sugar, alcohol, and processed foods from her diet for one entire month.
Since then, Melissa launched Whole30 to help people identify food sensitivities by using an elimination diet1 framework, similar to the low-FODMAP protocol or the AIP (autoimmune) protocol used by healthcare providers.
The idea behind elimination diets2 is that you give your body a chance to heal from foods that are causing underlying issues to your gut, immune system, or metabolism.
According to the Whole30 website, here are the main staples of what to eat and what to avoid:
What to Eat:
Fresh fruits
Vegetables
Eggs
Lean meats like fish, poultry, beef, and pork
Fats such as olive oil, avocado, coconut oil, or ghee
Nuts and nut butters (except peanuts)
What to Avoid:
Dairy 
Grains like wheat, rice, and oats
Legumes like beans, lentils, peanuts
Sugars and artificial sweeteners
Alcohol 
Processed foods like chips and baked goods
Buying Guide: What to Look for in Whole30 Meal Delivery
Here are some thing to consider when shopping for Whole30 meal delivery services:
Consider Your Goals
It's important to understand that Whole30 is not designed as a weight loss program or a truly sustainable, long-term solution for most people. If you're trying to address your specific dietary needs or food sensitivities, Whole30 could be a good place to start with guidance from your healthcare provider.
Nutritional Information
Because Whole30 is primarily focused on consuming whole foods, we suggest making sure nutritional information is available to view on the website while making menu selections. You'll want to be sure your items are free from any known allergens and of course that they are Whole30 compliant meals.
Price Per Meal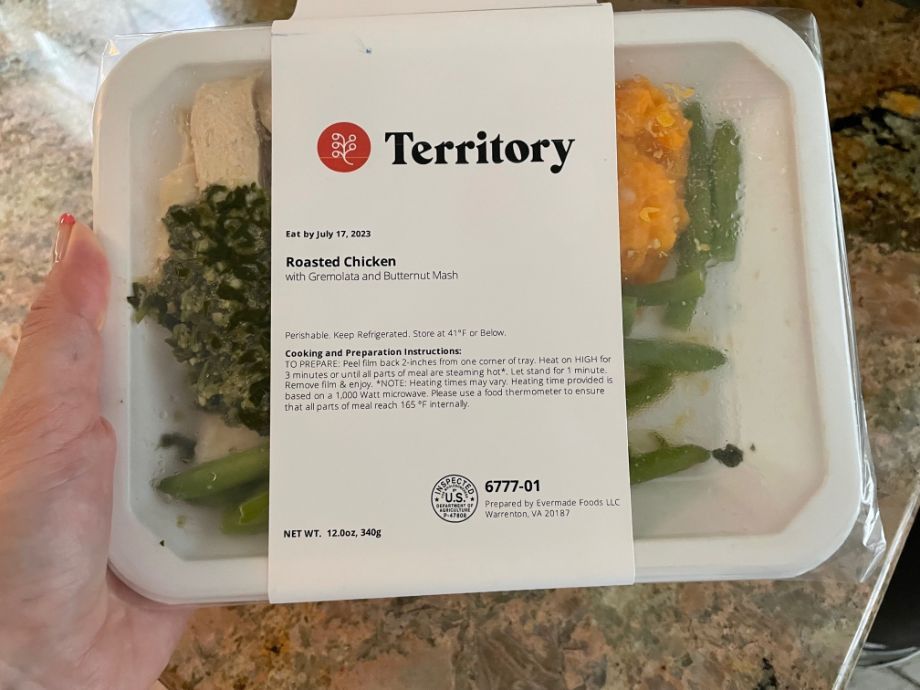 We understand that nutritious, healthy meals made from high-quality ingredients are not always cheap. We recommend setting a budget (either price per delivery or per meal) that you feel comfortable spending before you start shopping. Most meal deliveries we tested ranged from $8 to $16 per meal, with some being slightly less expensive and others costing as much as $20 per meal. For reference, all of the meals featured on this roundup are priced at $14 or under per meal.
RELATED: Cheapest Meal Delivery Service
Whole30 Meal Delivery: FAQs
Here are some frequently asked questions on the Whole30 diet and meal delivery services:
Does HelloFresh have a Whole30 option?
While some meals may inadvertently adhere to Whole30 protocols, there are no menu items that specifically cater to the Whole30 diet from HelloFresh.
Is Trifecta Whole30 approved?
The Whole30 menu on the Trifecta website is vetted to adhere to the program rules including:
– No added sugar, real or artificial
– No alcohol, even when used in cooking
– No grains
– No legumes
– No dairy (with the exception of clarified butter or ghee)
– No carrageenan or sulfites
– No recreating baked goods, sweets, or treats
Are Factor meals Whole30 compliant?
Factor meal delivery is not specifically Whole30 compliant. Some meals may follow the protocols for Whole30, but it's not specifically designed for Whole30 dieters.
Is Whole30 the same as paleo?
Whole30 and the paleo diet have a lot of commonalities including avoiding legumes (even peanuts), grains, dairy, added sugars, and highly processed foods. However, the paleo diet doesn't allow you to consume starchy vegetables like corn, jicama, peas, and white potatoes.
These statements have not been evaluated by the Food and Drug Administration. This product is not intended to diagnose, treat, cure, or prevent any diseases.
References
S.Karger. AG. Food Allergy: Molecular Basis and Clinical Practice. Chemical Immunology and Allergy. Published 2015.
M. Theime-Burdette. Elimination Diets: What You Need to Know. Global Autoimmune Institute. Published 2022 Jan 13.