We test and review fitness products based on an independent, multi-point methodology. If you use our links to purchase something, we may earn a commission. Read our disclosures.
We've done it again: We gathered another best list of cardio machines so you can utilize our collective knowledge and hours of testing and research to determine the right machine for you.
When it comes to cardio, there are endless options—from treadmills to rowing machines—but I find something especially heart-pumping (and alluring) about the stair climber. In this roundup of the best stair climbers, I'm going to give a variety of different options to choose from. You never know what climbing machine might end up in your home gym.
We've Climbed Our Way Through These Reviews
Our expert product testers have had their hands on a variety of stair climbing machines, from ones with vertical step designs to 40-degree, knee-over-hand climbing patterns.

Our testers also have years of collective knowledge on cardio equipment from our individual backgrounds in the fitness industry. We're a group of certified personal trainers, nutrition coaches, and CrossFit L-1 Trainers here to help guide you on your next purchase.
8 Best Stair Climbers
Best Vertical Stair Climber: CLMBR
Good for: Anyone looking for a full-body vertical climbing experience 
The CLMBR is a vertical climber that delivers a full-body workout with foot pedals to get the legs moving and handlebars to engage your upper body. This is a unique piece of exercise equipment because it mimics rock climbing more than actually walking up a flight of stairs. 
This is also a relatively high-tech piece of equipment with a 21-inch adjustable touchscreen, Bluetooth connectivity, and a CLMBR app you can use for trainer-led workouts. Our expert product tester who put the CLMBR to the test liked the app platform and compared it to the ever-popular Peloton app.
You will also be able to use the machine without a WiFi connection on manual mode if you choose not to pay the nearly $40 monthly subscription for the CLMBR app. Either way, you can cycle through 11 levels of magnetic resistance for a high-intensity cardio workout.
If you think the CLMBR is the right cardio equipment for your home gym, our product testers recommend forking out the extra cash for white glove delivery because the assembly process is just that complicated. You can read the full details on the assembly and workout experience in our in-depth review of the CLMBR.
| | |
| --- | --- |
| Price | About $2,800 |
| Footprint | 35" L x 32" W x 88" H |
| User weight capacity | 350 lbs |
| Warranty | 1-year warranty |
Best Foldable Stair Climber: Maxi Climber
Good for: Anyone looking for a budget-friendly, compact, and foldable piece of cardio equipment  
The Maxi Climber is a foldable and affordable vertical climber that works your upper body, too. It won't cost you more than $150 to order the Maxi Climber and you might like to know that it comes almost fully assembled. Plus, it folds and stores away with ease because it's only 33 pounds. Despite the lightweight frame, the Maxi Climber can support up to 240 lbs, which is not the most inclusive cardio machine we've tested but it's not surprising at this price point.
IMAGE: Stepping-onto-maxiclimber.jpg
Our product testers have been on the Maxi Climber and think it's an ideal machine for anyone who has a small space (even if you leave it unfolded). It will also work well if you're looking for a full-body, low-impact cardio workout.
The Maxi Climber is a self-powered machine and only requires one LR44 battery for the display to work, which reads out a step count and calories burned. Although this could be an effective and space-saving stepping machine for some home gym owners, it won't be the solution for everyone. If you're curious to read about our full experience on the Maxi Climber, you can read our in-depth review.
| | |
| --- | --- |
| Price | Around $150 |
| Footprint | 28.3" L x 41.3" W |
| User weight capacity | 240 lbs |
| Warranty | 1-year limited warranty |
Best Versatile Stair Climber: NordicTrack FS10i
Good for: Folks who want the option to step, pedal, or glide (not just climb)
The NordicTrack FS10i is not your typical stair climber—it offers three-in-one capabilities. What exactly are the three uses you get from one machine? Well, when you use a FS10i, you'll have the ability to change the motion of your step pattern in three different ways: An elliptical orbit pattern, up-and-down like stepper, or a stride that mimics walking.
Nicole Davis, GGR editor and product tester, tried the FS 14i model, which is very similar to the FS10i. Nicole appreciates the different functions of the machine but notes that changing between stride motions can feel awkward. "I couldn't quite get the hang of the treadmill-esque motion pattern, but I like the versatility of it as a whole," she said. Nicole also notes that the walking pattern feels more like gliding.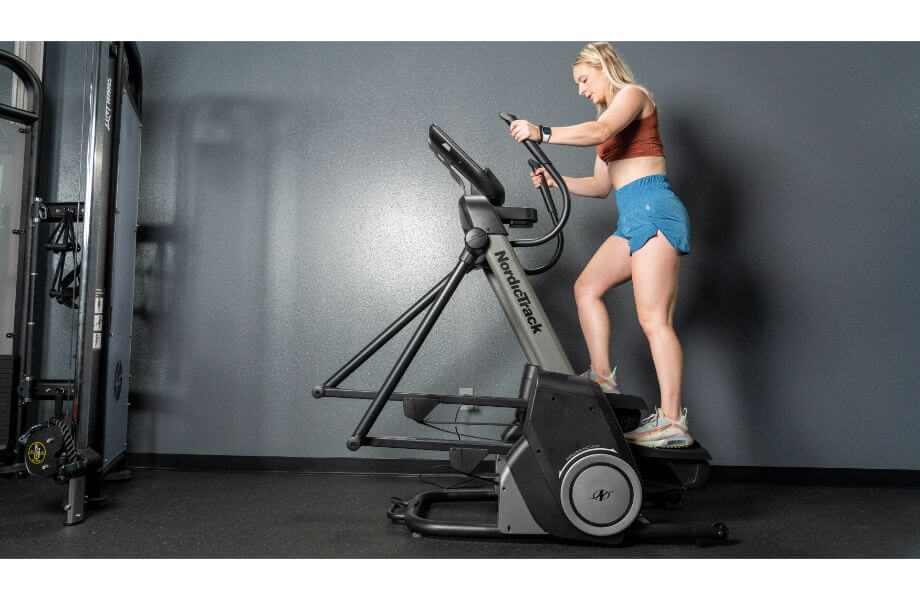 In addition to choosing your preferred gait, you'll also like the fact the NordicTrack FS10i is a heavy-duty machine with a heavy 20-pound flywheel and 375-pound user weight capacity, which leads to a sturdy workout experience without shaking or rocking. If you want the full details on just how sturdy our experience was on this machine, be sure to read the full review of the NordicTrack FS10i. 

The FS10i also features a 32-inch auto-adjustable stride length, which will accommodate tall folks and anyone with a long gait. You will also find an iFIT-enabled smart HD touchscreen built into the console of the FS10i. Our product testers enjoy the vast library of iFIT workouts and appreciate the auto-adjust feature that changes your resistance levels based on the coaching cues from the iFIT trainer. 
| | |
| --- | --- |
| Price | $1,999 |
| Footprint | 58.5″ L x 29.5″ W x 74″ H |
| User weight capacity | 375 lbs |
| Warranty | 10-year frame, 2-year parts, 1-year labor |
Best High-Tech Stair Climber: ProForm HIIT H14
Good for: Folks looking for a stair-stepper with a touchscreen for top-notch interactive workouts
The ProForm HIIT H14 not only gives you the opportunity to get a heart-pounding workout with the 10-inch vertical path, it's also iFIT-enabled, which gives you access to thousands of on-demand workouts right at your fingertips.
The 14-inch HD touchscreen swivels for optimal viewing on and off the machine. Are you wondering why you'd want to swivel the screen far enough to see it when you're not stepping? It's because iFIT has more than machine-focused workouts including strength training, HIIT, and yoga.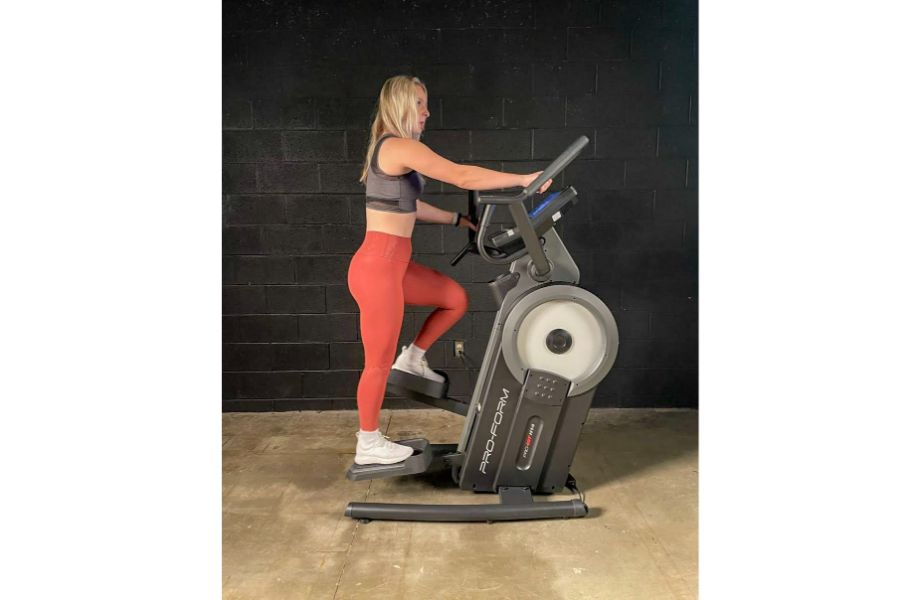 A former GGR product tester notes that iFIT programming is excellent and compares to Peloton, which has thousands of raving customer reviews. You will have an additional monthly membership fee with iFIT, but our product testers agree that iFIT is one of the most robust interactive programming available on the market.
The ProForm HIIT H14 comes equipped with Bluetooth speakers, a built-in workout fan, and water bottle for that extra touch of convenience. Our product testers also note that the HIIT H14 feels sturdy and will not be loud during stair-climbing workouts. For the full low-down on the ProForm HIIT H14, read the full review.
| | |
| --- | --- |
| Price | Around $1,800 |
| Footprint | 52″ L x 29″ W x 66″ H |
| User weight capacity | 325 lbs |
| Warranty | 10-year frame, 2-year parts, 1-year labor |
Best Compact Stair Climber: Bowflex Max Trainer M6
Good for: Anyone looking for cardio equipment that will get your heart rate soaring without taking up a ton of floor space
The Bowflex Max Trainer M6 offers a compact, narrow design that won't take up too much floor space in your home gym. In fact, this machine is just under 4 feet in length.
On the Bowflex website, you'll find the M6 marketed as an elliptical, but the vertical stepping pattern makes this a true stair stepper. It's worth noting that the machine is just over 5 feet tall, so depending on how tall you are, once you're on the machine you might need to be aware of overhead clearance.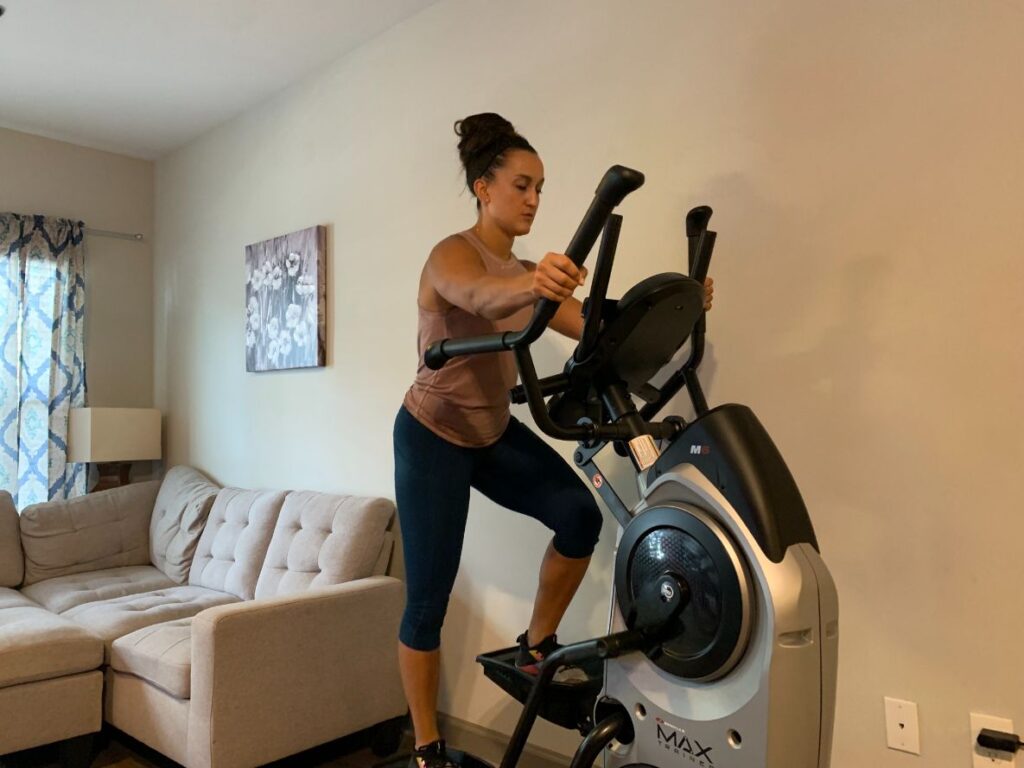 This machine will not only save floor space, it can also be tipped back and rolled into storage with the transport wheels. GGR Head of Content Kate Meir tested the M6 and notes that the machine is pretty heavy (about 150 pounds) and can feel awkward to move—but it can be done.
However, Kate liked the fact the weight of the machine makes stair-climbing workouts feel stable without any side-to-side rocking. She also mentions the M6 features easy-to-use floor stabilizers if you do experience any movement during a cardio session.
The Max Trainer has a media shelf that allows you to use your own device and connect via Bluetooth to the JRNY app. You'll also be able to monitor your heart rate with the EKG pulse sensors on the multi-grip handlebars while you cycle through 16 different levels of resistance.
If you want to read about our full experience on the Bowflex Max Trainer M6, our in-depth review has all the details you need.
| | |
| --- | --- |
| Price | $1,499 |
| Footprint | 46" L x 26" W x 64.2" H |
| User weight capacity | 300 lbs |
| Warranty | 2-year frame and parts, 90-day labor |
Best Portable Stair Climber: Sunny Health and Fitness Mini Stair Stepper
Good for: Anyone who is limited to a small space but still wants a total-body cardio workout
The Sunny Health & Fitness Mini Stair Stepper is a convenient and budget-friendly way to increase your daily movement without taking up much space. This mini stepper does not require an outlet for power, rather just one LR44 battery to power the LCD monitor, which is included. The monitor displays your total step count, steps per minute, workout duration, and calories burned.
The mini stepper uses a hydraulic drive system so you can get a smooth stepping motion. It also comes with a set of resistance bands that can be attached to front of the foot pedals for a dynamic full-body workout. You can use the resistance bands to press overhead, target your rear delts, or perform curls for bicep activation.
Even though this is a mini stepper, it offers a height adjustment option which can adjust the step height to deliver longer or shorter steps with a turn of a knob.
While we haven't had our hands on this mini stepper, we read through tons of reviews and most customers agree it's a solid little piece of fitness equipment for the price point. We did read that coordinating the resistance band movements with the pedaling motion takes some getting used to, which I can totally imagine.
| | |
| --- | --- |
| Price | $80 |
| Footprint | 16.3" L x 12.8" W x 13.6" H |
| User weight capacity | 220 lbs |
| Warranty | 1-year structural frame, 180 days other parts and components |
Best Commercial Stair Climber: StairMaster StepMill
Good for: Anyone who wants a true continuous stair climbing machine
The StairMaster StepMill is the treadmill version of stairs: It's a machine that feeds you a continuous flow of stairs. You'll be in control of how fast the stairs move and the machine ranges from 26 to 162 steps per minute, which sounds pretty darn fast.
The StepMill is unlike an elliptical machine or stair stepper because you don't have foot pedals keeping your feet stationary. You'll have to pick up one foot at a time and place it on the next step. That said, this machine won't be your best bet if you're looking for low-impact workouts.
The StepMill doesn't have a high-tech touchscreen, but it does feature an LCD screen to display your speed and steps per minute in addition to choosing one of the 10 built-in program options. This machine has pulse grip sensors on the handrail and allows you to connect Polar heart rate monitoring devices.
Although we haven't tried this machine in our GGR warehouse, I have had experience with StairMaster and can attest to the fact this stair climber machine will deliver one heck of a lower-body workout. I will note that the StepMill provides an advanced workout experience. I have memories of using this machine in college and being completely gassed out after just a few minutes. That said, if you're just getting started on your fitness journey, there are other machines that will suit you better (like the versatile NordicTrack FS10i I featured on this list).
| | |
| --- | --- |
| Price | About $3,800 on Amazon |
| Footprint | 29″D x 46″W x 73″H |
| User weight capacity | 275 lbs |
| Warranty | Lifetime frame, 5-year mechanical, 2-year electronics, 1-year labor |
Best Full-Body Stair Climber: Jacob's Ladder
Good for: Anyone who wants an intense workout and can accommodate this large exercise machine 
The Jacob's Ladder is another revolving, treadmill-style machine that delivers a unique, full-body, self-powered climbing experience. Writer and expert product tester Anthony O'Reilly has given the ladder a try and warns that this machine is not meant for the faint of heart and is designed with experienced fitness folks in mind. To give you perspective, this machine is popular among collegiate sports teams, police training, and military bases.
But what's so unique (and challenging) about the Jacob's Ladder, you ask? The machine puts you into a quadruped climbing position angled at 40 degrees. Anthony says his experience was "extremely challenging but also very fun."
Jacob's Ladder is also a behemoth of a machine, measuring over 6 feet in length, over 5 feet tall, and 325 pounds. If you're interested in purchasing a Jacob's Ladder for your home gym, you'll need some serious space dedicated to this machine, including additional overhead space to accommodate actually climbing on top.
"It was a little awkward for me to use but I'm 6 foot, 3 inches, so I'm sure most average-sized people could use it without issue," Anthony adds about overhead clearance.
All that aside, Jacob's Ladder is a heavy-duty machine constructed from welded tubular steel on the frame and solid maple rungs for the ladder portion. If you're wondering how to put it together, you won't have to worry about that because this machine comes fully assembled.
Although we don't have a written review (yet) for you to read, stay tuned for more details.
| | |
| --- | --- |
| Price | About $5,500 |
| Footprint | 76" L x 31.25" W x 65.5" H |
| User weight capacity | Not disclosed |
| Warranty | 4-year parts, 1-year labor |
Other Stair Climbers We Researched
Our team spent time researching other stair-climbing machines to help your fitness levels reach news heights. We ultimately decided not to include the following climbers, but here is why:
VersaClimber LX Model: Although this is a high-quality vertical climber machine, the CLMBR is very similar and won't cost you quite as much of your hard-earned cash.
The Sole CC81 Cardio Climber: This machine almost made it to this list and is quite comparable to the Bowflex Max Trainer M6. However, the M6 takes up less room and is the winner for the more compact footprint.
Ropeflex APEX RX4400: This climber is similar to the Jacob's Ladder but nearly twice the price, which is not cheap to begin with. Therefore, we thought it was more fitting to put a more reasonably priced machine in the full-body climbing category.
How We Picked and Tested
Before rounding up the best stair climbers on the market, here are a few thing I took into consideration when choosing:
Stepping pattern: To cover all types of climbing machines, I included machines where you use your full body to climb vertically or at 40-degree angle, and other machines that focus on just the legs either with elliptical-style pedals or a continuous treadmill-style step generator.
Our experience: I tried to include machines our product testers have actually had their hands on. I included two machines that we haven't personally tested, but I thought would add a lot of value to this roundup.
Assembly: The ease of assembly is always on my mind when I order anything new. I made sure to mention if assembly was particularly difficult.
Price and value: I included a variety of price points in this roundup to make sure there were stair climber workout options for every budget.
Footprint: I considered how much space each machine will take up in your home gym if you decide to make a purchase. There are a couple bigger machines on this list and I tried to make that very clear.
Warranty: With any purchase, it's important to know the company offers a warranty if something were to happen. All warranty durations are noted on the spec charts.
Durability: At GGR, we're all about finding quality equipment and making sure you know when any piece of equipment feels unstable, cheap, or chintzy.
Benefits of Stair Climbers
The biggest benefit to purchasing a cardio machine is the ability to increase your heart health and overall metabolic health in the comfort of your own home gym. Stair climbers offer an engaging, high-intensity, heart-pumping way to add cardio to your routine (or for anyone bored of their treadmill).
Targeted Lower-Body Workout
No matter the style of stair climber you use for your home workouts, you'll be targeting your glutes, calves, hamstrings, and quads. Although ellipticals and treadmills also engage your legs, climbing or stepping is a new (and functional) way to target the leg muscles.
Low-Impact, High-Intensity
Stair climbers offer a low-impact solution for getting your heart rate up in no time. Climbing or stepping forces your body to be under tension without rest, unlike other cardio options like an elliptical or rowing machine.
It's worth noting that most machines I included on this roundup offer low-impact cardio workouts, with the exception of the StairMaster StepMill. This machine simulates actually walking up a flight of stairs, which can be a lot of impact for anyone facing ankle, knee, or hip mobility issues.
Buying Guide for Stair Climbers
When you embark on your journey to find the best cardio machine for your home gym, I want you to know that not all stair-climbing machines are the same. Here are a few tips when shopping for a stair climber:
Step Pattern
When you think about a stair climber it might evoke a different image than a stair stepper machine. All of these climbing machines end up falling in the same category, so it's reasonable to mention what style you might come across:
Machines that deliver a continuous flight of stairs
Vertical climbing machines than simulate rock climbing
Stair stepping machines where your feet don't leave the pedals
Resistance
Some machines are self-powered and will go as fast as your output allows, while others will have flywheels with adjustable resistance. When you're shopping it's important to check the specs so you know what kind of machine you're ordering.
Warranty
Some of the warranties we've come across on climbing machines don't compare to the industry standard we see on other machines like ellipticals and treadmills. For either of those pieces of cardio equipment, we prefer to see at least 10 years on the frame. Some climbing machines come in under that 10-year mark, so it's important to know before you buy.
Height and Weight Considerations
With a machine that has you stepping upward, you want to make sure that you have enough overhead clearance for the machine and your body to be at the highest stepping point.
On that same note, be sure to check the weight capacity on any machine you're considering to ensure it accommodates all your family members or roommates who plan to use it.
Price Point
Much like any other large piece of gym equipment, you'll find a wide range of products from budget to high-end when shopping for stair climbers. We suggest going to your buying process with a total cost you feel comfortable with (or monthly payment) established prior to making a purchase. 
Best Stair Climber FAQs
Are stair climbers worth it?
To determine if a stair climber is worth it will be highly subjective for each individual buyer and will depend on your budget, your space, and your fitness goals. Stair climbers are efficient machines for targeting the glutes, hamstrings, and quads all while delivering a fast-paced, engaging cardio workout.
Is a stair climber good for belly fat?
Unfortunately, you can't spot-treat fat loss from your belly or any specific area of your body. That said, cardio exercise is a productive way to promote overall fat loss for the entire body. In addition to cardio exercise, balanced nutrition and reducing caloric intake affects overall body fat percentages and body composition.
Is climbing stairs better than squats?
Climbing stairs or using a stair climber machine is a form of cardio exercise that can help improve your metabolic health. That said, if you're looking to improve strength as well as your overall cardiovascular health, squats are still an efficient way to increase strength through the glutes, hamstrings, and quads. 
Is a stair climber better than a treadmill?
Both stair climber and treadmill machines can deliver effective cardiovascular workouts for a variety of fitness levels. Your personal preference will help you determine which type of machine is best for you. Ultimately, the best cardio machine is the one that you actually use.