We test and review fitness products based on an independent, multi-point methodology. If you use our links to purchase something, we may earn a commission. Read our disclosures.
If you're looking for a mini cardio machine, it's likely because you don't have a lot of square footage to work with, you're looking for the best budget home gym equipment, or you're brand new to fitness and don't know where to start.
All of these reasons might lead you to something like the Sunny Health and Fitness Mini Stepper (aka No. 012-S on the brand's website). It's compact, it's priced under $100, and it's easy to use. All that said, we're going to get into the details and show you the pros and cons of this mini stepper. We'll also give recommendations on who will benefit the most from this mini stepper machine and who will not.
We've Tried More Than 10 Different Mini Cardio Machines
Our expert product testers here at Garage Gym Reviews have tested dozens of commercial-grade pieces of cardio equipment in addition to a selection of mini cardio machines, too. We've even tested and curated a list of the best mini exercise bikes that you can use while you work.
All that said, we're not new to small, portable, and entry-level cardio machines. For the Sunny Health and Fitness Mini Stepper testing process, Coop Mitchell, GGR founder and OG product tester, put this mini stepping machine to the test—plus the removable resistance bands that come along with it.
Sunny Mini Stepper
GGR Score: 3.6
Product Highlights
Mini-stepper that is compact, portable, and easy-to-use

Provides the same motion as a large step machine

Integrated resistance bands for full body workout

Maximum user weight of 220 lbs

Digital monitor displays key fitness metrics: count, time, calories, total count, and scan

Adjustable height to accommodate multiple users
Pros & Cons
Pros
Compact
Relatively affordable
Full body workout
Adjustable height
Digital monitor
Stable
Cons
Some users had difficulty getting the pedals down
No resistance
Questionable durability
Bottom Line
The Sunny Health & Fitness Mini Stair Stepper is a compact machine that offers a solid workout with the potential to work the entire body, thanks to the integrated resistance bands.
A Quick Look at the Sunny Health and Fitness Stepper Machine
Sunny Health and Fitness offers budget-friendly strength and conditioning equipment for home gyms. The brand manufactures and sells everything from studio spin bikes and rowing machines to squat racks and dumbbells.
RELATED: Sunny Health and Fitness Exercise Bike Reviews
Sunny Health also offers a variety of mini exercise machines including under-desk treadmills, mini exercise bikes, and the mini step machine we'll be diving into in this review.
Before You Buy
This stepper does not require any power source, but will need one LR44 battery to power the LCD monitor, which is included.
User manual notes not to use this machine for more than 15 minutes at time because the hydraulic cylinders may overheat and become damaged.
Folks with balance issues may find it difficult to use this machine because it does not have uprights for support.
Is the Mini Sunny Health and Fitness Stepper Worth It?
Although this Sunny Health and Fitness stepper might not tickle everyone's fancy, if you're seeking low-impact cardio exercise for beginners (and you're limited on space) this stepper could provide you with a way to get your heart rate up and engage your lower body without investing in equipment that costs several hundred dollars. 
Coop notes that the mini stepper is ideal for "someone who doesn't have a lot of experience with exercise or wants to add in some extra movement at home."
Great for:
Individuals looking for a total-body workout 
People on a budget
Folks who want to increase overall movement 
Anyone who is limited on space
Not recommended for:
Those who struggle with balance or need stability handlebars
Experienced cardio exercisers 
Individuals looking for the best ellipticals
People over the max user weight of 220 pounds
Sunny Health & Fitness Mini Stepper Specs
| | |
| --- | --- |
| Price range | $69.99-$87.99 |
| Footprint | 16" L x 12.5" W x 13.5" H |
| Weight | 14.5 lbs |
| Weight capacity | 220 lbs |
| Console | LCD monitor |
| Metrics displayed | Calories, time, total count, reps per minute |
| Warranty | 1 year frame, 180 days other parts and components |
Using the Sunny Health and Fitness Mini Stepper
The Sunny Health and Fitness Stepper is not going to be the right machine for everyone wanting to exercise. This mini cardio machine is geared toward beginners on a budget. 
Perhaps you're new to exercise and you don't want to spend hundreds of dollars on a machine if you're not totally convinced it's something you'll stick with.
The truth is there are tons of machines on the market—from the best treadmills for a home gym to elliptical machines—that can have you spending thousands on cardio equipment. If you're not totally sure what you want (or how you like to exercise) then testing out the waters with budget-friendly equipment is a solid choice.
Here's the thing about this machine: There are no uprights, stabilizers, or handlebars to help you keep your balance while you step. Once you get on this mini stepper, it's up to find your center of gravity while you continue to bob up and down through the stepping motion. The machine also comes with a set of resistance bands that you can use while you step for a full-body workout.
That said, the stepper has oversized non-slip foot pedals with a slight toe cap to prevent any slipping. Plus the base is designed with a stabilizing ring meant to keep the stepper steady without shaking.
RELATED: Best Stair Climber
Some reviewers say the hydraulic arms under each pedal are not super smooth and you can feel jerked around. During our testing experience that wasn't the case, but Coop did notice that the resistance bands included with the stepper were cheap (but we'll get into that later when we talk about durability).
It's also worth mentioning that because there are no uprights or handles, the display will be down at your feet, between the pedals. The display is a simple LCD digital monitor that displays calories, elapsed time, total count, and steps per minute. You can also use the mode button to choose the Scan option, which will go through each function so you can see all your metrics.
We also think it's worth noting that you won't need a power outlet to use this stepper. You can use it anywhere from the garage to the attic when you workout. It doesn't require power because the up-and-down motion is powered by the hydraulic arms under the foot pedals.
One more thing to note about power sources: To view the digital monitor, you will have to install the LR44 battery, but it does come with the stepper machine.
Footprint and Portability
The Sunny Health and Fitness Stepper measures 16 inches long, just over a foot wide, and 13.5 inches tall. It's also 14.5 pounds, which makes this mini stair stepper lightweight and easy to stow away when not in use. 
Plus, the resistance bands are removable, which makes it even easier stow away.
Durability and Construction
The first thing that Coop noticed about overall construction was the flimsy resistance bands. Although not up to Coop's standards, he does acknowledge that they can be removed and replaced with some of the best resistance bands we've tested.
"The bands are a nice feature to include so people feel like they're getting more for their money, but they're definitely low-quality," says Coop. "I'd recommend people replace them if they plan on using them often."
Now, let's talk about the stepper machine itself. This is where things get interesting: The hydraulics on this machine have a time limit before they overheat. No, we didn't test the stepper to its overheating point, but we were surprised to come across this disclaimer on the user manual.
This disclaimer is not noted on the website or Amazon, but when I scoured through reviews, it was a common complaint. It's also not highlighted in any way on the manual, it's just a note under the operating instructions that reads:
"Do not use the stepper for more than 15 minutes as the hydraulic cylinders may overheat and become damaged. Allow at least 30 minutes rest in between sessions."
We think this a major downside to the way this mini cardio machine is constructed and its overall durability.
Ergonomics and Adjustability
One thing we noticed when researching and using this product is that the ergonomics are a little arbitrary. This stepper has an adjustable height setting that you can alter with a dial to increase or decrease the motion of the step height. This dial is located on the underside of the machine, between the hydraulics.
Although the brand doesn't offer a specific measurement of the step height or the step height range, the knob basically adjusts the motion of the hydraulic arms so you will either take short burst steps or longer steps.
Coop notes that the knob "does adjust the step length, but it's not crazy dramatic."
Although the height difference is minimal Coop adds, "it's a nice feature that it's available so someone new to exercise could make it more difficult over time, but it doesn't have a lot of adjustment otherwise."
Sunny Health & Fitness Mini Stepper vs Cubii Jr
Cubbi Jr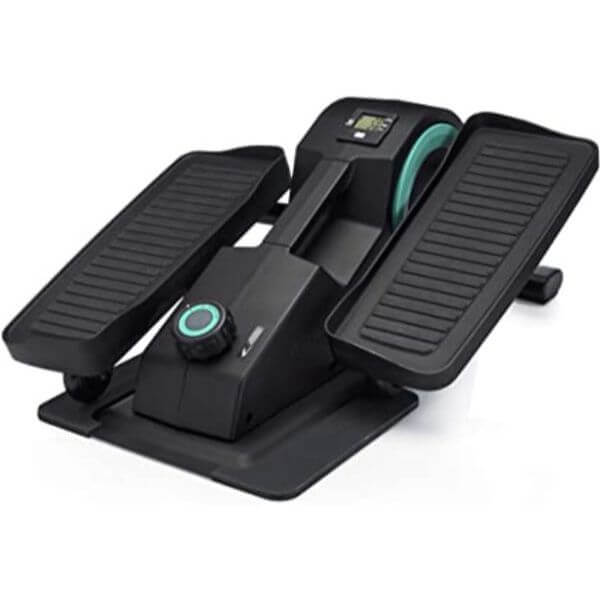 GGR Score: 3.79
Product Highlights
Under-the-desk, compact mini elliptical that is ergonomically designed allowing you to workout while you sit

8 levels of resistance 

Built-in LCD display allows you to track progress with key fitness metrics including calories burned, distance traveled, RPM, and minutes active

Portable and lightweight allowing you to pedal away at work or at home

Free access to Cubii Studio+ for live and on demand workouts

Cubii Communitii allows you to connect with other Cubii users
Pros & Cons
Pros
Lightweight
Portable
Budget friendly
8 levels of resistance
Convenient
Free access to live and on-demand classes
Cons
Resistance is mediocre
Reports it is noisier than advertised
Bottom Line
The Cubii JR1 is a convenient way to keep your blood flowing and squeeze in an extra calorie burn while seated at work or at home.
The Sunny Health and Fitness Mini Stepper best compares to our experience with the Cubii Jr under-desk elliptical. While these machines are both mini cardio machines, they offer some similarities in specifications but differences in the way that they can be used.
Both of these mini machines are small and fairly portable, but the biggest difference is that the Cubii Jr is designed for under-desk use. It's actually not at all designed for you to use it while standing. That makes the Cubi Jr a little less versatile than the Mini Stepper, although we haven't tested the Sunny stepper in an under-desk setting yet.
You can read about our full experience with the mini elliptical in our Cubii Jr review.
| | | |
| --- | --- | --- |
| | Sunny Mini Stepper | Cubii Jr |
| Footprint | 16" L x 12.5" W x 13.5" H | 23.15" L x 17.56" W x 10" H |
| Weight | 15.2 lbs | 34 lbs |
| Weight capacity | 200 lbs | 250 lbs |
| Display | LCD screen | LCD screen |
| Warranty | 1 year | 1 year |
Other similar mini stepper machines Sunny Health and Fitness offers includes:
Total Body Pink Stepper Machine P2000
Advanced Total Body Fitness Twisting Stair Stepper SF-S0979
Total Body Step Machine Exercise Stepper SF-S0978
Twist Stepper Machine No. 045
Twisting Stair Stepper Step Machine No. 068
Tandem Stepper Step Machine Sf-S0855
Fitness Stepper Machine – Stairs Step Exercise SF-S020027
‌Customer Experience
Sunny Health and Fitness offers a one-year warranty policy on the Mini Stepper in addition to a 180-day period for other parts and components. This policy does not cover damage from improper use or normal wear and tear. On the Sunny website, the policy indicates that normal wear-and-tear examples might include scratched parts, broken covers, and wear on brake pads.
To utilize your warranty, you must make a claim online. You'll also need your original sales receipt as proof of purchase for warranty claims (and warranty registration, too). It's also worth noting in the fine print of the warranty page, the brand notes that photos will be required as evidence to accurately diagnose your issues when making a warranty claim.
Additionally, you can make returns within the first 30 days if you are not satisfied with your purchase. All items purchased on the Sunny website are subject to a 15% restocking fee. If you make your purchase on Amazon, you'll have a 90-day window to make returns.
Ordering and Assembling the Sunny Health and Fitness Stepper
We think one of the things you'll appreciate about ordering the Mini Stepper is the fact that it's pretty much ready to use right out of the box. According to the Amazon Q&A section, the mini stepper just needs the step attached to the hydraulics and the exercise bands set in place. After that, you're good to go. 
On Amazon the Mini Stepper is eligible for a three-installment plan with 0% APR and no credit check. To take advantage of this offer, choose the monthly payment option when you add the stepper to your cart (you can also do this when it's in your cart or a checkout). According to the fine print, your initial payment will be equal to the installment payment amount, but will have added fees for sales tax and shipping. From there, the remaining payments will be automatically charged to your card every 30 days.
If you purchase directly through the Sunny Health and Fitness website you can utilize a number of payment options including ShopPay, PayPal, GooglePay, and Vemno.
Customer Reviews
Reviews on both the Sunny Health and Fitness website and Amazon have fairly high ratings. On the brand's website there are 44 5-star reviews and only a few reviews rated lower.
On Amazon, the mini workout machine has an overall 4.4-star rating out of 5 stars. The majority of customers are pretty satisfied with their purchase, however there are plenty of reviews complaining about the user manual disclaimer I mentioned earlier.
Much like our reaction, buyers trying to accomplish at-home workouts are surprised to find out that this machine is not recommended for more than 15 minutes of use at a time due to the hydraulics overheating.
Final Verdict of Our Sunny Health and Fitness Stepper Review
While this Sunny Health and Fitness Mini Stepper is more compact and budget-friendly than the average stair stepper machine, it will not be the best cardio machine for all home gyms.
That said, we think this stepper is best suited for you if you're a beginner and not sure what direction to take your fitness journey in. We also think even if you're a beginner, you should feel  comfortable with balancing on your own if you decide to make this purchase. 

Lastly, I'm going to mention the hydraulic disclaimer one more time: This machine is not designed to be used more than 15 minutes at a time because it could cause the hydraulics to overheat. If you decide to buy this machine, you'll have to feel really comfortable with the idea of ending your cardio session at 15 minutes, even as you progress and improve your endurance. 
Sunny Health and Fitness Stair Stepper Machine Rating
Sunny Health and Fitness Mini Stepper
The Sunny Health and Fitness Stepper is small, lightweight, and portable. Read about our experience and if it's the right piece of fitness equipment for you.
Product Brand: Sunny Health and Fitness
Product Currency: $
Product Price: 69.99
Product In-Stock: InStock
Sunny Health and Fitness Stepper FAQs
What is the weight limit for the Sunny stepper?
The Sunny Health and Fitness Mini Stepper weight limit is 220 pounds.
Are steppers worth buying?
A mini stair-stepping machine can be worth buying if you're new to fitness and looking for a low-impact way to increase your overall movement throughout the day. 
How long should you stay on the stepper?
The Mini Stepper from Sunny Health and Fitness has a 15-minute time cap due to the hydraulics being at risk of overheating. 
Is a mini stepper bad for knees?
A mini stepper can offer a low-impact form of cardiovascular exercise and offer less impact than walking or running. However, you'll have to take into account that a mini stepper won't have the same step height or stride length as a full-size machine, which can impact the way the movement feels on your joints