We test and review fitness products based on an independent, multi-point methodology. If you use our links to purchase something, we may earn a commission. Read our disclosures.
Whether you're a Lulu-fanatic or not, there's something to be said for the aesthetically pleasing and durable athletic apparel the brand manufactures. Our product testers here at Garage Gym Reviews put a dozen of the best Lululemon shorts to the test with barbell training, plyometrics, cardio exercise, and general wear around town.
We like putting fitness products to the test so you can make informed decisions about everything from the best running shoes to the best treadmills for your home gym.
Additionally, our product testers are fitness professionals. We're certified personal trainers, nutrition coaches, CrossFit LEvel 1 Trainers, and Olympic athletes. Collectively, we have decades of experience that informs our product testing experience.
Best Lululemon Shorts
Best Lululemon Shorts Overall: Hotty Hot High-Rise Shorts
Good for: Ladies looking for a lined workout short with an ultra comfortable fit around the waist
Best Overall
GGR Score: 4.3
Product Highlights
Multipurpose shorts that come in multiple lengths and rises

Lightweight, sweat-wicking fabric specifically designed for runners

Comes with a built-in liner for extra coverage 

Comes in close to 20 different colorways
Pros & Cons
Pros
Great for running
Fairly budget-friendly
Comes in a variety of colors
Zippered pocket
Lightweight fabric
Cons
Built-in liner
Smaller sizes are often sold out
Reviewers say they run big
Bottom Line
The Lululemon Hotty Hot Shorts are a comfortable and stylish choice for running and everyday use.
The Hotty Hot high-rise lined shorts from Lululemon are a nondescript pair of running shorts. And while they are not flashy or super unique-looking, these shorts made it to the top of our list because they turned out to be some of our favorite Lululemon shorts for walking, running, and lifting.
Although they don't offer compression like many of the best workout shorts for women, we think these shorts are ideal for running and squatting alike.
It's worth noting that you can also buy the Hotty Hot low-rise lined shorts and you'll have two inseam lengths to choose from plus over a dozen different colors. These shorts also feature a built-in liner for extra coverage.
One of our former product testers notes, "these are lined with built-in underwear, so you don't need to worry about flashing the world. Plus, they don't ride up during movements and I don't chafe while wearing them." She then goes on to say the Hotty Hot shorts are "my go-to pair of shorts when my laundry is clean."
Nicole Davis, GGR editor in addition to one of our expert product testers, also tried out the Hotty Hot shorts. Nicole mentions that in addition to appreciating the liner, she also "likes the 4-inch inseam," says Nicole. "I don't like super short shorts and feel like these give enough coverage without being biker shorts."
It's worth noting that Nicole was pregnant at the time she tested these shorts. She notes that the Hotty Hot shorts offer enough stretch and comfort around the waistband that she didn't need to size up—she just wore the high-waisted band down under her belly.
RELATED: ​​Running While Pregnant
| | |
| --- | --- |
| Price | $68 |
| Material | Recycled polyester, elastane, nylon, and Lycra |
| Inseam length | 2.5" or 4" |
| Rise | Low-rise and high-rise |
| Size range | 0-20 |
Best Lululemon Running Shorts for Women: Speed Up Shorts
Good for: Anyone looking for a super comfy running short with tons of colors to choose from
The Lululemon Speed Up Shorts are our top pick for women's running shorts because of the lightweight, breathable fabric and the stretchy, comfortable fit. The Speed Up Shorts are not only sweat-wicking, but also quick-drying to withstand the weather during outdoor runs.
RELATED: Best Running Leggings
We also like the fact that these Speed Up shorts come in a variety of colors, a wide range of sizes, different inseam options, and low-, mid-, and high-rises. If you're a runner who prefers high-rise shorts with a longer inseam, you'll be able to find that option. If you like mid-rise or low-rise, you'll also have that choice, too.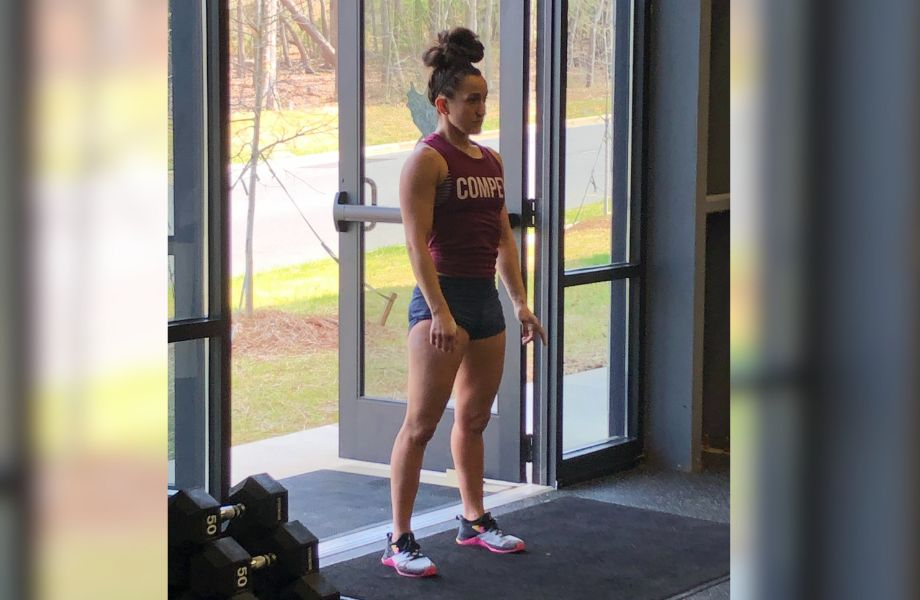 Kate Meier, GGR's head of content, is an experienced owner of Lululemon's Speed Up Shorts. She says, "I own probably eight pairs of these. I love them, they are my absolute favorite shorts for anything I do: lifting weights, running, plyometrics, or yoga," says Kate.
Kate even goes on to say, "I've done ass-to-grass squats in them, 36-inch box jumps, and run over three miles—they are literally good for anything." Even with all of this hard training, sweating, and moving, she also notes she's never had an issue with bunching or chafing.
As for the aesthetics, Kate likes the easy look, too. "These are athletic AF," she says. "I love the split around the thigh for ease of movement, the cute pocket and curved line on the butt is super flattering," she adds.
Kate also notes that there is a zippered back pocket on the waistband that can potentially hold a smaller cell phone, but definitely perfect for your keys or credit card.

| | |
| --- | --- |
| Price range | $68-$78 |
| Material | Nylon, elastane, Lycra |
| Inseam length | 2.5" or 4" |
| Rise | Low-rise, mid-rise, and high-rise |
| Size range | 0-20 |
Best Lululemon Rest Day Shorts for Women: Loungeful
Good for: Anyone who wants a pair lounge shorts made from sweatshirt-like material
The Lululemon Loungeful high-rise short is an ideal item to have for rest days and lounging around the house. I personally tested these shorts, and if you're anything like me, having a rest day—from work, lifting, and most other adult responsibilities—is crucial.
RELATED: What Is Active Recovery?
When I put these Loungeful shorts to the test, I went for walks and wore them through a few upper-body workout days. However, I did not test them on my squat day and decided these sweat shorts are ideal for low-impact workouts or non-training days.
The material is a cotton-blend fleece that is soft and warm, which is another reason I'm recommending these for low-key workouts or just straight-up relaxing—you'll sweat your butt off in these.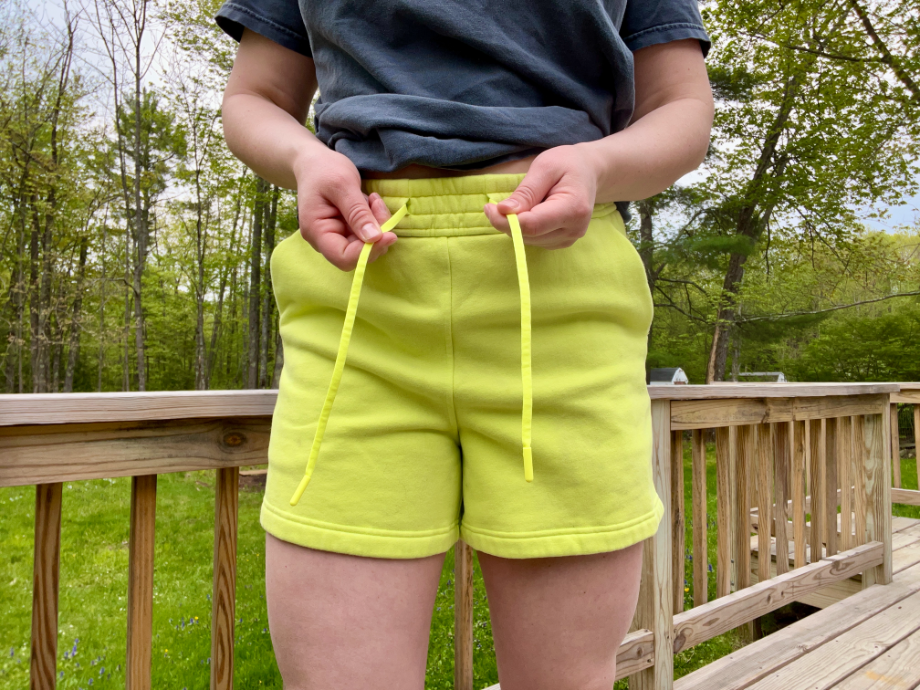 The Loungeful shorts are super comfortable with the high-rise fit and 4-inch inseam. I also like the fact these sweat shorts are not too tight or too baggy. Plus, these didn't pinch at all through the waist band, which is often a problem for me because I have a super short torso, so sometimes drawcord waistbands fit weird through my hip and waist area.
Additionally, there are pockets: two hip pockets with a secret card insert on the right-hand pocket. Another surprise you'll notice when you dip your hands into the pockets is the mesh material. The pockets are not cotton, which actually creates a lot less bulk around the hip area.
It's worth pointing out that these shorts are on final sale on the Lululemon website, priced at $49, which is down from the original price of $68.
| | |
| --- | --- |
| Price | $49 |
| Material | Cotton, polyester, elastane |
| Inseam length | 4" or 7" |
| Rise | High rise |
| Size range | 0-20 |
Best Lululemon Yoga Shorts for Women: Align Shorts
Good for: Women looking for activewear without a ton of compression
Best Cycling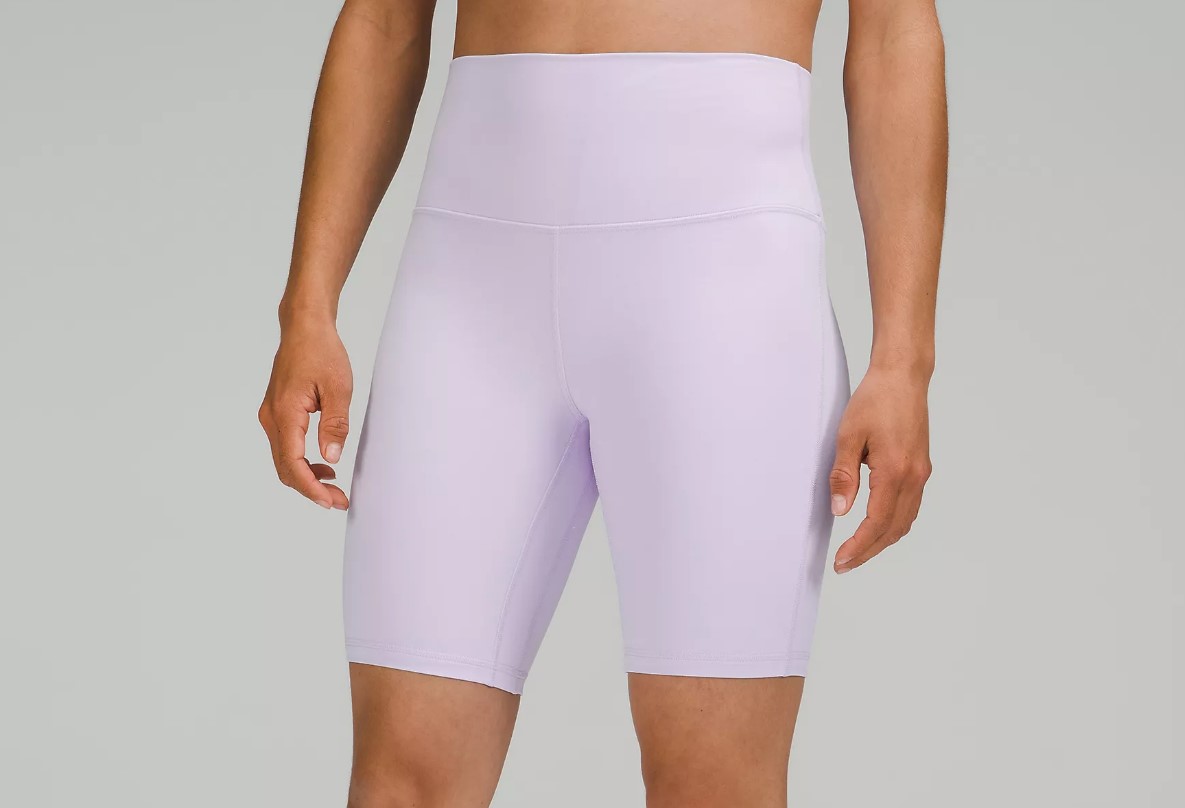 GGR Score: 4.2
Community Score: 2
Product Highlights
Multipurpose biker shorts 

High-rise shorts with an 8" inseam 

Comes with a hidden waistband pocket for keys or a card

Comes in close to 15 different colorways
Pros & Cons
Pros
Great for yoga
Made with Lululemon's Nulu fabric
Comes in a variety of colors
Hidden waistband pocket
Breathable
Cons
Front seam
On the pricier side
Reviews report tight seam on the mid-thigh
Bottom Line
Lululemon Align High-Rise 8-Inch Shorts are made with comfortable, stretchy, sweat-wicking fabric great for low-intensity exercise like yoga.
The Lululemon Align high-rise Shorts are ideal for yoga, pilates, cycling, or running. They offer a true-to-size fit without a ton of compression, which is ideal for low-impact exercise like yoga. Kate tested these shorts and notes, "they don't squeeze your leg and give you that biscuit-out-of-a-can look."
Another product tester and editor for GGR, Frieda Johnson, agrees that the fit is perfect for yoga. They both say the standout feature is the buttery-soft Nulu fabric, which is Lululemon's fancy way of saying a blend of nylon and Lycra. Nulu offers liberal four-way stretch in addition to a weightless and breathable feel.
RELATED: Best Exercise Mats
Although the fabric is super soft, Kate mentions the downside of the Nulu fabric which is the fact it's not the best choice for lifting weights or CrossFit. "This fabric won't hold up to a barbell's knurling, which is fine, because they aren't really meant to," says Kate nodding to the fact they are designed for yoga. "So I would just be selective about when I would wear them," she adds.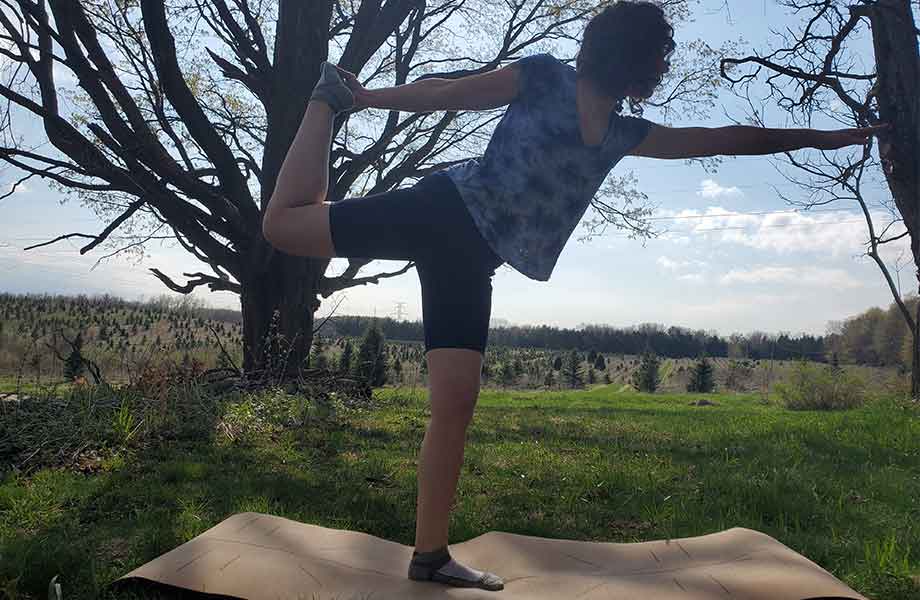 Frieda mentions that she tested the 8-inch Align shorts with pockets and says, "the pockets are big enough to easily hold my phone and they stay put without riding up or falling down no matter what I'm doing." While not all Align shorts have pockets, if that sounds like a nice feature, make sure you're adding the right pair to your cart.
We also like the fact you'll have four different inseam lengths and multiple colors to choose from. While shopping, you may notice that there are high-rise and super-high-rise options for these shorts. Plus, the sizing ranges from 0 to 20, but I will note that not all colors have the full range. Some colorways are only offered from size 0 to 14.
| | |
| --- | --- |
| Price range | $49-$59 |
| Material | Nylon and Lycra |
| Inseam length | 2", 4", 6", or 8" |
| Rise | High-rise and super-high-rise |
| Size range | 0-20 |
Best Lululemon Running Shorts for Men: Pace Breaker
Good for: Guys who want a lightweight and breathable short for running or just running errands
The Lululemon Pace Breaker is an ideal solution if you're a runner on the hunt for a pair of shorts with high-quality sweat-wicking fabric. The Pace Breaker is designed with the brand's "Swift" fabric, which is made from recycled polyester and elastane making it lightweight, breathable, and sweat-wicking.
GGR expert panelist and product tester Jacob Penner put the Pace Breaker shorts to the test by doing nearly every activity imaginable from casual walking and running sprints to weight lifting and plyometrics.
RELATED: Best Gym Shoes for Men
Jacob enjoys the Pace Breaker shorts and notes, "I can't say one bad thing (other than maybe that they are expensive)," he writes about the $68 starting price. He then goes on to note the price is probably worth it saying, "I've had these for almost a year, I wear them multiple times during the week for hard workouts, and they have not one sign of wear or tear."
Jacob mentions that the Pace Breakers are not only comfortable, they run true to size. He also notes that there "is an extra piece of fabric in the front for crotch sweat which is nice. Plus an awesome zippered pocket where I can put my key when I run," he says.
The one thing Jacob mentions as a potential drawback is the fact that there "isn't any compression," he says. "But that's fine; I'll wear compression shorts under them if I need that."
It's worth mentioning that while you're browsing the Pace Breaker, you may notice there are linerless and lined short options. The lined option is a lightweight mesh short that features an additional pocket.
Additionally, the website notes the Pace Breaker has an updated fit to provide more room through the hips, glutes, and thighs—all the more reason to reap the benefits of squats.
| | |
| --- | --- |
| Price | $68-$78 |
| Material | Recycled polyester |
| Inseam length | 5", 7", 9" |
| Size range | XS-XXXL |
Best Lululemon CrossFit Shorts for Men: License to Train
Good for: Dudes who need stretchy shorts for barbell squats and deadlifts
The Lululemon License to Train short turned one of our GGR product testers and writers into a Lulemon believer. Caine Wilkes tested the License to Train shorts and reports, "I really enjoy the feel of these shorts. They have enough give and stretch for squatting," he says (which is an important factor when an Olympic Weightlifter is testing a pair of shorts).
"The material is lightweight and breathable, but still felt durable enough to endure Olympic lifts and deadlifts, where the barbell anatomy might scrape against the shorts some," says Caine. "It actually feels like they were built for any training," he adds. He also mentions that barbell training has torn up other training shorts in the past, so he is excited to see just how durable and long-lasting the License to Train shorts really are.
Much like the Pace Breaker, there are lined and unlined versions of the License to Train shorts. You will also have the option of a 5-inch or 7-inch inseam. Caine does mention some apprehension about ordering, saying "I've had trouble fitting properly in Lululemon clothing in the past. But these surprised me—they fit great," he says.
"The 7-inch option did feel a little short on me, but I think that's just more preference; but I'm glad I didn't try the 5-inch shorts," he adds.
Caine also mentions that the drawstrings were fine to wear on the outside or inside of the short and they weren't too long. Plus, there were multiple options for stowing things in the pockets, including ones with zippers.
| | |
| --- | --- |
| Price | $88 |
| Material | Recycled polyester |
| Inseam length | 5" or 7" |
| Size range | XS-XXXL |
Other Lululemon Shorts We Researched
Fast and Free Shorts: GGR performance editor and product tester Anthony O'Reilly tested the men's Fast and Free lined shorts in the 3-inch inseam variety. He noticed a variety of shortcomings including the fact they run a little small.
After running in these he writes, "you'll want to order a size up from what you normally wear (you'll thank me midway through your run, if you're picking up what I'm putting down)." Another thing he didn't like was the fact they didn't have any pockets, "which is such a miss for running shorts."
T.H.E. Shorts: Anthony also tested these shorts and notes they are "pretty standard. I don't get the hype around Lululemon, these just felt like shorts."
Track That Shorts: Although I really enjoyed my experience testing these Track That running shorts, after sharing my experience with my fellow product testers, I knew that the Speed Up shorts deserved the top pick for women's running shorts.
Two things stood out to me the most about why we didn't choose them for the best running shorts: There was some rising between the thighs while running, and fabric is super thin. I even thought to myself I'll just stick to road running and not bother to go trail running in case I get snagged on a branch.
Bowline Short: After Jacob tested these shorts, he mentions that they are "heavier than most workout shorts. They feel more like a bathing suit than a workout short," he says. This is one of the reasons these shorts didn't make the cut on this best list.
Dance Studio: Although product tester Nicole liked these shorts, she noticed that they were on final sale, which typically means the style is being phased-out by the brand.
How We Picked and Tested Lululemon Shorts
When we curate our roundup reviews, it usually starts with some basic internet research so we know what people are buzzing about. So, we started with a Google search to help narrow down which shorts we wanted to try on IRL (because there are many Lululemon shorts to choose from).
From there, we cross-referenced our testing methodology spreadsheet to see which Lululemon shorts we have already tested for other roundups—there were a handful including Align, Fast and Free, and T.H.E. Shorts.
From there, myself and my fellow expert product testers ordered Lululemon shorts to be delivered to our homes. We were tasked with both strength and conditioning exercises while wearing the shorts to see how they performed during each style of exercise.
In addition to performance, we also considered the overall style, functionality (i.e. pockets) , size range, and colorways. The shorts that made it to this list are not only comfortable but practical, too.
Benefits of Lululemon Shorts
Here are a few benefits we see to buying Lululemon shorts for your workouts:
Durability
From our experience, Lululemon apparel holds up to weekly workouts and washes. In fact, some of our product testers own shorts that are several years old and have been worn through all types of workouts and weather conditions.
Additionally, Lululemon is known for sewing and mending holes and hemming leggings at storefront locations. Although the mending process is not explicitly stated on the brand's website, Kate has actually gone to a storefront and had a hole in her Lululemon leggings mended.
RELATED: Best Workout Leggings
Customer Service
Most people enjoy buying from companies and stores that have above-average customer service. From our team's ordering and testing process, we think that Lululemon goes above and beyond to give customers a peasant experience.
The live chat function is super responsive and there are other methods to contact customer service, including a phone number texting option. If you need to return an item, you'll have a 30-day window, but the process is completely free.
Buying Guide for Lululemon Shorts
Here are a few things to take into consideration when buying shorts from Lululemon:
Inseam Length
Some Lululemon styles have more than one inseam length. Many of the running-style shorts have 2.5- or 4-inch inseams, while some of the compression-style shorts have 6- or 8-inch lengths.
The same goes for men's shorts. Inseams vary by style, but range from 3- to 10-inch inseams.
Rise
You may notice that some styles (like the Speed Up shorts) come in low-rise, mid-rise, and high-rise options. While not all styles have the full variety of rises to choose from, Lululemon pretty much always makes the rise known in the title and description of the product.
Sizing and Measuring
Because not all brands are created equal when it comes to size, it's never a bad idea to take your measurements and reference the Lululemon sizing chart.
Material
Most shorts on this list are constructed from either polyester or have a blend of elastane, nylon, and Lycra. These materials allow the fabric to be lightweight and breathable. Lycra helps give fabric the ability to stretch and move with you in addition to overall durability.
Here are the Lululemon fabric blends you'll see on the website when shipping for shorts:
Swift fabric: Super quick-drying, breathable, and lightweight. It's made from polyester, nylon, and elastane for the combination of stretchiness and staying put.
Everlux fabric: Made from polyester and Lycra, this blend is meant to be stretchy, breathable, and sweat-wicking al while providing supportive compression.
Nulu fabric: This blend of nylon and Lycra is made to feel ultra light and soft. It's also breathable and ideal for sweaty workouts.
Best Lululemon Shorts FAQ
What are the best lululemon shorts to squat in?
Although we didn't squat or strength train in all the shorts on this list, we think most of the styles we chose could be ideal for squatting: 
Best Lululemon Shorts Overall: Hotty Hot High-Rise Shorts 
Best Lululemon Running Shorts for Women: Speed Up Shorts
Best Lululemon Yoga Shorts for Women: Align Shorts
Best Lululemon Running Shorts for Men: Pace Breaker
Best Lululemon CrossFit Shorts for Men: License to Train
Why should I buy Lululemon shorts?
In our experience, Lulelmon shorts perform well and hold up to a lot of wear in the gym and for everyday use. The price point is more expensive than the average pair of shorts, but our expert product testers here at Garage Gym Reviews agree that they're worth every penny.
Do Hotty Hot shorts run small?
In our experience, the Hot Hotty shorts run pretty true to size. However, when one of our product testers tried a size 4 and 6, she noticed that the main difference was through the legs— the bigger size gave her more space for muscular legs.