We test and review fitness products based on an independent, multi-point methodology. If you use our links to purchase something, we may earn a commission. Read our disclosures.
There are so many things you can do in a gym—and so many shoes to do those things in—that the decision-making process on which shoe is best suited for the job can be exhausting. You want comfort, but you also want functionality. As a competitive weightlifter, I want something solid that lets me lift heavy weight over my head, but what if you'd prefer to jog on the treadmill instead?
Because of the versatility of a gym setting and the diversity of gym shoes for men on the market, deciding what gym shoe is best for you is stressful to say the least. Should you get a sneaker? Or maybe a lifting shoe or running shoe? Perhaps some cross-training shoes? You can exhale a sigh of relief though, reader, as we have compiled a list of some of our favorite gym shoes for men.
The Garage Gym Reviews team tested out dozens of shoes across multiple brands to bring you our picks for the best gym shoes for men. Read on to see which pair best suits your needs.
Lots of Time Spent in Gyms With These Shoes
It's a commonly held belief that in order to become a master of a discipline, you must spend at least 10,000 hours doing that particular discipline. I can assure you that our team of testers have spent tens of thousands of hours in the gym, learning and honing the craft of fitness. We are a dedicated team of certified personal trainers, CrossFit trainers, and disciplined athletes who have spent a good chunk of our lives in a gym setting.
Likewise, we have spent a lot of time with hands-on testing…or feet-on testing of these gym shoes for men. After researching gym shoes from multiple brands, we picked several to try out ourselves, performing workouts, running miles in them, and picking up some heavy barbells, too.
In addition to this round of testing, our team has tested dozens more running shoes, cross-trainers, and lifters to give you the best insight we can into what makes the best gym shoes for your needs. You could say we've put in our 10,000 hours when it comes to fitness equipment testing.
11 Best Gym Shoes for Men
Best Overall Gym Shoes for Men: Nike Metcon 8
Good for: People needing a reliable cross-training shoe with lots of customization
Our pick for best overall gym shoes for men gets the stamp of approval from GGR Performance Editor and lifelong Nike fan, Anthony O'Reilly, who tested and reviewed the Nike Metcon 8s. The main takeaway he had from these shoes is that they are stable…like, stable.
The latest Metcons are built with a solid heel. Anthony said he felt like he was sticking to the floor during deadlifts due to how stable of a shoe it is. In addition to the solid base, the forefoot has some flexibility and give, and Nike React foam is used in the midsole for a little bit of cushioning, but not too much. In Anthony's words, "the cushioning is Goldilocks." Just right.
With a bit of midsole cushioning, the shoe is comfortable enough for sprints and walking a bit to the gym, but still solid enough for heavy lifting. We wouldn't recommend wearing this as an everyday shoe, though, as the heel isn't flexible enough to give you the comfort needed for being on your feet more than a couple hours—long enough for a workout. There is also a rope guard to protect the shoe during rope climbs.
The Metcon 8s are incredibly similar to the 7s. If your Metcon 7s are in decent shape, we recommend waiting until you need a new pair of training shoes. The 8s do have customization options, although that adds $30 to the price.
The Metcon 8 is a great cross-training shoe, which is a positive or negative depending on your needs. It's a fantastic all-around shoe for the gym and will help you do many workouts well, but it won't be better than a dedicated weightlifting shoe or running shoe for those workouts.
However, if you're looking for one pair of shoes that handle it all, the Metcon 8s are a great choice.
| | |
| --- | --- |
| Price | $160 |
| Heel-to-Toe Drop | 4 mm |
| Colorways | 12, plus a custom option |
Best Gym Shoes for CrossFit for Men: Reebok Nano X3
Good for: CrossFitters wanting an all-around good training shoe
Our tester for the Reebok Nano X3 was GGR Senior Writer Amanda Capritto.
But wait Caine; I thought this was a list of the best gym shoes for men?!
Yes, it still is, so allow me to explain.
When it comes to gym shoes and training shoes, there is not really a difference between men's shoes and women's shoes, aside from the sizing and maybe a few colorways. In the case of the Reebok Nano X3, there is no difference because Reebok released these shoes with unisex sizing. So, regardless, men and women are getting the same shoe when it comes to the latest Reebok Nano's.
Speaking of sizing, Amanda said that the shoes seemed to run a little wide, so it might be wise to size the shoes down by a half size.
The biggest update to the 13th iteration of the Reebok Nano's is the midsole. Reebok uses proprietary technology called the "Lift and Run (L.A.R.) Chassis System," which supposedly supports both heavy loads and running better than any shoe today. This felt great during box jumps and other explosive movements, where she could feel the springiness and responsiveness of the shoe, but also remained stable during heavy lifts.
The upper is constructed of Reebok's breathable FlexWeave material, which has been the standard for Nanos. While breathable, the FlexWeave isn't as durable as other trainers. The toe box is reinforced, however, to protect the front. And the FlexWeave mesh also allows for a flexible forefoot and midfoot.
When compared to the Reebok Nano X2, the X3 is pretty similar. The biggest changes aside from unisex sizing is L.A.R. Chassis and an updated tread pattern on the outsole. Otherwise, this is fairly similar to the X2.
Overall, the Reebok Nano X3s are a great choice for any HIIT workout or CrossFit metcon. Read our full review of the Reebok Nano X3 to learn all about the ins and outs.
| | |
| --- | --- |
| Price | $140-$150 |
| Heel-to-Toe Drop | 7 mm |
| Colorways | 14 available options |
Best Tennis Shoes For Men: Altra Solstice XT 2
Good for: Anyone wanting a good tennis shoe for inside and outside of the gym
We chose the Altra Solstice XT 2 as the best tennis shoe for men because of its versatility inside of the gym and for its comfort outside the gym. Our tester Anthony remarked on its reliability: "[The price] is a lot for how simple it is, but I keep going back to it because it's so reliable. I'd buy it again."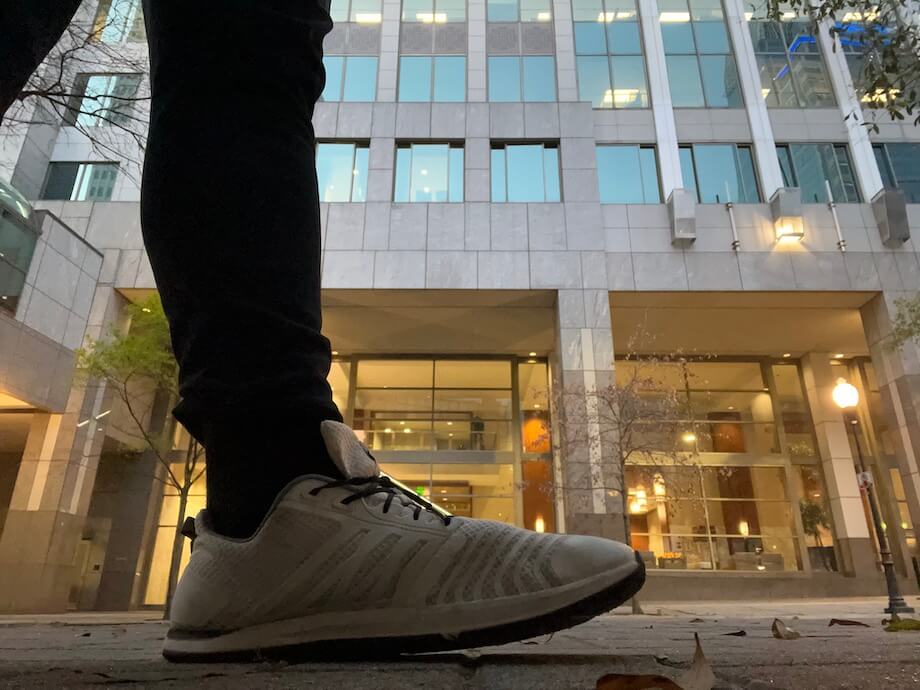 The Altra Solstice XT 2 is exactly that: a dependable and versatile gym shoe. With only black and white options, the design is simple, but sleek. The shoe has a zero-drop, meaning the toe stays at the same height of the heel. This design allows for the foot to fall in a more natural position while still providing cushioning. This encourages the user to use the muscles of their feet instead of over-relying on the shoes. This also encourages a natural gait.
The Solstice XT 2 is a great cross-training shoe with a breathable upper mesh, and not too much cushioning in the midsole. One common complaint from user reviews was in the sole though. Many reported that the sole peeled off only after a few workouts. Others like the comfort and versatility of the shoes, but were still disappointed in the construction and durability of the sole.
| | |
| --- | --- |
| Price | $130 |
| Heel-to-Toe Drop | 0 mm |
| Colorways | Black/White |
Best Outdoor Gym Shoes for Men: Asics Gel-Venture 8
Good for: Those wanting a budget-friendly shoe with good tread to use on trails and hikes
The Asics Gel-Venture 8 are a great value shoe that have nice rubber lugs on the outsole to provide extra traction on rougher terrain, making them a great pick for the best outdoor gym shoes for men. Rob Davis, husband of GGR Senior Editor Nicole Davis, tried the Gel-Venture 8s and he was happy with them overall.
The main thing he noted was the comfort of the shoes. As Nicole recalled, "My husband thinks these shoes are super comfy—he wears them quite a bit despite not being crazy about the look, which tells me he really likes how they feel!" We'll touch on the look of the shoes in a little bit, but part of the comfort comes from the GEL Tech cushioning on the inside.
The outsole has a good amount of tread and rubber lugs, to provide a grippy traction on just about all surfaces. Rob has been wearing these shoes outside in the winter because of their great traction, in fact. The upper is thicker than most shoes, but still pretty breathable according to Rob. With a price point under $100, this shoe also provides good value.
The main drawback is the look of the shoe. These shoes are not as stylish as a lot of other training shoes. Asics tries to make up for it with 21 different colorway options, but the look is still not the coolest. If you are able to look beyond the look of the shoe, however, then you will see a good value and super comfortable shoe that could double as a trail running shoe.
| | |
| --- | --- |
| Price | $70 |
| Heel-to-Toe Drop | 10 mm |
| Colorways | 22 options |
Best Running Gym Shoes for Men: Nike Air Zoom Pegasus 38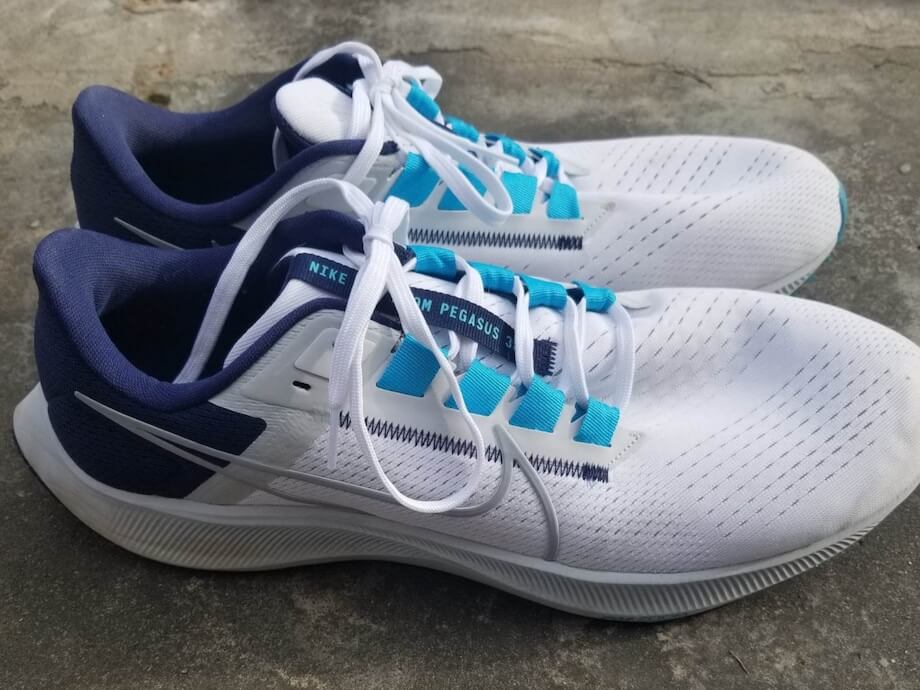 Good for: People wanting a comfortable shoe for running
Our pick for best running shoes for men is the Nike Air Zoom Pegasus 38. However, Anthony used the 39s in his testing, which is the latest iteration of the Pegasus. The builds are very similar, so you can expect a pretty close feel between the two shoes.
The 39s have improved upon the 38s with material choices, while keeping the design of the Pegasus intact. The midsole uses the React foam, which is softer and provides more energy return than previous Nike foams. Along with that, the upper is made from an engineered mesh instead of a traditional mesh, allowing for a stronger, more flexible upper that's still very breathable.
The outsole has a waffle-like pattern that gave Anthony pretty good traction on all surfaces during runs. Anthony also noted that there's not too much cushioning, providing a little bit of versatility in this shoe, although he also noted the stability is good, but nothing extra or great.
There are very cool colorway options available, along with customization options. However, Anthony felt that while the Pegasus was a good shoe, but not the best out there: "I really like this shoe, but if I'm being honest, there's just nothing spectacular about it. If you want something that will feel supportive, keep your feet cool and comfortable, and looks good, this is it. If you're looking for the crème de la crème, look elsewhere."
Nike air zoom pegasus 38.jpeg
My dad, Chris, actually has a pair of the 38s, and I was able to ask him his thoughts on the shoe. He thinks they're super comfortable, even though he prefers minimal shoes over something like the Pegasus.
There are many conflicting reviews on the 38s versus the 39s, where some people prefer the cushioning on the 38s, but others prefer it on the 39s. Ultimately, it comes down to preference.
| | |
| --- | --- |
| Price | $135 |
| Heel-to-Toe Drop | 10 mm |
| Colorways | 9 |
Best Walking Shoes for Men: Saucony Triumph 20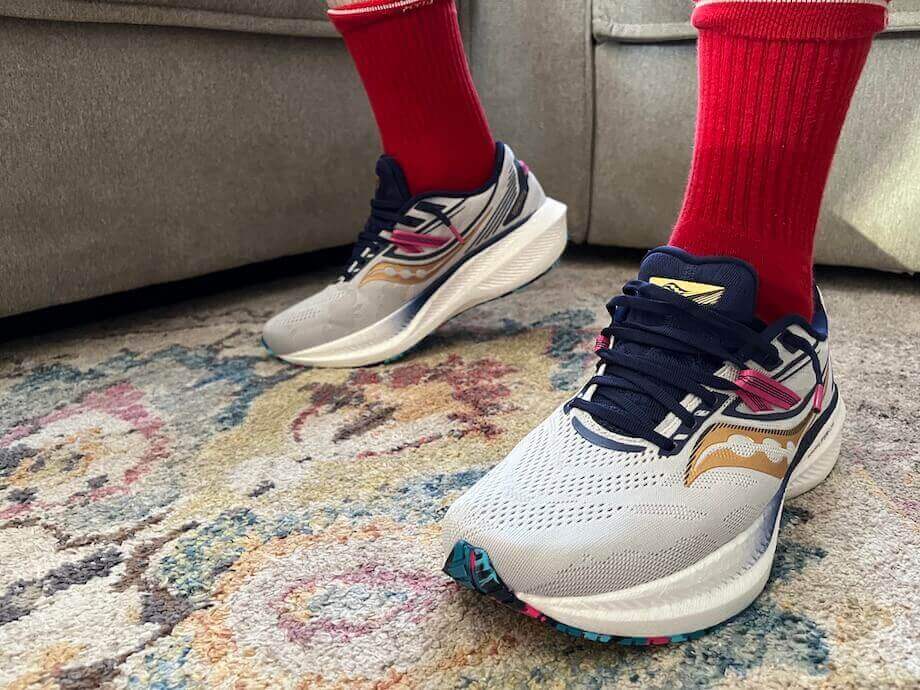 Good for: Men wanting a good walking shoe that will also work great in the gym
Our best walking shoe for men is the Saucony Triumph 20, a responsive shoe with Saucony's thick PWRRUN+ foam along the midsole and heel. This foam is a special type of TPU foam that provides comfort and responsiveness. Our tester for these shoes, Matt Strong, husband of staff writer Lauren Strong, really enjoyed the foam and the comfort of it. This foam has also been loved by many in the running community.
The upper has a mesh overlay that helps maintain airflow around your feet during long walks. Also, the shoe is made from vegan and recycled material, meaning that you can reduce your carbon footprint with these shoes.
saucony-tiumph20-2.jpeg
Matt noted the shoe had good arch support and a wide toe box. However, with the higher heel-to-toe drop at 10 millimeters, he felt a little unstable at the heel. If you are not used to a raised heel in your walking or running shoes, this might take a little getting used to, although a 10-millimeter drop is pretty standard in running shoes.
We would recommend the shoe to most people, unless you have wide feet; the only width they offer is a medium, though they go up to size 15. The shoes are a little pricey as well, but you can save on shipping through an Amazon Prime membership.
| | |
| --- | --- |
| Price | $160 |
| Heel-to-Toe Drop | 10 mm |
| Colorways | 14 options |
Best Cross-Training Shoes for Men: TYR CXT-1 Trainer
Good for: Those looking for a good gym shoe for multiple modes of fitness
TYR made a big splash in the CrossFIt world last year with a big chunk of competitors at the CrossFit Games wearing the TYR CXT-1 Trainers. And we've liked them enough to place them on our list as the best cross-training shoes for men.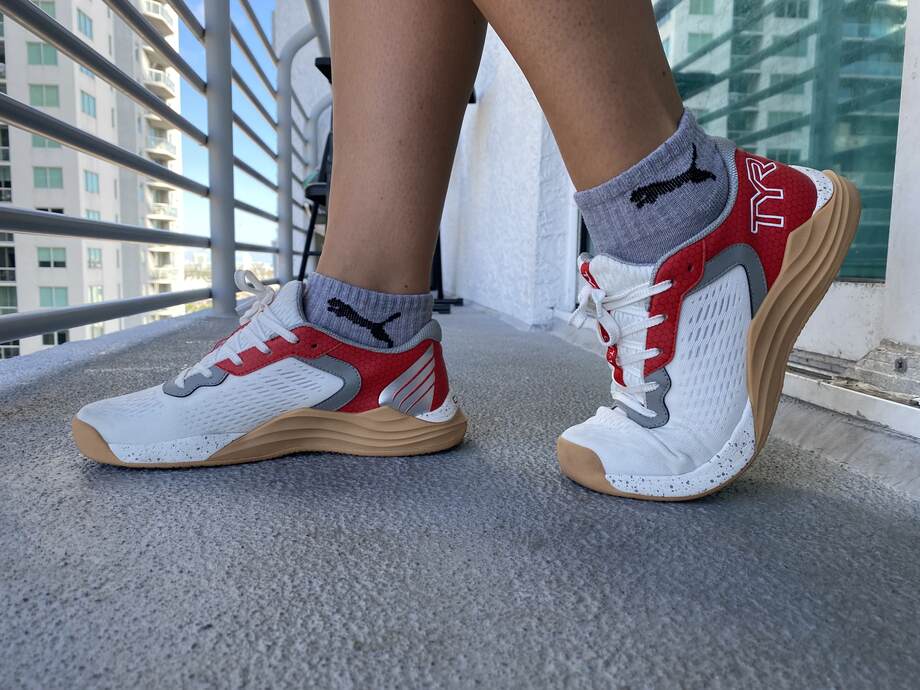 Amanda was able to test the TYR CXT-1 Trainers, and she thoroughly enjoyed them in each kind of workout she took them through. In metcons, she noticed the breathable upper kept her comfortable in longer workouts, and the forefoot was flexible for dynamic movements. While lifting weights, the support in the arches made the shoes feel very stable and snug, and the slightly raised heel made squats and receiving a barbell feel natural.
While they have the feel of a minimal shoe, they are not a true minimalist shoe, so the midsole might be a little off-putting for someone expecting a true minimal shoe. Along with that, the laces seem a little bit short. They are also heavier when compared to other trainers, and Amanda worried about the mesh upper's durability. However, this is a solid pick for a variety of gym workouts.
| | |
| --- | --- |
| Price | $130-140 |
| Heel-to-Toe Drop | 9 mm |
| Colorways | Black/camo, black/gum, red/white/gum, black/gold, white/gum |
Best Minimalist Gym Shoes for Men: NOBULL Trainer
Good for: Those looking for a simple design in their gym shoes
Head of Content for Garage Gym Reviews, Kate Meier, was able to test the NOBULL Trainers, and we think it's one of the best minimalist gym shoes out there for men (honestly, for both men and women). Designed similar to a Chuck Taylor, the NOBULLs are made with a low heel-to-toe drop to provide a minimal design and feel.
The cushioning is minimal on these Trainers, so it can have a flat foot feel at first. The lack of cushioning provides a stable base for lifting and weight training, but the sole is flexible enough for dynamic movements and some running as well.
Kate says on her experience working out in them that, "When I initially put these on, I didn't like the feel. The bottom felt hard, and I'm used to weightlifting shoes. However, once I got to working out with them, I really liked them. I did workouts that included running, jumping and squat cleans, and I never felt uncomfortable in the shoes."
Nobull-training-shoes.jpeg (in WP library)
The seamless SuperFabric upper is a little rigid at first, but will break in after a few uses. They are extremely durable shoes. However, their minimalist design may not make them most people's choice for running, or even for everyday wear. Out of the three testers who had their hands on NOBULLs—Coop, Kate, and Amanda—no one recommends the NOBULL Trainers for simply running. WIth that said, NOBULL does make running shoes if you would like a running shoe from the brand.
There are many colorways for the NOBULLs, but Kate noted they are a little bland looking. Also, the price point is a bit high for a minimal design, starting at $130. But for what they are, the NOBULLs are a great cross-trainer for people looking for a solid, durable minimalist shoe.
| | |
| --- | --- |
| Price | $130-170 |
| Heel-to-Toe Drop | 4 mm |
| Colorways | Over 20 options |
Best Budget Gym Shoes for Men: Converse Chuck Taylor All-Stars
Good for: Anyone wanting a solid minimal shoe for deadlifts at a low price
Chuck Taylors have been a staple in powerlifting shoes for years, and they are a great pick if you're looking for a budget-friendly shoe. The high-top All Stars in particular provide a good amount of ankle support, and the shoe has zero drop from heel to toe, making them an ideal option for deadlifting some heavy weights.
Converse Chuck Taylors are a very common choice in powerlifting gyms, particularly for deadlifts or bench press—although your footwear in the bench is less important. The flat, rigid outsole and minimal feel keep your feet connected to the ground. Additionally, the canvas fabric upper allows for the shoes to breathe some, and gives your toes and feet plenty of room to splay out, to properly drive into the ground as you pull on a heavy barbell.
I myself like to use Converse Chuck Taylors for deadlifts and heavy pulls, if I'm not pulling barefoot. The Chuck Taylors help me stay low to the ground and drive through the lift; my feet almost feel like part of the ground.
Although these are solid deadlift shoes, the low heel is not ideal for other strength exercises, notably squats. I prefer weightlifting shoes like the Nike Romaleo 4s for squatting movements. Furthermore, they do not have the cushioning to be a good running shoe either.
For its price point at $65, the Converse Chuck Taylor All Stars are a great value gym shoe that can double for everyday wear as well. It does not have the versatility of other gym shoes, but what it does, it does well.
| | |
| --- | --- |
| Price | $65 |
| Heel-to-Toe Drop | 0 mm |
| Colorways | Black, white, and custom |
Best Gym Shoes for Weightlifting: Reebok Lifter PR 2
Good for: Those wanting a good lifting shoe that acts as a hybrid trainer as well
The Reebok Lifter PR 2 is a great weightlifting shoe that can double as a hybrid shoe—able to lift in and able to move around in a variety of dynamic exercises. The 15.5-millimeter heel-to-toe drop is higher than most shoes we've reviewed here, but is also lower than most dedicated weightlifting shoes, allowing for some versatility besides just lifting.
The shoes have a low price for a lifter, at only $100, and are stable enough for lifting, but responsive enough for a wide range of movements. Our tester for the PR 2s was Amanda; she really enjoyed the ability to go through an entire hour-long CrossFit class without needing to change into another pair of shoes.
With that said, the high heel doesn't make it an ideal shoe for running or high-rep dynamic movements like box jumps. Also, the EVA midsole will probably be too responsive for maximal lifts. If you are wanting to maximize your lifts or train primarily on running, it might be better to get a shoe that specializes in that venture. However, for its price point, the Reebok Lifter PR 2 provides a lot of value as an affordable hybrid lifter.
| | |
| --- | --- |
| Price | $100 |
| Heel-to-Toe Drop | 15.5 mm |
| Colorways | White/red/black, black/gray/pewter |
Best Gym Shoes for Men for Everyday Use: Nike MC Trainer 2
Good for: Anyone needing a versatile, stable shoe that can be used all day long
The Nike MC Trainer 2 is our pick for a gym shoe you can use all day long. While we haven't actually tested this shoe (they were out of stock in the proper size), we feel the shoe provides versatility in the gym, and a good amount of comfort outside of the gym, all for a budget friendly price under $100.
The heel is thicker and extended and solid for strength training, but the midsole and forefoot remain thinner and flexible to allow for a diverse range of workouts and exercises. Soft foam cushioning braces the foot on lateral movements, and lateral support wraps help keep the foot secure during training. Nike doesn't disclose the heel-to-toe drop, but it looks like it is a more modest drop than a lifter.
RELATED: Strength Training for Runners
The shoes may not fit wide feet, and some reviews have reported that the heels may slip. Other reviews question the durability of the upper mesh, as it is pretty thin. For its price point, though, it provides pretty good value as an all around trainer that can be comfortable in and out of the gym.
| | |
| --- | --- |
| Price | $75 |
| Heel-to-Toe Drop | Not disclosed |
| Colorways | 8 available options |
Other Gym Shoes for Men We Researched
Of course, these are not the only shoes we tested out and tried. Below are a few other gym shoes that vied for a spot on our list of the best gym shoes for men, but didn't quite make the cut.
Under Armour HOVR Rise 4: We have not tried the HOVR Rise 4, but have tested the similar HOVR Phantom 2. In our experience of those shoes, we found the shoes to have really great shock absorption. We'd love to see if the HOVR Rise 4 is consistent with that.
Hoka Clifton 8: These extremely lightweight running shoes have a lighter and more responsive midsole than previous iterations of the Hoka Clifton. However, the Clifton 8 has mixed reviews; some enjoy its comfort, while others do not like changes made from the Clifton 7, and experienced discomfort. In our testing, we felt like the durability wouldn't last very long.
Adidas Adipower 3: I'm a fan of weightlifting—call me biased…strength-biased. Having used and enjoyed the original Adipowers, I'm excited to try out the Adipower 3's, as it looks like they have moved closer to the original design. They are a solid lifting shoe for the Olympic lifts. As of yet, however, I nor any of our testers have had a chance to try these out.
How We Picked and Tested
To compile our list of the best gym shoes for men, we researched dozens of gym shoes for different workout modes, and made a short list of our favorites. For most of these shoes, our fitness testers were sent a pair to try out, both in leisurely activity as well as in different workout situations: everything from walking, running, squatting, deadlift, and CrossFit workouts were done in these shoes.
While testing these shoes, we took notes on the grip and tread of the outsole, the cushioning of the midsole, as well as overall comfort and durability. We also looked at the value of the product. Basically, if the shoe was on the pricey side, it needed to provide enough value to be worth the price tag; on the other hand, a budget-friendly shoe would have value in providing a good-quality product at a low price point.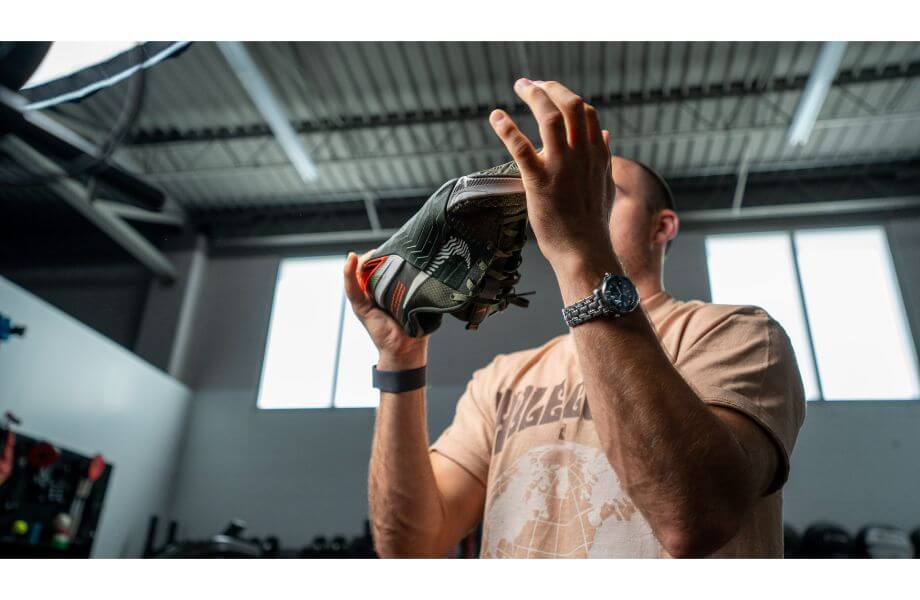 For some of these shoes, you can say we went the "extra mile." I really mean it, too. One of our product testers and writers, Anthony O'Reilly, walks a lot…way more than a weightlifter like me can comprehend.
Afterwards, if a shoe didn't quite meet our standards, we went on to the next shoe until we narrowed down our list to the shoes you see before you now.
Benefits of Gym Shoes
A good pair of gym shoes will help you get the most out of workout. A solid, stable shoe while lifting can make or break or good lift. Long runs require a good running shoe with enough cushion and support to help you last and stay comfortable during your workout. If you are looking for something to do both decently, you'll need a good cross-training shoe. A good pair of gym shoes will help you get the most out of each and every workout you perform.
Plus, gym shoes can look cool and be pretty stylish. It's obvious that you want to prioritize functionality over the look of a shoe, but truth be told, nothing gets me fired up quite like a stylish pair of gym shoes.
Buying Guide: What to Look for in the Best Gym Shoes for Men
There are a lot of options to consider when purchasing a pair of gym shoes— enough to make your head spin. One solution is to do what us fitness aficionados tend to do: purchase three of every type of workout shoe imaginable to where you can't see the bottom of your closet floor anymore…still, if you're looking to make only one purchase of a shoe (for now), here are some things to consider that'll help you pick the best workout shoe for your needs.
Midsole Cushioning
The midsole can have a varying amount of cushion depending on the shoes' main purpose. Running shoes tend to have more of a thicker midsole to absorb impact over long distances, although some minimalist shoes have less cushion to naturally let the feet move and splay.
Weightlifting shoes, on the other hand, have very little midsole and a very tough outsole to provide a stable base in your strength training. Cross-trainers usually have a midsole in between the two extremes.
Once you know what sort of shoe you want, remember that a thicker midsole typically means more cushioning in the shoe. Still, be on the lookout on the product page for words describing the type of cushion and midsole to help in your decision-making.
Outsole
Generally speaking, you'll want good grip and traction from your gym shoes. Even for a lifting shoe, we don't want to be sliding on the platform. However, you'll want more traction on the outsole of a shoe if you are taking your shoes out on a trail run or hike. If that's the case, choose a shoe with rubber lugs on the outsole that will make for a grippy shoe in rougher terrain.
Heel-to-Toe Drop
If you're looking for a good gym shoe for running and cardio as well, the size of the heel-to-toe drop is going to be based on preference. As a rule of thumb, a higher heel-toe drop is best for runners who typically land heel first. A lower heel-toe drop—under 7 millimeters—is best for runners who land on the front or midfoot in their gait.
In lifting, a higher heel is great for squats, but powerlifters prefer a minimalist shoe for deadlifting, with little to no heel-toe drop, ensuring they are as low and connected to the ground as possible.
Upper
For a gym shoe, we want something breathable, as you will most likely be moving around a bit with them. So many gym shoes are made with a mesh upper, to allow for a light, breathable shoe. However, if you plan on going outdoors with them, you might want your shoes to be made a bit more durable than a mesh cover.
Ankle Support
It's important while running, jumping, squatting, and lifting in the gym that your shoes have some ankle support. This doesn't mean you should only go with high-top sneakers (although I do love a nice high-top Chuck Taylor). Good ankle support can be on a low-top shoe in the form of cradles, which help support the lower ankle.
Aesthetics
Look, it's probably the least important aspect of a good gym shoe, but it also isn't: you need a shoe you won't mind being seen in public in. There are plenty of colorful options—and some more reserved ones—to help you pick a shoe that suits your style. You're going to want a functional shoe, but if it's ugly, you probably won't want to wear it.
Best Gym Shoes for Men FAQs
What kind of gym shoes are best for men? 
What to look for when buying gym shoes? 
There are a lot of things to consider when buying gym shoes, but the main thing is to find a shoe best suited for the type of training you will be doing. Generally speaking, you'll want a durable rubber outsole with good grip for running or lifting. 
If you see yourself doing a good amount of running, a good shoe will have cushioning to disperse the impact; at the same time, less cushioning is ideal for heavy lifting, so you might have to find a balance in a cross-training shoe if you're looking for a shoe to do both.
The toe box and width should be comfortable yet snug. A snugger shoe is ideal for running, and a good lifting gym shoe will have a little room to push the feet into the ground during heavy reps.
Do shoes matter in the gym?
Absolutely, the type of shoe you wear in the gym matters. For heavy lifting, a solid base and raised heel can mean the difference between a make and a miss. While running over distance, you'll want something comfortable and cushiony that won't cause blisters after one session. And if you are looking to do some cross-training, you'll want a shoe that is somewhere in between. A good pair of shoes in the gym will help get the most out of your workouts.