We test and review fitness products based on an independent, multi-point methodology. If you use our links to purchase something, we may earn a commission. Read our disclosures.
The NordicTrack S15i Studio Cycle is the base-level indoor exercise bike from the popular brand. Currently, NordicTrack offers three models at different price points: the S27i, S22i and S15i.
We have spent a lot of time with and reviewed the S22i. While we haven't gotten to hop on the S15i yet, we have a good idea of how this bike performs. In our NordicTrack S15i Bike reviews, we will dig into the specs of this exercise bike to share what we think you can expect.
Can it provide the workouts you need? Or should you spend some more to upgrade to one of the other NordicTrack Studio Cycles? Let's find out.
Dozens of Bikes Tested
Our team at Garage Gym Reviews meticulously tests home fitness equipment to help you create your perfect home gym. As a result, we have been on dozens of exercise bikes including air bikes, recumbent bikes, and traditional studio bikes.
We are certified personal trainers, CrossFit L-1 trainers, and certified nutrition coaches who dig into the specs of each machine. For this S15i Studio Cycle review, we use our experience with the S22i as well as company-provided specs and online customer reviews to give you our honest opinion.
NordicTrack Commercial S15i Studio Cycle
NordicTrack Commercial S15i
Featuring an improved graphic performance, the NordicTrack S15i is equipped with a 14-inch rotating HD touchscreen which creates an immersive training experience. This monitor tilts and offers one touch controls for easy access while mid-ride.A membership to iFIT is required to utilize this bike. At the time of this writing, NordicTrack requires a 4-year membership to purchase this stationary bike. The cost of both the bike and the membership is built into the current price. So what is iFIT? iFIT is an online fitness platform which houses thousands of on-demand classes that vary in style, length, and intensity. With the rotating screen, you can seamlessly transition off the bike to a floor-based workout.The S15i comes with some impressive specs and features. Two 2-inch digitally amplified speakers improve the listening experience. Combined with the HD touchscreen as well as incline ranges from 20% to a 10% decline, the S15i provides a session that reproduces an outside ride as well as any other bike on the market. An AutoBreeze fan and dual water bottle holders are located at the bottom of the console for your convenience.With its Silent Magnetic Resistance (SMR) mechanism, the S15i has 22 levels of digitally regulated resistance offering a smooth and ultra-quiet ride. Resistance can be manually adjusted using the controls on the adjustable handlebar controls or on the touchscreen. With the iFIT programming, the resistance may also be controlled by the fitness instructor for a hands-free ride. If you prefer to do it yourself, manual controls can override the automated ones.
A Quick Look at the NordicTrack S15i
NordicTrack is one of the most respected names in cardio fitness equipment. The brand touts an impressive commercial exercise bike line, with the S15i as the base model (though it's far from basic).
Each of the Studio Cycle bikes offers interactive training sessions via an HD touchscreen that displays streaming iFIT programming. Plus, these are some of the few indoor cycling bikes that offer incline and decline adjustments. NordicTrack's AutoAdjust technology allows iFIT to adjust the incline, decline, and resistance during your classes.
RELATED: Benefits of Indoor Cycling
My Tips
Check NordicTrack's website for deals before buying.
Have a second person available to assist with assembly, or pay for professional assembly.
Build the bike where it will live; it isn't easy to move around!
Pros:
Compatible with iFIT's automatic trainer control
Incline and decline adjustments
Large, 14-in touchscreen that swivels for off-bike workouts
22 digital resistance levels
Silent magnetic resistance (SMR)
Dual water bottle holders, fan, and 3-lb dumbbells included
Bluetooth headphone connectivity
Financing available
Cons:
Priced as "free" with purchase of 4 years of iFIT family membership (costs about $1,800)
Difficult assembly requiring two people
Heavy at 203 lbs
Placing in your garage voids warranty
Is the NordicTrack S15i Worth It?
The NordicTrack S15i is the most affordable studio bike available on the brand's website. This Peloton-like bike is currently offered for "free" with the purchase of four years of iFIT, which is $1,872. Oddly enough, that's approximately the same price as the S22i ($1,899), which has a bigger screen and more resistance levels. The S22i also has improved speakers and arrives with hybrid pedals with both cages and toe clips, rather than the standard toe cage pedals included with the S15i.
You can finance the S15i for $39/month (the price of an iFIT family plan) over the course of four years. However, if you want to cancel your iFIT membership any time after the 30-day trial, you will owe the remaining full amount on the bike. Be ready to commit if you're planning on taking advantage of this deal.
Paying almost $2,000 for an exercise bike is a big commitment. Is it worth it? Here's our take:
Great for:
People seeking interactive cycling workouts
Those who want an exercise bike with all the bells and whistles
Cyclists who want incline and decline features
Not recommended for:
People in very small spaces who need compact equipment
Those who don't want app-based workouts
People looking for basic cycle bike
NordicTrack S15i Specs
| | |
| --- | --- |
| Footprint | 60" L x 22" W x 58" |
| Weight | 203 lbs |
| Weight Capacity | 350 lbs |
| Display | 14" HD rotating and tilting touchscreen |
| Pedals | Caged (compatible with standard road bike pedals) |
| Adjustability | Saddle: Vertically, horizontally and angleHandlebars: Vertically Can swap included saddle and pedals with standard road bike pedals or saddle |
| Resistance | 22 levels |
| Programming | iFIT Classes, manual mode, Google maps location rides |
| Flywheel | Inertia enhanced flywheel |
| Wi-Fi | Dual 2.4 GHz and 5 GHz |
Using the NordicTrack S15i
We haven't been on the S15i, but we have done a number of workouts on the NordicTrack S22i, which has an almost identical build and features. Based on that, we feel confident in telling you what it's like to be on the S15i.
First, you get access to countless bike workout options through the iFIT subscription: on-demand studio sessions, live event rides/races, and virtual global rides using Google Maps technology. All of the trainer-led classes have AutoAdjust technology, through which your trainer adjusts the incline, decline, and resistance, allowing you to focus on your ride instead of your settings. You can also map out your own ride using Google Maps technology and manually start a ride.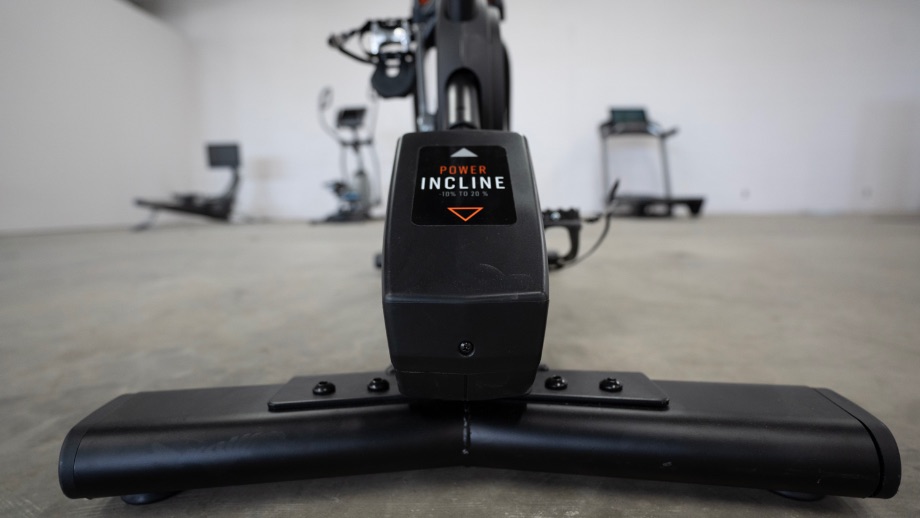 One of the best–and most unique–features of the NordicTrack Studio Cycle line are the incline and decline features. These mimic road riding in home workouts the way that other bikes can't. Having that functionality on each of the bikes in this line is incredibly valuable, and one of the things we liked most when using the S22i.
The S15i includes silent magnetic resistance, which provides a quiet ride according to online reviews and our own experience with the S22i. The bike also offers Bluetooth connectivity for both headphones and heart rate monitors.
For comfort, the bike includes an Autobreeze workout fan, which will automatically increase or decrease speed based on how fast you are pedaling. This was one feature we loved on the S22i, and we are glad is still included on the S15i.
You get two 3-pound dumbbells with the bike to incorporate upper body workouts while riding. Additionally, the bike has two water bottle holders, which our reviewers found to be small while reviewing the S22i and are likely the same on this model.
Overall, we expect the riding experience on the S15i to be extremely similar to the S22i based on the similarity of the NordicTrack provided specs and customer reviews. The major differences between the S15i and the S22i are the smaller screen size (an 8-inch difference) and two fewer levels of resistance on the S15i.
Online customer reviews did not indicate any disappointment with the smaller screen size or levels of resistance.
Durability
The S15i is built with a commercial-grade steel frame, resulting in a durable product with a user weight capacity of 350 pounds. (For some perspective, this is significantly higher than competitor Peloton's 297-pound weight capacity.)
Reviews did state that the handlebars and monitor would shake/wobble when riding. Our team also experienced this when testing the S22i. If you'd like a more detailed look at the rider experience from our expert team, visit our review of the s22i the overall bike construction and interface are largely the same.
In order to keep the bike in optimal condition, NordicTrack's User's Manual suggests unplugging the bike after every ride.
Adjustability
There are many ways you can adjust the bike to fit you. For example, the S15i comes with caged pedals that are compatible with standard road bike pedals. Multiple Amazon reviews have stated that after replacing the standard saddle and pedals, their S15i feels just like their road bike. I will say that at this price point, you'd think you'd see dual-sided pedals with cages and clips.
The saddle can be adjusted horizontally and vertically similar to other bikes. You can also adjust the angle of the saddle by loosening a screw, not something you would do between each ride if multiple people are using the bike. If you find the saddle uncomfortable, you can replace it with your own seat.
The handlebars can adjust vertically. The screen adjusts vertically, horizontally and tilts. You can also rotate it 360 degrees to view while off bike to use iFIT's non-cycling classes.
Using iFIT on the Commercial S15i
iFIT is a fitness subscription service with a variety of live and on-demand fitness classes. It can be used with a number of products from both NordicTrack and ProForm, and is compatible with Apple and Android devices.
The iFIT interface on the S15i is the same as the S22i, so we would expect to have the same smooth experience. You stream the workouts through the 14-inch smart HD touchscreen, where you'll get the opportunity to take classes with iFIT trainers as well as do non-cycling workouts, like cross-training exercises, yoga, and core classes.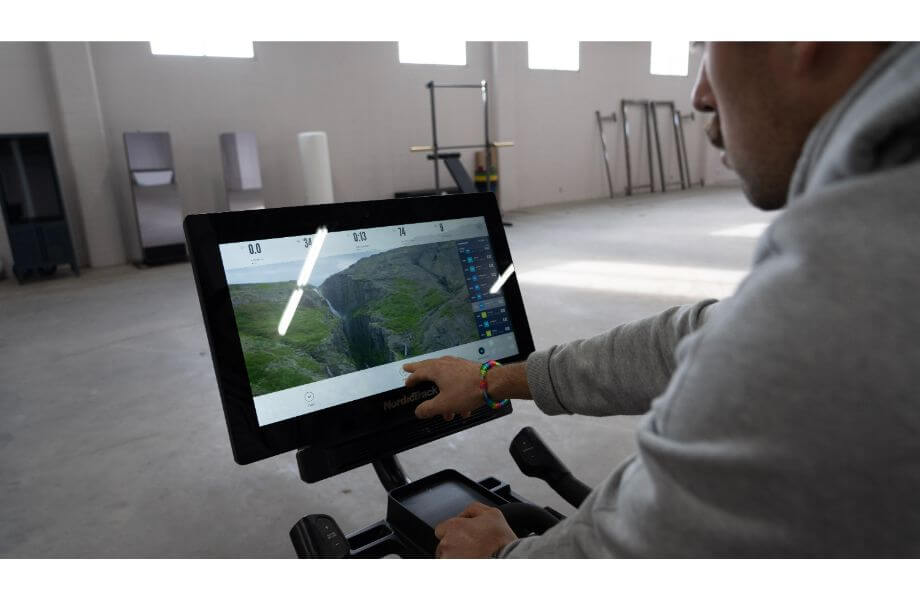 In addition to live classes, there are on-demand workouts where you can virtually ride through the countryside, on mountain trails, or any other number of places around the world. Also, iFIT can automatically adjust the S15i, changing incline as well as speed to match what is happening on the workout.

If you cancel your iFIT membership or purchase through another retailer you can still use the S15i, but you will have to manually adjust the incline, decline and resistance. You can map your own ride with Google maps technology or use the few free iFIT workouts.
The NordicTrack Studio Cycle Line
S27i
S22i
S15i
Price
$2,499
$1,899
$1,872 "free with iFIT"
Footprint
57"L x 28" W x 65"H
61" L x 22" W x 58"H
60" L x 22" W x 58"H
Weight
217 lbs
205 lbs
203 lbs
User Weight Capacity
350 lbs
350 lbs
350 lbs
Display
27 inch

Improved graphics performance
22 inch
14 inch
Pedals
Hybrid
Hybrid
Toe Cage
Adjustability
Saddle: Vertical/Horizontal

Handlebars: Vertical (gas shock)
Saddle: Vertical/Horizontal

Handlebars: Vertical
Saddle: Vertical/Horizontal

Handlebars: Vertical
Resistance
24 silent magnetic resistance
24 silent magnetic resistance
22 silent magnetic resistance
Programming
iFIT
iFIT
iFIT
Fly Wheel
Inertia enhanced flywheel
Inertia enhanced flywheel
Inertia enhanced flywheel
Wi-Fi
2.4 GHz + 5Ghz
2.4 GHz + 5Ghz
2.4 GHz + 5Ghz
Colors
Black or Slate Gray
Black
Black
Warranty
10 year frame

2 year parts

1 year labor
10 year frame

2 year parts

1 year labor
10 year frame

2 year parts

1 year labor
Speakers
30w
30w
2" digital amplified
Saddle
Padded ergonomic saddle
Padded ergonomic saddle
Padded ergonomic saddle
Customer Experience
The S15i comes with a 10-year frame, two-year parts, and one-year labor warranties. The bike must be kept indoors and not in your garage in order to maintain the warranty.
If you aren't happy with the bike, there is a 30-day return policy. NordicTrack's general return policy does not apply to "free" items. It is not specified, but I imagine company standard $250 return shipping charges apply. You can return the bike and cancel the iFIT membership within 30 days, but after 30 days, you may cancel your iFIT membership BUT the remaining balance will still be due. This is the second time I've said this because I really want you to know!
Ordering and Assembling the NordicTrack S15i
Customers have found ordering the bike to be very simple, and NordicTrack currently offers free delivery.
The difficult part is once the bike arrives. NordicTrack offers white glove delivery and assembly for $199. Our team found assembly of the S22i to be complicated. Customer reviews of S15i have been mixed on level of difficulty. The assembly process is seven pages long and requires approximately 150 different parts. NordicTrack's User's Manual states assembly "requires two people, Philips screwdriver, 1 adjustable wrench/wrench set and a rubber mallet."
Our team and many customer reviews successfully assembled the bike with one person, but it seems to be much easier with a helping hand. Customer reviews specifically called out the difficulty of attaching the monitor without help.
Customer Reviews
Overall reviews on Amazon and NordicTrack website of the bike have been positive, customers enjoy the automatic adjustments of incline, decline and resistance. Riders really enjoy the bike's ability to simulate road riding with both scenic views and automatic incline and decline adjustments. The variety of iFIT global rides are a fan favorite feature with users regularly appreciating new scenic locales to ride.
Customer complaints include a difficult and assembly process requiring a second person to help. There are also complaints about handlebars and monitor shake and wobble with use. Customers who have experienced issues with parts have reported difficulty with reaching customer service, especially if consumers who did not purchase the bike through NordicTrack.
Final Verdict of Our NordicTrack S15i Bike Reviews
The NordicTrack Commercial S15i Studio Cycle is a solid, high-quality bike with good overall reviews. It has many of the same features as the S22i Studio Cycle at a slightly lower price point.
Based on online customer reviews, users are generally satisfied with the product and aren't bothered by the smaller screen and the two fewer resistance levels. Unless you regularly max out resistance on the bike or feel very strongly about having the larger 22-inch screen, I'd recommend you purchase the cheaper S15i bike.
NordicTrack S15i Rating
NordicTrack Commercial S15i Studio Cycle
The NordicTrack S15i Studio Cycle is a sturdy indoor exercise bike that features a swivel touchscreen, dynamic programming, incline and decline capabilities, and lots of fun extras.
Product Brand: NordicTrack
Product Currency: $
Product Price: 1800
Product In-Stock: InStock
NordicTrack S15i FAQs
Is the NordicTrack S15i worth it?
If you are interested in trying interactive studio bikes, I would give the NordicTrack S15i a shot. It is currently on sale at Amazon for $999 or for the monthly cost of the family subscription $39/Month over four years ($1,872) via NordicTrack.
Which is better, NordicTrack or Peloton?
The Peloton Bike is rated higher for simulating in studio classes at home, and the NordicTrack is for simulating road riding at home because of its incline and decline capabilities. The prices of both bikes tends to fluctuate, though NordicTrack's monthly subscription cost appears to be more affordable as of this writing.
How much does the NordicTrack S15i weigh?
The NordicTrack S15i weighs 203 pounds.