We test and review fitness products based on an independent, multi-point methodology. If you use our links to purchase something, we may earn a commission. Read our disclosures.
Adidas is back with a new generation of the beloved Adipower weightlifting shoe. At first glance, it appears we're seeing a return to the classic look of the first generation Adipowers. Seeing the specs, I think it's safe to say we're looking at a much sturdier update than the second generation, which is the best of both worlds.
With the widespread popularity of the OG Adipower, lifters around the world are bound to have great expectations for numero tres. I mean, world records and Olympic medals have been won in those. We haven't gotten our feet in these yet (but we will soon). In the meantime, I'll look at the specs and give you an idea of what to expect from this shoe. After I wear them for my own training sessions over a period of time, I'll let you know what I think about them in use.
Dozens of Shoes Tested
I've personally worn, trained, and competed in most of the popular weightlifting shoes over the years, from the OG Adipower to Reebok Legacy Lifter to the Romaleos 4, and all generations in between. It's my responsibility as a weightlifting coach to help people find the equipment they need. As an athlete, I personally want to find the best lifting shoe for my performance. This has resulted in countless hours training in different shoes as well as taking input from other athletes on their shoe experiences.
Beyond that, we have a team at Garage Gym Reviews that loves training shoes almost as much as we love the barbell. We have tested footwear for powerlifting, CrossFit, deadlifting, Olympic lifting, running, and more.
Adidas Adipower III
Adidas Adipower III
The Adidas Adipower III is the latest iteration of weightlifting shoe from the brand, and it doesn't look to disappoint. With a 22-millimeter heel, a breathable upper, and TPU midsole, this is an improved design on an already great product.While we weren't huge fans of the Adipower IIs for serious weightlifters, we think the IIIs will be a hit among those who are serious about doing snatches and clean-and-jerks. Adidas took the OG Adipower and simply made a few changes - including an increased heel height - to give us perhaps the best version of this shoe yet.Serious shoes come with a serious price, and the Adipower III clocks in around $220. However, we love that it's available in both men's and women's sizes, and that the lace-and-strap closure system allows athletes to make the shoe as tight or wide as they need.
A Quick Look at the Adidas Adipower III
The original Adidas Adipower was released just ahead of the 2012 London Olympic Games, perfect timing for those interested in the snatch and clean and jerk events. When the Olympic weightlifting portion of the Games concluded, almost half of the weight classes had Adipowers represented on their podiums. The Adipower became one of the best weightlifting shoes over the next eight years, falling a close second to the Nike Romaleos series.
The Adipower II, released in 2019 a full year ahead of the planned date for Tokyo 2020, turned out somewhat of a disappointment in comparison to the OG (eerily similar to how the Nike Romaleos 2 were a bit of a bummer).
Trying to capitalize on the reputation of the Adipower being a lighter weightlifting shoe, the Adipower II turned out to be just a bit too breathable and flimsy for those looking for sturdy footing. It was barely seen on the podiums of the Tokyo 2020 Olympics.
Here's to hoping the Adipower III brings us a sturdy, updated version of the classic shoe we know and love.
Right now, you can get the Adipower III on a number of websites, including Adidas and Rogue Fitness. I like that, because if you know anything about weightlifting shoes, you know that new ones go out of stock really quickly as eager lifters start snatching them up.
What's New:
A unique ripstop upper to give strong support yet remain breathable
Perforated toe holes to enhance airflow without sacrificing stability
22-mm raised heel height, nearly 2 mm taller than the OG Adipower
Upper uses at least 50% recycled rubber
What's Stayed the Same:
Strong TPU midsole
Rubber outsole for long-lasting grip on the platform
Reinforced heel
Adidas Adipower III Specs
Price
$220
Heel to Toe Drop
22 mm
Colorways
Vivid Red / Ftwr White / Impact Orange
Ftwr White / Core Black / Gray Two
Core Black / Ftwr White / Gray Three
Weight
466 g
Upper
Ripstop that uses at least 50% recycled materials
Midsole
TPU
Shoe Construction
The Adipower III seems to be one of the most technologically advanced shoes on the market now, boasting a high-density TPU midsole, interior reinforcement at areas of high wear, and a grippy rubber outsole. They feature the tried-and-true lacing and Velcro strap system to keep the shoe fitting tight to your foot.
Add in a grippy rubber outsole and some strategically placed perforations for breathability, and it appears we have a complete weightlifting shoe designed to withstand the training of olympians.
Upper
The unique ripstop upper is a fascinating way to increase the durability of the shoe without drastically adding weight. Ripstop is a tightly woven fabric commonly used in equipment and clothing that need to survive extreme conditions.
The classic lace-plus-strap combo has been present on every generation of Adipower and I don't think it's going anywhere, because you can't beat it.
Also, Adidas notes that, for sustainability efforts, the upper of the Adipower III uses at least 50% recycled materials, which may not do much for performance, but it is nice to know that the company cares.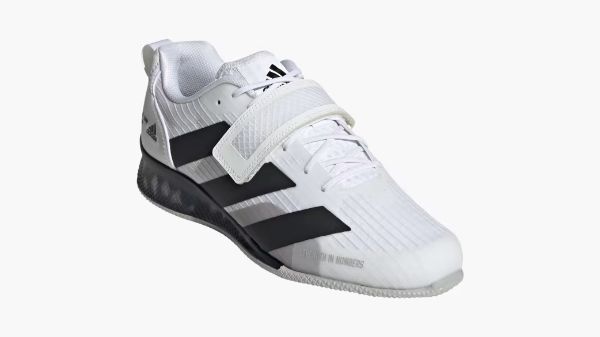 Midsole and Outsole
Adidas brings back the same TPU midsole on this pair of shoes that has been in both previous generations. If it ain't broke, don't fix it.
The rubber outsole is one thing the second generation definitely got right. It's ridiculously grippy in all the right ways. We see this repeated on the new model.
Heel
While it is not quite as wide and sturdy as the Romaleos 4, the heel on the Adipower III appears to come out a bit wider than the midsole, a common trait of high-performing weightlifting shoes. It's also listed as being 22 millimeters, higher than previous iterations of the shoe.
Toe Box
Assuming the new generation holds a similar foot shape to previous models, the toe box will be slightly more narrow than average. Those with a wider forefoot may want to test a half size up. I guess we will see.
Aesthetics
The third generation brings us back closer to the look of the OG Adipowers. The initial release includes three colorways similar to the original three released in 2012: black, white, and red.
Personally I love the look of the Adipower III. It looks modern, but still has that classic, simple three-stripe look. The Adipower II looked more like a soccer cleat to me, which is fine for some people, but I'm happy the third generation shows Adidas paying homage to their roots.
Final Verdict of Our Adidas Adipower III Review
Overall, I'm very optimistic about the third generation Adipower. It seems that Adidas has taken the feedback on the 2s graciously and returned us to an updated, advanced version of the OG. If this is the case, we're highly likely to see the new Adipowers on plenty of feet from your local globo gym to the Paris 2024 Olympics.
Adidas Adipower III FAQs
Are Adidas Adipower weightlifting shoes good for beginners?
Adidas Adipower weightlifting shoes are a great choice for beginners, although they are a bit pricey at $220. That being said, if you know you are going to commit to weightlifting for sure, buy these shoes once and you won't buy again for quite a while.
Are Adidas Adipowers true to size?
Adidas Adipowers are true to size, although they do have a slightly narrow toe box, which means they may not be ideal for people with wide feet. Those concerned about toe box specifically may want to try a half-step up from their typical shoe size.
Is Adidas good for weightlifting?
Adidas has been a staple in the sport of weightlifting since the late 1960s. World records and Olympic medals have been won in Adidas weightlifting shoes. If you focus more on just traditional lifts, then the Adidas Powerlift could be a good choice for you. If you are into Olympic weightlifting, we highly recommend the Adidas Adipower III. If you are just looking for a solid cross-training shoe, I recommend something like the Nike Metcon 7.