We test and review fitness products based on an independent, multi-point methodology. If you use our links to purchase something, we may earn a commission. Read our disclosures.
I'm not alone in saying the original Adidas Adipower is one of the best weightlifting shoes ever released, and for years it was one of my go-to answers whenever anyone asked me what pair I'd recommend for them. So I was excited to see if Adidas could give us another smash-hit with the release of the Adidas Adipower 2.
A great pair of weightlifting shoes needs to be comfortable, durable, look good, and provide stability to the wearer to be worth the price tag that's put on them. In my Adidas Adipower 2 review, I'll break down whether these redesigned classics meet that criteria, who should give them a shot and who should pass on them.
Why You Should Trust Us
At this point, I've lost count of how many weightlifting and training shoe reviews I've done in my lifetime. I've tried on shoes that were too tight, too loose, and others that were just right to help give me the comfort and stability I need while lifting weights. Trust me, I've got a sixth sense for scoping out the best weightlifting shoes out there to the point where I've created a comprehensive list of the best training shoes, and a guide to find out what training shoes you should wear based on your training type.
Adidas Adipower 2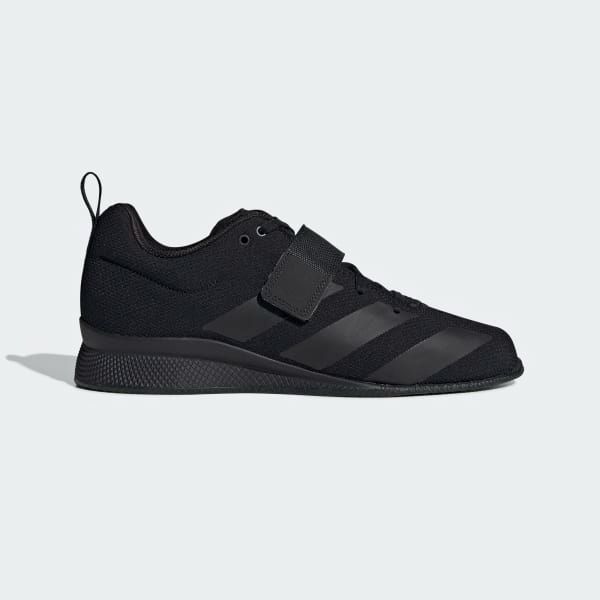 Adidas AdiPower 2
Redesigned for a new reign. Showing off a streamlined silhouette, these weightlifting shoes have a breathable woven textile upper with inner reinforcements for added stability. It hugs the foot for targeted support while accommodating the natural flexing of the toes. Laces and a strap work together to lock down your midfoot while a raised heel adds stability.
A Quick Look at the Adidas Adipower 2
There are a lot of positives to the Adidas Adipower 2, and we actually named them our best CrossFit lifting shoes in the aforementioned best training shoes list. They're extremely comfortable, and I felt supported while doing heavy snatches, cleans, and back squats in them.
But do they follow in the footsteps (pun intended) of their predecessors in being one of the best weightlifting shoes out there? Not quite. They do provide more stability for heavy lifts than the Reebok Nanos or Nike Metcons, but not quite as much as the Nike Romaleos 4. And the bottom is flexible enough for CrossFit workouts, but I noticed doing a lot of functional fitness moves in them caused some additional wear and tear.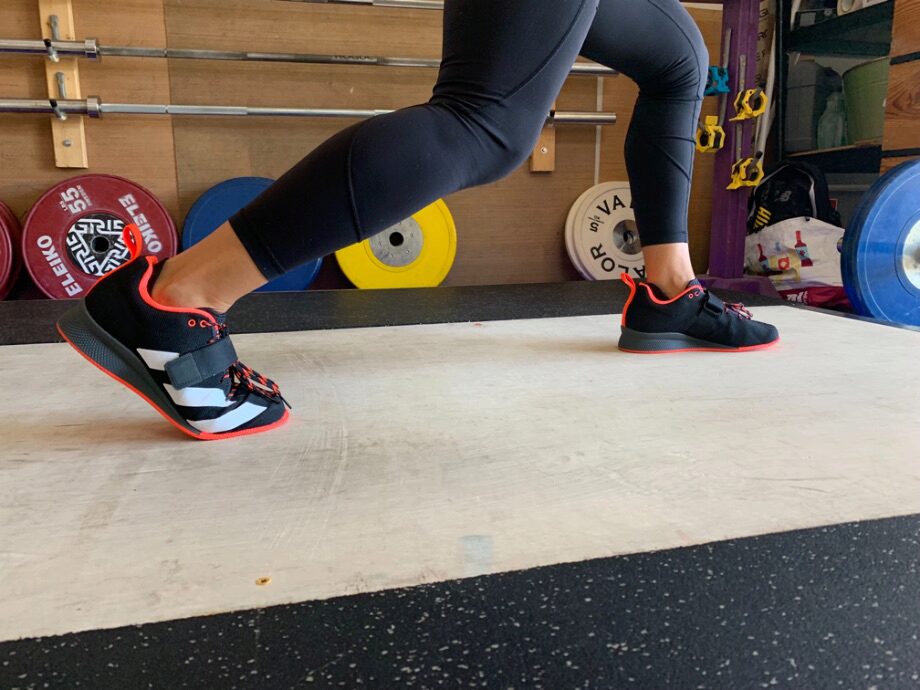 Coop's Tips:
Keep your training style in mind when deciding whether to order these shoes. These may not be the best pick for powerlifters or bodybuilders.
Shop around—Rogue's website offers more colorways than Adidas'.
Order based on your actual shoe size—don't try to go up or down a size.
My Favorite Things:
These are comfortable and stylish shoes
You can lift heavy amount of weight and feel secure in them
They have a full canvas outer to keep your feet cool
My Callouts:
A little too flexible and breathable for a true weightlifting shoe
Absolutely not meant for anyone with wide feet
There's better value for the same price
Are the Adidas Adipower 2 Worth It?
The Adidas Adipower 2s are $200, which isn't cheap. Whether or not it's worth it to part with that much money is going to depend on what it is you're looking for. If you're looking for a really comfortable weightlifting shoe, then look no further. These shoes are one of the most comfortable shoes I've put on my feet (and I've donned more than a few)
But for the same price, you can get a better shoe just for weightlifting and for that I'd recommend the Romaleos 4. If it's a straight-up training or CrossFit shoe you want, go for the Nano X1 or Metcon 7 – those will probably be a better fit for most.
Great for:
People with narrow feet
Anyone who does a lot of CrossFit training
Not recommended for:
People with wide feet
Anyone who has to do a lot of running or functional fitness training
Anyone looking for an ultra-supportive weightlifting shoe
Wearing the Adidas Adipower 2
The Adidas Adipower 2 are a comfortable pair of shoes, and are also one of the most flexible pairs I've ever reviewed. That flexibility, though, means it's not quite as rigid or supportive as other weightlifting shoes, like the Roms 4.
If you're looking for a shoe with breathability, this one definitely fits the bill, but they are hyper-breathable.
Lifting in the Adidas Adipower 2
The Adidas Adipower 2 has a flexible forefoot, which is great when you're doing Olympic lifts such as a heavy snatch or a clean. That makes sense since the original Adipowers were designed for the 2012 London Olympic Games.
The soles, though, don't give you the amount of feedback most people need in a weightlifting shoe for most other moves like deadlifts or bench presses.
At the end of the day, the type of training you do will influence how good these feel on your feet.
RELATED: Best Shoes for Deadlift
CrossFit and Cross-Training in the Adidas Adipower 2
I tested these out using CrossFit moves, and they felt great during that time. The 20mm heel-to-toe drop gives you ideal elevation for moving below parallel, and though it's not the most sturdy shoe, I never felt unsafe when holding a loaded barbell over my head. I'd recommend these for anyone looking to lift heavy in a CrossFit or metcon workout.
Cross-training shoes are a different story, and if you're looking for a pair of training/weightlifting shoes that you can run in regularly, these are not them. They make a much better weightlifting shoe than they do a training shoe.
Adidas Adipower 2 Construction and Materials
The Adidas Adipower 2 is made from Primegreen, a recycled fabric that contains no new plastic or polyester, and 50% of the upper mesh is made from recycled content as well. The material doesn't result in any substantial difference when it comes to performance or functionality, but it's nice to see companies take steps to reduce their carbon footprint.
There's a rubber outsole, which helps give it the stability and durability you'll need in a weightlifting shoe.
A woven textile upper and inner-lining helps give this weightlifting shoe that breathable feeling while the midsole and heel is made of TPU to help give you support while lifting the heaviest of weights.
A strap and lace combination helps give the shoes a locked-down feeling in the midfoot and rearfoot, which again is great if you're going to be doing heavy lifting. As a training shoe, it has above-average stability and just average as a weightlifting shoe.
When it comes to durability, these will last you a while if you only use them for weightlifting but they might wear away faster if you attempt to run or do any other type of cross-training in them.
Adidas Adipower 2 Colorways and Design
The Adidas Adipower 2 is one of the better-looking weightlifting shoes, especially compared to those that look bland like the Nike Romaleos 2s. That shouldn't be too surprising, though––Adidas makes sporty looking shoes because, well, they make sports shoes.
The classic three parallel stripes gives everyone that athletic look without having to train like Cristiano Ronaldo or James Harden. I chose the orange-and-black colorway, but really you're bound to find something you can pair with your gym outfit from the six colorway options available.
I also like the bespeckled look of the shoes because they remind me of the knurling found on barbells–which tracks since these are, after all, a weightlifting shoe.
Adidas Adipower 2 vs. the OG Adipower
This is a case where the original Adipower blows the Adidas Adipower 2 out of the water. While the revamped version is a little more breathable, the durability and stability is somewhat downgraded from the original. Don't get me wrong, I hate a sweaty foot as much as the next person, but I would've preferred a longer lasting shoe than one that's a little more breathable.
Additionally, the revamped version lacks the classic Adidas torsion system the originals had.
There's also a distinct aesthetic difference between the two, and if I didn't know any better I wouldn't be able to tell these were the same model at first glance.
Adidas Adipower 2 vs. Nike Romaleos 4
I once compared the original Adidas Adipower to the Nike Romaleos 2 because they were two of the best weightlifting shoes on the market at the time. Spoiler alert: there was little to nothing separating the two, and at the end of the day the choice comes down to personal preference.
That's still true at the end of the day, but if you were to ask me whether the Adidas Adipower 2 or the Nike Romaleos 4 are the better overall weightlifting shoe, I'd probably go with the latter. Like the Adipowerss, the Roms 4 aren't meant for running or other training purposes, but you're going to get more stability and durability out of them for the same price. And the Roms can help you with more than just Olympic or CrossFit training—they're great for powerlifting as well.
Adidas Adipower 2 Weightlifting Shoes Specs
| | |
| --- | --- |
| Price | $200 |
| Heel to Toe Drop | 20 mm |
| Size Range | 4.0-14.0 |
| Colorways | 4-6, depending on where you buy them from. |
Customer Experience: Ordering and Returns
You can purchase the Adidas Adipower 2 either through Adidas directly, or through Rogue Fitness, and there should be no problem ordering them through either. There's no substantial difference between the two, but you should know Adidas has a more forgiving return policy than Rogue. Regardless of where you order them from, you need to return them in their original box.
Customer Reviews
The Adidas Adipower 2 have a 4.7 out of 5 average rating on Adidas, and a 4.2 for comfort and 4.4 for quality. For the most part, reviewers love the shoes and praise it for making their lifts feel more comfortable. There are some complaints about the narrow toe box, but they're few and far in between.
Final Rating
Adidas Adipower 2
The Adidas Adipower 2 had a big legacy to live up to, and while they're a good fit for some purposes they fall short of being the next iteration of the best weightlifting shoe. If you're just looking for a CrossFit shoe, then this is it as it feels great for snatches and cleans. They'll feel great and secure on your feet and give you the peace of mind to throw heavy weight all over your home/garage gym without worrying about slipping and falling. But if you're looking to do much else, I'd recommend the Nike Romaleos 4 over these.
Product Brand: Adidas
Product Currency: USD
Product Price: 200
Product In-Stock: InStock
FAQs About the Adidas Adipower 2
Are the Adidas Adipower 2 better than the original?
No, the Adidas Adipower 2 are, in my opinion, not better than the original. While the original is one of the best weightlifting shoes out there, the redesigned ones fall somewhere in the middle of the pack.
Can you run in the Adidas Adipower 2?
Technically yes, but it's not recommended. Functional training tended to accelerate the wear and tear on the Adidas Adipower 2.
Are the Adidas Adipower 2 good for CrossFit?
Yes, the Adidas Adipower 2 are good for anyone who does CrossFit. I tried them out while performing CrossFit moves and they felt great and gave me the security I needed.
What is the heel height on the Adidas Adipower 2?
The heel height for the Adidas Adipower 2 is 20 mm.