We test and review fitness products based on an independent, multi-point methodology. If you use our links to purchase something, we may earn a commission. Read our disclosures.
It's no secret that I love a quality pair of sneakers. I even made an entire video on the best training shoes for 2023 with my friend Kate Meier, who is a certified CrossFit L1 trainer and CrossFit box owner. She is also a senior editor here at Garage Gym Reviews and did a deep dive into the Nike Free Metcon 4s for us.
In this Nike Free Metcon 4 review, I'll tell you the details on these cross training shoes including the price, warranty, durability, and what they're best used for. There are tons of sneakers out there and I want to help you find the best fit for your specific needs.
Why You Should Trust Us
Besides testing and trying some of the best CrossFit shoes on the market, I've worn tons of fan favorites including the Position Weightlifting Eastwood Shoes, Reebok JJ 2 Training Shoes, Reebok Nano, and Altra HIIT XT Training Shoes. I even wrote an article about how to figure out what kind of shoes you need to wear based on the training you do! I might be a little biased, but I think I'm a very trustworthy person to talk to you about different athletic shoes.
Nike Free Metcon 4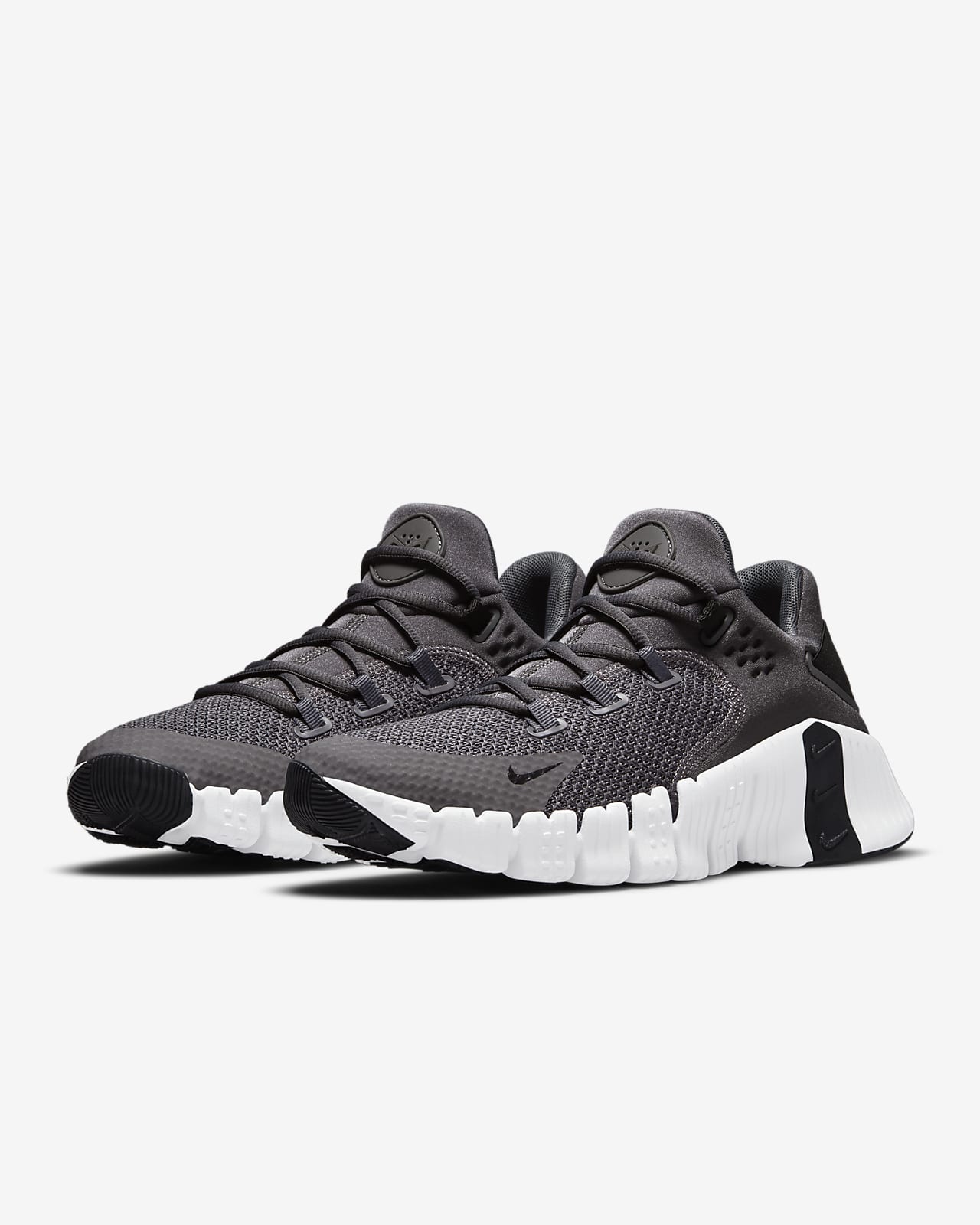 Nike Free Metcon 4
The Nike Free Metcon 4 combines flexibility with stability to help you get the most out of your training program.
Related: The Nike Free Metcon 4s made our Best Fitness Gifts list!
A Quick Look at the Nike Free Metcon 4
The majority of us are familiar with both the Nike Free and the Nike Metcon separately. In 2018, Nike decided to make a shoe that combined the stability and durability of the Metcon with Free technology to give great foot hug. Thus, the Nike Free Metcon was born. Throughout the various iterations (including in the Free Metcon 3), the overall support and breathability has improved resulting in the beauty we see in the Nike Free Metcon 4.
Coop's Tips:
These run narrow, so you may need to size up at least a half size from your usual in Nike sneakers
Make sure to write down the date that your shoes were manufactured because this information can wear off over time. You'll find it in the tongue or inside of your Nikes. This is helpful to have in case you want to make use of the 2 year warranty.
My Favorite Things:
Rubber tread has great grip
Amazing return policy from Nike
Variety of colorways to choose from
Unisex with good size range
My Callouts:
They run small and narrow
Can be difficult to get on and require some maneuvering
Less stable for CrossFit than the regular Metcons
Is the Nike Free Metcon 4 Worth It?
Great for:
People with a more narrow foot
Individuals looking for a well-priced cross training shoe
Running and jumping
Not recommended for:
People with a wider foot
Individuals who want a straight up weightlifting shoe
People who don't like tight shoes
Workout Experience with the Nike Free Metcon 4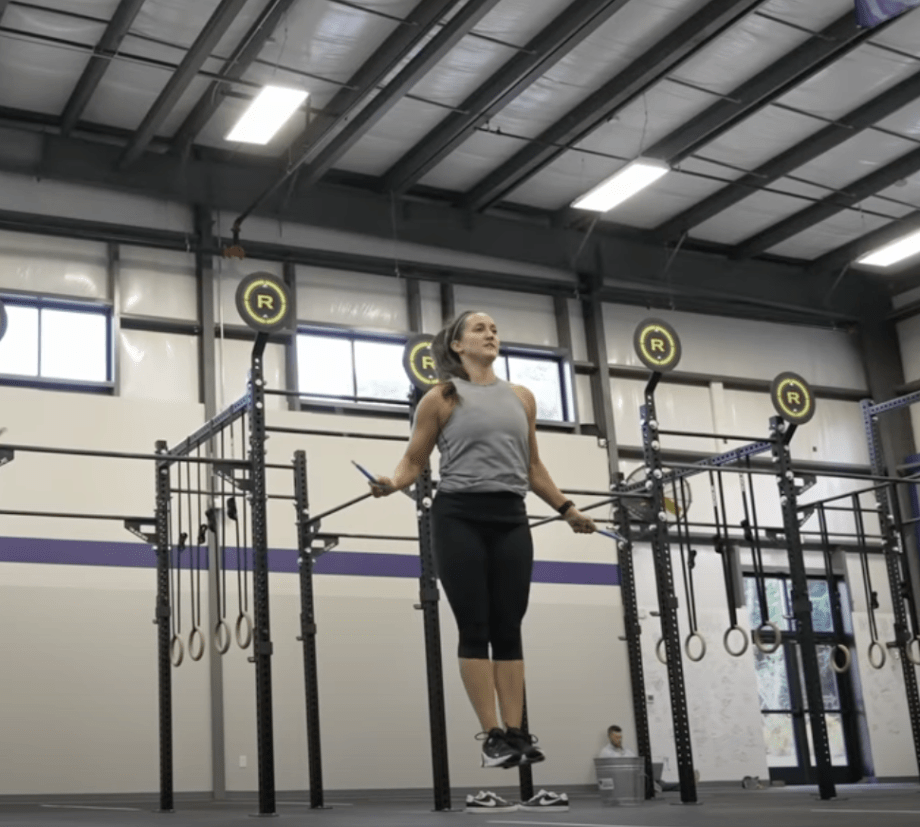 Kate did a thorough test of the Free Metcon 4 shoes. She ran, did a few HIIT workouts, performed barbell complexes, and did CrossFit. She wanted to know just how much of a cross training shoe these really are.
The conclusion she came to? She prefers these mostly for running due to the foot hug, but they can definitely be used for workouts that involve lifting weights. The wide heel is designed to provide stability during squats. I think they weren't a bad option for this type of exercise, but obviously aren't as good for straight up lifting as the traditional Metcons.
The rubber bottom is extremely grippy and good for jumping or doing quick cuts. It's a pet peeve of mine when my shoes slip around during my cardio and Kate didn't see any of that with the Free Metcon 4 shoes. I will say, these might not be the shoes for you if you have wide feet. They are quite compressive and best suited for narrow/average feet.
Kate typically wears a size 7, and found these slightly pinched her feet. However, a fellow CrossFit coach and friend of hers who also wears a size 7 but has a narrow foot tried on the exact same pair, and they fit her perfectly. So, there you go.
When you're not thinking about how your shoes feel during the workout, you know they're comfy. The cushioning and mesh upper with the Free Metcon 4s makes them an overall very comfortable pair of shoes to wear.
Although not quite as light as traditional running shoes, Kate still found them to be fairly lightweight with a flexible forefoot. This aspect is definitely reminiscent of the Nike Frees and helps with running and jumping movements.
RELATED: How to Choose Running Shoes
I like the chain-link breathable mesh on the shoes because it provides ventilation to keep feet cooler, which is especially useful if you sweat a lot during workouts (guilty as charged).
The shoes support your midfoot well due to the construction that doesn't make your foot feel squished all in one place. It evenly disperses the pressure so your foot feels properly supported.
I was impressed by the overall functionality of these shoes. Kate said she wasn't limited in the movements she could do, and thinks these are more user-friendly for a wider variety of people than the Metcon 5 or Metcon 6. The Metcons are awesome but are better suited for performing Olympic lifts versus any type of cardio.
Ordering the Nike Free Metcon 4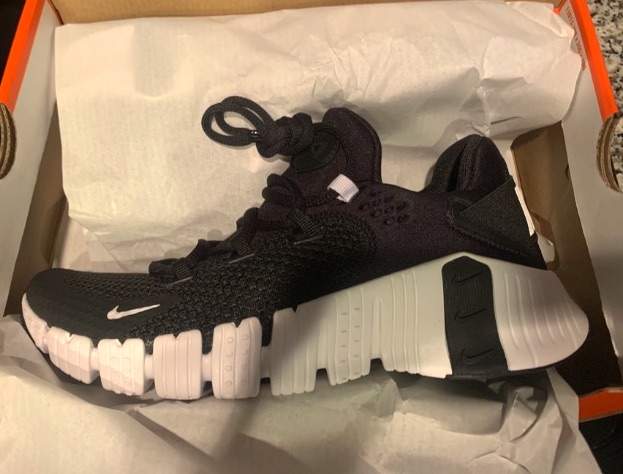 We ordered the Nike Free Metcon 4s from the Nike website. I love that these are a unisex shoe and Nike has provided the conversion between men's and women's sizes with a wide range of options to choose from. Sizes range from a men's 3.5-15 and a women's 5-16.5. You can also save with any Nike promo code you may find on their website.
If you sign up for a complimentary Nike account, you'll receive automatic free shipping. I would definitely recommend doing this because it only takes a few minutes and saves you some cash.
Aesthetics
There are 14 different colorways on the Nike website for the Free Metcon 4s:
Iron Grey/Grey Fog/White/Black
Game Royal/Black/White/Game Royal
Black/White/Solar Flare/Dark Cayenne
Black/Volt/Black
Black/Iron Grey/Volt/Black
College Navy/Black/White/College Navy
Vegas Gold/Black/White/Vegas Gold
University Blue/Black/White/University Blue
Chile Red/Magic Ember/White/Black
Team Crimson/Black/White/Team Crimson
Court Purple/Black/White/Court Purple
Team Orange/Black/White/Team Orange
White/Black
Gorge Green/Black/White/Gorge Green
I like that there are a variety of options to choose from because I don't enjoy all of my shoes being the same black or grey color.
I love how the white wavy bottoms almost make them look like moon shoes. Blast me off to space and call me Astronaut Coop I guess because I'm definitely a fan.
Nike added a Huarache-inspired strap to the back of the Free Metcon 4s to give it the feel of the Huarache of the early '90s. This is a cool touch and a nod to the history of Nike.
Nike Free Metcon 4 Specs
| | |
| --- | --- |
| Price | Under $150 |
| Heel to Toe Drop | 5 mm |
| Size Range | Mens 3.5-15 and Womens 5-16.5 |
| Colorways | 14+ |
| Tread | Rubber |
Customer Experience
Nike really seems to care about the customer experience which is evident by their generous warranty and return policy. You have 60 days from the time of purchase to try and return your shoes with no questions asked. This is a really awesome policy and makes me feel confident in purchasing more shoes from them in the future.
If it is after the 60-day mark, Nike will still accept your returns but they must be unused. To return an item purchased in-store, you have to return the item to the store it was purchased from. If you bought the shoes online or from the Nike app, you can contact Nike to get a return authorization.
If your Nike shoes have a flaw (that isn't from regular use) within two years of the manufacturing date, Nike allows you to swap them for a replacement. Of course, this is up to Nike's discretion to determine what is a flaw and what is from regular use. Still, this is stellar for shoes less than $150.
If you have questions, there are a variety of ways to reach Nike. You can call them at 1-800-344-6453 between the hours of 7 a.m.- 4 p.m. Pacific Time Monday through Friday. There is also an option to do a live chat seven days a week under the 'Help' section on the Nike website. Any time I have ever interacted with Nike customer service, they have been nothing short of helpful.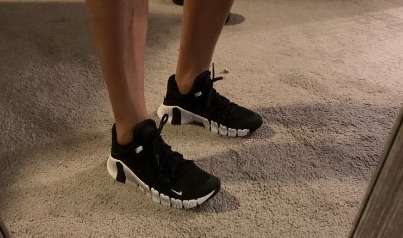 Customer Reviews
Overall, customers have positive things to say about the Nike Metcon 4s. There are remarks about how comfortable the shoes are, the available colorways, and their versatility in the gym on the Nike website.
A few customers mentioned they felt the shoe ran very small and others said they were not the best option for lifting super heavy weights.
Final Verdict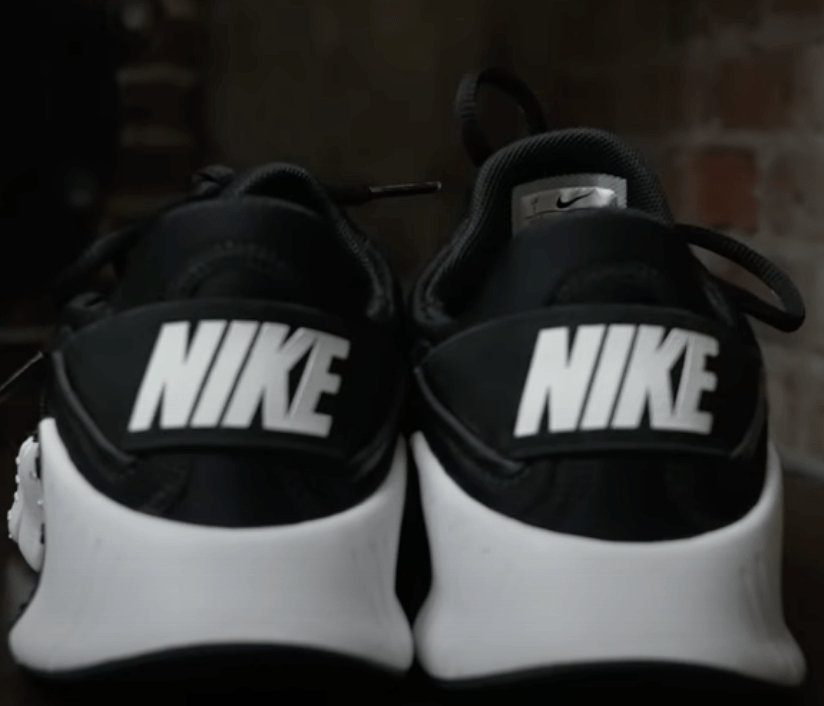 The Nike Free Metcon 4s are a solid cross training shoe that I would recommend for most people. Here are my key takeaways:
The Nike Free Metcon 4s offer great versatility for cardio movements and things like squats
You may want to consider sizing up due to the foot hug and these running small
A solid two-year warranty paired with a reasonable price makes these shoes a great value option
Full Rating
Nike Free Metcon 4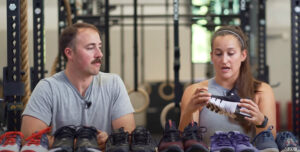 The Nike Free Metcon 4s are a solid cross training shoe that I would recommend for most people.
Product Brand: Nike
Product Currency: USD
Product Price: 120
Product In-Stock: InStock
Nike Free Metcon 4 FAQs
Here are some of the most commonly asked questions about the Nike Free Metcon 4s:
Are Nike Free Metcon 4s good for lifting?
Although not quite as good for lifting as the straight up Metcons, the Nike Free Metcon 4s are still a solid option. I found them to be well-suited for squatting due to the slightly wider heel.
Do Nike Free Metcon 4s run small?
In my opinion (and a lot of other customer's opinions) the Free Metcon 4s do run a half- to a full-size smaller than you're probably used to.
Are the Nike Free Metcon 4s unisex?
The Nike Free Metcon 4s are unisex and show both men's and women's sizing on the Nike website. There is an inclusive size range (between 3.5-15 in men's and 5-16.5 for women's).