2017 has seen no shortage of great training shoes released. In fact, this year has seen more shoes that are worthy of actually being used than any year in recent memory. Much of this is due to the increased popularity in purchasing dedicated training shoes, but it's still nice to see.
One of the biggest (and most welcome) surprises for the year was Altra, a company known for making zero-drop running shoes, releasing a shoe made for those in the functional fitness/CrossFit space.
Although the shoes were announced some time ago and I began seeing leaked images all over, they were only recently released for the public to purchase. Although I wasn't sure how they would perform, I was a fan of the way they looked pretty much immediately.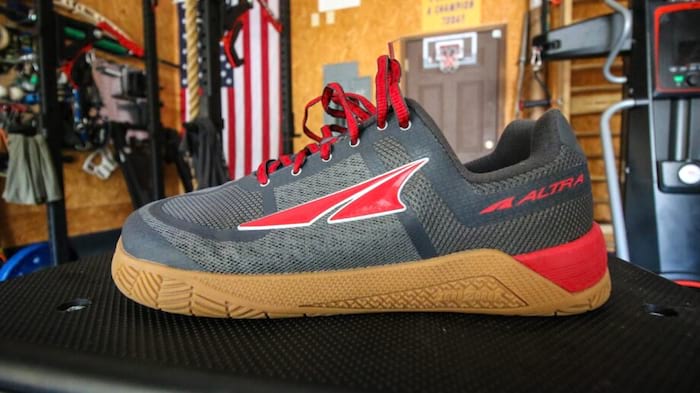 I'm a sucker for gum outsoles, and I like the way Altra paired the gum with the gray and red. Most of the images online made the red look pinkish. However, I can assure you that the parts that are red, truly are red.
One comment I've received through Instagram quite a few times is that the Altra's look like Nike Metcon's. I'd like to combat this by saying that although the outsole extends up the sides of the shoe in a similar way the Nike Metcon's do, nothing else about the shoe mirrors the Metcon's. The innovation that Nike introduced with the outsole extending up the side was a great idea that provides both stability and durability, and I'm glad that Altra ran with it.
Although I purchased the Grey/Gum/Red colorway, they also come in two other colorways for the men that also don't look half bad (Black/White and Gray/Lime.) Overall, I like what Altra did with the looks of the shoe and to be honest, even though it's good, the rest of the shoe's features are that much better.
As with all new training shoes, I like to break them in with as many different movements as possible. Thankfully, as has been my experience with all Altra's I've used, there wasn't much break-in time needed.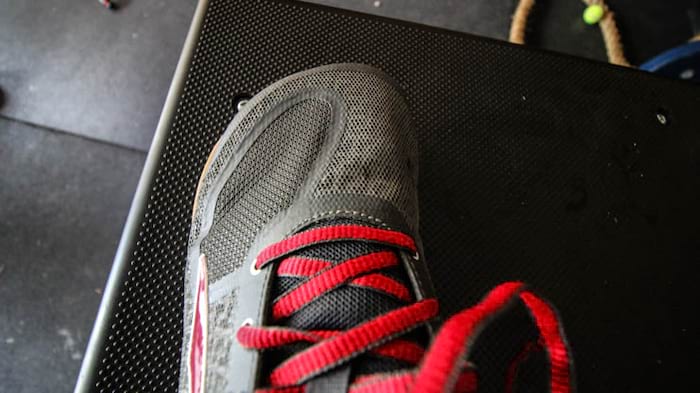 A big reason for this is due to the flexibility of the materials used. Too often companies will attempt to increase support in a shoe by making it stiffer, which then dramatically increases the break-in time. Altra, however, is not a company designing shoes with too much support. That said, a common misconception is that because Altra's have a zero-drop platform, they don't offer any support.
This couldn't be further from the truth. The 'Zero-Drop' platform improves natural foot positioning and prevents the heel cord from being shortened. As previously mentioned, most training shoes feature a 4mm heel drop, which although small, is still less than ideal, especially for mid-foot strikers.
The next feature of the HIIT XT's that Altra has borrowed from their best selling running shoes is the FootShape toe box that allows the toes to splay naturally.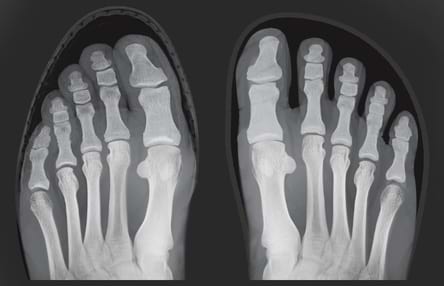 Most shoes, including many training shoes, although not as dramatically, come to a point. For some reason, this has become the standard shoe shape, and anything that looks different is viewed as 'weird' to our eyes. The problem is, your foot is not shaped in completely pointed manner and the main reason it can appear that way at times is due to the fact that you cram your feet in pointed shoes.
Take a look at your feet, and most of you will find your pinky toe hugging the toe next to it. This is not natural and is due to over use of shoes, and especially overuse of shoes with pointed toe boxes.
Altra's FootShape toe box allows the toes to splay and grip the footbed as they were designed to. This should increase stability in your lifts as well as help your running technique. Reebok has improved their toe boxes by making them wider, but they still have ways to go before competing with Altra in this area. Seriously, if you've never worn an Altra shoe with the FootShape toe box, you are in for a treat.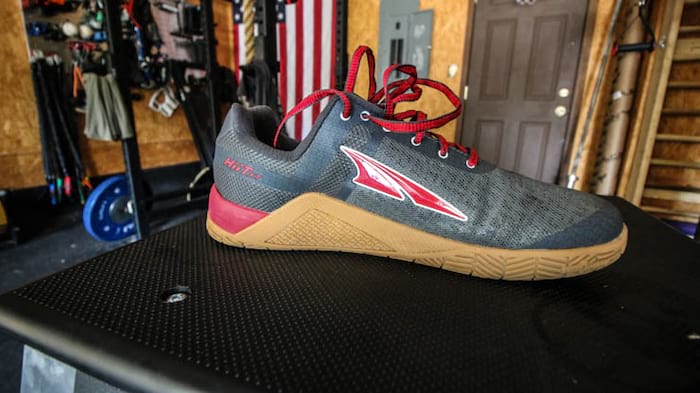 One feature previously mentioned was the outsole that goes up the side of the shoe. It goes up even higher on the instep which allows for both increased durability and extra grip on the rope. It also has the provided benefit of extra stability of the foot in the shoe, and I think it looks pretty good as well.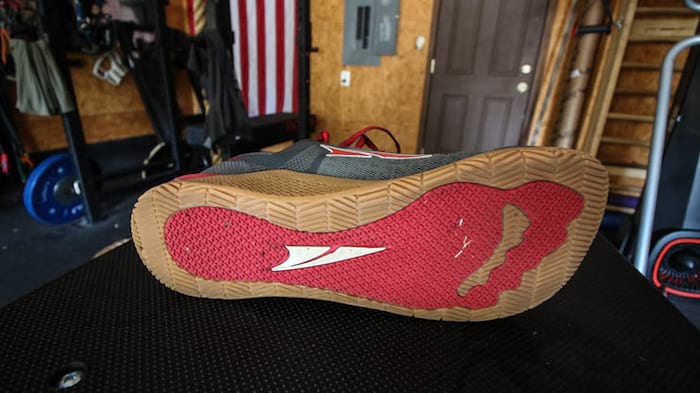 The outsole has the familiar foot logo on the bottom of the shoe that is grippy and should provide quite a bit of use before wearing down.
One part of the shoe that I was happy to see was the addition of extra material and padding around the ankles. Many training shoes attempt to be as light as possible, but in this attempt, they often forget that they must be comfortable as well.
The additional padding around the ankle will keep the sides of the shoe from digging into your ankles on any lateral movements and provide additional structure to the shoe.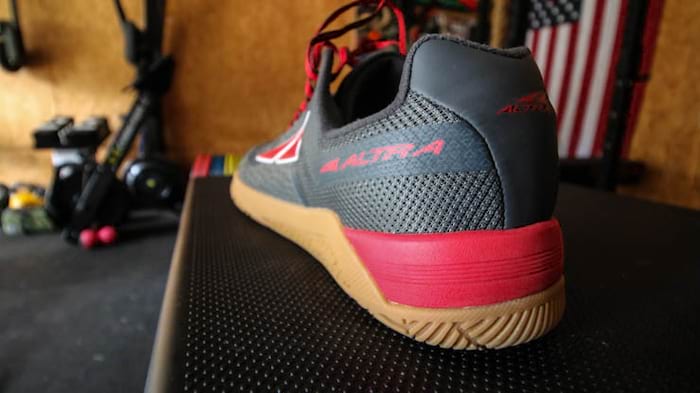 The upper is made of a durable mesh with a lighter mess in a non-impact area (near the pinky toe) that allows for increased breathability. I never experienced my feet getting overly hot while training in my ninety-five-degree garage gym, but they weren't as cool as the Reebok Nano 7 Weaves (and I don't know any other shoes that are.)
Rather than leave the upper a plain gray, they've added a pattern that isn't very noticeable unless looked at closely, but is overall a nice touch.
The next feature that impressed me about the Altra's is that they were designed to be used with or without the footbed. If you're someone who doesn't want much cushion, or if you're doing a workout with lots of lifting and not much running, you could take out the footbed and have more stability. It's a very good idea that I'm surprised more companies haven't used, but is thanks to the stitch 'n' turn stitching that keeps the stitches off of the footbed and creates a flat surface for your foot.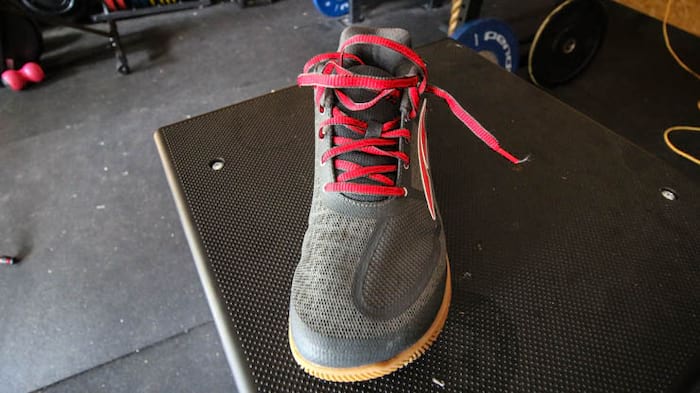 Finally, the tongue is stitched to the side of the shoe which keeps it from sliding all over the place. It seems Altra thought of everything.
Overall, the Altra HIIT XT Training shoes are one of the best training shoes available in 2017 and are at a price quite a bit lower than most of the top contenders.
If you're tired of your Nike's, Reeboks, or NoBulls, give the Altra's a shot, and I guarantee you will be won over. If that isn't a good enough endorsement (from someone who bought the shoes), then this should be: Out of all of my training shoes (I have pretty much everyone released within the past 5 years) I have begun using the Altra's as my daily training shoe.
They're that good.