We test and review fitness products based on an independent, multi-point methodology. If you use our links to purchase something, we may earn a commission. Read our disclosures.
I spent over 18 years of my life on a soccer field. Okay, I wasn't on the field for 18 continuous years, but if I wasn't at home, it was a safe bet that I was somewhere on a pitch. During those 18 years, I curated a variety of headbands––some kept salty sweat out of my eyes in the summer and others were meant for warmth (after all, I did play college soccer in the mountains).
So, it came as no surprise when I was asked to find the best running headbands on the market. Whether you're looking for something to hold back your baby hairs or just are tired of using bobby pins to get the job done, I have you covered with five different options you'll love.
(Head)bands Make Them Run
Runners have enough to worry about. Blisters, pacing yourself, and running form may race (hehe) through your mind during a tough workout. The last thing you need to be concerned about is your hair getting in the way. Luckily for you, our team of expert product testers and reviewers is here to help you find a solution. We personally wore dozens of running headbands in the quest to help you find the best options on the market. Oh, and our qualifications aren't too shabby either. We're certified personal trainers, former college athletes, and nutrition coaches. Finding great equipment and workout apparel is our sweet spot, and we can't wait to share our expertise with you.
5 Best Running Headbands
Best Running Headband for Cold Weather: Brooks Notch Thermal Headband
Good for: Cold climates and winter runs
Live in a cold climate but love to run? Check out the Brooks Notch Thermal Headband for an accessory that'll hold your hair back and keep your ears warm. GGR editor (and certified personal trainer) Nicole Davis lives in snowy Detroit, and was the ideal runner to test the Brooks headband.
"It's breathable and very comfy," Nicole explained. "The point is to keep your ears warm, and it definitely does. I was almost sweating!"
Nicole has shorter hair, and noticed that the wide headband kept flyaways at bay. The headband also has a slightly curved shape in order to cover the majority of the wearer's ears. Besides keeping you warm, the headband also provides sun protection with a UPF 50 rating. Talk about being multifaceted!
However, if you're going from a long run to a fancy dinner party, you probably won't want to select this headband (unless you don't mind flat ironing your hair in between outings). Nicole mentioned that after removing the headband, she noticed an indent near her hairline, likely from the tightness of the band. Not a huge deal, but still worth mentioning.
The Brooks Notch Thermal Headband is currently available in both navy, black, and a fluorescent yellow called Nightlife. Although Nicole liked the simplicity of the design and minimalist color, she did wish there were more colorways and patterns to choose from.
| | |
| --- | --- |
| Price | Around $24 |
| Material | Polyester and spandex |
| Colors offered | Navy, black, Nightlife, Ice Blue, Heather Magenta |
Best Running Headband for Men: Poshei Men's Headband
Good for: Keeping hair out of your face
Certified personal trainer and GGR writer Anthony O'Reilly tested the Poshei Men's Headbands from Amazon, and they received his stamp of approval.
"So I don't have much hair to begin with, but this headband stayed on, did its job of keeping sweat out of my eyes, and was comfortable," Anthony explained.
These affordable headbands come in packs of four, and are available in neutral colors like black, white, and gray (among others). Anthony was impressed with the adjustability of these headbands, and thinks they would fit most head sizes.
Besides being ideal for running, the Poshei Men's Headbands are also marketed as being usable under helmets. According to Anthony, the polyester material is thin and breathable, which would make it ideal for activities like biking, skiing, and snowboarding.
However, Anthony did note that this headband isn't the best choice for really long runs. Although this headband is sweat-wicking, it doesn't have unlimited absorption. If you're a person who sweats excessively (no shame in the game), this may not be the ideal companion for completing an especially strenuous workout.
| | |
| --- | --- |
| Price | Between $12-$15 |
| Material | Polyester |
| Colors offered | Black, gray, blue, green, olive, and white |
Best Wide Running Headband: Alo Yoga Airlift Headband
Good for: Someone who wants a headband that covers a lot of surface area
I'll say it: I have an exceptionally large head. This unfortunate fact has pushed me towards only purchasing wide headbands (the skinny ones just don't cut it). Luckily, the Alo Yoga Airlift Headband was equipped for the job (and my baby hairs).
This trendy headband is available in five colors, but I selected the "Tile Blue" shade. I'm particularly fond of this headband because it can be worn two different ways: With the Alo logo facing the front or with the notched side front and center.
Since the Alo Yoga Airlift Headband is so wide, it'll likely go over your ears. This makes it ideal for colder temperatures, but be warned: You may sweat if you wear the Airlift headband in warmer weather.
I'm used to headbands not wanting to stay put on my head and was initially concerned it would be the same story with this one. Not the case! I was able to go on a six-mile run without the headband flopping off of my large dome.
After a run, I usually throw my fabric headbands into the washing machine with my other dri-fit clothing, but you're not supposed to do this with the Airlift. According to the product page, you're supposed to hand wash the headband to preserve the integrity of the fabric. This is inconvenient, but not the end of the world.
| | |
| --- | --- |
| Price | $24 |
| Material | Airlift fabric |
| Colors offered | Tile Blue, Pink Sugar, Pink Fuchsia, California Sand, Rust |
Best Non-Slip Running Headband: Lululemon Women's Fly Away Tamer Headband
Good for: Someone who has trouble keeping headbands on their head
Thanks to the Luxtreme material and inner velvet band, the Lululemon Women's Fly Away Tamer Headband stays put on most heads (including GGR writer Lauren Strong's).
"It didn't fall down, even during a workout," Lauren said. "My hair is so fine that just walking around most headbands slide off. This one did not, so this was a big win!"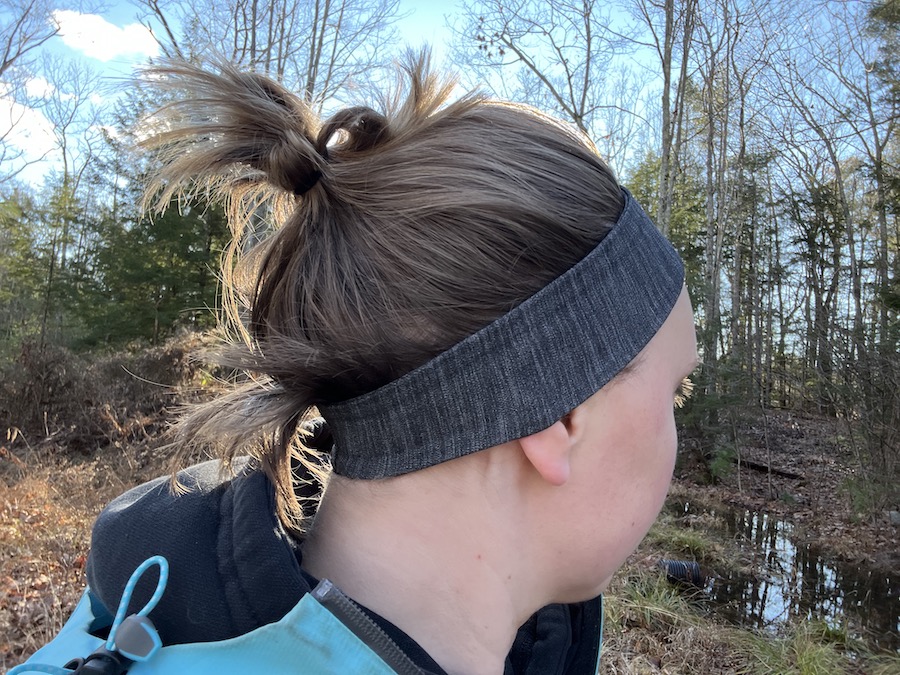 The medium width of the headband makes it the ideal in-between for those who aren't into particularly wide or skinny options.
Lauren went with the "Heathered Black" color, but was underwhelmed by the color selection.
"There are seven choices, but three of the options are all variations of black," Lauren explained.
Knowing how expansive Lululemon's prints and patterns are for leggings and shorts, I was surprised to see such a small selection of colors available for the headbands.
| | |
| --- | --- |
| Price | $12 |
| Material | Nylon and lycra elastane |
| Colors offered | Pink peony, dew pink, white, pastel blue, heritage 365 camo deep coal multi, heathered black, black |
Best Breathable Running Headband: Bondi Band Headband
Good for: Someone who wants an inexpensive headband with lots of color options
If you're looking for a breathable headband to beat the heat, the Bondi Band may be a good option for you. The synthetic construction wicks away sweat while helping the wearer's head feel cool and dry.
"The comfort is on point with the Bondi Band," Lauren said. "It's thin and just stretchy enough to be breathable but sweat-wicking."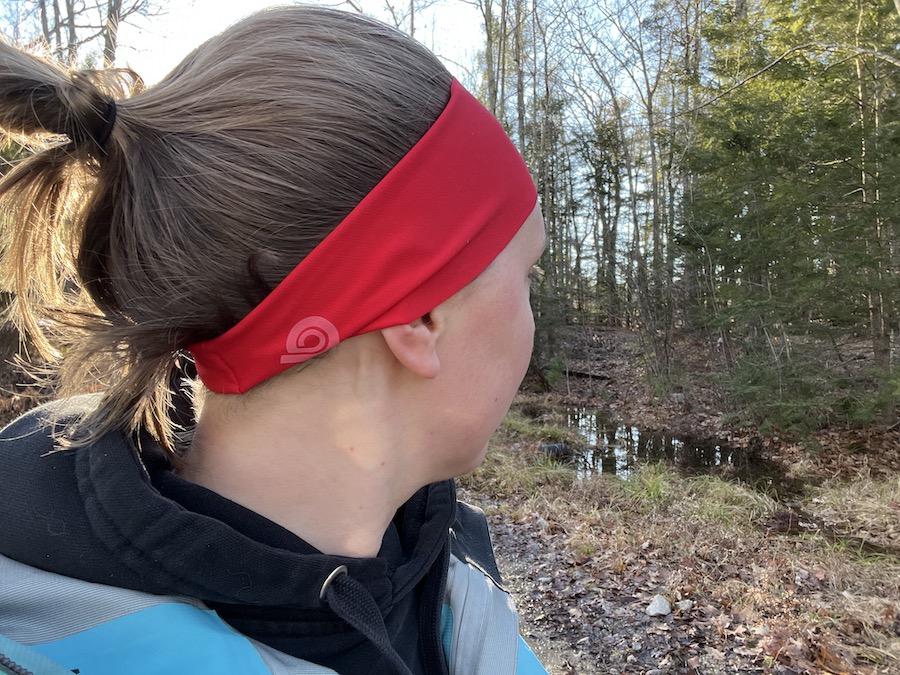 Lauren also mentioned that she thinks the Bondi Band would work for a variety of head shapes (both big and small) since the material is so stretchy.
Plus, for the price, you can stock up on multiple colors without breaking the bank. Lauren decided to pick up the bright red color, but says she may even go back and buy others.
However, Lauren did mention that the hem of the headband isn't finished, which she found a bit odd. Although it is an inexpensive product from Amazon, I'd also expect a little more craftsmanship.
| | |
| --- | --- |
| Price | Around $10 |
| Material | Synthetic |
| Colors offered | Aqua, army green, baby pink, bright neon green, bright neon orange, bright neon pink, burgundy, chocolate, forest green, gray, hot pink, hunter green, lavender, light blue, navy, neon coral, papaya, purple, red, royal blue, sand, sea green, teal, white, yellow |
Other Helpful Running Products
Need to complete the rest of your running repertoire? Never fear, GGR is here! We've found the best shoes, apparel, and equipment to keep you running like the champ you are:
How We Picked and Tested the Best Headbands
Price: How expensive is the headband? Is it a good deal or value for the price?
Brand: What brand is the headband? Is it a typical brand like Nike, Under Armour, or Adidas? Is it available for purchase on Amazon or does it need to be bought on the brand's website?
Color options: What color options are available? Is it a reversible headband with an additional color or pattern on the other side?
Materials: What is the headband made out of? Is it machine washable and easy to clean?
Comfort: Does the sweatband have a comfortable fit?
Sweat-wicking: How is the headband at drying sweat? Does it trap extra sweat and is it quick-drying?
Warmth: If the headband is for warmth, does it have an ear warmer? Is it a fleece headband or does it have a fleece lining?
Fit: Is the headband adjustable at all? Will the headband work with short and long hair? What type of hairstyles will work with the headband? Will it fit most head sizes?
In use: Does the headband stay on the head well? Does it have silicone on the inside to prevent slipping?
Benefits of Running Headbands
GGR writer and certified personal trainer Lauren Strong loves headbands, and she can't wait to share why:
"Although a headband seems like a negligible piece of apparel, when it comes to running no one really wants hair in their face," Lauren explains. "The last thing you want distracting you is your hair. Headbands can efficiently sweep back all your head hairs for outdoor running, sweat-dripping intervals, or casual jogging."
"I have gone through many different hair styles including pixie cuts, bob-length hairdos, and bangs," Lauren continued. "I can attest to the fact that a headband is a great option for anyone lacking the length to pull everything into one single ponytail."
Best Running Headbands FAQs
Are headbands good for running?
Yes, headbands can be good for running. I recommend choosing a headband that has some sort of silicone on the inside to help hold back any stray hairs. As with any running gear, whether it's leggings, running shoes, or a sports headband, you'll want to make sure it works for you specifically. What works best for you may not be the ideal choice for someone else.
Why do people wear headbands when running?
People frequently wear headbands when running to keep sweat and hair out of their eyes. They may also be wearing a headband because it is cold outside and it covers their ears for warmth.  
Can I wear a workout headband year-round?
Yes, you can wear a workout headband year-round, but you should choose your headband wisely. Some are sweat-wicking headbands, which are ideal for summer and warmer climates. Others are made with fleece, and meant to keep your ears and forehead warm.