We test and review fitness products based on an independent, multi-point methodology. If you use our links to purchase something, we may earn a commission. Read our disclosures.
I vividly remember being 14 years old, and a friend of mine carefully layering three sports bras on top of each other before a soccer game.
"What the heck are you doing, Sydney?" I, a small-chest-haver, asked with curiosity.
"Making sure I don't bounce during the game," She answered dutifully.
From a young age, people with breasts have to go through the tiring rigamarole of finding a supportive sports bra to participate in sports, particularly those that involve running. Looking for one that won't cause too much bounce, doesn't make you chafe, and actually fits correctly is way more complicated than it should be.
Luckily, I've finally found the best sports bra for running (so we can all stop wasting our time on bad ones). Whether you want a budget-friendly option or need something supportive, I have you covered with six sports bras you'll likely enjoy.
Teaming Up for Tatas
Although not everyone on the GGR squad needs a sports bra, those who do attacked the challenge to find the best option with fervor. Plus, it's safe to say our dedicated product testers and reviewers have a lot of experience running in both good and bad sports bras.
We're certified personal trainers, marathon runners, and former college soccer players. We know what works and what doesn't when it comes to finding the right fit, no matter what type of movement you're doing.
RELATED: Marathon Record Time
6 Best Sports Bras for Running
Best Overall Sports Bra for Running: Brooks Dare Crossback Run Bra
Good for: Someone who doesn't want any seams digging into them during a run
Pros:
Smooth under clothing
Seamless
Crossback design
Reasonably priced
Multiple color options
Fits true-to-size
Built-in molded cups
90-day trial to return
Cons:
Straps are slightly short
Tag is itchy
Supposed to be hand washed
Certified personal trainer and GGR editor Nicole Davis tried out the Brooks Running Dare Crossback Run Bra and had glowing things to say about it.
"Locked and loaded," Nicole exclaimed. "I ran and jumped rope in this and felt super supported. Also comfortable enough for lifting. Would be great for any high-impact workouts!"
This reasonably priced sports bra can be purchased on the Brooks website or on Amazon and is available in a variety of sizes.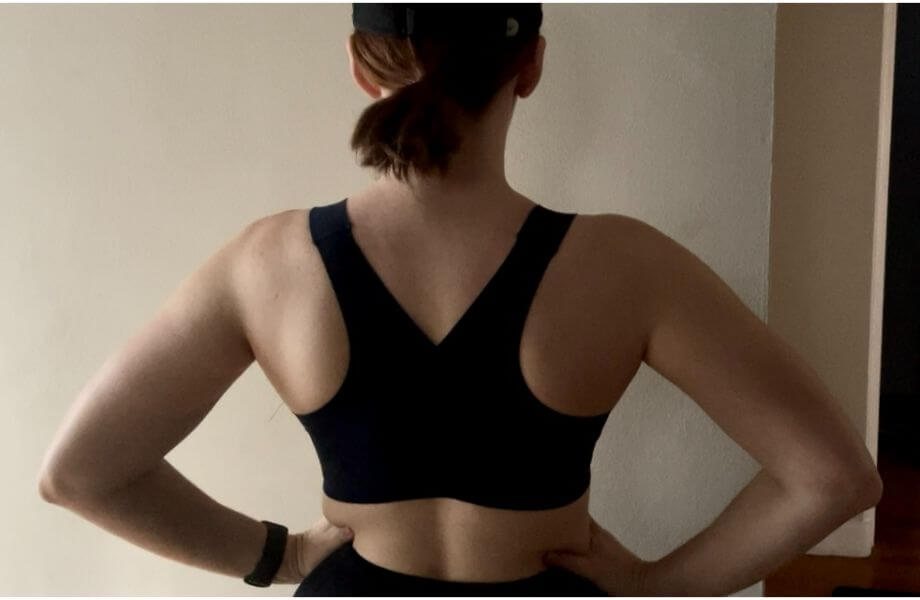 As a C cup, Nicole was initially worried about the sizing. She explained that each of the bras have two cup sizes (for example, 34 CD), and wondered if it would fit properly. Luckily, she was pleasantly surprised at the sports bra's true-to-size fit.
If you're looking for a soft, seamless sports bra, this is a great choice for you. Nicole emphasized that the bra felt good on her skin and looked smooth underneath her shirt.
Her only real complaints were about the itchy interior tag (which she cut off and the problem was solved) and the slightly-short straps. If you are on the shorter side or have a short torso, this is a good option for you. However, if you're a taller person, this sports bra might ride up on you since the straps cannot be adjusted.
| | |
| --- | --- |
| Price | $20-$60 |
| Size range | 30 AB-40 DE |
| Color options | Saffron, Magenta, Black, Navy, Beet, Fluoro Pink, Ash, Sea, Glacier, Nightlife, Orchid haze |
Best Supportive Sports Bra for Running: Lululemon Run Times Bra
Good for: Sprints and high-intensity runs
Pros:
Adjustable straps
Lightly padded
Gives extra support
Fabric wicks sweat well
High-impact sports bra
Inclusive size range
Quick delivery
Fits true-to-size
Hook-and-eye closure
Cons:
Limited colors offered
Expensive at around $70
Shouldn't be put in the dryer
Did I wear this while doing a marathon relay? Yes, yes I did. Did I feel supported and held the entire time? Yes, but I was slightly more concerned about a surprise IBS flareup during the race. Anyway, the Lululemon Run Times sports bra is a real champ and made it through the competition with ease (unlike myself).
Although it doesn't specifically have underwire, the band is a little more rigid than usual to properly support your breasts. It's an encapsulation sports bra that comes in traditional cup sizes from B-G. We love an inclusive size range, and Lululemon is starting to deliver.
The Run Times sports bra has a v-shaped vent of sorts to allow for better airflow during a run. I felt comfortable wearing just this with shorts, as the neckline does come up a bit higher. I also enjoyed the breathable and sweat-wicking fabric that kept me as dry as possible.
It is worth noting that this isn't a cheap purchase. At around $70, it is definitely a high-end sports bra. You should also know that you shouldn't put this in the dryer (like all other Lululemon stuff) if you want it to stay the same size and keep its shape.
| | |
| --- | --- |
| Price | Around $70 |
| Size range | 32 B-42 G |
| Color options | Gull Gray, Pomegranate, Roasted Brown, Black, Dark Olive, Oceanic, Pink Peony |
Best Sports Bra for Running for Small Breasts: Nike FE/NOM Flyknit
Good for: People with an A or B cup
Pros:
Compression bra
Unique pattern
Pullover style
Can be machine washed and dried
Extended 60-day return policy
Very supportive
Doesn't have annoying, removable pads
Essentially seamless
Made with flyknit material
Keeps breast movement to a minimum
Cons:
No adjustments can be made to the straps
Expensive
Size range isn't inclusive
As a Nike Flyknit fiend (I know GGR's Head of Content Kate Meier feels the same), I was overjoyed to find out that the brand has also made a sports bra using the same material. If you prefer a more compressive fit for your sports bra, you'll likely enjoy the Nike FE/NOM Flyknit.
This non-padded sports bra snuggly cups your breasts in a compressive but non-suffocating way. I didn't feel like I was wearing a mini straight jacket where I couldn't move, but it definitely holds you in with some level of authority. Although I think someone with larger breasts may enjoy this, I also think it is a great option for those with smaller chests (like me).
I like bras that make me forget I'm wearing them, and this has that effect on me. I was able to complete a long run with the FE/NOM sports bra on and didn't have any issues with chafing or weird rubbing. This sports bra also fits seamlessly underneath a tee for an easy option you don't have to think too hard about.
However, I do have a few critiques (if the Nike design people are reading, hi, big fan). Mainly, I wish the straps were adjustable. As someone with a lengthy upper body, I found that the straps are a little short on me, which makes the sports bra sit high on my chest.
It's also worth noting that the size range is only XS through XL, which doesn't feel very inclusive to me. Nike can definitely do better on this aspect––I know you can make the same sports bra in larger sizes, you silly goose.
| | |
| --- | --- |
| Price | $80 |
| Size range | XS-XL |
| Color options | Pink Quartz/Echo Pink, Copa/White, Bronze Eclipse/Black, Black/Grey/White |
Best Budget Sports Bra for Running: FITTIN Racerback Sports Bra
Good for: Someone who doesn't want to spend a lot of money for a good sports bra
Pros:
Around $20 per sports bra
Available in packs of three
Sizing goes up to a 3XL
Lifts breasts
Comfy and easy to put on
Accentuates curves
Quick shipping through Amazon
Can be machine washed
Cons:
Has inserts which can be annoying to mess with
Fabric is ordinary
If you're not interested in spending $80 for a sports bra (I don't blame you), the FITTIN Racerback Sports Bra may be a good option for you. GGR's Head of Content Kate Meier tested this $15 sports bra out and was a fan.
"Really love the color I got (bright blue), but there are more options," Kate explained. "It has seams on the side of your boobs, which accentuate curves."
The real perk of getting an inexpensive sports bra like this one? Knowing you can throw this one in the washing machine without it getting messed up (Lululemon could never). Although Kate feels like the fabric is just okay, she does admit it feels stretchy and comfortable on her body.
If you're not a fan of inserts, Kate feels your pain. She didn't love the inserts that come in the FITTIN––she found them frustrating to mess with.
"I'm not someone who loves the padding in bras, and this has those inserts, and it makes your boobs LOOK big," Kate said. "However, it does give enough support to them during running, so I can't complain about that."
RELATED: Post-Run Stretches
| | |
| --- | --- |
| Price | $14.99+ |
| Size range | S-3XL |
| Color options | Black, Gray, Blue, Silver, White, Purple |
Best Sweat-Wicking Sports Bra for Running: Athleta Ultimate Bra
Good for: Someone who sweats quite a bit during a run
Pros:
Wicks sweat
Made with recycled nylon/lycra
Tester reported she didn't experience any chafing or rubbing
Can be washed and dried as usual
Also available in D cups-DD cups
Feels supportive and held-in
Soft material
Reasonably priced and unique colors are frequently offered on sale
Cons:
Fits on the smaller side
Return process can be frustrating
Band is slightly tight
If you get wildly sweaty during a run, you might want to consider purchasing a sweat-wicking sports bra like the Athleta Ultimate Bra. GGR editor Amanda Capritto tested this option in black and loved the recycled nylon/lycra material.
"You can't go wrong with a black sports bra, in my opinion," Amanda shares. "The fabric is sleek and shiny and the open back with the mid-width band looks nice."
Athleta is known for their inclusive size range, and the Ultimate Bra is no different. Although the bras are labeled XXS-XL in cup sizes A-D, Athleta also offers this bra in ranges D-DD.
Amanda did note that this sports bra runs one size small––at least in her experience. She ordered the Ultimate Bra in her usual size small, but needed to return it for a medium. Amanda mentioned that the process was frustrating, sharing that she had to completely return the first bra and then purchase the second in a different transaction.
| | |
| --- | --- |
| Price | $49 |
| Size range | XXS-XL |
| Color options | Dress Blue, Grey Heather, White, Black, Coral Petal, Calypso Mint, Radiant Sunrise |
Best Sports Bra for Running for Large Breasts: SHEFIT Ultimate Sports Bra
Good for: People with breasts that are a C cup or larger
Pros:
Very inclusive size range
Nursing-friendly
Velcro-adjustable shoulder straps
Heavy-duty front zipper
Secures each breast in place
Hook-and-eye fasteners underneath the zipper for additional support
Tester reports no chafing during wear
Nice color selection
Cons:
Slightly large in the band
Fabric is quite thick
Expensive
For tester and GGR writer Lauren Strong, the SHEFIT Ultimate Sports Bra is a home run––especially for those who have larger breasts. This sports bra has the most inclusive size range, with options from XS to 6XL. Plus, there are a variety of fun colors available including my personal favorite, Blue Tie Dye.
The SHEFIT Ultimate Sports Bra is an encapsulation sports bra and Lauren could definitely tell.
"It really locks each boob into place and is great for running and/or high-impact activities," Lauren explained. "I bought a size Luxe, which is their size large. It was a good fit for my actual boobs but a little big in the band."
Lauren also noted that the high-quality hook-and-eye fasteners underneath the front zipper adds an extra layer of support. I personally have never seen another sports bra with this many mechanisms of support, so I'm definitely impressed. Plus, for all you new parents, listen up: Lauren felt that the front zip opening may make this a good sports bra for nursing people since it is easy to take off.
It is worth noting that this sports bra is pretty expensive, but you may be able to purchase it for slightly cheaper on Amazon rather than the brand's website.
| | |
| --- | --- |
| Price | $45-$75 |
| Size range | XS-6XL |
| Color options | Black, blue sapphire, teal, wine, rose taupe, victorious, starlight blue, sandstorm, midnight blue tie dye |
Other Sports Bras We Tried (But Didn't Love)
Sweaty Betty Ultra Running Bra: I tried this sports bra and was quite honestly, disappointed. The Sweaty Betty Ultra Running Bra is an encapsulation-based sports bra and comes in traditional bra sizes. I selected my usual 34 C and was disappointed to note that the band continuously rolled down throughout my run.
Lululemon AirSupport Bra: GGR editor Nicole Davis tested this sports bra and wasn't impressed. She explained that the bra sat high on her chest and felt quite stiff. Plus, for the almost $75 price tag, Nicole didn't feel that the sports bra was worth the money.
Outdoor Voices Circuit Bra: Tester (and GGR writer) Lauren Strong felt neutral about this sports bra. She stated that the hook-and-eye closure was a bit of a pain to use and the bra only offers medium support.
How We Picked and Tested
When testing these sports bras, our team evaluated each using the following questions:
Fit: How does this sports bra fit in my typical size? Does it run small, large, or true to size? Does it squeeze anything uncomfortably? Do I feel supported while wearing this? Do the straps lay flat?
Fabric: Does the fabric feel moisture-wicking? Does it wash and dry well? Is the fabric comfortable or itchy? What is the sports bra made of? Does the fabric feel breathable? Are there any mesh panels? Is it quick-drying?
Workout performance: Did the sports bra get in the way of any activities? Did it curb the bounce? How did it feel during a long-distance run, HIIT, or a shorter sprint session?
Style: Is the sports bra a racer back or more strappy? What does the neckline look like? Is it an underwired sports bra? Does it have removable cups or wide straps? Would this be considered a full-coverage sports bra?
Adjustability: Can the straps be adjusted?
Closure: Does this sports bra have a traditional hook-and-eye closure or does it go over the head? Does it have a zip front?
Price: How expensive is the price? Is it worth the money?
Sizing: Is the sizing small, medium, or large? Is the sizing based on cup and band sizes? How does this affect the way the sports bra is sized? Are there inclusive size options?
Color options: How many color options are there?
Benefits of a Good Sports Bra for Running
Want to know the benefits of a good sports bra from a certified personal trainer? Lauren Strong, CPT (and GGR writer) is ready to give you the 4-1-1:
"When it comes to running (and the repetitive impact and bouncing that goes along with it), I think it's so important to have good support for your breasts for your own comfort," Lauren explains. "If a sports bra doesn't have enough compression or support, the impact of running can make your chest feel tender and sore because there is fairly sensitive breast tissue and ligaments that sit on top of the chest wall and pectoral muscles."
"As a side note: We're all so different and have unique challenges to face to find the right amount of support," Lauren adds. "I do a hundred times more lat pull downs than the miles I log running. That said, when I shop for sports bras it's particularly important that not only do my breasts fit in the bra (and feel supported), but my lats aren't getting squeezed in half either. Oftentimes it's a compromise, and I have to pick one or the other."
Buying Guide: What to Look for in Sports Bras for Running
Everyone (rightfully so) has different preferences when it comes to sports bras. After all, we're all various sizes with a variety of body types. Keeping this in mind, here are the top three things to look for when shopping for the right sports bra:
Material
Before pulling the trigger on a new sports bra, make sure the fabric is comfortable and sweat-wicking. Cotton may be nice to wear while lounging around, but it certainly isn't the ideal pick for a long run. You'll also want to make sure the fabric you chose feels good on your skin and isn't causing any unnecessary skin irritation.
Fit
Nothing is more important during a run than having a well-fitting sports bra. Make sure your lats aren't feeling squished, your breasts feel supported, and there isn't any unnecessary gapping. It's a fine line between being held in and being squished, so I always recommend trying a few different sizes on (as sizing can vary from brand to brand).
Closure
Do you prefer to put your sports bra on over your head or fasten it with a traditional hook-and-eye closure? Although I personally prefer pulling my sports bra over my head, this may not be the best choice for you for a variety of reasons. Figure out what works for you and stick with it.
Sports Bra for Running FAQs
Which type of sports bra is best for running?
What is an encapsulation bra?
Encapsulation usually means a higher level of support and separation for each breast—say goodbye to the monoboob! Encapsulation sports bras are generally best for high-impact activities or for those with larger breasts. You'll be able to tell if a sports bra is encapsulated based on having underwire, separate cups, or a front zipper.
How do I figure out what my ideal bra size is?
Just as you'd try on lots of running shoes and leggings before purchasing, trying on bras is a great way to determine your size in a specific brand. You can always get fitted by a professional at a store like Victoria's Secret, but do keep in mind that it will likely be based on the specific store's sizing. 
If you want to measure yourself at home, I love this helpful video from Cacique to help you figure out your perfect fit.