We test and review fitness products based on an independent, multi-point methodology. If you use our links to purchase something, we may earn a commission. Read our disclosures.
First, they gave us yoga pants. Then, they gave us some of the best workout tops I have ever worn and luxury accessories I didn't need but you know I bought anyway.
And now, Lululemon, niche apparel giant and athleisure specialist, has made its foray into footwear.
In March 2023, Lululemon released the Blissfeel Running Shoe, with the Chargefeel Low Workout Shoe, the Chargefeel Mid Workout Shoe, and the Restfeel Slide to follow in summer 2023. The Strongfeel Training Shoe followed in fall 2023.
Our Lululemon Blissfeel running shoe review details our first impressions and expectations, as well as an in-depth assessment of how they perform after months of testing.
Why You Should Trust Us
We practice what we preach. At Garage Gym Reviews, we have run, jumped, squatted, and did some good ol' everyday living in more cross-training shoes than we can count. Our team does not recommend a shoe unless we have tried it ourselves.
Personally, I have run several half marathons and countless 10Ks and 5Ks. My feet have logged thousands of miles in dozens of running shoes.
I've been testing the Blissfeels for several months now, and I'm ready to give you my honest opinion on how these newly released running shoes compare to other trusted brands.
Lululemon blissful running shoe
lululemon blissfeel running shoe
Launched in March 2023, the lululemon blissfeel running shoe was designed with women in mind. In fact, the brand tested the shoe on more than 1 million women!The blissfeel is a neutral running shoe with a foam midsole and mesh upper. At $148, this is definitely on the high-end side for a running shoe, but we wouldn't expect much different from a brand known for its high-quality apparel.With 10 colorways to choose from, the blissfeel offers plenty of options.
A Quick Look at the Lululemon Blissfeel Running Shoe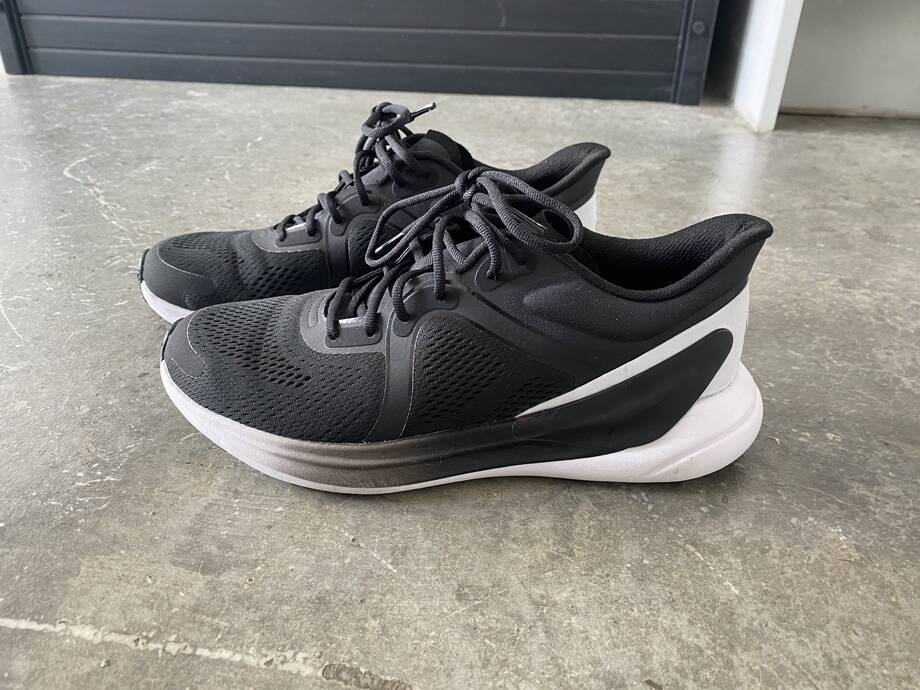 In designing the Blissfeel, Lululemon claims to have had more than a million women test the shoe, including elite female runners. Typically, women have different biomechanics in foot structure as well as center of gravity. This can have direct effects on running gait.
The brand doubled down on the intent behind creating a women's-only shoe: In a press release, Chief Product Officer Sun Choe said, "We intentionally started with women first because we saw an opportunity to solve for the fact that, more often than not, performance shoes are designed for men and then adapted for women."
(By the way, Lululemon said a men's footwear collection is coming in 2023.)
The price point of $148 is not even a little surprising. If you look at high-end training shoes like NOBULL trainers or quality running shoes like Brooks, $150 is par for the course. Does that mean I think these are affordable and practical? Of course not. But, you get what you pay for, and Lululemon is known for making high-quality, higher-priced apparel.
My Favorite Things:
Designed exclusively with women's needs in mind
10 colorways
Neutral running shoe
Weighs 8.9 ounces
9.5 mm offset (heel-to-toe drop)
Soft cushioning
Great aesthetics
Good for long walks and wearing around town
My Callouts:
Pricey at around $150
Sizes 5 to 11 may not accommodate all shoe-wearers
Runs a little small
Hard to pull on without untying the laces
Tongue slips to the side, leaving socks exposed
Outsole doesn't have the best traction
Are the Lululemon Blissfeel Running Shoes Worth It?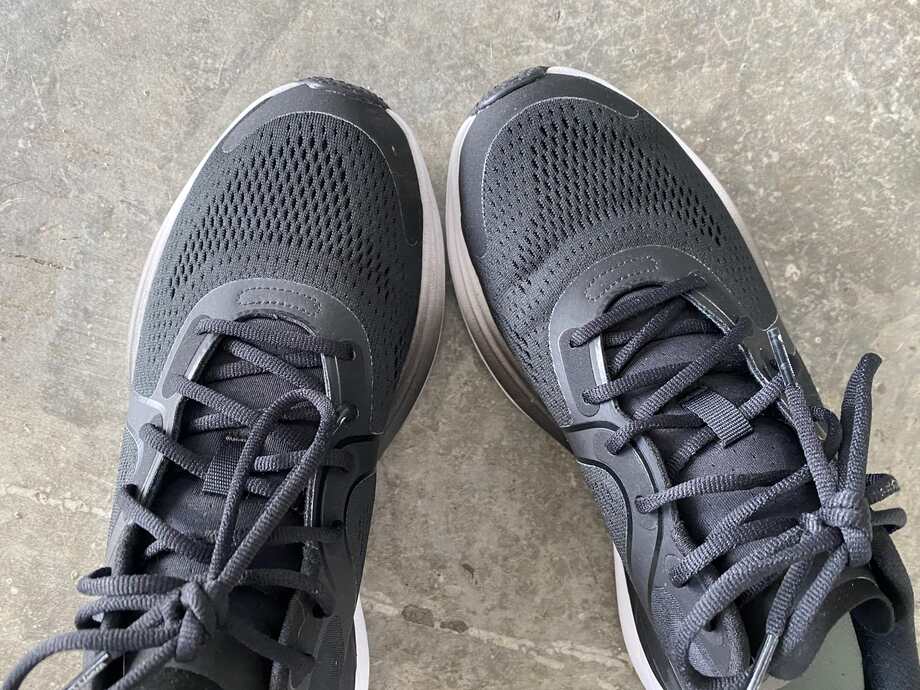 To be frank, I think you can get better running shoes from a different brand—be it ASICS, Nike, Adidas, Brooks, or another—for the same price. That said, there are some runners and walkers who are a good fit for the Blissfeels. Let's take a look at who should consider and who should pass:
Great for:
Casual runners
Long-distance walkers
People who want a neutral shoe
Not Recommended For:
Trail runners
Long-distance runners
People who need a lot of arch support
Lululemon Blissfeel Running Shoe Specs
| | |
| --- | --- |
| Price | $148 |
| Heel-to-Toe Drop | 9.5 mm |
| Colorways | 10 |
| Weight | 8.9 oz |
| Upper | Mesh |
| Midsole | Proprietary foam |
Wearing the Blissfeels: Shoe Construction and Performance 
First, the Blissfeel is designed to be a low-profile, neutral shoe, which means it is meant for people who do not need additional support for things like pronation. If you have a "correct" or "neutral" running form, then these shoes could be a good fit for you.
Lululemon advises that if you have a wide foot, you should consider ordering a half a size bigger than what you would normally wear—I recommend listening to this advice because I ordered my usual size and I feel that they run slightly small.
Upper And Midsole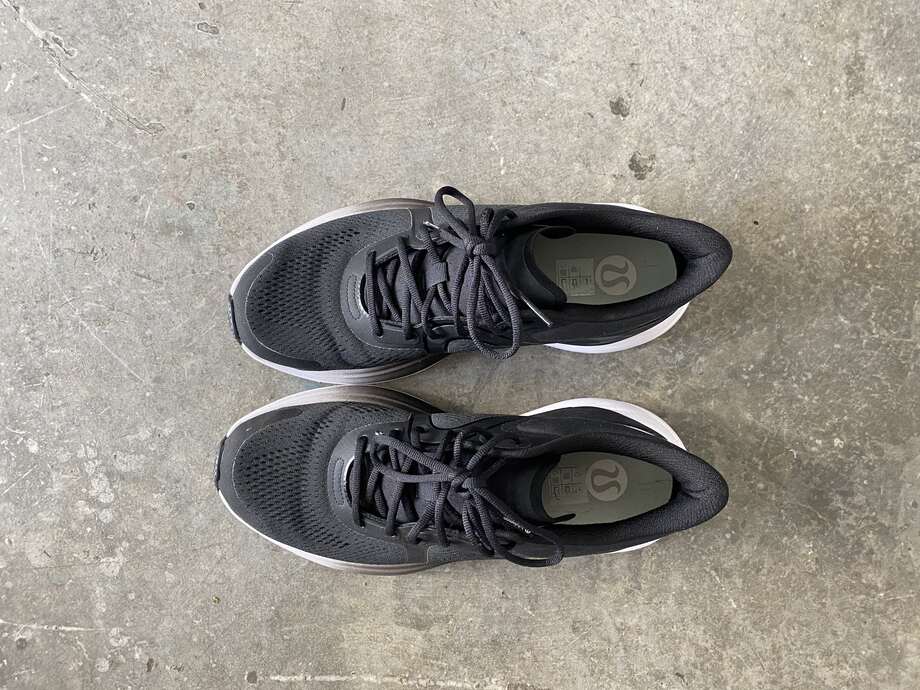 The upper features a breathable mesh. The supportive midsole offers plenty of cushioning and responsiveness, ideal for runners who hit the pavement often. Also, Lululemon promises significant "bounce" to help propel you as you move, as well as provide a "softer" landing.
Honestly, I found the midsole on these to be a bit too squishy. Compared to my Brooks (I wear the Ghosts and Adrenaline GTS), the Blissfeels have slightly too much give, and I feel like I'm sinking a little bit with each footstrike.
The upper isn't promising in terms of durability or weather-proofness. I live in the south, where it rains quite often, and I find myself choosing other shoes over these so I don't wind up with wet toes.
Notably, the tongue of the shoe is very soft and flexible, which is good for comfort. However, I experienced some substantial slippage to the point where my socks were showing underneath the laces.
Heel Cup
The heel cup and heel counter on these shoes are very soft. I like to slip my running shoes on without untying and tying the laces, and due to the softness of the heel area on the Blissfeel shoes, I can't do that. This may be a silly annoyance to some runners, but for me, not being able to slip my shoes on is really frustrating.
If you try, the heel cup will smush down and you'll have to dig it back up with your finger, which is never fun.
Toe Box
The toe box is fairly average for a shoe designed specifically for running. I am a huge fan of Brooks running shoes, and my Brooks Ghosts are definitely wider than the Blissfeels. If you have wider feet or are used to wider shoes for running, I recommend sizing up by half a size.
The toe box also features minimal reinforcement; I would like to see better reinforcement on a new iteration of the shoe. I don't see these holding up as long as my Brooks, especially seeing as I run in wet weather and on mild trails with varying terrain.
Crash Pad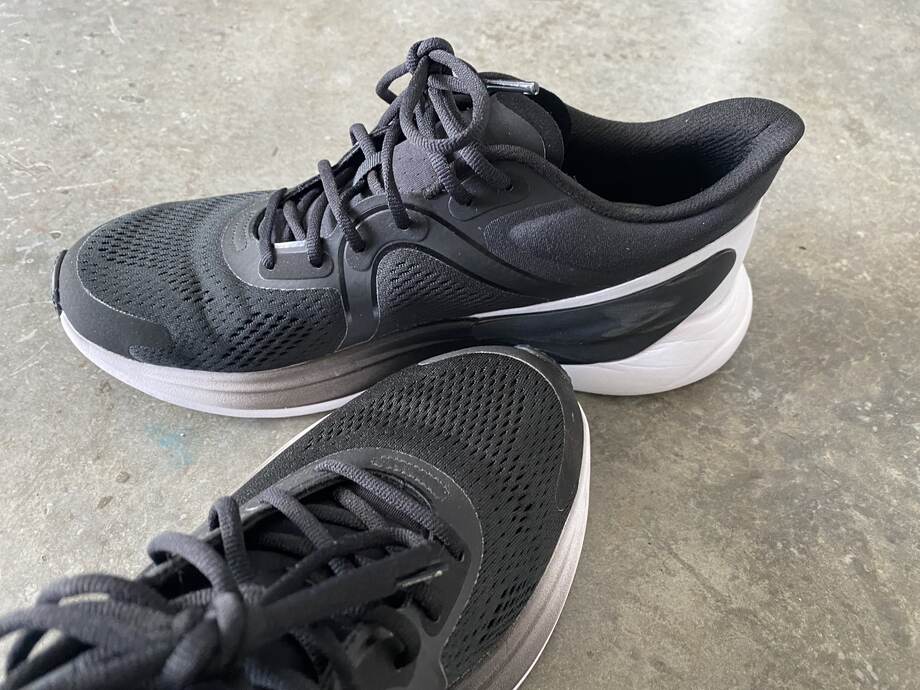 One thing I really like about the Blissfeel shoes is the wide crash pad. It helps stabilize the heel on each footstrike, particularly during long, fast, strides.
Outsole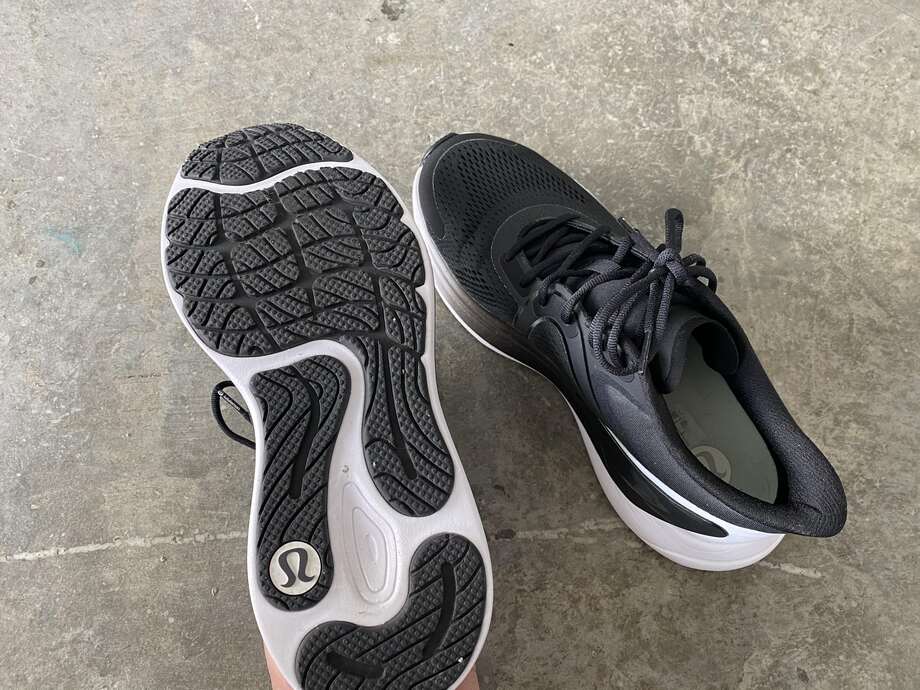 The outsole on the Blissfeels is pretty much good for road running and nothing else. The lugs are very moderate, featuring decent traction for smooth, mostly dry conditions. The first time I wore these out on a run, it had rained the night prior, and I felt some moderate slippage underfoot.
RELATED: How to Choose Running Shoes
Colorways
The Blissfeel comes in 10 colorways as of this writing: Green Ray, Silver Drop, Flare, Pale Linen, Black and White, Water Drop, Triple Black, Triple White, Electric Lemon, and Mink Berry.
I ordered the Black and White pair, and I do love how they look. I like wearing these around for errands and walking my dog, because they go with just about any outfit and are comfortable for walking.
Ordering the Lululemon Blissfeel Running Shoes
The ordering and delivery process were pretty typical of a Lululemon experience: simple and seamless. I had no issues getting these delivered to my door. It took about a week from ordering for them to arrive.
Customer Reviews
Customer reviews on the Blissfeels are generally positive. At the time of writing, the shoes have an average rating of 4.3 out of 5 stars.
Happy customers praise the cushioning of the midsole and bouncy responsiveness. Several reviewers have left comments about how the shoe seems comfortable, but didn't fit their feet correctly. Some reviewers also noted durability concerns.
"I really loved these for a few months. I ordered them in March of this year and wear them occasionally, I noticed a couple of months ago that the heel of the right shoe is already gone, it is all ripped in the back. I feel like with a price point of these shoes they should withhold wear and tear a little bit better and not rip. They are very comfortable though," one reviewer wrote.
"I really loved the comfort but they rub on the outside of my ankle. I also did not like the shape of the tongue. A bit stiff and awkward," said another.
"One of my go-to sneakers now! I would recommend to anyone who wants to try a new sneaker. They have a nice grip to them and I love how they feel," one happy buyer wrote.
Customer Service
Lululemon customer service has always been adequate in my experience. There's a live chat, and I've always used that to get any issues resolved. You can also call or email.
Final Verdict Of Our Lululemon Blissfeel Running Shoe Review
After conducting a thorough test of them on short runs, long runs, cross-training, and more, I think the Blissfeels are an okay running shoe, but there's room for improvement. Seeing as these are the first iteration of the product, I do expect improvements in the future.
Many of us love Lululemon leggings and tops, so I'm a bit disappointed that the quality of the shoes didn't quite match up.
I'd like to see a firmer heel cup, deeper outsole lugs with better traction, more reinforcement around the toe box, and an improved tongue that stays in place.
After thorough testing, I reserve the Blissfeels mainly for walking and wearing around town, rather than running.
Full Rating
Lululemon Blissfeel Running Shoes
The Lululemon Blissfeel Running Shoe is the first running shoe ever released by activewear giant Lululemon. They feature a breathable mesh upper, soft tongue, wide crash pad, and moderate midsole cushioning.
Product Brand: Lululemon
Product Currency: $
Product Price: 148
Product In-Stock: InStock
Lululemon Blissfeel Running Shoes FAQ
What shoes does Lululemon make?
Known for its apparel, Lululemon launched its first shoe in March 2023. The Blissfeel running shoe led the way for three other women's shoes that were released in summer 2023: the Chargefeel Low Workout Shoe, the Chargefeel Mid Workout Shoe, and the Restfeel Slide. The Strongfeel Workout Shoe was released in fall 2023. 
The women's line was designed after using a million foot scans from women, including elite female runners. The brand has also said it will launch a men's line in 2023.
How much are the Lululemon shoes?
The first footwear line from Lululemon has prices reportedly between $125 and $150. The Blissfeel is priced at $148. The shoes will be available online and in select stores. 
What are Lululemon shoes good for?
The brand has several pairs of shoes available now, including a running shoe, cross-training shoe, strength training shoe, and slide good for post-workout or casual wear. The brand allegedly tested the shoes on more than 1 million women's feet in order to get the design right. 
Can you buy Lululemon on Amazon?
There are some Lululemon products on Amazon; though in order to get discounts like Sweat Collective or access to the store's return policy, buying through the retailer itself is your best bet. 
Where can you get the Lululemon shoes? 
You can find Lululemon shoes in select stores or online.