We test and review fitness products based on an independent, multi-point methodology. If you use our links to purchase something, we may earn a commission. Read our disclosures.
First, they gave us yoga pants. Then, they gave us some of the best workout tops I have ever worn and luxury accessories I didn't need but you know I bought anyway.
And now, Lululemon, niche apparel giant and athleisure specialist, has made its foray into footwear.
In March 2022, Lululemon released the Blissfeel Running Shoe, with the Chargefeel Low Workout Shoe, the Chargefeel Mid Workout Shoe, and the Restfeel Slide to follow in summer 2022. There is also a planned Strongfeel Training Shoe.
While we await our own pairs of lulu shoes to try, we have been following this announcement closely. Our Lululemon Blissfeel shoe review details our first impressions and expectations. As soon as we can run them through our testing, we will give you an in-depth assessment of how they perform.
Why You Should Trust Us
We practice what we preach. At Garage Gym Reviews, we have run, jumped, squatted, and did some good ol' everyday living in more cross-training shoes than we can count. Our team does not recommend a shoe unless we have tried it ourselves.
Personally, I have run several full marathons, and close to 50 half-marathons, 10Ks and 5Ks. My feet have logged thousands of miles in dozens of running shoes.
While none of us at GGR has tested the Blissfeels (yet), we did want to give you an honest look at what we think of these based on specifications and looks.
Lululemon blissful running shoe
lululemon blissfeel running shoe
Launched in March 2022, the lululemon blissfeel running shoe was designed with women in mind. In fact, the brand tested the shoe on more than 1 million women!The blissfeel is a neutral running shoe with a foam midsole and mesh upper. At $148, this is definitely on the high-end side for a running shoe, but we wouldn't expect much different from a brand known for its high-quality apparel.With 10 colorways to choose from, the blissfeel offers plenty of options.
A Quick Look at the Lululemon Blissfeel Running Shoe
In designing the Blissfeel, Lululemon claims to have had more than a million women test the shoe, including elite female runners. Typically, women have different biomechanics in foot structure as well as center of gravity. This can have direct effects on running gait.
The brand doubled down on the intent behind creating a women's-only shoe: In a press release, Chief Product Officer Sun Choe said, "We intentionally started with women first because we saw an opportunity to solve for the fact that, more often than not, performance shoes are designed for men and then adapted for women."
(By the way, Lululemon said a men's footwear collection is coming in 2023.)
The pricepoint of $148 is not even a little surprising. If you look at high-end training shoes like NOBULL trainers or quality running shoes like Brooks, $150 is par for the course. Does that mean I think these are affordable and practical? Of course not. But, you get what you pay for, and Lululemon is known for making high-quality, higher-priced apparel.
My Favorite Things:
Designed exclusively with women's needs in mind
10 colorways
Neutral running shoe
Weighs 8.9 ounces
9.5 mm offset (heel-to-toe drop)
My Callouts:
Pricey at around $150
Sizes 5 to 11 may not accommodate all shoe-wearers
Lululemon Blissfeel Running Shoe Specs
| | |
| --- | --- |
| Price | $148 |
| Heel-to-Toe Drop | 9.5 mm |
| Colorways | 10 |
| Weight | 8.9 oz |
| Upper | Mesh |
| Midsole | Proprietary foam |
Shoe Construction
From just looking at the Blissfeel online, there are a few things we can assess regarding the shoe's construction.
First, this is designed to be a low-profile, neutral shoe, which means it is meant for people who do not need additional support for things like pronation. If you have a "correct" or "neutral" running form, then these shoes could be a good fit for you.
Lululemon advises that if you have a wide foot, you should consider ordering a half a size bigger than what you would normally wear.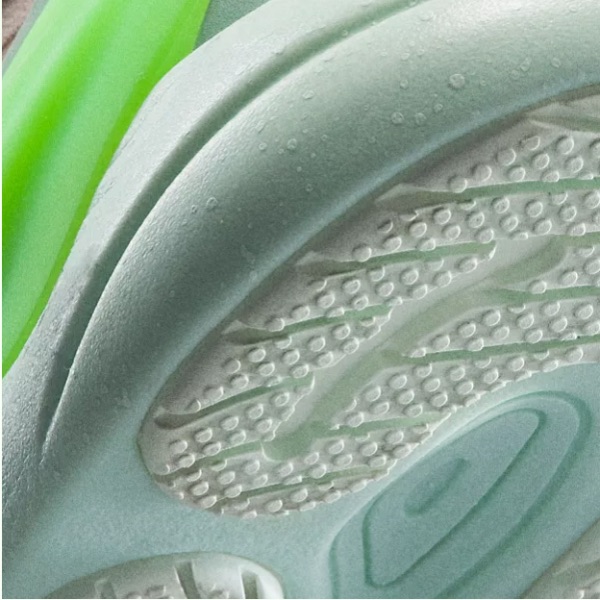 Upper and Midsole
The upper features a breathable mesh. The supportive midsole appears to offer plenty of cushioning and responsiveness, ideal for runners who hit the pavement often. Also, Lululemon promises significant "bounce" to help propel you as you move, as well as provide a "softer" landing.
Toe Box
The toe box is fairly average for a shoe designed specifically for running. I am a huge fan of Nike running shoes, and my Nike Free Runs are definitely more narrow than the Blissfeel. In just looking at the Blissfeel, I would surmise that most people will have some wiggle room in the toe box.
Colorways
The Blissfeel comes in 10 colorways as of this writing: Green Ray, Silver Drop, Flare, Pale Linen, Black and White, Water Drop, Triple Black, Triple White, Electric Lemon, and Mink Berry.
Final Verdict of Our Lululemon Blissfeel Shoe Review
We are eager to see how the Blissfeel performs. Our team will conduct a thorough test of them on short runs, long runs, cross-training and more. Many of us love Lululemon leggings and tops, so we expect that the shoes will match the brand's standard for quality.
Lululemon Blissfeel Running Shoe FAQs
What shoes does Lululemon make?
Known for its apparel, Lululemon launched its first shoe in March 2022. The Blissfeel running shoe leads the way for three other women's shoes set to release in summer 2022: the Chargefeel Low Workout Shoe, the Chargefeel Mid Workout Shoe, and the Restfeel Slide. The women's line was designed after using a million foot scans from women, including elite female runners.
The brand has also said it will launch a men's line in 2023.
How much are the Lululemon shoes?
The first footwear line from Lululemon has prices reportedly between $125 and $150. The Blissfeel is priced at $148. The shoes will be available online and in select stores. 
What are Lululemon shoes good for?
The brand has several shoes set to debut, including a running shoe, cross-training shoe and slide good for post-workout or casual wear. The brand allegedly tested the shoes on more than 1 million women's feet in order to get the design right. 
Can you buy Lululemon on Amazon?
There are some Lululemon products on Amazon; though in order to get discounts like Sweat Collective or access to the store's return policy, buying through the retailer itself is your best bet.