We test and review fitness products based on an independent, multi-point methodology. If you use our links to purchase something, we may earn a commission. Read our disclosures.
Becoming a certified personal trainer opens up a number of opportunities for employment. What I really like about it: You can truly make a difference in other people's lives.
There is no shortage of certification options on the market today, and many people in the industry look at the one from the accredited National Academy of Sports Medicine (NASM) as being the "gold standard."
While we feel it's debatable as to which organization offers the best certification, several of us at Garage Gym Reviews can attest to how thorough this course is. In this NASM certified personal trainer course (CPT) review, you'll find what you can expect to learn, how the information is presented, and what you should know before taking the exam.
A Team Of Certified Personal Trainers
Our editorial team and expert panel at Garage Gym Reviews comprises people who are certified personal trainers. Six of us have taken either the NASM course, the course from ACE (The American Council on Exercise), or the National Strength and Conditioning Association course.
Three people on our team, including myself, personally went through the full NASM CPT course. We have two writers who have taken and passed the organization's nutrition certification, and one writer who took and passed the home gym design course. We are extremely well-versed in what it takes to become a personal trainer, as well as the quality of the courses offered from NASM.
NASM CPT Certification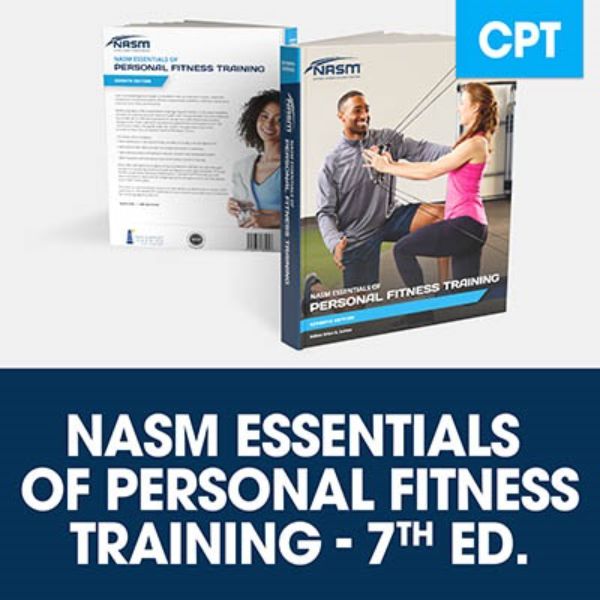 NASM Personal Training Certification Course
Have you ever thought about becoming a personal trainer but did not think you had the time or budget? The National Academy of Sport Medicine (NASM) offers several course packages at varying prices, each with the option of monthly payments, for anyone looking to become a certified personal trainer (CPT).  This program requires you to have a valid CPR/AED and high diploma or GED. NASM asserts that it is possible to become certified in as little as four weeks. However,  many of those who have completed it report the length to be longer. With a new digital learning platform, this course is available on any smart device for easy access. The foundation of the NASM-CPT is the patented Optimum Performance Training Model (OPT) which is a systematic approach to personal training for any individual with whom you work with a focus on assessment. This in-depth course covers the following areas: professional development and responsibility, client relations and behavioral coaching, basic and applied sciences and nutritional concepts, assessment, exercise technique and training instruction, and program design. The NASM CPT program is an investment and will require dedicated time to study, prepare, and test. A 70% accuracy is required to pass the reportedly challenging examination and recertification is required every two years. But, with the CPT certification, you can be a personal trainer in virtually any establishment.
A Quick Look at the NASM Certified Personal Trainer Course
NASM has been educating people about fitness for more than 35 years and has certified more than 1.3 million people. Also, the National Commision for Certifying Agencies (NCCA) has accredited NASM, which may be an important selling point for potential employers.
The organization offers a number of certifications for fitness professionals, but it's most known for the personal trainer course. It's one of the more expensive certifications, but if you can afford it, it's one of the best known.
The online module is designed to take about 10 weeks, but it really depends on how much time you have to devote to learning the information. For many people, especially those who don't have much of a background in anatomy, kinesiology, and human movement, four to six months of studying may be necessary. (You get 180 days from the time of purchasing the course until you have to take the exam.)
The course covers applied sciences like the nervous system and bioenergetics, movement assessments, client behaviors, exercise technique, program design, and professional development.
Our Tips
NASM offers package discounts often for the CPT exam; take advantage of these!
Being CPR/AED certified is a prerequisite for the course.
There is a digital learning platform, app, study guide, and textbook: Use every resource available (if you can afford it) to figure out how you learn best.
The NASM podcasts with Rick Richey are informative and break down the material well if you like to listen and learn.
Pros:
Lots of study materials available: textbook, app, videos, and podcasts
Built-in opportunities for post-certification internships
NASM is NCCA-certified
Discounts often available
Financing available
Options for remote or in-person exam
Other courses available for advanced learning
Bundle CPT with nutrition and other courses for a discount
Cons:
Higher cost than some other certification programs
Textbook not included in two most basic packages
Textbook/online training modules alone may not prepare you well for exam
Short time frame to take the exam, especially if you work full-time
Is the NASM CPT Worth It?
If your goal is to become a certified personal trainer, you've got options. Some courses cost as little as a few hundred dollars and can be done in a weekend. However, if you look at the organizations that are accredited through the National Commission for Certifying Agencies, the price tag goes up.
NASM is actually one of the more expensive options; it is also one that most gyms accept, and it is arguably the most popular.
To be fair, it's a little hard to compare pricing for these courses, because the organizations that offer them discount them literally all the time. Also, many companies offer a variety of package options where you can pay more for more study tools.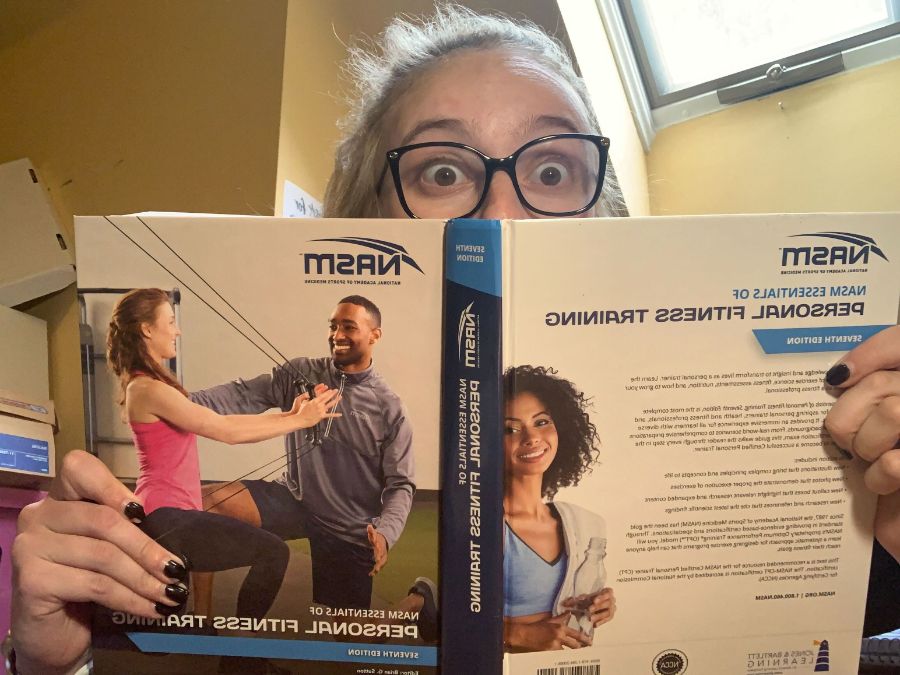 NASM's basic offering starts around $900 (compared to the ACE program with a price tag of $979). However, as of this writing, the NASM basic package is discounted to $629, and the ACE course is discounted to $587.
A unique selling point for NASM is the Gymternship program that gives you access to 80 hours of hands-on training following your certification (more on that below). That makes a higher price tag more palatable.
Great for:
People who want a CPT from an accredited organization
Those seeking to have a better understanding of kinesiology and human movement
People who want to enhance current certifications, like a CF-L1
Trainers-to-be who want job guarantees and hands-on experience
Not recommended for:
Those looking for just a nutrition certification
People looking for a more affordable CPT certification
Course Options
To be clear, you don't have to purchase any materials to take the NASM CPT exam. You can simply sign up for the "Basic" package, which gives you access to online materials and, most importantly, the ability to schedule the exam.
The textbook does not come with the Basic and Standard packages. You can add it on for an extra $200, which is pretty much the price of just upgrading your package anyway.
I learn well by reading and taking notes, so the hardcover textbook was great for me. However, there is a plethora of other study tools like video, audio, and podcasts, so you might find the textbook isn't necessary.
The key features standard with each study package include:
Online course
Exam
Digital learning platform
Videos and chapter summaries on audio
A resource library with handouts
Practice exams and quizzes
As you upgrade, you get access to other options, such as:
Free renewals for when you need to get recertified
A year of NASM Edge Trainer Plus, which is a pretty cool app
A retake in case you fail the exam the first time
Textbook
CPR/AED certification (which is mandatory to take the exam)
Post-Certification Perks
There are two really interesting features of the more advanced course packages through NASM:
Job guarantee: NASM promises you a job within 90 days of certification or they will refund you the cost of the "job guarantee" upgrade (which I couldn't find a dollar amount for, but I'm guessing it's only a small portion of your total cost).
Gymternship: This trademarked offering gives you 80 hours of hands-on practice with clients at a partner health club. Of course, you have to pass your exam first, but this appears to be a great opportunity for people looking to get their feet in the door.
Course Design and Layout
Many of the sections of the course build on each other, so following the text (or online sections) in order is important. I read every page in the textbook, which is filled with citations to peer-reviewed studies.
The course is divided into sections, which are further divided into chapters. Here's what you can expect:
Section 1: Professional Development and Responsibility
There are two chapters here that essentially give you an overview of the state of health and fitness in the world today. It's a little depressing to read obesity statistics, but it also sets the stage for why personal training is important. You also learn a little about what it means to be a personal trainer.
Most of this information is likely redundant for people who already live and love fitness. There may have been one or two exam questions from these chapters, though they were questions that had common-sense answers.
Section 2: Client Relations and Behavioral Coaching
These chapters have some pretty good information about how to work with clients and understanding their motivations. It details goal-setting, like SMART goals, and how to set people up for success.
Section 3: Basic and Applied Sciences and Nutritional Concepts
This is where the fun really starts. If you don't have much of a background in anatomy, kinesiology, and/or nutrition, strap in.
There are six chapters in this section:
The Nervous, Muscular, and Skeletal Systems
The Cardiorespiratory, Endocrine, and Digestive Systems
Human Movement Science
Exercise Metabolism and Bioenergetics
Nutrition
Supplementation
These chapters build the base for what's to come in terms of actually training clients. In order to design programs that are appropriate for people of all ages and abilities, it's important to have a sound working knowledge of the body.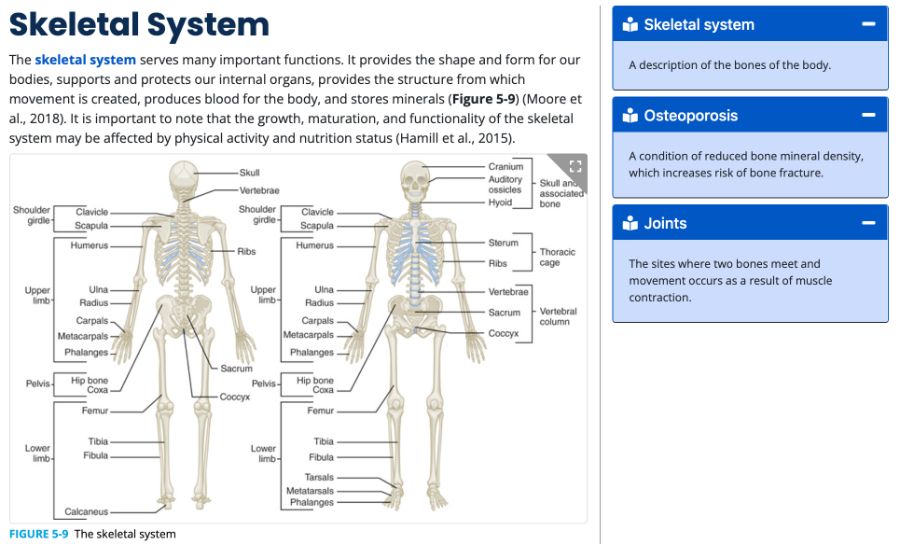 As far as testing on this section goes, NASM doesn't get too crazy into the details: I think there were only one or two questions about nutrition and supplementation (there are other NASM courses you can take to know more about that).
I learned (or re-learned, really) a lot from these sections just in terms of anatomy. For me, these were great refresher chapters.
Section 4: Assessment
As someone who has worked in fitness for more than a decade, I found Section 4 to be my favorite. The two chapters in this section take you through how to assess someone's posture and movement patterns to identify where potential issues might be in terms of muscle imbalances, injuries, and other issues.
You learn different assessments you can conduct with clients to get a good baseline for them, both in terms of their movement patterns as well as their current fitness level. There were a number of exam questions that came from this section, especially regarding under- and overactive muscles in different assessments.
Section 5: Exercise Technique and Training Instruction
The eight (EIGHT!) chapters in this section teach you about Optimum Performance Training (OPT), which is NASM's proprietary model for developing programs for clients. Even though this is a NASM-specific model, it covers the concepts you'll find in any well-planned, well-designed program:
Flexibility training
Cardiorespiratory training
Core training
Balance training
Plyometric training
Speed, agility, and quickness training
Resistance training
Each chapter is devoted to a mode of training, detailing why you do it, how you do it, specific exercises and progressions/regressions for them, and demonstrations of the exercises.
I love how NASM covers every aspect of training and creates a picture of how you would apply each for certain clients. It's easy to point to each chapter and say that NASM could have gone into more detail about XYZ, but fitness is a seemingly endless vortex you can get lost in when you get hyper specific about training and modalities.
For coverage on topics that apply to most clients, NASM does a decent job. The organization really pushes SAQ (speed, agility, quickness) training and places an emphasis on core and balance training as well.
Section 6: Program Design
Here, you'll learn how to build a program based on the OPT model for clients. I particularly like the chapter in this section that addresses chronic conditions and special populations, as well as exercises that are contraindicated for people who fall into those groups. Why? Because as a personal trainer, you should be acutely aware of how pre-existing conditions affect whether or not someone can be in a prone position for training.
I think the program design is where critics of NASM probably point out the most flaws. But the truth is, you can take just about any workout program and rip it apart.
The OPT model is sound in its progressions: You start with stabilization endurance, move into strength (strength endurance, then strength development, then maximal strength), and finish with power. That's a pretty universally sound concept because it's basically the "crawl before you walk, walk before you run" idea.
Where NASM catches some heat is in the details: For example, they recommend very specific sets and rest periods for hypertrophy, SAQ, maximal strength work, and so on. Fitness industry experts could read this and start throwing out studies to argue that resting just 60 seconds in between sets for hypertrophy isn't long enough.
Take it or leave it. You have to know the program design in order to pass the CPT exam with NASM. In practice, what you do with the numbers/program model should always come down to your specific client.
I like OPT as a guideline, but not as a rule.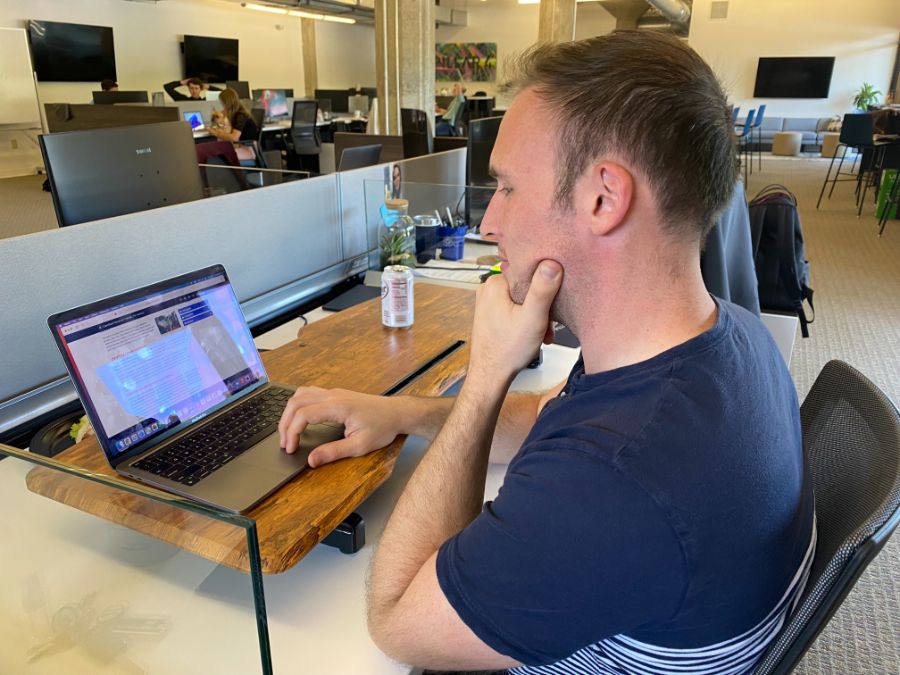 Online Module
Garage Gym Reviews staff writer Anthony O'Reilly did a hybrid of the textbook and online modules, and found the latter to be a good fit for those trying to break up their studying into bite-sized chunks. Each chapter is broken into different lessons, with mini quizzes at the end of each and a 10-question chapter quiz at the end.
Each section also had its own test with 50 questions each.
"Personally, I found the online modules less overwhelming than the textbook because you could focus on one portion of a topic and get a true understanding of it before going onto the next," he says. "The lesson, chapter, and section quizzes also helped me get a good idea of what areas I need to work on to feel better prepared for the actual exam."
For example, the "Nervous, Skeletal, and Muscular Systems" chapter was broken down into four lessons plus a summary:
At the end of each lesson, you'd take a no-pressure quiz that gave you unlimited guesses.

Another advantage of the online module is that there are videos and audio chapter reviews that you can watch or listen to for further explanation on each chapter. You can also save certain graphics and tables to your desktop for easy reference.
Overall, Anthony says you probably could pass the exam without the textbook. "I personally absorb information better when reading a physical book," he says, "but the same information that you could find there was also in the online modules, so it just depends on your personal preference.
"I do think the lesson, chapter, and section quizzes are a big part of why I passed," he added.
Taking the Final Exam
Right off the bat, you should know this isn't an exam you can take lightly. If you don't have an exercise science background or experience in the fitness field, the information may even seem overwhelming.
Personally, I have been working in the fitness industry for more than 15 years and hold certifications from USA Weightlifting and CrossFit, so going into the NASM course, I felt pretty well-prepared.
However, GGR staff writer Caroline Lubinsky, who is a former collegiate athlete but hasn't worked in hands-on training before, warns that if you don't have a background like mine, you might struggle.
"I studied like no one's business and even read the entire textbook in preparation for this exam," she says. "I still failed by five points, which was really disheartening."
Anthony, a former journalist, also has little exercise science experience, and he also only started working out regularly about five years ago. And while he's worked in the fitness publishing industry for about the same amount of time, nothing could've prepared him for how in-depth NASM's lessons were.
"I really felt like I was back in a college-level anatomy and physiology class sometimes," he says.
You get two hours to take a final exam that has 120 questions. However, there are 20 questions on the exam that might not even count toward your score – they are research questions NASM uses for their own purposes, and you have no idea which 20 those are, but they won't count toward your score. To pass, you need a 70% or higher.
You can choose to take your course online or in-person.
Preparing for the Exam
In addition to reading the entire textbook and taking notes, I also took advantage of a few other tools for exam prep:
The flashcards available through the NASM Edge app
The practice questions available through the NASM Edge app
The practice exam available through the NASM website
NASM podcasts
The practice exams NASM offers are very little like the actual exam, aside from both being in a multiple-choice-question format. The flashcards were great for memorization, but few really translated to what was on the actual exam. I felt like I learned a lot with the tools, but I wouldn't say they prepared me as well as they could have for the exam.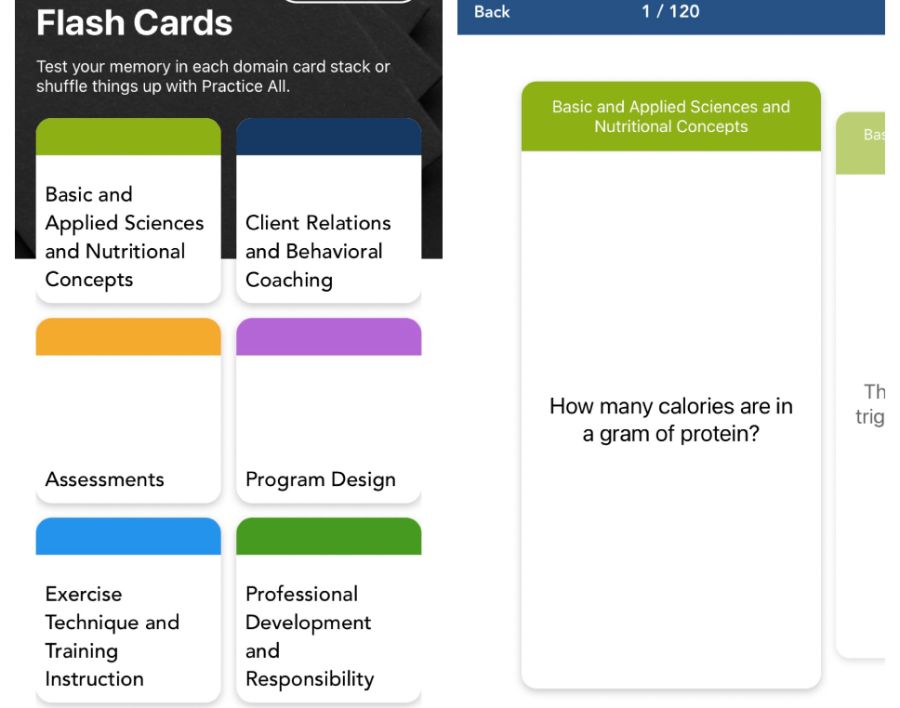 The best test prep for me was a combination of reading the book and my background in fitness. There are a lot of questions about how to cue clients during certain movements, like a squat, a dumbbell scaption (an exercise I had never heard of), and a stability ball lat stretch. I've done most of those things with people already, so the responses came easily. However, if you don't have that kind of experience, this section may be more difficult.
Taking the NASM Exam Online
I took the exam online. In order to take the online exam, you need:
A computer with a webcam and audio
An internet connection
Patience
This is a proctored exam, which means someone is watching you the entire time. Like a hawk.
You can log into the online exam up to 30 minutes before your scheduled time. I highly advise logging in early!
There are a lot of tasks you have to do in order to even get to the actual test. For example, you need to take multiple videos with your computer: a video scanning the room, another one showing your room from floor to ceiling, another one showing the area behind your ears and of your wrists, another one showing your desk.
You also need to have your license available. I was told to have a copy of my CPR certificate, but I never ended up having to show it.
The proctor will tell you if there is anything you need to do, like taking excess books off your desk or closing doors.
One big potential flaw in taking the exam online is that you might get booted from the system, which Caroline and I both did.
There was a massive thunderstorm that started as I was about 40 questions into the exam. It temporarily knocked out my power. Fortunately, the power came back on quickly, and I was able to connect with the online help. But, I had to completely redo all the videos and again show my proctor my workspace.
Other than that, the online exam is fine. You start with a five-question practice test so you understand how to respond to questions. During the actual exam, you can bookmark questions you aren't sure of to return to them later, which was pretty easy to do.
When you're finished, you have to take TWO surveys about your experience. This was annoying, because all I wanted to know was if I passed, but I couldn't find out until I took the surveys.
After you submit your final survey, you'll get a screen that tells you if you passed or failed. I passed the exam, but I don't know what my score was (and still haven't figured it out).
Taking the Exam In Person
Anthony opted to take the exam in person after hearing how Caroline and Kate experienced connection issues that lost them some time on the exam. The only difference is you're taking the exam on a computer at a testing center, and not from your home.
When scheduling your final exam, you'll simply choose to take the exam in-person and enter your ZIP code to find a testing center near you. Anthony was able to find one that was only 2 miles from his apartment.
After showing his ID and CPR/AED certification, he was asked to put his phone and wallet in a locker (he was given a key) and brought into a large room filled with cubicles that had their own computers. A test center employee logged him into his workstation, but after that it's the same rigamarole as taking it virtually, from the practice test to the post-exam survey.
To Anthony's complete shock, he passed. After getting his heart rate back to a normal level, he got up from his station, retrieved his phone and wallet from the locker, and left the testing center.
Tips for Passing the NASM Exam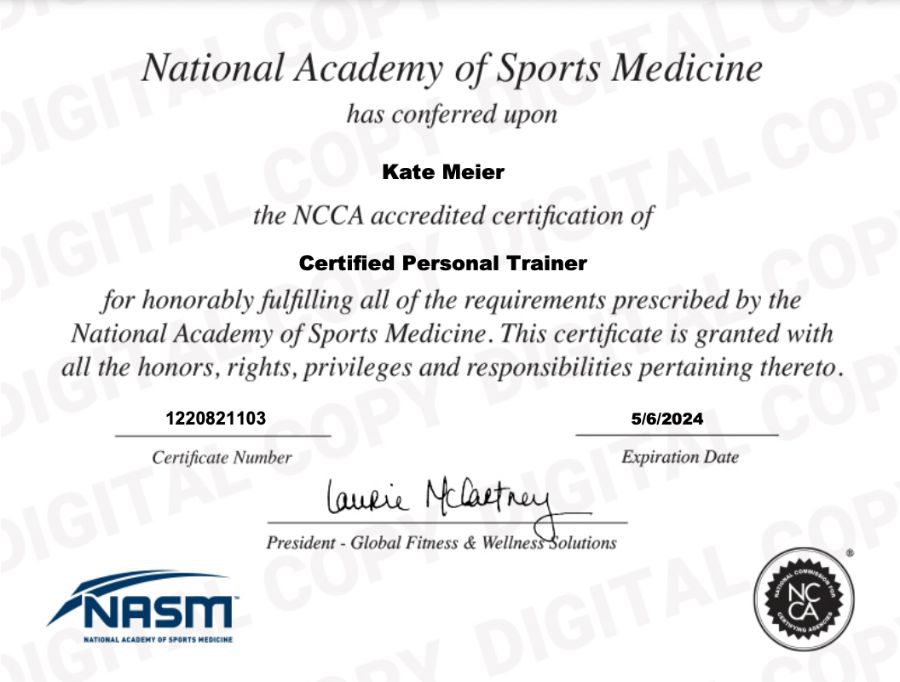 Here are a few tips from our team regarding the NASM test:
Don't stress too much about nutrition and supplements; the few questions around these concerned the basics (like which vitamins are fat-soluble and have more concerns for toxicity).
Know the assessments and what to look for as flaws, and what those flaws could mean in terms of overactive and underactive muscles
I felt that Sections 4, 5 and 6 were where most of the questions came from.
To echo every one of my elementary school teachers, take your time. Bookmark questions you're unsure of and come back to them if needed.
Simply understanding a few key terms (broncho, osteo, -ectasis, etc.) can be helpful in deciphering a lot of the questions.
References and Data
I do feel that NASM really dug into peer-reviewed studies and experts to create this course. You'll find citations all over the place.
Now, which studies and experts you cite matters. I've done some digging and found review sites where someone cites studies that contradict what's presented in the NASM text.
While fitness is a science, it's a science we are still understanding. I strongly feel that NASM is presenting an evidence-based course that gives you a really good foundation as a personal trainer, even if you don't agree with some of the specifics.
What Does a Certified Personal Trainer Do?
In short, a certified personal trainer provides people with a fitness training program that helps them meet their goals. With a CPT, you are able to design a program in-person or via a personal training app, implement it, assess how a client is performing, and make adjustments as necessary.
In my opinion, the more important question is asking what a CPT does NOT do. Having a CPT certification is great, but it's not all-encompassing for everything related to health and fitness.
As a CPT without any other specific credentials, you should not:
Diagnose an injury
Give specific advice on nutrition
Give specific advice on supplements
Diagnose an illness
For any of the above, you should refer a client out to specialists in those areas.
Other NASM Offerings
In addition to the CPT program, NASM does offer several other fitness certifications, including the following:
A certified nutrition coach course
A certified sports nutrition coach course
A wellness coach course
A stretching and flexibility coach course
NASM Personal Trainer Recertification
In order to keep your NASM certificate, you have to acquire 2 CEUs every two years: 1.9 in continuing education credits, and 0.1 in maintaining a current CPR/AED certification. NASM has preferred providers from which they also accept CEUs.
There are also a number of specialized courses that count toward your required CEUs. Those courses include:
Corrective exercise (become a CES, corrective exercise specialist)
Weight loss
Senior fitness
Behavior change
Performance enhancement
Group fitness
Virtual coaching
Home gym design
Social media influencer
Women's fitness
You can bank on each of these courses costing at least a few hundred dollars in addition to the recertification fees you have to pay. Some people knock NASM (and similar organizations) for this kind of structure because it essentially means you have to keep paying them.
Personally, I believe that a good fitness professional should be in a continual state of learning, and these requirements encourage that. If you're in a position where you are responsible in some way for someone's health and wellbeing, you should bring your A-game with knowledge and information.
Final Verdict of Our NASM Review
In general, I like the NASM course. I definitely learned a lot regarding human movement and a little about things like nutrition and supplementation (I might even take the NASM nutrition course).
I don't think that the textbook alone prepares you well for the exam. I think it gives you great information, but the exam was more about implementing that information, which most people without any fitness experience may need more guidance with.
And, as with most things, I don't think this course alone will make you a great trainer. You have to just get out and work with people. I do think it's great that NASM offers the Gymternship program and would advise people new to training to take advantage of it.
NASM CPT Program Rating
NASM Personal Training Certification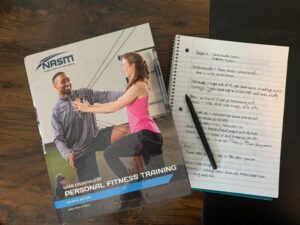 The NASM Personal Training Certification is an in-depth course that provides people significant information to launch a career in the fitness industry and help people succeed.
Product Brand: NASM
Product Currency: USD
Product Price: 899
Product In-Stock: InStock
NASM Certified Personal Trainer Course FAQs
How long does it take to become a NASM certified personal trainer?
Technically, the NASM course takes as long as you want it to. If it's your only focus, then getting through the online program can take as little as 10 weeks. If you're working a full-time job and have other commitments, it could take three to six months. It really depends on how much time you have, and how much studying you want to do. 
From the moment you sign up with NASM, you have 180 days to take the exam.
How much does the NASM course cost?
The cost of the NASM personal trainer certification course depends on which package you choose. The basic package often goes on sale for around $600-$700, with the "premium" package costing close to $2,000. There are also financing options available. 
Is NASM a good personal trainer certification?
The NASM personal trainer certification course is very comprehensive when it comes to explaining human movement and Optimum Performance Training, which is NASM's proprietary training model. Many companies hold NASM certifications in high esteem because NASM is an accredited organization.  
Is it worth it to get NASM certified?
If you need a personal trainer cert from an accredited organization, the NASM course may be a good fit. While it is an upfront investment, the course does have options that include things like Gymternship, which actually sets you up with 80 hours of hands-on work with clients upon passing your test. NASM also offers a job guarantee.