We test and review fitness products based on an independent, multi-point methodology. If you use our links to purchase something, we may earn a commission. Read our disclosures.
Working out is tough. Working out without knowing what you're doing is extra difficult at best and, at worst, a vessel for injuries. There's a middle ground where most people who work out sans training knowledge fall: They spend hours upon hours exercising, without any real direction, ultimately spinning their wheels and getting no closer to their ultimate goals.
One-on-one personal training is the answer, but let's be real: Not many people have the time or the funds to commit to in-person training sessions once a week, let alone more often than that.
Here's where virtual personal training comes in. Thanks to technology, personal trainers now have the capability to provide tailored fitness programming through smart devices. One way trainers do this is through apps, which you can download on your smartphone or tablet, enabling you to benefit from individualized support right from home.
In our guide to the best personal training apps, we cover top-tier options ranging from apps that offer one-on-one live virtual sessions to more generalized apps that allow you to work out in a more a la carte manner.
Certified Personal Trainer At Your Service
I've been a certified personal trainer for more than five years and, since my original certification, have earned multiple specialty credentials in the fitness industry, including in corrective exercise, functional training, and nutrition. I've also trained many clients virtually through apps like TrueCoach and Tendon.
In this guide, however, I won't be covering personal training apps in that sense—I'm covering the best personal trainer apps for consumers, meaning, the type you can download and start working out with right away.
Top Picks for Best Personal Training Apps
Best Personal Training App Overall: Future
Good for: People who want genuine one-on-one personal training with a qualified coach and real-time communication capabilities
Future has long been a popular choice for training at GGR HQ. Cooper Mitchell, GGR founder and fitness equipment mogul, has been using Future for over two years and has "no plans to leave." Coop's logged a whopping 490 workouts on the Future app and now pays for a subscription for his wife in addition to himself.
Other members of the GGR team have used the app extensively as well. Kate Meier, GGR Head of Content, just passed her one-year mark with her Future coach.
But enough about us, and more about the app and how it can help you. Future is truly the epitome of virtual personal training. It doesn't get much more personal than an initial strength assessment; being matched with a coach who specializes in your area of interest; unlimited messaging with a coach; video check-ins; and workout plans tailored to your fitness level and specific goals.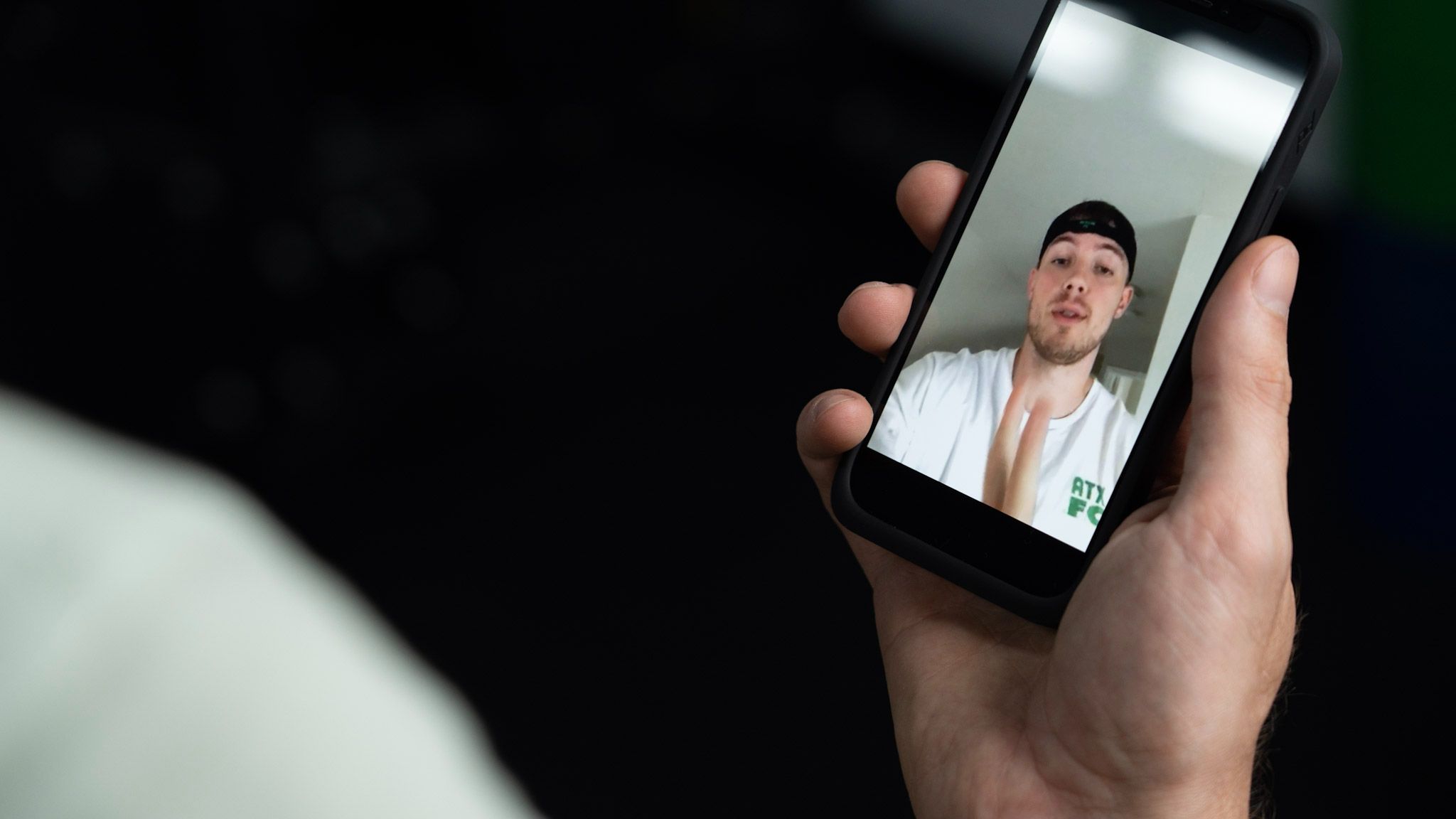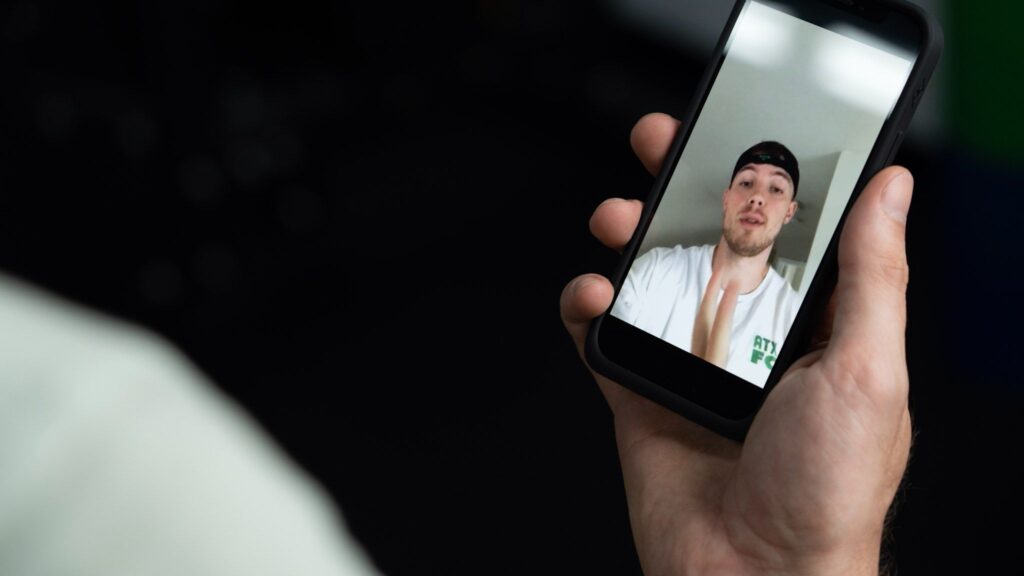 Even Kate, a seasoned fitness professional and athlete, finds Future useful for accountability and consistency: "My coach messages me almost every day, checking in to see how things went or what needs to be adjusted," Kate says. "If I haven't worked out yet, she makes sure I'm going to do it at night (because I usually work out in the mornings). So it's great for accountability from that perspective."
Yes, the monthly subscription fee is expensive at around $150 per month. This is one of the main drawbacks to the Future app. And since one of the reasons you have a home gym is probably to avoid gym membership fees, you may be thinking that this feels rather counterintuitive.
RELATED: Home Gym vs Gym Membership
However, we feel really strongly about the fact that you're unlikely to find virtual one-on-one training of the same caliber for less money.
Our other concern with Future is that it's currently only available on iOS, so if you don't have an iPhone, you can't use it. You also need an Apple Watch to enjoy full functionality of the service, but Future will send you one if you don't already have one.
Read our full Future app review for more detail and perspectives from our team members who have used the app. If you're interested but not ready to commit to the price, we've got good news for you: GGR readers get 50% off their first month. Just click here.
| | |
| --- | --- |
| Price | $149/month |
| Free trial | With code "GGR" |
| Live coach | Yes |
| Available on | iOS only |
| Type of training | Anything you want |
| Equipment needed | Apple Watch |
Best Personal Training App for Strength Training: JuggernautAI
Good for: Strength-focused athletes who want the quality of one-on-one training without having to do live assessments and communication
This personal training app is lesser known for those who aren't immersed in the powerlifting and powerbuilding communities. However, it should be on the radar of anyone interested in absolutely demolishing their current strength personal bests.
If you're looking for an individualized training program to help you increase your squat, deadlift, and bench—and pack on some serious muscle—you need JuggernautAI. Let me expand: This workout app was developed by Chad Wesley Smith, a professional powerlifter with a few neat accolades under his belt (see what I did there).
Smith is not only a beast himself who can squat 440 kilograms (970 pounds!), but he's also a renowned coach who has helped many other athletes to the podium. This is to say, the man knows what he's doing when it comes to strength-based workout programs—and it shows in the app.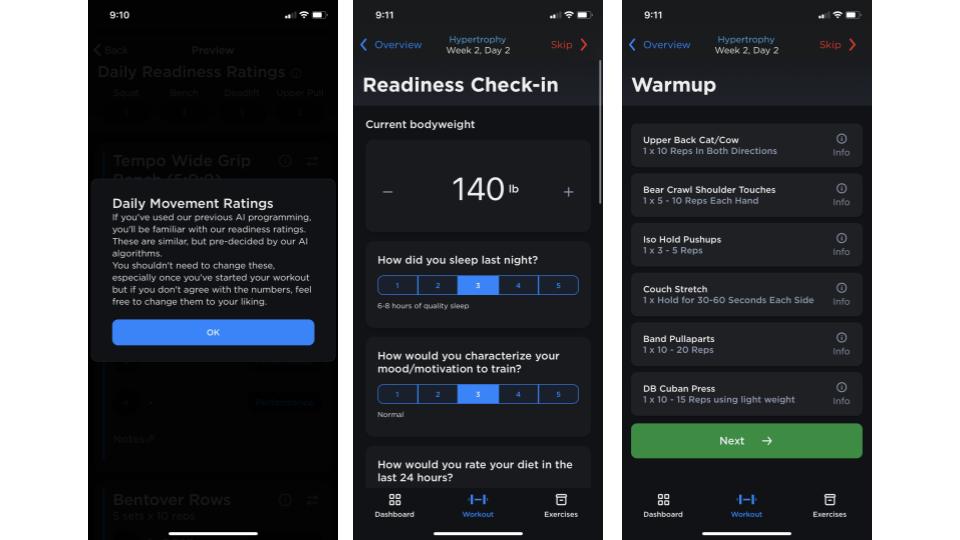 JuggernautAI, which I've been using myself for over a year now, utilizes artificial intelligence to create a workout routine for you. Based on in-depth information you provide the app, such as your weight lifting style, training history, biometric data, goals, and more, JuggernautAI provides you with a periodized strength training plan.
You can read our full JuggernautAI review, in which I divulge more details about the technology, but the bottom line is that in just six weeks of using JuggernautAI, I started to see significant improvements in my strength and stamina. This app also helped me maintain muscle and strength during a triathlon training cycle; I believe that had I not been using JuggernautAI, I would have experienced a lot of weight loss from a reduction in muscle mass.
There's no live coaching option available, but I think the ultra-smart AI negates the need for one, truly. I wouldn't recommend this app to beginners, but for those who already have experience working out at home or in a gym, JuggernautAI is a fantastic option for strength fitness plans.
| | |
| --- | --- |
| Price | $35/month |
| Free trial | 2 weeks |
| Live coach | No |
| Available on | iOS, Android |
| Type of training | Powerlifting, power-building |
| Equipment needed | Barbell, plates, dumbbells, squat rack, bench |
Best Personal Training App for Fitness Classes: iFIT
Good for: Exercisers who love fitness studio vibes and want the ability to choose between on-demand and live workout classes
It's no secret that we like iFIT around here. Whether your favorite workout is barre, Pilates, high-intensity interval training, running, rowing, or something else entirely, iFIT has it. It also has bomb playlists, heart rate tracking capabilities, and trainer-led workout classes.
This is the best personal training app for people who want high-energy classes that make you feel like you go to the best fitness studio in the world—except you get to stay home!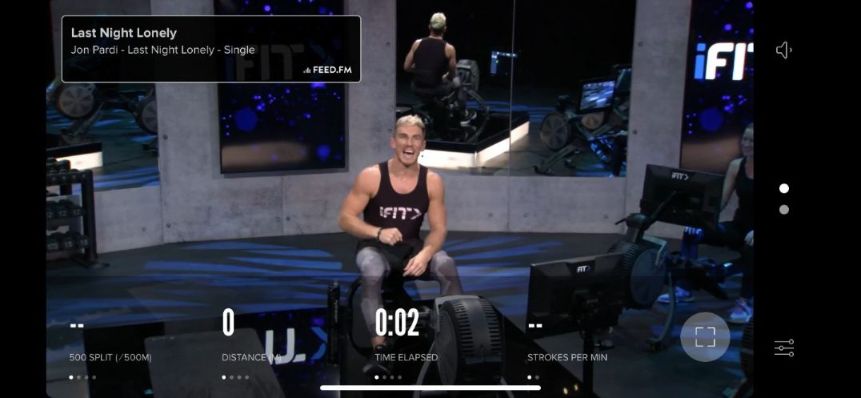 Like we point out in our iFIT app review, this home workout app is compatible with dozens of cardio machines and even some strength training equipment (like the NordicTrack Vault and ProForm Vue). However, you needn't pony up the cash for an expensive fitness machine to use iFIT.
Nope, you can still take advantage of the classes and get your reps in with equipment you already have at home. And you can do so on virtually any device: iFIT has the best connectivity out of all the apps on our list. You can use iFIT with an iPhone, Android device, Amazon Fire TV, Roku, and Apple TV.
Of course, there are downsides to everything. iFIT doesn't offer true personal training in the sense of individualized coaching. While you can select workouts and long-term programs based on your current fitness level and your goals, you won't find true periodization or personalization in this app. Still, it's a great option for those who want to bring some energy and flexibility to their fitness journey.
| | |
| --- | --- |
| Price | $15/month (individual) $39/month (family) |
| Free trial | 30 days |
| Live coach | No |
| Available on | iOS, Android, Amazon Fire TV, Roku, Apple TV, iFIT-compatible fitness machines |
| Type of training | Strength, cardio, HIIT, bodyweight, recovery, yoga |
| Equipment needed | Depends on types of workouts you do |
Best Personal Training App for Live Sessions: Peloton
Good for: Home gym owners who have a Peloton machine and/or those who value real-time sessions with a live fitness coach, as well as a steady flow of new workouts
The Peloton app is a strong contender in the virtual coaching space, and for good reason: It offers several types of training and the option for both on-demand and live sessions. And contrary to popular belief, no, you don't need a Peloton Bike or Peloton Tread (or the newer Peloton Guide or Peloton Rower) to use this interactive programming.
Peloton offers an app-only membership for those who don't own Peloton equipment. In the app, you'll find workout classes for cycling, running, rowing, interval training, strength, and yoga. Better yet, you can use any iOS or Android device to stream said workouts, including for use on a cardio machine from a different brand (assuming your machine has a device holder or you have a screen-sharing TV).
In addition to live daily classes and on-demand workouts, the Peloton app also hosts monthly fitness challenges that you can join and see how you stack up to other app users. We love this element of the app because we're fans of a little friendly competition, but also, we think the community aspect of fitness can't be understated.
Read our full Peloton app review for more details from our writer who completed nearly 200 workouts in the app.
| | |
| --- | --- |
| Price | App membership: $12.99/monthGuide-only membership: $24/month All-access membership: $44/month |
| Free trial | 30 days |
| Live coach | Yes, during live classes |
| Available on | iOS, Android, Peloton equipment |
| Type of training | Cycling, running, rowing, HIIT, strength, yoga |
| Equipment needed | Depends on types of workouts you do |
Best Personal Training App for Variety: Aaptiv
Good for: Exercisers who value variety over customized workouts and want the entire scope of fitness classes at their fingertips
Aaptiv is another training app with great variety and customization. Although there's no live coaching option, Aaptiv does a pretty phenomenal job of setting you up for success when you sign up. After downloading the app and deciding how you want to pay (monthly or annually), the app takes you through a quick questionnaire.
You'll input information about yourself, such as your height, weight, training frequency, preferred training style, weak points, and goals. Then, Aaptiv will curate a collection of workout plans based on your inputs. Your homepage on the app, titled "coach" will populate with these plans.
You can also head to the "browse" tab to see all of the available workouts if you want to choose a la carte; the "team" tab, which is essentially a social feed where you can see what other Aaptiv members post; or the "programs" tab to check out other mid- and long-term workout programs and add them to your plan.
Aaptiv is home to many types of workouts, including: strength training, outdoor runs, treadmill runs, walking, stretching, Pilates, elliptical workouts, Barre, yoga, stairclimber workouts, boxing, and rowing. There are also mental health sessions grouped into "sleep" and "meditation."
RELATED: Best Barbell Exercises
For about $15 per month, we think Aaptiv is a great value. However, it's best for people who have some experience with fitness already, since there is no live instruction, and/or people with general fitness goals such as to maintain their weight or increase overall activity levels.
| | |
| --- | --- |
| Price | $14.99/month |
| Free trial | 7 days |
| Live coach | No |
| Available on | iOS, Android |
| Type of training | Virtually anything |
| Equipment needed | Depends on types of workouts you do |
Best Personal Training App for Cardio: Strava
Good for: Endurance aficionados who need next-level metric tracking for running, cycling, and other cardio activities
Strava is a go-to app for cardio enthusiasts of all disciplines. Whether you run, bike, swim, paddle, ski, hike, or all of the above (hi, it's me), Strava has options for you. There's a catch: Strava isn't a personal training app, per se, unless you pay for the premium version.
RELATED: What is Cardio?
If all you want to do is log your runs and rides, the free version will suffice, but if you want in-depth metrics, fork over the $60 annual fee—not that that's a lot of dough for features like periodized training plans, pace analyses, race analyses, fatigue and freshness tracking, route-building, custom heart rate zone training, and much more.
One of my favorite features is "relative effort." Anyone who's been training for an extended period of time knows that it's tough and sometimes impossible to perform at the same level week after week. Things happen—like a poor night of sleep or a high-stress assignment at work—that prevent us from performing our best.
The relative effort feature uses the concept of perceived exertion and heart rate data to tell you how you're performing, well, relative to the data at hand. This information can help endurance athletes better understand their outputs and identify performance positives and pitfalls.
Although there's no live coaching element, Strava premium certainly makes one feel like they have a top-tier coach at their disposal. To my knowledge, there's no other app that's more efficient at route-building and tracking endurance-related metrics than Strava.
The downside? Strava is currently undergoing some pricing changes that aren't crystal clear, to say the least, and it's bumming members out (and giving pause to prospective members). At the time of writing, Strava lists the price at $60 per year, but that could change soon, for better or for worse.
| | |
| --- | --- |
| Price | $60/year |
| Live coach | No |
| Available on | iOS, some Android systems |
| Type of training | Cardio |
| Equipment needed | Depends on types of workouts you do |
Best Personal Training App for Beginners: FlexIt
Good for: Beginners looking for a fine-tuned, individualized training plan, and potential for help with meal plans and other wellness components as well
FlexIt, a personal training app under parent company Interconnected Health, is one part of the company's holistic health ecosystem. Aside from the app being simple to navigate and easy to use, this ecosystem is a big part of why I recommend FlexIt as the best personal training app for beginners.
The FlexIt app, similar to Future, connects you to a qualified fitness, wellness, or health professional depending on your needs and goals. The difference is that you can mix and match professionals among different specialties to create a much broader experience.
For example, if you want to start lifting weights but you're also rehabbing a nagging injury, you can choose to do one session per week with a certified personal trainer who specializes in corrective exercise and one session with a physical therapist who will help with rehabilitation.
Or, maybe you're an aspiring marathon runner who isn't sure how to fuel for such grueling endurance training. You could elect to work with a personal trainer who specializes in endurance work and a sports nutritionist.
The combinations are truly endless, but of course, you could choose to work solely with a fitness professional, too. The beauty of FlexIt is that it's ultra-customizable—more so than any other option on this list.
As one might expect, a service with such depth and breadth isn't cheap. Depending on how many sessions per month you plan to attend and how long you want the sessions to be, a FlexIt membership costs anywhere from about $134 per month up to about $734.40 per month. If you're wary of the price, you can schedule a consultation and your first session for free.
| | |
| --- | --- |
| Price | Starting at $134/month |
| Free trial | 1 free consultation/session |
| LIve coach | Yes |
| Available on | iOS, Android |
| Type of training | Virtually any type |
| Equipment needed | Depends on types of workouts you do |
Best Personal Training App for HIIT: NCFIT
Good for: People who have some experience with HIIT and CrossFit and want a large selection of follow-along workouts, plus daily skill and strength sessions
If you're looking to quickly get in and out of the gym or simply want to spice up your workout routine, I suggest taking a look at NCFIT. This fitness app includes elements of personal training and periodization, although it doesn't offer true individualized coaching.
However, for people who already have some training experience and are looking to improve their strength, endurance, stamina, and gymnastics skills (i.e. pull-ups, toes-to-bar, etc.), with follow-along training and in-depth workout instruction, NCFIT is the app to choose.
NCFIT is the product of Jason Khalipa, a former CrossFit Games champion and owner of the NCFIT franchise in Northern California. Khalipa's team programs for CrossFit affiliates around the world and runs successful programming in each of the NCFIT gyms, so suffice it to say that the man knows what he's doing.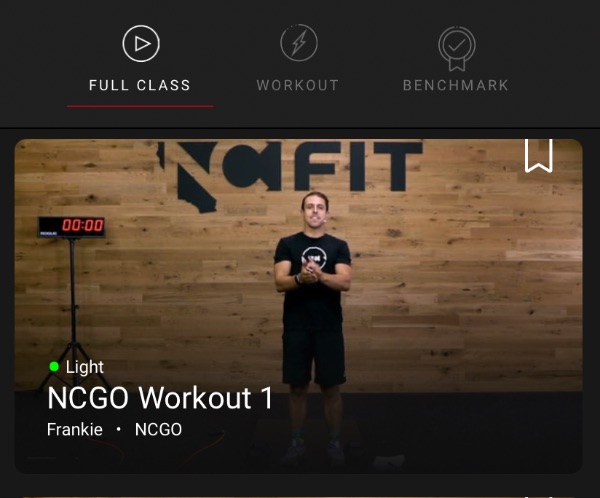 Despite Khalipa's background in CrossFit and the affiliate side of his business, the NCFIT app isn't just about CrossFit. This app is really about functional training, so you can expect to perform movements like the squat, deadlift, bench press, pull-ups, push-ups, step-ups, overhead press—you know, all the things that'll help you in real-life endeavors. But you'll often do this in an interval training format ranging from EMOMs to AMPRAPs to max-effort cardio sprints.
Unfortunately, to adequately perform the programming, you'll need a pretty stacked home gym. You can get by with less, but you won't reap the full benefits of the programming. Additionally, NCFIT is currently only available on iOS devices.
Read our full NCFIT app review.
| | |
| --- | --- |
| Price | $19.99/month |
| Free trial | 7 days with code "GARAGE" |
| Live coach | No |
| Available on | iOS |
| Type of training | HIIT, CrossFit, strength, gymnastics |
| Equipment needed | Various free weights |
Other Personal Training Apps We Tried And Researched
The above nine apps are far, far from the only workout apps out there. There are quite literally hundreds, if not thousands, of apps that can support your fitness goals in one way or another. Here's a look at some popular apps that we've researched but didn't make the cut for our list of the best personal training apps.
MyFitnessPal: This is more of a tracking app where you can log your meals and exercise; it's not so much an actual workout app.
Life Time Digital: Life Time's digital offering is pretty robust, with a la carte on-demand and live studio classes, as well as fully built out programs targeted at specific goals. We don't dislike it, but feel our top picks offer a little extra oomph.
SWEAT: Founder Kayla Itsines is obviously doing something right with the SWEAT app—its popularity is through the roof. We do like the SWEAT app, and we think it's a good option for people who prefer low-impact exercise. The newer pre- and postpartum plans are great for expecting and new mamas, too.
obé Fitness: This app seems similar to Aaptiv in terms of variety and similar to Peloton in terms of its live class offerings. We don't know enough about it yet to recommend it as one of the best.
Caliber: Caliber Fitness touts science-based fitness training and boasts that Caliber clients make progress 34% faster than they would on their own. We haven't tried this app and the website doesn't offer much insight into training theories and protocols.
CoPilot: CoPilot claims that its clients are nine times more consistent than they are on their own. This app offers 1:1 training and costs $129 per month after a free seven-day trial.
Nike Training Club: We love NTC and recommend it as the best free online workout program. (And we think it's super cool that it's now on Netflix!).
Keelo: Keelo specializes in HIIT workouts that take 30 minutes or less. It's a simple, no-frills app and would be a good choice for people who want a simple, no-frills workout routine.
Fitbit App: The Fitbit app is great if you have a Fitbit watch. Of course, you can download and use the app even if you don't have a Fitbit, but you won't enjoy full functionality.
Apple Fitness+: Apple Fitness+ is an awesome addition to the Apple ecosystem, but obviously, it's optimized for iPhones and Apple Watches. We think it's a great choice for Apple aficionados who want a simple workout routine.
Street Parking: This app is great for CrossFit aficionados who just want to see the workout, do it, and be done. We recommend Street Parking as one of the best online training plans for CrossFit.
Walking and running apps: Check out our guides to the best running apps and best walking apps, which include apps like MapMyRun, MayMyWalk, Nike Run Club, Couch to 5K, and Runkeeper.
Cycling Apps: We also have a guide to the best cycling apps, which includes Zwift, Komoot, MapMyRide, Bikemap, and more.
How We Picked and Tested the Best Personal Training App
Longtime GGR readers know that our team is picky, to say the least, about which products we recommend. If you're new here, this is a quick peek into our process.
Research and Crowdsourcing
Everything we do starts with research and crowdsourcing among our team members. As credentialed fitness professionals and longtime fitness enthusiasts, our product testers already have years of experience with various fitness apps, programming, and training styles.
The first step for this article was asking: "What training programs have we used, and which ones do we love?" The answers largely informed our final guide.
Additionally, we took to the depths of the Internet to research other personal training programs we may not have heard of yet and to get more details on ones that looked intriguing, but we hadn't tried.
Testing
We personally test the vast majority of what we recommend. If we recommend something that we haven't personally tested, it's because we have extensive experience with other products from the brand and/or with similar products and feel that, as fitness professionals, we can confidently make an educated decision about its quality. In the case of personal training apps, eight of the nine top recommendations have been used by someone on our team.
Shortlisting
Finally, we come up with our list of top picks based on our research and personal experience. All of this culminates in a guide like the one you're reading right now.
Benefits of Personal Training Apps
The benefits of personal training apps include many of the same benefits as in-person training. A personal training app can provide you with a level of accountability and motivation that you may not have on your own or even with a gym buddy.
Additionally, personal training apps provide you with either 100% individualized fitness programming or a selection of programming curated to your specific goals and needs. The best personal training apps help you reach your goals in a calculated, efficient way.
Buying Guide: What to Look for in a Personal Training App
As you browse your options, keep these considerations in mind.
Individualized Support
As the phrase "personal training" suggests, a personal training app will provide you with individualized support. Though most of our top suggestions do include this function, not all of them do. That's because individualized support doesn't have to mean 100% one-on-one coaching. That's the fastest way to reach your goals, sure, but apps like Aaptiv, Peloton, and iFIT are also great options with elements of customization.
Live Coaching
If you prefer to work out with a coach in real time, make sure the app you choose has a live coaching function. Not all of them do.
Ability to Modify Plans
Every app on our list offers unlimited modification, which is important when it comes to reaching your fitness goals. Without the ability to modify—whether you do it yourself or your coach does it for you—you'd find yourself in a variety of unfavorable situations, including attempting to work through overtraining syndrome, exacerbating injuries, or pushing hard despite an increase in stress or lack of sleep.
Logging and Tracking Capabilities
Logging is a foundational part of making progress in the gym. Without logging your workouts, you'll never know exactly what level you're at nor how to frame your next cycle of programming. The easiest way to log consistently is to choose an app that automatically tracks your workouts.
Form and Technique Feedback
If you're new to fitness, returning after a long break, or recovering from an injury, you'd be wise to choose a personal training app with live coaching. This way, your coach can monitor your technique and provide feedback to ensure your safety.
Progression
A personal training app should help you progress in one way or another, whether that means a live coach is fine-tuning your reps and sets, or an AI bot is serving up new programs to match your inputs. This is essential to progressive overload, which is the basis upon which most personal training is founded.
Best Personal Training Apps FAQs
Let's wrap up with some answers to common questions regarding personal training apps.
Is personal training worth it?
I answer most fitness questions with, "It depends," but this question I can answer with a resounding yes. A good personal trainer—or a good personal training app—is well worth the cost. If you're serious about improving your fitness, whatever that means to you, personal training is the No. 1 best way to do so.
How much does a personal training app cost?
The cost of personal training apps ranges from free-99 to several hundred dollars per month.
Is there a free personal fitness app?
Sure, there are free personal fitness apps available. One of our favorites is Nike Training Club, which offers many of the functions of other subscription-based apps.