We test and review fitness products based on an independent, multi-point methodology. If you use our links to purchase something, we may earn a commission. Read our disclosures.
In a perfect world, we'd all be Khloe Kardashian with speed-dial access to personal trainer to the stars Gunnar Peterson (also my friend; yes, this is a not-so-humble brag). However, we can't all be the Kardashians (or me), which is why the Future App was created.
Launched in 2019, Future aims to give the average person the star treatment with a digital personal training experience tailored to your needs. To help me get a better overall picture of the app, I enlisted the help of Garage Gym Reviews writer Caroline Lubinsky, a former NCAA D1 Women's College Soccer player, senior editor of Garage Gym Reviews, Kate Meier, who is also an experienced Olympic weightlifter and certified CrossFit L1 Trainer, and Logan Block, the director of marketing operations at Garage Gym Reviews. In this Future app review, I'll talk about our experiences using the app and if I think it's worth the money.
As a special offer for Garage Gym Review readers, you'll get a month of Future training for just $19! Click the link below to sign up!
Future App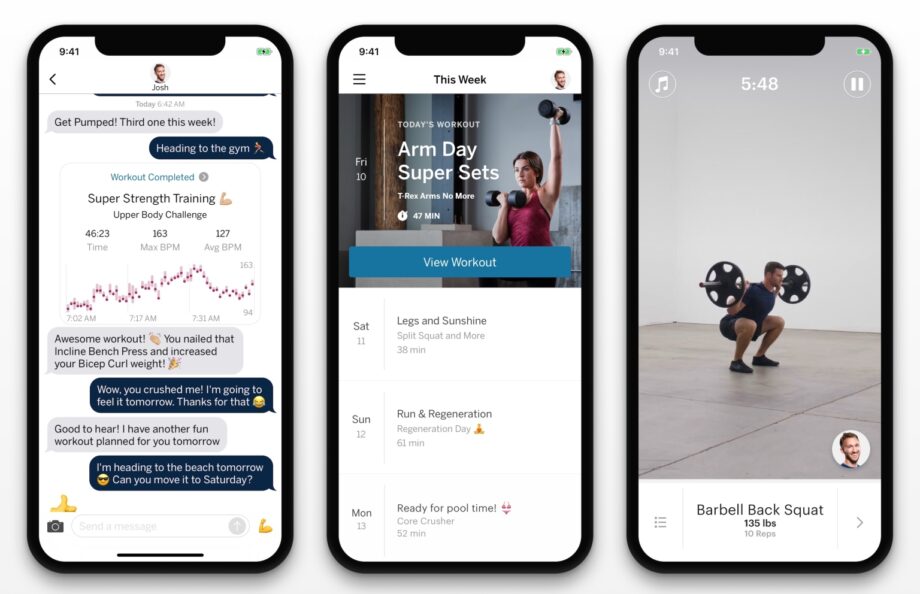 Future
Use our link and your first month is $19 Virtual personal training from iFIT coaches Thousands of live and on-demand classes Workouts include cardio, strength, yoga, and more Very well designed
Why You Should Trust Us
My team and I at Garage Gym Reviews don't just write and create content about fitness – fitness is our life. Whether you want to know about the best folding treadmills, workout tracker, or home gym machines, we have you covered. We're always trying the latest fitness equipment, smart home gym equipment, and the difference between investing in your own home gym vs gym membership to give you a comprehensive look at what's out there.
When it comes to testing personal training apps and equipment, we have had our hands on just about everything: workout programs like Juggernaut, smart home gyms like Tonal, and Jason Khalipa's program, NCFIT, just to name a few. And beyond that, Kate, Caroline and I have each run various training programs like the Wendler Method, CompTrain and others.
RELATED: The Future app made our Best Fitness Gifts list.
A Quick Look at the Future App Review
Your excuses are no longer safe when using the Future app. Don't have any equipment? No problem. Traveling across the country? Sounds good. Only have time at 4 a.m? Even better. This digital personal training app won't let you convince yourself that you don't have the time, equipment, or motivation to crush your fitness goals.
Coop's Tips:
If you're planning to go on vacation, you can add the dates under your profile in the app. This helps your coach plan around your schedule and accommodate any changes in equipment that might happen.
Wondering if you're doing an exercise correctly? Click the "record form" button during your workout to send a video to your coach for feedback.
Pros:
Workout routines are tailored to the equipment you have access to
Trainer keeps your goals top of mind
Accountability factor of having a real coach
User-friendly app and easy to get started
Cons:
$149 per month might not be doable for everyone
Only works with iPhones
Robotic instruction voice can feel impersonal at times
Video Review
Why the Heck Should I Get the Future App?
The Future App has quite a bit going for it and would be a great option for a lot of people. However, I wouldn't recommend it to absolutely everyone. Here's who I think it would be an ideal fit for and who might be better off with something different:
Great for:
People looking for a personal trainer on a flexible schedule
Those who need motivation or accountability for workouts
Individuals who want a PT without the hefty price tag that generally comes with in-person training
Not recommended for:
Individuals who prefer in-person training
People who like to follow their own programs
Those who own an Android
Get Off Your Butt!
Once you sign up with Future, you'll download the app. The first thing you'll do is click the "find your coach" button on the home page. You'll be asked a few questions about your current workout habits and what goals you're looking to achieve. From there, Future will recommend a few coaches based on your answers. You can also disregard their suggestions if you're feeling rebellious and take a look at the dozens of qualified options available.
Caroline decided to pick her own and chose Elle, a former professional soccer player who likes HIIT workouts. She equated it a little to a dating app, because you're looking for someone compatible who can help you achieve your goals in a way that's enjoyable for you.
RELATED: HIIT Treadmill Workout
Kate agrees. Although she chose a coach that was recommended to her, Kate says her coach was well suggested–the former gymnast could definitely help with her objective of gaining upper body strength for handstands.
Once you've chosen your coach, they'll schedule a Facetime call with you to talk about your current fitness routine and what you hope to achieve with Future. It's nice to connect with your coach face to face because it feels like they really care about seeing you succeed. Your coach will also check in with you every month to see how you are doing with the fitness plans they're creating to see if any tweaks need to be made.
I Can See Into Your Future… and It Looks Sweaty
Depending on how many days a week you want to workout, your Future coach will design a custom plan for you for the entire week. By Sunday evening, you should be able to see what you have to accomplish so you can plan accordingly. At first, I was a little nervous there wouldn't be any rest days, but these are luckily planned into your schedule for you.
Since Caroline decided she wanted to improve her mile time and get better at pull-ups, her coach had her complete a baseline workout to see where she could get better. Kate didn't do a baseline workout – she jumped head first into the programming because she let her coach know she was an experienced Olympic weightlifter.
When you're ready to begin your planned workout for the day, you'll simply launch the app, click "view workout," and "start."
From there, your coach will likely talk to you about what to expect for the exercises. When the workout begins, there is a person on the screen who is demonstrating the exercises as they should be performed. A semi-robotic voice tells you what equipment you need (like dumbbells or resistance bands) and what movement you'll be doing. The voice also gives you cues during the workout. If you aren't sure you are doing a movement correctly, you can record your form to send it to your coach. While you may not get cues in real time on your movement, you can at least get feedback for the next time.
Kate especially liked that the app works with your watch, and you can easily tap a button to move through your workout. This eliminates having to run over to your phone frequently. You can also easily pause your workout to take extra time to breathe or warmup. Kate also was able to cast the workout from her phone to her TV at home.
Both Logan and Caroline mentioned that they liked being able to rate how the workout felt after it was completed. Your coach is then able to make adjustments based on your feedback to make your workouts even more tailored for you.
Accountability and Flexibility
Almost every morning, my coach sent me a motivational quote and encouraged me to get my workout in. I don't normally have an issue with accountability, but it was nice to know my coach was in my corner and wanted to see me succeed. If you're someone who struggles with sticking to a workout plan, the Future app is a great option for you because you'll have a real person gently nagging you to get going.
However, just because the Future coaches want you to workout doesn't mean they can't or won't accommodate for extenuating circumstances. Since they are actual humans (and not robots planning your workouts), they understand that life happens. People get injured and have off days and your coach is there to help you pivot accordingly. Caroline hurt her back a month into trying Future, and her coach switched up her workouts to be more low-impact and rehab focused, which was really helpful for her. This shows me that regardless of your level, a Future coach can help you improve.
The only big downside with this app is the price. Don't get me wrong – $149 per month is not even close to the cost of getting an actual in-person PT on your case multiple times a week. However, I'd be remiss if I didn't mention that this can be out of some people's budget. If you can afford it, I'd definitely recommend it as a less stressful way to workout since it eliminates the aspect of having to plan your own workouts.
Technology
The Future app works only with Apple products, and an Apple Watch is required to use the service. This is worth noting because you need one in order to get the most out of the Future programming.
An Apple Watch seamlessly syncs with Future once you download the app for the watch. The watch then tracks your Future workouts for you without you having to remember to start a workout on the device, which is great in my opinion. Plus, you won't have an opportunity to fudge the workout, because your trainer will be able to see your daily calories burned, activities, heart rate, and workouts completed. This adds an extra layer of accountability alongside the kind, but firm prodding of your coach.
Future App Specs
| | |
| --- | --- |
| Price | $149 per month |
| Compatible With | Apple Watch, iPad or iPhone Only (iOS); downloadable in the App Store |
| Country Available | United States |
| Gym Membership Required | No |
| Ability to Change Coaches | Yes |
| Corporate Wellness Options | Yes |
Customer Experience
Future definitely stands behind its service: if you don't love the app within the first month of using it, you'll get a full-refund. I also like that you're able to cancel whenever without going through hoops of fire like some fitness memberships make you do. You can also easily switch out your coach if you want to try someone new by clicking "profile," "account," and "switch coach."
I don't love that there isn't a live chat option or a phone number to call with questions. If you scroll to the bottom of the website, you will see an "FAQ and Contact us" link. However, the page is all FAQs without an obvious way to contact customer service for help. I did keep hunting, and after clicking various questions, I found an email address: help@future.co. It is worth noting that they don't make it a simple process to find a method to contact them.
Customer Reviews
With over 91 ratings on Trustpilot, the Future app receives a solid score of 4.7 out of 5. Customers enjoyed the tailored aspect of the workouts and the accountability from having a personalized coach. People also mentioned that the app was simple to use and the coach could always change your workouts based on what equipment you have on hand.
In terms of negative feedback, a few people complained that the workouts they were receiving didn't seem personalized to them and they also wished there was a nutrition aspect to the app. However, these less than positive reviews were few and far between.
Final Verdict of Our Future App Review
Here are my thoughts on the Future App summarized: it's awesome. Whether you're someone who wants to get back into fitness, are insanely busy, or want to personal train on your schedule, this app is probably for you. The real barrier can be the price (for some people) and if you don't have an iPhone. Otherwise, this app is genuinely one of the best I've used in its category because it is so personalized to your individual goals and needs.
Lastly, I want to give a specific shout-out to my coach on Future, Jacob Sheeter. We've been working together for over A YEAR (seriously, I've been training with Future and Jacob now for more than 365 days and over 200 workouts.)
Final Rating
Future App
The Future app is a great training app for most people, whether you've been training for years or you're just getting started. The personalization of this app according to your personal training goals is what makes it so special.
Product Brand: Future
Product Currency: $
Product Price: 149
Product In-Stock: InStock
Future App FAQs
How does Future work?
Future is essentially a virtual personal training service. Your coach will ask you questions about what kind of workouts you like to do, what your goals are, and what equipment you generally have on hand. From there, they will create workouts weekly that help you get closer to your goals. There is also an accountability aspect to it where your coach will encourage you to complete your workouts and also remind you when you've missed one.
How much is Future each month?
Future is $149 per month. However, if you sign up using our link above, you'll get one month for just $19!
Can you pick your own coach with Future?
After answering some questions about your fitness habits and goals, you'll get a few trainers recommended to you based on your answers. You are able to disregard the suggestions and take a look at all the trainers offered and pick your own.
Do my goals have to be cardio or strength training specific?
Nope! You can have pretty much any goal under the sun. Your coach is there to support you on your fitness journey, regardless of your fitness level. That can look like anything from workouts for general weight loss, achieving proper form on push-ups, or being better about completing warm-ups to prevent injury.