We test and review fitness products based on an independent, multi-point methodology. If you use our links to purchase something, we may earn a commission. Read our disclosures.
Most weightlifters and bodybuilders will use mass gainers or protein powders to help build muscle, but could the secret to putting on high-quality size lie in a pre-workout? That's the promise behind Transparent Labs' BULK pre-workout, which, as its name suggests, is formulated to help those looking to bulk.
As a certified personal trainer and nutrition coach, I was a bit skeptical heading into this Transparent Labs BULK review on whether this would actually deliver on its promise. That's why I tried it for a month and dug deep into its ingredients list to see if it has something to offer that other pre-workouts don't, and whether you should spend your hard-earned money on it.
Our Transparent Labs BULK pre-workout review has all the answers you're looking for.
Medical disclaimer: This article is intended for educational and informational purposes only. It is not intended as a substitute for medical advice. For health advice, contact a licensed healthcare provider. GGR also recommends choosing a product that has been third-party tested for quality.
A Heaping Scoop of Pre-Workout Reviews by Actual Gym-Goers
The Garage Gym Reviews team consists of certified personal trainers and competitive weightlifters who run the pre-workout spectrum—some of us need it just to get under the bar, and others just need a little boost to get the blood flowing. Our diverse training background and caffeine tolerances allow us to recommend the best pre-workout for just about anyone, regardless of their training goals.
Transparent Labs BULK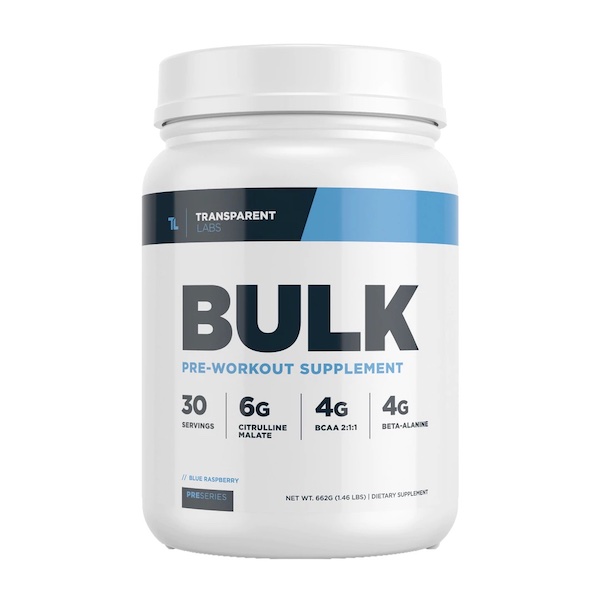 GGR Score: 4.6
Product Highlights
Formulated to help support muscle gain 

20 grams of research-based active ingredients per serving 

8 flavor variations are available
Pros & Cons
Pros
Transparent ingredient list
No artificial sweetener or color
Moderate dose of caffeine
8 flavor options
60-day money-back assurance
Cons
No creatine
Some users report it tastes bad
Bottom Line
Transparent Labs' BULK supplement is attractive to those whose primary focus is split between potential muscle gain and a pre-workout pump. While the taste is questionable, the product works well for most users.
A Quick Look at the Transparent Labs BULK
Transparent Labs BULK is a pre-workout supplement designed to help people who are looking to build muscle and gain strength. It contains a number of ingredients shown to help boost muscle endurance, focus, and energy, all of which are present in research-backed doses.
Unlike many pre-workouts that contain a high dose of caffeine, Transparent Labs BULK only has 180 milligrams, which is the same as two cups of coffee, and 30 milligrams of DiCaffeine Malate, a form of caffeine that's released into the bloodstream slower than regular caffeine and tends to last longer (we'll dive into it more in a later section).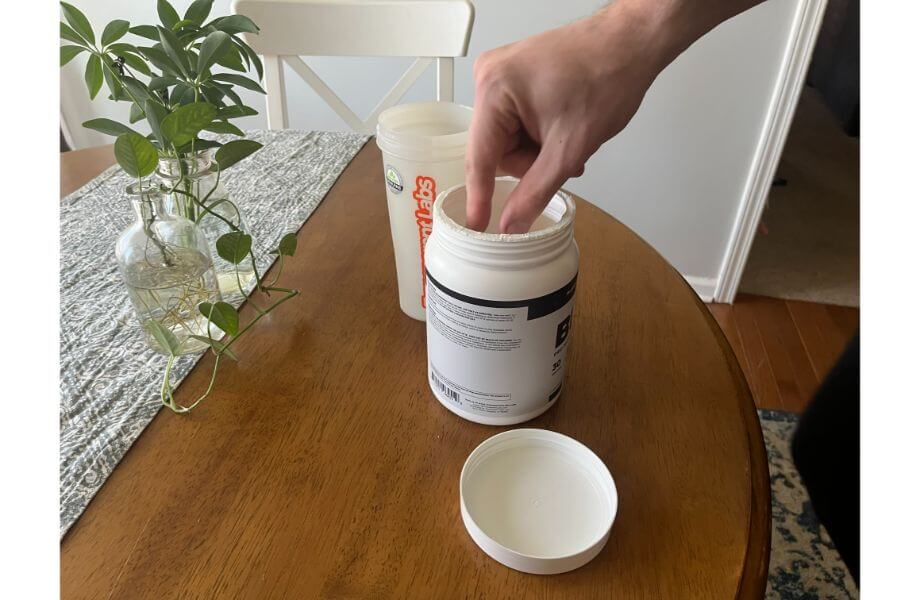 We're a little surprised to see no creatine in a pre-workout designed to help with muscle gains, especially since just about every study done on the supplement has linked it with improved muscle mass and strength, according to the International Society of Sports Nutrition.1
That said, there are some vitamins and minerals that can help support testosterone production and muscle protein synthesis.
Before You Buy
Is Transparent Labs BULK Worth It?
Transparent Labs BULK is worth it if you're looking for a pre-workout that contains a high-quality list of ingredients with research-backed doses to help support increased muscular endurance and pumps in the gym. Another bonus is that it's a moderately-priced pre-workout (there are more budget-friendly options, but it's far from being the most expensive).
It should be noted that the name is nothing but a marketing technique, and that it won't be the magic key to your bulking journey or instantly help you put on muscle—that comes from consistent work in the weight room.
Here are a few people who we think will enjoy Transparent Labs BULK, and who might want to look for another pre-workout.
Related: Best pre-workout for men
Great for:
Gym-goers who don't like taking a lot of caffeine
Anyone who's trying to build muscle
Those who prefer supplements without any artificial ingredients
Not recommended for:
People with a high caffeine tolerance
Those who want creatine in their pre-workout
Anyone on a tight budget
Transparent Labs BULK Specs
| | |
| --- | --- |
| Price per serving | $1.66 |
| Flavors | Strawberry Kiwi, Piña Colada, Blue Raspberry, Watermelon, Black Cherry, Sour Grape, Green Apple, Orange, Strawberry Lemonade, Lemon Lime, Peach Mango |
| Key ingredients | Citrulline Malate, Beta-Alanine, Branched-Chain Amino Acids (BCAAs), Taurine, Betaine Anhydrous (BetaPure), L-Tyrosine, L-Theanine, Alpha GPC, Caffeine Anhydrous, Theobromine, Infinergy (DiCaffeine Malate), AstraGin, Boron, Vitamin D |
| Third-party tested? | Yes |
| Benefits | Energy, Muscular Endurance, Pumps, Muscle Growth |
| Serving Size | 1 scoop (22.9 g) |
Experience Using Transparent Labs BULK
The first thing I noticed about Transparent Labs BULK is that it has a larger scoop compared to many of the other pre-workouts I've taken over the past few years. Here's a picture of the scoop compared to a few other pre-workouts in my collection (Transparent Labs is the clear one).
Pre-workouts aren't like multivitamins when it comes to swallowability, but the large scoop is worth mentioning because it means you're getting more ingredients, and luckily Transparent Labs has made sure not to sacrifice quality for quantity's sake.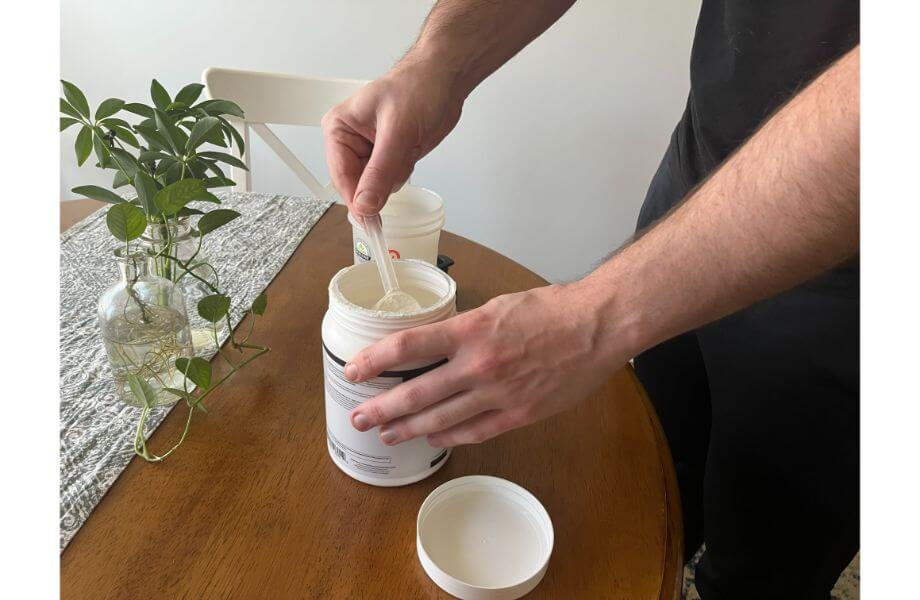 Despite the lower caffeine content, I felt energized and focused after taking Transparent Labs BULK. Caffeine tolerance is a very subjective matter, but I'd imagine that most people who like to lift before the sun rises might want something a little stronger than this. I tried taking it during one such workout, and while I felt a little more lively, I was still feeling a bit groggy during my session.
The pumps were also very noticeable when taking this pre-workout, which I think is what most people looking into this pre-workout are curious about. Was I suddenly feeling or looking like Dwayne "The Rock" Johnson after taking it for a month? No, and I don't think you will either.
Formulation
Here, we'll dive a little deeper into some of the Transparent Labs BULK pre-workout ingredients and let you know what the scientific literature says about them and how they can support your training goals.
Caffeine
Caffeine is a staple in most pre-workouts, with the exception of stim-free pre-workouts, mostly because it provides energy, but there are other reasons why strength training athletes may want to get some jitter juice in their system before lifting.
A December 2020 review2 on caffeine's strength training benefits found it lowered people's rate of perceived exertion (or how hard you feel your body is working to complete a lift) and supported increased muscle power.
DiCaffeine Malate
DiCaffeine Malate is a buffered type of caffeine that's made of two compounds, and you can probably guess what one of them is: caffeine and malic acid. It's created by bonding two caffeine molecules to one malic acid (malate) molecule, which results in a version of caffeine that has a slower release time than regular caffeine.
There aren't many studies on DiCaffeine Malate, and the few that do examine the substance look at it when combined with other ingredients, but an undergraduate student from the College of William & Mary who did his thesis on pre-workouts3 noted it "may serve as a more potent form of caffeine that can increase focus, energy, metabolism, and decreased perception of fatigue."
Citrulline Malate
Citrulline Malate is a nitric oxide booster that supports improved muscular endurance and blood flow to the muscles, the latter of which is vital if you're looking for a pump (when your muscles look temporarily engorged after intense bouts of resistance training exercise). These claims were backed up in an August 2021 review4 of the compound's benefits.
Transparent Labs BULK has 6 grams of citrulline malate, and though the optimal dose for physical performance is 8 grams4 there have been studies, such as this small one conducted in July 20195, that found benefits with lower dosages.
Beta-Alanine
Beta-alanine is a non-essential amino acid (meaning our body makes enough of it and it's not needed through the diet) that's been linked with decreased muscle soreness and improved athletic performance, according to an October 2016 meta-analysis6.
The 4 grams of beta-alanine in Transparent Labs BULK is in line with the 4-6 gram dose recommended by the International Society of Sports Nutrition.7
If you've never taken beta-alanine before, be aware that it can cause a slight itching or tingling sensation in the face known as paresthesia. This will pass, but if you're not used to it you might be taken off guard.
Beta-alanine also helps the body create carnosine, which has heart and brain health benefits.
Taurine
A November 2012 review8 said taurine, "Plays an important role as a basic factor for maintaining cellular integrity in the heart, muscle, retina, and throughout the [central nervous system]," and could act as a neurotransmitter (chemical messengers that control bodily functions).
The International Society of Sports Nutrition9 found 1-3 grams of taurine to be the optimal dose for sports training benefits, and Transparent Labs BULK has 1.3 grams per scoop.
B Vitamins
Transparent Labs BULK isn't the only pre-workout to load up their pre-workout with Vitamin B12 and Vitamin B6, but by scanning my pre-workout cabinet I can see that it has more than most. This is done because, according to a January 2016 review10, B vitamins are "absolutely essential for every aspect of brain function."
You get 270% of your daily value (DV) of Vitamin B6 and 4,170% of the DV for Vitamin B12.
Alpha GPC
Alpha GPC is a natural compound found in the brain that, according to the International Society of Sports Nutrition11, can have a nootropic-like effect on the brain to support increased mental alertness.
Vitamin D3
A December 2010 review12 found Vitamin D supplementation could help with testosterone support, and Transparent Labs BULK gives you 380% of your DV of this nutrient.
How Much Caffeine Should I Take Before My Workouts?
Most studies agree that 2-9 milligrams of caffeine per kilogram of body weight is the ideal dose for strength training athletes2, so the 180 milligrams in Transparent Labs BULK is perfect for those 200 pounds or lower. You might need more or less, depending on your size or caffeine tolerance.
Price Per Serving
Transparent Labs BULK comes in at $1.66 per serving, which isn't the most budget-friendly pre-workout, but we've seen supplements that cost around $2 per scoop, so this falls somewhere in the middle.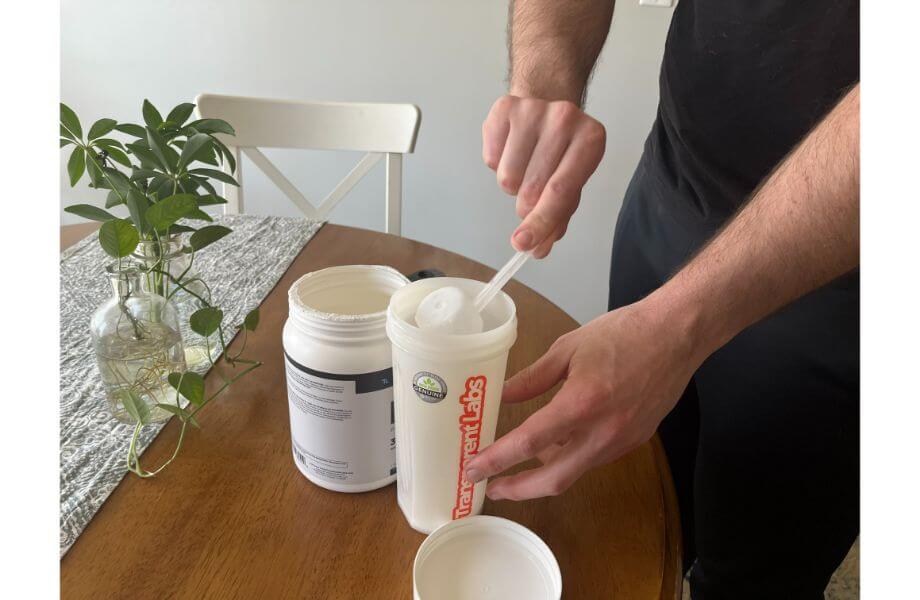 Taste and Solubility
Transparent Labs BULK comes in the following flavors:
Strawberry Kiwi
Piña Colada
Blue Raspberry
Watermelon
Black Cherry
Sour Grape
Green Apple
Orange
Strawberry Lemonade
Lemon Lime
Peach Mango
I went with Blue Raspberry, and if you've ever had anything blue raspberry flavored then you know how this tastes. I do have to say it doesn't taste as artificial as other blue raspberry-flavored products, but that might be because Transparent Labs doesn't use artificial sweeteners, dyes, or preservatives.
It mixes easily when shaken with water.
Third-Party Testing
Transparent Labs' website shows lab analyses of its products to show they've been tested for heavy metals, banned substances, and more.
Transparent Labs BULK vs Transparent Labs LEAN
LEAN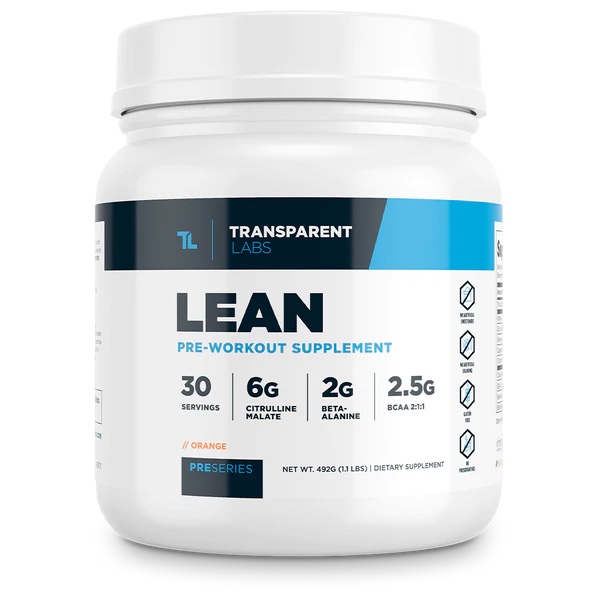 Product Highlights
Formulated for those looking to lose weight but maintain muscle mass

14 grams of evidence-based ingredients

Naturally flavored and sweetened with Stevia

Available in 9 different flavors

Backed by a 60-day money-back guarantee
Pros & Cons
Pros
Includes vitamins/micronutrients to support thyroid production
High levels of citrulline to increase oxygen delivery to muscles
No artificial sweeteners
No artificial colors
60-day money-back guarantee
Cons
Bitter and unpleasant taste for some consumers
Several reports of receiving wrong item
Bottom Line
Transparent Labs' LEAN pre-workout supplement promises to deliver better endurance, power, alertness, and focus. The fat loss component is less of a guarantee with few reports of an actual change in body composition.
The main difference between Transparent Labs BULK and Transparent Labs LEAN is that the latter contains fewer ingredients than BULK, with the notable exclusions being compounds that are meant to help with muscle building and growth (which makes sense). Both contain the same amount of caffeine and citrulline malate and cost the same, so it's up to you to determine which is best for your training goals.
| | | |
| --- | --- | --- |
| | Transparent Labs BULK | Transparent Labs LEAN |
| Price per serving | $1.66 | $1.66 |
| Active ingredients | Citrulline Malate, Beta-Alanine, Taurine, Caffeine, DiCaffeine Malate | Citrulline Malate, Beta-Alanine, Taurine, Caffeine, |
| Flavors | Strawberry Kiwi, Piña Colada, Blue Raspberry, Watermelon, Black Cherry, Sour Grape, Green apple, Orange, Strawberry Lemonade, Lemon Lime, Peach Mango | Strawberry Kiwi, Piña Colada, Blue Raspberry, Watermelon, Black Cherry, Sour Grape, Green apple, Orange, Strawberry Lemonade, Lemon Lime, Peach Mango |
| Third-party tested? | Yes | Yes |
Transparent Labs BULK vs Cellucor C4
Cellucor C4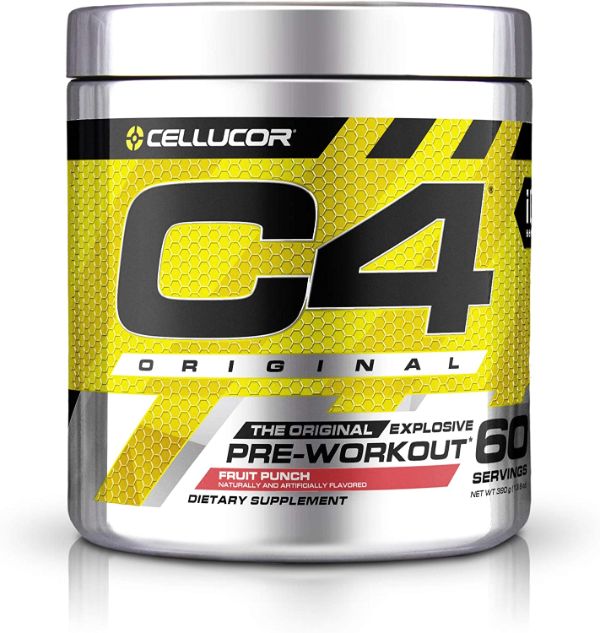 GGR Score: 3.9
Product Highlights
Powerful ingredients
Gives a solid boost of energy
Dissolves well
Affordable price per serving
Pros & Cons
Pros
Powerful ingredients
Gives a solid boost of energy
Can aid in training performance
Dissolves well
Affordable price per serving
Cons
Some users report unpleasant aftertaste
Gives some people headaches
Some experience tingling in the face
Bottom Line
If you're looking for an affordable pre-workout drink from a big-name supplement company, give C4 a look.
Cellucor C4 is a great beginner's pre-workout and is also much more affordable than Transparent Labs BULK—C4 comes out to 99 cents per scoop. One of C4's downsides is that its ingredients are often underdosed and may not have as many benefits as BULK, but if you're new to pre-workouts it's a great place to start.
| | | |
| --- | --- | --- |
| | Transparent Labs BULK | Cellucor C4 |
| Price per serving | $1.66 | $0.99 |
| Active ingredients | Citrulline Malate, Beta-Alanine, Taurine, Caffeine, DiCaffeine Malate | Caffeine, CarnoSyn Beta-Alanine, Creatine Nitrate, Citrulline Malate, Vitamin C |
| Flavors | Strawberry Kiwi, Piña Colada, Blue Raspberry, Watermelon, Black Cherry, Sour Grape, Green apple, Orange, Strawberry Lemonade, Lemon Lime, Peach Mango | Cherry Limeade, Strawberry Watermelon, Grape, Watermelon, Frozen Bombsicle, Icy Blue Razz, Fruit Punch |
| Third-party tested? | Yes | No |
Read our C4 pre-workout review for more information.
Returns, Shipping, And Subscriptions
You can return any unopened Transparent Labs product for a full refund, or if you've opened it you can ask customer service for store credit or an exchange.
Shipping costs vary by location. Transparent Labs offers free shipping on all orders above $149.
Placing your pre-workout on a subscription can save you 10% off each pre-workout, and ensures you'll never run out.
Customer Reviews
Transparent Labs BULK has a 4.7 average rating with more than 4,000 reviews as of this writing.
Final Verdict of Our Transparent Labs BULK Review
While the name is a bit gimmicky, there's no denying that Transparent Labs BULK is an effective pre-workout for anyone who's looking to get more focused in the gym and increase their overall size. To be clear, you still need to go into the weight room and lift a bunch of heavy iron, but the research-backed ingredients and doses in this pre-workout are certainly a way to help make that happen more consistently.
Transparent Labs BULK Rating
Transparent Labs BULK Review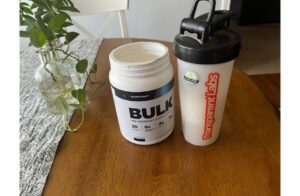 Our Transparent Labs BULK review will let you know if this is the pre-workout for your training goals.
Product Brand: Transparent Labs
Product Currency: USD
Product Price: 50
Product In-Stock: InStock
Transparent Labs BULK FAQs
Does transparent labs bulk have testosterone?
No, Transparent Labs BULK does not contain testosterone but there are some ingredients that have been linked to increased testosterone levels.
What is the difference between LEAN and BULK transparent labs?
Transparent Labs LEAN is formulated to help support weight loss, while Transparent Labs BULK is formulated to support muscle growth.
Where is transparent labs manufactured?
Transparent Labs is manufactured in Utah, USA. 

These statements have not been evaluated by the Food and Drug Administration. This product is not intended to diagnose, treat, cure, or prevent any diseases.
References
Kreider RB, Kalman DS, Antonio J, et al. International Society of Sports Nutrition position stand: safety and efficacy of creatine supplementation in exercise, sport, and medicine. J Int Soc Sports Nutr. 2017;14:18. Published 2017 Jun 13. doi:10.1186/s12970-017-0173-z
Martins GL, Guilherme JPLF, Ferreira LHB, de Souza-Junior TP, Lancha AH Jr. Caffeine and Exercise Performance: Possible Directions for Definitive Findings. Front Sports Act Living. 2020;2:574854. Published 2020 Dec 11. doi:10.3389/fspor.2020.574854
Canakis, Justin. [2017] The Efficacy and Safety of Six-Weeks of Pre-Workout Supplementation in Resistance Trained Rats. [Undergraduate thesis, College of William & Mary].
Gough LA, Sparks SA, McNaughton LR, et al. A critical review of citrulline malate supplementation and exercise performance. Eur J Appl Physiol. 2021;121(12):3283-3295. doi:10.1007/s00421-021-04774-6
Casonatto J, Enokida DM, Grandolfi K. Inter-Individual Responses to Citrulline Malate Oral Supplementation on Post-Exercise Hypotension in Hypertensives: A 24-Hour Analysis. Arq Bras Cardiol. 2019;113(2):218-228. Published 2019 Jul 10. doi:10.5935/abc.20190115
Saunders B, Elliott-Sale K, Artioli GG, et al. β-alanine supplementation to improve exercise capacity and performance: a systematic review and meta-analysis. Br J Sports Med. 2017;51(8):658-669. doi:10.1136/bjsports-2016-096396
Trexler ET, Smith-Ryan AE, Stout JR, et al. International society of sports nutrition position stand: Beta-Alanine. J Int Soc Sports Nutr. 2015;12:30. Published 2015 Jul 15. doi:10.1186/s12970-015-0090-y
Ripps H, Shen W. Review: taurine: a "very essential" amino acid. Mol Vis. 2012;18:2673-2686.
Kurtz JA, VanDusseldorp TA, Doyle JA, Otis JS. Taurine in sports and exercise. J Int Soc Sports Nutr. 2021;18(1):39. Published 2021 May 26. doi:10.1186/s12970-021-00438-0
Kennedy DO. B Vitamins and the Brain: Mechanisms, Dose and Efficacy–A Review. Nutrients. 2016;8(2):68. Published 2016 Jan 27. doi:10.3390/nu8020068
Parker AG, Byars A, Purpura M, Jäger R. The effects of alpha-glycerylphosphorylcholine, caffeine or placebo on markers of mood, cognitive function, power, speed, and agility. J Int Soc Sports Nutr. 2015;12(Suppl 1):P41. Published 2015 Sep 21. doi:10.1186/1550-2783-12-S1-P41
Pilz S, Frisch S, Koertke H, et al. Effect of vitamin D supplementation on testosterone levels in men. Horm Metab Res. 2011;43(3):223-225. doi:10.1055/s-0030-1269854