We test and review fitness products based on an independent, multi-point methodology. If you use our links to purchase something, we may earn a commission. Read our disclosures.
How many times have you walked into a commercial or home gym to use the functional trainer or Smith machine, only for it to be hogged by someone spending more time on their phone than using the machine? Probably a lot. If only there were some way to have these machines in the comfort of your own home. Oh wait, there is.
Our Inspire Fitness FT2 Functional Trainer review will show you why this is one of the best functional trainers on the market today, and why cable and Smith machines can be your friend no matter your fitness goals.
We're Here to Inspire Your Home Gym
One of our favorite parts of this job is hearing from the countless people who built their home gym with the help of this website and our YouTube channel. Truly, it means a lot to us that our passion for all things fitness has inspired others to start training at home. If you have a cool home gym setup you want us to see, feel free to tag us on social media.

And now that we've added certified personal trainers, CrossFit L-1 trainers, and competitive athletes to the GGR roster, we're excited to help show you how to make the most out of the Olympic barbells, functional trainers, cable machines, dumbbells, treadmills, and any other piece of equipment you can find here.
Compact Functional Trainer
Inspire Fitness FT2
The Inspire Fitness FT2 is a piece of equipment that comes with a ton of versatility. This product comes with a Smith machine and bar that allows you to do functional and traditional training exercises. It has a larger footprint, but if you have the space, you can purchase add-ons like a bench or ab bar to even further increase how many movements you can do on this functional trainer.The dual 165-pound weight stack is also a dual pulley system, which means that two people can workout at once. The 2:1 weight ratio allows you to feel comfortable and safe using this machine if you are a beginner or expert at the gym.If you are looking for storage, this product comes with two water bottle holding stations and clips that allow you to hang your extensions and handles. Inspire Fitness also added a media shelf where you can put an iPad to follow a workout, or even put a book on the shelf so you can read to make the time pass during rest intervals.
A Quick Look at the Inspire Fitness FT2 Functional Trainer
Inspire Fitness machines can be found in most commercial gym settings, be that your local globo gym or hotel fitness center, but they also make high-quality home gym equipment as well, with the Inspire Fitness FT2 Functional Trainer only being one such example.
The FT2 is actually two machines in one, but still manages to be relatively compact. You get a functional trainer with eight pulleys that attach to dual 165-pound weight stacks that have a five-pound add-on, giving you a total of 170 pounds of resistance per side. The trainer utilizes a 2:1 ratio, meaning pulling 170 pounds gives you 85 pounds of effective resistance.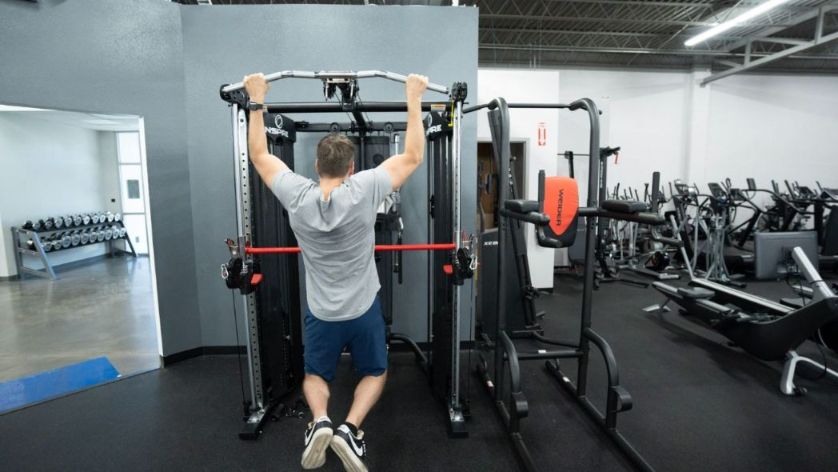 We love that the FT2 comes with 10 different accessories to help increase the versatility of this machine. You also have the option of adding an adjustable bench to your order at no additional cost.
But that's not all! You'll also get a Smith machine that's tied to the weight stacks.
Our Tips
Want more weight? Inspire Fitness offers dual 50-pound weight stack upgrades to bump the total resistance to 220 pounds per side.
Inspire Fitness says the max weight is 165 pounds per side, but it comes with five-pound add-ons that bump it to 170.
You'll technically get 190 pounds of resistance with the Smith machine since the bar weighs 20 pounds.
Pros:
Comes with 8 pulleys
More compact than most functional trainers
10 accessories included
Lifetime warranty on all parts
Cons:
Weight stacks max out at 170 pounds with a 2:1 ratio (so the effective weight is only 85 pounds).
Costs $5,000 (but there are financing options)
The Smith bar can get in the way of some movements
Is the Inspire Fitness FT2 Functional Trainer Worth It?
The Inspire Fitness FT2 Functional Trainer sells for $5,000, and that's a lot of cheddar to grate even if you opt for monthly financing. That said, you are getting two high-quality and versatile machines for the price of one and a lifetime warranty on all parts.
But we get that it might not be for everyone. Here's who we think will get their money's worth out of the FT2 functional trainer, and who might want to look for something else.
Great for:
Those looking for a durable functional trainer made with premium materials
Home gym owners looking for compact exercise equipment
Anyone who wants a full-body workout machine
Not recommended for:
Home gym athletes who want to train for a specific sport, like powerlifting or CrossFit
Those on a budget
Anyone looking for a functional trainer that has a power rack
Inspire Fitness FT2 Functional Trainer Specs
| | |
| --- | --- |
| Footprint | 58" L x 61" W x 88" H |
| Weight | 700 lbs |
| Resistance ratio | 2:1 |
| Weight stacks | Dual 165-lb. stacks, with 5 lb add-ons |
| Smith machine bar | 20 lbs |
| Bearings | Precision steel ball |
| Colors | Matte black, chrome |
| Finish | Electrostatic powder coat |
| Frame | Heavy-duty round and rectangular steel |
| Warranty | Limited lifetime on all parts |
Working Out with the Inspire Fitness FT2 Functional Trainer
If there's one person I trust to test any piece of fitness equipment, it's Garage Gym Reviews founder and semi-professional tinkerer Cooper Mitchell.
"I really like the FT2 as there's a lot it can do in a small, compact form," he says. The FT2 is 61 inches in width, making it much narrower than most other functional trainers. For example, the REP Fitness FT-5000, another one of our favorite functional trainers, is 72 inches wide.
When it comes to the workout experience, Coop says this machine matches the quality one might expect from Inspire Fitness. After all, they produce machines that can be used by hundreds of people a day in a commercial gym setting and still be functional for many years.
"The cables are smooth and there are a lot of them," Coop says, which is just a bit of an understatement. Looking at other functional trainers, you're usually only getting two adjustable pulleys on either upright and there's nothing wrong with that. These pulley systems can be adjusted to help target every muscle group from different angles, which is part of what makes functional trainers so versatile.
But the FT2 comes with eight—count 'em, eight—pulleys. You get four lower pulleys, two on either upright (with 1-inch hole spacing), and two upper pulleys. This increases the number of moves you can do with it, and allows you to get more creative with how you target certain muscles.
The upper pulleys, for example, are better equipped for moves like lat pulldowns than traditional functional trainers.
Another thing that separates the FT2 from other functional trainers are the included accessories: a triceps rope, two rubber D-handles, a straight bar, EZ-curl bar, ankle strap, a multi-function belt, sports handle, pull-up strap, and two water bottles.
It also comes with an exercise booklet, which can help show you the seemingly endless ways you can take advantage of this machine.
If you decide to get the weight bench, you should know that Inspire Fitness sells multiple attachments as well, including a preacher curl attachment (to help pump up your biceps) and a leg extension attachment.
Smith Machine
The Inspire Fitness FT2 Functional Trainer has one more trick up its sleeve, and that's the included selectorized Smith machine. The bar can be raised all the way to the top while you're using the functional trainer to keep it out of the way, though we've read some reviews that say it does inhibit certain movements (such as when you're using the pull-up bar).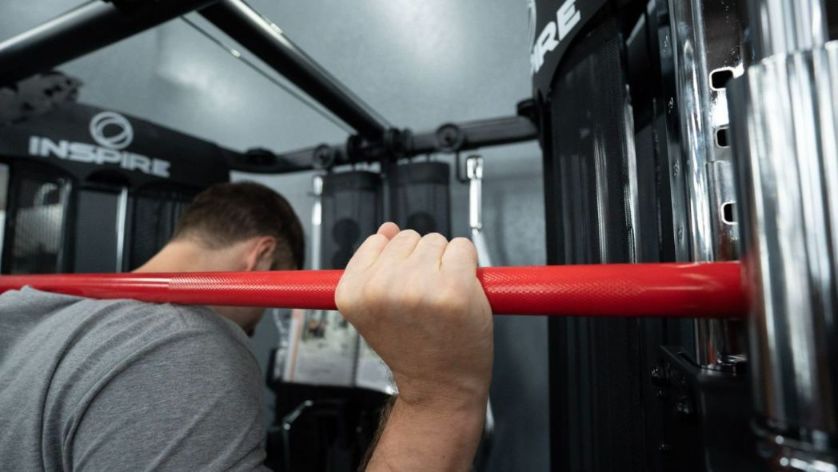 The 20-pound bar is attached to the weight stacks, which is both a good and bad thing. It's a good thing because it keeps the machine compact and you don't have to buy any extra equipment.
That said, Coop and I agree that a plate-loaded option would've been a nice touch. "I would have liked the option to add additional weight with weight plates, but for most, it will be more than heavy enough and is quickly changeable weight-wise," he says.
Why Machines Are Just as Good as Free Weights
You may have heard your resident meathead rag on cable and Smith machines and say you should focus on using free weights, like barbells, dumbbells, and kettlebells. And while we love using all of those, people who claim you can't get muscular or strong with machines are just wrong.
Don't believe us? Google bodybuilding legend Dexter "The Blade" Jackson and take a quick look at his muscles. He looks pretty good, huh? Believe it or not, a lot of that was accomplished with machines similar to the Inspire Fitness FT2 Functional Trainer, and they also allowed him to compete in bodybuilding for nearly three decades.
Seriously, the man debuted in 1992 at age 23 and retired in 2020 at 50. Fifty! Most people switch to a special division by that time, but Dexter was still competing against men half his age and beating them on several occasions.
Dexter has said he was able to keep going for so long because he utilized cables and machines in his later years, which allowed him to continue to build muscle while reducing the impact to his body. Again, lifting with barbells and dumbbells is great but they put much more stress on your joints.
Cables also offer constant tension on the muscles as you lift and lower weights, which is something you don't get with free weights (unless you actively practice extended-duration eccentric training, AKA tempo training).
There have also been studies that show Smith machines are just as effective in increasing strength in moves like the bench press and squat when compared to free weights, though the latter results in increased testosterone production in men and women (which can lead to even more muscle and strength gains).
Construction and Durability
The Inspire Fitness FT2 Functional Trainer is made with heavy-duty round and rectangular commercial-grade steel, and while Inspire Fitness doesn't specify what gauge steel they use, we're pretty sure this thing will stand up to just about anything you put it through.
There are a few online reviewers who say the cables started deteriorating after only a few days, but most reviewers have had little to no problems with the machine or any of its parts.
Warranty, Financing, Returns
The Inspire Fitness FT2 Functional Trainer comes with a limited lifetime warranty on the frame and all parts, so long as it's used for residential use only. For "light commercial" use, there's a 10-year frame warranty and lifetime warranty on all parts. The coverage only applies to manufacturing defects and doesn't protect against any misuse.
Financing plans for the Inspire Fitness FT2 Functional Trainer start at $174 per month through Affirm. You can find out if you qualify for financing at checkout.
You have 15 days from the date of purchase to return the Inspire Fitness FT2 Functional Trainer for a full refund, minus a 20 percent restocking fee. There's also a 30 percent repackaging fee if you don't return it in its original box.
Ordering and Assembling the Inspire Fitness FT2 Functional Trainer
The Inspire Fitness FT2 Functional Trainer will arrive at your doorstep in multiple boxes, and as one might guess there's a lot of parts. But, according to the many reviews we read, it's not as complicated as one might think. If you grab a friend you can have the whole thing assembled in under six hours.
Many of the reviewers said the instructions were clear and easy to follow.
Customer Reviews
As of this writing, the Inspire Fitness FT2 Functional Trainer only has one review on the company's website—and it's a five-star review.
The reviews on Amazon are generally positive, though some people complained of missing parts and poor durability.
Final Verdict of Our Inspire Fitness FT2 Functional Trainer Review
If you're looking for an all-in-one home gym and don't plan on lifting very heavy weights, the Inspire Fitness FT2 Functional Trainer is a great option. It's one of the most versatile pieces of equipment we've seen, not just because it's two machines in one, and it's backed by a lifetime warranty that makes the $5,000 price tag a little more bearable.
What we like:
Eight pulleys
10 included accessories
Lifetime warranty for residential use
Durable construction
Our callouts:
Would've liked to see a plate-loaded option for Smith machine
Some concerns about cables' durability
Smith machine bar can get in the way of some movements
Inspire Fitness FT2 Functional Trainer Rating
Inspire Fitness FT2 Functional Trainer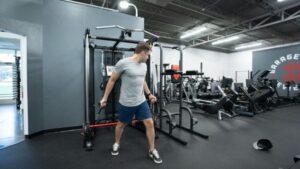 Our Inspire Fitness FT2 Functional Trainer review gives you an in-depth look at this versatile, but costly machine.
Product Brand: Inspire Fitness
Product Currency: USD
Product Price: 4999.00
Product In-Stock: InStock
Inspire Fitness FT2 Functional Trainer FAQs
What is the difference between Inspire FT1 and FT2?
The biggest difference between the Inspire Fitness FT1 Functional Trainer and the FT2 Functional Trainer is that the latter comes with a Smith machine bar that's attached to the dual weight stacks, increasing the versatility of the machine.
How heavy is the Inspire FT2?
The Inspire Fitness FT2 Functional Trainer weighs 700 pounds.
Is a functional trainer worth it?
Absolutely! A functional trainer allows you to target every muscle group and train them in a way that carries over to everyday life. They're an incredibly versatile machine that can replace multiple pieces of equipment to help you save space and money.