We test and review fitness products based on an independent, multi-point methodology. If you use our links to purchase something, we may earn a commission. Read our disclosures.
Smart exercise bikes are all over the market today, but not all are created equal. Peloton and Schwinn likely need no introduction—both of these brands are household names, although the former is a young buck and the latter is a seasoned vet.
The Peloton Bike and the Schwinn IC4 bike are both indoor cycling bikes with Bluetooth connectivity that allow you to take advantage of live and on-demand classes via fitness apps.
But, they have some pretty stark differences, too. In this review of the Peloton vs Schwinn IC4, I'll break it all down to help you decide which one is right for your home gym. I've personally tested the Peloton, and GGR founder Coop has tested the IC4, so we're ready to fill you in.
Peloton Bike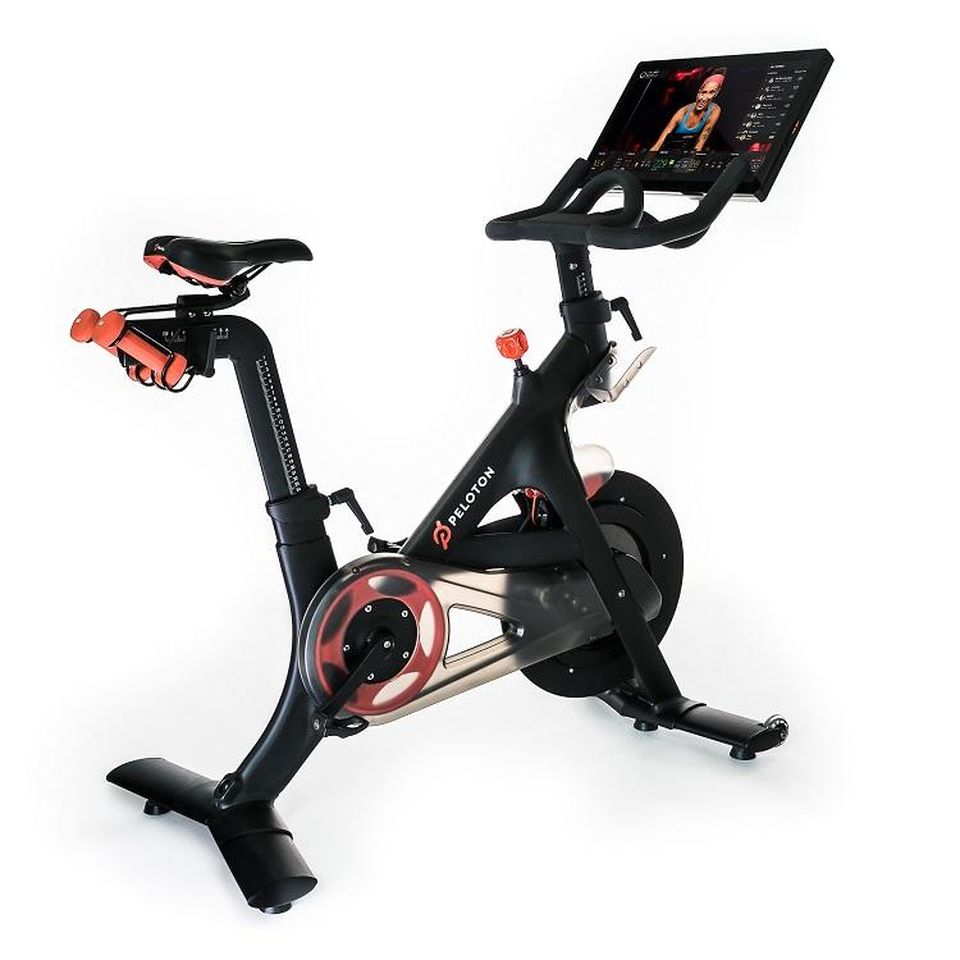 Peloton Indoor Exercise Bike
Peloton has taken the fitness world by storm, gaining celebrity-like status—and for good reason. The Peloton fitness community offers exclusive access to thousands of live and on-demand fitness classes, challenges, leaderboards, and an endless variety of workout types. And, their line of premium cardio machines is as impressive as their platform. Perhaps most well-known in the Peloton line of fitness equipment is the Peloton Bike. This bike has a compact footprint at only 2-feet by 4-feet, which makes it a good fit in both small and large spaces. In addition to the virtual training platform, the Peloton Bike itself comes with top-of-the-line components. Its heavy-duty frame is made from welded steel and powder coated for a sleek look. The power transmission belt drive is responsive and provides enough resistance to challenge any athlete. An ergonomic Sports series saddle takes some time getting used to, but it's suitable for most users. The bike supports a user weight up to 297 pounds. The Peloton Bike comes equipped with a vivid, 10-point multitouch, 21.5-inch  touchscreen display that displays in-workout metrics like power, cadence, resistance, and heart rate. What's more, this screen tilts to adjust to user height, which enhances the immersive experience. A rear-facing stereo speaker system, a 5-megapixel front-facing camera, a built-in microphone, and Bluetooth 4.0 connectivity keeps you entertained and connected throughout any workout. A monthly subscription to Peloton—$39 for the all-access membership (going up to $44 per month on June 1, 2023)—is required to use the bike, which does add to the total cost. But, the reality is that if you're considering a Peloton bike, it's probably because you plan on becoming a part of the Peloton fitness community. While this bike carries a hefty price tag, it comes with many impressive features and connectivity that can enhance your exercise routine.
Schwinn IC4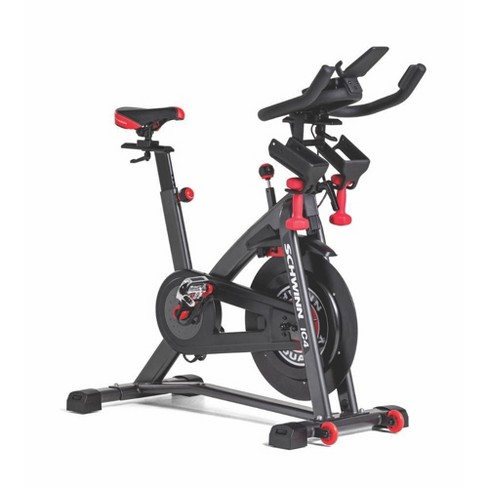 Schwinn IC4
Designed to work with the Peloton® and Zwift® apps, allowing you to stream thousands of classes directly into your home and compete against others in a virtual world that motivates you at every mile. Access the Explore the Worldâ"¢ app and digitally immerse yourself in a world of virtual races, exotic locales, and stunning trails from around the globe. Smooth, magnetic resistance. Full color backlit LCD display. Media rack. Slim, comfortable Bluetooth® LE (BLE) heart rate armband. 3 lb. dumbbells with easy-reach cradles. USB charging station
Quick Look: Peloton vs Schwinn IC4
When researching exercise bikes, there are quite a few characteristics you should keep in mind, including the price, technology features, type and levels of resistance, and other functionality like the footprint and weight capacity. Here's a look at the specs of the Peloton and Schwinn IC4 side by side.
Peloton vs Schwinn IC4 Comparison Chart
| | | |
| --- | --- | --- |
| | Peloton | Schwinn IC4 |
| Price | $1,445 | $999 |
| Footprint | 59" L x 23" W x 53" H | 54.6" L x 30.7" W x 51.8" H |
| Weight | 135 lbs | 112 lbs |
| Display | 21.5" HD touchscreen | LCD |
| Resistance | 100 levels of magnetic resistance with manual knob | 100 levels of magnetic resistance with manual knob |
| Drive | Belt | Belt |
| Flywheel | 38 lbs | 40 lbs |
| Pedals | Delta-compatible aluminum | Dual-sided SPD clips/toe cages |
| Seat adjustment | Vertically and horizontally | Vertically and horizontally |
| Handlebar adjustment | Vertically | Vertically and horizontally |
| Device Holder | No | Yes |
| Water Bottle Holder | Yes | Yes |
| Max User Weight | 297 lbs | 330 lbs |
| Connectivity | WiFi and Bluetooth | Bluetooth |
| Programming | Peloton | JRNY |
| Heart Rate Monitoring | Yes (must purchase your own band or strap) | Yes (armband comes with the bike) |
| Dumbbells | Cost extra | Yes |
| Warranty | 5-year frame, 1-year touchscreen, components, pedals, and labor | 10-year frame, 3-year parts, 1-year electrical, 90-day labor |
Who Should Buy the Peloton Bike
Those who want the boutique cycling experience
Those who place a premium on technology
Those who want don't want to bother with assembly themselves
Who Should Buy the Schwinn IC4
Those on a budget
Those who want a more compact bike
Heavier people
Key Similarities Between Peloton and Schwinn IC4
The Schwinn IC4 is billed as a Peloton alternative, and rightfully so—if you don't have the cash to drop on a Peloton, it could be a good substitute. Here's what they have in common.
Both bikes have 100 levels of magnetic resistance
Both bikes allow you to stream trainer-led workouts
Both bikes can track metrics like time, speed, distance, cadence, and resistance level
Check out our full Schwinn IC4 review to read all about all this bike's highlights.
Important Differences Between Peloton and Schwinn IC4
While there are quite a few similarities, there are some major differences between these two bikes as well, including:
The Peloton has a 21.5-inch touchscreen, whereas the IC4 has only an LCD display; you'll need to use your own device to stream workouts on the Schwinn IC4.
The Peloton only comes with a five-year frame warranty and one-year mechanical, electronics, and labor warranty; the IC4 has a 10-year frame warranty, plus three years on mechanical and electronics, and one year on labor.
Although the Peloton is nearly 30 pounds heavier than the IC4, the IC4 has a higher weight capacity and a smaller footprint.
Read our full Peloton Bike review to get the in-depth scoop on this machine.
Technology and Programming
While both the Peloton and the Schwinn IC4 are smart bikes, the Peloton is smarter. This cardio machine is built on technology, and its drawing point is the high-quality native programming it offers—which includes live classes and on-demand options—on a large 21.5-inch touchscreen. Clip in and compete with other riders on the leaderboard, or even hop off the bike to do a strength, yoga, or running workout. You'll pay $44 per month for the subscription.
The Schwinn IC4 has a small backlit LCD screen display that displays metrics. With your purchase, you'll get a free year of JRNY programming, which costs $12.50 per month after your first year.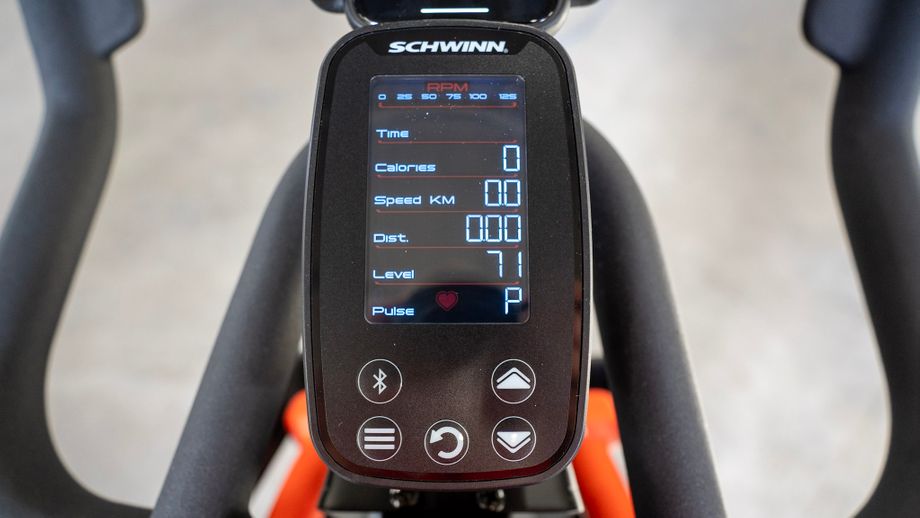 You'll need your own device to stream JRNY, but you'll also have the option of using other fitness apps like Explore the World, Zwift, and even the Peloton app via the IC4's Bluetooth. As more of an open-platform bike, the IC4 providing you with the flexibility to choose which monthly subscription you want to use could be advantageous, especially if you're a beginner and want to try out several programs before committing.
Workout Experience
I've used the Peloton Bike at our testing facility, and while I don't love everything about the actual bike itself, the experience that a Peloton digital class provides is just *chef's kiss*, and in my opinion, worth the price tag. The instructors are great at what they do, and there's someone for everyone. It just takes a few taps of the screen to get going, and the bike feels stable during the ride thanks to its heavy-duty steel frame and smooth magnetic resistance.
However, there are a few negatives (in my opinion) about the Peloton Bike. First, you will need cycling shoes to use it, which Peloton offers for an additional $125—I like the option of toe cages. Second, the seat is just not that comfortable, but that's fairly common among exercise bikes (and also a complaint about the IC4). Lastly, the handlebars on the Peloton can only be adjusted vertically, which is a bit surprising—many bikes offer horizontal adjustment as well.
We also have the Schwinn IC4 in our testing facility, and Coop has tested it pretty extensively. His overall sentiment is that it's a great bike for the price. The magnetic resistance and heavy flywheel provide a smooth ride, and while the seat (again) isn't super comfortable, he appreciated the adjustability of it and the handlebars.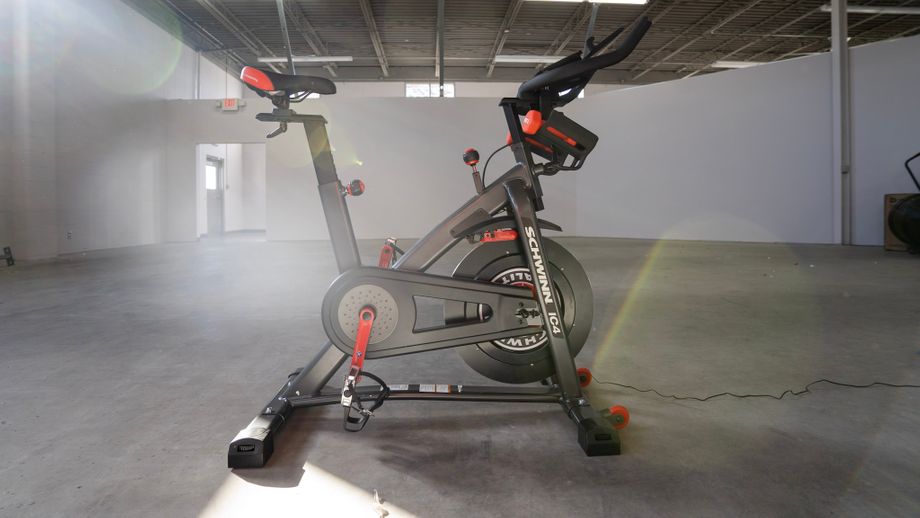 He did connect the IC4 to his iPad to stream the Peloton app, and while it worked, it took a few minutes and required some leg work. For some, it may be preferable to have an integrated touchscreen for programming, but if you don't care much about technology, or don't have the extra $500 to spend, the IC4 will work just fine. So, all in all, while it isn't as high-tech as the Peloton, the IC4 provides a good alternative for the price.
Ordering and Assembly
The ordering and assembly process for the Peloton and Schwinn IC4 differs, and may be a make-or-break for your purchasing decision.
Up until late August 2023, you could only purchase the Peloton Bike on onepeloton.com. Now, it's also available on Amazon, which may make it accessible to more people. Financing is available on the Peloton website for as little as $38 per month if you qualify, or for just over $120 per month on Amazon if you qualify.
When you order the Peloton, delivery and in-home assembly are included in the price, so all you'll have to do is open the door—nice! Our bike took a few weeks to be delivered, which seems pretty standard—the company has had on-and-off stocking issues since the pandemic—and was fully assembled at GGR HQ in about 15 minutes.
On the other hand, if you order the Schwinn IC4, you'll have to assemble it on your own unless you want to pay extra for expert assembly. It took Coop an hour to put this bike together on his own, and he said the instructions were not the best. Also of note, the parts were not clearly labeled, which is not ideal. If you're not the best at assembling equipment, it may be worth it to fork over the extra cash for professional help.
Customer Reviews
Reviewers think highly of both of these smart exercise bikes. The Peloton Bike has more than 20,000 reviews on the Peloton website with a 4.8-out-of-5-star rating at the time of writing. Most reviewers praise the instructors and how the bike has changed their home workout game.
The Schwinn IC4 bike has a 4.6-out-of-5-star rating on the Schwinn website as of this writing. Reviewers like this bike for their home gyms, citing its simplicity and stability as selling points.
Company Policies
Peloton's warranty is not great—five years on the frame, and 12 months on the touchscreen, components, pedals, and labor. Schwinn, on the other hand, offers a 10-year frame warranty, plus three years on parts, one year on electrical and 90 days on labor. Schwinn's policy is more in line with industry standards, which is pleasantly surprising given the sub-$1,000 price point.
You can try the Peloton for 30 days at home, and if you don't like it, they'll pick up the bike for free and give you a full refund—that's pretty sweet, I must say. With Schwinn, you have a much longer period of time to decide—within 6 weeks of delivery—but your refund will be less shipping and handling and you'll have to handle sending the bike back on your own, which won't be an easy feat.
FAQs About Peloton vs Schwinn IC4
Is the Schwinn IC4 harder than the Peloton?
While both bikes have 100 levels of magnetic resistance, the levels do not necessarily correspond—i.e. a 20 on the Peloton is not exactly the same as a 20 on the Schwinn. There are conversion charts available online, though we haven't tried them.
Is the Schwinn IC4 the same as the Peloton?
No, the Peloton and the Schwinn IC4 are not the same, although they have some similarities—they're both smart bikes that have 100 levels of magnetic resistance that allow you to stream trainer-led workouts. In terms of differences: The IC4 has a smaller footprint than the Peloton, and the Peloton has a large integrated touchscreen to view the workouts, while the IC4 requires you to use your own device.
What is the most comparable bike to the Peloton?