We test and review fitness products based on an independent, multi-point methodology. If you use our links to purchase something, we may earn a commission. Read our disclosures.
Cable machines aren't most people's first choice when it comes to picking out equipment for their home gyms, but they are certainly a worthwhile investment for those who have the space and money for them. They're a versatile piece of equipment, offer great strength training benefits, help you build muscle, and generally last a long time (assuming you take care of your machine).
The best cable machine for home gym use is the one that fits your training needs, space, and budget. Our group of certified personal trainers, weightlifting coaches, and home gym equipment experts have tested more than a dozen cable machines, from the type you'd find in a commercial gym to portable options. We use a meticulous, multi-point fitness equipment testing methodology to assess and rate factors such as:
Smoothness: Do the pulleys operate efficiently without catching?
Weight range: Is there a good range for both beginners and veterans?
Workout experience: What was our personal experience like using the machine?
Value: Is the machine priced appropriately for home gym owners?
We then combine those scores and get an average rating to determine the best cable machines.
8 Best Cable Machines for Home Gyms 
Best Cable Machine Overall: Tonal
Good for: People who need an all-in-one home gym that can deliver a full-body workout
Tonal isn't what most people think of when they hear "cable machine," but if you're looking for a piece of equipment that can do it all, you can't do much better than this. We have personally used Tonal for years and have enjoyed just about every single aspect of it. We rated it a near-perfect 4.75 out of 5 on factors that include ease of use, programming, and versatility.
The cable arms, attached to a wall-mounted touchscreen, can be adjusted to work out any muscle group, and the digital resistance offers a unique stimulus that causes some lifelong trainees to quiver halfway through their set.
Don't stress too much about the weight, though. One of Tonal's best features is the auto-powered weight suggestions, which are done through a full-body assessment you take when setting up your machine. This is great because it takes a lot of the guesswork out of resistance training, and customizes the experience to each user, though this feature can be disabled if you want to enter your own data.
The customization doesn't end there, as you can choose from different workout styles from strength training to kickboxing, and even yoga and meditation classes. A personal trainer will guide you through each workout and show you how moves are supposed to be performed.
At close to $3,500, on top of a $49 monthly class membership fee (your first year is free), Tonal isn't a piece of budget-friendly home gym equipment. That said, the fact that it's wall-mounted means you'll save a lot of space compared to other cable machines that don't have nearly as much versatility. Plus, the cost includes delivery and professional setup (this isn't a machine you can install on your own).
Pssst: We have the best Tonal coupon!
Keep in mind you need at least 7 feet of space around your machine, and the resistance only goes up to 200 pounds. That might sound light, but the digital resistance feels much heavier than your standard loaded barbell (trust us). Not only that, but due to it using digital resistance, it can increase the load at various parts of the movement which is simply impossible to do with free weights.
To learn more, read our Tonal Smart Home Gym review.
| | |
| --- | --- |
| Standout Feature | Uses AI programming to adjust workouts |
| Resistance | Up to 200 lbs per arm |
| Footprint | 21.50″ W x 50.9″ H x 5.25" D (wall-mounted) |
| Accessories | Handles, bar, rope, bench, roller, mat |
Best Cable Crossover Machine: REP Fitness FT-5000 V2
Good for: Trainees who want a durable and stable cable crossover machine.
The REP Fitness FT-5000 is just like the functional trainer at your local commercial gym, just without the line of people hogging it while staring at their smartphone. I have personally used this machine in several settings; First, I went to REP Fitness's headquarters in Colorado in 2022 where I first got my hands on it. Then, REP sent one to us so I could do more testing and more workouts on it.
The area where the FT-5000 shines is in the smoothness of the cables, which earned a 5 out of 5 for us. It has dual 220-pound weight stacks with a 2:1 ratio, which should still be enough to give experienced lifters a challenge, and three pull-up grip options (neutral, supinated grip, and wide-grip).
Weighing in at 1,000 pounds, and a frame constructed with 11-gauge steel, this is a heavy-duty functional trainer that doesn't need to be bolted into the ground for stability. The powder coating is also chip-resistant, so it will perform well and look good for many years.
Functional trainers aren't necessarily the easiest things to assemble. In fact, we rated this really low for assembly.
GGR Operations Manager Sam "AsSAMbly" Presley has put together countless functional trainers and power racks. REP claims two people can build this in about two hours, but it took twice that amount of time. We noticed a pattern of this in customer reviews of this as well.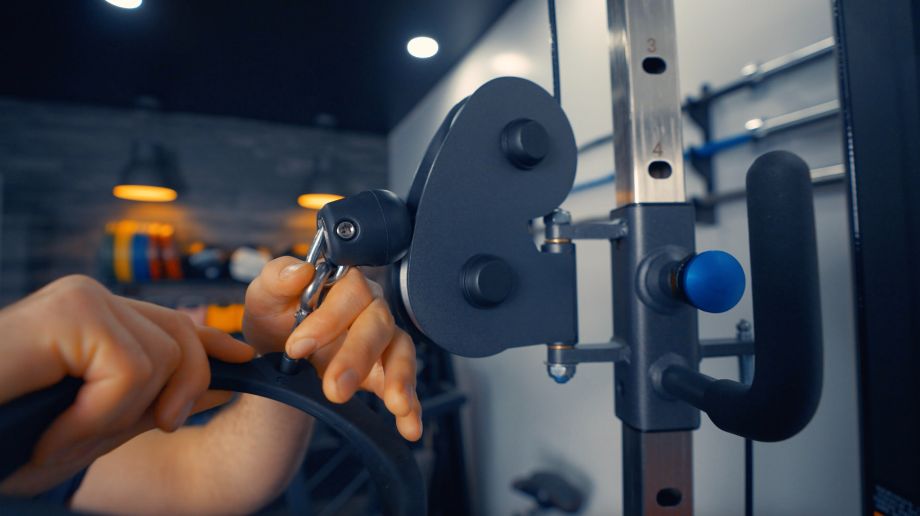 At its highest point, the handle is only 52 inches off the ground, and several reviewers stated this made it difficult for taller people to take full advantage of the machine. The only other major complaint was that the lowest weight, 13 pounds, was a bit too heavy for some isolation exercises.
The trainer comes with two d-handle attachments, which is a great start, but you can always buy different cable attachments from REP's website to get even more out of your machine.
Learn more in our in-depth REP FT-5000 Functional Trainer review.
| | |
| --- | --- |
| Standout Feature | Incredibly smooth pulley system |
| Resistance | Dual 224-lb stacks (2:1 pulley ratio) |
| Footprint | 85.5" H x 68" W x 36" D |
| Accessories | 2 D-handles, storage pegs for the attachments, 4 2.75-lb incremental weights, mountable diagram demonstrating 12 movements |
Best Cable Machine for Small Home Gyms: Titan Fitness Functional Trainer
Good for: People with smaller home gyms who want a commercial-grade cable machine
If you're working with a home gym on the smaller side and still want a traditional cable machine, your best bet is the Titan Fitness Functional Trainer. The 64-inch width is narrower than the industry standard 72 inches for double-stack cable machines, and at 82 inches it can fit in most basements or garages with ease.
The shorter height means taller people won't be able to do pull-ups on it, which is shame because the trainer comes with a multi-grip pull-up bar that has a nice-feeling powdercoat that provides excellent grip. It comes with a short bar, long bar, ankle strap, dual stirrup handles, rope handles, and single and double D-handles so you can do more than 1,000 strength-based movements.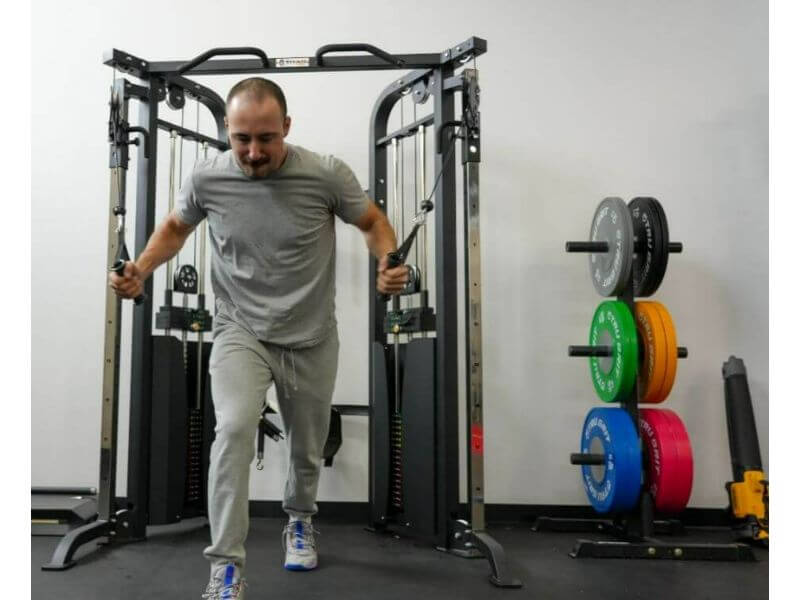 Onto the cable pulley system, we had a very pleasant training experience and loved that they swiveled. All that together gives it a 4.5 out of 5 for versatility, and it would've been a 5 had Titan offered a taller option.
We found the aluminum guide rods needed to be lubricated, though once they were the smoothness earned a 4 out of 5.
You get two 200-pound weight stacks that have a 2:1 resistance ratio (pulling 100 pounds is actually 50) that starts at 20 pounds (really 10) and goes up to 200 (actually 100). That's a decent weight range and should be able to give beginners and home gym veterans alike a decent challenge on most movements.
Check out our in-depth review on this machine by reading our full Titan Fitness Functional Trainer.
| | |
| --- | --- |
| Standout Feature | Compact footprint that's perfect for smaller home gyms |
| Resistance | Dual 200-lb stacks (2:1 pulley ratio) |
| Footprint | 82" H x 64" W x 44" D |
| Accessories | Short bar, long bar, ankle strap, dual stirrup handles, rope handles, and single and double D-handles |
Best Portable Cable Machine: MAXPRO SmartConnect Cable Machine
Good for: People who need a cable machine that can be taken anywhere
The MAXPRO Smart Connect Cable Machine is great for people on the go, or even those in apartments who want the benefits of a cable machine. I personally used this machine countless times and gave it a perfect 5 out of 5 for its portability. At 10 inches long, 16 inches in height, 4 inches in width, and weighing only 9 pounds it's easy to bring it with you wherever you want to workout.
Although small, this machine is capable of going up to 300 pounds in resistance with just a turn of a dial. Trust us, you'll be feeling the burn on this one.
While there's quite a bit you can do with just the MAXPRO Smart Connect, you'll need a wall mount or certain accessories that aren't included in the purchase price but are necessary for lower body and some upper body movements.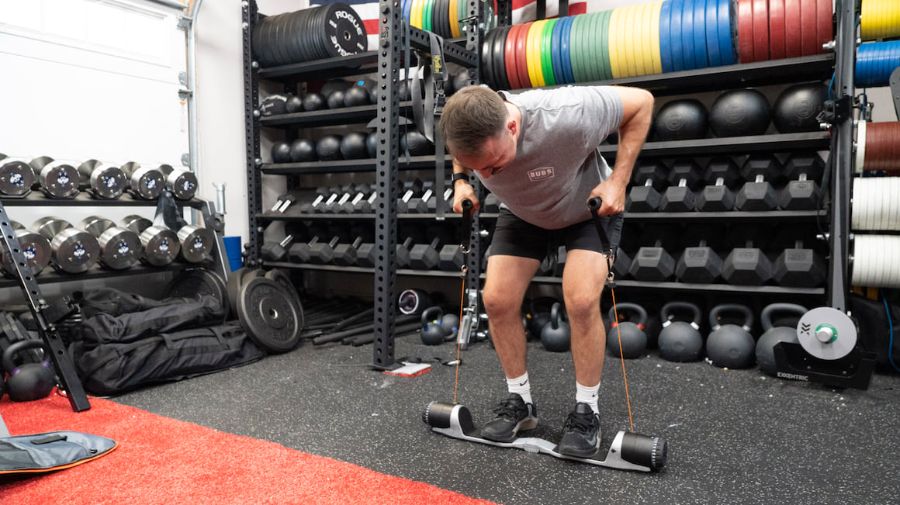 I'm a fan of smart home gym equipment, and though it's great you can sync the MAXPRO via Bluetooth to an app that tracks your workouts, I found myself not using it too much. The app was too clunky during use, and sometimes it didn't connect to my machine. Hopefully MAXPRO fixes this issue in the future. I do appreciate that the app comes with a free workout library, but again some of the moves are dependent on purchasing accessories not included with the machine.
The cables do have a break-in period, but once you've used the machine for a while, you'll see that they're buttery smooth.
Read our full MaxPro Smart Connect Cable Machine review to learn more.
| | |
| --- | --- |
| Standout Feature | Compact and great for travel |
| Resistance | Up to 300 lbs |
| Footprint | 10″ L x 16″ H x 4″ W |
| Accessories | 3-piece long bar, workout handles, ankle/wrist straps, door mount, USB charger |
Best Cable Machine Power Rack Attachment: Bells of Steel Cable Crossover Power Rack Attachment
Good for: People who are trying to save space and have a Bells of Steel rack
Editor's note: This cable crossover attachment only works with Bells of Steel racks, which are high-quality racks that we've recommended in other roundups. If you don't have a BOS rack, this crossover attachment will probably not work.
Want a cable machine in your home gym but already have a Bells of Steel power rack taking up a lot of space? That's exactly what the Bells of Steel Cable Crossover Power Rack Attachment was created for.
You simply attach it to the front of your rack and get to pulling, though we should let you know the pulleys only work on the top and bottom positions. That's fine, as there are countless exercises you can do from these positions that can't be done with a squat rack.
We're big fans of the fact that this is a plate-loaded cable machine, meaning the resistance comes from weight plates you most likely have around your home gym (especially if you're attaching this to a power rack). Customer reviewers have noted, however, that the weight needs to be evenly distributed or the pulleys aren't as smooth.
Speaking of pulleys, Bells of Steel uses aluminum to create smooth movements every time. Also, this attachment ships free, which is a huge bonus when ordering heavy equipment.
| | |
| --- | --- |
| Standout Feature | Can fit 1- or 2-inch weight plates |
| Resistance | Plate-loaded machine (2:1 pulley ratio) |
| Footprint | 26″ L x 40″ W x 84.5″ H |
| Accessories | n/a |
Most Versatile Cable Machine: Force USA MyRack
Good for: People who want the functionality of both a power rack and a cable machine
OK, hear us out: Although the MyRack is not a traditional cable machine—it's actually a power rack—you're able to purchase a wide array of attachments to use with it, transforming it into one of the most versatile, unconventional cable machines on the market. To put it bluntly, we love this rack—we think it provides tremendous value for anyone who wants a highly versatile, affordable piece of equipment.
MyRack's fully customizable setup allows you to add a cable crossover, which offers 28 cable pulley adjustments and a 1,000-pound weight rating, for an additional $430.
Let's get to the myriad of other attachments: like a chin-up bar, dip handles, and more. None of these are actually included with the purchase; instead, you add them to your cart a la carte. We actually love this option for home gym owners, because sometimes you get attachments you don't really want that are included in the price of the equipment, and pay even more for the attachments you need. This approach saves most people the most money and gives this machine a 4.75 out of 5 for versatility.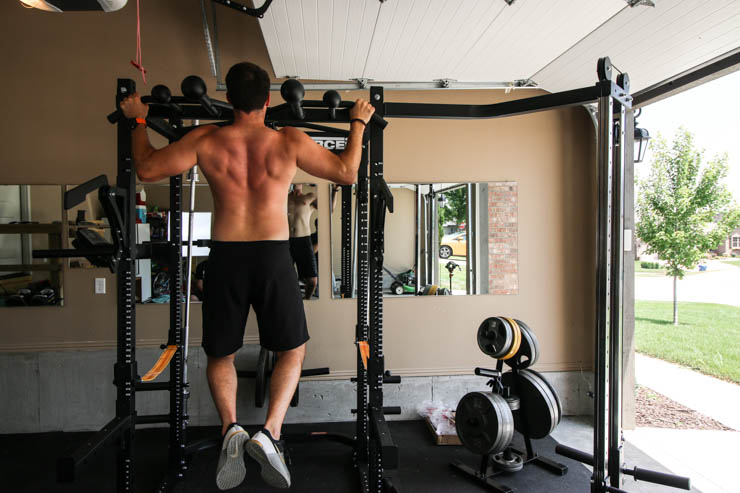 You can use standard or Olympic-sized weight plates on the cable crossover attachment, but beware that it's only compatible with the MyRack power rack.
That's another thing: The uprights are 2.4″x2.4″. That is significant because attachments that work on a 2×3 or 3×3 rig won't work on this; you have to use only Force USA attachments. If you don't care about that kind of thing, then great; but it is something you should know before buying.
Read our in-depth review of the ForceUSA MyRack to understand why we recommend it as a great value option.
| | |
| --- | --- |
| Standout Feature | Highly customizable rack that can be built to suit your gym |
| Resistance | Plate-loaded crossover (2:1 pulley ratio) |
| Footprint | Customizeable |
| Accessories | Countless accessories purchased separately |
Best Cable Machine for Home Gym on Amazon: Inspire Fitness FTX
Good for: Anyone who wants to buy a cable machine on Amazon
While we haven't tested the FTX, we have firsthand experience with the Inspire FT2, the bigger brother of this machine. While the FT2 has a Smith machine included as well, the construction and quality of these two trainers is much the same.
| | |
| --- | --- |
| Standout Feature | Comes partially assembled |
| Resistance | 2 165-lb weight stacks (2:1 pulley ratio) |
| Footprint | 40″ L x 54″ W x 85″ H |
| Accessories | Tricep rope, 2 D handles, dual hook curl bar, and chin/dip belt |
Best Compact Cable Machine: Vitruvian Trainer+
Good for: People who live in a small space and want a cable machine
The Virtruvian Trainer + is one of the latest in the line of smart gym equipment taking the industry by storm. This unassuming machine—which is basically just a 44-inch-long-by-20-inch-wide-by-5-inch-high platform—is actually packed with technology, using computer algorithms to adjust and adapt the resistance as you work out.
After using this multiple times, we gave it a 5 out of 5 on portability, and a 4 with our workout experience. We love the simplicity of clipping in accessories and how easy this cable machine is to use. Weighing only 65 pounds itself and equipped with transport wheels, the Vitruvian Trainer+ is easily movable to allow you plenty of options.  
To use the machine, you'll attach one of the handles—which are sold separately, by the way, and add a minimum of $300 to the cost of the machine—to the platform, stand on it, and perform a variety of movements, from deadlifts to upright rows to even bench press (utilizing a bench, of course).
The technology senses your form, and will adjust the resistance as you follow along to the workout at hand. The monthly subscription is also an additional fee, but it's really needed to get the most out of the Vitruvian Trainer +.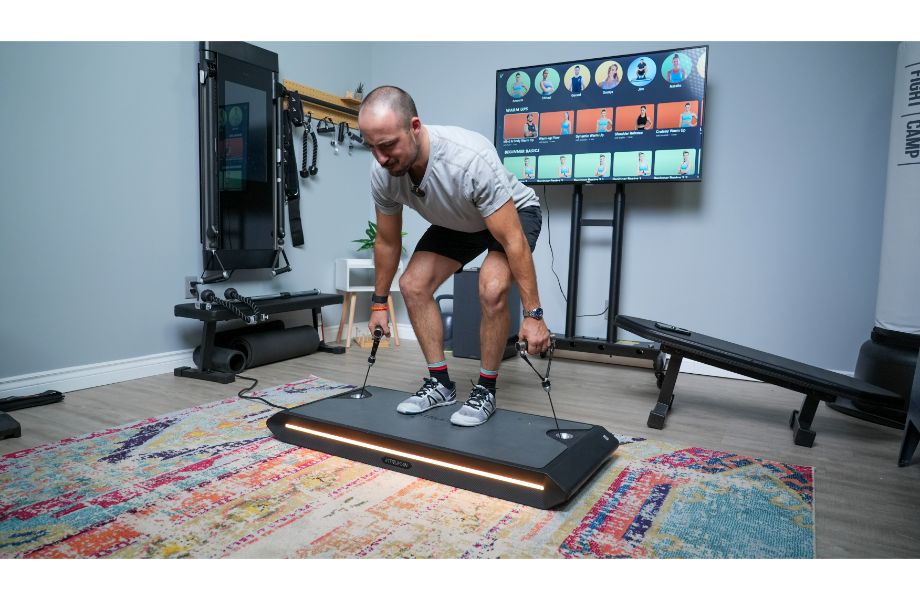 We assume that the resistance—which is a whopping 200 kilograms—is magnetic. In our own testing, we felt like the resistance on the Vitruvian felt almost identical to Tonal. And if you think that 440 pounds isn't heavy enough, note that 440 pounds of magnetic resistance feels much heavier than 440 pounds on a barbell.
Read our full Vitruvian Trainer + review to learn more about this unique machine.
| | |
| --- | --- |
| Standout Feature | Grounded cable machine with auto-adjusted resistance |
| Resistance | 200 kg (440 lbs) |
| Footprint | 44" L x 20" W x 5" H |
| Accessories | Bench, long bar, triceps rope, single handles, workout mat, short bar, weight belt |
Best Cable Machine Attachments
Some cable machines may only come with a standard handle, while others may come with every attachment you can think of.
Here are some cable attachment packages we recommend:.
REP Fitness Pro Series Cable Attachments: We love this series because it comes with five high-quality attachments capable of targeting most of your muscle groups, and it's a great value for the price of about $250.
BalanceFrom Cable Attachments: You can't do much better, in terms of value, than this set of five cable attachments for about $130 (excluding shipping). These pieces, though, aren't the most durable but they'll serve most home gym owners well.
Spud Inc. Pulley System: The Spud Inc pulley system has a weight capacity of 550 pounds, and is also lightweight and compatible with most cable machines.
Looking to buy a la carte? These are some attachments we heavily recommend you purchase along with, or shortly after your cable machine.
Triceps Rope: Despite its name, a triceps rope can be used for more than just your triceps. It's also capable of performing biceps, shoulder, back, and abs exercises.
Lat Pulldown Bar: Not all cable machines can be used to do lat pulldowns but for those that can, a lat pulldown is a necessary investment.
Ankle Strap: This is simply a strap you attach to your ankle so you can perform moves like leg extensions with your cable machine.
Double D-row Handle: Great for seated rows, and can also be used with barbells and dumbbells to target different areas of the biceps and back.
Multi-grip Curl Bar: A multi-grip curl bar allows you to target different areas of your chest, triceps, and biceps all with one handle.
Other Cable Machines We Researched
We've only been able to try out some of these home gym cable machines, but they just didn't beat out our top picks.
Bodysolid Powerline Cable Crossover Machine PCCO90X: This cable crossover station is highly recommended by many, but nobody on our team has been able to try it out yet.
Valor Fitness BD-62: Similarly, this isn't a machine we have any familiarity with.
Titan Plate Loaded Lat Pulldown: This is a great machine that uses standard Olympic plates to provide the resistance, and it comes with a low row handle and lat pulldown bar. But other than that, you can't do much with this machine, though it is great for heavy lifters looking for a challenge.
NordicTrack Fusion CST: We love the iFIT programming available with this machine and have used it on other products, but we haven't used this specific one before.
Fray Fitness Functional Trainer: I used to be a fan of this functional trainer, but feel as though its performance has declined in recent months.
OYO NOVA Gym: This is a tiny functional trainer that can provide up to 40 pounds of resistance, and perform 200 exercises. The technology behind it is inspired by the way NASA astronauts train in space, but our reviewer Amanda Capritto says it lacks durability and is more geared toward beginners due to its low level of resistance.
How We Picked and Tested the Best Cable Machines for Home Gyms
Besides workout experience and price, we looked at a variety of factors when constructing our best cable machine list.
Smoothness
Perhaps the most important facet of any cable machine is its pulley system and how smoothly it operates. We loaded machines as heavy as they can get to assess how they operate under tension.
Weight Stacks
We wanted to make sure the cable machines we recommended were light enough for isolation exercises, but challenging enough for any compound movements you wish to do with them. Similarly, we looked at whether the weight capacity could work for people of all fitness levels.
Versatility
A cable machine should perform a variety of exercises, allowing you to target upper body and lower body muscles. There are some, though, that only target one specific muscle group until you buy additional equipment, like a low pulley for lower body movements.
Adjustments
Adjustment here not only refers to changing the weight between moves, but how many height positions the machine has and if it can work for multiple users.
Benefits of Cable Machines
Because cable machines come in all shapes and sizes, we're instead going to concentrate on the benefits of using cables. And unlike your television habits, there's a lot of reasons why you should never cut the cord.
Faster Muscle Fatigue
Unlike free weights or even resistance bands, cables work your muscles at all times during the lift. This means your muscles will get fatigued quicker, which results in muscle growth.
Safer
Dexter Jackson, one of the greatest bodybuilders of all time, has credited cable machines as part of the reason why he was able to compete past 50. Cables don't put as much stress on your joints and stabilizer muscles, and while nothing in life is risk-free it's much harder to hurt yourself with them than a barbell or dumbbell.
Versatile
We've talked about the fact that cable machines can hit all muscle groups, but you can also hit those areas from angles that are more difficult to reach using free weights. "Free weight resistance provides a force vector straight down towards the ground," personal trainer and strength and sports doctor Mike Masi says. "If you want a different angle to hit a different body part, you'll have to manipulate your body around that force vector. But with a cable machine you can just slide the handle higher or lower to get the desired effect."
He adds, "All in all, cable machines are not necessary but provide more flexibility and variety that can keep your gym routine from getting stale."
What to Look for in a Cable Machine
Ready to find the best cable machine for your home gym? Here are a few things to keep in mind.
Space
A cable machine is probably going to be one of the largest purchases you make for your home gym in terms of space, next to a power rack. You can certainly get a good cable machine that won't take up much space, but if you're looking for the best of the best you'll want to make sure you have a good amount of space to dedicate to it.
A good guide would be to have at least 7 feet of vertical space, and 6 feet of horizontal space dedicated to your cable machine. This will ensure you can get enough range of motion during each exercise. There are some space-saving ones that are mountable, or come with just one weight stack.
Adjustments
One of the benefits of cable machines is the multiple pulley positions that allow you to get a full-body workout with just one piece of equipment. But some machines have more adjustment positions than others, either due to their size or construction.
Although not technically an adjustment, you'll want to try to get a pulley machine that can swivel so you can engage more muscle groups in different lifts.
Cable Handle Attachments
Most cable machines will come with single handles, which you can do flys and other moves with but if you're looking to increase the versatility you might want to invest in a curl bar or triceps rope at the very least.
You'll also want to check to see if your cable machine comes with pegs for you to hang your attachments on, or figure out another way to keep them secure when they're not in use.
RELATED: Best Curl Bars
Price Point
This one's pretty self explanatory, but we'll also add that it might be worth spending a little more for a high quality machine rather than saving by buying a cheap (I mean that in terms of price and craftsmanship) one.
Some basic cable machines, like cable towers, may cost just a few hundred dollars, while huge commercial systems will be upward of thousands of dollars.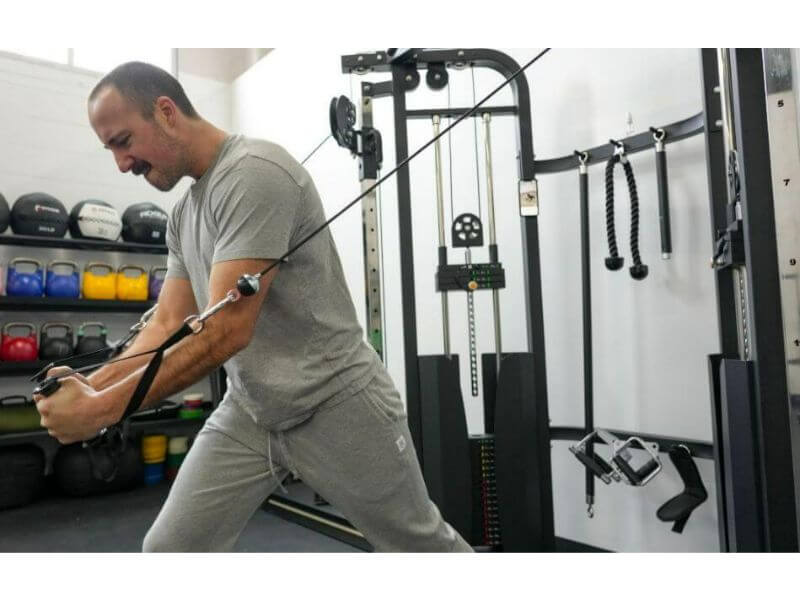 Best Cable Machines FAQs
Can you build muscle with cable machines? 
Due to the fact that cable machines put constant tension on the muscle tissue, they're a great way to build muscle mass. 
Are cable machines as good as free weights?  
It depends on what you're training for. Free weights are the better choice for those looking to focus on strength training, but cable machines are just as good for those looking to focus on hypertrophy (building muscle) or conditioning. 
Are cable machine weights accurate? 
Yes, and no. Cable machine weights are accurate but you're not always pulling 20 pounds due to something called the pulley ratio, which is how much force it takes to lift a certain amount of weight. So a cable machine with a 2:1 ratio only takes 10 pounds of force to move 20, and only 5 pounds of force to move the same weight on a machine with a 4:1 pulley ratio.