We test and review fitness products based on an independent, multi-point methodology. If you use our links to purchase something, we may earn a commission. Read our disclosures.
Smart home gym equipment is still on the rise, despite a seeming reversion to traditional (which I like to call "analog") gym equipment and resurgence of commercial gym memberships post-pandemic.
New products continue to pop onto the market, capitalizing on Tonal- and MIRROR-esque technology that is now the norm. One such product is the Vitruvian Trainer+, a compact piece of smart exercise equipment that functions much like a cable machine—except it's a singular, slender platform that weighs less than 70 pounds. According to Coop, GGR founder and gym equipment expert, this is one of the smartest (and most accessible, thanks to its size) smart home gyms currently available to consumers.
In my Vitruvian Trainer+ review, you'll learn the ins and outs of this small, smart, functional trainer, along with its standout features and what needs improvement.
Smart Gym Connoisseur at Your Service
I've been writing about fitness equipment for more than five years now, and for many of those, I've been testing and reviewing high-tech workout and recovery products. These complex products can feel confusing, but rest assured, I've used enough of them to understand and explain their intricacies.
Vitruvian Trainer+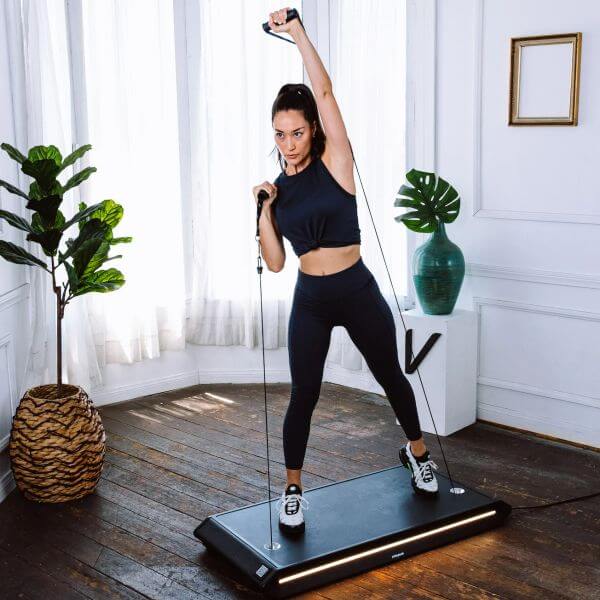 GGR Score: 4.05
Community Score: 4
Product Highlights
Adaptive weight system that produces weight from 0 to 440 pounds
Advertised as working similarly to a rack without having to change plates or store any of the weight
The technology will do it all for you
However, different from a squat rack, you are able to do over 200 different exercises that target all parts of your body
All Access Membership costs $39 per month.
Without the Trainer All Access Membership, you are still able to work exercises and create your own workouts.
Pros & Cons
Pros
Full functionality of the machine is available without a subscription (i.e. access to all workout modes)
30-day money-back guarantee
1-year all-access app membership for in-depth data tracking included with purchase (at the time of publish)
Free shipping
Provides up to 440 pounds of resistance
Small and compact
Relatively easy to move and store
Workouts led by certified instructors
Adaptive weight changes as you work out 
Community challenges and leaderboard
Tracks several workout metrics 
Can easily view progress
Safe and controlled way to exercise
Provides exercise technique tutorials
1 membership allows unlimited profiles
Lifetime membership available
Financing available via Affirm 
Can create your own workouts or follow classes
Cons
Expensive, as all smart gyms are, with prices starting around $2,900
Subscription required for in-depth data tracking after trial period ($39/month)
Accessory kits sold separately
No hour-long workout classes yet (sessions go up to 43 minutes)
Can be overwhelming to create your own workouts in the app at first, according to our product tester 
Buyers are responsible for return shipping if sending the item back
Bottom Line
The Vitruvian Trainer+ is a smart home gym with a fantastic value proposition. For most people, it can replace an entire traditional home gym set up while taking up minimal space and providing and opportunity for in-depth data tracking and coaching.
A Quick Look at the Vitruvian Form Trainer+
The Vitruvian Trainer+ is the second iteration of the Vitruvian V-Form Trainer, which is now out of production due to the update and improvements of the hardware and electronic components in the Trainer+.
The Trainer+ is a piece of smart home gym equipment that uses computer algorithms to produce automatic, adaptive resistance. The Vitruvian Trainer+ consists of a thin platform with cables attached, to which the exerciser can attach handles or ankle straps. The user stands on the platform and uses the handles or straps to perform various exercises.
This machine is similar to the Tonal, except much smaller—yet it provides more digital resistance (up to 440 pounds compared to Tonal's maximum of 200 pounds). This alone makes it a strong competitor in the smart home gym space.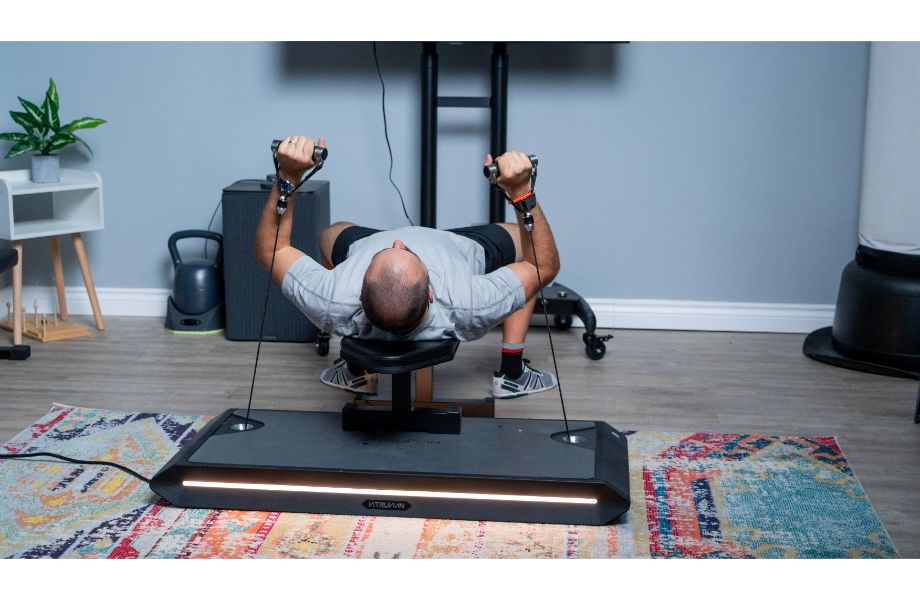 Vitruvian is an Australian-based company that is, relatively, in its infancy. It's named, presumably, after the drawing Vitruvian Man, which was meant to depict artist Leonardo da Vinci's vision of the ideal human form.
The first Vitruvian Form trainer (called the V-Form Trainer) was released in 2020, with the second iteration releasing in 2023. The Trainer+ fixes many issues and bugs that were prominent in the first version: The newer version weighs a little less, has wheels for easier transport, sports a simpler attachment mechanism for the accessories, and features smoother resistance.
Before You Buy
All technology–from the smartphone you're reading this on to the touchscreen dash in your car–is subject to bugs and glitches. I like to help people set expectations, so I feel like I need to say: As much as we like the Vitruvian Trainer+, we'd be remiss not to mention potential for tech hiccups. So before you buy this or any other smart home gym, just make sure you're willing to deal with necessary software updates and such.
Video Review
Is the Vitruvian Trainer+ Worth It?
I know a thing or two about smart home gym equipment. I've had a Tonal, Tempo Studio, Mirror, Echelon Reflect, and other tech-heavy fitness equipment installed in my home (many at the same time!). I've tested the Tempo Move and Peloton Bike and some of the fanciest treadmills money can buy.
I can fully appreciate the depth and nature of these products, and I understand the target market. But I know they'll never satisfy my needs and preferences for fitness products—and this is the case for many people.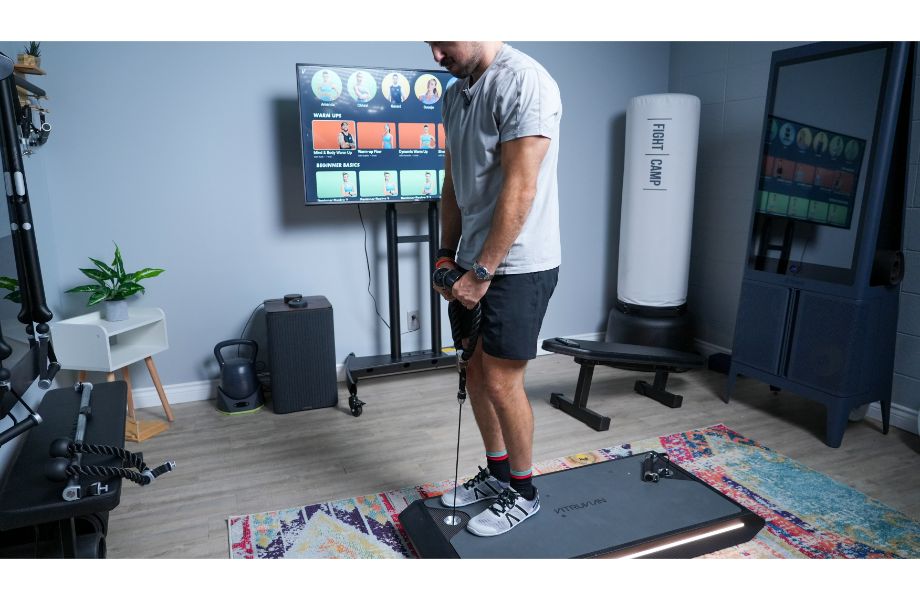 So is the Vitruvian Trainer+ worth it? Well, it entirely depends: Do you like to work out with cable resistance? Do you have no need for free weights? Do you need something small and compact?  
Your answers to these questions and more will determine whether or not the Vitruvian Trainer+ is worth it for you. In case you need a little more guidance, here's a look at who could benefit from the Vitruvian Form Trainer+ and who might need something different.
Great for:
People who want a singular versatile product with which they can do a number of exercises
Home gym owners who don't have space for traditional free weights
Trainees who like to work out with instruction and guidance from an app
Not recommended for:
People who prefer traditional free weights
Anyone who can afford (and has space for) a more traditional cable machine
Vitruvian Trainer+ Specs
| | |
| --- | --- |
| Product Weight | 30 kg (65 lbs) |
| Dimensions | 44" L x 20" W x 5" H |
| User Weight Capacity | 330 lbs |
| Max Resistance | 200 kg (440 lbs) |
| Transport | Recessed wheels, handle |
| Accessories | Bench, long bar, triceps rope, single handles, workout mat, short bar, weight belt |
| Warranty | Limited, non-transferrable, 2-year for electronic components and parts  |
| Wattage | Up to 1000 W |
Using the Vitruvian Trainer+
Coop's overall impression of the Vitruvian Trainer+ is that it's a "beautiful machine" and holds promises of longevity due to its strong construction. Regarding the hardware, one thing Coop really likes is the simple, one-hand clip-in mechanism by which you attach accessories to the platform. It's easier than using carabiners, Coop says, and it's so simple you can switch accessories with one hand while swigging some water in between exercises.
Additionally, the accessories are of great quality, too, Coop points out–going so far as to say that the vinyl and foam on the Vitruvian flat bench is superior to that of the benches from strength-specific manufacturers.
As for actually working out on the machine, there's not much left to be desired. You can do almost any exercise on the Vitruvian Trainer+, from the basics like bench press, squat, and deadlift, to isolation exercises like biceps curls, Romanian deadlifts, and triceps extensions.
Better yet, you can ditch your old workout notebook or logging app: The Trainer+ will take care of all of that for you, automatically logging your reps, sets, weight, and other information in the app.
The more you work out with the Trainer+, the better it gets to know you and your strengths and weaknesses, and the more tailored your workouts become. It's an AI personal trainer through-and-through.
One pitfall worth noting: It's difficult to perform pull-down exercises to target the lats and mimic the movement pattern seen in pull-ups. As evidenced by some commenters on our YouTube video review, there is a way to finagle some carabiners and figure it out, but we'd like to see an easier way to achieve this functional movement pattern.
Another feature Coop would like to see is the ability to manually select weights, rather than allowing for the AI to select and modify 100% of the time. While he's aware such a feature wouldn't be useful for most people using the Trainer+, he calls out that it would be extremely useful and beneficial for people who have a long training history and know how to select weights for different rep and set schemes.
Finally, there's currently no other smart gym of this size on the market that matches the potential weight output of the Vitruvian Trainer+. This machine can provide up to 440 pounds of resistance (220 pounds on each cable), which is outrageous in the best way for its size. What that means practically is that you can deadlift, squat, hip thrust, and bench press very heavy weights on this device–a feature that most other smart home gyms lack.
The Workouts
Thanks to the technology Vitruvian utilizes, there are some admittedly badass workout modes.
Notably, the Trainer+ offers eccentric-mode training, which means it challenges you just as much on the lowering (or lengthening) phase of your exercise as it does during the lifting phase.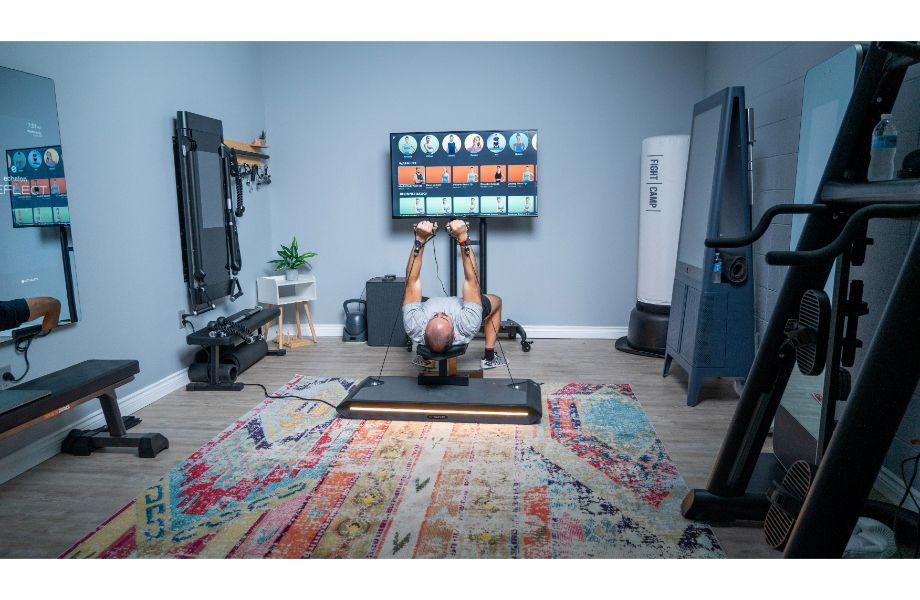 Eccentric training is hard to come by with traditional cable machines and functional trainers: You have to intentionally lower the weight slowly and with control. This is also known as "tempo training."
On the Vitruvian, you don't have to think about it. You just perform your reps and the machine takes care of the rest.
Eccentric training is thought to elicit greater muscle stimulation and growth compared to concentric-only training, and that extended-duration eccentric training (tempo training) can improve power output later on.
This is science in practice at its finest!
You can also do concentric-only training on the Vitruvian Form, but you'll experience greater gains over time by incorporating the eccentric mode, too.
Other available modes include:
Time Under Tension
Pump
Old School
Progression
Regression
Beast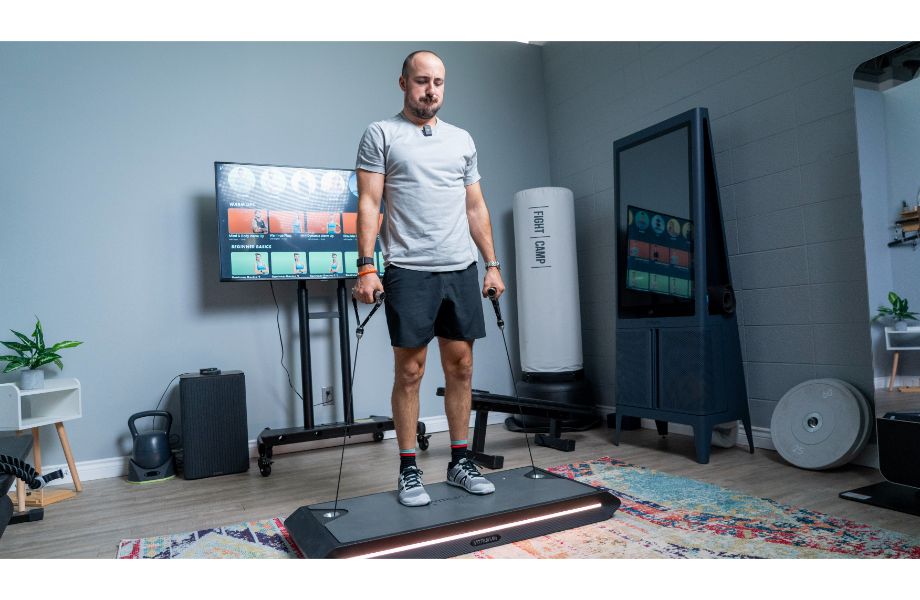 The Technology
Technology is the main draw to the Vitruvian Trainer+ and products like it. You're unlikely to see a competitive powerlifter or weightlifter using the Trainer+ and more likely to see beginners and general fitness enthusiasts using it.
This is because the Trainer+ takes the thinking out of working out.
With this product, all you have to do is select your workout. You don't have to count reps, write down your progress in a notebook, change weights, or even pay too much attention to your technique. The technology does all of that for you.
It tells you what exercises to do, counts your reps, logs your progress, and automatically changes weight based on your technique.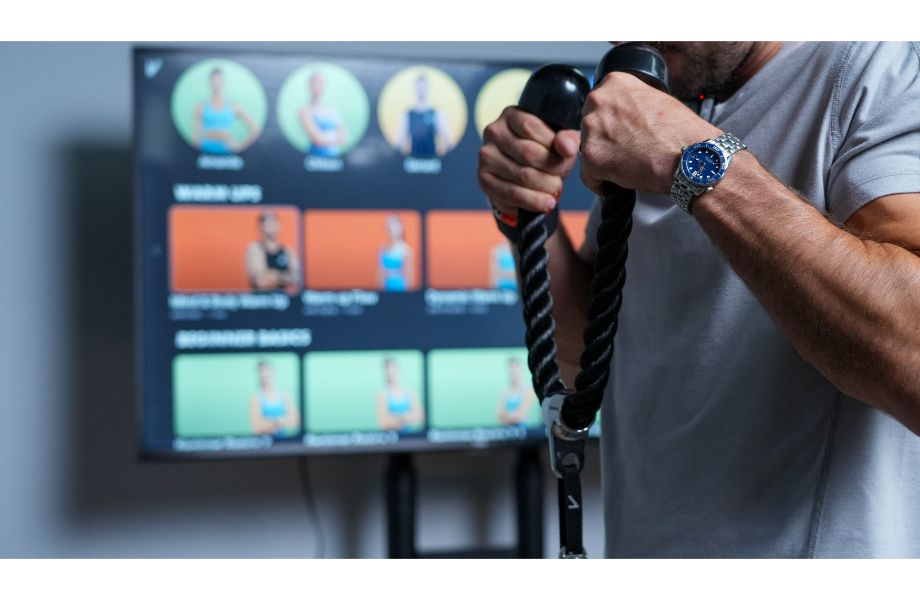 If you're struggling and can't make it to full lockout on a shoulder press, the machine will lower the weight so you can safely reach full range of motion and continue performing reps. If you're blasting through squats like you're doing a bodyweight workout, the machine will increase the weight until it feels you're adequately challenged.
All of this occurs thanks to computer algorithms and a suite of sensors.
The Vitruvian App
The app is probably what more people are interested in—the hardware is virtually useless without the app, since there is no screen on the machine. 
The Vitruvian App houses all of the workouts, challenges, leaderboard, coaching, and more. Within the app, you can select from a variety of workout classes led by certified trainers, as well as view your progress, which is automatically tracked during workouts. The app keeps track of your personal bests, number of reps you perform at certain weights, and much more.
You can search classes by trainer, muscle group, or time frame. In the app, you'll find a growing library of workouts in a variety of categories, including hypertrophy, strength, circuit training, and more.
You can also create your own custom workouts in the Vitruvian app, but it's a rather cumbersome process. It takes a long time to hand-select each exercise you want and format it in the way you want (straight sets, supersets, rest intervals, etc). I would like to see some improvement in this area so that people who prefer to do their own workouts can more easily program. 
"If you prep your workouts well ahead of time, it's a fine process," Coop says. "But, if you expect to build the workout while you're in the gym on a time crunch, there are just a lot of options you have to choose from. There is the positive of granularity here, but I could see it being a bit overwhelming for people who want a simple workout."
Older customer reviews indicate that the app is buggy, but Coop says there have been many improvements to the app since he first tried it.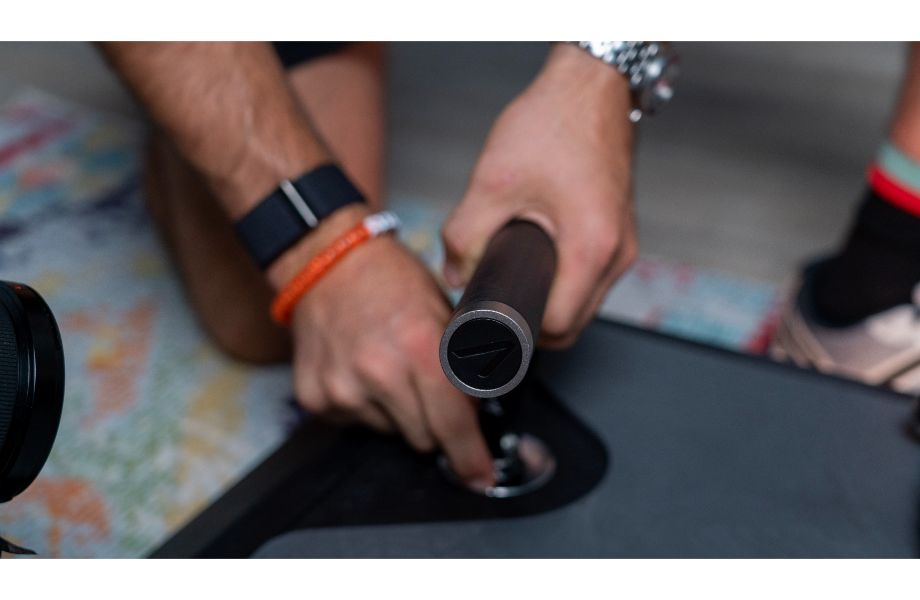 Footprint and Portability
The size of the Trainer+ is a major draw. It's basically a tiny functional trainer with many of the capabilities of something like the Force USA G20 in a 44-inch by 20-inch by 5-inch platform.
In addition to its small footprint, the Vitruvian machine features recessed wheels and a handle for easy transportation. For storage, it easily slides under a bed or dresser. You can also store it on its side in a closet.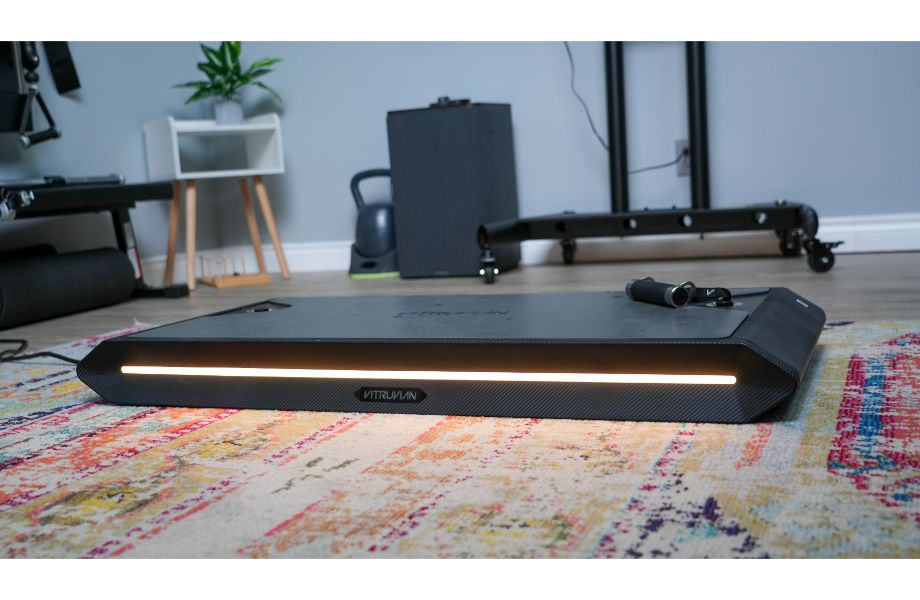 Durability and Construction
Constructed of a steel frame and carbon fiber shell, the Vitruvian Trainer+ is sure to last. Despite its small size, the machine weighs almost 70 pounds and feels hefty during transport. Still, this is nothing compared to other smart home gym systems, most of which must be drilled into a wall and weigh well over 100 pounds. It's designed to support a maximum user weight capacity of 330 pounds—just as much as many treadmills and other cardio machines.
How Can Vitruvian Improve the Trainer+?
The Vitruvian Trainer+ is a solid idea backed by great hardware. But the product—and the company—is still in its infancy, so as it stands, there's some left to be desired.
Firstly, Coop points out that there is a major learning curve when getting started with the Vitruvian Trainer+.
"Honestly, it's more confusing than Tonal," he says. "Tonal and Peloton are further down the line in their development than Vitruvian. Although setup wasn't crazy difficult, the terminology and different workout modes present a challenge and an adjustment period."
"There's also not an attached screen, so the phone being a smaller device can make it more difficult to navigate than the large screen on Tonal," Coop says. (You can mirror your device to an Apple TV or other smart TV, though, if that helps.)
For example:
The Trainer+ can provide up to 440 pounds in digital resistance. But, the motion of the cables can sometimes be jerky. This will inevitably improve as the company continues to work on its AI.
You can perform a seemingly endless amount of exercises on the Trainer+, but choosing the correct accessory can take time and it might take a while for you to become proficient at it.
The Vitruvian App allows you to create your own workouts instead of following classes, but it takes a VERY long time to program them into the app so that the app can communicate to the hardware.
These are just a few examples of what could be improved on the Vitruvian Trainer+. Overall, though, the experience is novel and fun, and it has a ton of potential.
The fact that you can get up to 440 pounds of resistance from this tiny (but robust) platform is amazing and promising. Most people won't ever lift that much weight even with free weights—and digital resistance feels heavier due to the adaptive algorithms, so this product provides more than enough resistance for the vast majority of people.
Vitruvian Trainer+ vs Tonal
Tonal Smart Gym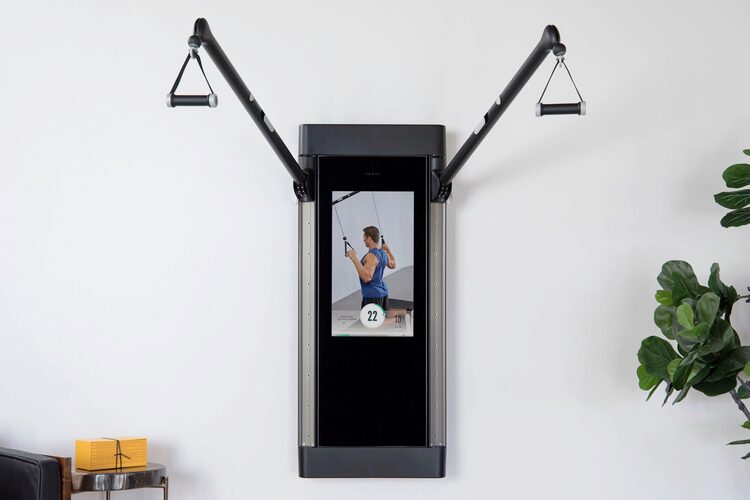 Tonal Smart Home Gym
Looking for a complete home gym that fits in a compact space? The Tonal smart home gym offers 200 pounds of resistance, more than 170 moves, and a range of full-body exercises. Plus, the AI gets to know you as a lifter the more you use it, so the workouts will be customized to your needs.Tonal may be effective, but it's not budget-friendly. The machine sells for $3,995 (which does include professional installation), but you still have to pay a $50 monthly subscription fee on top of that.
If Vitruvian isn't a direct competitor to Tonal, it's damn near close. It's no secret that the technology is extremely similar—upon using the Vitruvian, that was one of Coop's first thoughts:
"The resistance feels just like Tonal," he says. "I'm guessing it uses similar magnetic resistance components."
"The difference," he continues, "is that it's heavier, all the way up to 440 pounds total—and 440 pounds on the Vitruvian feels MUCH different than 440 lb on a barbell. It's significantly heavier."
The other main (and obvious) difference? The size and weight of the machines.
Tonal is a behemoth, and one that requires drilling six holes into your wall. It weighs nearly 150 pounds and requires a 7-foot-by-7-foot space for proper use. However, Tonal wouldn't have some of its most crucial features if it wasn't so large. Thanks to its size, Tonal features a massive touchscreen and motion sensors that track your exercise technique.
The Vitruvian doesn't offer those features. It's a little funky to follow along on your smartphone, but you also won't have holes to patch and paint should you ever move or want to get rid of the product.
Read our full Tonal review for more about our experience using it.
Customer Experience
Vitruvian offers a robust FAQ section on the website as well as a contact page, where you can get in touch with the company via a support email address. There's also a live chat feature.
What I don't love is the two-year, non-transferable warranty on the product. For the price (around $2,900 and up), I'd expect a longer warranty. But, to be fair, many other smart home gym products also have paltry warranties and I guess this is just a fact of the equipment type. That doesn't make it better, though, in my opinion. 
Also, customers are responsible for return shipping fees if they decide the Trainer+ isn't the right fit for them. For a near-70-pound product, shipping fees can be quite high. However, you'll get a refund less shipping if you return it within 30 days of delivery. 
Ordering and Assembling the Vitruvian Trainer+
There's little to no assembly required for the Trainer+. As for the machine itself, you'll simply slide it out of the box, power it on, and attach the handles you want to use. Most of the setup required involves getting the hardware connected to the app. You'll need WiFi and a good Bluetooth connection for it to work.
Customer Reviews
Most reviews are positive, although many call out that many of the issues are easily fixable software problems. Like I said before, Vitruvian is a new company, so bugs and minor annoyances are to be expected. Don't buy a first- or second-generation product if you don't want to deal with things like software glitches.
Here's one review from the App Store summing up these common issues:
"Vitruvian, the device is great but the app needs improvement. All the way from remembering the device I The workouts are good and the machine is phenomenal. The app leaves much to be desired. Not the most intuitive platform, and my profile seems to keep deleting my program progress and created workouts. Support has been of little help aside from asking if I somehow accidentally created a new profile, then ghosting me when I responded that I have not. Update: After a couple of weeks of creating new workouts every time I didn't want to do one of the coached classes all of my workouts have returned. I lost my points progress but I don't care about that. Hopefully the patch holds. With the issue hopefully resolved I really enjoy the Vitruvian." 
However, negative reviews are at a minimum overall all. This review from a Reddit user is enthusiastically positive: 
"…It's easy to see several comments expressing dislikes or at [sic] last need for improvement and get a sense that the machine is problematic. For me at least, that isn't the case. Overall, I think it's a fantastic machine and the experience around it is very strong…The resistance is very real, as much as you want it to be (and more), feels very smooth and also a unique feeling. The eccentric pull is a huge part of it, and other aspects – such as their claim that it can adjust resistance up to 50x/second (if I remember correctly) is something that has to be experienced."
It's worth noting that many customer reviews online are on the original Vitruvian V-Form Trainer, not the Trainer+, so be sure to look out for that during your research. Remember, too, that the app is going through constant updates for improvement.
Other in-depth written reviews I've read have the same general sentiment as I do: Vitruvian has a lot of potential, but there's room for improvement, specifically in regard to the app.
Final Verdict of Our Vitruvian Trainer+ Review
The Vitruvian Trainer+ is a solid improvement over the original V-Form Trainer. It's clear to see that Vitruvian is passionate about its product and technology, and is working hard to continue improving its offerings. I'm excited to stay up-to-date on this smart home gym device and am looking forward to future iterations.
The Trainer+ is a smart home gym that functions much like a cable machine.
It's similar to Tonal, but much smaller and offers a higher maximum resistance (440 pounds versus the Tonal's 200).
This is a great option for small home gyms and those who want to take the mental work out of their workouts.
Vitruvian Trainer+ Rating
Vitruvian Trainer+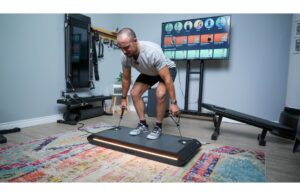 Our Vitruvian Trainer+ review examines the science and technology behind one of the latest smart home gyms.
Product Brand: Vitruvian
Product Currency: $
Product Price: 2990.00
Product In-Stock: InStock
Vitruvian Trainer+ Review FAQs
Here are some commonly asked questions about the Vitruvian Trainer+.
What is the Vitruvian Form?
The Vitruvian Trainer+ is a piece of smart home gym equipment that utilizes magnetic resistance components and computer algorithms to provide adaptive strength training workouts.
How does the Vitruvian work?
The Vitruvian Trainer+ is pretty straightforward to use. It's a carbon fiber platform with two cables on the inside. The user attaches handles to said cables and, when the exerciser pulls on the cables, resistance is created via magnetic and electronic components. The hardware (the machine) communicates with the software components in order to change resistance, count reps, and more.
Does Vitruvian require a subscription?
You don't need a subscription to use the Vitruvian Trainer+ or to create your own workouts in the app. However, if you want full functionality of the device, including the different workout modes, trainer-led classes, and automatic progress tracking, then yes, you do need to subscribe to the Vitruvian app for $39 per month.
What exercises can you do on Vitruvian?
You can do most exercises you'd normally do during a home workout on the Trainer+. You can do bench press, squats, deadlifts, lunges, bicep curls, shoulder press, and any variation of those. You can even mimic exercises like the dumbbell snatch. You can also choose to do straight-set strength training, high-intensity interval training (HIIT), full-body workouts or isolated muscle group workouts.