We test and review fitness products based on an independent, multi-point methodology. If you use our links to purchase something, we may earn a commission. Read our disclosures.
Looking for verified Tempo Fit coupon codes? We've got you covered.
Smart home gym equipment is insanely cool—no doubt about that. But, it's also what most people would classify as expensive. The Tempo Studio, for example, will run you almost $2,500 for the basic package and nearly $4,000 for the premium package. However, it is possible to shave some bucks off your Tempo Studio purchase with the right Tempo discount codes.
Tempo Discount Code
For the New Year, Tempo is running a limited-time sale on Tempo Studio and Tempo Move. You can get $500 off of a Studio or $100 off a Move while the sale lasts. You just have to use the tempo.fit promo code SAVEBIG, which is auto-applied at checkout.
Introductory Tempo Offers
New Tempo customers can also save big. Sometimes, there are Tempo coupon codes available for first-time buyers. If this promotion is available, you'll see a banner indicating so on the product page you're interested in. With this type of deal, you'll have to enter your email address and some other basic information to secure the coupon code.
Finance Tempo
Another way to make the price of your Tempo Studio a bit more palatable is to take advantage of financing. Tempo offers financing through Affirm, so buyers can pay later but start taking advantage of Tempo's 3D sensor technology and fun workouts right away.
To see if you qualify for financing with Affirm, go to tempo.fit, add the product you want to your shopping cart, and select Affirm at checkout. The website will run an instant soft credit check to see if you qualify for 0% APR or another deal.
When Does Tempo Studio Go On Sale?
Tempo offers limited-time, sitewide sales from time to time. When Tempo is running a sale, the website typically displays promotional codes on a banner at the top of the website as well as on each product page. The website will automatically apply any available sitewide special offers to your total when you check out. You can typically find this type of Tempo deal around major holidays, such as New Year's Day, Labor Day, and Christmas.
Speaking of holidays, at Garage Gym Reviews, we frequently keep up with sales, especially around holiday periods. If there are any holiday-specific Tempo promo codes, you can find them on our holiday sales pages:
What We Love About Tempo
Tempo products are a game changer in the smart home gym realm. The real-time technique feedback, AI-based personal training, and rep tracking make strength training at home a breeze. Tempo's technology even provides weight recommendations based on your tracked form and reps.
Tempo's products support everyone at any point in their fitness journey thanks to these features that can keep beginners safe, as well as encourage advanced exercisers to push harder. (Read our full Tempo Studio review.)
Tempo Studio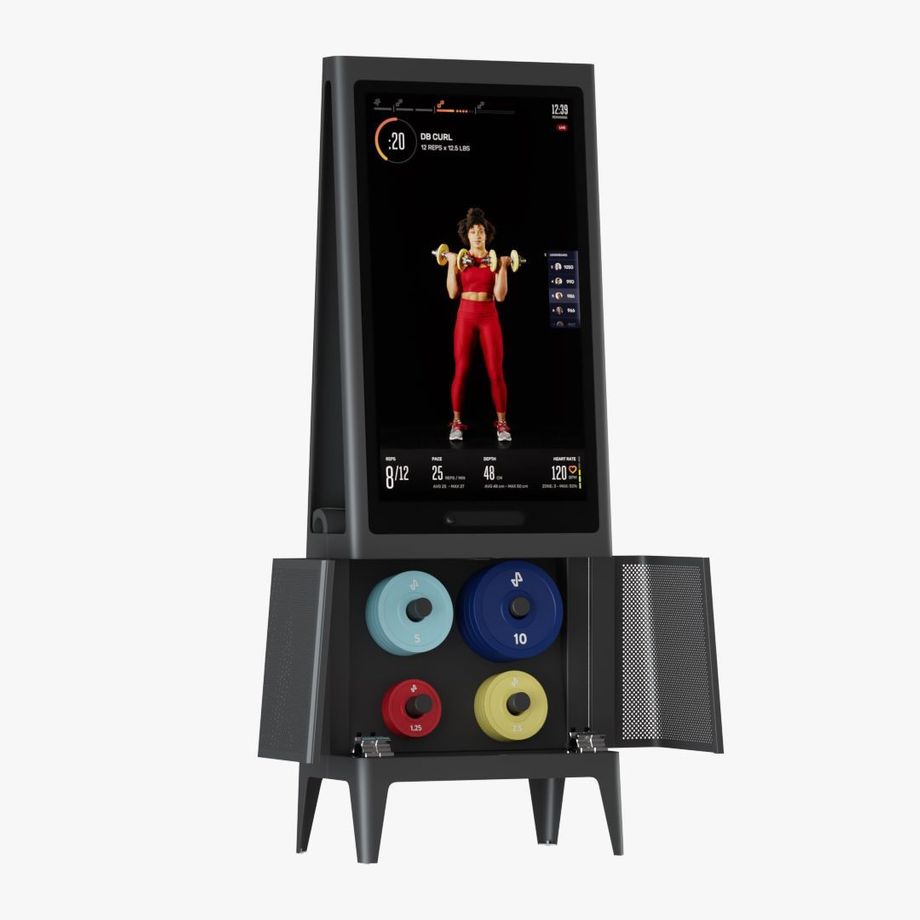 Tempo Studio
Tempo Studio is the all-in-one smart home gym. Its sturdy A-frame aluminum design holds weight plates, loadable dumbbell handles, a barbell, foam roller, workout mat, and barbell collars. Tempo Studio has AI technology that uses 3D Time-of-Flight sensors to capture your movement patterns and provide form corrections, rep counting, weight recommendations, and stat tracking. When you're working out, the Tempo Studio acts as a virtual personal trainer to help you improve your exercise technique and reduce your risk of injury from exercise.
There's also a new Tempo product for people who don't want the full-size Tempo Studio in their home. Tempo Move is a small cabinet that houses weights and accessories. It's powered by the same 3D Tempo Vision as the Studio, but it connects to your existing smart TV or other HDMI extension. Keep in mind you do need an iPhone XR/XS or higher to use Tempo Move. Sorry, Android users!
Tempo Move
Tempo Move
The Tempo Move is a very affordable younger sister to the Tempo Studio. Access a lot of benefits you get with Tempo Studio:AI-powered form correction Access to thousands of classes Some weights includesIn order to use Move, you need to have an iPhone XR (or later version) as well as a TV.
Why Buy From Tempo
Tempo is a star of the smart home gym world. When you buy a Tempo product, you know you're getting some of the best fitness technology available, along with world-class coaching and engaging workout classes.
We also love that Tempo allows customers to pick and choose what equipment they want with their smart home gym. For example, you can buy the Tempo Studio in one of three packages:
Tempo Studio Starter Package, which includes a workout mat, dumbbell handles, collars, and 75 pounds weight plates
Tempo Plus, which includes everything in the Starter, plus a barbell, two extra collars, competition plates, a heart rate monitor, and a folding weight bench
Tempo Pro, which includes everything in the Plus, as well as weight plate storage, a folding squat rack, adjustable kettlebell system, and 45-pound plates
This means you don't have to purchase any more or less than what you need in your home gym. The Tempo Move doesn't have package options like that, but we wouldn't put it past Tempo to add more offerings in the near future. Whichever Tempo product or package you choose, it'll help you reach your fitness goals.
Tempo also offers a pretty good limited warranty on all of its products, ranging from 12 months for labor and installation up to three years for certain equipment.
Read our full guide to the best smart workout mirrors like Tempo Studio.