We test and review fitness products based on an independent, multi-point methodology. If you use our links to purchase something, we may earn a commission. Read our disclosures.
When it comes to low-impact workouts, the recumbent bike takes the cake. You can be fully supported in a cushioned seat with a backrest and still get the heart-healthy benefits of any other cardio machine.
As a certified personal trainer, I like the idea of certain folks using the recumbent bike as a gateway into fitness or getting back in the saddle after a lower-body injury. The pedal position on a recumbent bike puts your feet out in front of you instead of below your hips like a traditional upright bike. However, your hip flexor and knee joint still go through a full range of motion, which can be helpful for anyone looking to jump-start lower body strength and endurance.
The Nautilus R618 recumbent bike is not only a low-impact option, it's also easy-to-use, which makes it perfect for a variety of ages and abilities. In this Nautilus R618 review, I'm going to cover the specs, who this machine might be good for, and share a similar recumbent bike so you can do your best comparison shopping.
Cardio Experts Here to Help
Our product testers have extensive experience in all things fitness. We've tested, used, and coached clients with everything from barbells to ellipticals. We're a team of certified personal trainers, CrossFit Level 1 Trainers, former college athletes, and nutrition coaches.
It doesn't stop there either—our product testers are well-versed with exercise bikes. We've tested studio bikes, bikes with screens, foldable bikes, upright bikes, and recumbent bikes. While we may not have had the chance to test the Nautilus R618, we have tried a similar recumbent bike from Schwinn, which is manufactured by Nautilus.
Nautilus R618 Recumbent Bike
Nautilus R618 Recumbent Bike
The Nautilus R618 recumbent bike offer a comfortable gel seat cushioning and a vented back rest. You'll also be able to adjust the display to your sightline with the tilting console and easy-to-read dual blue backlit screens. The display shows your workout metrics including speed, distance, and heart rate. To track your heart rate, you can use the wireless heart rate chest strap, which is included in the purchase of the Nautilus R618.The R618 also comes equipped with 29 built-in Nautilus Training programs, including heart rate training, interval training, and weight loss as well as customizable training options. Bluetooth connectivity offers a seamless transition of workout data to supported smart devices like the brand's free Explore the World™ App.The R618 features weighted pedals for a smoother riding experience plus a high speed, high inertia drive system with a 13-pound magnetic flywheel.
A Quick Look at the Nautilus R618 Recumbent Bike
The Nautilus R618 is a recumbent bike that offers riders a low-impact workout with almost total focus recruiting the leg muscles. This also means that this style of indoor cycling doesn't require a lot of engagement from your core or upper body because those muscles are more supported in the seat than on an upright bike.
That said, recumbent bikes can be suitable entry-level machines for beginners, seniors, and anyone recovering from an injury. This low-tech machine also makes it simple and friendly for all ages.
RELATED: Indoor vs Outdoor Cycling
I like the fact that recumbent bikes—like the Nautilus R618—are fairly low to the ground, making getting on and off the machine fairly easy. In addition to the machine having a fairly low center of gravity, the R618 also has an impressive 325-pound user weight capacity. These two factors lead me to believe the R618 has a heavy-duty and locked-down feel.
My Tips
Download the free app, Explore the World, for scenic bike rides.
This is a solid machine for anyone who needs to prepare for or recover from a surgery or injury to the hips or knees. (Of course, consult your doctor before engaging in any physical activity in this scenario.)
Pros:
Gel seat cushioning
Weighted pedals
Heart rate monitoring chest strap
Bluetooth connectivity
29 built-in programs
High user weight capacity
Cons:
Large footprint
13-lb flywheel weight under industry standards
Basic LCD touchscreen
Not ideal for full-body cardio workout
Is the Nautilus R618 Recumbent Bike Worth It?
I think with the fairly light, 13-pound flywheel and overall low-tech features, this exercise bike will be well-suited for seniors and anyone recovering from an injury or surgery.
Great for:
Beginners and older adults
Anyone seeking a low-impact workout
People looking to increase lower-body endurance
Not recommended for:
Anyone looking for a high-tech cycling experience
People who want an exercise bike for on-demand workouts
Anyone looking for a bike with really tough resistance levels
Nautilus R618 Recumbent Bike Specs
| | |
| --- | --- |
| Footprint | 67.3" L x 26.4" W x 48.8" H |
| Weight | 107.1 lbs |
| Weight capacity | 325 lbs |
| Preset Programs | 29 |
| Resistance levels | 25 |
| Flywheel weight | 13 lbs |
| Display | Blue backlit LCD |
| Bluetooth | Yes |
| Warranty | 15-year frame, 3-year parts and electronics, 1-year labor |
Customer Reviews
Overall, the Nautilus website shows more good reviews than bad. When I turned to Amazon for additional feedback, there was a mix of both good and bad reviews. Most complaints were about the assembly process and lack of compatibility with fitness apps.
Workout Experience on the Nautilus R618 Recumbent Bike
While we haven't tested the R618, we have tested other Nautilus cardio machines and can confidently evaluate it based on our experience. The Nautilus R618 is a fairly affordable cardio machine, priced around $800. While that's still a decent chunk of change, the lack of built-in interactive programming on the R618 might leave some people looking for another bike in the same price range.
However, with 29 built-in workout programs to follow, you won't necessarily need to pay additional fees to get programming apps. Without a touchscreen or built-in interactive programming, it's nice to see a plethora of hard wired programs so you can keep your home gym rides interesting.
RELATED: Recumbent Bike Workout
You'll also be able to cycle through 25 levels of magnetic resistance using the 13-pound flywheel. Our product testers are used to seeing exercise bikes with 30-pound flywheels, but if you're gravitating to a recumbent bike, you might not be after the heaviest resistance you can find. Heavier flywheels also help with unnecessary shaking, which helps the durability of the R618. The 325-pound user weight limit will add to the overall sturdiness and durability.
RELATED: Best Recumbent Bike
I also like that Nautilus offers a free app called Explore the World. Without membership fees, this app lets you explore different destinations including the Japanese countryside, the Scottish Highlands, and the city of Prague.
Footprint and Portability
The Nautilus R618 might not be the biggest cardio machine we've seen, but it does have some weight to it at 107 pounds (and measures just over 67 inches in length, 26 inches in width, and almost 49 inches in height). The good thing is that the recumbent bike features transport wheels and a dual-grip transport handlebar under the frame so you can pick it up and roll it out of the way.
Ride in Comfort
There are a few things to really like about the ease of use and ergonomics of the Nautilus R618. This recumbent bike features weighted pedals so you can slide your feet in and out of the pedal with greater ease and an overall smoother pedaling experience. You'll also get a ventilated and contoured backrest along with a gel-padded seat so you can enjoy longer bike rides without saddle fatigue.
The Nautilus R618 has an adjustable seat on a sliding monorail so you can customize your position to the pedals based on your height or leg length. I think the adjustable sight line tilting console with blue backlit dual track screens is another nice feature to accommodate for a variety of user heights.
I also like the convenience of having a water bottle holder and built-in cooling fan with three speeds for hard workouts.
Simple and Convenient
The Nautilus might not have a touchscreen or interactive programming, but I do like to see that the R618 has Bluetooth connectivity for the heart rate monitoring chest strap that comes with the purchase of the recumbent bike.
Using the media tray for your own smartphone or tablet, you can use Bluetooth to connect to the brand's Explore the World app. This app is free and allows you to track your workout data and ride through scenic real-world locations. You can also charge your device with the built-in USB charging port.
Another nice feature is the fact that the R618 comes with 29 preset training programs for when you just want to hop on and ride without your device. Although we haven't tested this machine ourselves, the Nautilus R618 gives you up to four different user profiles to track your individual stats but share the bike with family members.
Comparison to Schwinn 270
The Schwinn 270 is simple, straightforward, and priced slightly less than the Nautilus R618. The Schwinn 270 is similar in product weight and weight capacity. It also has the same type of dual track LCD screen found on the Nautilus R618, displaying your metrics like speed, RPM, heart rate, calories, distance, and time.
Similar to the Nautilus R618, the Schwinn 270 offers 25 levels of resistance. The main difference is the Schwinn 270 features an eddy current brake system where the R618 has magnetic resistance, which is actually a pretty similar (and smooth) riding experience.
It's worth mentioning that we've noticed the Schwinn 270 goes in and out of stock on Amazon frequently, so if you're interested in this machine, keep your eyes open and be ready to hit Buy Now when you see it available.
Schwinn 270 Recumbent Bike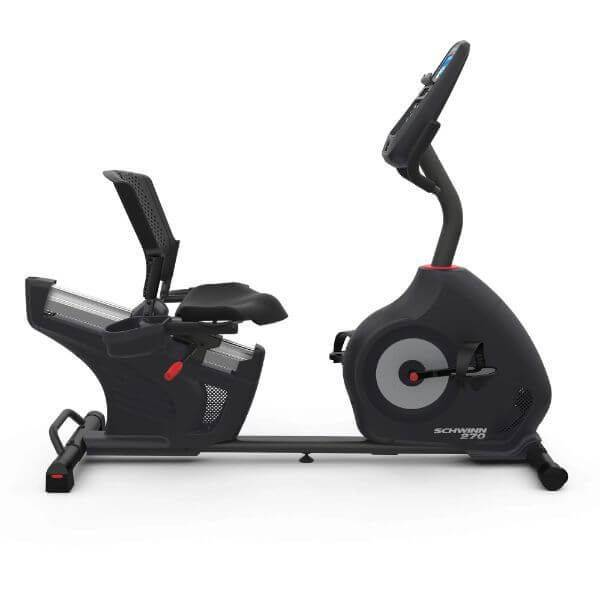 Schwinn 270 Recumbent Bike
The Schwinn 270 Recumbent Bike is a  low-impact cardio machine that's both easy-to-use and efficient. It comes equipped with 29 pre-programmed workouts, two fitness tests, one recovery test, one quick start and a four-user capacity that will keep multiple users on track with their fitness goals. Two LCD screens allow you to monitor up to 13 different display feedbacks. What's more, the 270 has a USB data transfer functionality to the Schwinn Connect website that is compatible with MyFitnessPal and the Explore the World app. So, easily upload your fitness metrics and track them to assess progress towards your health goals. The Schwinn 270 uses 25 levels of resistance aligned with a high-speed, high-inertia perimeter flywheel that makes for a smooth and quiet ride. With a user weight capacity of 300 pounds and an adjustable seat, this is a great training tool for users of varied size. Ergonomically placed pulse grips make for a relaxed riding position when using the heart rate program. The Schwinn 270 is also telemetry heart rate-enabled which, if you purchase the chest strap, is more accurate than pulse grips.Design features such as the aluminum slider seat rail with fore and aft adjustment capabilities, a large padded seat bottom with contoured leg area, a large vented seat back, cooling console fans, transport wheels, and 10 resistance quick keys to quickly change levels, make the Schwinn 270 convenient, effective, and comfortable. Several reviews stated the resistance stops working after a few years. While there were only a handful that reported this problem, we felt it was worth noting. And with a warranty of only two years on parts (plus one year on electronics, 10 years on the frame and 90 days on labor), this could be an issue. 
Customer Experience
I like the fact the R618 has a 15-year warranty on the frame. The three-year warranty on parts and electronics in addition to one-year labor is not bad, either.
The Nautilus brand offers a satisfaction guarantee, meaning that if you are not 100 percent satisfied with your purchase, you can contact customer service within six weeks of your purchase to get a return merchandise authorization (RMA) number. There are additional regulations once you get the RMA, but it's worth mentioning that you'll be on the hook for shipping and handling fees to send the product back.
Ordering and Assembling the Nautilus R618 Recumbent Bike
Our product testers haven't officially taken the Nautilus R618 for a spin or assembled it for that matter. However, after going through the owner's manual and reading customer reviews, the process doesn't seem overly complicated. You won't have to worry about assembling the drive train or anything like that, but you will have to assemble the seat and attach it to the seat rail and attach and wire the console to the frame.
The R618 has an additional $99.99 shipping fee on top of the $799 product price. Adding an in-home assembly will cost another $129. I also noticed on the website that Nautilus does not ship to Alaska or Hawaii.
Final Verdict of Our Nautilus R618 Recumbent Exercise Bike Review
Overall, this recumbent bike could be a solid choice for anyone looking for an entry-level exercise bike. The low-tech machine will allow people of all ages to have an easy time using and reading the metrics displayed on the screen.
Nautilus R618 Recumbent Bike Rating
Nautilus R618 Recumbent Bike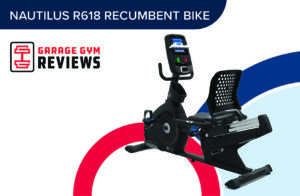 In this Nautilus R618 review, we cover the ins and outs of this recumbent bike with some surprising tech features.
Product Brand: Nautilus
Product Currency: USD
Product Price: 799.00
Product In-Stock: InStock
Nautilus R618 Recumbent Bike FAQs
How long should you ride the recumbent bike?
This will depend on your activity level and your fitness goals. The CDC recommends that adults get at least 150 minutes of moderate to vigorous activity each week. However, not all your weekly activity needs to be done on just one machine.
What is the flywheel weight of the Nautilus R618?
The Nautilus R618 has a 13-pound flywheel.
Is Schwinn made by Nautilus?
Yes, Nautilus is the parent company of Schwinn and Bowflex.