We test and review fitness products based on an independent, multi-point methodology. If you use our links to purchase something, we may earn a commission. Read our disclosures.
I love biking, but even the best exercise bikes can be a literal pain in the butt—not to mention the back and legs, too. The Pelotons of the world were not built with comfort in mind, they were made to help you get a heart-pounding cardio workout.
If you're looking for something a little cozier, then allow us to show you our picks for the best recumbent exercise bike. These bikes allow you to sit back, stretch your legs, and still get your heart rate up without the discomfort some people experience on an old-fashioned stationary bike.
Whether you're a tall person (like myself), suffer from a back or leg injury, have mobility issues, or are a senior looking for a more accessible exercise bike, you'll be sure to find one on this list. Our group of certified personal trainers, competitive weightlifters, former college athletes, and CrossFit L-1 coaches personally tested dozens of exercise bikes, including the ones we're about to go over. We'll give you the good, bad, and ugly of each one so you can feel confident in your decision.
Best Recumbent Bike 2023
Best Overall Recumbent Exercise Bike: Schwinn 290 Recumbent Bike
Good for: Those looking for a well-built recumbent bike with a touchscreen
The Schwinn 290 is the quintessential recumbent exercise bike, and at around $799 it's also a great value. It's one of the most comfortable exercise bikes we've ever sat in, thanks to the ventilated and contoured backrest along with the padded and contoured seat. These features help give the rider lumbar support to prevent any cramps or pain during longer rides.
Speaking of rides, the bike comes is compatible with two of the best cycling apps: Zwift and JRNY. You actually get a free one-year membership to JRNY, a $149 value, free when you purchase the bike. The 290 is the improved version of the Schwinn 270 Recumbent Exercise Bike, which was our prior top pick but is no longer in production, in that it comes with a 7-inch touchscreen over a basic LCD console.
RELATED: Recumbent Bike Workout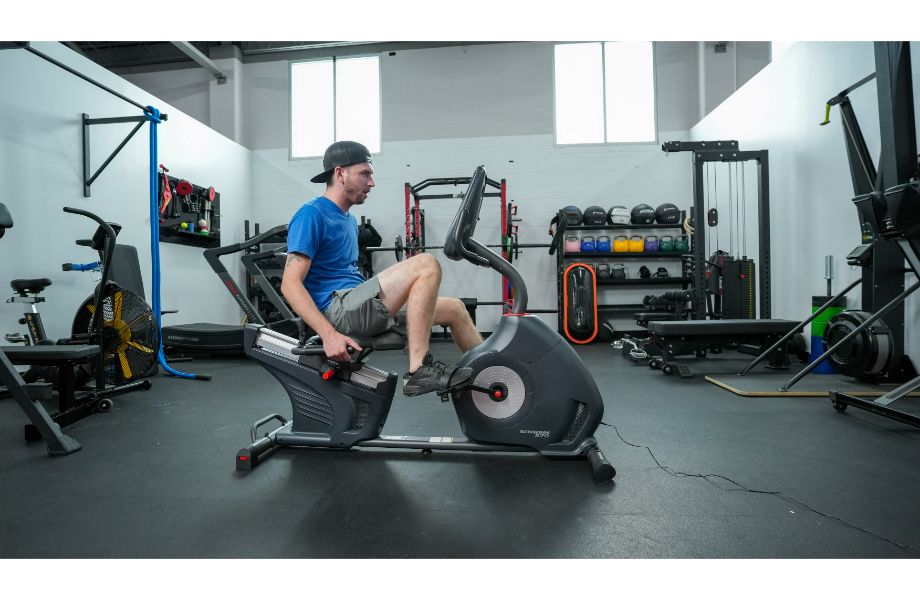 That's a major improvement in the smart home gym space, since recumbent exercise bikes in this price range often come with just an LCD console, similar to what was on the Schwinn 270. In fact, it's super rare.
That said, we would've liked to see this bike be compatible with more than just the JRNY app and Zwift—even though those are two high-quality fitness apps.
| | |
| --- | --- |
| Footprint | 66.4″ L X 28″ W X 47″ H |
| Resistance | 25 levels of magnetic resistance |
| Display | 7-inch touchscreen |
| Weight | 108 lbs |
| Weight capacity | 330 lbs |
| Workout programs | JRNY and Zwift |
| Warranty | 10-year frame, 2-year parts, 1-year electronics, 90 days labor |
Best Value Recumbent Exercise Bike: Diamondback Fitness 910sr Recumbent Bike
Good for: Those who want a durable exercise machine and don't mind a lack of Bluetooth connectivity
The Diamondback Fitness 910sr Recumbent Bike easily gives you the most bang for your buck due to the 32 levels of durable and whisper-quiet magnetic resistance and its compact footprint. We've found that this recumbent bike is easier to store due to the 23-inch width, and it comes with convenient transport wheels that make moving it around a breeze. There is one trade-off: It doesn't appear to have any Bluetooth connectivity, which means you can't connect it to any cycling apps.
We don't mind that for a few reasons, the main one being that this is a high-quality piece of exercise equipment. Recumbent exercise bikes typically don't have more than 26 levels of resistance because they're not meant to be as intense as upright or cycling exercise bikes. Diamondback packs 32 levels that can challenge even the most-seasoned cycling legs.
As with any other high-quality exercise bike, this one comes with a step-through frame, which as a reminder allows the user to get on and off the seat without lifting their legs. There are 32 built-in workout programs, such as heart-rate-controlled training, custom user programs, and fitness tests. We personally prefer following a live trainer on a cycling app, and while the bike lacks Bluetooth connectivity there is a tablet holder that can hold your phone or tablet, which isn't as good as having it on a built-in screen but beggars can't be choosers.
Sometimes it pays off to get a high-quality piece of equipment that will last for many years, rather than getting something more focused on technology (though that's a personal preference we totally respect).
| | |
| --- | --- |
| Footprint | 64″L x 23″W x 50″H |
| Resistance | 32 levels of magnetic resistance |
| Display | LCD console |
| Weight | 187 lbs |
| Workout programs | 32 |
| Weight capacity | 325 lbs |
| Warranty | 5-year frame, 3-year parts and electronics, 1-year labor |
Best High-End Recumbent Exercise Bike: NordicTrack Commercial R35
Good for: Anyone who wants the most premium recumbent bike on the market
The NordicTrack Commercial R35 is the exception to the rule that most recumbent bikes aren't equipped with smart home gym technology. There's a 14-inch HD touchscreen on the bike that comes with high-quality iFIT programming, where you can access hundreds of live and on-demand home workout classes. Normally we'd say a 14-inch screen is pretty small, but considering you're much closer to it, it's a perfect size for this bike.
Another smart feature of this bike is the automatic tension control, which allows trainers to set the resistance for you based on the workout you're doing. This is standard with most ProForm and NordicTrack bikes (both companies are owned by iFIT).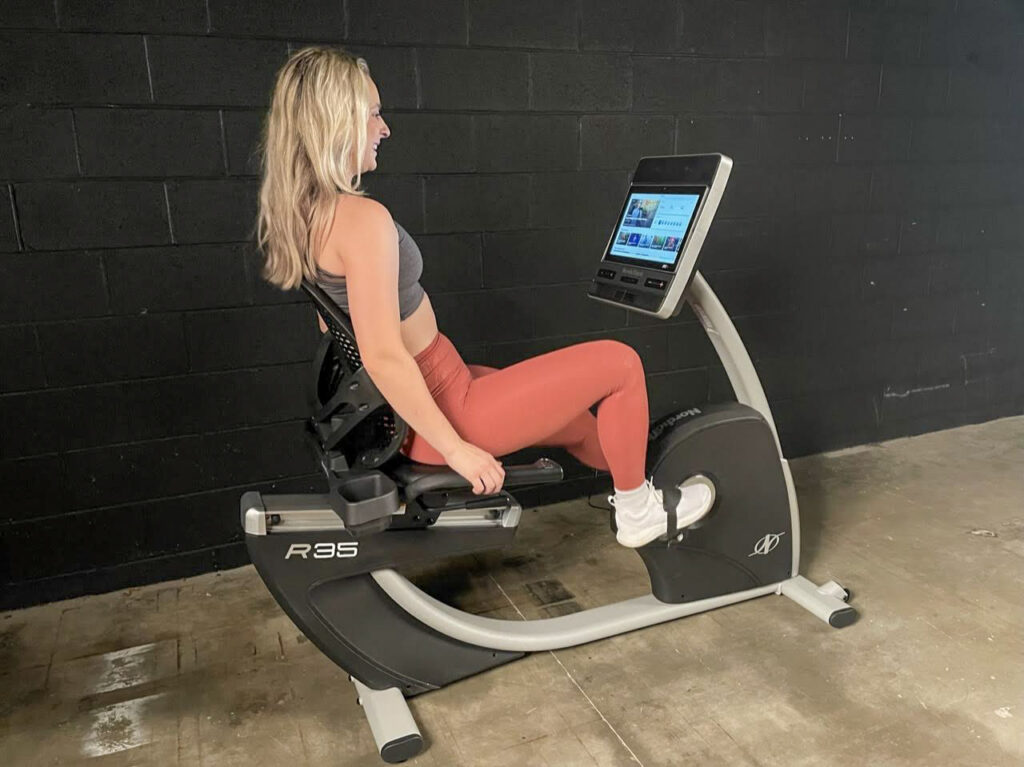 Our expert product tester Caroline Lubinsky, who used recumbent bikes following her ankle reconstruction surgery, found the NordicTrack R35 to be an enjoyable exercise bike. It comes with 26 digital resistance levels and is super-quiet and stable during use. The weighted flywheel is 25 pounds, which is on the higher end of recumbent bikes but still pretty light in the grand scheme of exercise bikes.
It also has oversized pedals and a ventilated and contoured seat, so even though your heart will be pounding with the iFIT workouts, your back and knees will be A-OK.
The two major downsides of the R35 are its size and price. At nearly 200 pounds, it's pretty difficult to move around if you don't have a dedicated place for it. And at around $1,500, it's on the pricier side for a recumbent bike, but if you're a fan of exercise bikes with screens then it's the best choice for a recumbent bike.
Read our full NordicTrack Commercial R35 review for Caroline's full thoughts on this bike.
| | |
| --- | --- |
| Footprint | 68.22" L x 23.69" W x 53.42" H |
| Resistance | 26 digital resistance levels |
| Display | 14" HD smart touchscreen |
| Weight | 192 lbs |
| Workout programs | iFIT |
| Weight capacity | 350 lbs |
| Warranty | 10-year frame, 2-year parts, 1-year electronic, 90 days labor |
Best Budget Recumbent Exercise Bike: Marcy Magnetic Recumbent Exercise Bike
Good for: Those who want an affordable recumbent bike that's still durable
It must be said that the Marcy Recumbent Exercise Bike is not the cheapest recumbent bike on the market, but if you go any lower in price, you sacrifice some of the bike features found elsewhere. For one, this bike comes with a 300-pound user weight capacity, which is the industry standard but is also pretty impressive considering this bike only weighs 69 pounds.
And though it can't fold, its lightweight nature and transport wheels make it pretty easy to move around your home gym. You also get a tablet holder, which is something cheaper recumbent bikes don't have (you think that'd be standard in this day and age, but you'd be wrong). However, it doesn't have a cup holder or heart rate monitor but neither do the cheaper recumbent bikes.
Users have reported that assembly takes less than an hour, the LCD screen is easy to read and well lit, and the seat is comfortable for people of all heights. The backrest might not be ventilated like the more expensive models, but considering the price, we can't complain too much.
If you're looking for something to just get you moving throughout the day, the Marcy Magnetic Recumbent Bike will do a great job of that. If you're looking for a challenging workout, then you'll need to spend more money.
The Marcy, along with other models in the same price range, only has eight magnetic resistance levels. It's nice that something this affordable uses low-maintenance magnetic resistance, but again if you're an avid biker, you won't break much of a sweat on this thing.
You'll also have to supply your own AA batteries for the console, and be aware the warranty on this bike is only two years.
| | |
| --- | --- |
| Footprint | 56" L x 25" W x 44" H |
| Resistance | 8 levels of magnetic resistance |
| Display | LCD monitor |
| Weight | 69 lbs |
| Workout programs | N/A |
| Weight capacity | 300 lbs |
| Warranty | 2 years |
Best Recumbent Exercise Bike for Seniors: Schwinn 230
Good for: Seniors, or those who want a more accessible recumbent bike
Even though I'm nowhere close to getting my AARP card, I can see why the Schwinn 230 recumbent bike is a great option for seniors looking for an exercise bike. It's lightweight (at 80 pounds) and easy to move around your home gym, comes with 16 levels of resistance, and the seat and backrest are both ventilated and contoured to keep you cool and comfortable for the ride's duration.
The walk-through design isn't unique to Schwinn's recumbent bikes, but it's a great feature to have on an exercise bike for seniors or those with mobility issues. This allows the user to walk right in front of the seat and just sit down, instead of having to climb up and down it as you do on a traditional exercise bike.
That little step might not seem like much to most able-bodied people, but those with mobility issues will appreciate not having to do much work to get on the bike.
Just like the Schwinn 290, this is not a bike for serious riders. In fact, the Schwinn 230 has fewer built-in workout programs (13) and magnetic resistance levels (16) than the 270 did. It does, however, allow you to connect to the Zwift app, which has additional indoor cycling workouts and wasn't accessible on the 270 recumbent bike.
If your vision isn't the best, I'd recommend placing a tablet or smartphone on the bike's media shelf. The LCD console is only 5.5 inches and, unlike the 270's, is not backlit. On the bright side, this bike has fewer software complaints than the more expensive model so you don't need to worry as much about the screen giving out on you.
Check out our Schwinn 230 recumbent bike review for our full thoughts on this bike.
| | |
| --- | --- |
| Footprint | 64" L x 27" W x 44.5" H |
| Resistance | 16 levels of magnetic resistance |
| Display | 5.5" LCD display |
| Weight | 80 lbs |
| Weight capacity | 300 lbs |
| Workout programs | JRNY |
| Warranty | Frame: 10 years / Parts: 2 years / Electronics: 1 year / Labor: 90 days |
Best Foldable Recumbent Exercise Bike: Exerpeutic 400XL Recumbent Bike
Good for: Home gym owners who are tight on space
You'll usually find recumbent bikes in the corner of most commercial gyms since they're often bulky and hard to move. But if you want compact exercise equipment, we recommend the Exerpeutic 400XL as the best recumbent bike.
On top of being foldable, which allows for easy storage and portability (it only weighs 43 pounds), it's budget-friendly at under $200—not to mention you can get Amazon Prime shipping. And though it is little, it possesses a fierce 300-pound user weight capacity and low-maintenance magnetic resistance.
There's also Bluetooth connectivity that allows the bike to sync with the MyCloudFitness app, which isn't something we've tried but it's better than nothing.
The seat and backrest are padded, and though they're not as wide as other recumbent bikes, there are several customer reviews that state they work just fine for people of all sizes.
As is the case with most budget exercise bikes, there's a few luxuries you're going to sacrifice with the low cost of the Exerpeutic 400XL. You only get eight levels of magnetic resistance, no media shelf or cup holder, and a short one-year warranty.
The assembly process is also quite difficult, though professional assembly services are available.
| | |
| --- | --- |
| Footprint | 20" L x 17" W x 54" H |
| Resistance | 8 levels of magnetic resistance |
| Display | None |
| Weight | 43 lbs |
| Weight capacity | 300 lbs |
| Workout programs | MyCloudFitness |
| Warranty | 1-year limited warranty |
Best Adjustable Recumbent Exercise Bike: Sunny Health and Fitness Essential Recumbent Exercise Bike
Good for: Anyone who needs a recumbent bike that can fit people of multiple sizes
Besides having the industry standard 300-pound user weight capacity, which is fantastic for a bike that itself only weighs 58.7 pounds, the reason we picked the Sunny Health and Fitness Essential Recumbent Exercise Bike as the best adjustable option is its inseam options.
Inseam here refers to the distance between the seat and the pedals—or how much "leg room" it has. This bike has an adjustable inseam that starts at 29 inches and goes up to 38. There's several customer reviews of people taller than 6 feet, 5 inches who say the various seat positions didn't make them feel cramped, and speaking as a tall person (standing at 6 feet, 3 inches) I can tell you that's greatly appreciated among us giants.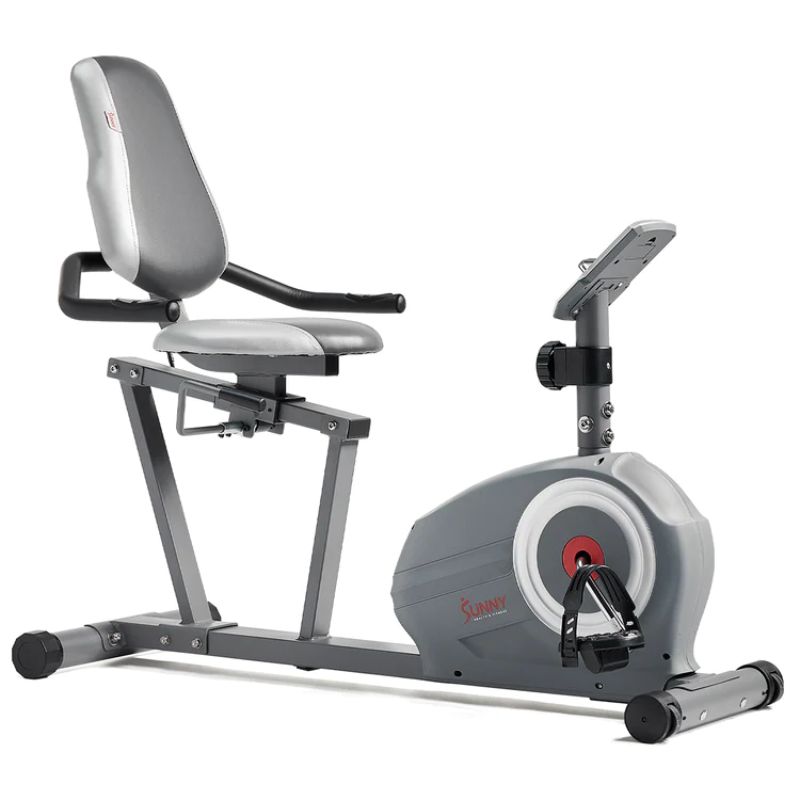 The seat is another big plus, measuring at 14.5 inches wide by 11 inches long, and the adjustable foot strap means you can fit any size shoe into the pedal.
If you're OK with having an exercise bike with no technology features, this Sunny Health and Fitness bike will cost you under $200, and under $300 if you want Bluetooth capabilities. There are no built-in workouts, and the LCD console only displays your metrics so it's up to you how high-tech you want this bike to be.
Being a budget bike, you're only getting eight magnetic resistance levels, no water bottle or phone holder, and the front handlebars are pretty short. Those might not matter to people who just want to move their legs, but it's something to keep in mind if you're looking to use this daily.
| | |
| --- | --- |
| Footprint | 46" L x 24.5" W x 38" H |
| Resistance | 8 levels of magnetic resistance |
| Display | LCD display |
| Weight | 58.7 lbs |
| Weight capacity | 300 lbs |
| Workout programs | SunnyFit app |
| Warranty | 3-year/180-day manufacturer warranty |
Best Recumbent Exercise Bike for Small Spaces: LEIKE X Bike Ultra-Quiet Folding Exercise Bike
Good for: Those who don't have a large workout area
I used this exercise bike in a 300-square-foot apartment with another person (and a cat)—so it should work for your compact home gym, too. Like the Marcy Foldable Bike, it can be used as an upright or recumbent bike, so it has a lot of value for an exercise bike under $500.
It should be noted that I tested this exercise bike during quarantine, so I'm intimately familiar with how it feels. The recumbent-style use is good, though the seat doesn't come all the way up like more expensive recumbent bikes so you might feel a lack of support there. It's also not ventilated, but again you shouldn't expect much from a bike that's under $200.
The LEIKE bike provided a way for me to get some low-impact cardio in during a time when I wasn't comfortable running outdoors. Plus, I never received a single complaint from neighbors about my bike being too loud.
While there's no inseam length, I'll note that I'm 6′ 3″ and I never had problems using this exercise bike. My roommate at the time was 5′ 5″ and they, too, felt it was comfortable thanks to the adjustable seat.
| | |
| --- | --- |
| Footprint | 46" L x 16" W x 9" H |
| Resistance | 10 levels of magnetic resistance |
| Display | LCD display |
| Weight | 38.5 lbs |
| Weight capacity | 330 lbs |
| Workout programs | N/A |
| Warranty | N/A |
Other Recumbent Exercise Bikes We Researched
Although we just went through seven of our favorite recumbent exercise bikes, we tested many more than that. Here are a few bikes that get an honorable mention from our expert product testers.
ProForm C10R: The ProForm C10R is a smart recumbent exercise bike that has a step-through design, padded seat, ventilated backrest, and a 10-inch HD touchscreen with iFIT capabilities. We didn't include it on our list because it has a lot of plastic parts, and aside from the screen, doesn't have anything that separates it from cheaper recumbent bikes like the Schwinn 270.
ProForm C10U: The ProForm C10U can be used as an upright bike or a recumbent exercise bike, and comes with a 10-inch HD touchscreen. It's a fine option if you're looking for a versatile stationary bike, but if you just want a recumbent-style bike, there are more affordable options.
ProForm Hybrid Trainer Elliptical:  Again, not technically a recumbent bike—and not technically a bike either. Rather, it's a piece of equipment that looks like a recumbent bike but has an elliptical stride. If you're into hybrid equipment it's not a bad choice, and it costs around the same as some of our top picks.  
Exerpeutic ExerWORK 1000: This is almost the same bike as the Exerpeutic 400XL Recumbent Bike, but with a shelf you can place a laptop on while you're riding. The only reason we didn't include it on our list is the shelf makes it a bit harder to fold than the 400XL, but that might not be a problem for some people.
LEIKE X Bike Ultra-Quiet Folding Exercise Bike: This is another bike that can be used as a recumbent or upright bike, but the seat is smaller than the ones on our list and the durability is not the best.
How We Picked and Tested the Best Recumbent Exercise Bikes
We took the following factors into consideration before finalizing our picks for the best recumbent bikes.
Size
Recumbent exercise bikes are not the most space-friendly pieces of fitness equipment, but that doesn't mean they need to take up half your home gym either. We wanted to make sure all our top picks would be able to fit in most home gyms.
Workout Programming
With few exceptions, recumbent bikes don't usually come with smart touchscreens. Because of that, we looked at recumbent bikes with built-in workout programs or Bluetooth capabilities so you could connect to certain fitness apps.
Comfort
Comfort is one of the recumbent bike's main selling points, but not all are created equal. We checked the seat, backrest, and the inseam to make sure users of all sizes would feel comfortable on these bikes.
Price
As always, we wanted to offer options ranging from budget-friendly to high-end so people working with every type of budget could get the bike that works best for them.
Resistance
Truth be told, you're not going to get the same resistance on a recumbent bike as you would an upright bike like the Peloton or the NordicTrack Studio Cycle S22i, but that doesn't mean pedaling on them should be a walk in the park either. We looked at whether the resistance would be good for beginners, as well as people of higher fitness levels who are looking for a challenge.
Adjustability
We wanted to make sure each bike didn't leave taller people feeling cramped or shorter people struggling to reach the pedals.
Benefits of Recumbent Bikes
If you're still wondering "Why should I buy a recumbent bike?" Well, there are a few reasons.
Low-impact workout: Stationary bikes are more of a low-impact piece of equipment than treadmills because they don't require your feet hitting the ground. Recumbent bikes are more joint-friendly, however, because they place the user's feet in front of them, thereby putting less strain on the lower-body muscles than an upright bike where your feet are below your posterior chain.
Comfortable: Recumbent bikes often come with padded and/or ventilated seats and backrests, which create a more comfortable riding experience than upright bikes that have smaller seats and no backrests.
Easier on the cardiovascular system: According to a German study1, biking in a recumbent or reclined position puts less of a strain on your cardiovascular system than biking upright, making recumbent bikes a great choice for those with cardiovascular issues.
What To Look for in a Recumbent Exercise Bike
Make sure to consider the following things before purchasing a recumbent bike for your home gym.
Size
It should go without saying, but check the footprint of any recumbent exercise bike you're considering to make sure it can fit in your home gym or apartment. You should also make sure you're able to move it, if necessary.
Seat and Backrest
Check to see if the bike's seat is padded (this may matter more to some people than others), and if the backrest is ventilated. A ventilated backrest will help reduce sweat from accumulating on your back during more intense workouts.
Display
Most recumbent bikes will come with a basic LCD console that displays your workout metrics (calories burned, time, heart rate, etc.), but there are some that offer smart touchscreens. This comes down to a personal preference.
Resistance
You're never going to feel like you're biking the Tour de France on a recumbent exercise bike, but you should still find one that has enough resistance settings to challenge yourself. Also be sure to look for magnetic resistance, which is quieter and more low-maintenance than friction resistance. Friction resistance will require replacing brake pads every few years to keep the bike functional, and it creates a grinding noise during use.
Price
Most recumbent bikes cost under $1,000, unless you're getting one with a touchscreen. Regardless, most companies offer financing options to help you split your payment into monthly installments.
Adjustability
Make sure your legs feel comfortable on the bike, and that they're neither squished nor struggling to reach the pedals.
Warranty
Check to see what the warranty is on each bike, and pay close attention to the different coverage periods for hardware vs. thinks like monitors and other technology.
Tech
Most recumbent exercise bikes won't have high-tech features. Most will have an LCD screen and limited pre-programmed workouts.
Best Recumbent Bike FAQs
What are the best stationary recumbent bikes?
Do recumbent bikes give a good workout?
Recumbent exercise bikes can produce just as good of a cardio workout as upright bikes while reducing stress to your joints or cardiovascular system.
Is a recumbent bike better than a treadmill?
A recumbent exercise bike is better than a treadmill in that it doesn't impact your joints as much, but you're likely to burn more calories running on a treadmill than by sitting on a recumbent bike.
What is the best recumbent exercise bike for seniors?
The Schwinn 230 Recumbent Bike is our pick for the best exercise bike for seniors due to its step-through frame that allows people to easily get on and off the exercise bike.
What muscles does a recumbent bike work?
A recumbent exercise bike mostly works the hamstring, quadricep, glute, and calf muscles. It works some core muscles, but because you're in a recumbent position it won't be as much of a workout as a standard indoor cycling bike.
REFERENCES
Albarrati, A. (2017). Effect of Body Posture on Cardiovascular Performance and Recovery during Cycling Exercise. In Physikalische Medizin, Rehabilitationsmedizin, Kurortmedizin (Vol. 27, Issue 01, pp. 53–57). Georg Thieme Verlag KG. https://doi.org/10.1055/s-0042-122145